9 Best WordPress Security Plugins to Find and Fix Malicious Codes

Webmasters and WordPress users are always looking for the best WordPress security plugins to be safe from security unwanted security issues. Security plays a very crucial role while maintaining your business's success. If customers do not feel secure while visiting your website, they will not spend time, and your conversion rate will drop significantly.
Let's accept the fact that WordPress hasn't been famous for security. In fact, more than often WordPress is regarded as a vulnerable CMS. We previously covered a comprehensive WordPress Security Guide to be safe from security issues. However, reports suggest that a large number of websites get hacked each day running WordPress.
Sucuri's 2018 Hacked Website Report states that 36.7% of WordPress websites were using out-of-date WordPress version at the time of the hacking.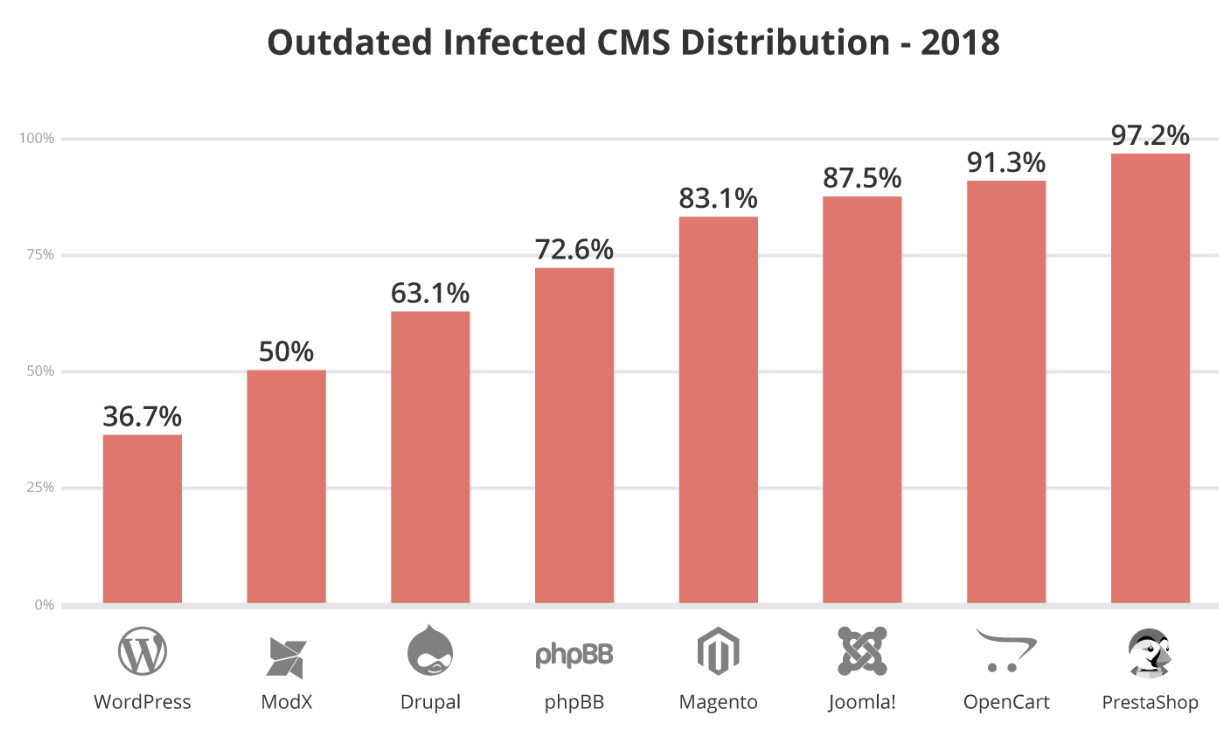 The WPScan Vulnerability Database finds out that more than 70% of vulnerabilities happen due to out-of-date software. However, the good news is, the most vulnerable versions of WordPress released back in WordPress version 3.X.
Today more than 75% of WordPress users are using at least WordPress version 5.3 which has improved the overall security of the websites dramatically.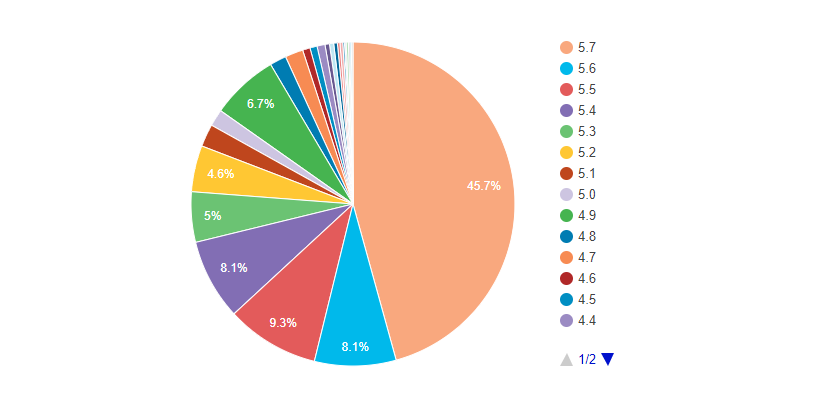 However, no system is 100% secure. Therefore, some free services and plugins provide more security to your WordPress website.
These free, as well as premium solutions, can be used to find hidden malware, security vulnerabilities of your WordPress website. A lot of people transfer HTML to WordPress or shift from other platforms to WordPress to enjoy the benefits of these services and security plugins.
The open source nature along with user-friendly features make it a natural choice for millions of website owners worldwide. Hackers are always looking to gain unauthorized access to inject harmful code on your website. That is why it is essential for owners to scan their websites to identify potential threats and vulnerabilities regularly. The following plugins will help WordPress users to find malicious codes, vulnerabilities, and other security issues of your website. We will also share some WordPress security tips in this blog.
Should You Invest in WordPress Security?
Is WordPress safe? The answer is No.
The vanilla installation of WordPress is not safe by any means. You need to take security measures if you have a WordPress website. Otherwise, hackers can breach your data if you are careless about your WordPress security.
For example, I had a WordPress site that I did not use much. So, the plugins and themes were not updated as frequently.
Here are some recent vulnerabilities found of WordPress plugins by various security researchers.
So it is pretty clear that without investing in WordPress security you cannot have peace of mind. Though there are some actions on WordPress Security, you can always take to solidify your safety, a dedicated security plugin help in many ways.
Astra Security Plugin
Astra Security is an all in one solution for your WordPress website. It is backed by machine learning, collective intelligence, file change notifications & provides unlimited scans
Astra automatically scans the website whenever needed as many times as you like. You can also track file changes to your website. Any changes on your website is stored so you can review it later. Astra protects and cleans malware like pub2srv, Japanese spam, Credit card hack, Malicious redirects, Pharma attack, etc.
Astra has a lot of cool features and if you want an all-in-one security solution for your website – Astra is a great option.

Sucuri WordPress Security Plugin
Sucuri is one of the world's leading website security solutions company which offers a range of security options to WordPress users.
The Sucuri Security plugin comes with both free and paid versions. However, most of the essential security features are free. Most of the websites should be fine with the free plugin. If you want to enable the firewall that comes with the plugin, you have to pay for Sucuri's premium plan. The basic package starts at $199.
Best Features of Sucuri Security
Sucuri can check your website's code's integrity.
Sucuri compares the website's current state with an ideal state. After analyzing, the plugin provides a relevant report to let you know what has been tampered. This helps to spot intrusive elements.
Checks whether the website has been negatively ranked by blacklist engines like Google Safe Browsing, AVG, Norton, etc.
People looking for more intensive solutions can sign up for the company's paid plans. These packages include WordPress firewall protection and CDN services for securing a website and improving its performance. (works like Cloudflare).
WebARX Security
WebARX is a website security platform that covers most of what is needed to secure a WordPress site or any other PHP based application.
When talking about securing a website, the first and most important part you should look in a security service is its web application firewall.

WebARX has a smart firewall engine that will let you to fully customize it. It is also protecting your website from software vulnerabilities and separates true visitors from fake traffic aka bots.

WebARX web application firewall protects from the much-needed OWASP top 10 vulnerabilities and protects websites from plugin vulnerabilities. With WebARX you can prevent malware infections. Also, the plugin gets daily updates for the firewall to protect against new threats and vulnerabilities that come out.
Why Use WebARX?
Includes a firewall that gets updated daily.
Monitoring and Site Management with WebARX
Plugin vulnerability monitoring
SSL/TLS and domain expiration monitoring
Blacklist monitoring
WordPress hardening with WebARX
WebARX has a 14-day free trial, so it's free to try it out.
Hide My WP
Hide My WP is a very popular security plugin for WordPress that started its journey in 2013. When an attacker comes to know that a website is WordPress-based, the attack becomes very targeted by enumerating plugins, themes, and configuration of that specific installation.
Primary use case of this product is that it completely hides the fact that you are using WordPress as your CMS. This helps in securing the websites from hackers and detectors like Wappalyzer and Builtwith.
It also bundles a state of the art intrusion detector (IDS) to block security attacks like SQL injection, XSS, etc in realtime. The IDS is based on ever-growing signatures which block any attack (discovered or undiscovered) which may harm the website.
Why Use Hide My WP
Hides WordPress from detectors and hackers. Hides the name of the theme, plugin, changes permalinks, hides wp-admin, login URL and a lot more.
Blocks direct access to PHP files, cleanup WP class names, disable directory listing.
Protects websites from undiscovered vulnerabilities and realtime attacks.
Be notified about any potential bad behavior with full details of attacker including username, IP address, date, etc.
Includes a trusted network which automatically blocks traffic from bad source IP addresses.
Replaces complete URLs or any string in the code with any text you wish.
Easy to use, choose from pre-made settings for the 1-click deployment.
Compatible with multi-site, Apache, Nginx, IIS, premium themes and other security plugins.
Anti-Malware Security and Brute-Force Firewall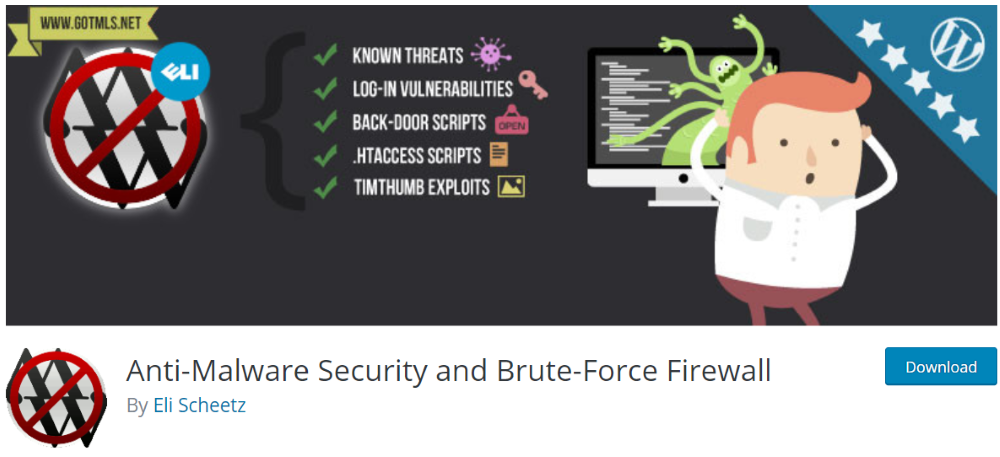 WordPress website owners can use the robust Anti-Malware Security and Brute-Force Firewall plugin to find and fix WordPress security issues. Out of the box, the plugin will identify and report malware, viruses, and other security issues to users.
However, once you register on the plugin developer's website, you will be provided with automatic virus/malware removal service along with patches for known threats.
Anti-Malware Security will also remove any database injections and backdoor scripts. Its firewall blocks malware from manipulating the plugins too. This tool is available for free, but for automatic removal, you will have to pay.
Best Features of Anti-Malware Security
Most of the features are free.
Works remarkably well to find backdoors, malicious codes for free.
Doesn't require a subscription. One time payment ensures you get all the premium features
The plugin can protect and restore every single file in your WordPress to a healthy state.
Fix your wp-login and XMLRPC vulnerabilities
Check the integrity of your WordPress Core files.
Wordfence Security – Firewall & Malware Scan
Wordfence is another popular WordPress security plugin that is trusted by thousands of users around the world. This 5-star rated plugin has been actively installed on over 3 million websites.
It has an endpoint firewall and malware scanner custom-built for protecting WordPress websites. The product's database is continuously updated with the latest firewall rules, malware signatures, and dangerous IP addresses. Wordfence finds out all vulnerabilities using their always updated database and notifies users about potential threats.
Wordfence also scans file contents, posts, and comments to spot suspicious URLs and content that may harm your website. Subscribers can delete inappropriate files or repair them by installing their sanitized original versions. The essential plugin is free, but features like 2-factor authentication for blocking brute force attacks require a paid subscription.1 site license starts at $99.
Best Features of WordFence Security
The free version is feature rich.
Pricing is reasonable when you are buying a subscription for multiple websites.
The plugin has a great firewall built-in. The firewall includes features like country blocking, brute force protection, real-time threat defense, and a web application firewall.
The virus signature database stays always updated with new threats, malware, backdoors.
You can scan to find malware, vulnerabilities. The plugin also blocks threats in real-time and fights against spam.
The plugin monitors live traffic.
Quttera Web Malware Scanner
Quttera Web Malware Scanner is a lesser known name to WordPress community than the heavyweights like Wordfence or Sucuri. However, it is a very capable and robust WordPress security plugin that you can use.
The next name on this list of the best WordPress security plugins is Quttera Web Malware Scanner. This robust solution is capable of spotting malware, spyware, viruses, backdoor scripts, and other security risks.
It can also identify JavaScript code obfuscation, code injections, malicious iframes, code obfuscation, and redirects. You can activate its AI-based scan engine in a single click to find which files are generating external links/redirects along with PHP shell injections.
The product categorizes threats into four severity levels namely, clean, potentially suspicious, suspicious, and malicious. People unsure about the status of potential danger can contact the service's support team to clear their doubts.
Best Features of Quttera Web Malware Scanner
One-Click scan option to detect malware and vulnerabilities.
Incorporates Artificial Intelligence while scanning
Cloud technology
A detailed report of the scan
The integrity check of WordPress files
Can detect malicious PHP files
Detection of injected PHP shells
WP Antivirus Site Protection
WP Antivirus Site Protection is a recent entrant in the field of WordPress website security solutions.
The service scans your website for backdoors, trojan horses, fraud tools, worms, adware, spyware, rootkits, hidden links, and redirections. It monitors all the files of your website including those belonging to themes and plugins.
Each file undergoes a deep scan by the security plugin to find anomalies. It stores malware in a quarantine folder before removing them permanently. The virus database of the service receives daily updates so that websites are safe from the latest known threats. It helps to detect PHP mailing scripts and phishing pages installed by hackers. Unscrupulous elements also try social engineering methods to gain access to interfaces. The product is geared to safeguard websites from such types of incursions.
Best Features of WP Antivirus Site Protection
Provides brute-force protection
Scans every file on your website.
Regular update of virus definition
Ability to quarantine threats before removing permanently.
Malware scanner can detect an extensive list of malware types.
Whitelist solution after manual review.
You can upload suspicious files to www.siteguarding.com server for a thorough review by security experts.
MalCare Security
Another efficient and one of the best WordPress security plugins is MalCare Security.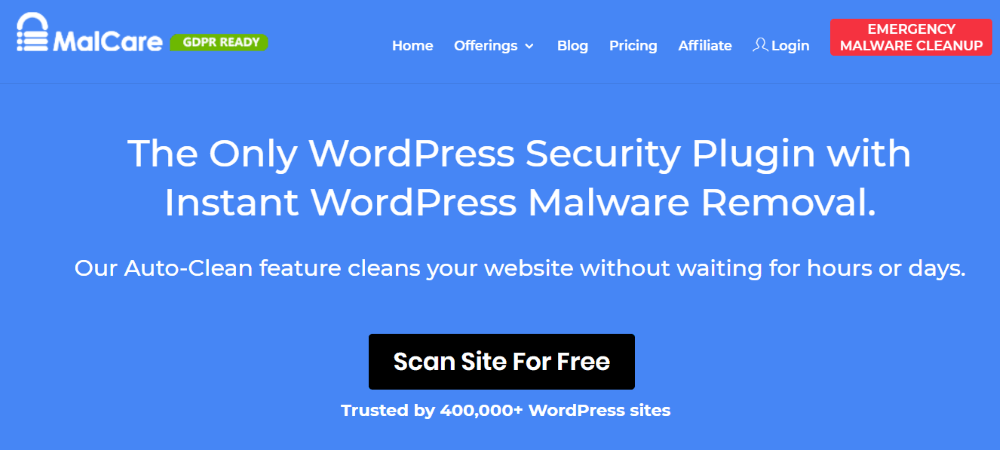 One of the critical features of MalCare security is exceptionally lightweight. It does not put any heavy load on the servers while conducting its tasks. It has an in-built firewall powerful enough to block hacking attempts and bot attacks in real time. Users can get this easy to use solution up and running in less than 50 seconds. They can also fix an infected interface in less than 60 seconds. The service has a fully automated process of removing malware. Subscribers can execute unlimited clean-ups without needing to pay extra charges. The tool has CAPTCHA-based login protection features and can enable IP blocking at the global level. It also makes website management easy as users can conduct tasks from a single dashboard. They can update their core installation as well as the themes and plugins besides collaborating with team members.
Best Features of Malcare Site Protection
You can fix a hacked website in less than 60 Seconds.
MalCare's automated malware removal gets rid of all virus and backdoor without waiting for hours
All scanning happens on Malcare's server. Hence, the plugin has no performance issues by using the plugin. Even the slowest of servers can use it with ease.
Very lightweight.
All In One WP Security & Firewall
The All In One WP Security & Firewall plugin is a well-supported, feature rich WordPress security plugin which enjoys a 5-star rating. It is a popular product with more than 800,000 active installations. It allows users to block specific IP addresses or enable a wild card to specify IP ranges.
They can also activate firewall protection through the htaccess file. This is the first file that is processed by a web server which means that the firewall will block malicious code before it can access the core files. Users can define the firewall settings progressively so that their interface's functionality is not unaffected. Its cookie-based brute force login prevention feature obstructs login attempts from bots and humans.
So,Which One is The Best WordPress Security Plugin?
Well, different plugin serves different purposes. There is no plugin that can be called the best WordPress security plugin as they have their own pros and cons. But if we are to choose one, we would like to go with Sucuri.
Since Sucuri launched for WordPress platform, it has earned the respect of security experts for its security features. Also, they are very active while finding new vulnerabilities.
Heres a list of some of the recent vulnerabilities they reported
WordPress Security – FAQ
Is WordPress Secure?
Yes, WordPress is secure if you follow the rules to keep it protected. However, a site without any security plugin and plan, might be infected by hackers.
Why Do WordPress Sites Get Hacked?
Usually, outdated software has vulnerabilities. So when a WordPress site owner uses outdated core, plugins, themes, and other software they expose security holes for hackers to exploit. Unfortunately, they do so quite often; outdated vulnerable software is one of the most common causes of hacked WordPress websites.
How Do I Secure A WordPress Site?
Choose a Good Hosting Company
Don't Use Nulled Themes
Install a WordPress Security Plugin
Use a Strong Password
Disable File Editing
Install SSL Certificate
Change your WP-login URL.
Limit Login Attempts
Is WordPress Secure for eCommerce?
A WordPress eCommerce site, however, will only be as secure as you make it. Follow the security rules to keep a WordPress site protected so that no one can hack down your eCommerce site.
How Many WordPress Sites Get Hacked?
According to statistics From 40,000+ WordPress Websites in Alexa Top 1 Million, more than 70% of WordPress installations are vulnerable to hacker attacks
Conclusion
These best WordPress security plugins help website owners protecting their websites from all kinds of safety hazards. However, it is always advised to go through WordPress security settings manually. Check our other WordPress Security Guide to check your websites at regular intervals to find anomalies manually.
https://wphive.com/performance-security/best-wordpress-security-plugins/
Saif Hassan
Product Manager by passion & profession. Lead Product Manager at weDevs, former PM @ Poptin. Passionate about writing & tech. He's an advocate of Human-Centered Design and believes that websites and the tools used to build them should be well crafted, intuitive, and accessible. Cyclist. Reader. A WordPress ninja 🥷, HCI expert & a design thinker 💡

Subscribe To Our Newsletter