WooCommerce is one of the most popular eCommerce platforms around the world. It's a WordPress plugin that will turn your website into a very powerful online store. Unlike Shopify, Bigcommerce, X-Cart and other solutions, WooCommerce is an open-source solution.
It was founded in September of 2001, the WooCommerce plugin has been downloaded more than 50 million times.
Why WooCommerce for Your WordPress Online Store?
This WooCommerce review will be incomplete if we do not discuss the reasons why you should use this eCommerce plugin. So, let's see the top features of WooCommerce.
Free – One of the best reasons to use WooCommerce is that it is completely free. You can build a fully functional online store without paying a single penny. For certain functionality, you have to use paid extensions. However, with just only a small amount of costs which is around $29-$249 (including hosting/domain and other charges)
Sell anything – By using WooCommerce you can easily sell both physical and digital products with ease. You can also take advantage of WooCommerce's free plugins and premium plugins to add things such as memberships, bookings, and recurring subscriptions to your store.
Ship anywhere – A global presence is crucial to becoming a successful online business. WooCommerce opens up the door for you to ship your products anywhere in the globe. You can customize your shipping rates such as free shipping, flat rate shipping, or even real-time calculations and limit your shipments to specific countries.
Accept Payments – WooCommerce accepts payments for your products easily. It comes with the ability to accept all major credit cards like PayPal, BACS, and cash on delivery. WooCommerce also includes 140 region-specific payment gateways such as Stripe, Authoriz.Net, and Amazon Payments that can easily integrate into your eCommerce store.
Customize To Your Liking – With tons of plugins available and the ability to scale as your business grows, WooCommerce can be easily designed to encompass your brand's look and feel with just a few clicks. What's more, you can use WooCommerce with any of the WooCommerce compatible themes.
Requirements for Using WooCommerce
You'll also need to meet WordPress's minimum requirements, which are almost the same:
PHP version 7.2 or higher.
MySQL version 5.6 or higher OR MariaDB version 10.0 or greater.
HTTPS support
WooCommerce Features
WooCommerce has lots of features. The platform comes with all the core functionalities you need out-of-the-box. If your stores require more advanced shipping or checkout features, you can always install another plugin to build on top of WooCommerce.
Last year WooCommerce released a major update of their software: WooCommerce 3.8.1. Here are some of the major free features you get with WooCommerce.
Mobile-Friendly Design: WooCommerce is a mobile-friendly platform. Your customers can buy from your store, and you can manage their orders from anywhere.
Sell Digital & Physical Products: Just tick a box to show that your digital products don't require shipping.
Inventory Management: The built-in inventory management system will track your stock level, hold the stock if an order is canceled, and hide out-of-stock items from your storefront.
Shipping Options: Offer a shipping calculator on the shopping cart page. Customers can choose between pickup, local delivery, and shipping.
Search Engine Optimization: You will get WordPress's built-in SEO best practices.
Create Coupons & Discounts: You can create discount coupons and customers can apply discount codes/promo codes while checking out.
Checkout Options: Allow your customers to create an account during check out as guests.
Enable Product Reviews: Your customers can post reviews of your products. You can also ensure that those comments come only from verified customers.
Analytics: You can use WooCommerce reports to monitor profits and track orders, traffic, and growth trends. You can also integrate Google Analytics for more in-depth analytics.
Installation and Activation of WooCommerce
If you are familiar with WordPress, then the installation of WooCommerce is very simple like drinking a glass of pure water. You can install and activate this like any other plugin.
Just login to your WP Admin > Plugins > Add New. You will get a search option. Type "WooCommerce" in the search box and hit the Enter button.

After finding WooCommerce as the above screenshot, click on "Install Now" and then "Activate".
First thing you will see after activation is an installation wizard. Initially, you can skip it and make all the changes manually later.
1. Store Setup
In the beginning, the setup will ask you for the essential data about your store like the following: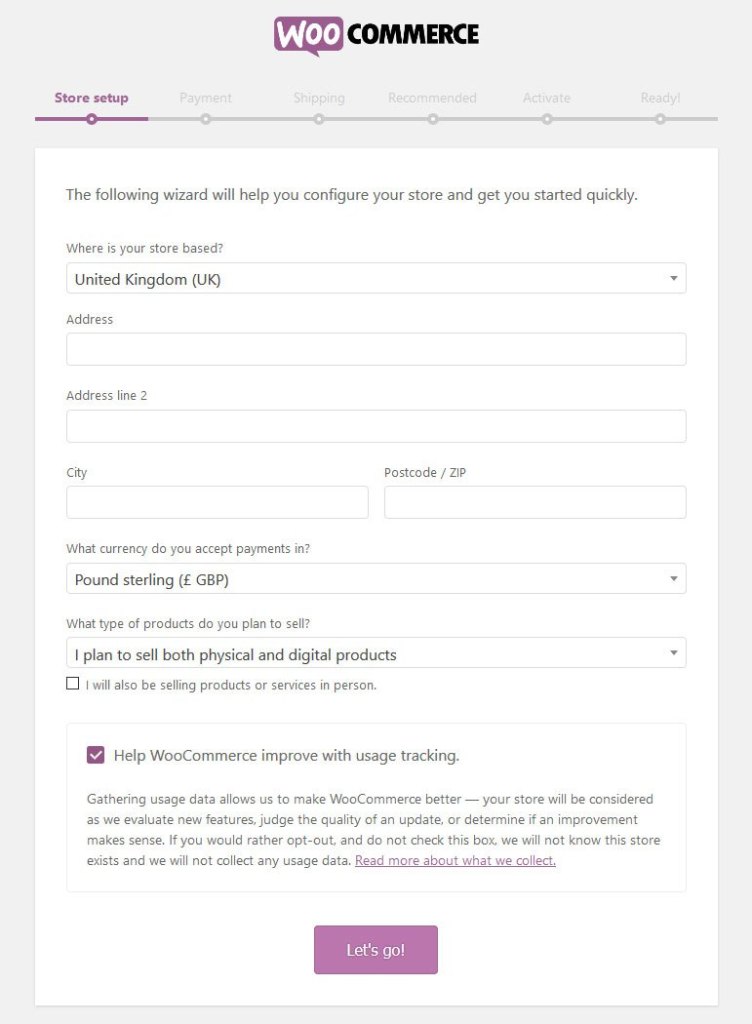 Here you can add the country where your store based, its address, the currency you use and the types of products you are planning to sell (physical, digital or both).
Type all the necessary information properly for your business and continue via the Let's Go button at the bottom.
2. Payment Gateways Setup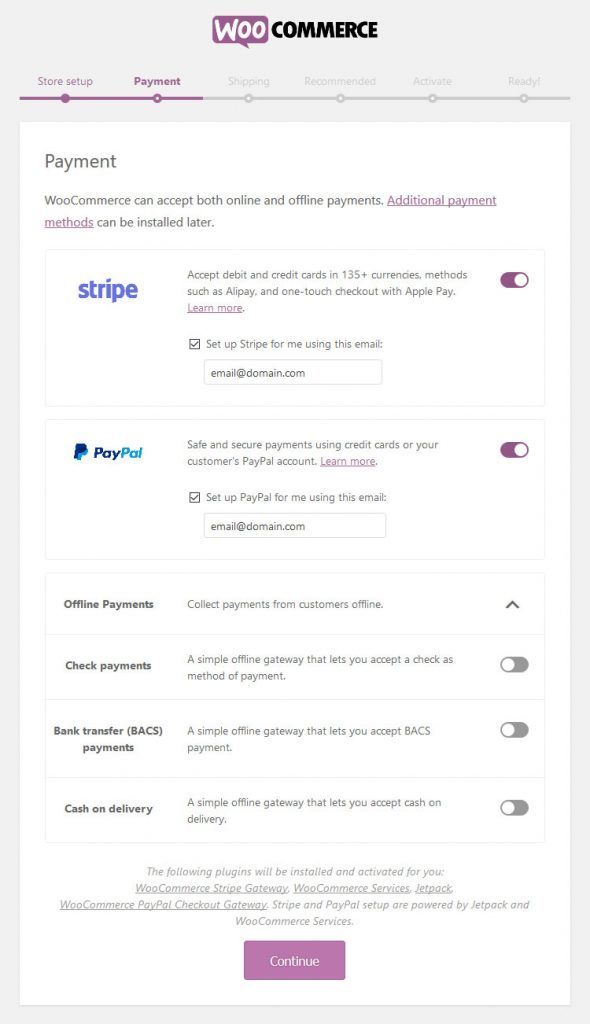 After the store setup, you have to configure the payment options. Decide whether to use Stripe and/or PayPal as well as other offline payment options like a check, bank transfer or cash on delivery. If this is not what you need, you can add other payment gateways via plugins.
3. Shipping Configuration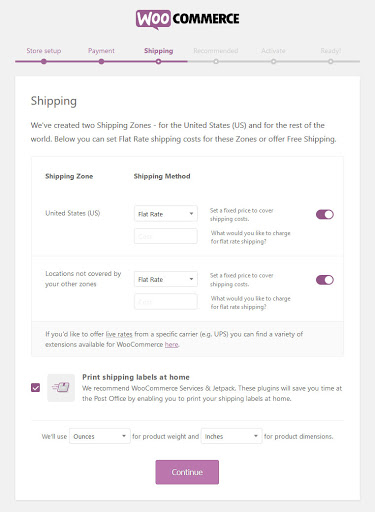 After the completion of the Payment setup, you have to configure the Shipping option.
Since you already have basic zones set up (that you can enable/disable) and to which you can apply currency rates. You can now add some more options via a plugin.
At the bottom, there is also a promotional offer for ShipStation, which you are free to use.
By the way, if you don't know all of this necessary information, you can also skip these steps and change it all later.
4. Recommended Features Settings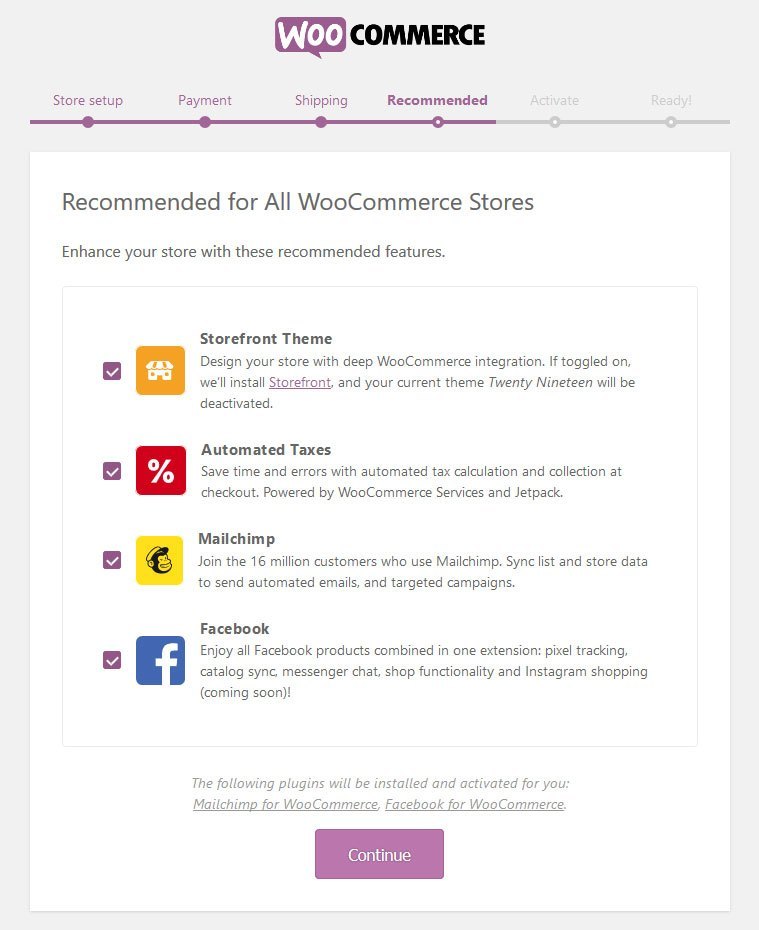 At this step, WooCommerce will ask you to install a number of recommended features like Storefront theme, automated taxes powered by WooCommerce Service and Jetpack, MailChimp for email marketing and the social media Facebook for WooCommerce plugin.
Choose the right one. For testing purposes, it makes sense to use the default theme. It is a good opening point for an online store design that makes the beginning a lot easier. You can also install the rest features later if needed.
5. Connect with Jetpack
Now the setup wizard will ask you to connect your store with the aforementioned Jetpack.
It's a good plugin that makes sense to have and can also provide automated taxes. You can also get it from WordPress respiratory.
6. Finalize the Setup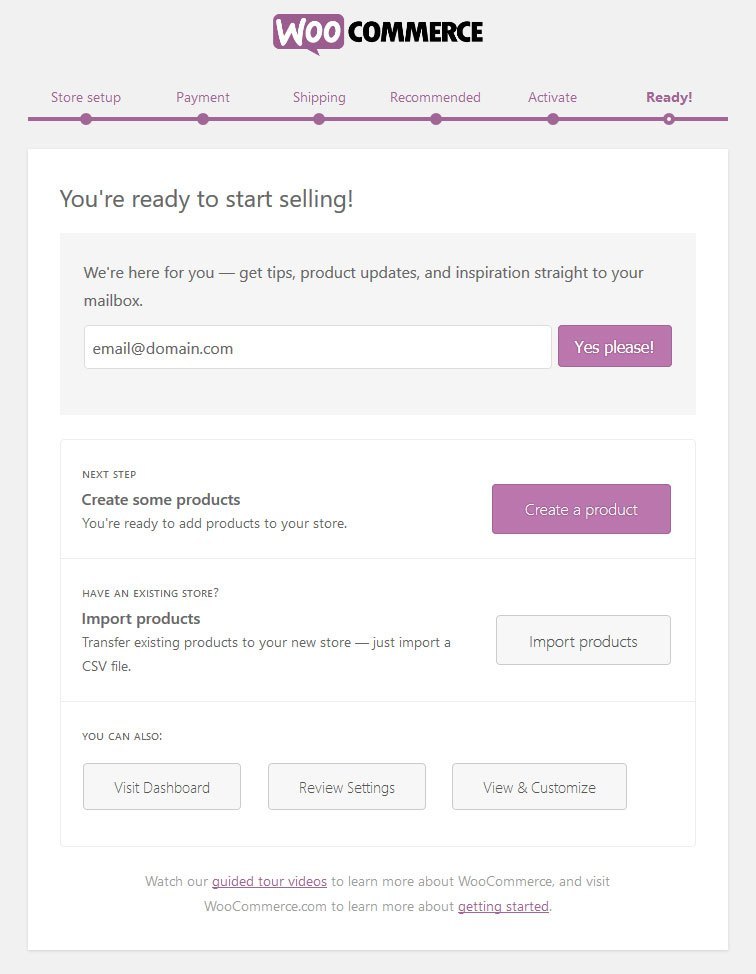 At the last step, you can sign up for the WooCommerce email newsletter and also find some links for the next steps like creating your first products, Import Products, View Dashboard, Review settings, take a guided tour, etc.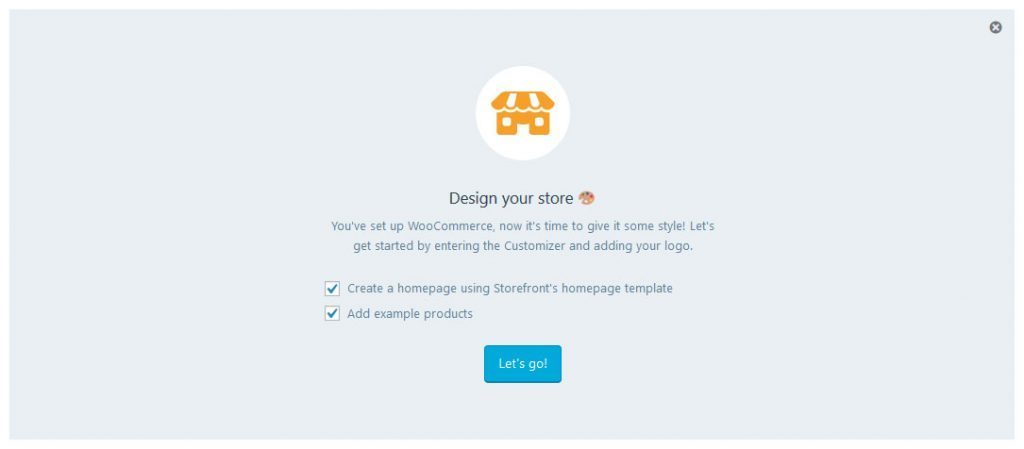 Now click on the Let's Go button. If you put a tick on Create a homepage using Storefront's homepage template, you will be taken to the Customizer in order to take a tour and publish the changes.

These will keep you up to date on sales, orders, recent reviews, and more. Finally, you will get two items to the main menu called WooCommerce and Products. Here you will take your next steps.
Why WooCommerce is Loved by the WordPress Community
Here are the pros and cons of WooCommerce that you must consider!
Free and Open Source
WooCommerce is totally free and open-source platform.
This means that you can alter its code because it is open source
However, to get some more advanced features WooCommerce Extensions require a punctual payment or even monthly fees. This is a disadvantage that will be discussed later.
WooCommerce is a very option for those who have previous experience with WordPress.
Because they will be familiar with the interface. This will help them to quickly get started with the design of their online store.
Fully Customizable
WooCommerce customization options shine with special intensity.
There are tons of themes for this platform. After choosing the right one, it is possible to customize all its sections like header, footer, product sheets, checkouts, etc.
This is possible for free access to CSS, HTML, and PHP style code. Therefore, WooCommerce is suitable for professionals as well as for beginners.
Flexibility
Another major advantage of WooCommerce is its flexibility – you can create any kinds of online shops, regardless of their market niche or their products!
You can configure your WooCommerce store to sell physical, virtual or downloadable products. It can also be adapted to affiliate programs and other business models.
High Security
Another strong benefit of using WooCommerce is security.
This platform is regularly updated to keep up to date security. But the WooCommerce plugin does not include components such as the SSL certificate or backup tools, to make backups.
These components can be easily added to WooCommerce.
When it comes to payment security, WooCommerce is perfectly complemented with secure gateways such as Stripe, PayPal, WePay or Payza.
Large and Strong Community
Another important aspect of WooCommerce is its community of users, developers, and contributors.
In WooCommerce Community you will get proper documentation and informative guides. A plugin industry has been formed by depending on WooCommerce. The WooCommece Support Forum is also pretty great for finding solutions for your problems.
How Too Many WooCommerce Plugins Can Hamper Website Performance
WooCommerce has tons of plugins! With plugins, you can add excellent features.
But this has a minor disadvantage that goes unnoticed by less experienced users. Installing too many plugins and extensions tends to slow down the speed and overall performance. This is because WooCommerce takes more memory than an average plugin.
It is best to implement desired functions through CSS, jQuery or HTML codes. If this is not possible, it is advisable to narrow the number of plugins installed.
Need to Pay For Premium Extensions
Downloading and installing this WooCommerce is free of charge. Most of the widgets and add-ons are free.
But as mentioned above, the installation of some premium/paid extensions may require a regular payment with monthly fees.
But if you want to implement a payment gateway, specific subscription services, want to implement specific features in your way – you might need to pay.
For Developers
Hooks in WordPress essentially allow you to change or add code without editing core files. They are used extensively throughout WordPress and WooCommerce and are very useful for developers.
The reason there have been thousands of plugins based on WooCommerce is the hooks and filters WooCommerce offers.
Read the WooCommerce Hooks documentation to extend basic WooCommerce functionalities
You can also use the newly introduced REST API to interact with WooCommerce more easily. The new API provides most of the functionalities through the API.
Final Verdict
WooCommerce turned out quite remarkable for the WordPress industry. WordPress and WooCommerce are pre-installed with some hosting solutions and you don't need to think about the installation.
Fortunately, WooCommerce provides detailed and well-explained video tutorials that will help you to set up your store.
WooCommerce is a low-cost platform and it does an excellent job of providing WordPress's SEO and functionality for your benefit. And, if you're interested to work through technical issues with mostly just guides and forums to place on, WooCommerce could be the right option for you.
Ready to get started with the WooCommerce? Click the link below.
Get Started With WooCommerce!