You've probably heard the myth that email marketing is dead. The upward craze of social media is going to replace email marketing. Other marketing methods are more successful than email marketing. All these fumbles are going around on the market.
But believe us, nobody is abandoning email. Despite the rising popularity of social media, people still love to receive emails in their inboxes. Email isn't dead, and email marketing remains one of the most cost-effective ways to reach consumers today.
Choosing the proper email marketing tool for your business can really help you out to boost up your conversion rate. Today, in this blog post, we will talk about the brand new email marketing tool called weMail.
weMail helps you to send newsletters, collect leads, automated emails, add subscribers to a list, and manage subscribers, all inside the WordPress dashboard. Let's dive into the discussion to learn everything about weMail email marketing tool.
Email Marketing Statistics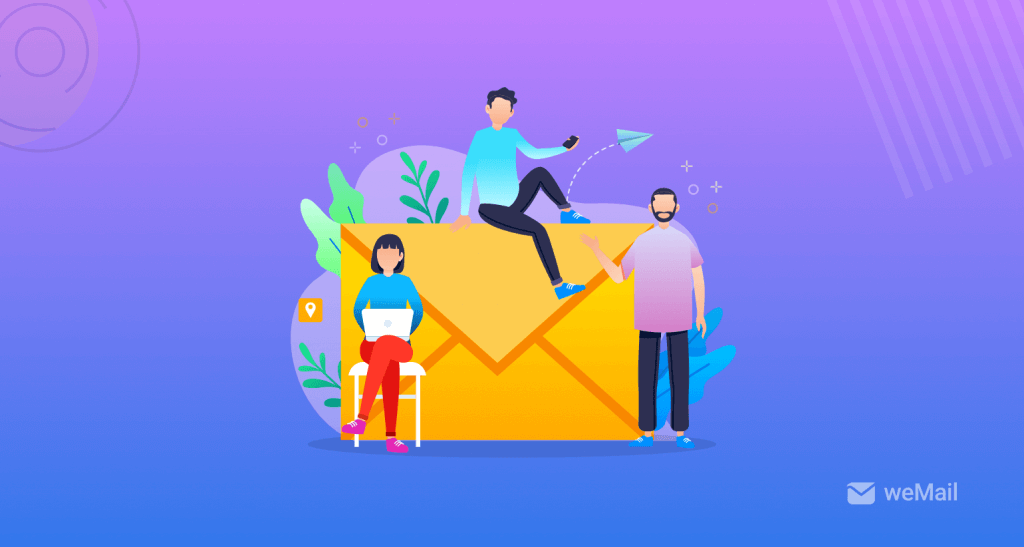 Many people asked this question "Is email marketing dead?" on various platforms. We will answer this question with stats. Eventually, you will figure out the answer by yourself.
Research shows that more than 5.5 billion email accounts are being used globally. And it seems to be unstoppable as many people are relying on email due to business communication.
Another research on email marketing revealed that more than 92% of adults use email which is 72% of the entire internet users. Now you can really feel the urge of email marketing.
If we take a harsh look at different researches, then we can find some interesting facts.
93% of B2B marketers use email to distribute content.
83%of B2B companies use e-newsletters as part of their content marketing program.
40%of B2B marketers say email newsletters are most critical to their content marketing success.
Apple iPhone is the most popular mobile client for reading emails with 29 percent of all opens occurring on this platform. Gmail is a close runner-up at 27 percent.
99% of consumers check their email every day
35% of marketers send their customers 3-5 emails per week
This email marketing statistics clearly show us how it can abruptly change the output of your business if you can smartly handle it. But before that, you need to choose the perfect email marketing tool as per your requirements.
Let's take an in-depth look at weMail and find out whether it will be the perfect tool for you or not.
Introducing weMail: Smartest Email Marketing Tool to Boost Your Business
If you ever get a chance to come across this new email marketing tool, then you know how beneficial it is. It helps you to create and send engaging emails, grow subscriber lists, promote services and products all within the WordPress dashboard with your preferred email sending gateway.
However, if you are exploring weMail for the first time, we have a box of surprises to offer you. You will be wondered with all the easy to use amazing features. As a beginner, you won't face any trouble to kickstart your marketing plan as it comes with a user-friendly interface.
So get prepared with an email marketing strategy and blend that plan with weMail. You will get the result overnight and hopefully, it won't make a disappointed. But before that, let's check what else it offers you.
weMail WordPress Integration
weMail comes with some popular WordPress integration that makes it one of the best email marketing plugins nowadays. Using these below-mentioned integrations, you can get email subscribers effortlessly and put them into a list to send an email later.
Registration Opt-in: Collect subscribers from users' registration, making it easier for the website owners to put registered users into a separate email list.
WooComemrce Opt-in: Collect subscribers from WooCommerce billing addresses with ease.
Comment Opt-in: Collect subscribers from users' comments, keep the reader coming back to your blog post with newsletter.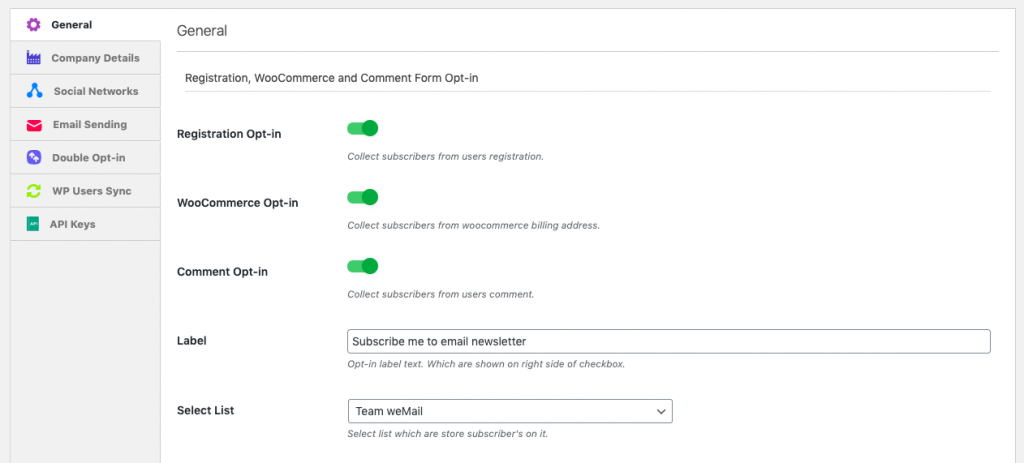 You can arrange them into a single email list or separate email list, whichever you prefer.
Transactional Email: Send your WordPress site's transactional emails via weMail. All the emails from your WordPress website will be sent from weMail if you enable this option.
WP User Sync: Allow WordPress users to auto-import into new subscribers in weMail.

Team: Manage an entire team of email marketing with default WordPress users.

The Team section will show you an overview of all the user roles currently added to weMail with status. As you can see from the screenshot above, all the user roles are currently inactive. You can click on the "Disable" option to "Enable" a user.

WordPress Post Block: You can add the latest WordPress blog post in the email campaign drag and drop editor.
WooCommerce Product Block: Add WooCommerce product block in the email content with just drag and drop.
weMail Opt-in Forms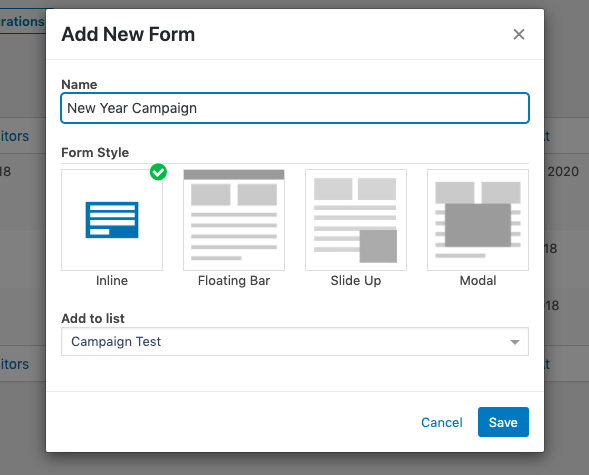 weMail comes with four opt-in forms so that you can collect emails from the visitors. Four different opt-in forms are Inline, Floating bar, Slide up, and Modal.
Inline Form: With the inline form you can place forms inside content and get the subscribers to any list you assign.
Floating Bar: Floating bar will float in your website header when collecting email addresses is your top priority floating bar will help you greatly.
Slide Up: Prefer slide up subscription box instead of other methods. You can use weMail slide up form function to slide up a subscription box to collect new emails. You can even control when to show the slide up form depending upon page scroll percentage.
Modal: If an email subscriber modal is your preferred way of collecting emails. You can use the Modal box to show the form when you like.
Use opt-in forms to get subscribers on your boards and learn about mistakes that you should avoid to send the newsletter.
weMail Analytics Features
Data is important while you are performing a campaign regarding your business. Using weMail analytic features you can collect data of an on-going campaign and improve your next campaign performance.
24 Hours Email Statistics: Too busy to check email campaign activity? 24-hour email statistics will send you campaign statistics for the last 24 hours.
Google Analytics: weMail will give you the option to use Google Analytics tag so that email link clicks can be tracked and viewed in Google analytics for better references.
Campaign Overview: You can get all the email campaigns' overview from the overview tab, and get a broad picture of how many emails are sent and how many will be sent with what forms and what's the sending statistics.
Email Link Click: Links inside email content will automatically have statistics of how many times they were clicked without setting up third-party trackers. Tracking link clicks is easier than ever.
These amazing features of weMail make it distinct from other typical email marketing tools.
weMail Campaign Features
It is not possible to run successful email campaigns if you can't design your campaigns properly with your email marketing tools. So being able to set up, design, automate, and manage your email campaigns is as important as sending those emails.
Standard Campaign: Send email campaigns to your email list with segments that makes your email more resonate with your email list.
Automated Campaign: Automated your emails when you need to. Welcome new users on the site, automate series of emails to take the manual process out of the way of your email workflow. Whether you are sending it to a single list or multiple lists.
Templates: Need templates for your email campaigns? weMail has built templates just for that. Use templates you find best suited for your email content so that you don't have to search for templates. View all the templates here – https://getwemail.io/templates/
Email Listing & Management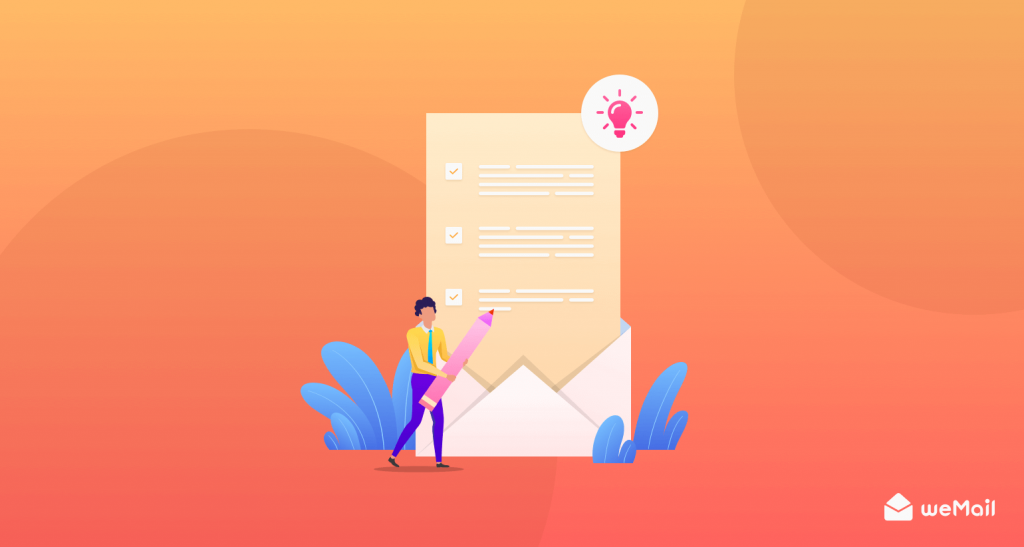 Listing, managing, and segmenting emails is an imperative part of email marketing. weMail lets you list and manages email in a seamless way with its up to date features.
Double Opt-on Single Email: Each time a new subscriber gets added into your list, you get a notification. Handy for a mission-critical email list with the highest priority.
Double Opt-In Digest Email: Suitable for email marketers who want to get a good overview of their email lists. When activated each email list will send you an overview email of new subscribers and unsubscribers.
Bounce handling: weMail will show you when your email was bounced. You use this bounce list, later on, to send me segmented content.
Auto clean List: weMail will automatically clean lists based on bounce email so that you do not have to keep track manually.
Import & Export: Import your custom templates, email list from other email marketing tools to weMail using our built-in import settings. Migration is easy, simple, and solid. Exporting your email contacts to CSV is just a single click away. Especially, the Mailchimp sync option is very useful. You can import your subscribers from other email services with ease.

Multiple List Send: You can send email campaigns with multiple lists in the same campaign and not worry about sending duplicate emails.
Segments: Segments is one of the most crucial parts of email campaigns. You can segment email with detailed targeting options. For example – you can select emails that didn't open in any campaign(s). You can select email contacts with specific words and many more exciting options.
Tags: Tags your email users accordingly to your needs. Whether it's for marketing purposes or software free/premium users. You can tag users to differentiate when needed.
Mailchimp Sync: This option can be found inside the individual list settings page. It allows you to sync your Mailchimp list and weMail list in real-time. Once enabled, New subscribers in the Mailchimp list will automatically show in your weMail list, and new subscribers from weMail list will also show up in the Mailchimp list as well.
Pros and Cons of weMail
Unlike other email marketing tools, weMail keeps your email subscription process easy and simple. Blend your friendly email writing capability with weMail and deliver your product announcement via newsletter. Apart from it, other significant pros of weMail are discussed below. Let's check em all.
Pros of weMail
Tightly integrated WordPress email marketing plugin
Built-in native forms like (Slide Up, Inline, Modal, Floating Bar) to capture emails.
Handy subscriber management system with a generous subscriber limit.
Manage everything inside WP Dashboard
Contact Form plugin integration
Cons of weMail
Minimal impact on pagespeed.
This plugin increases page loading time by 0.35s. It should be improved to make sure a seamless performance.
Features Against Other Competitors
Searching for alternative is a good practice. It means that you are looking for your best match. It's not an easy task to find your perfect match. You need to consider the advantages, drawbacks, compatibility with your web platform, demographics, and cost.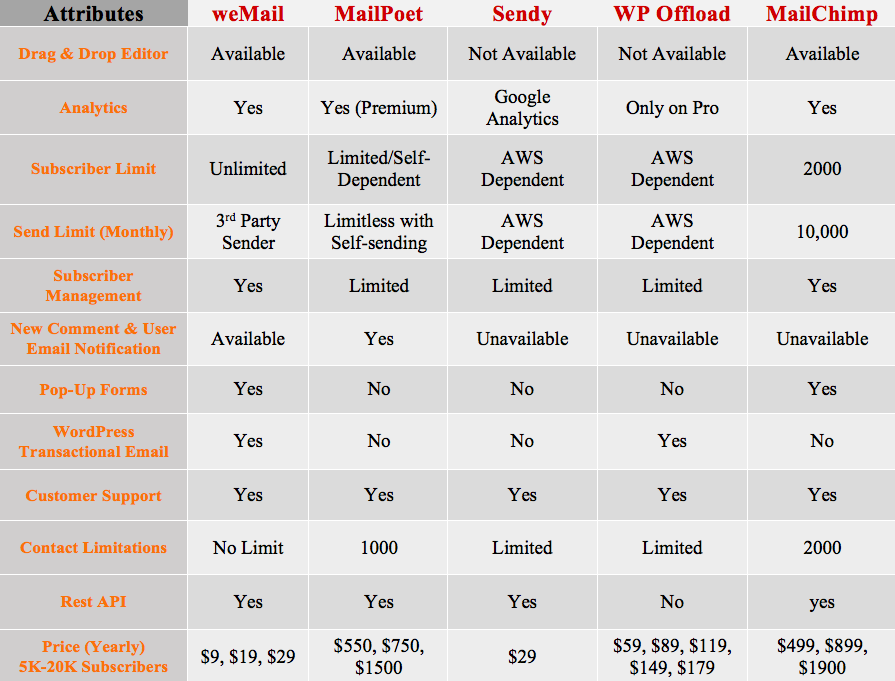 You can clearly see the differences between weMail and other email marketing tools. So, our suggestion is to make a smart move rather than rely on a renowned giant company blindly.
Wrapping up
Email marketing isn't rocket science. When you know everything about email marketing, you can do it yourself simply by choosing a proper email marketing tool. We hope, this blog post will help you to get a sense of the leading email marketing tools right now on the market.
weMail is a promising WordPress plugin and can handle everything from lead collection to sending newsletter smoothly. If you have never tried weMail, then we strongly recommend you to give it a free try.
>> LET ME TRY WEMAIL FREE FOR A BETTER CONVERSION <<
If you have already tried weMail then feel free to let us know your feedback. Your constructive suggestions and constant support always inspire us to improve our products and services for the future.