7+ Best WordPress Email Marketing Plugins in 2023

Building an email list is one of the most important things for an online business. Why? Because email marketing is of the great ways to increase your conversion rate. Also, by having a large email list, you can communicate with your users more conveniently.
But how do you build this valuable list? There are a lot of ways to build an email list but if you are using WordPress, an email marketing plugin automates the entire process of getting subscribers and sending emails to them. It saves you time, energy, and money.
With an email marketing plugin, you can generate leads, segment your contacts, and nurture them into customers – all within WordPress. In this article, we'll share the best WordPress email marketing plugins for you in 2023.
Before going into depth, let's recap some basic things.
What is Email Marketing and Why It Matters to You?
Email marketing is a highly effective digital marketing strategy of sending emails to visitors and customers. Effective marketing emails convert normal visitors into customers and turn one-time buyers into loyal customers.
So, you have got a basic idea about email marketing – but maybe you are still wondering why everyone emphasizes email marketing.
There are many reasons you should make email marketing your top marketing priority. The top 3 reasons are:
1. Email is a great communication channel: According to OptinMonster, at least 99% of consumers check their email on a daily basis. The data of Statista reveals that roughly 281 billion emails were sent and received each day in 2018, the figure is expected to increase to over 347.3 billion daily emails in 2023.
2. You own your email list: On any social media platform your post, fans, and followers may be suspended or deleted at any time. But in email marketing, this can never happen. You own your email list and no one can take this away from you.
3. Email marketing has a better ROI: People who buy products marketed through email spend more time than those who do not receive email offers. Email marketing has an ROI of 4400%. The average order value of an email is three times higher than that of social media.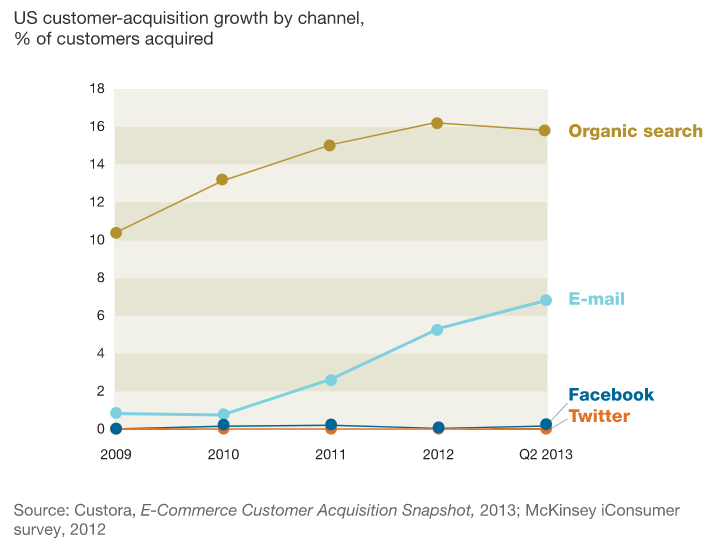 8 Best WordPress Email Marketing Plugins


Let's look at some of the most popular plugins to see how they can help your business or blog.
1. HubSpot

HubSpot is an all-in-one marketing plugin that helps businesses grow better. This plugin enables businesses to better attract, engage, and delight customers.
It has some built-in free tools like CRM, email marketing, live chat and chatbots, ad management, reporting, forms, and more.
This plugin has a beautiful drag-and-drop builder and is natively integrated with WordPress. You can send up to 2,000 emails per month for free.
Key Features
Organize contacts with details about their business and relationships in HubSpot's CRM
Collect leads with a built-in landing page, content marketing, form builder, and website tools
Followup on contacts with email automation
Build marketing workflows that help you target leads based on their interactions with your WordPress site
iOS and Android apps are available for CRM and Sales features
Pros: HubSpot is easy to use and has integrations with 300+ tools. Having all the data on your contact list makes your email marketing personalized and actionable.
Cons: If you need advanced marketing automation, it's not included in the free plan.
2. MailChimp for WordPress

Mailchimp integrates with other WordPress plugins/features to add list-building functionality to them. You can add a 'tick to subscribe' box to comment forms, registration forms, WooCommerce checkout, Easy Digital Downloads checkout, and more.
Features:
Dedicated plugin for use with MailChimp only
Basic customization options
Mobile optimized forms
Integrates statistics from MailChimp into your WordPress dashboard
Single-click subscribe feature for comments, registration forms and more
Pros: MailChimp is trusted, streamlined, and impeccably supported, and makes email design very easy.
Cons: If you are an advanced user and looking to adjust any of MailChimp's default settings, the buried data can complicate the process a bit. Also, adding native subscription forms to pages requires some CSS knowledge to understand.
3. weMail – Email Marketing Simplified With WordPress


weMail is one of the newest platforms to send plugins. This is an email marketing plugin that enables the user/users of a WordPress website to send email newsletters with a feature-packed email builder. It connects with email-sending solutions such as Amazon Web Services, MailGun, SparkPost, etc to send emails.
One of the best features of weMail is that it can keep the cost really low by leveraging other email-sending services. With weMail, you can concentrate more on growing subscriber lists and email marketing within the WordPress dashboard.
Key Features
Drag-and-drop Editor
Subscriber Management
Campaign Reports
List Segmentation
Autoresponders
Bounce handling
Advanced tracking and analytics
Pros: weMail supports the most popular form builders like contact 7 form, Gravity, WPForms, Caldera Forms, Ninja Forms, weForms, etc. It has built-in native forms like (Slide Up, Inline, Modal, and Floating Bar) to capture emails. Handy subscriber management system with a large subscriber limit.
Cons: Still early in development.
4. Popups by OptinMonster

OptinMonster is another popular email marketing plugin. Basically, this is a popup tool that enables you to use practically any newsletter provider on your site alongside its own features.
It's a subscription-based service from the great email marketing service provider OptinMonster. To integrate this service on your WordPress website, you just need to install the plugin.
Key Features:
Mobile-friendly and retina-ready designs.
65+ pre-made templates to choose from.
Powerful targeting and segmentation engine.
User-friendly drag-and-drop builder.
Advanced and actionable analytics option.
Easily integrate with other websites & eCommerce platforms.
Pros: It allows you to rapidly test multiple versions of your signup form, which is extremely helpful to site scalability. It is also to set up and customize according to your business needs.
Cons: Both the free and 'Basic' versions of OptinMonster are reasonably limited. You will need to upgrade to pro packages to get the full benefits of the plugin.
5. MailPoet – Emails and Newsletters in WordPress

MailPoet is an all-in-one newsletter plugin that helps you to grow your email list. It includes a drag-and-drop email editor, integrates with Google Analytics, and works with WordPress Multisite.
Key Features:
Designer and responsive templates to choose from.
Solid reliability.
Option to send emails with the MailPoet's sending service.
Translation Ready.
Helpful and responsive customer support.
Automatic Welcome email sending option.
Easy configuration.
Pros: Responsive email templates, as well as the option to send emails via MailPoet's own sending service.
Cons: Limited translations are available.
Also Read: MailPoet Review: Features, Performance, Pricing and More
6. OnePress Opt-In Panda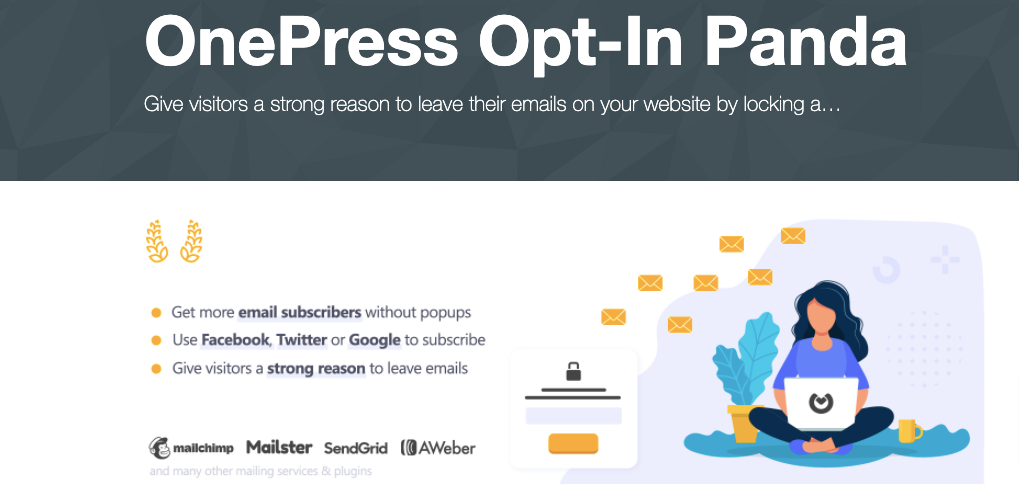 OnePress Opt-In Panda is specifically designed as a content locking plugin. This plugin helps you lock a portion of your content on the website by hiding or shading it and asks visitors to enter their email addresses to unlock the content.
You have also the option to allow your readers to access the premium content by signing into a social network instead of entering their email list.
Opt-In Panda also gives you the option to cut the locked content from a page's source code.
Key Features:
3 different design styles for content lockers
Supports the most popular email providers
Saves lead in WordPress so you can export and import it into another email provider at any time
Subscribe via social networks option
The content inside the locker can be hidden entirely or blurred out.
Pros: It is extremely developer-friendly, optimized for mobile devices, and loads ultra fast.
Cons: Doesn't offer the advanced analytical features claimed by some of the other plugins.
7. Newsletter

Newsletter is another email marketing plugin built specifically for WordPress. This plugin allows you to add a subscription form, segment your leads using multi-list targeting, and send newsletters to share your blog content.
With advanced features integrated within the plugin, you can create unlimited email and campaigns for your users. Not only this but you can add extra features if you wish with their free add-ons!
Key Features:
Responsive and mobile-friendly form designs.
Unlimited subscribers and newsletters.
Translation Ready.
Integration with the WordPress Registration.
Free and premium add-ons for a better experience.
Easy Installation and Usage.
Helpful and friendly user support.
Pros: Easy-to-customize email templates and subscription widgets. It also offers free extensions for archiving, as well as locking premium content.
Cons: The plugin will utilize your web host to send emails using WordPress, which can pose potential issues depending on the restrictions of the hosting provider.
8. Gleam- The Growth Marketing Platform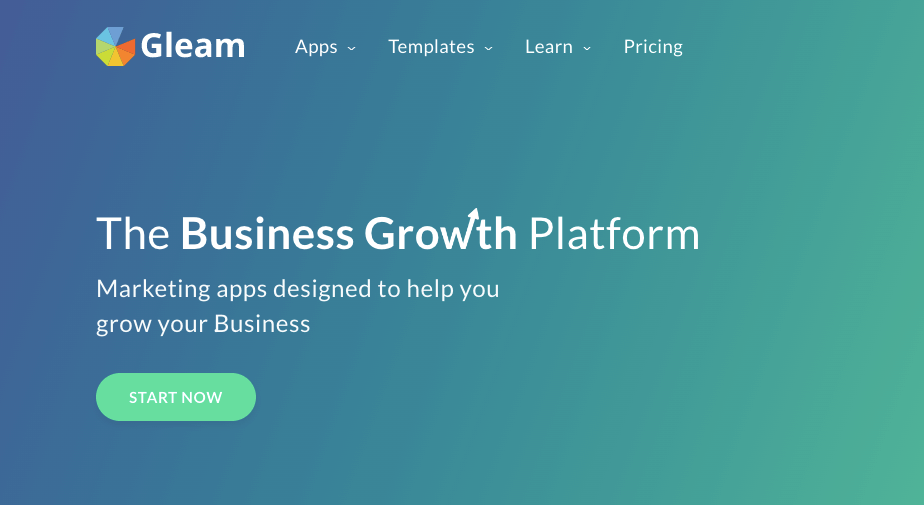 Gleam is a robust email marketing plugin designed to help you build and grow your email list effectively. With its wide range of features and user-friendly interface, Gleam makes it easy for website owners and marketers to engage with their audience and drive conversions.
Key Features:
Giveaway Campaigns: Run engaging giveaway campaigns to attract and capture new subscribers.
Email Capture Forms: Create customizable and high-converting email capture forms to collect valuable leads.
Social Media Integrations: Seamlessly integrate with popular social media platforms to expand your reach.
Analytics and Reporting: Gain insights into the performance of your email marketing campaigns with detailed analytics and reporting features.
Automation and Segmentation: Automate your email marketing efforts and segment your subscribers for targeted campaigns.
Pros:
Easy to use
Versatile campaigns
Integration options
Customization options
Support and resources
Cons: Some users may find the pricing plans of Gleam to be on the higher side, especially for those with limited budgets. While the plugin is relatively easy to use, it may require some time to fully explore and utilize all its advanced features.
Expert Recommendation
Email marketing is highly effective to increase leads and conversions. If you want to share the latest news, promotions or offers with your customers, then this is the best choice for your online business. With the proper plugin, you can do this easily.
Most of the plugins covered here are industry standard and have great support. All popular email plugins share one important feature – advanced tracking and analytics that are crucial for proper lead segmentation.
HubSpot could be the go-to plugin for any new WordPress user, and that's okay. weMail is another great new plugin that combines the best of Mailchimp and also keeps the cost minimal.
Consider your budget, and the features you need, and give a few different options a try before deciding.
https://wphive.com/reviews/best-wordpress-email-marketing-plugins/
Saif Hassan
Product Manager by passion & profession. Lead Product Manager at weDevs, former PM @ Poptin. Passionate about writing & tech. He's an advocate of Human-Centered Design and believes that websites and the tools used to build them should be well crafted, intuitive, and accessible. Cyclist. Reader. A WordPress ninja 🥷, HCI expert & a design thinker 💡

Subscribe To Our Newsletter