How to Allow Users to Submit Posts to Your WordPress Site

Want to get user-submitted posts on Your WordPress site? It's a great opportunity to efficiently generate more traffic. Allow users to submit posts easily from your front end. User-submitted posts are generally recognized as guest blogging.
Don't focus on having a great blog. Focus on producing a blog that's great for your readers. –Brian Clark
In this article, we are going to show you how to allow guest bloggers to submit posts on your WordPress site within a few seconds!
Don't have a WordPress blog yet? just check out how to create an amazing blog in minutes.
User-Submitted Posts or Guest Blogging
Guest blogging is a proven way to build a sound relationship with your users. It will obviously secure a massive increase in your Google ranking. And will also bear the flagship of your connectivity with the audiences.
Blogging is to writing what extreme sports are to athletics: more free-form, more accident-prone, less formal, more alive. It is, in many ways, writing out loud. – Andrew Sullivan
WordPress usually offers a registration system for site-holders to allow users to submit posts by default. You need to provide some information for submitting posts to one's portal. This is important for some certain security issues for any WordPress site. You can allow guest bloggers to submit posts to your site anytime with an easy registration process.
Nowadays guest blogging is swiftly riding high in the WordPress community. WordPress makes it safer for any blog site to allow their guests to submit posts even anonymously!
Why You Should Allow Users to Submit Posts or News to Your Blog?
You might read or listen to some myths against allowing users to submit posts. But there is nothing to worry about while you have selected WordPress as your blogging platform. You can manage user-submitted posts and control all of their activities by just applying for WordPress user roles.
Allow Users to Submit Posts and Ensure a Quantum Leap over Your Competitors
It's certainly your fortune that users want to write for you! Allow guest bloggers to submit posts to your site today. Take the advantage to make your site more engaging and user-friendly. Check out how you can be benefited by applying the method.
Fruitful engagement with your audiences

Improving your content, both by quality and number

Growing your reputation in your blogging community

Easily differentiating your content strategy and presentation.

Encouraging more audiences to write for you and your business

Adding more value to your brand image in the community

Establishing a lifetime bonding with your audiences


…and many more
You could follow some of the best WordPress blogs to keep yourself updated.
How to Allow Users to Submit Posts or News to Your WordPress Site
You can efficiently allow guest bloggers to submit posts by a few clicks. We are going to explain here the two easiest and proven ways. Before that, you could just check out some amazing websites built with WordPress.
1. Ask Users to Register on Your Website
Let the audience register on your dashboard and allow users to submit posts directly. This is a common approach followed by many WordPress sites.
You need to carefully select the user role area to manage and control user activities. You could check out WordPress user roles one more time for further needs. Now follow the instructions to add registration option for your users.
Go to your site's Dashboard
Click on Setting→ General
Now scroll down to the Membership→ Anyone can register
And finally, click on- Save changes from the bottom side of the page.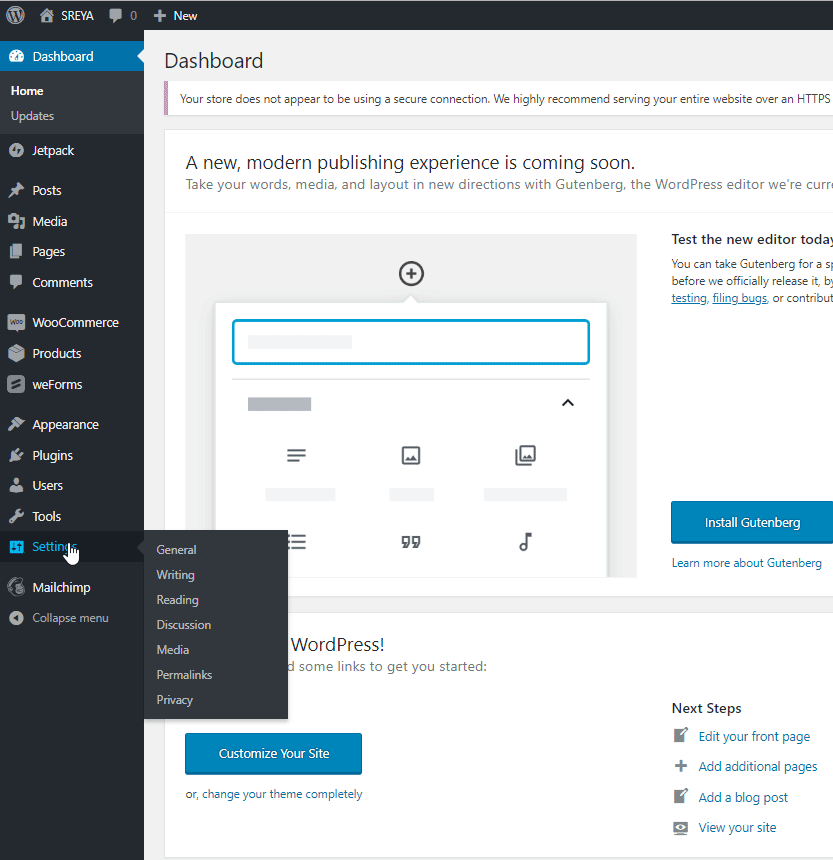 Now your site is ready and open to user registrations. Anyone could register and perform their activities according to the roles you have selected. Your user would be able to-
Register
Read all of your posts
Participate in comments-discussion
Add posts or news
Edit, or delete their posts
…and many more as your permission

Is it Safe to Give Users Direct Access to Your Backend?
You have already seen- it's easy to allow users to submit posts by registration. But sometimes it could annoy some of your users. It's also not so wise decision to give them access directly on your site's dashboard or back end. Our suggestion for you is the second one. Add a useful plugin and let your user perform everything from your frontend. Let's go to the next.
Note: never select the Administrative role for your guest users. It will enable them to do everything just like you and change your default settings. You never know what is or will be going on in the mind of strangers!
2. Add a Useful Frontend Plugin
The smartness in managing guest blogging today is to use a plugin. Add a useful plugin to allow and monitor guest blogging using WordPress. There are lots of plugins in the industry which will help you and your audiences to add posts, select category, edit the post and many more.
Gravity Form, Ninja Form, WP Forms and WordPress User Frontend are some of the great plugins you should consider to allow and manage your guest blogging. Our pick for you is the WordPress User Frontend.
Why WPUF Can be Best for You to Allow Users to Submit Posts?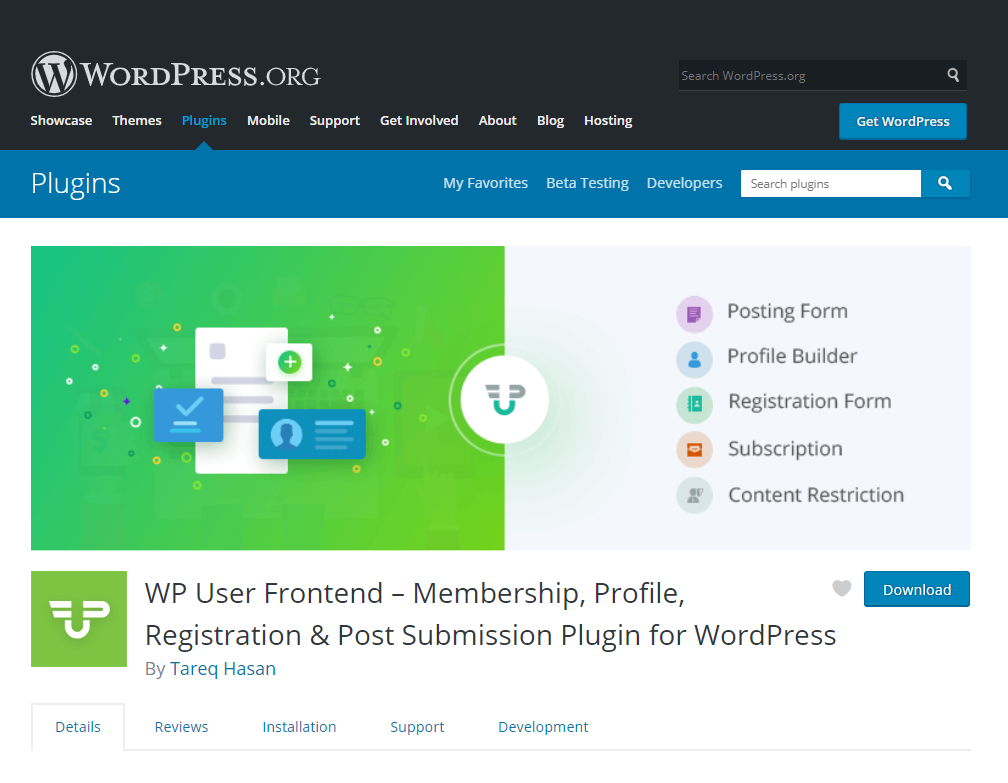 Famous for the ultimate frontend solution in the WordPress industry
Lots of options- membership, registration, post submission and many more
You and users could add or edit almost everything from the frontend
WPUF has 20,000+ active installations
And, it's free!
How to allow guest bloggers to submit posts with WPuf?
If you are able to add a plugin to your WordPress site, that's surely enough to select and use WP User Frontend. Follow this step by step guideline to add & install WPUF on your WordPress site.
Now, simply go ahead with the given instructions.
1. Create A Post Form
You need to create and publish a Sample Post Form first. Go to your WordPress Admin Dashboard.
Hit on

WP User Frontend→ Post Forms

.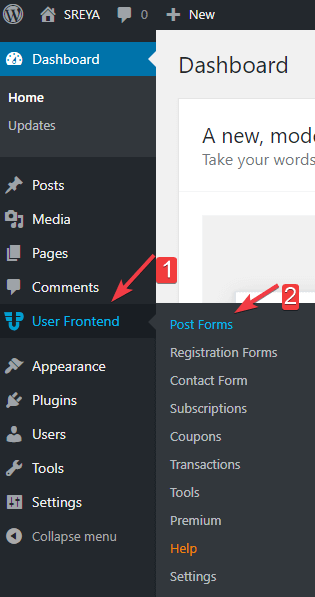 Click on

Add new

on the next page.

You can add any field you need or use the default ones. When you have finished editing, click on the

Save Form

button.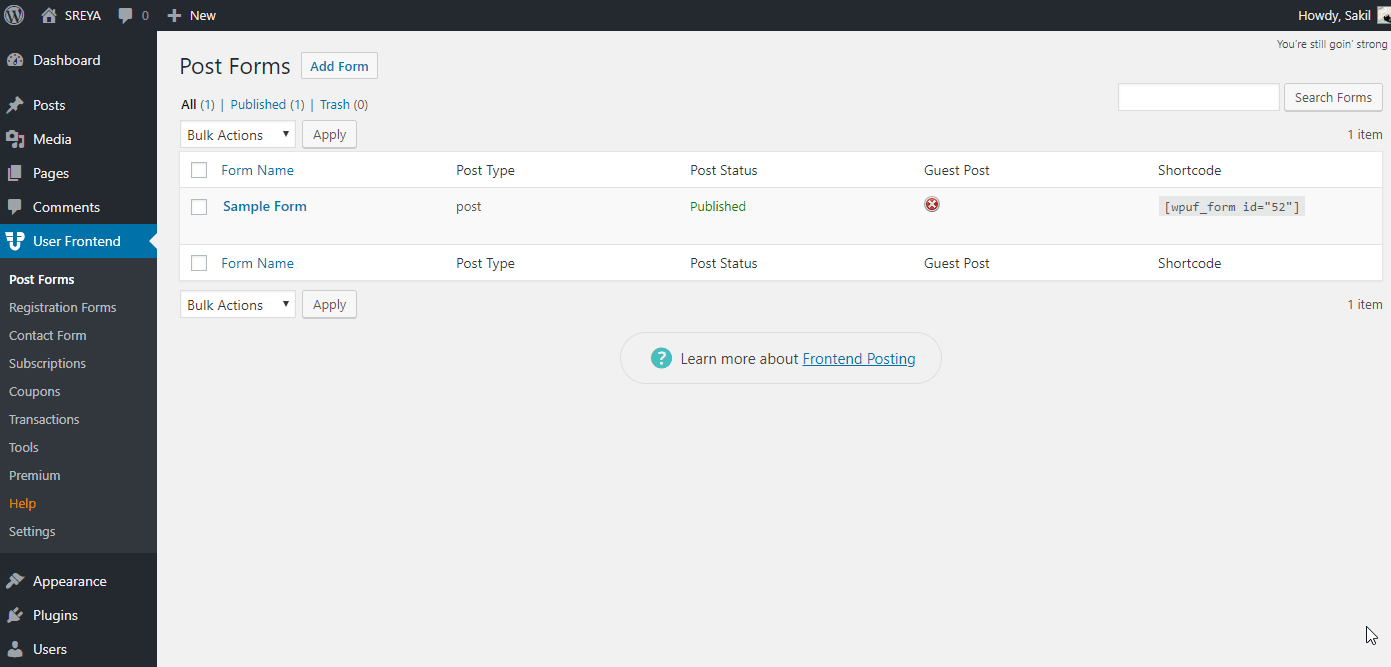 Go to

User Frontend → Post Forms → Settings → Submission Restriction. Check out the below GIF.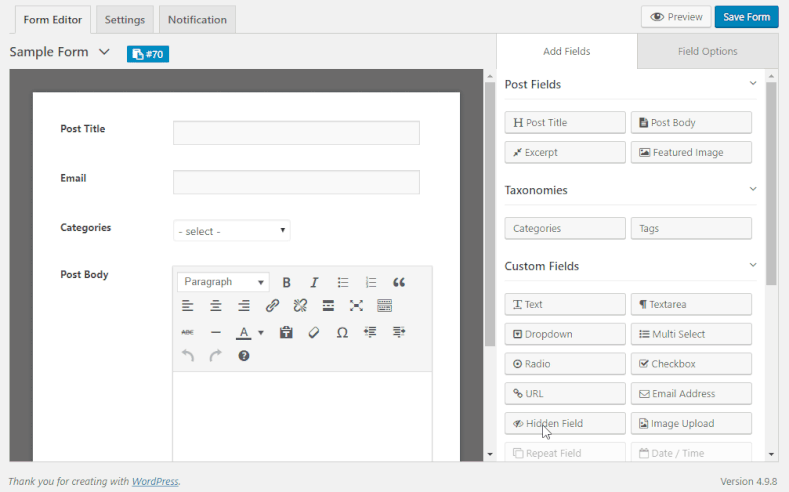 2. Publish the Post Form
Copy the shortcode from just top of the Post Form you have created. You can copy the shortcode by simply clicking the code with the left button of your mouse. The code would look like this-.
Now, create a new page and paste the shortcode on the page. After that, hit on the Publish option from the bottom of the right corner. Look at below GIF.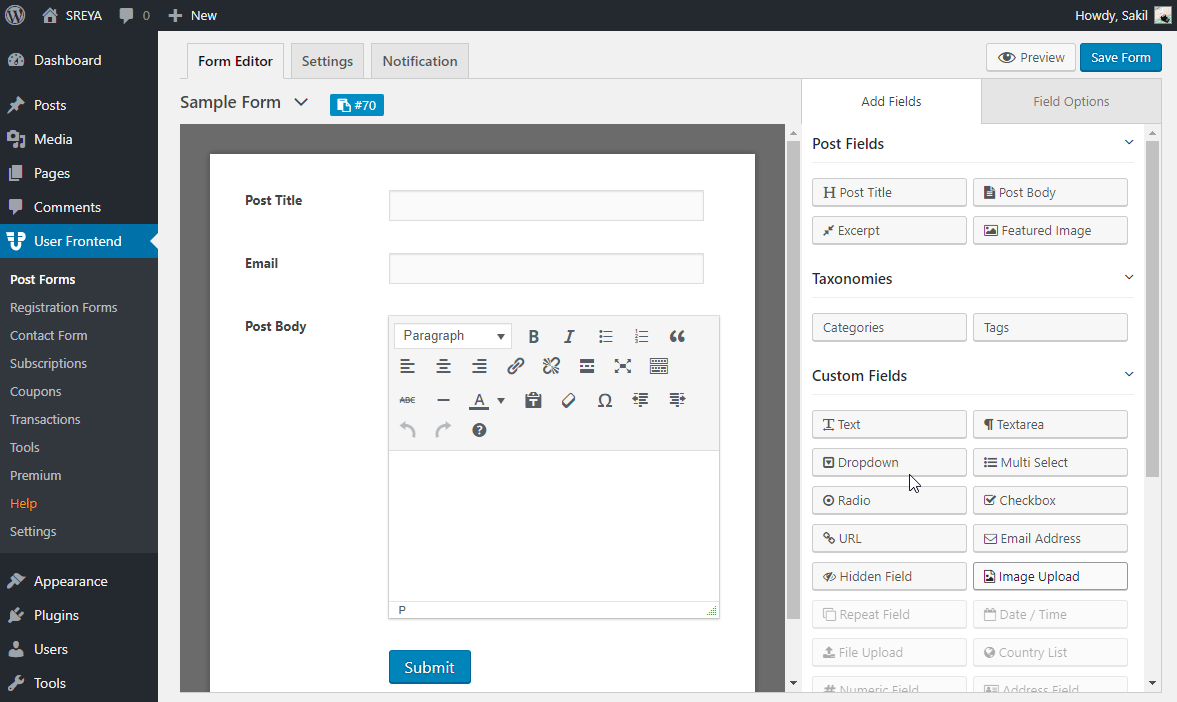 3. Time to Allow Users to Submit Posts!
We are almost done! Check the Enable Guest Post option to finally allow your users for adding their posts.
You will get some more options in the page- User Details and Email Verification.
Check both of them quite carefully.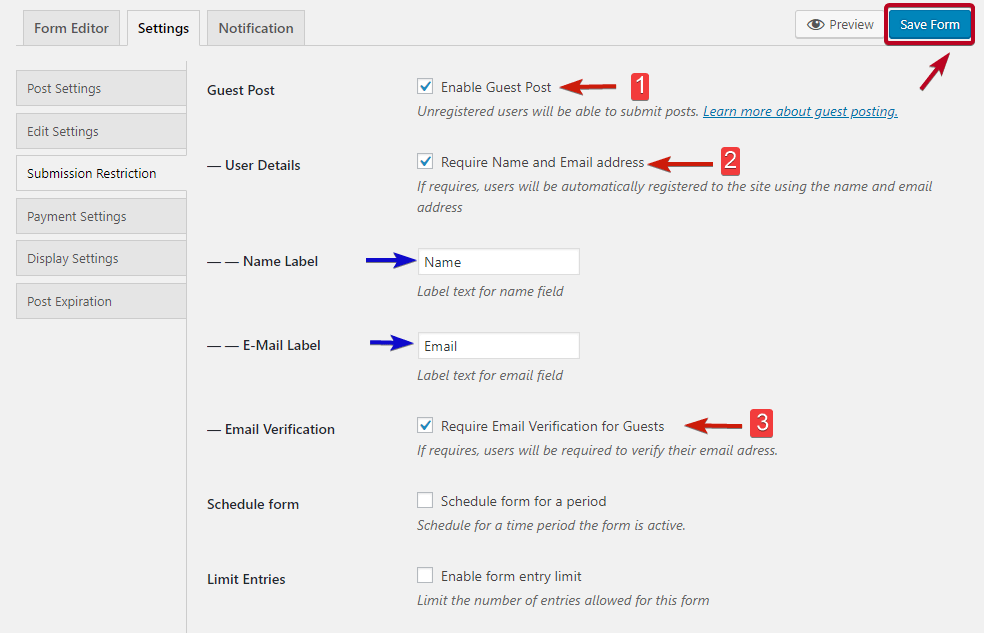 Note: Be very aware of User Detail and Email Verification options. Check them to get user information and verify their given emails. If you keep the options unchecked, your users will become able to add posts anonymously! You need to make sure whether you are ready for that or not.
All after that, click on the

Save Form

button from the top-right corner. Congratulations! You have completed your action to allow guest bloggers to submit posts to your site.
4. How Your Site Will Look Like from the Frontend?
Your site is ready to accept the posts from your users. Now it's the time to see how WordPress guest blogging actually works.
Look at how your site will be seen from your frontend with WPUF.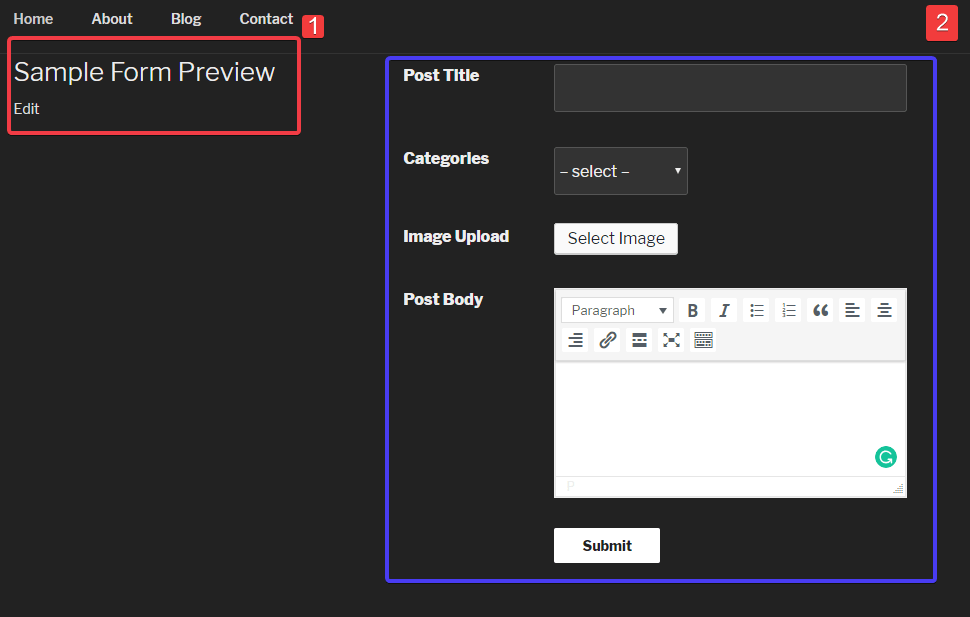 Your guest will get a message like this after submitting the article, indicating to confirm the email address.
Users will be able to fill up the form with the post title, body, featured image and other required fields. They need to click the

Submit

button for publishing the article.
Finally, this is how your site will work to allow users to submit posts. This is the same as any other WordPress post.
Now, look at the below screenshot. That's how your site will look like after publishing your users' posts!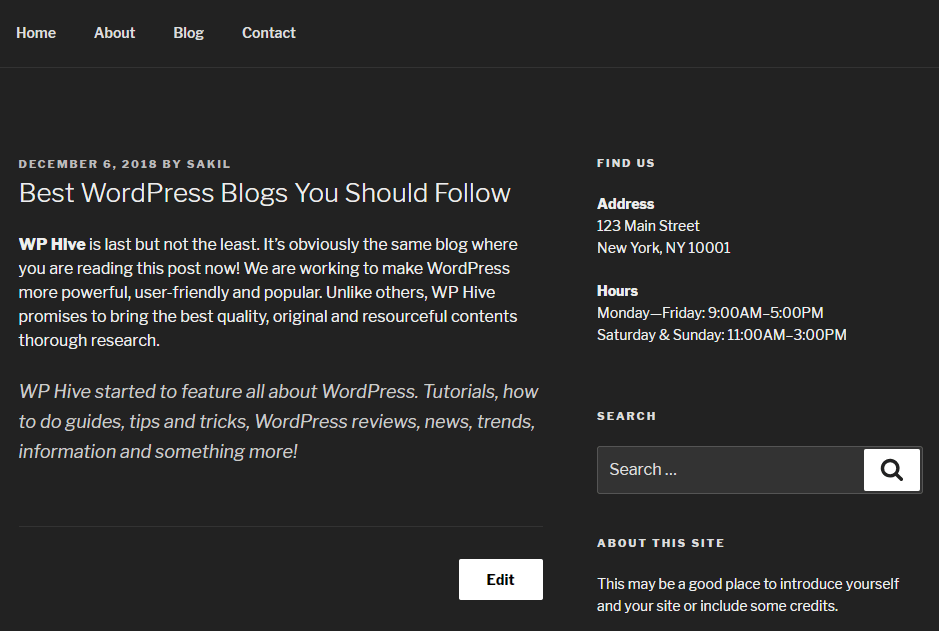 Note: With WP User Frontend, your users will even view all their posts from the frontend. This becomes very convenient when you don't want your users to log into the backend of your WordPress website.
Do you know that not only the blogs, big brands around the world now started to rely on WordPress for their business!
Closing Thoughts on User-Submitted Posts
It's very easy and secure to allow users to submit posts to your WordPress site. You can do that with a few clicks from your dashboard. Allow your users for guest blogging and take the ultimate advantage over your competitors in the blogging community. You could disable the user toolbar from your frontend to make your site look more gorgeous.
Having an already established blog site, you could now move forward by creating an eCommerce store using WordPress. WordPress is the leading CMS in the world of web, just go ahead and explore it for your blogging and business purposes!

https://wphive.com/tutorials/how-to-allow-users-to-submit-news-post-to-your-wordpress-site/
Saif Hassan
Product Manager by passion & profession. Lead Product Manager at weDevs, former PM @ Poptin. Passionate about writing & tech. He's an advocate of Human-Centered Design and believes that websites and the tools used to build them should be well crafted, intuitive, and accessible. Cyclist. Reader. A WordPress ninja 🥷, HCI expert & a design thinker 💡

Subscribe To Our Newsletter