Website building becomes so simple these days. Even you don't need to hire any developer or freelancer to do this. Well, you might be wondering, how is this possible?
You can do this using a WordPress page builder plugin. But the problem is which one you should consider as your website development tool?
Here we would like to discuss the Beaver Builder- one of the top WordPress page builders out there.
Let's get started.
Why You Need a Page Builder Like Beaver Builder?
As you already know, WordPress is very popular among technical, non-technical, and beginner users all over the world. With the WordPress default version, you can change the necessary part of your websites, like color, images, text, and buttons.
But there are certain things that you can not customize using the WordPress default customization options. You are not able to create a customized new page, add widgets, customize the header or footer, menu, and more.
Luckily, you can solve this problem by using popular WordPress Page builder plugins like Beaver Builder. With this advanced plugin, you can change the whole website without coding knowledge.
How Beaver Builder Helps to Design Your Website
Have you ever wondered why over 300000+ people around the world have chosen the Beaver Builder for creating their WordPress website? Allow me to explain.
Beaver Builder is a powerful drag & drop front end page builder that allows you to design a website using some clicks.
In addition, it has the full capability to make any type of website that you need for your personal or professional use.
However, it has many amazing features and functionality including a visual editor, Gutenberg support, custom post types, 40+ pre-build templates, WooCommerce compatibility, SEO optimization, etc. So you don't need to worry about your site-building, it will take all the responsibility for your site.
Let's dive into the Beaver Builder review and find out the most valuable information about this page builder.
Step By Step Beaver Builder Review for WordPress Users
Now it's high time to explore the Beaver Builder. We would like to take a step-by-step look at the special features, pros and cons, performance, and price of this page builder plugin so that you can understand it correctly.
Beaver Builder Feature Review
Like other popular page builder WordPress plugins, Beaver Builder also comes with many exclusive features that make your website development easier. Among the complete components, we need to verify the sort of top features and functions of this plugin.
Drag & Drop Page Builder
One of the main features of this page builder is the option to drag and drop elements. That means you can design your website with some clicks by dragging block elements to your site. Therefore, you can view the current design of your site and visually create & change the design structure of your website.
Responsive Design
Responsive design is not only important for your better user experience but also helps in SEO optimization. That's why Beaver Builder always focuses on responsive design so that your users can see the best results when visiting your website using small devices like mobiles and tabs.
Easy Import/Export Feature
Using this amazing function, you can efficiently migrate your site as well as share the layout of your website with others. In doing so, you'll take full advantage of using WordPress import and export tools to save your content for the future. In addition, it will protect your site and reduce the time and effort required to redesign it.
Ability to Handle Multiple Sites at Once
Sometimes you may have to handle multiple websites at the same time. However, most page builders do not have the ability to handle multisite. Thanks to Beaver Builder for getting this amazing feature. It saves work stress and also reduces the time for you.
World-Class Customer Support
When you're working on a page builder plugin, you might need support from the existing page builder provider. Here, we see Beaver Builder offer top-notch support to their valuable customers. And always try to satisfy their users.
Pros & Cons of Beaver Builder
While Beaver Builder has many advantages on the other side, it also has some disadvantages in its pocket. And when you are considering a page builder plugin, you should look at the pros & cons of your plugin.
So find out some valuable pros & cons of Beaver Builder.
| | |
| --- | --- |
| Pros | Cons |
| Visual front end page building options | Slower than other page builders |
| Pre-made template & block library | Pay extra using the Beaver-Builder theme |
| Amazing design features | Form maker is not available |
| User-friendly interface | 3rd party addons are required for extra features |
| Top-notch support | Makes website slower |
Beaver Builder Pricing
Pricing is an important part that you must understand before purchasing a page builder plugin. In Beaver Builder, with having a free version you'll see three types of pricing plans- standard, pro, and agency.
You find their plan details in the image below.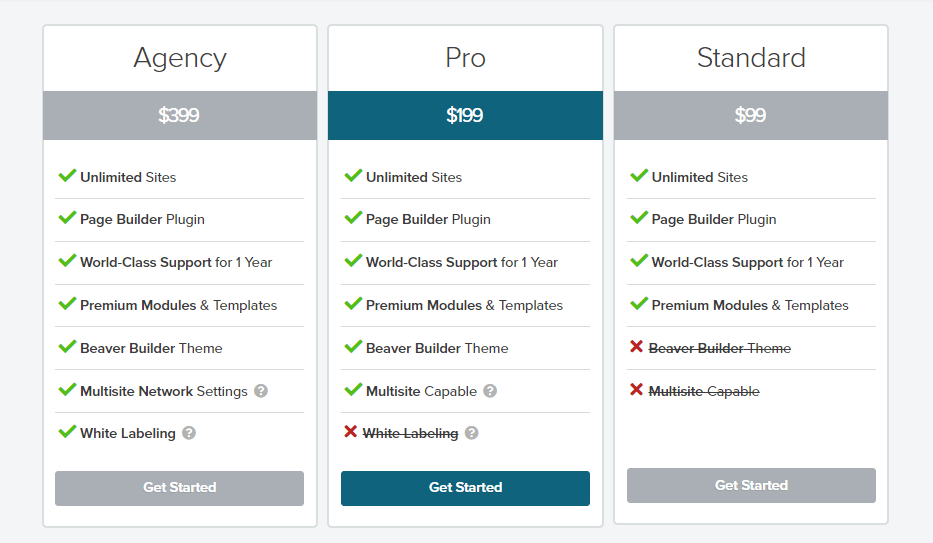 Beaver Builder Performance Review with WPHive
As we already mentioned that a page builder plugin offers tons of advanced features and ready-made templates, that's why your site might be slower sometimes. So you need to have a clear idea about the speed and performance of the page builder.
Now it's time to test the Beaver Builder's performance and speed. I hope that you will get clear information about this plugin.
Basic Info Test
The basic info shows the current WordPress rating, total download, active installation, and support thread of the Beaver Builder.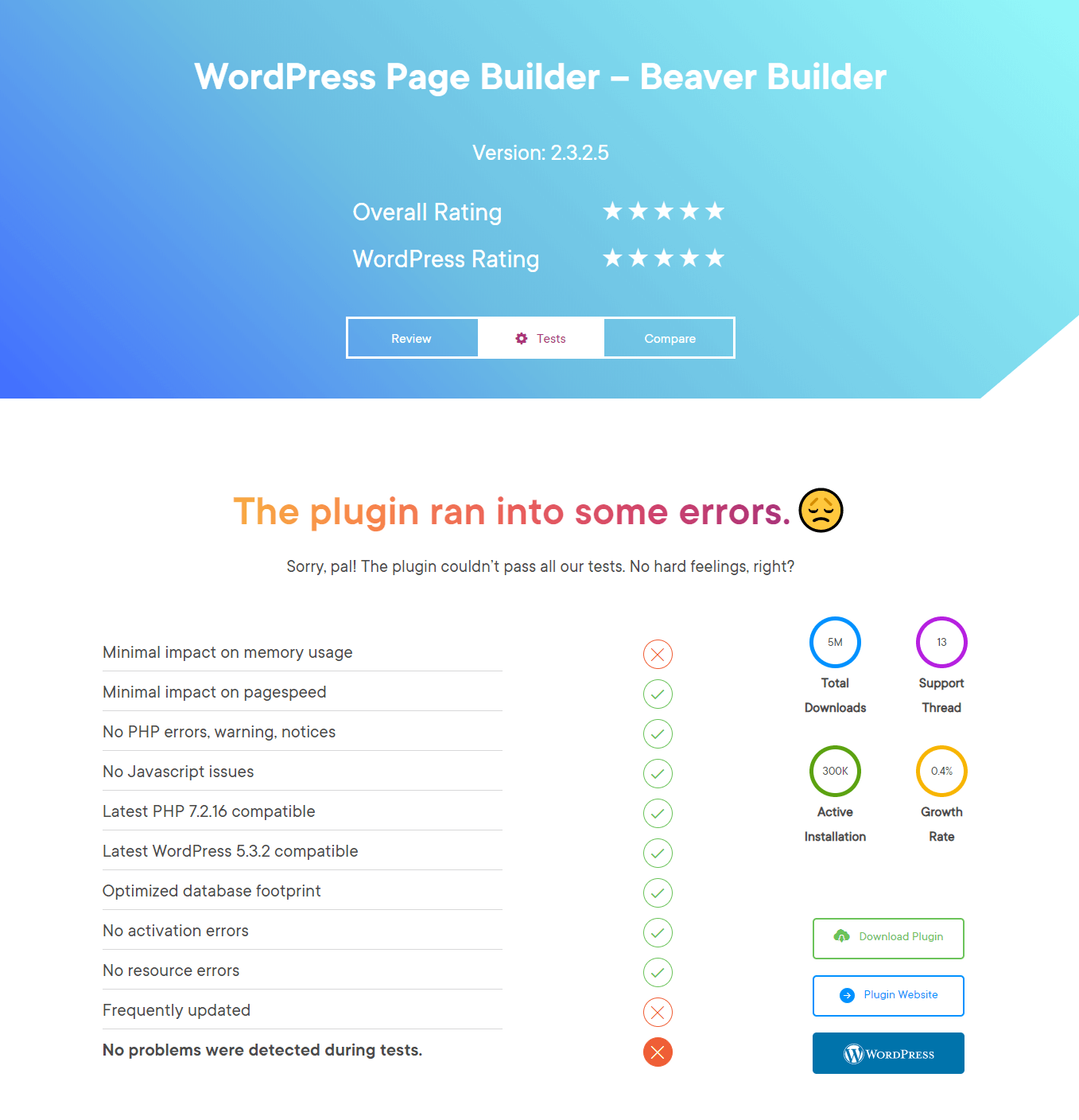 Performance
Here in the Beaver Builder performance, you'll find the total memory usage 840.37 and page speed of 0.01s of this page builder. And it shows 99% faster than other plugins.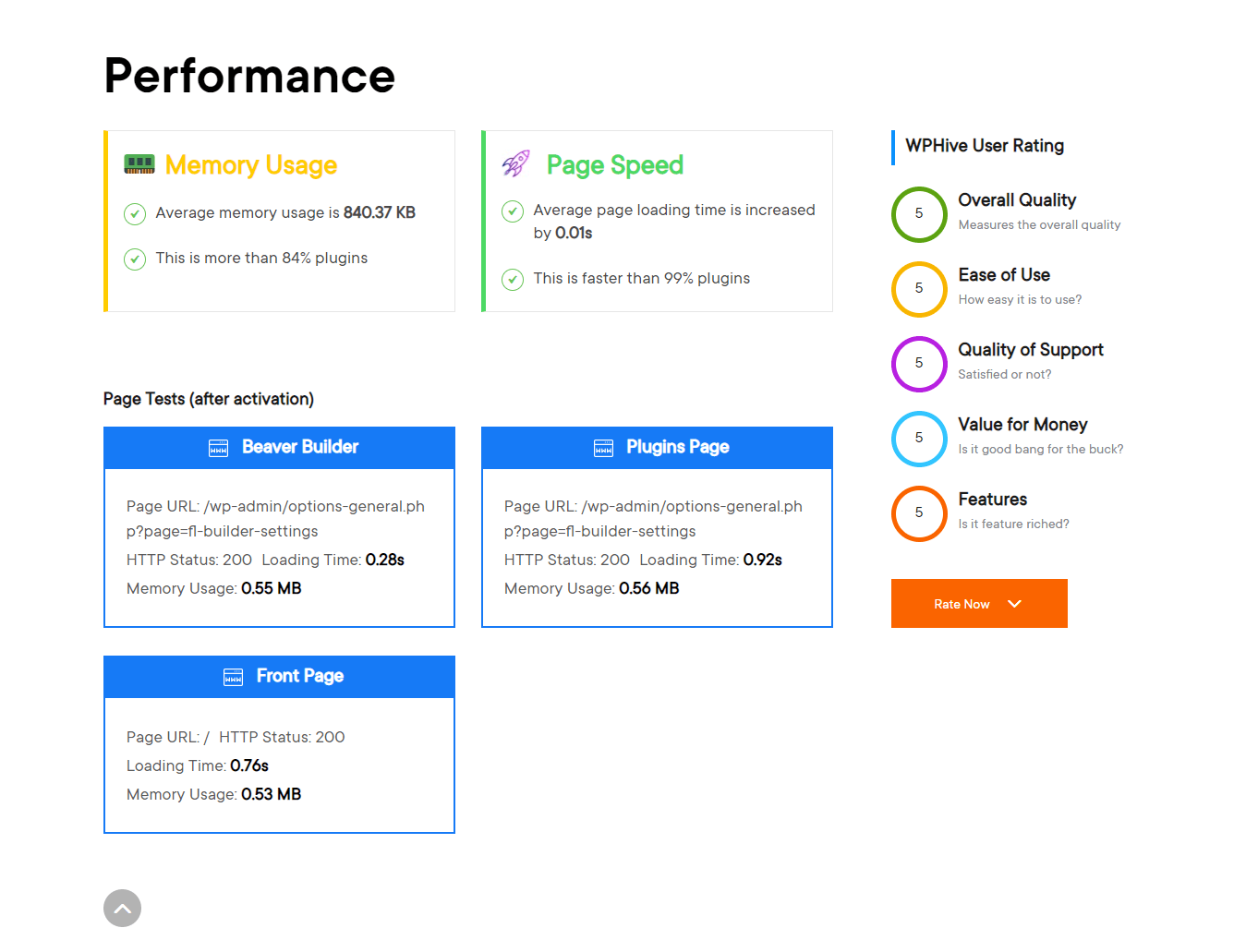 Speed
In the speed test, we find the page speed as well as memory usage of the plugin. And it seems to be perfect.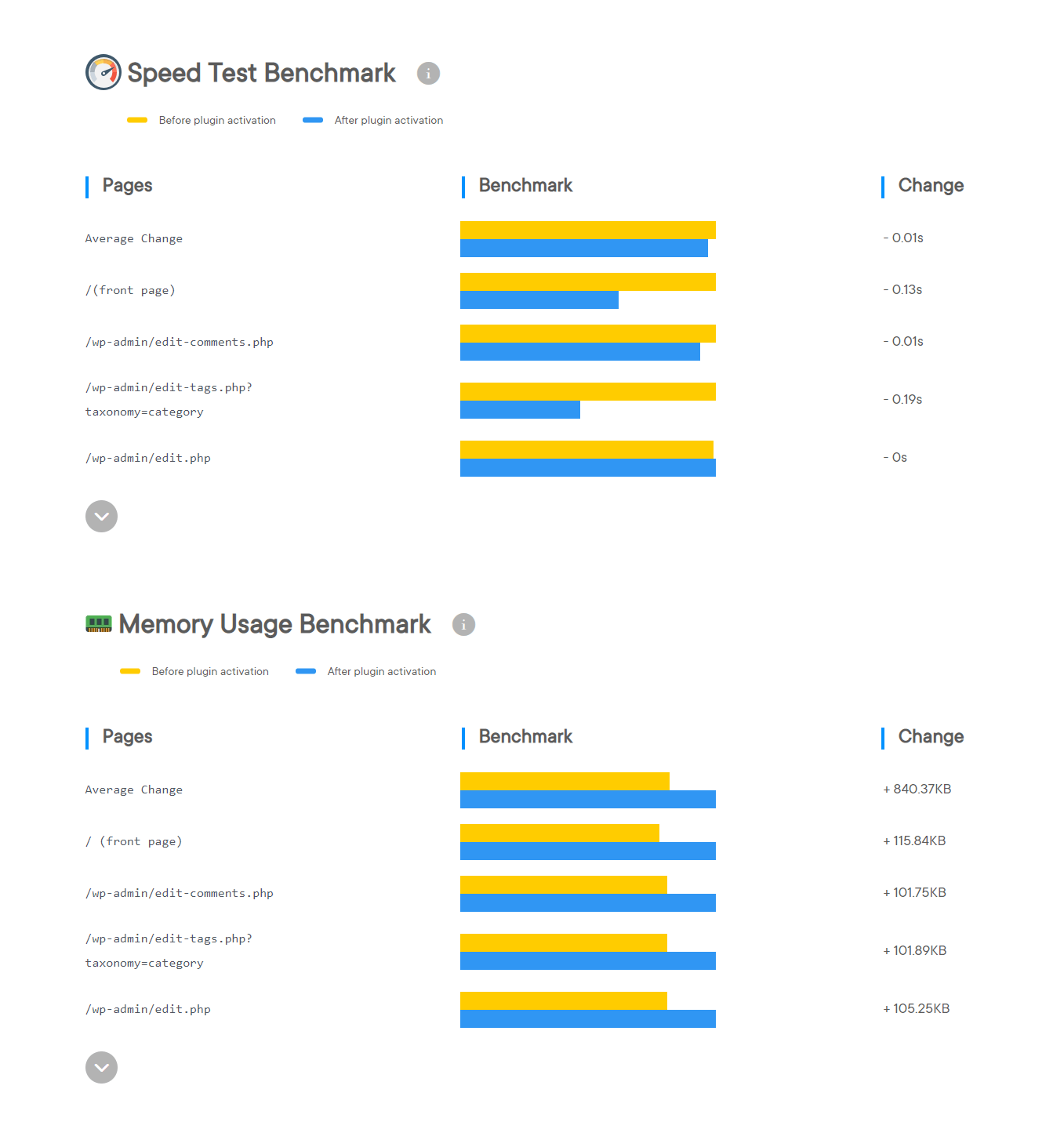 Stats
In here, you'll see the current stats of the plugin. This test shows the consistency of download history, current versions of the plugin, and some error.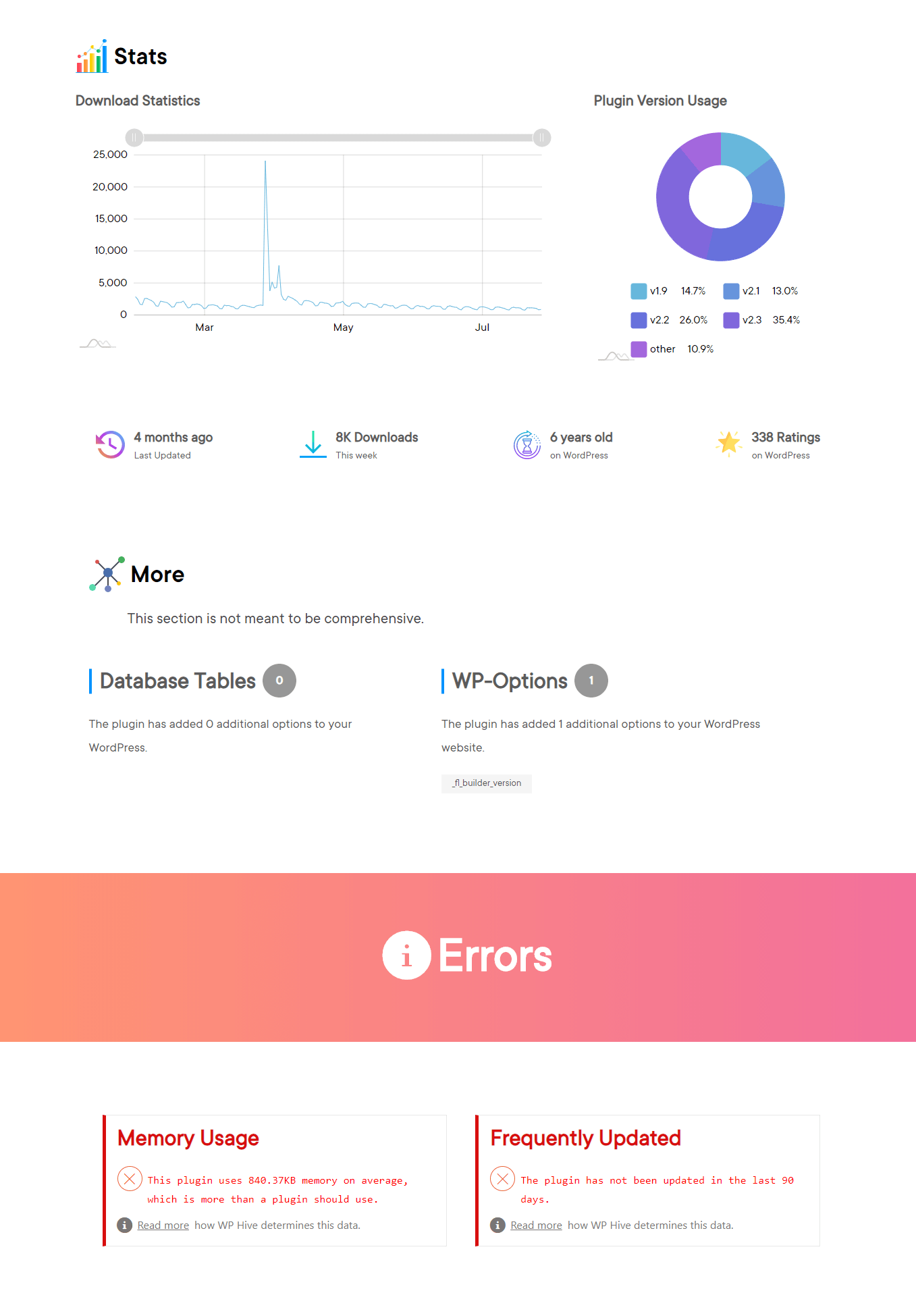 WPHive Rating for Beaver Builder
Here, we have rated the Beaver Builder.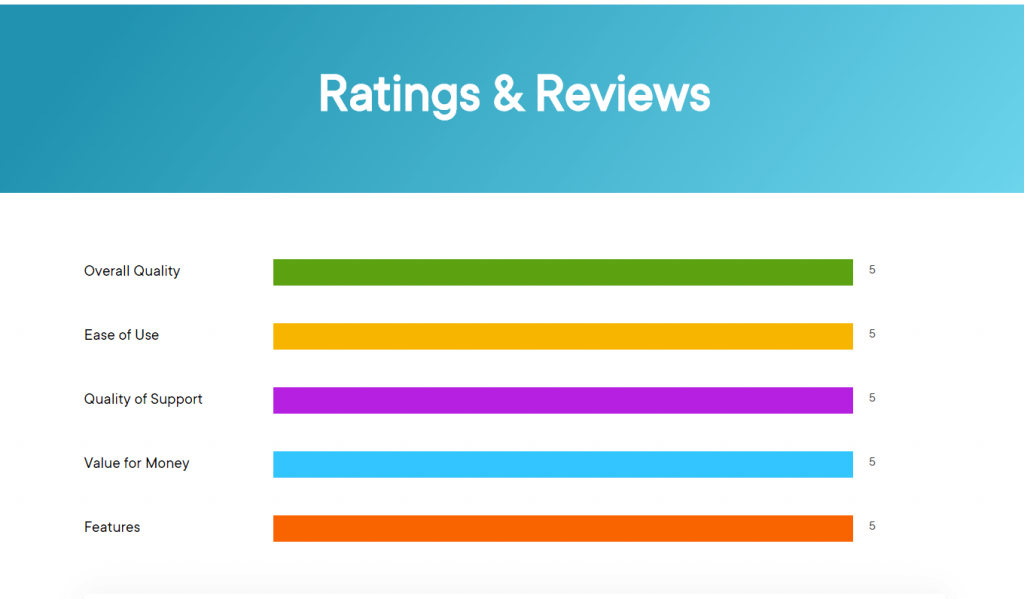 Beaver Builder vs Elementor: An Easy Comparison
Like Beaver Builder, Elementor is also a powerful page builder WordPress plugin that is loved by over 5 million users worldwide. If we compare these two amazing plugins side by side, you'll see the complete picture of these plugins.
Most importantly, you will understand which one you should choose for your future website.
| | | |
| --- | --- | --- |
| Feature | Elementor | Beaver Builder |
| Drag & Drop Editor | Yes | Yes |
| Pre Designed Template | 300+ | 20+ |
| WooCommerce | Yes | Yes |
| Theme Builder | Yes | Yes |
| No Coding | Yes | Yes |
| Form Widget | Yes | No |
| 100% Responsive | Yes | Yes |
Comparing Beaver Builder with Elementor using WPHive
Let's see the test result below.

In the test results, we see the memory usage of theses two plugins are different +840.37KB (Beaver Builder) and +1148.38KB (Elementor). Similarly, we also notice their page speed -0.01s (Beaver Builder) and +0.09s (Elementor).
Overall, we find both of these plugins are best in their own criteria.
Verdict on Best Possible Page Builder for Your WordPress Site
You might be thinking about which page builder plugin is the winner in this race. In our research, we see these two-page builders are both experienced and consistently performing.
Beaver Builder is an advanced, easy-to-use, responsive, and SEO-friendly page builder WordPress plugin that allows you to build a website in minutes. Besides, it has exclusive pricing plans for different users' needs. But its development process is slow and does not update its features frequently.
On the other hand, Elementor has awesome design tools that include consistent performance, tons of premade pages or blocks, animation, popup builders, and more that's all you need for making a stunning site.
Besides, it has so many 3rd party addons that also help you a lot. In fact, if you face any issue using the Elementor, you'll find tons of resources on the internet including videos. But Elementor has a speed issue, it makes your website a bit slower.
Conclusion
Finally, we have come to the closing statement on the Beaver Builder review.
We tried to cover the valuable features of Beaver Builder and compare the plugins with another powerful visual page builder Elementor.
Now it's your turn to give Beaver Builder a try along with Elementor and make a final decision. Hope, this comparison helps you get a clear picture.