Reviewing Dokan: Your Best Partner to Build A Multivendor Marketplace on WordPress

In the era of digitalization, eCommerce is having a dream run. More and more businesses are coming online. For building their eCommerce site, people are choosing WordPress and WooCommerce for building their online shop.
But when it comes to the multivendor marketplace, they are still facing many problems to build their eCommerce sites like Amazon and eBay.
That is because multivendor marketplaces are complex websites, and mostly custom development is needed. Well, up until Dokan, that was the case.
So today we're going to talk about one of the popular WordPress multi-vendor marketplace plugins, Dokan.
With Dokan Multivendor, you can easily create your dream multivendor shop. Besides, it also helps you to solve all the problems you may face while building an eCommerce multi-vendor marketplace.
When Do You Need a WordPress Multi-Vendor Marketplace Plugin?

Using WooCommerce and WordPress, you can easily launch your dream eCommerce store. However, when you're thinking big like making an eCommerce marketplace that has a lot of vendors, you'll be dealing with so many problems.
Without a multivendor plugin, WooCommerce does not have the capability to create a multivendor eCommerce marketplace.
If you want to earn a commission from each sale of your vendor, you'll need a multi-vendor WP plugin. Dokan has a lot of powerful functionalities that can help you to make your multivendor marketplace.
There are many WordPress multivendor plugins in the market. However, it's very difficult to choose the right one for your ultimate solution.
So which one should you use?
The Dokan Multivendor Plugin can be the perfect solution. Most importantly, it has those advanced features that you'll need to launch your stunning multi-vendor eCommerce marketplace.
Let's give you a complete review of Dokan.
Why Choose Dokan Multivendor To Build Your Online Marketplace?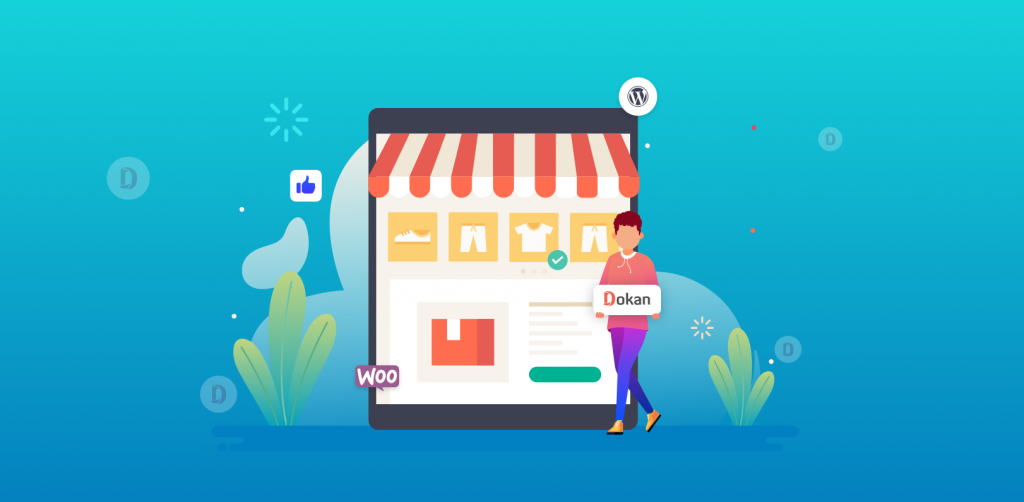 Dokan Multivendor Plugin is a progressive multivendor WordPress plugin that has been chosen by more than 60,000 people worldwide to create their multi-store shopping mall. Plus, it's one of the best WordPress multi-vendor front-end plugins that work with WooCommerce.
By using Dokan, you can easily build your eCommerce marketplace like Amazon, Shopify, eBay, Aliexpress, and Magento in less than 30 minutes. Most importantly, it saves hundreds of valuable work hours while making an eCommerce marketplace.
In addition, you'll experience a lot of modern features on Dokan Multivendor such as the best frontend experience, the easiest customization option, and world-class customer support while selecting Dokan.
In fact, it is also compatible with any WooCommerce theme so you don't need to worry about choosing a theme.
Dokan Success Stories From All Over The World
How Dokan Works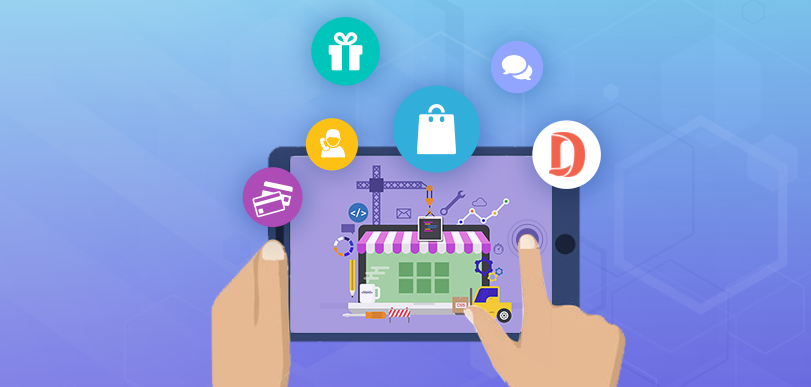 Dokan mainly works in four steps to create an online multi-vendor market.
First, you need to download and install Dokan on your WordPress website. You may easily download it from the WordPress.org plugin directory or you can visit their official website.
Second, you have to customize your marketplace as you like it.
Third, it's time to welcome your vendors to sell their products on your marketplace. If you want, you can sell your own products on your marketplace as well.
Fourth, you've created your own multi-store marketplace. Now it's time to start earning from the commission.
See, how easy it is. If you follow the above four steps you'll be able to make your own marketplace. Know about the working procedure of Dokan, to build your dream marketplace.
Give a read to this article, Create an electronic marketplace with Dokan
Powerful Features of Dokan Multivendor Plugin
When you think of building a multi-vendor marketplace, you need tons of powerful modules and features. Likely in Dokan Plugin, you'll find most of the essential features and functionalities.
In addition, it has 20+ additional modules that are easy to use as well as lightweight for your website. Besides, it has vendor-independent store compatibility, a stunning frontend dashboard for vendors & customers, awesome report management, and coupon management.
Moreover, you'll find product reviewing options, WooCommerce payment gateway options, shipping management, and other necessary features of Dokan. Most importantly, you'll be able to see and control who sells and who doesn't.
Let's see some advanced features of Dokan in the below list.
Marketplace with Independent Stores: With Dokan Multivendor, every vendor can easily customize their storefront.
Compatible with any WooCommerce Theme: Dokan has full compatibility with any type of WooCommerce WordPress theme for designing your new multi-vendor shopping mall. You can also use the Dokan Theme while making your marketplace.
Stunning Frontend Dashboard for Vendors and Customers: While using Dokan, your vendors and customers can use their own stunning frontend dashboard to manage their information.
Start Earning from Each Sale as an Admin: That's the power of Dokan. As an admin, you can easily earn a commission from each sale of your vendor's product sales.
Coupon Management: It also comes with the full integration of coupon management systems.
Product & Store Reviews: Product & Store Reviewing is an important feature of every eCommerce store. That's why Dokan supports the review options.
Easy Withdraw System: Dokan has full integration with WooCommerce-based payment systems. That includes Stripe, PayPal, Cash on delivery, Bank Transfer, etc.
Shipping Management: It also comes with easy shipping management systems to ship its products to valuable customers.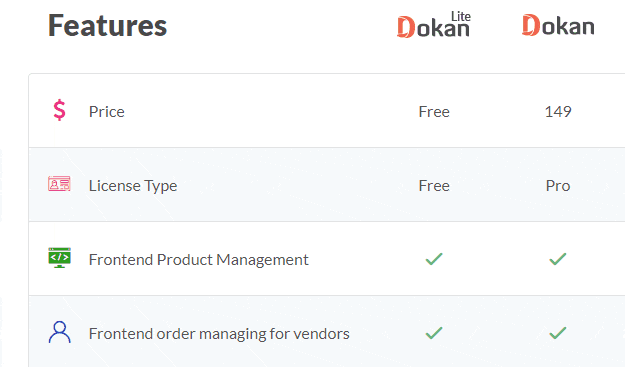 For more information, you may visit their website where you can find all the modules and features they have available.
Dokan Free & Pro Price Comparison
Like the other multi-vendor plugins, Dokan also set their pricing with several types by keeping in mind their users. So you can easily select your desired pricing plan along with your needs.
Dokan Lite, which is available on the WordPress repository, is always free. However, the premium version starts from $149/year for the starter version. The Professional, Business, and Enterprise version costs $249, $449, and $999 respectively.
Dokan vs Other Multivendor Marketplace Plugins Compared
It's very important to compare your chosen plugin with the other multi-vendor plugins. If you do, you'll find the best.
In this segment, we will show you a complete comparison of Dokan Multivendor with the other popular multi-vendor plugins.
| | | | | | | |
| --- | --- | --- | --- | --- | --- | --- |
| Features | Dokan Lite | Dokan | WC Vendors | YITH | WC Marketplace | WC Product Vendors |
| Price | Free | $149 | $199 | $79 | $80 | $95 |
| Individual Vendor Stores | Yes | Yes | Yes | Yes | Yes | Yes |
| Frontend Product Management | Yes | Yes | Yes | Yes | Yes | Paid |
| Single Product Multiple Seller | No | Paid | No | No | No | No |
| Seller Statement Reports | No | Yes | No | No | No | No |
| Shipping Management | No | Yes | Yes | Yes | Yes | Yes |
| Multiple Commission Types | No | Yes | Yes | Yes | No | Yes |
| Support | wordpress.org | 1 Year | 1 Year | 1 Year | 1 Year | 1 Year |
If you want to see more, you'll be able to see the detailed comparisons here.
Common FAQ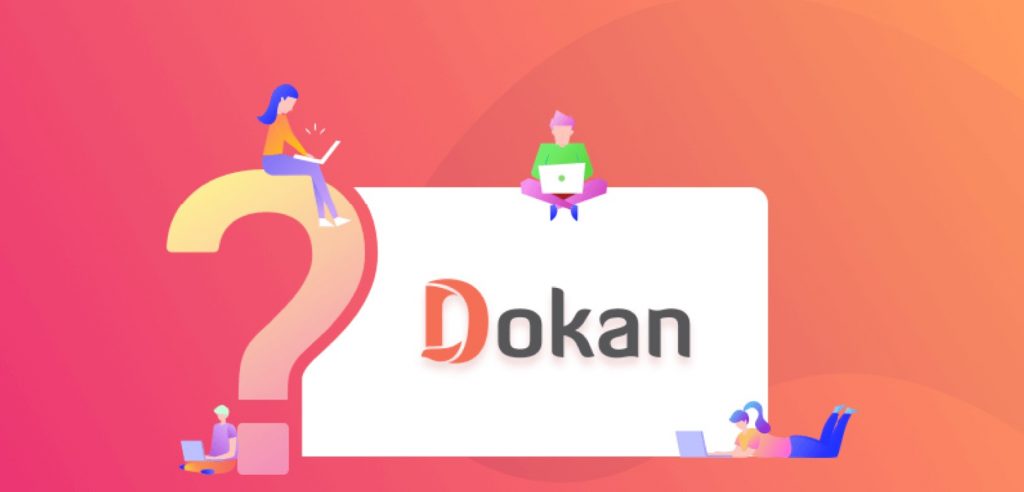 While using and before using Dokan Multivendor, you may have many questions that come to your mind.
It's natural.
Let's cover some common FAQs of Dokan.
Dokan Plugin FAQ
What are the system requirements?
The server requirements that you need while using Dakan are PHP 5.6 or later and MySQL 5.6 or later. You may also work with share hosting and be able to change your hosting later.
Is it multisite supported?
Dokan does not support multisite. You can use Dokan only 1 database. But if your site is on the subdomain, you can use it.  
Is there any limit on the product, category, and tags?
No, there is no limitation to adding products, categories, and tags. 
Can I use the WooCommerce shipping plugin with Dokan?
No, Dokan has its own shipping method.
Can I use cash on delivery with Dokan?
Does Dokan have a per-category commission feature?
Yes, you can add your commission plan per category.
Which payment gateway can be used with Dokan?
Yes.  Besides, you also can add any WooCommerce payment gateway to withdraw your money.
Can I set the withdrawal threshold?
Yes, If you set 7 days then the vendor would not be able to send you any withdrawal requests before completing the order.
Does Dokan support RTL?
Yes, it is fully supported by RTL.
Is it possible to use your plugin for a wholesale marketplace?
Yes, you can use Dokan for a wholesale marketplace.
Can I charge a vendor monthly or yearly?
With Dokan, you can easily charge your vendor monthly or yearly.
Can a vendor deactivate their store?
No. Only the admin can deactivate vendors' stores.
Is it possible to upgrade the license from a single site to five sites?
Yes, you are allowed to do this. For more information follow this line here.
If you are still stuck, you may visit their FAQ page where you'll find the solution to all of your questions & problems.
Bonus: Building a Multivendor Marketplace Using Dokan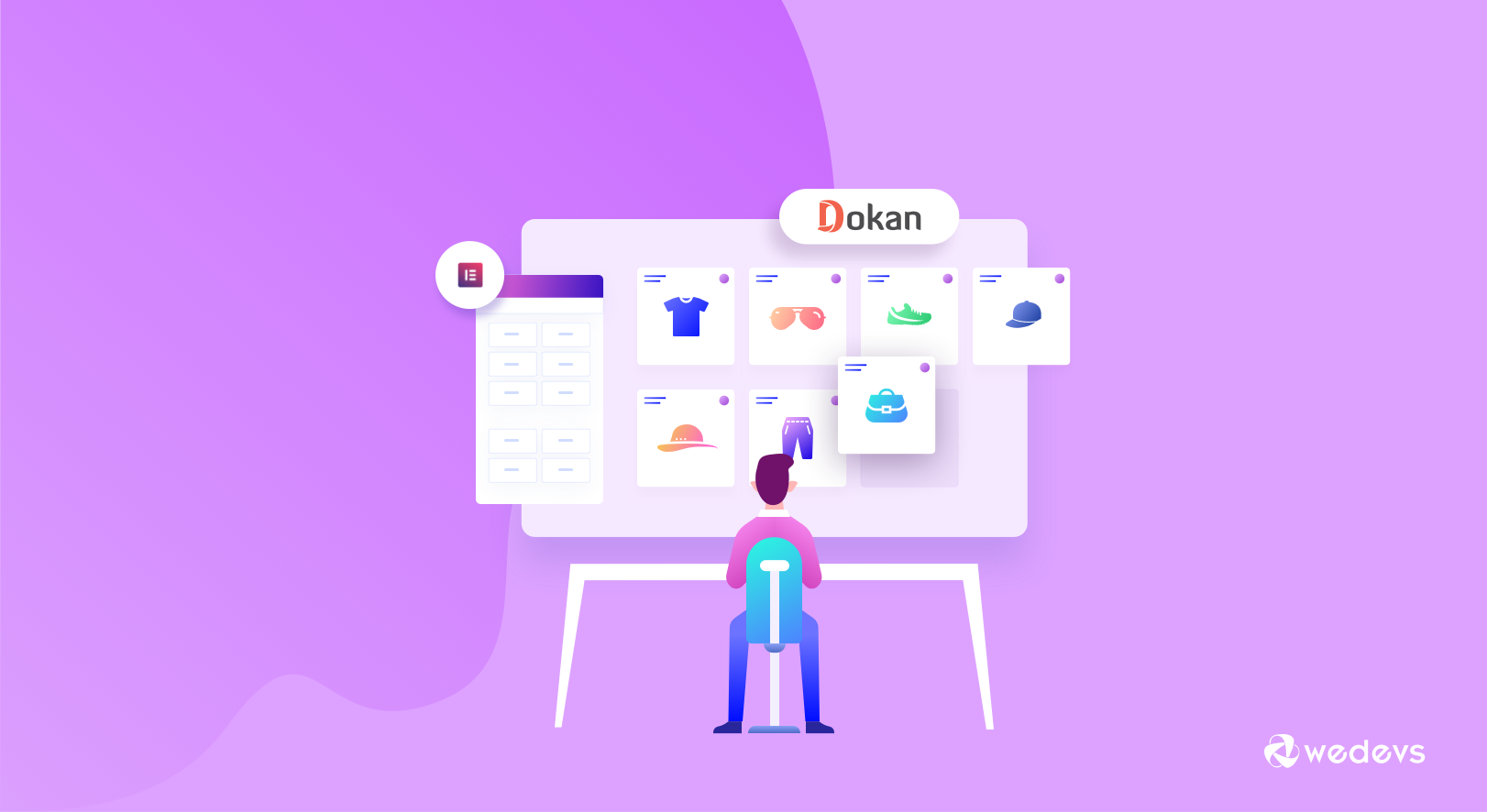 Great, it's time to build your own multi-vendor shop using one of the best WordPress multi-vendor plugin Dokan.
In this section, you'll learn how to build an eCommerce marketplace using Dokan.
Before doing this, make sure that you've all the things below.
In this ultimate guide, you'll easily learn to build your multi-vendor marketplace step by step.
Besides, you have to optimize your website using the popular WordPress caching plugins. In addition, you can also learn how to optimize your site's SEO.
Conclusion
We hope it's been a great experience to know about the Dokan Multivendor WordPress Plugin. In this ultimate review, we tried to find all the information about this amazing plugin.
Most importantly, you can learn a lot of essential information about creating a multi-vendor marketplace. In fact, you also know how to make your own multi-store marketplace using Dokan.
Have you used Dokan yet? What is your view about Dokan? Share your thought in the comment below.
If you haven't yet tried Dokan, but do have a plan to build a multivendor marketplace, we believe it is a great time to start working on that.
https://wphive.com/reviews/dokan-multivendor-review/
Adnan Khan
Adnan Khan is a passionate writer who loves to write and read WordPress related stuff. Besides, he is very imaginative and likes to fly kites and play soccer in his off time.

Subscribe To Our Newsletter