WP Super Cache: Is It the Best WordPress Caching Plugin

Website speed is one of the vital elements that impact search engine optimization (SEO) as well as site ranking. That's why people are always looking for the best WordPress cache Plugins to improve their site speed optimization.
So today I'll share with you the complete review of WP Super Cache. And also will try to explain why it is best and different from other WordPress Cache Plugins.
But before that, you need to understand why you need a caching plugin and how it works. And how WordPress Caching Plugin will help in your site optimization.
Why Do you Need a Caching Plugin?
In general, a caching plugin creates lightweight HTML pages for your website and saves them on the webserver. So, when a user or visitor wants to visit your website, the caching plugin shows the minimal HTML pages and files to your visitors.
That's why your users can feel a better experience whenever they try to access your site. Because those generated lighter files and pages help to reduce your site loading speed.
In addition, it also creates a positive impact on your SEO and site ranking.
So, the WordPress website owners are always trying to use caching plugins for improving their site performance. You may also learn how to speed up your website by following this awesome tutorial guide.
WP Super Cache at a Glance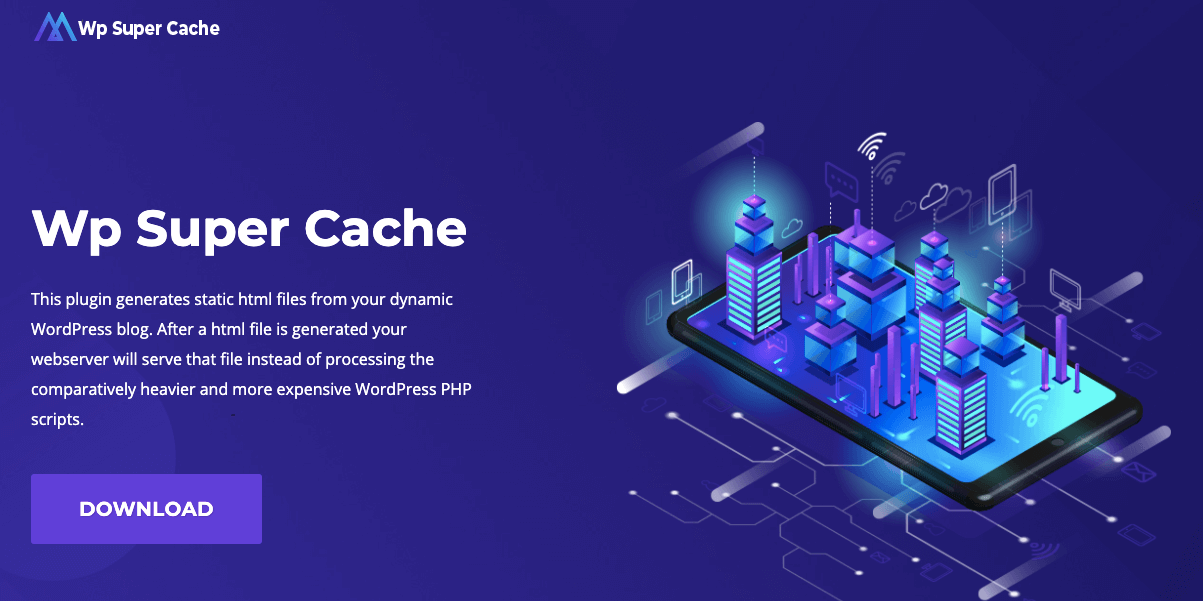 WP Super Cache is one of the best caching WordPress plugins that help tons of websites all over the world to improve their better site optimization and performance.
This amazing WordPress plugin is run by Automattic and you can easily find this plugin in the WordPress.org Plugin directory.
Like the other caching plugins, it also generates static HTML files that'll save on your webserver.
When your visitor tries to access your site the server will see the cached files instead of the heavy WordPress PHP scripts.
And the percentage of showing the cached files to their users is 99%.
However, Super Cache mainly follows three steps while caching a website. You can see the ways below.
Simple:

The simple is the easiest and recommended way of caching your website. Because in this way you really don't need to change or edit any PHP files including .htaccess file. Besides, it'll also be helpful for not-techy users.

Expert:

If you have the correct idea of how PHP scripts and files work, you'll easily go to the expert why to caching your site information. Because here you need to modify your .htaccess file.

WP-Cache caching:

This option mainly works for your predefined or known users. Because your known users are logged in to your site and sometimes comment on your post and using this option you can easily provide cached pages to your site.

Though it is the most reliable caching method, it's slightly slower among the others.
So now you can use any of those methods according to your needs and ability.
Pros and Cons of Super Cache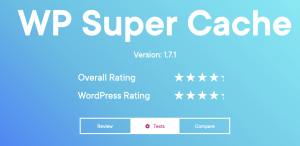 At this stage, you'll see the pros and cons of the super cache plugin. So take a look at the below section.
Pros of Super Cache
Easy to Use & Setup

Most Downloaded

Always Updating

Caching for Mobiles

Rest API Compatibility

CDN Supported

Notification Emails

Scheduler to Clear Cached Pages

Page Compression and Custom Caching
Cons of Super Cache
Now Have Premium Functionalities

Rating 4.5
Pricing
Most of the other Caching WordPress Plugins have two basic versions paid and free.
But Super Cache is always free and comes with a lot of premium features. With this free plugin, you'll simply be caching your website pages and you don't need to pay at all.
WP Super Cache vs W3 Total Cache: An Easy Comparison
Like the Super Cache, W3 Total Cache is another caching plugin that people used mostly. So it'll be very easy to understand if I give a clear comparison between these two popular caching plugins.
| | | |
| --- | --- | --- |
| Features | WP Super Cache | W3 Total Cache |
| Download & Active installations | 2+ million | 1+ million |
| Language Support | 23 | 13 |
| Version | 1.7.1 | 0.13.2 |
| Pricing | Free | Free & Paid Both |
| CDN Support | Yes | Yes |
| Rating | 4.5 | 4.5 |
| Mobile Support | Yes | Yes |
Speed Comparison of Popular Caching Plugins
Optimizing speed is the primary mission of a caching plugin. That is why you need to know the speed optimization score of your plugin.
Below, I'll show you a speed comparison of popular WordPress caching plugins.
Here you will see the average Super Cache performance on different matrices. In addition, you can also see the consistency of its performance.
And I hope it helps you understand why Super Cache is suitable for speeding up your site.
Is Super Cache the Best WordPress Caching Plugins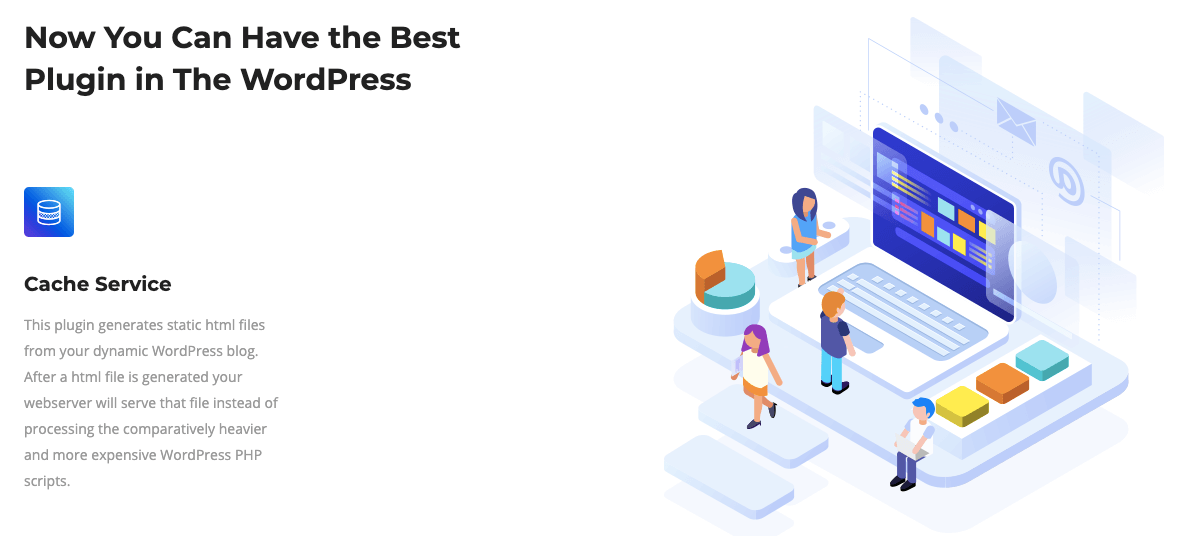 Then it is time to measure the complement. Is it the best WordPress caching plugin?
I think you have got the answer already. If you complete all the previous sections, you will understand correctly if it is better or not for your site.
Now you know all ins and outs about WP Super Cache. For example, why we need it, how it works, and the importance of using it on websites.
Plus, you can see the perfect comparison between the two popular caching plugins. Therefore you can easily see the number of active users around the world who love Super Cache, the incredible plugin to optimize your website.
Common FAQ about WP Super Caching Plugin
Let's talk about some of the common FAQS of the WP Super Caching Plugin.
How do I Know My Blog is being Cached?
To know this, you'll go to Settings -> WP Super Cache and look for 'Cache Tester'. After that click on the 'Cache Tester' and the plugin will request the front of your website twice along with the proper timestamp.
How do I Disable Supercaching?
For doing this, you need to edit your wp-config.php file otherwise you'll create a mu-plugin and set the constant 'DISABLE_SUPERCACHE' to 1.
Will the Super Cache Compression Slow Down My Server?
Not at all, it'll do the opposite. It just compressed all of your pages and files so the visitor will see those minimal cached files. So it'll reduce your loading time as well as make your site faster.
How Many Pages Can I Cache?
Honestly, there is no limitation of caching your site pages. But the limitation depends on our webserver. So if your server allows you thousands of pages on your website, it'll cache all of those pages.
How do I Change File Permission?
There are several ways of changing your server file permission. Better to read this awesome blog in WordPress Codex and hope it'll help you a lot.
How do I Delete the WP_CACHE Define from wp-config.php?
To delete this, you'll visit Cpanel-> Public_html-> wp-config.php. Then you just open the file in a text editor. And delete the line define( 'WP_CACHE', true ); then click on the save changes button to save your current changes.
Why do the Plugin Disrepair when I Upgrade the Plugin?
When you update a plugin WordPress will delete the old plugin folder. Similarly, if you update the Super Caching plugin, all of your previous plugin modifications will be deleted.
Then you need to define the variable $wp_cache_plugins_dir in wp-config.php or wp-content/wp-cache-config.php.
How do I Serve Cached Mobile Pages on Small Screens like Phones and Tablets?
It depends on the theme you used to build your website. Because if your theme is not responsible or compatible with mobile devices, how can you cached mobile pages.
You have to use the best responsive WordPress themes while designing your site.
Why It Shows A category Page instead of My Homepage?
It happens because of your website page setting. You follow this method to get rid of it.
Uses a static page for the front page.

Uses /%category%/%postname%/ permalink structure.
How do I Delete the Super Cache rules from the .htaccess file?
First, you have to find the file in your Cpanel-public_html-> .htaccess. Then open the file in the editor and safely delete the lines between "# BEGIN WPSuperCache" and "# END WPSuperCache" and save the file.
Final Thoughts
So it's time to conclude the review of WP Super Cache Plugin. I hope now you have a lot of valuable information about this WordPress caching plugin.
Moreover, the review story will help you to improve your website performance by using this useful and powerful tool.
Before you close, please share your experience and queries with us in the comment section below.
https://wphive.com/reviews/wp-super-cache/
Adnan Khan
Adnan Khan is a passionate writer who loves to write and read WordPress related stuff. Besides, he is very imaginative and likes to fly kites and play soccer in his off time.

Subscribe To Our Newsletter