If you are looking for an easy way to send a newsletter and that too from your WordPress dashboard, then you have to rely on an email newsletter plugin.
Today, more than 34% people use email. That's about 2.5 billion people.
Therefore in 2023, there is no denying the fact that email marketing is more important and effective than ever. It is a personal way to reach your targeted customers. It is more effective than social media, it's economical and cost-effective, customizable, measurable, action-oriented, and more.
However, without an efficient email marketing solution, these are not possible. So, if you are still confused about whether or not to choose an email marketing solution, today we are going to do an in-depth MailPoet review, a popular email newsletter plugin for WordPress.
We are going to cover all the features, pros, and cons, and compare it with another popular email newsletter plugin so that you have all the right ideas about whether to choose an email marketing solution and that too MailPoet.
Role of An Email Newsletter Plugin & Features You Should Look For into It

Before jumping onto the MailPoet review, we will first talk about the role of an email newsletter plugin plays, along with what features you should look for before choosing a newsletter plugin.
Basically the main role of an email newsletter plugin is to help you collect email addresses from website visitors. You can create attractive sign-up forms that connect directly to your email marketing service. Also, this plugin helps you create email marketing campaigns through your WordPress site.
Now, there are many email marketing plugins out there. So, before choosing any of them you have to know what features these plugins should have in order to get the best service.
Any email marketing plugin should have,
Drag n Drop editor
Form customization
Attractive built-in email templates
Segmentation
Managing subscriber's list
Detailed Reports and Analysis
Reliability
Integrations.
So, when you are choosing an email newsletter plugin, make sure your solution has all these features.
Basic Features & Functionalities of MailPoet
Now, let's discuss the basic functionalities and features of MailPoet in this part of the MailPoet review article.
This email newsletter plugin lets you create and send an email newsletter right from your WordPress dashboard. The process is very simple and straightforward. As you are already using WordPress so you are already familiar with the interface. That's not all, it has other features. Like,
Beautiful Email Templates
With MailPoet you can create professional-looking emails in minutes. All you have to do is select the email type, choose the right template, customize it to your liking, and send it. That's it.
MailPoet is fully customizable, so you can add your colors, backgrounds, and add your logo. And if you don't want to use the template, you can create an email from scratch.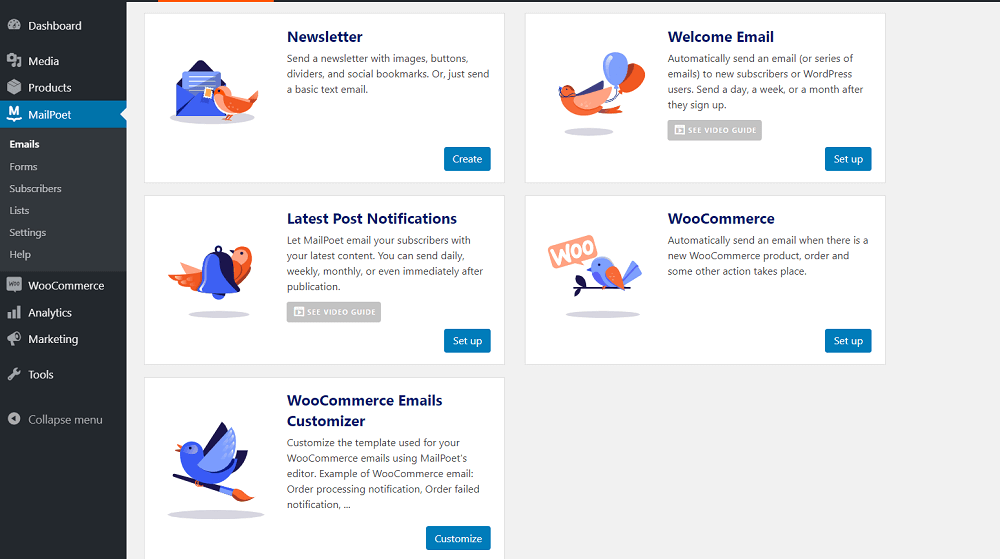 Built-in Signup Form Builder
The technique that most email marketers use to collect subscribers is signup forms. They put attractive yet simple signup forms to encourage customers to signup for their email newsletter.
MailPoet gives you the opportunity to create signup forms and you can put them anywhere on the website. Although, the forms might not be as complex as other form builders. But they are simple yet effective.
You can easily use CSS to customize the forms if you have design skills.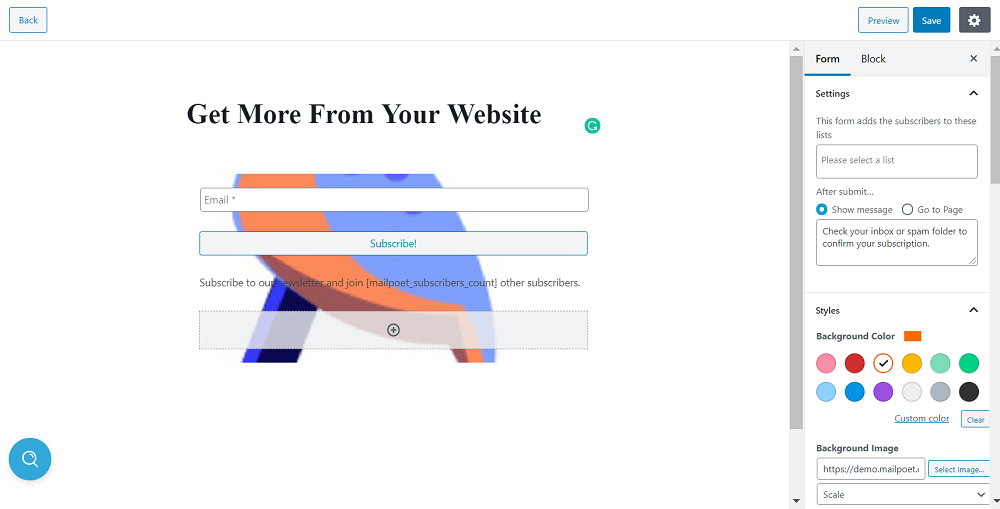 Subscriber List Segmentation
List segmentation is a crucial part of email marketing. You can categorize your subscribers into different groups based on their interests and behaviors. Then send them personalized emails.
With MailPoet, segmentation is easy. You can easily track the subscribed, unsubscribed, and bounced subscribers. You can also import and export subscribers in both CSV and Excel formats to make moving from your current email outreach provider a breeze.
Google Analytics Integration
We all know about the importance of Google Analytics to track the performance of a website. MailPoet uses this feature to help you gain deep insights into your subscribers so you can leverage data to get better results with every email.
You can view your analytics by going to the 'Emails' section of MailPoet.
You can analyze your email campaigns' performance and learn more about your subscribers.
You can track opens, clicks, and unsubscribers. You will also get an idea of how your newsletter is performing. That way you can rectify your mistakes and optimize them for better engagement.
WooCommerce Integration
MailPoet directly works with WooCommerce. You can do things like segmentation, automation, and abandoned cart notifications. You can also check click rates, along with which customers opened your email, and even track invoices.
The best feature, however, is having all this built-in to WordPress. You don't have to go back and forth between apps and worry about missing something because everything is under one dashboard.
These are the main features of MailPoet. However, it also has some basic features as well,
Simple database import from a spreadsheet or direct from MailChimp
Database export as a CSV file or Excel file
Easy-to-manage subscriber database
Ability to manage multiple lists on one site
Template import
Drag-and-drop editor.
Advantages of Using MailPoet WordPress Plugin (Pros)
If you are looking for an easy way to manage email newsletters and basic email outreach, then you can benefit from using MailPoet. That's why it's such a popular and highly-rated plugin.
However, if you still want to know why you should choose MailPoet over other email marketing solutions, here are some advantages of using this plugin.
You can easily manage email marketing campaigns from start to finish, including analytics, within your WordPress dashboard
High-quality design tools for signup forms and emails
Pop-up and slide-in functionality for signup forms
Automation for specific types of email marketing
Easy subscriber import and export
Well-organized subscriber database
Ability to manage multiple lists on one site
Segmentation capabilities
High deliverability
It is quite a good option for eCommerce sites.
Issues You May Face While Using MailPoet (Cons)
There is no software without glitches or issues in the world. MailPoet is no different. It has also some issues that you may face while using it. These issues may put off many email marketers from using MailPoet. Here are the issues,
MailPoet lacks advanced functionality 
Forms are very basic
No split testing
Only basic automation 
UI could use an update
Limited scheduling functionality.
How Does MailPoet Actually Perform?
It's one thing to know about a plugin's features, advantages, and disadvantages. But it's whole another thing to know how the plugin will affect the site. That's why it is important to know the technical features of a plugin.
Otherwise, you will end up choosing a plugin that will lower the performance of your site. Although it has great features. Luckily, WP Hive does the trick.
WP Hive has multiple parts. One of them is a very powerful crawler. The crawler crawls all the plugin from WordPress.org, blindly activates it, and logs many crucial data such as page speed, memory usage, JavaScript issues, activations issues and more.
So, we are going to put MailPoet through WP Hive and see how it actually performs.
Initial Test
Now, if we see the initial results, you can see the plugin passes all the tests with flying colors. There is no PHP errors or JavaScript issues.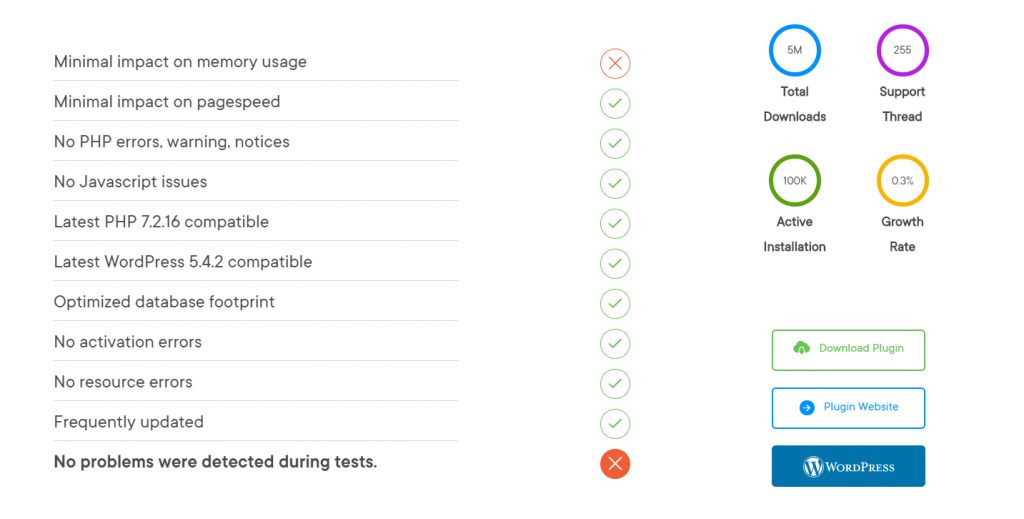 Memory Usage & Page Speed
If we see the use of memory for MailPoet, it is relatively high. It stands at 3430.56KB. That is more than almost 99% of the plugins. However, the page speed is much faster than 99% of the plugins.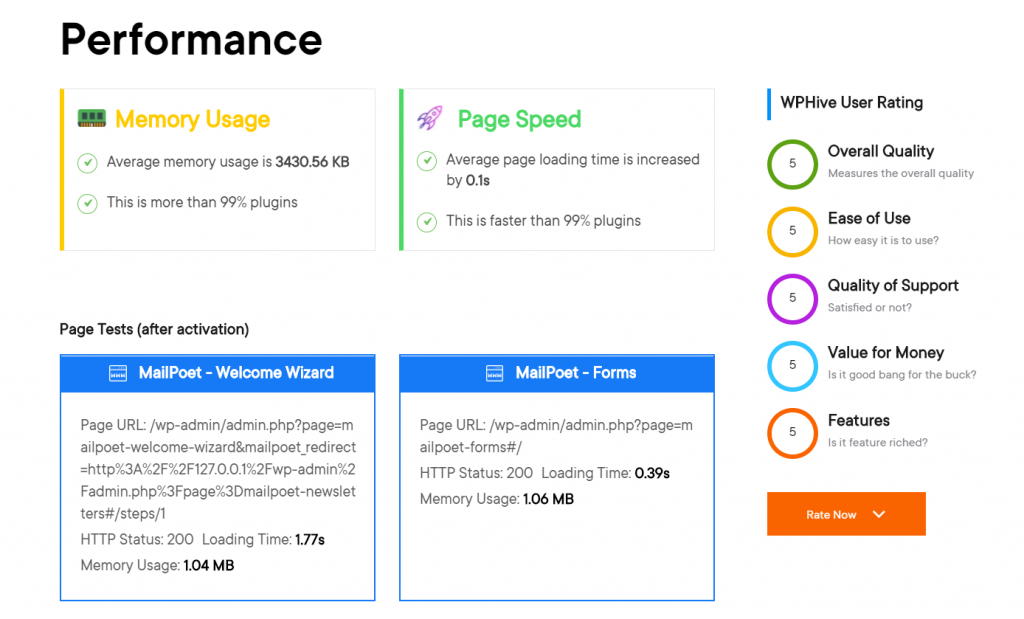 Download & Other Stats
You can also view all the stats for MailPoet from the beginning of its release almost 4 years ago.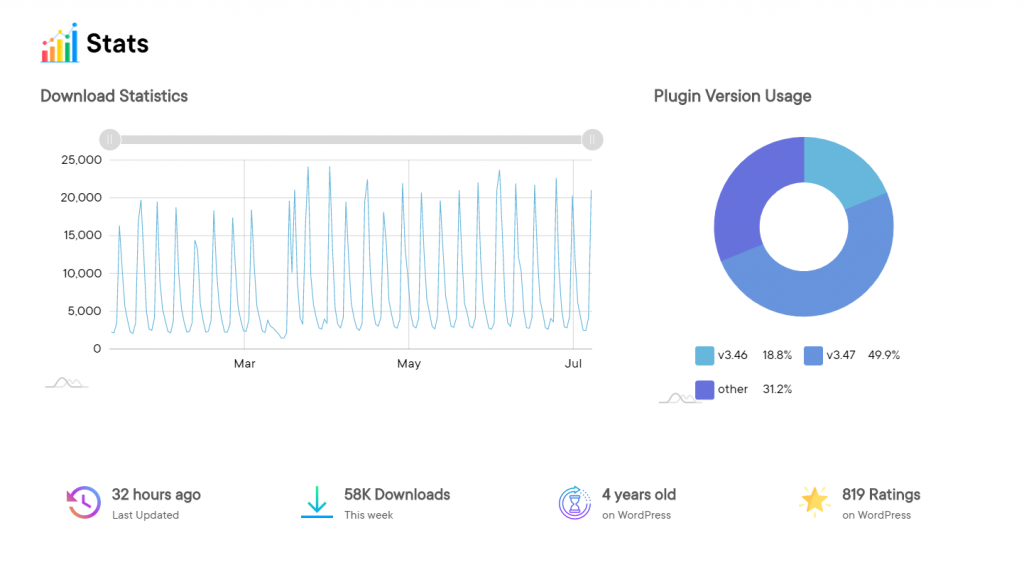 MailPoet Vs MailChimp: Head To Head Comparison
Mailchimp is one of the earliest email marketing solutions. So, you can easily understand the depth of its popularity. Mailchimp offers a lot of useful email marketing features, such as segmentation, social media integration, and eCommerce features (such as an abandoned cart, product recommendation, and order notification emails).
However, MailPoet holds its own for its unique features as well. That is why people have been calling it an alternative to Mailchimp on some level. But is it true?
Why don't you see the below comparison and decide for yourself?
| | | |
| --- | --- | --- |
| Comparison | Mailchimp | MailPoet |
| Learning Curve | You have to go through a whole lot of configuration while setting up Mailchimp for the first time. For beginners, it is a daunting task. | MailPoet installation is as simple as installing a WordPress plugin. You just need to decide on your email delivery partner. |
| Analytics | Mailchimp analytics provides insight like receives emails, Open rate, and bounce rate of your email campaign | MailPoet provides you only insights like open rate and click rate in its free plan. For a detailed analytic feature, you will have to pay for the analytic plugin. |
| Post Notification Emails | Mailchimp sends post notification emails by splitting the RSS feed of your WordPress site. However, there is an option available in which you can send only the post summary instead of the whole content. | MailPoet allows fetching the post information directly from the database of WordPress. Which ultimately offers a myriad of customization options in its Automatic latest content module. |
| WooCommerce | Mailchimp allows a user to integrate WooCommerce through their plug-in. However the reviews of that plugin are sub-par, so there is an issue with the reliability of that WooCommerce plug-in. | MailPoet has created Woo-commerce features to add the MailPoet which facilitates online store owners to ease their email marketing. |
| A/B Testing | You can experiment with subject line design and link placement. | There is no provision for A/B testing in MailPoet. |
| Pricing | Mailchimp is free for up to 2000 subscribers and 12,000 mail per month. But you will have to pay for selecting a plan other than the free plan.  | MailPoet offers unlimited emails a month to 1000 subscribers. |
>> Compare The Technical Issues Between Mailchimp & Mailpoet <<
Our Verdict
Mailchimp has more advanced analytics and eCommerce-based features in comparison to MailPoet. What Mailchimp offers in its free plan, MailPoet offers in its premium plans. However, if you are looking for value for money then MailPoet is the right choice.
Mailchimp has inflexible pricing plans. MailPoet's free plan supports sending more than 12,000 emails per month (which is Mailchimp's limit). However, Mailchimp offers more pre-built templates and a more rewarding design interface.
So, we can say MailPoet can be a serious alternative to Mailchimp if you care about email deliverability. But if you had to pick one, then it's up to you and your requirements. You need to keep in mind the budget as well.
Final Words
Thus we end our MailPoet review. We have tried to cover all the essential details and hopefully give you the necessary information regarding the MailPoet plugin.
So, if you are looking to start using a new email newsletter plugin, we hope this MailPoet review article will help you make the right choice.