Configure Free Business Email Like a Pro | Free G Suite Alternative [2023]

Who doesn't want a free business email address? It is always pleasing to eyes to use your domain name as your email address.
A business email address makes your business more authentic and conveys more credibility to your customers. Creating a free custom email address is also easier than it looks. If you know what you are doing, you can configure your free professional email address in less than five minutes.
Google Apps (now known as G Suite) offered free business until 2012. Nowadays, free Google Apps is no longer an option for new users
If you want to create a free business email today, you will most likely have to pay. The first step of getting a business email is getting a domain name. Popular web hosting company Bluehost has free email service with their monthly web hosting package that costs about $2.95/mo. You can get a hosting at Bluehost to get your email.
However, hosting companies do not handle emails well. Do not get me wrong, but hosting companies focus more on hosting your web pages and they do not focus much how your emails are getting delivered and how the user experience is while sending an email.
For example, we all use Gmail right? When you will login to Bluehost/Hostgator email you will feel like you have traveled back to the 90s! The user interface is not very much intuitive, the overall experience is slow and it does not provide any joy to use.
We will discuss the best and free business email alternative to Gmail/G Suite. With the custom domain email, you can provide a better impression to your customers. But first, you should have a clear idea what business email/custom domain email is and how you can configure one yourself free of cost.
What a Business Email Address Is & Why It's Important Having One
A business email or custom domain email address a kind of email address that uses your business's domain name. For example, if you have a website for your business naming "xyz.com" then the business email would be something like "[email protected]" or "[email protected]". You can create any email address with your own prefix.
Now you may be thinking why people would want to use a professional email address when there are companies like Gmail.com, Outlook.com provides free email service to everyone.
The answer is businesses need to build trust and authenticity among their customers. A business email gives your business a much more professional look. People want to do business when they find your business is professional and trustworth. Business emails help you to be moretrustworthy and gives your contacts more confidence to do business with you.
Top Reasons to Have a Business Email Address
Building More Trustworthiness – Having a professional gives your customers and consumers more confidence and trust in your business. This makes sure that they do not feel uncomfortable while taking the first step.
More Professional Approach – If you want your business to succeed, you have to make sure customers find you very professional including via email. Addtionally, a custom domain email helps to maintain a cohesive tone and consistency of your business.
Building Great Brand Awareness – A professional email address with custom domain gives your brand a great first impression compared to using generic email that says [email protected].
Free of Cost – Many businesses do not have a separate budget to have business emails. However, you might not be able to use Gmail's business version but do not worry. There are many email providers out there which provides free business email. You can build a professional brand with custom emails without using a dime or penny.
How to Get a Free Business Email Address Easily?
There are very few email providers who actually provide completely free business email solution. After careful evaluation, we found that Yandex Business Email is the best free business email provider right now beating competitors like Zoho.com
Why Should You Choose Yandex Free Business Email?
Yandex Business Email hands down is the best free business email we have ever tried since Google Apps was free.
Yandex business email is completely free with unlimited mailbox size
You can create an unlimited number of emails
You can customize your email address with any username
Yandex has very well built apps for phones (both iOS and Android) and tablets that gives you access to your important emails on the go.
Dozens of design themes, from kittens to outer space
Create & Configure Free Business Email With Yandex
Many of us do not know about the Russian company named Yandex. Yandex is the #1 search engine in Russia. They have a range of other products too. Yandex.Mail and Yandex browser are two of the most popular and most used products of Yandex.
They have developed some of the great apps in both mobile and desktop landscape including Yandex Browser, Yandex.Disk, Yamb (Workspace messaging client) and more. Yandex provides free business emails with no real limits. (Zoho provides free email for only 10 people right now).
If you do not have a Yandex account, then you need to sign up for a Yandex account first. Register for a Yandex ID and make sure you remember your Yandex username and password.
Go to Yandex Mail for Domain. Here we will add our domain which we want to use with Yandex.
Once you add your website and click sign up free, you will be redirected to a new page looking like this
Click on the domain name and you will find a new page where you need to confirm your domain name.
You will have several ways to verify your domain including meta tag, HTML file, DNS record and more. Choose any one which you feel comfortable with and then click "Start verification". Yandex will verify your domain.
Once you have verified your domain name, you will find an exclamation mark like this
Look on your left and you will find DNS Management and click on that.
Upon clicking DNS management you will find some new details which you will need to configure your email. The new information might look like this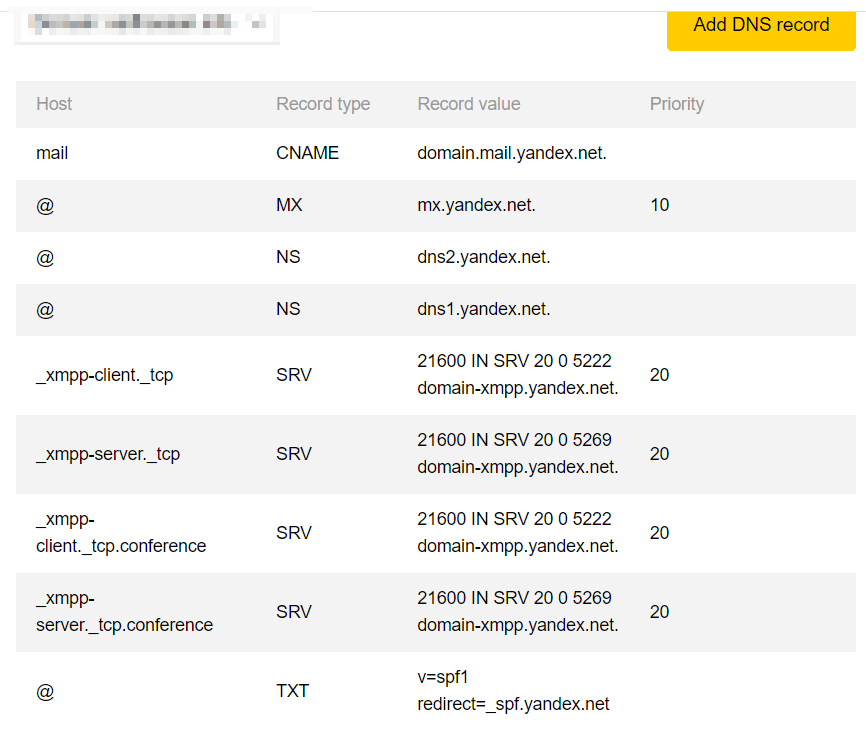 Configuring Yandex DNS Records
Many people find this step a bit confusing. However, if you follow our guide, it should be very easy for you. We are going to add those DNS records through Cloudflare. If you do not know, Cloudflare provides free CDN and SSL You can add all these DNS records with Cloudflare with ease. Before going into the next step, we recommend reading the following article and configure Cloudflare for your domain for added security and ease of configuration.
Once done, login to Cloudflare Dashboard and go to DNS settings. Add an MX Record.

Adding MX Record through Cloudflare
Upon clicking configure, a new dialog box will open. Fill the contents like this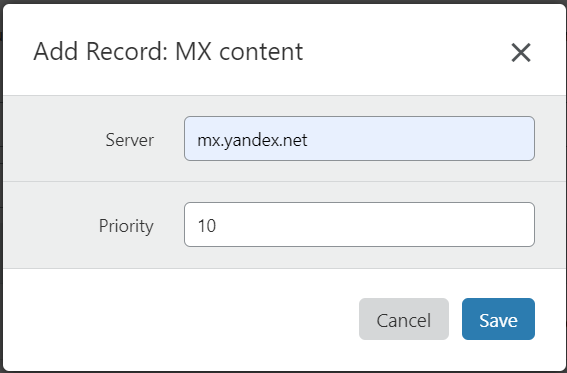 Adding MX Record in Cloudflare for Yandex.Mail
Again, add an SPF record from Cloudflare settings like the following image.
Write '@' in the second box and click "Click to configure". Paste the following code like the image and click "Save". Then click "Add Record"
v=spf1 redirect=_spf.yandex.net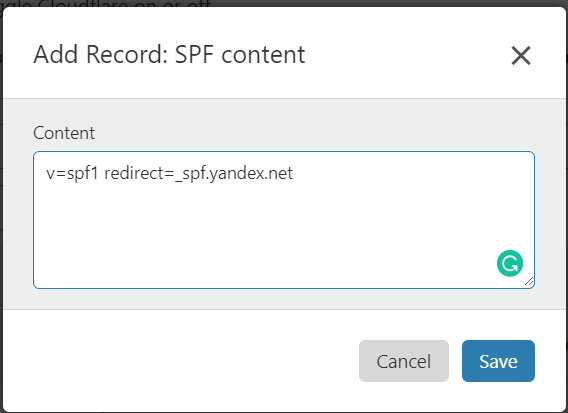 If you have done both the steps correctly, your DNS record will look like this

If you then go to Domains in Yandex for Domain, you will see you have a green checkmark. This means you have successfully configured your emails.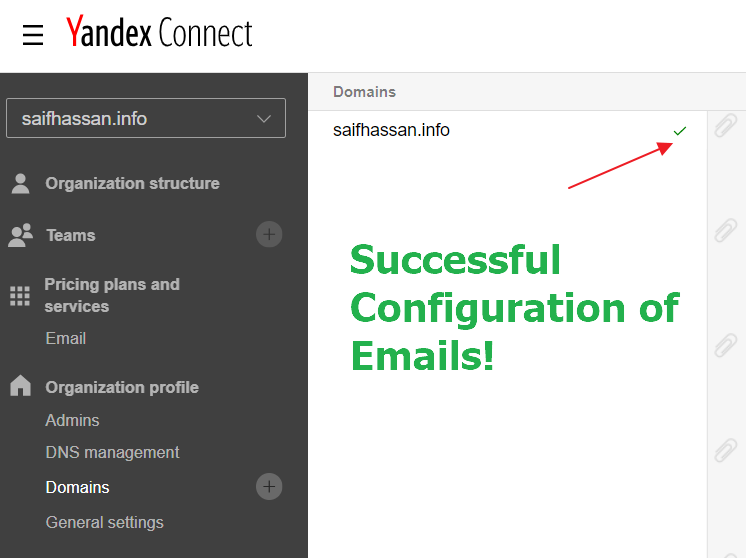 How to Add New Email Addresses in Yandex for Domains?
It is very easy. First, you have to make sure that you are logged in to your Yandex Portal.
Go to Organization Structure (top left corner of the screen).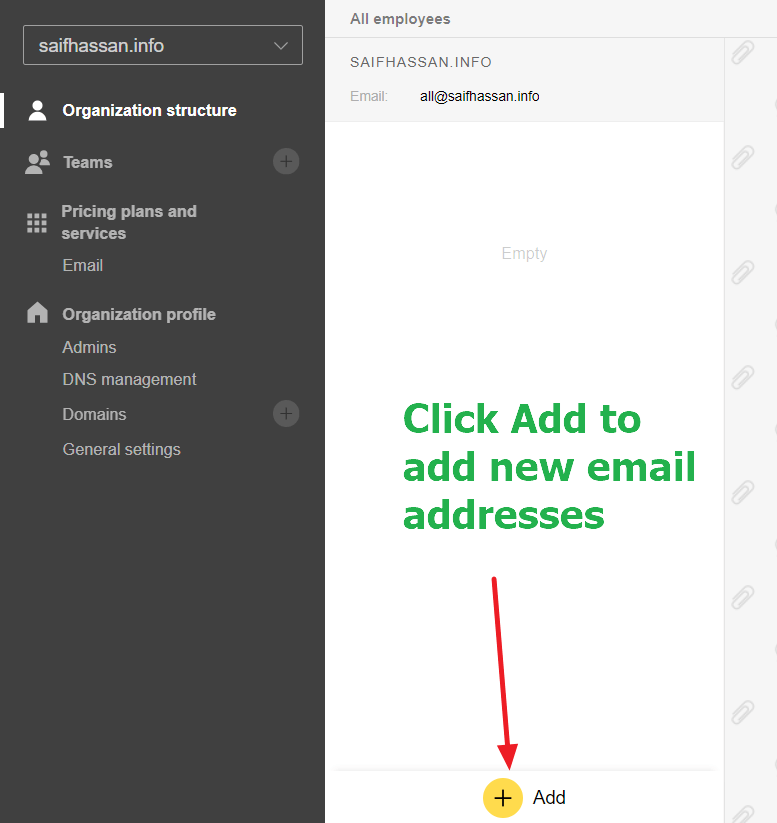 Click Add to add new emails
Clicking "Add" will give you the option to create new email addresses along with the user's information. Do not forget to set the language to "English" while creating your email.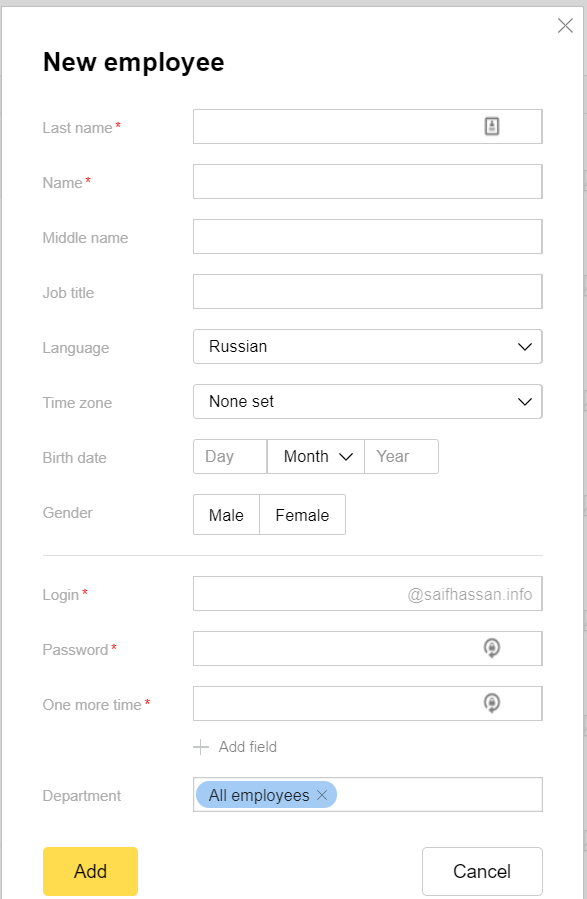 Add new business email through Yandex Mail for Domains
Free Business Email: Accessing Emails through Yandex.Mail
Once you have created your email logins, you have to check those emails right? You can check emails from Yandex.Mail directly and login with your credentials. Yes, you can check your custom domain's email directly from Yandex's mail service. Cool, right?
Yandex SMTP/IMAP Settings
One of the best thing about Yandex (unlike Zoho) that you can configure the email with any email client via the SMTP settings. You can check out how to configure Yandex for desktop/mobile email clients.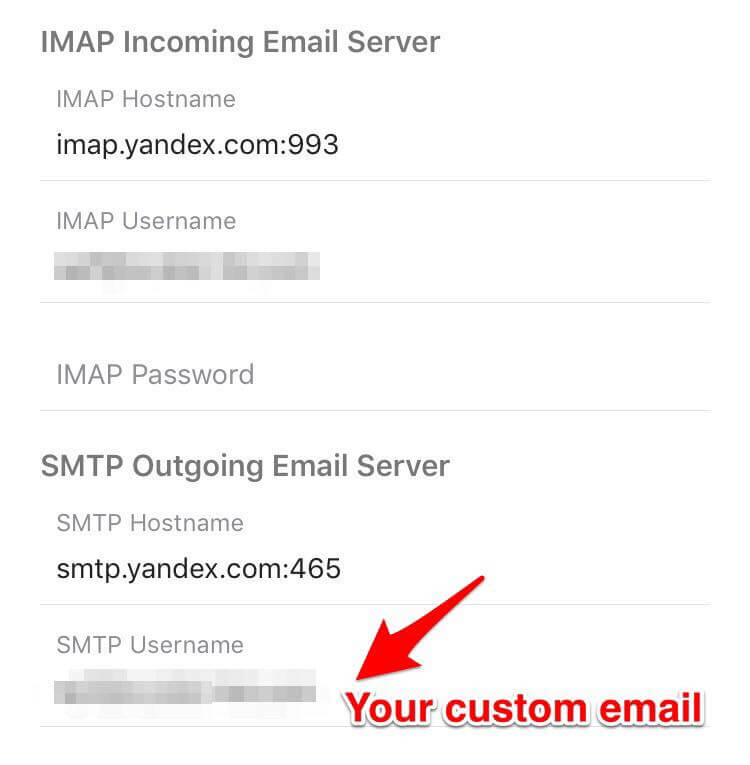 Wrapping Up
Having a business email is always a plus. It helps to achieve more brand authenticity and trustworthiness.
It is also great idea to invest in search engine optimizations too because your customers would be able to find your business more. Do not forget to read our WordPress SEO Guide to give your business a boost in search engine rankings
Do not forget to check out Yandex.Mail for Android and iOS to read business emails on the go.

https://wphive.com/reviews/configure-free-business-email-with-wordpress-free-g-suite-free-alternative-2019/
Saif Hassan
Product Manager by passion & profession. Lead Product Manager at weDevs, former PM @ Poptin. Passionate about writing & tech. He's an advocate of Human-Centered Design and believes that websites and the tools used to build them should be well crafted, intuitive, and accessible. Cyclist. Reader. A WordPress ninja 🥷, HCI expert & a design thinker 💡

Subscribe To Our Newsletter