7+ Best WordPress Themes for Hotel Rooms with Elegant Designs

Today, more than 70% of hotel room bookings are made online. It indicates customer behavior in the tourism industry is changing quite rapidly. People love to book online because it helps them to avoid many on-arrival hassles.
Websites turn your visitors into guests and the guests to your recurring customers. Its benefits are so obvious that not having a website today is completely absurd.
So, if you don't have a website, you're really missing out on a big market prospect. But don't get panicked! There're many available themes by which you can easily build a professional website and run your hotel room business like a pro. But which one to choose?
This article will cover 7+ best WordPress themes for hotel rooms by which you can design an elegant website right away. But, before going to the main part, let's learn the things you must consider in theme choosing and why they are so important.
WordPress Themes for Hotel Rooms- Why Should You Focus on Elegant Design?


Good appearance is the very first thing that convinces visitors to stay on a website. People tend to avoid websites that don't have an attractive online presence. It can affect your hotel room business too.
75% visitors make a judgement about the credibility of a company based on their visual design alone.

Stanford Web Credibility Research
Here're five points on how web appearance can impact your audiences.
Sets the First Impression: According to Google, it takes users only 50 milliseconds to make their impression of a website. Besides, search engines like Google will love to rank your website if it creates constant good impressions.
Builds Authority: Strong, clean, and engaging layout can improve the web authority of your hotel room business. Because it enables visitors to find out all the necessary information quite effortlessly from any page of your website.
Bolsters SEO Campaigns: Elegant web design is a powerful element to improve your SEO score. Because it extends visitors' sessions on your web pages, reduces bounce rate, and boosts conversion rates.
Stands Out From Competitors: Adobe reports, 38% of users just avoid websites that have unattractive content/layout. So, WordPress themes that have a strong front end and creative layouts can give you a smart stand-out in the hotel rooms business.
Maintains Consistency: To reach more audiences, you have to publish text and graphical content on a regular basis. The best WordPress themes for hotel rooms can help you to maintain a consistent layout in all your web posts and pages.
Today, web appearance is a yardstick to gauge the reliability of any business organization, including hotel room businesses too. So, showing negligence here means you're blockading the pathway of your own success.
What to Consider While Choosing The Best WordPress Themes for Hotel Rooms


You already know the importance of elegant layouts in WordPress themes for hotel rooms. Now, it's time to know the elements that are a must to maintain the standard.
To 48% of online users, web design is the number one factor to scale the credibility of a business.

Blue Corona (Measurable Marketing Solutions)
Let's dive into the elements to identify the best WordPress themes for the hotel room business.
Responsive design: According to GoodFirms, non-responsiveness is a key reason why visitors leave a website. So, keep the WordPress themes in your checklist that support all digital devices, from desktops to smartphones.
Social Media Friendly: Social media is a mighty platform to reach more audiences. So, WordPress themes that emphasize more on social media facilities can serve the best of your hotel room business.
Navigation: Easy navigations increase user experience. Following them, you can instantly move to the next pages, open up content, and share them with other platforms. Thus, good navigation saves online users from confusion.
Customizable Color and Font Style: Best hotel WordPress themes allow users to customize the font and color as they wish. So, whenever you plan to change your brand appearance, more customizable themes are always convenient.
Animation: Customizable animation can create a cognitive force among the users. It can help you get maximum room booking online during promotional campaigns. An animated slider or sidebar can showcase your hotel rooms, lobbies, and pathways in a creative way.
Support and Update Feature: It is another important feature. Since WordPress updates itself regularly, supports and updates are a must to keep your theme compatible regularly.
Truly, choosing the rightest theme from a pool of varieties is always a daunting task. We believe the above steps can simplify your research process and help you get the finest theme.
Best WordPress Themes for Hotel Rooms in 2023
Now, we're going to cover the 7 best WordPress themes for hotel rooms that you must consider in your checklist.
Astra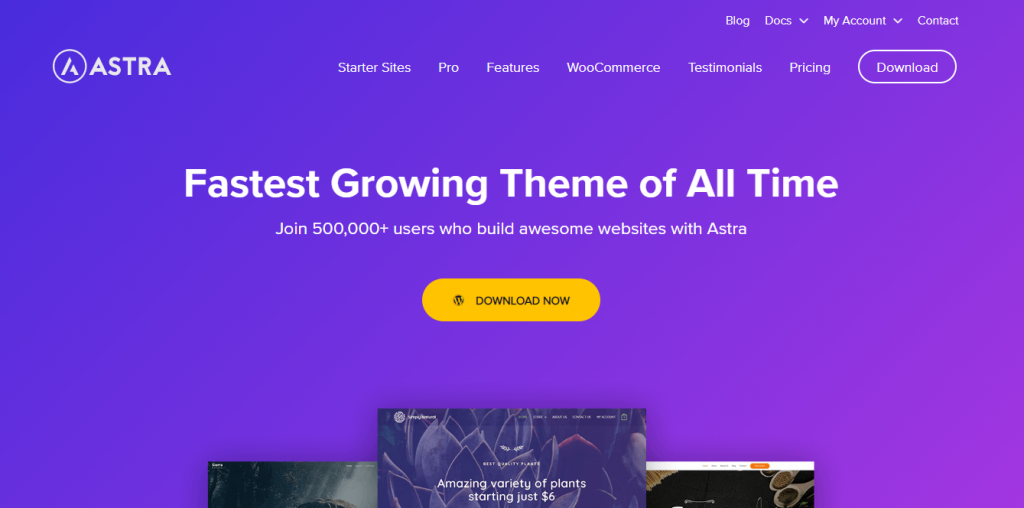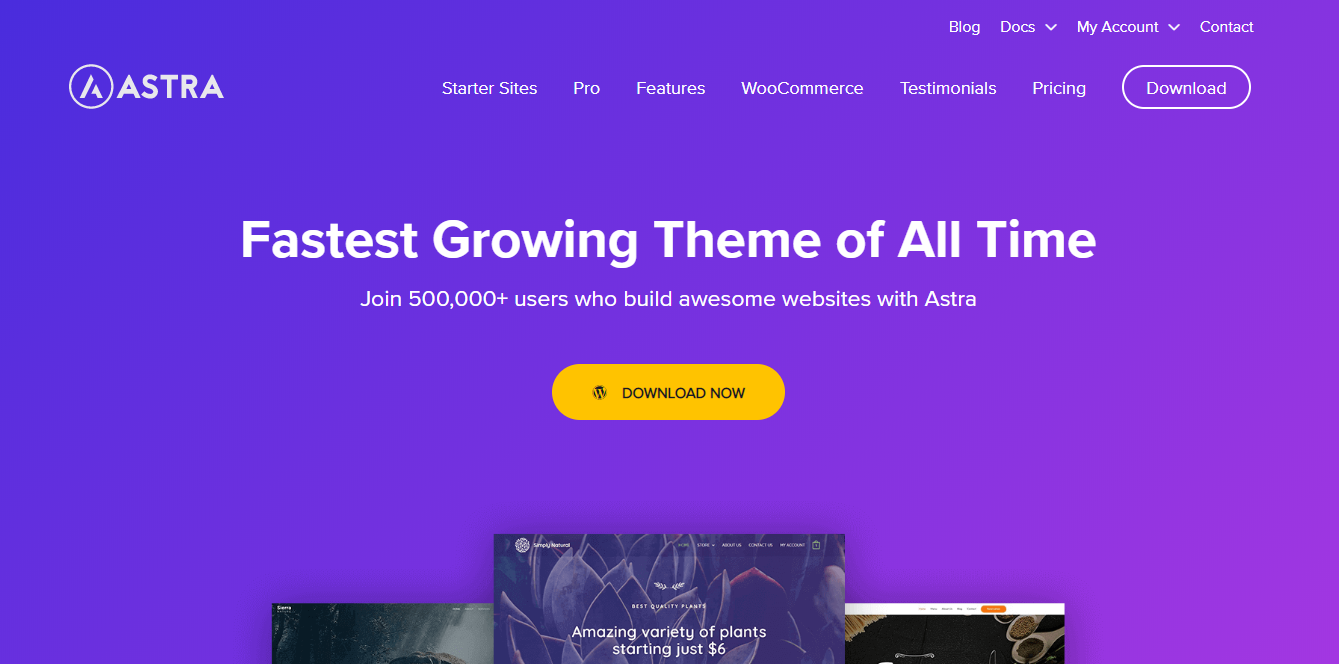 Astra is a stylish and super-fast WordPress theme. It comes with a number of demo websites for different business niches such as travel, tourism, and hotel rooms. Astra has drag-and-drop page builds to let you add all the features (i.e. galleries, online booking, room list) needed for your website.
With the live preview option, you can make sure that the customized color, fonts, and page backgrounds are matching your niche and brand identity.
Key Features of Astra
Lightweight and fast loading speed
Easily customizable
Top-notch design
Blog layout with galleries
SEO friendly
Ready-quick translation
Pricing starts from $59: Astra WordPress theme has both annual and lifetime pricing schemes. You'll get a 14-day refund policy with the theme.
Check out the pricing schemes and get started with Astra
OceanWP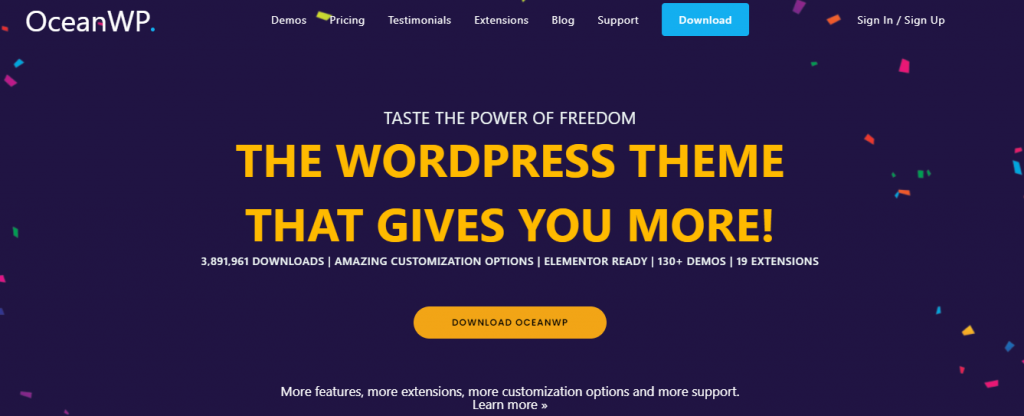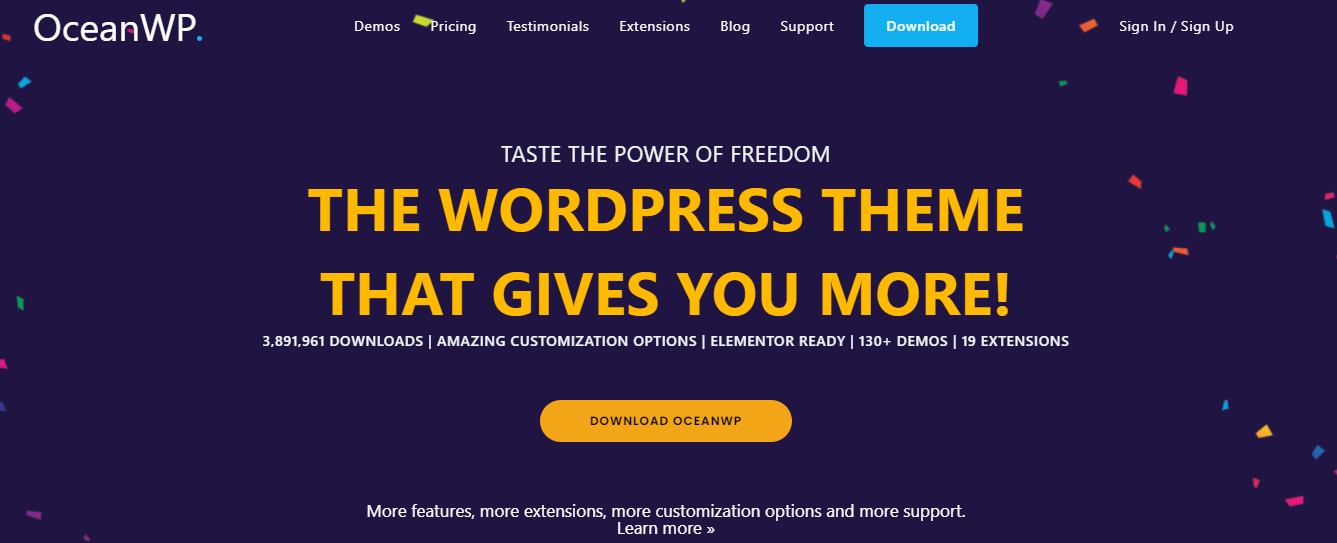 OceanWP is a lightweight-multipurpose WordPress theme. It is highly extendable that can use to create any type of website as you wish. It also has drag-and-drop page builders. So, using the OceanWP theme, you can create custom pages for your hotel rooms without any coding skills.
It supports third-party plugins and extensions to let you add more new features to your website. Furthermore, you can customize color, fonts, and textures to reshape your front end and page backgrounds.
Key Features of OceanWP
Responsive to all devices
1-click demo content importer
Tons of templates and layouts available
Compatible with Elementor & other page builders
RLT and translation ready
Pricing starts from $54: OceanWP has annual and lifetime pricing schemes in three categories. They offer a 14-day refund policy from the purchase day.
Check out the pricing schemes and get started with OceanWP
SixtyOne


SixtyOne is a premium WordPress theme exquisitely designed for hotel rooms and accommodation businesses. Alongside, a customizable layout, it has a fast-loading built-in form to let tourists and travelers book hotel rooms online. SixtyOne theme also supports the hotel management systems.
Plus, it has a number of page templates to outline your contact form, room categories, image galleries, hotel location, and booking.
Key Features of SixtyOne
Flexible homepage layout
Integrated booking request form
Supports 4-custom post types
Custom widgets
Custom page templates
SEO friendly
Pricing starts from $49: SixtyOne has simple pricing schemes with no hidden fees. Refund is available for 30 days, but lifetime subscriptions are non-refundable.
Check out the pricing schemes and get started with SixtyOne
Presence


Presence is powerfully a flexible WordPress theme. You will find everything in this theme to create a website for your hotel rooms. Besides the pre-built layouts, it has drag-and-drop page builders to design your website.
With the built-in demos, you can launch your website in real quick time. Moreover, it works with third-party hotel booking systems.
Key Features of Presence
1-click updates and demo importer
Gutenberg-ready block editor
WPML compatible
Translation ready
SEO friendly coding
Easy to customize
Pricing starts from $69: The Presence WordPress theme supports 2 layouts: full-width and boxed. You can simply switch them without disturbing the active content. You'll get a 14-day money-back guarantee in it.
Check out the pricing schemes and get started with Presence
HotelEngine Comfy

HotelEngine Comfy is dedicatedly crafted for your hotel rooms and hospitality business. This theme is one of the perfect choices for the hotel management system. HotelEngine Comfy is a powerful backup to scale up your online presence and entice visitors with an elegant appearance and easy-to-setup procedure.
Using the theme, you can showcase your hotel rooms, washrooms, lobbies, corridors, and others so professionally that customers can't ignore relying on you.
Key Features of HotelEngine Comfy
Style customizer
Built-in booking form
Frontpage slider and sidebar
Translation support
SEO optimized
Responsive to all digital devices
Pricing starts from $89: HotelEngine Comfy is one of the best premium WordPress themes for hotel rooms. You can ask for a refund within 14 days of the purchase.
Check out the pricing schemes and get started with HotelEngine Comfy
Ultra

Ultra is another super-powerful WordPress theme to design websites of different niches including hotel rooms and accommodation businesses. Ultra comes with tons of demo sites and design skins. Using the skins, you can change the web appearance and set up a real sample website in a short time.
Besides, the demo setups include everything you need to decorate your website for hotel rooms. For example menus, widgets, blogs, demo content, etc. Also, you'll find 12 bonus build addons in the package.
Key Features of Ultra
Premium addons
Drag-and-drop page builders
Location maps
Responsive layouts
Video backgrounds
Parallax scrolling
Custom styling
Pricing starts from $59: You'll get 60+ professional layouts available in the Ultra theme. All you have to do is just import your preferred layout, edit content, and publish them. Refunds are available for up to 30 days!
Check out the pricing scheme and get started with Ultra
Oceanica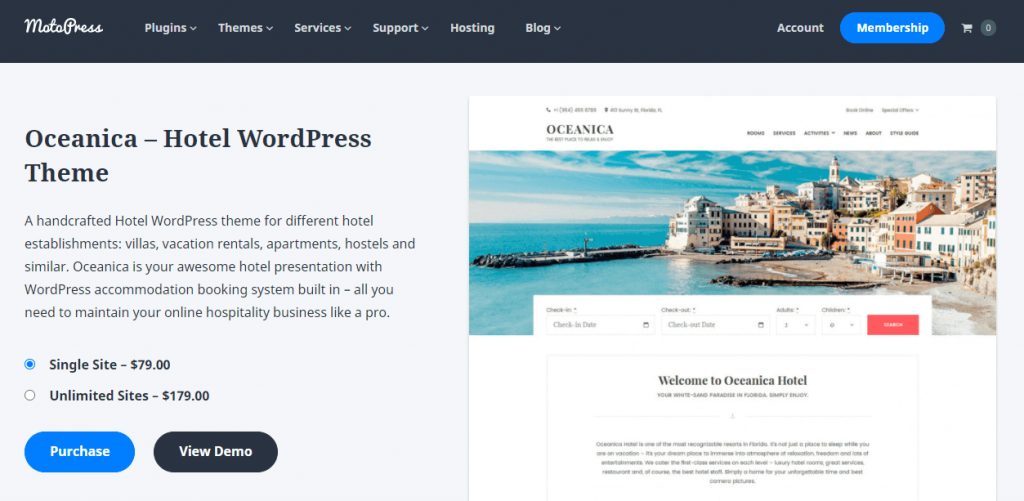 Oceanica is a superbly built universal WordPress theme to run the hotel room business like a pro. Using the theme, you can present your hotel accommodation facilities most delightful ways. You can use the Oceanica WordPress theme for all sorts of hotel establishments: hostels, apartments, villas, and others.
Whenever visitors come to a website, they want to have a relaxing surface. Oceanica WordPress theme helps you maintain visually a perfect balance throughout the websites. Alongside, you can highlight the key points to hold the coming visitors.
Key Features of Oceanica
Elegant intuitive design
Responsive and mobile friendly
Easily customizable frontend
Unlimited colors
Customizable menus
Wide and boxed layouts
Pricing starts from $79: Using the Oceanica WordPress theme, you can quickly update seasonal pricing and hotel room rates. Also, it has an automatic hotel booking system which will ease your workload. Refund available on conditions! You have to negotiate with them.
Check out the pricing schemes and get started with Oceanica
Sun Resort

Sun Resort is a premium WordPress theme delicately designed to showcase your hotel rooms in style. It features a large slider on top of the homepage. It gives an elegant appearance to your website. Alongside, the drag-and-drop page builders, Sun Resort has a built-in reservation form to collect online booking requests.
You can use its multiple custom post types to add videos, room galleries, attractions, testimonials, and services.
Key Features of Sun Resort
Multiple color schemes
Custom widgets
Speed optimizable
Flexible layouts
Compatible with popular plugins
SEO Optimized
Pricing starts from $49: Sun Resort supports all modern desktops, tablets, and mobile browsers. No refund for lifetime subscriptions, but 30 days for the other schemes.
Check out the pricing schemes and get started with Sun Resort
Choose One of The Themes for Hotel Rooms to Run Your Website Right Away
If you're a hotel room manager/owner, having an eye-catchy website can scale up your chances to reach more guests, tourists, and travelers. It not only builds trust but also works as a sales channel today. Look around you, everyone is trying to have a delicate online presence. Why don't you?
So, it's high time to choose a theme for the stunning appearance of your website. But choosing the best out of too many alternatives is always time-consuming. To save you time, we've presented the best-performing WordPress themes for hotel rooms in this article.
You can confidently choose any of them for your business project. Just find the one that matches your budget. Moreover, you can switch to another theme whenever wish without harming your content.
Let us know which of the themes you liked most. Feel free to comment us if you've any better theme suggestions and looking for us to help you. Thanks for your time. Have a nice day!
https://wphive.com/reviews/themes/best-wordpress-themes-for-hotel-rooms/
Fuad Al Azad
Fuad Al Azad is a creative writer who loves to blog on everything in between tech, marketing, and eCommerce. Alongside, he is an admirer of fact, fiction, and philosophy.

Subscribe To Our Newsletter