10 Best Elementor Addons [Free And Paid]!

Elementor is one of the most popular WordPress page builders in the WordPress community. It offers users a unique web design experience. There are a ton of third-party Elementor add-ons that extend the core plugin even further.
Since 2016 Elementor has completely taken over the WordPress industry. If you are not familiar with it, let me give you a brief on it.
With Elementor you can just drag & drop cool elements and create an amazing website in just a few minutes. You don't require any coding knowledge.
In this article, I'll share some of the best Elementor Addons that you can install even on the Elementor free version. These third-party add-ons help you design even more beautiful web pages with ease.
The Reason For Choosing Elementor

Elementor is not only popular for its rich features but also the easiest to use. It is a WYSIWYG (What You See Is What You Get) type page builder that even non-technical persons can fully use.
In the conquest to bring the most basic users to WordPress, Elementor is far way ahead of the competition. Just look at the following statistics: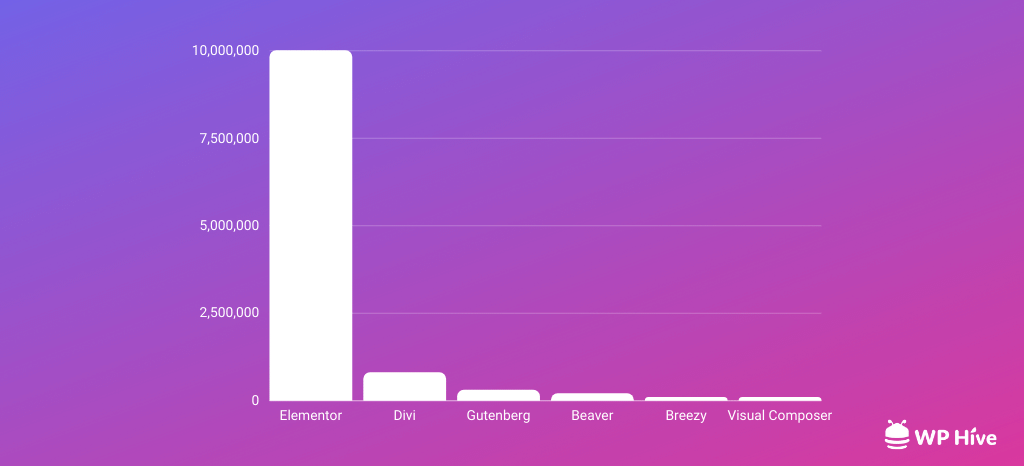 The Elementor and Beaver Builder user's numbers come from WordPress.org, while Divi Builder's user's number comes from the Elegant Themes website. Also, the Divi Builder's user number refers to the overall number of customers that Elegant Themes serves.
Why You Might Want to Use the Best Elementor Addon?
It's not so easy to satisfy everyone's requirements. Though Elementor offers 80+ Fantastic Elements, you may want something even more advanced & unique. That's why third-party developers have decided to expand the Elementor functionalities & develop their Elementor addons.
Right now, there are a lot of Elementor add-ons available in the marketplace. So, you have lots of options to choose from and start using the right extension for your website.
These addons allow you to enhance your website design with its amazing features & layouts. Besides, you can also create a special vibe by using the best Elementor extensions.
By the end of this article, you will no longer be in a doubt about where to get started with the best Elementor add-ons. Because I'm going to discuss the best addons you need to enhance your page-building experience.
10 Most Popular Elementor Addons for You
With tons of add-ons available, there's a lot you can accomplish with Elementor right off the bat.
If you're looking to take further control over your design capabilities, you can do so with the best one. Here are the best free and paid addons to do that.
1. Happy Elementor Addons

Happy Addons for Elementor is a powerful widget. It created a buzz in Elementor users due to its unique custom designs and flexibility. Also, it comes from the same company which builds other awesome WordPress plugins like Dokan, WP ERP, and weMail. It is suitable for all types of websites to create beautiful designs with advanced features.
Currently, 99+ widgets are available in the free and pro bundle. The popular widgets are:
Card
Gradient Heading
Info Box, Icon Box
Image Compare
Team Member
Review, Skill Bars
Dual Button, Testimonial
Justified Grid, Logo Grid
Number
Slider
Carousel and
Some of the popular Form Builder's widgets like Contact Form 7, weForms, WPForms, Caldera Forms, and more.
To enhance the Core of the Elementor Page Builder it has two amazing Happy Effects. They are:
Floating Effects, and
Key Features
200K+ active installations
Compatible with WordPress 5.9 and higher
Integrate modern design trends in every widget
Fully responsive with all devices
Advanced coding system keep it fast
Built-in motion effects for amazing animation
Lessen designing time
Easy adaptable and customizable with any exciting site
24 hours of professional customer support
Very easy to use
Also, Happy Elementor addons is introducing some exciting features like cross-domain copy-paste and presets. Also, it has got the approval of the popular WordPress community members like Adam Preiser as well.
There are a few big things that make this add-on package different than others.
Module Presets: When using a happy add-ons module, there will be multiple presets to speed up your workflow and design better websites. *you will also be able to save your own presets for modules

Cross-domain Copy / Paste: You will be able to copy anything from one website to another; the exact way you already copy and paste in Elementor.

On top of those 2 features, there are animations, unlimited section nesting, and a bunch of other features.
Pricing: Starts at $39 per year.
2. Ultimate Addons for Elementor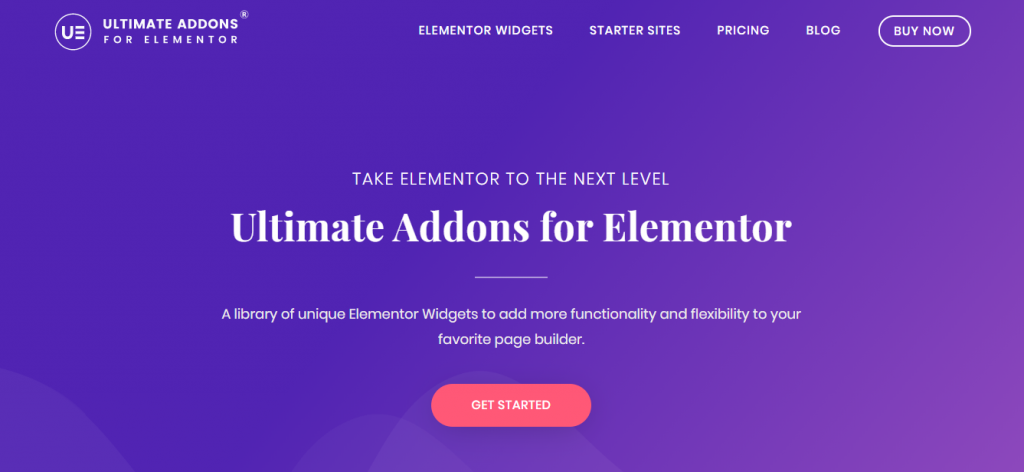 With Ultimate Addons for Elementor, you can do much more than just add pricing to a services page or improve the appearance of WooCommerce product pages.
This plugin will give you the following elements:
Informational boxes
Modal popups
Fancy header stylization
Dual-color headers
Before and after sliders
Google Maps
Contact forms 7 and Gravity Forms
Pricing lists, boxes, and tables
WooCommerce add-to-cart
Instagram feeds
Timelines
White labeling
And much more
Key Features
Equally friendly for developers, designers, and beginners
Fully responsive
Great Support Staff
Over 45 New Modules
100+ Page Templates
Price: There is no free version. The premium plan starts a bit pricey at $55 for unlimited websites (Without ready-made templates).
3. Exclusive Addons for Elementor
Exclusive Addons for Elementor brings you the most modern and trendy design to your Elementor page building experience. A collection of 700+ premade blocks and 20+ useable templates will help you build your websites in less time with no coding.

The plugin is new in the market but has some great widgets and add-ons.
Key Features
Very fast loading and light-weight
Supposts cross site copy pasting
37+ free widgets and extensions
49+ pro widgets and extensions
Fully Customizable
Comes with 23+ exclusively designed templates and over 700 readymade blocks
Pricing: Starts at $19 per year.
4. Elementor Essential Addons


With over 1M+ active users, Essential Addons for Elementor is the most popular Elementor plugin. It offers the highest number of elements which are divided into six specific groups.
Content Module: Lets you build excellent content by using elements like Info Box, Creative Buttons, ToolTip, Content Toggle, etc.
Dynamic Content Bundle: Allows you to show post, data table, gallery, product, and content dynamically.
Marketing Bundle Includes conversion-optimized pricing tables, call to action boxes, and price menu.
Create Bundle: Includes elements such as Image Comparison, Countdown, Divider, Lightbox & Module, etc.
Form Styler Bundle: Allow you to connect powerful email marketing tools and form builder plugins.
Social Bundle: Includes social elements like Facebook feed, Twitter feed, etc.
Here are some of the great features you can use to improve professional website designs:
Creative CTAs
Timer countdowns
Testimonial blocks
WooCommerce product grids
Contact form integration (works with Contact Form 7, Gravity Forms, Ninja Forms, Caldera Forms, and weForms)
Dual-color headlines
Pricing tables
Data tables
Social media feeds (for Facebook and Twitter)
Accordions
Tooltips
Lightboxes
MailChimp integration
Key Features
Compatible with WordPress Version 4.0 and higher
100+ ready-made blocks
Ultralight and instant loadable
Completely customizable
Price: Pricing starts from only $39.97.
5. PowerPack for Elementor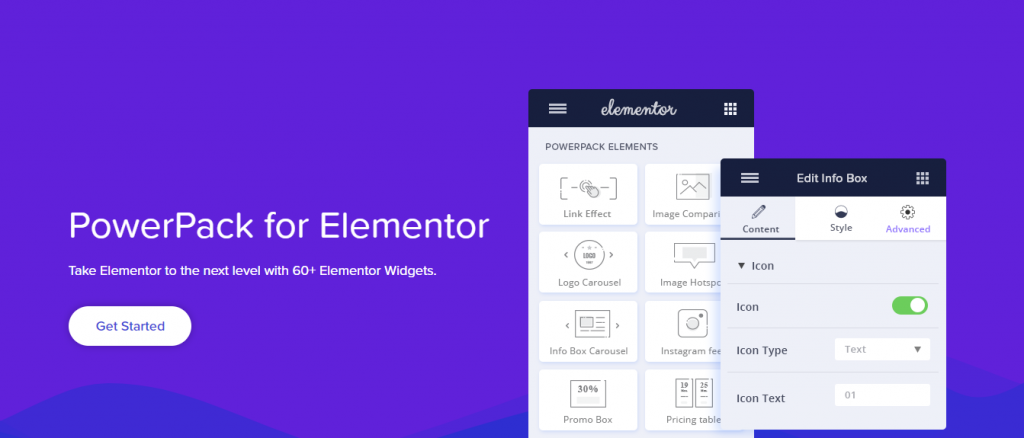 PowerPack is another premium addons plugin for Elementor. It has 60+ unique elements in four widget categories.
Form Styler Elementor Widgets: This category lets you design Gravity Forms, Caldera Forms, Ninja Forms, Contact Form 7, and WP Forms.
Creative Elementor Widgets: This category gives you the option to create and design Countdown Timer, Popup Box, Table, Team & Logo Carousel, Promo Box, Image Gallery, and many more.
Elementor Content Widgets: This option lets you add Advance Menu, Recipe, Content Toggle, Google, Maps, Tabs, etc.
WooCommerce Widgets: It lets you create Woo Products, Woo Categories, Add to Cart, Woo Cart, Woo Checkout and more WooCommerce related button.
Key Features
60,000+ active installation
Compatible with WordPress 4.7 and higher
Lightweight, fast loading and easy to use
Wide range of designing and styling options
Regularly updated with the latest version of WordPress and Elementor
Available customer support
Price: Starts at $49 per year.
6. Element Pack

Element Pack has the highest number of widgets (100+) for the Elementor page builder. It also has 60+ page templates and 100+ block templates.
There are far too many widgets in the list. But some of the unique ones are:
Carousel
FAQ
Table of Content
Accordion
Modal
Slideshow
Cookie Consent
Member
User Login
Weather
Easy Digital Downloads Purchase History
TablePress
WooCoomerce
Sticky section
It also supports some 3rd partly plugins like WooCoomerce, The Event Calendar, Gravity Forms, EDD, TablePress, etc.
Key Features
100+ widgets for elementor
Superfast response to customers problems
Provide video tutorials to educate the users
Built-in WooCommerce compatibility
Pricing: Starts at $39 per year.
7. Livemesh Addons for Elementor Page Builder

Livemesh addons come with a huge collection of premium features and highly functional capabilities. This plugin comes with widgets for just about everything you need to build a professional website without switching to a premium theme – services, team profiles, counters, bar charts, piecharts, testimonials, clients list, portfolio/posts grid, posts carousels, pricing plan and much more in the PRO version.
The plugin comes with the following addons or extensions in Elementor.
List of services
Pricing plan
Team profiles extensions
Portfolio Grid add-on
Blog post grid
Odometers/Counters
Bar charts addon
Animated pie charts
Testimonials
Testimonials Slider
Post Carousel
Client Lists
Key Features
100,000+ Active Installation
Compatible with WordPress Version 4.5 and higher
Unique design for individual niche
Fast loading time
Responsive with all screen size
Regular release update
Full-time client support for paid users
Price: Starts at $37 per year.
8. Elementor Addon Elements (AnyWhere Elementor Pro)

This plugin is good if you want to animate your site a bit, but you can also use it to add a professional note to your business. Unlike other free Elementor add-ons, it's mainly just focused on giving you cool new ways to manipulate regular content.
It adds new widgets to Elementor Page Builder. Current Addon Elements are:
Progress Bar
Dual Button
Animated Background Color and Text
Timeline
Info Circle
Comparison of Table, Price Table
Filterable Gallery
Background Slider
Modal Popup
Text Separator
Google Map
Twitter
Shape Separator
Key Features
It is very easy to use with no confusing functions
This add-on is good if you want to animate your site a bit
You can add advanced maps to your contact page
Price: Starts at $39 per year.
9. Void Contact Form7 Widget For Elementor Page Builder

To easily drag and drop contact form 7 forms from a drop-down list, you may need a plugin. This plugin is perfect to solve the purpose. You can drag and drop the widget inside the Elementor builder & choose your contact form.
From the Elementor screen, you can define the style for input, label, send button, success, etc. You can also add a custom page. You can have multiple forms of the same single contact form 7 form with different rules and designs with this.
Key Features
Easy use of contact forms created with Contact form 7 plugin inside elementor live editor.
Add CSS directly from Elementor live preview to your contact form 7 for different field types.
Add any WordPress page like thank you page directly from the elementor edit screen.
Use Single contact form 7 with different Style & redirect rule on the same page.
Price: Free
10. Elementor – Header, Footer & Blocks


Elementor – Header, Footer & Blocks plugin allows you to create a layout with Elementor and set it as a header or footer easily on your website.
You just have to:
Design a layout with Elementor page builder
Decide whether it should be applied as header or footer and
The template will be automatically applied as header or footer
A few of the great features are:
Create attractive pages and templates to be used as a header or footer.
Usefully customized header and footer across the WordPress website.
Key Features
Best for Neve, Hestia, GeneratePress, OceanWP, Astra, and Genesis users who need fresh headers and footers, or want to be able to create blocks
Widgets type like header & footer elements (title, excerpt, date, author, terms, featured image, custom field, comments)
Note: which-addon.com is a very good platform to check all the addons for Elementor with matching widgets in one table. If you want to explore all the 3rd party Elementor Addons at once with ease, which-addon.com can be really an awesome option for you.
Price: Free
Conclusion: Which Elementor Add-on Should You Choose?
As I mentioned earlier, Elementor is an incredibly useful page builder when you're designing WordPress websites, blogs, and eCommerce stores. Elementor is free to use, which means there are some limitations in terms of how far you can customize. Thanks to the 10 Elementor addons above to overcome the limitations, though, there are also some more.
Expert Recommendation
There's no one-size-fits-all recommendation here. The closest one I can recommend is Happy Elementor Addons. Its deep-level customization will give you the full freedom to enhance your design with Elementor. They have stunning demos for every widget and it will help you to find out the use case of the widgets. So, if you want a trendy and speedy website without writing a single line code then it can be your best bet.
But if you are looking for ready-made templates, then Ultimate Addons for Elementor or Element Pack can be a better solution.
We also covered a massive collection of Elementor addons before.
https://wphive.com/reviews/best-elementor-addons-free-and-paid/
Saif Hassan
Product Manager by passion & profession. Lead Product Manager at weDevs, former PM @ Poptin. Passionate about writing & tech. He's an advocate of Human-Centered Design and believes that websites and the tools used to build them should be well crafted, intuitive, and accessible. Cyclist. Reader. A WordPress ninja 🥷, HCI expert & a design thinker 💡

Subscribe To Our Newsletter