How to Write a Guest Post: Tips to Drive Traffic to Your Site

Guest blogging isn't something new to the WordPress community. The majority of editors get up to 10 pitches per day. However, 20% of editors say 9 out of 10 pitches they get are so bad that they don't bother reading them properly.
Why does this happen? A statistic shows that,
39.5% of content that the authors send are low quality content
22.2% of authors don't follow the guideline set up by the website owners
21% of content aren't aligned with the niche
7.4% of authors misalign the brand
9.9% of content are too promotional to accept
Don't be panicked so early seeing all this negativity. There is always light at the end of the tunnel. If you can properly pitch your proposal to the right people with top quality and niche-related content, you'll be able to publish guest blogs on others' websites.
To discuss the proven tips on how to write a guest post, today, we have exceptionally planned this blog for you. So, keep reading it and publish your first-ever guest post by applying all these hacks that we are going to reveal today.
Why Guest Blogging is Important for Your Business


Guest blogging can help you in many ways. Like, if you want to expand your audience or promote your products from different platforms, guest blogging can really help you out. On top of that, you can build backlinks through guest blogging. How? Well, let us explain!
Make an Identity to The Community: When you outreach people for potential collaboration, people get to know about you. And as you are reaching out to the people who are in the same industry that you belong to as well, so creating perfect guest posts, you can make an identity to the community.
Earn Backlink for Your Site: One of the main reasons to create guest post is to get a backlink through it. When you approach someone for publishing your article, don't forget to ask a dofollow backlink from him. You are delivering a top-quality and niche-related ready-to-publish post to someone which means you deserve a dofollow backlink to your site from that blog.
Expand Your Blog Audience: Every established website has its own user base. So, if you can publish a guest blog on a reputed site and manage a backlink to your site, readers will read your blog and visit your site as well. This trick helps to expand your blog audience in a convenient way.
Promote Your Product or Service: Directly promoting your product or service through guest blog isn't the right way and top websites won't allow it. However, if you can promote your product in a subtle way and blend it with your article with perfection, top-notch websites will allow it and you will get significant traffic through this blog.
Boost Your Website SEO: If you can manage a dofollow backlink through your guest post, a new referral domain and a new backlink will be counted for your site. Also, you will get some new traffic to your site. And all these metrics can boost your website SEO positively.
These are the key benefits of writing guest posts and publishing them on others' websites. Now let's talk about the process on how to create a guest post and publishing it in a professional way.
Guest Blogging- Everything You Need to Know About It

It's time to talk about serious business. Guest posting typically starts with finding blogs to contribute to, pitching your content to the site owners, submitting the content, and promoting it to get new traffic to your site.
Here we have a prepared list to easily deliver the idea to you. So, take a quick look at it first.
Create a List of Sites That Accepts Guest Posts
Prepare Ready to Publish Blog for Guest Posting
Write an Email Copy to Pitch Your Idea to The Site Owners
Send The Blog to Publish
Encourage The Publisher to Promote Your Guest Post
Now let's put some light on each of the above-mentioned points to make them more clear for you.
Create a List of Sites That Accepts Guest Posts
The first step for guest blogging is finding a prospect who accepts guest posts on their sites. When looking for places to guest post, your main goal is to find sites relevant to your niche or industry. You are looking for blogs that fit the following criteria:
Site is focused on your niche/industry
Site owner publishes blogs regularly
The audience of the blog will be interested in your industry
Site has a healthy domain authority and traffic
The blog owner is active on social media so you know that they will be promoting your work on their social platforms
If a site matches these criteria, you can approach that site to publish your guest post. However, our main concern is to find websites that accept guest posts. Here is the solution:
1. Google Search
Google is the top source to find websites that accept guest posts. You can easily find and make a list to publish guest posts. To do that follow the below search format,
Your Keyword "submit post"
Your Keyword "This post was written by"
Your Keyword "guest post courtesy of "
Your Keyword "guest posting guidelines"
Your Keyword "suggest a post"
Your Keyword "submit an article"
Your Keyword "become a guest blogger"
Your Keyword "guest blogger"
Your Keyword "guest posts wanted"
Your Keyword "become a contributor"
Your Keyword "submit guest post"
Your Keyword "submit an article"
Your Keyword inurl: "guest blogger"
Your Keyword inurl: "guest post"
allintitle: Your Keyword + guest post
Your Keyword "contributor guidelines"
Your Keyword "contributing writer"
Your Keyword "submit news"
Here is an example of how to search for it on Google. Go to Google and write WordPress SEO "submit post" and you'll get find the websites that you are looking for.

Don't be afraid to reach out to websites to inquire about guest postings. You may be pleasantly surprised by their responses.
2. Twitter
Twitter is another excellent platform to find guest posting opportunities. On the search bar, insert a niche-related keyword along with a guest blogging term like below. Then scroll through the results for potential target sites.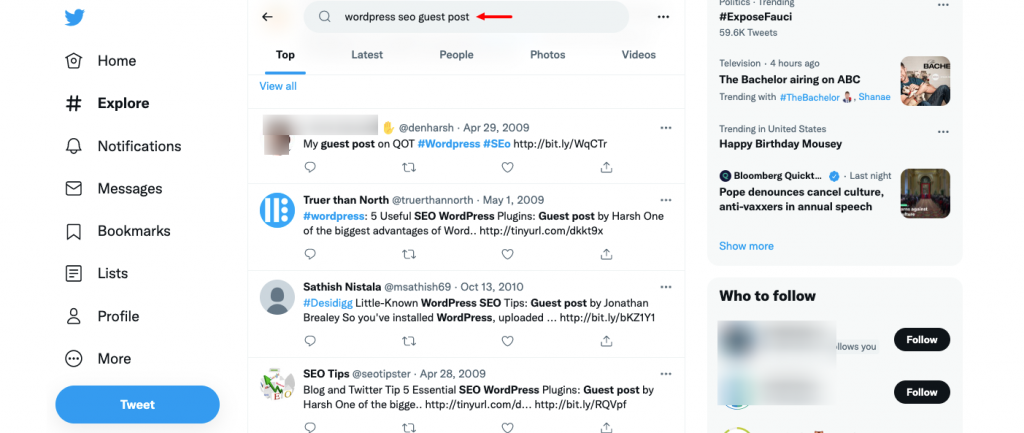 3. Use Blog Search Engine
Blog Search Engine is an excellent resource for discovering blogs in your specific industry. You can search according to a specific term or keyword to find the prospect who accepts guest posts.
You can search here as like as you do for Google search. Here you will get more specific results as it's a dedicated search engine for bloggers.
Prepare Ready to Publish Blog for Guest Posting

Now you have a list of websites where you can approach to publish your guest posts. But before approaching them, make sure you have a top-quality and niche-specific blog ready to deliver.
So, in this segment, we are going to talk about how you choose a topic and write it keeping the industry standard in your mind.
1. Find the Blog Topic
Finding the blog topic isn't that difficult if you know the ways to find it. You have a list of websites now, so start visiting those websites. Try to monitor their writing style and tone. Remember, you need to write for their audience, not yours. If you can satisfy their audience and place a backlink to your website, you'll get traffic automatically for you.
If you are monitoring their websites closely, you should have an idea about what are their latest blog topic and what type of content they prefer to publish.
You can also read the guest post policy (if there is any) of the site where you want to contribute. You'll get the topic idea from that guideline.

This is an example of a guest post guideline.
2. Write an Industry Standard Blog
You are a writer, so you should already know the industry standard. Hence we are not taking too much time to explain it. However, every website has its own guest post guidelines that you should follow.
Apart from the specific website guidelines, you should have a target of writing a blog at least 2000 words long, but all the necessary images (internal image) with alternative text, make paragraphs short, use subtle tone, and don't make sentences too long to read.
Also, use simple words so that everyone can easily understand the message that you want to convey to your audience.
Also Read: How to Write a Blog Post (Step By Step Guide)
3. Ensure The SEO Part
Don't rely on your publisher to fix the SEO part of your blog. Instead, you should make sure from your end that you have done it correctly.
Choose your main keyword and some sub-keywords and optimize the whole blog based on those keywords. Having said that don't practice keyword stuffing. Also, provide some LSI keywords with your blog so that publisher can set the tag based on those LSI.
Though internal linking is handled by the publisher, you can set some internal links and anchor texts to make the content more authentic. Also, set a do-follow backlink to your site. You can provide your preferable slug and SEO title as well.
Write an Email Copy to Pitch Your Idea to The Site Owners

This is one of the crucial parts of guest posting. If you can write a convincing email copy, the possibility of your success will go up. So, let's discuss how to write a standard email copy to pitch the idea.
Your email copy should contain some important information, like,
Starts your email with your introduction (shortly describe who you are)
Write some good words about their blog.
Your email copy should be less than 150 words, unless you have a story in mind that can't be expressed within 150 words.
Send more than one blog topic idea to choose from (better to send at least 3 blog topics).
Send them at least one example of your published work.
Below is an example of email copy- how it should be:
Hi [Name],

This is [Your name] from [Your site name]. 

I'm a long-time reader of your blog. You may have noticed my comment on your post- [Article name with link]. This one is a well-written and informative blog by the way.  

I'm writing to you because I'd love to contribute a guest post on your site [Website name with link].

I have researched your blogs and come up with some ideas that your readers would love to read, I guess. 

[Topic Idea #1]
[Topic Idea #2]
[Topic Idea #3]

I can certainly say that I will write a fresh and unique blog following the industry standard. 

To give you an idea of the quality I'll bring to your site, here's a link to a guest post that I recently published on other website [Blog title with link].

Please let me know your decision at your convenient time. 

Thanks and Regards, 
[Your First Name]

Note: Don't start your email with "Dear Sir or Madam," "Dear Webmaster," "To the owner of abc.com," or simply "Hi.". Instead, you should start your email with the name of the person to whom you send the email, like, "Hi Jonh".
Follow up and Send The Blog to Publish

After sending your first email, wait for 3-4 days to get a reply. If they don't reply to you, send them a follow-up email. Follow-up emails are crucial to collaborate with someone.
You can reach a 9% reply rate on average with your first email. However, if you add at least one follow-up message to your email sequence, your average reply rate goes around 13%.
When you reach the agreement with any of our targeted websites, then it's time to send him your draft. Before sending the final draft, edit and proofread the content. Check for grammatical errors, spelling mistakes, broken links, or unclear images.
Once the post is live, keep maintaining a positive relationship with the blog owner or editor. That way, you're more likely to land more guest post opportunities for the website.
Encourage The Publisher to Promote Your Guest Post
When you submit a guest post, from publishing, the rest of the process is usually handled by the website that publishes your blog. But that doesn't mean you can't politely ask them to share your guest post on their social media pages.
You can even ask them to send it to their email subscribers.
A nice way to help the site meet your request is by offering to return the favour. You can tell them that you'll share the post on your social channels too.
This benefits everyone. Their website will get more traffic. As a result, more people will see your guest post, which increases the chances of you getting more traffic to your own site.
Finally, send a thank-you email. Also, reply to any comments on the guest post – this is an excellent way to build connections with the audience and demonstrate expertise.
Bonus: Our Suggested Platform to Publish Your First-Ever Guest Post

You can find the websites for approaching to publish your guest post by following the methods that we have shared in this blog. However, sometimes it's happened that mid-level to high-quality websites don't accept guest posts written by beginners.
At the same time, you'll find some poor websites that accept all kinds of guest posts. Publishing your guest post on those kinds of websites won't add value too much for you.
So if you are a beginner or run a small startup and looking for top-quality websites (30k-50k visitors per month) to publish your guest posts, we have a platform to suggest you. You can publish your guest post on WP Hive.
WP Hive is a free WordPress plugin repository where you can publish your product reviews, and guest posts on WordPress-related posts, and enlist your products or services in listicle blogs.
Over to You
Now you know the way to write a guest post and approach your target website owners to publish it on their sites. Guest blogging can help you build brand awareness, become a thought leader and expert in your industry, attract qualified leads, and boost conversions.
That's all from our end. Now it's your turn.
Let us know which method you follow for guest posting. Or, have you any interesting experiences to share with us while trying guest posting? Let us know through the comment box below.
You can also follow our Twitter and Facebook handle to get regular updates from us.

https://wphive.com/tutorials/how-to-write-a-guest-post/
Shams Sumon
Shams is a content writer with a passion for making WordPress topics easy to understand for everyone through conversational and storytelling approaches. With a background in the WordPress industry since 2019, he has developed a knack for breaking down complex technical concepts into digestible bites. When he's not crafting engaging content, Shams can be found watching football matches, catching up on the latest movies, or exploring new destinations to rejuvenate himself.

Subscribe To Our Newsletter