WordCamp Dhaka 2019 Review: All You Need to Know & What You Might Have Missed Under 5 mins✨

The megacity of Bangladesh, Dhaka – sees at least 3/4 events/meetups across the city each month. Being a megacity – Dhaka is always happening. Whether it is a cultural function, folk night, photography exhibition, debating, music or painting – there is always something for everyone!
In this midst of events, it is quite shocking that Dhaka had not seen a WordCamp despite having thousands of WordPress users, developers, designers, marketers, and enthusiasts. So finally, when WordCamp Dhaka got an official date of September 28 everyone got so excited! ?
If you were in Dhaka on September 28, you could find out that Twitter was breaking with #WCDhaka tweets. The official hashtag of #WCDhaka got trending real quick, early in the morning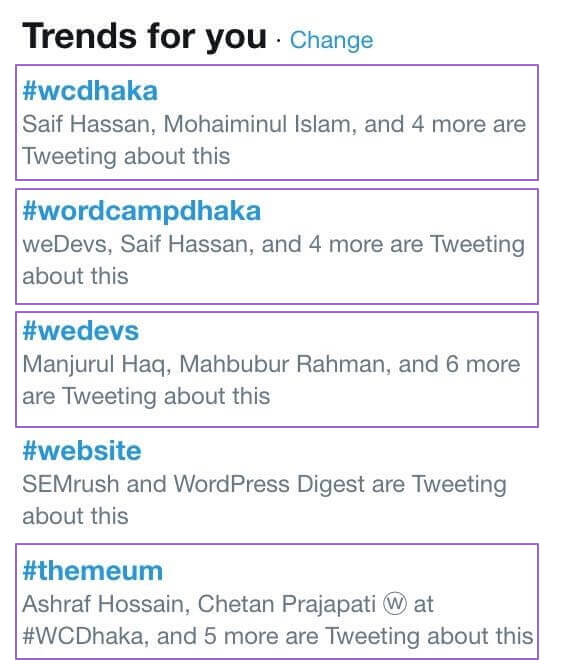 #WCDhaka Hype
WCDhaka got its ticket sold under 5 minutes 3 months before the event! Yes, I know that is insane! But that is what happened. Here is a video that shows how fast the tickets got sold out! 513 tickets got sold out under 5 minutes!
The hype of WordCamp Dhaka was real!
WordCamp Dhaka by The Numbers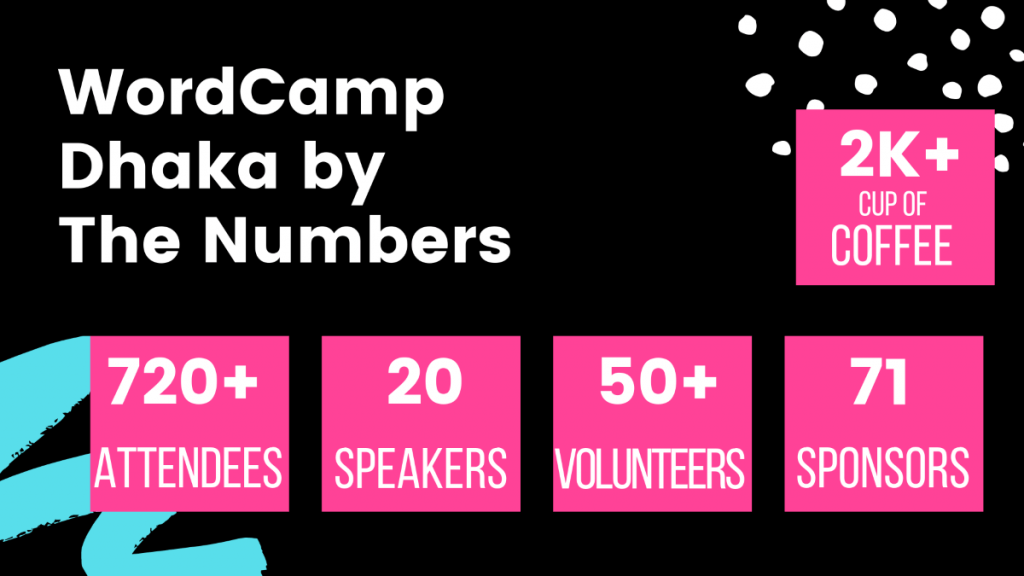 WordCamp Dhaka As It Happened
The event was scheduled to start as early as 8:00 am. I am not a morning person so I thought no one is going to show up as early as 8:00 am! ? To my surprise, around 90 percent of attendees were there – even when the gates were closed. ?
To handle this much attendees, WCDhaka organizers had selected around 20 volunteers just for registration. They worked relentlessly to make sure everyone gets their entry to the venue as early as possible. Props to the organizers that they even made a separate website just for checking the entries (with fully working OTP!). Awesome, right?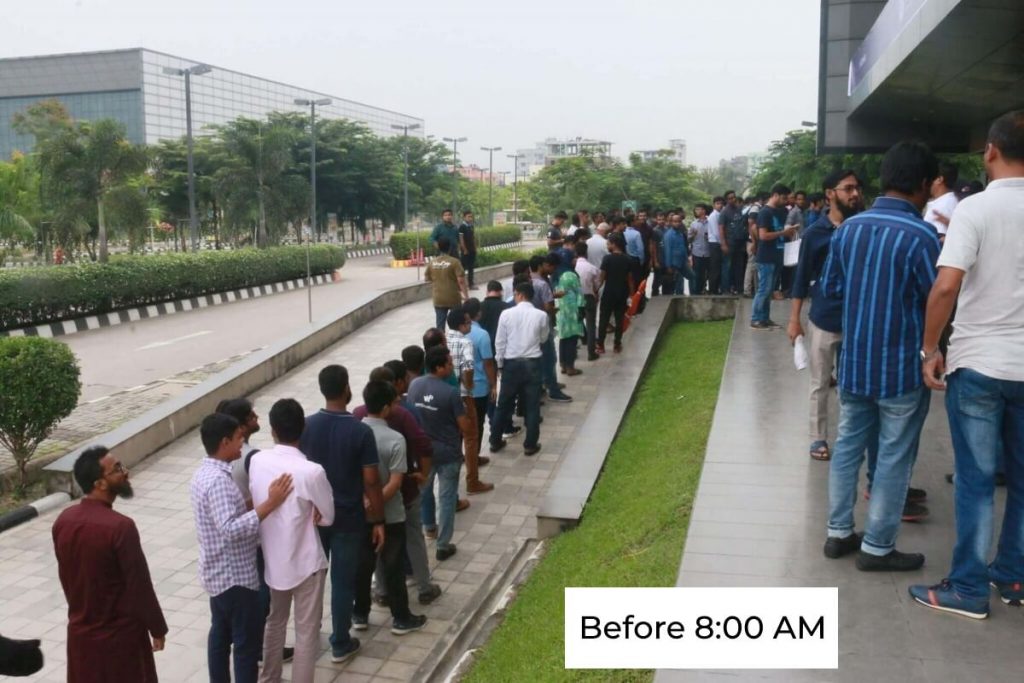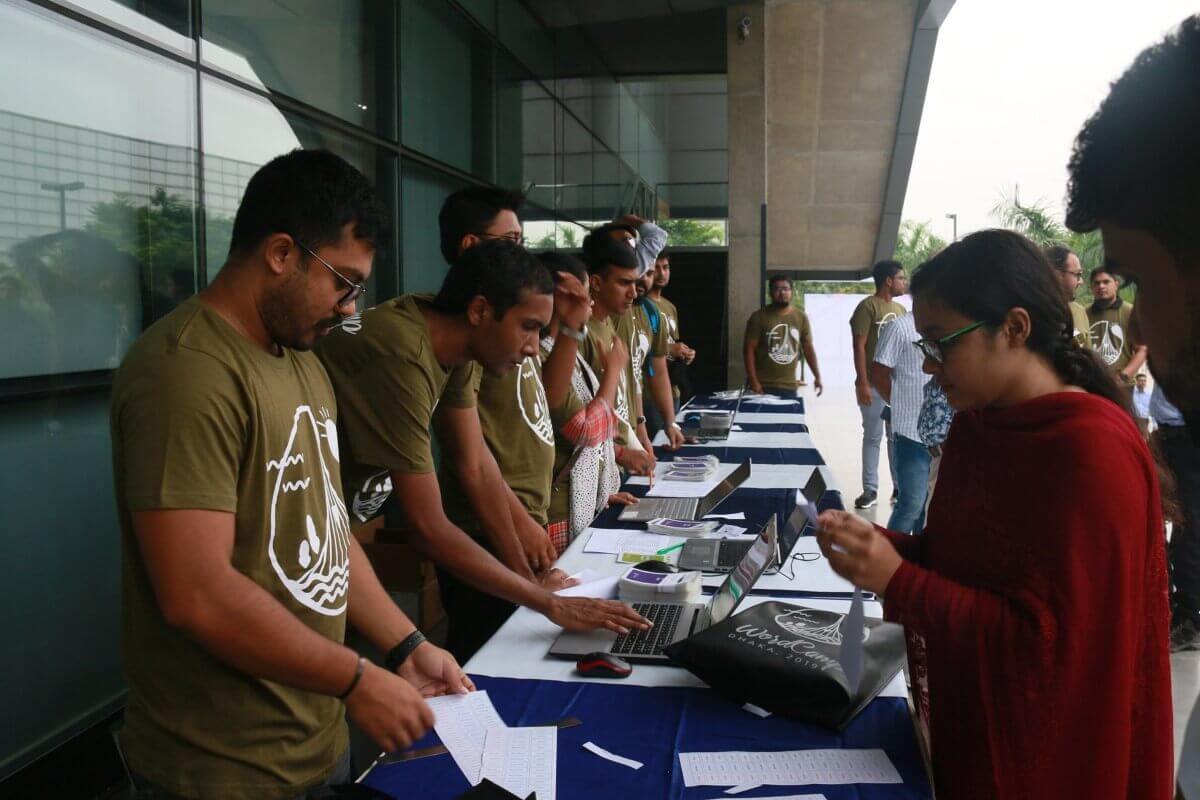 The event was fully packed and there was no seat empty. Lead organizer of WordCamp Dhaka, Mr. Hasin Hayder announced the inauguration of the day-long event.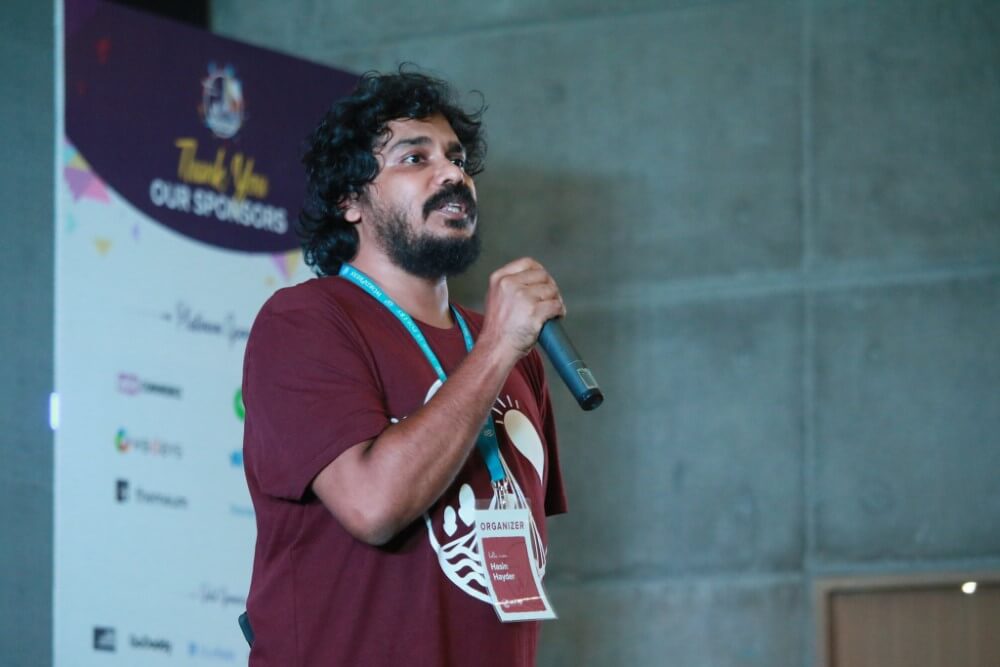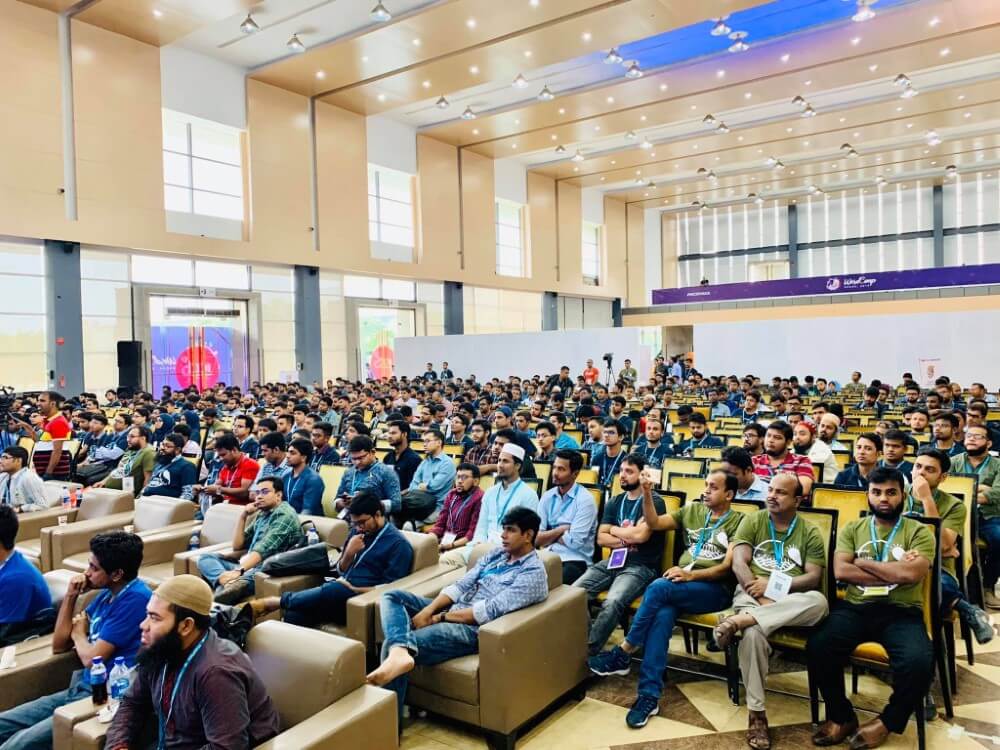 The audience started listening to the speakers attentively for the whole time. In the meantime, there was a separate "Sponsors area" where everyone was allowed to roam free, communicate with others, take part in various competitions and win swags, t-shirts, mugs, bags & many other gift items.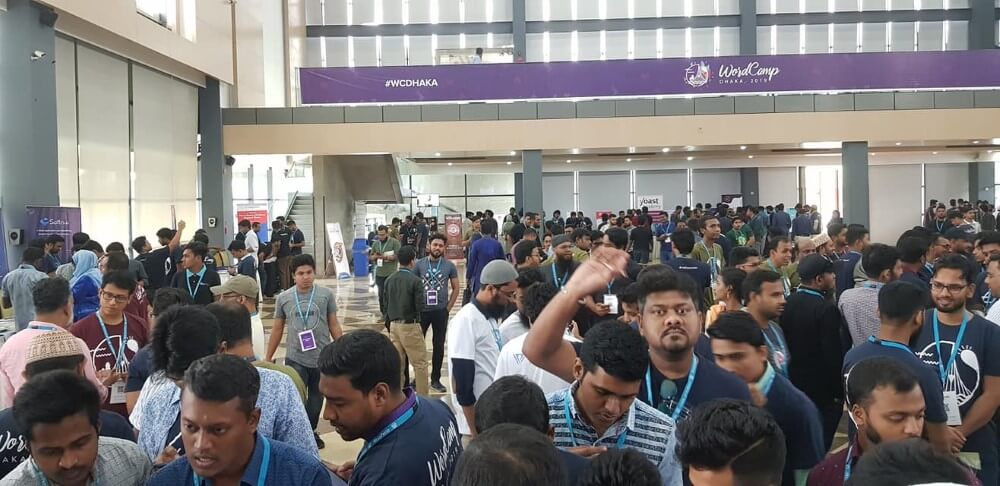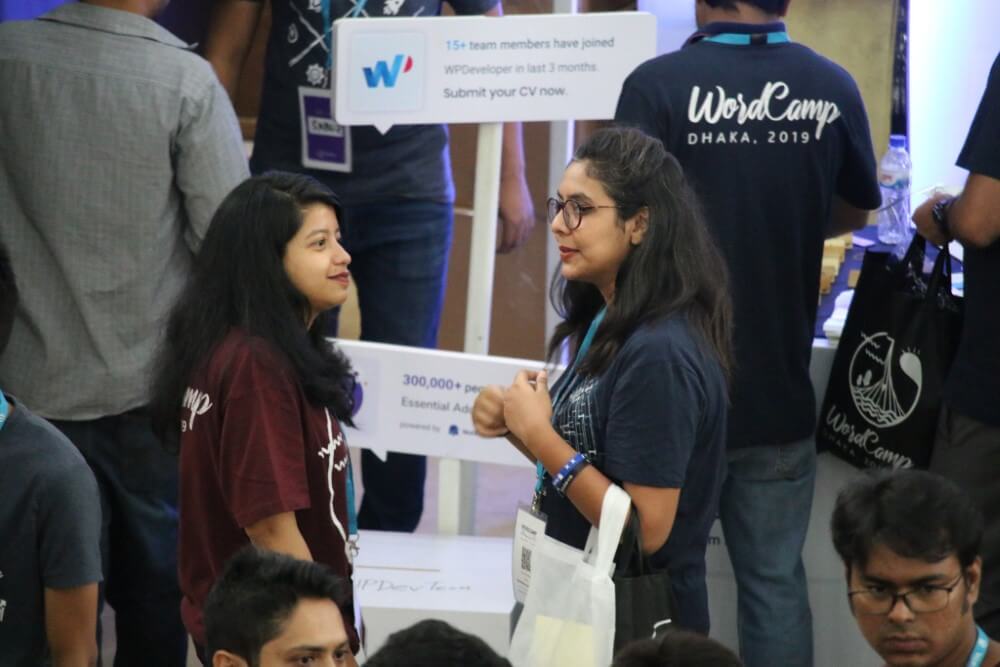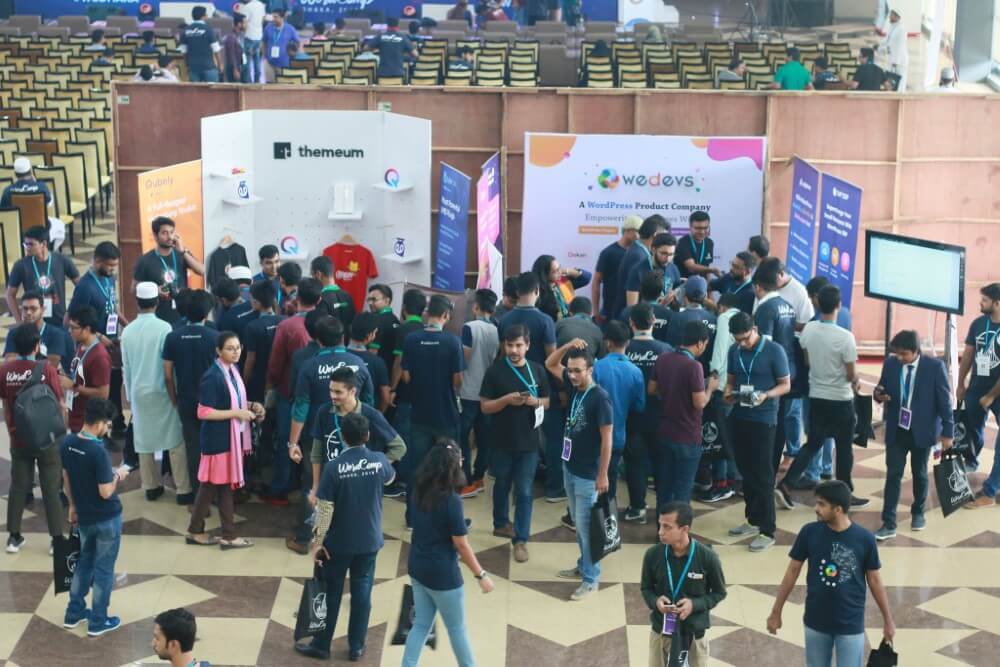 Speakers & Their Sessions
Around 18 speakers joined Wordcamp Dhaka both from local and abroad.
Recorded Sessions
The sessions were broadcasted live via WordCamp Dhaka Facebook page
WordCamp Dhaka Part 1
– Opening Remarks (0:00:00 – 00:13:30)
– Session of Chetan Prajapati (00:14:00 – 00:30:00)
WordCamp Dhaka Part 2
– Session of Anam Ahmed
WordCamp Dhaka Part 3
– Session of Rupok Chowdhury (0:00:00 – 00:05:00) [Full session is not available due to recording issue)
– Session of Abul Khayer (0:06:00 – 00:20:00)
– Session of Ganga Kafle (00:23:00 – 00:43:00)
– Session of Saif Hassan (00:46:00 till the end)
– Panel Speaking by Tareq Hasan, Parvez Akhter, M Asif Rahman & Purnendu Dash (0:00 – 0:36:00)
– Session of François Forest – (0:37 – 0:56)
– Session of Tashfia Nabila Fareed (0:57 – 1:13:00)
– Session of Hasin Hayder (1:15:00 – 1:47:30)
– Session of Nizam Uddin (1:48:00 – 2:05:00)
– Session of Prathamesh Palve (2:07:00 – 2:28:00)
– Session of Lincoln Islam (2:29:30 – 2:49:00)
– Quiz & After Party (3:00:00 till the end)
Why Every Session Was Amazing
Since I was a first-time speaker at WordCamp Dhaka, I would just agree that I was a bit nervous.
Well, every session of WCDhaka was amazing! There were a lot of things to learn from each of these diverse people. I could not give my full attention to each of these sessions, because I was a speaker too.

However, I will just say it outright – every WordCampDhaka session was awesome! There was something for everyone. I definitely have my respect to #WordCampDhaka organizers for having such a diverse set of speakers that covers all major WordPress topics including design, development, marketing & experience sharing.
Swags…Swags…Swags
Everyone loves swags, right? And that's what happened here too! I have never seen WordCamp stalls as busy as this. People at the stalls could not rest for even 5 minutes as there was always a crowd asking them questions, collecting swags, participating in events and so on! It had fun written all over it!

If you don't take my words, let me show you some pictures.
People started sharing their swag collection just after the event officially ended. Here's one photo I found on Facebook.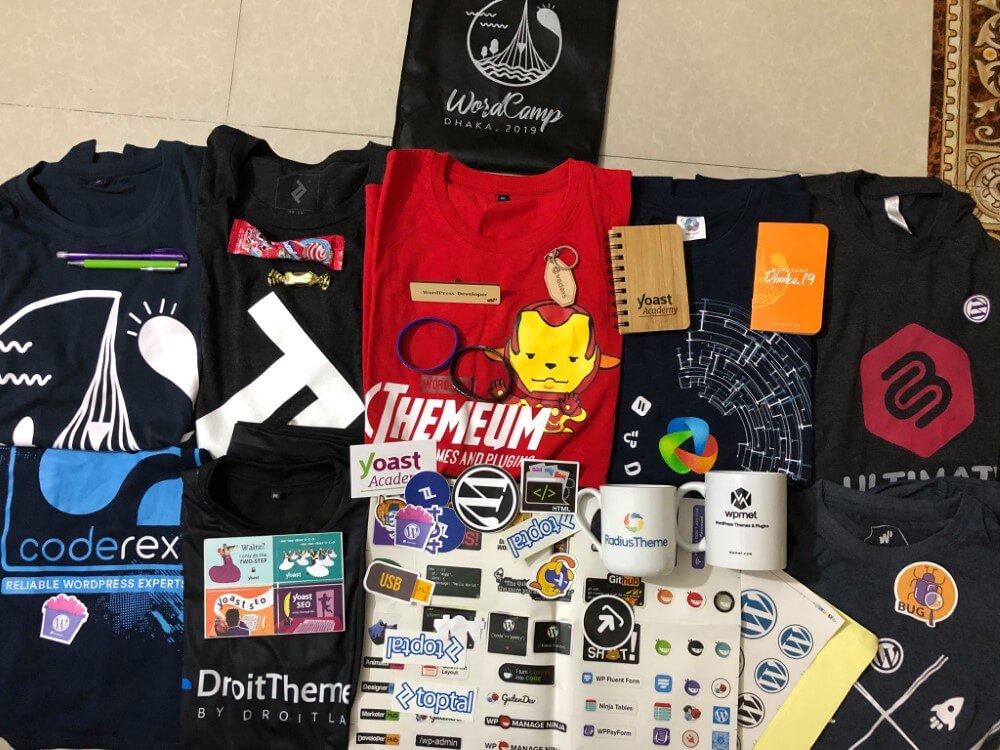 Ending Remarks
Around 6:00 PM a WordCamp Quiz was held which was hosted by M Asif Rahman. I saw an astonishing 420+ users participating in the quiz.
After that, the organizers gave a token of appreciation to all speakers, volunteers, and organizers for their hard work.
There were delicious lunch & evening snacks for all attendees. I loved the food!
There as an after-party where folk songs were performed by a local band. The atmosphere was pretty awesome.
Did I Miss Anything?
I have tried to recap everything regarding WordCamp Dhaka. Did I miss anything? if you attended Wordcamp Dhaka, let me know what you loved most in the comments section!
WordCamp Dhaka would be even more amazing if it saw official presence of companies like Elementor, Jetpack, WooCommece & others. Because the people were so excited – they started asking around questions regarding other WordPress plugins – which the volunteers couldn't answer. I even missed Adam Preiser since he always provides great updates from WordCamps.
I wish every other WordPress companies will also fly Dhaka to join WordCamp Dhaka next year.
[All the information are collected from the web! The pictures were only posted if they were made available publicly on Facebook]
https://wphive.com/reviews/wordcamp-dhaka-2019-review-recap/
Saif Hassan
Product Manager by passion & profession. Lead Product Manager at weDevs, former PM @ Poptin. Passionate about writing & tech. He's an advocate of Human-Centered Design and believes that websites and the tools used to build them should be well crafted, intuitive, and accessible. Cyclist. Reader. A WordPress ninja 🥷, HCI expert & a design thinker 💡

Subscribe To Our Newsletter