B2BKing Review: A Complete Solution for WooCommerce Wholesale and B2B

WooCommerce has made it easier to run an eCommerce store on WordPress. But managing a wholesale online store is still quite difficult. The B2BKing Wholesale Plugin for WooCommerce comes into play to help you overcome all challenges related to a wholesale WooCommerce shop.
It has 137+ features including custom pricing and payment terms, the ability to hide products from retail customers, and advanced tax settings. It also includes tools for managing customer groups, enforcing minimum order quantities, and setting up bulk discounts. Additionally, the plugin provides detailed reports and analytics to help businesses better understand their wholesale customers and sales.
In this article, we'll dig deeper into the functionalities of the B2B King Wholesale Plugin. Let's explore this great tool with us and learn more about it from our hands-on experience. Before moving to the B2BKing Review, you should know the things to look out for in a wholesale plugin for WooCommerce.
Things to consider when choosing a wholesale plugin for WooCommerce

You need to choose the right plugin for your WooCommerce wholesale store to ensure that it meets your business needs. Here are some key considerations:
Custom pricing: The plugin should allow you to set custom pricing for wholesale customers based on their customer group, order volume, or other criteria.
Minimum order quantities: It should enable you to set minimum order quantities for wholesale orders to ensure that you can fulfill orders profitably.
Bulk discounts: The plugin should enable you to set up bulk discounts for wholesale customers, which can incentivize larger orders.
Product visibility: The plugin should allow you to hide specific products or categories from retail customers and make them visible only to wholesale customers.
Payment and shipping options: It should provide you with the ability to set up custom payment and shipping options for wholesale customers.
User roles and permissions: The plugin should enable you to create and manage user roles and permissions for wholesale customers.
Tax settings: It should provide you with advanced tax settings to handle the complexities of B2B sales, such as tax-exempt customers and cross-border sales.
Reporting and analytics: The plugin should offer detailed reports and analytics to help you better understand your wholesale customers and sales.
Support and documentation: Make sure the plugin offers comprehensive documentation and reliable support in case you run into any issues.
A brief introduction to the B2BKing wholesale plugin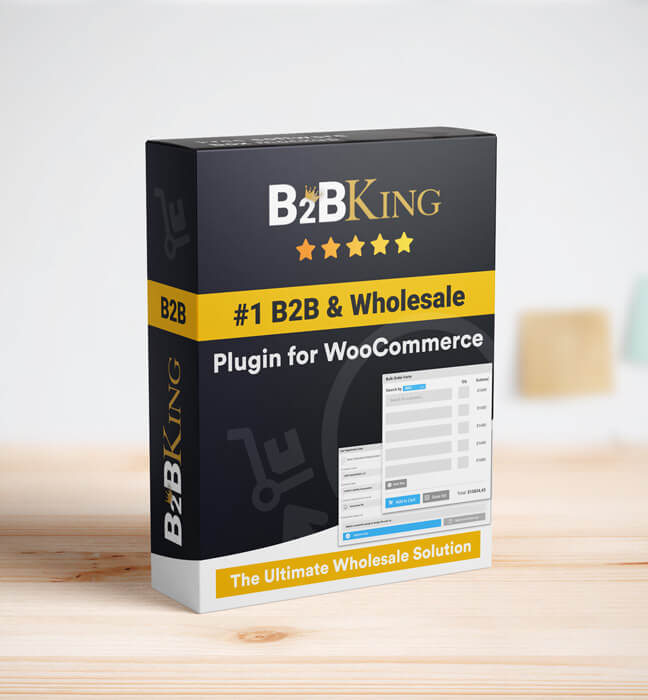 B2BKing is a wholesale plugin for WooCommerce that helps businesses create a B2B (business-to-business) or a wholesale store with powerful wholesale capabilities. With B2BKing, you can streamline wholesale operations and create a tailored shopping experience for all wholesale customers.
Here is the list of the top benefits that make it stand out from its competitors.
You can control what the guest can see
Customers can easily place orders using the wholesale order form
You can hide prices, and receive quotes instead of orders
You can create different customer groups
This plugin supports EU VAT policies and tax exemptions
You can offer negotiated prices for specific users or groups
The B2BKing plugin has a B2B customers management panel
You can enable advanced email notifications
You can control shipping methods and payment methods
Different prices for the same product, as well as tiered pricing setups.
You can create product bundles and offer that to specific groups of customers
The list goes on and on. B2BKing comes with a wide variety of features to cater to the needs of all wholesale business owners who are planning to run their online store using WooCommerce. Learn the key features from the below section.
The key features of B2BKing: B2B & wholesale plugin for WooCommerce


This B2BKing WooCommerce extension is designed to add wholesale functionality to your online store. It offers a comprehensive set of features that are tailored to the needs of wholesale businesses. Some of its key features include the following.
1. Dynamic pricing and discounts
B2BKing allows you to set up flexible pricing and discount rules for your wholesale customers. With this feature, you can offer different pricing options to different customers based on their user roles, purchase history, order quantity, and other factors. You can set discounts for bulk purchases, offer percentage or fixed amount discounts, set minimum order quantities, and more.
2. Registration forms and approvals
B2BKing allows you to create custom registration forms for wholesalers to fill out before they can access your store. You can also set up approval workflows to verify and approve each registration. This allows you to collect important information about your customers, such as their business details and tax ID.
3. Payment and shipping methods

You can set up different payment and shipping methods for wholesale customers, such as allowing them to pay on account, setting up custom shipping rates, and more. B2BKing allows you to restrict payment and shipping methods based on customer group or order value. This helps ensure that your wholesale customers are using the payment and shipping methods that work best for your business.
4. Tax exemption and VAT handling
B2BKing allows you to set up tax exemption rules for wholesale customers and handle VAT calculations and invoices automatically. It supports tax exemption for certain customers, such as non-profit organizations or government entities.
5. Messaging and notifications
You can set up custom messaging and notifications for wholesale customers, such as sending order confirmations, quotes, and invoices automatically.
6. Custom user roles and permissions
With B2BKing, you can easily control which products, categories, and pages are accessible to different user roles, such as wholesalers or retailers. You can create custom user roles and permissions for your customers.
Thus, you'll get more control over what they can see and do on your site. On top of that, this feature helps you manage your wholesale business more efficiently and ensures that each employee only has access to the features they need.
7. Minimum order quantity
You can set a minimum order quantity for certain products or categories, ensuring that wholesale customers meet a certain threshold before ordering. This helps ensure that you only deal with serious buyers who are willing to purchase in bulk.
9. Integration with other plugins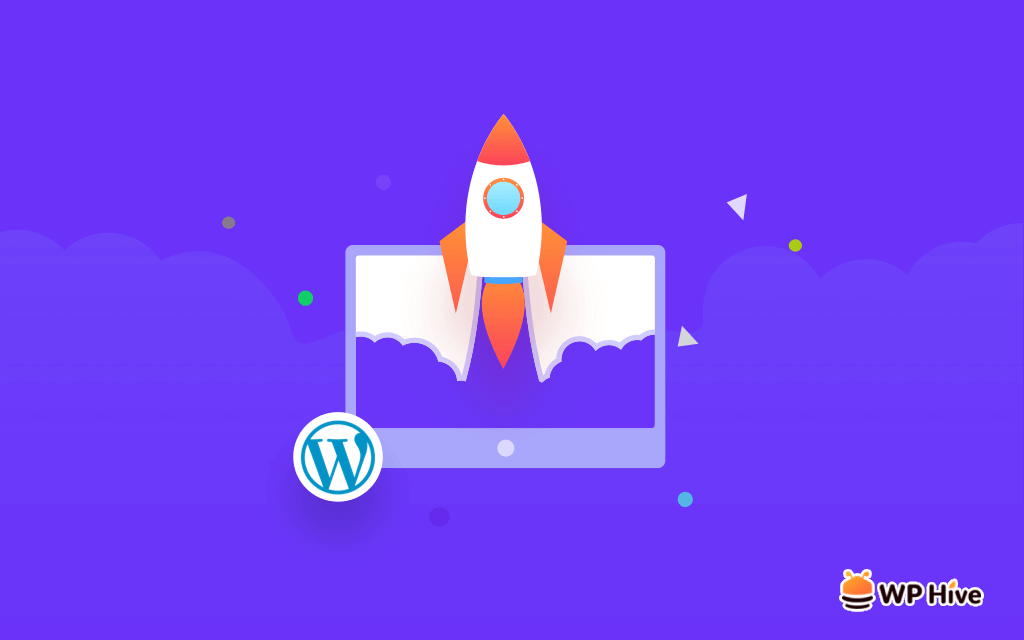 B2BKing integrates with a wide range of other plugins and extensions, including WooCommerce Subscriptions, WooCommerce Bookings, and WooCommerce Product Add-Ons. It also supports top multivendor marketplaces like Dokan.
In fine, its flexible pricing and discount rules, customizable registration forms, and user role management features make it a powerful tool for managing your wholesale operations. It surely has the ability to help you better serve your wholesale customers.
10. Customizable product visibility
You can set up different visibility rules for your products based on the user roles of your customers. You can hide certain products from retail customers and only show them to wholesale customers. Or display them only after they have logged in. This helps protect your wholesale pricing and inventory from competitors and unauthorized users.
11. Detailed documentation and premium support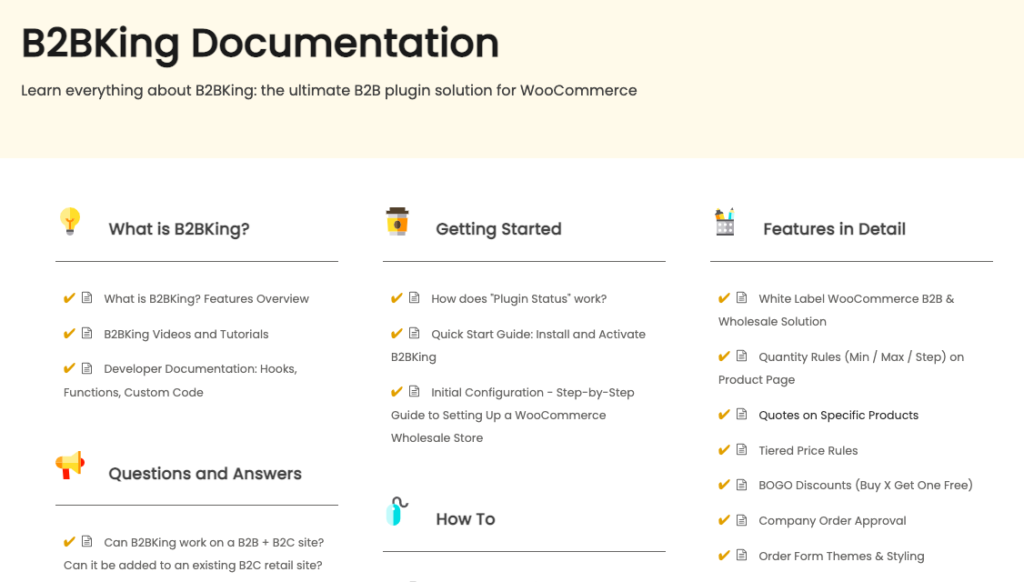 You don't need to worry about how to set up and use B2BKing. The plugin has a well-written and detailed documentation page for almost all questions a customer may have. If you prefer learning from written guides before reaching out to the support team, you can consult the official documentation.
After purchasing the premium version of B2BKing, you will gain access to priority support and updates. If you encounter any difficulties or require assistance in configuring B2BKing, you can refer to their support website. Submit a new support ticket and connect with the support team, who will respond to all inquiries within one business day.
How to use B2BKing to run a wholesale, B2B, or hybrid WooCommerce store
This plugin works with stores made with WooCommerce. So, we assume that you already have a WooCommerce-based online store. The first step to using B2BKing to enhance your wholesale capabilities is to install and activate it at first.
Step 1: Activate the B2BKing plugin
Like any other WordPress plugin, the installation princess is the same here as well. Follow this guide on How to Install a WordPress Plugin to know the steps.
You'll need the core plugin installed on your WordPress before using the pro version. Even if you don't install the core plugin, you'll see the following message. Install it from there by clicking on the Install Now button.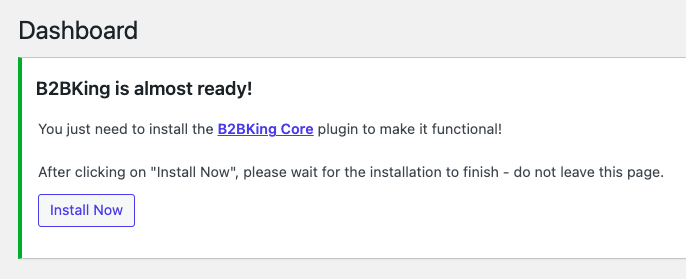 After successfully installing the plugin, you'll see the B2BKing plugin on the left sidebar of your WordPress admin panel.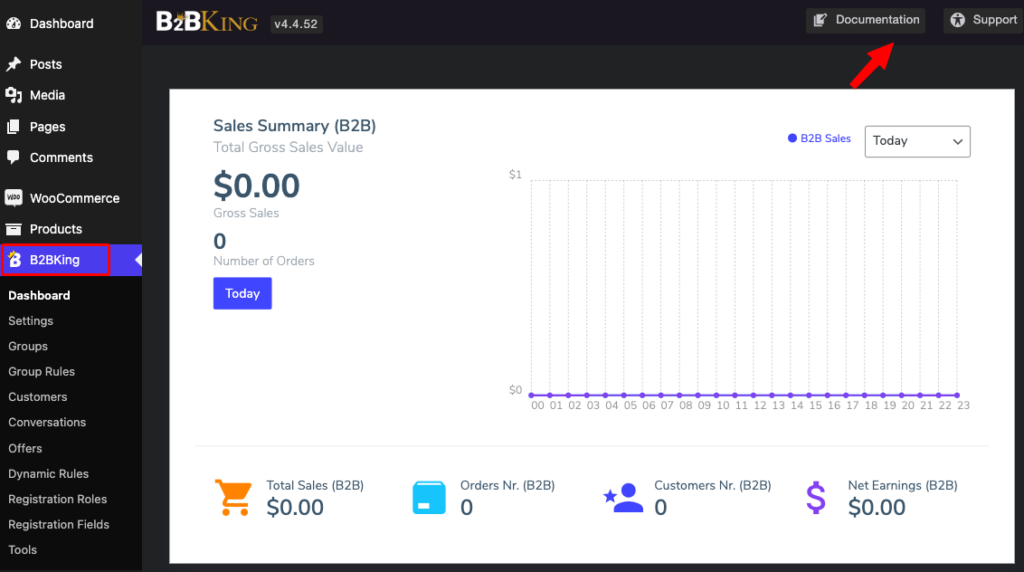 The plugin dashboard has Documentation and Support resources on the right topbar of the page. You can easily access them if needed.
Step 2: Configure the settings as per your needs
Navigate to the Settings option from your B2BKing options. You'll see a comprehensive settings page equipped with all the necessary functionalities to turn WooCommerce into an enterprise-level B2B e-commerce platform.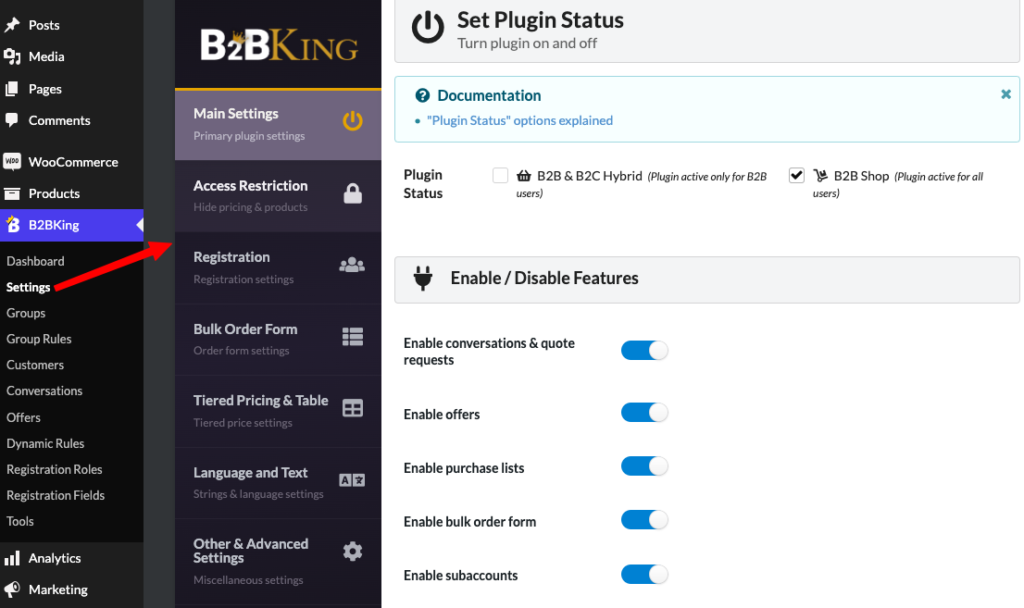 Explore all the options available here. They are very easy to configure. You'll be able to use the settings without requiring any technical expertise.
Step 3: Create business groups to have full control over them
You can create business groups to control the payment and shipping methods for them. B2BKing also allows you to create group rules. Through group rules, you can automatically change a customer's group when they hit a particular threshold such as the total spent.
Go to Groups to create B2B and B2C business groups and go to the Group Rules submenu to create new rules for your customers.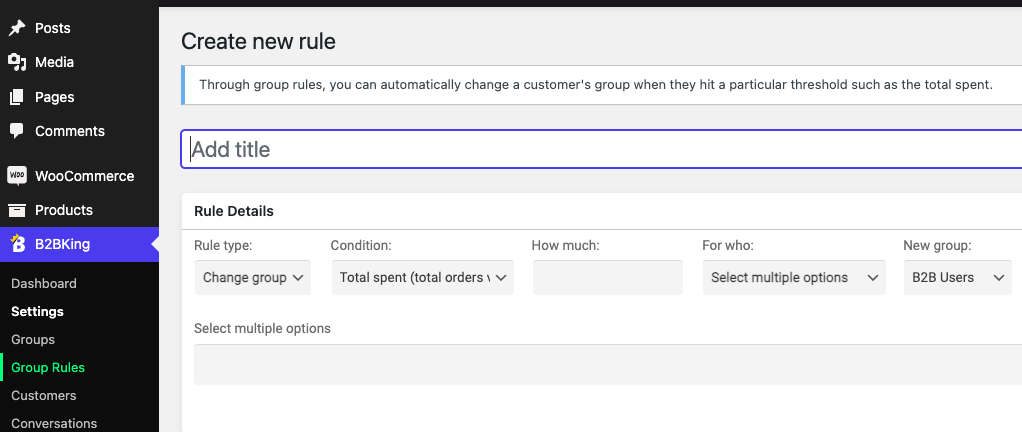 You can set up multiple conditions for each group. The type of groups will be automatically changed based on the set rules here.
You can also set dynamic rules using the Dynamic Rules section from the left sidebar. These rules allow you to apply specific user, group, or product settings or requirements. With rules, you can offer discounts, hide prices, set minimum order quantities, specify tax-exempt users, and much more.
Step 4: Create custom registration roles for your users
Registration roles are the dropdown options users must choose from during registration. You can create, edit, or delete roles as needed. The registration role settings enable you to assign status, automatic or manual approval, and more.
Step 5: Include registration fields to collect more information
Registration fields are custom fields that you can configure and use to collect more info from your customers. They are visible to users in the registration, my account, or checkout. B2BKing provides a default set of registration fields. You can also add new fields if you want.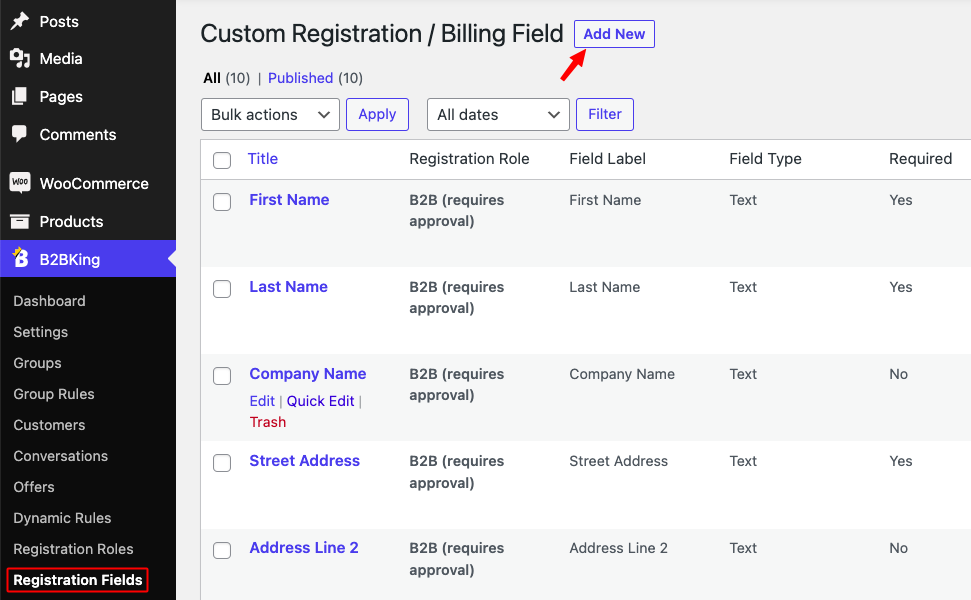 Keep in mind that people don't want to share unnecessary information. So, keep only the required fields here so that your customers willingly provide their information.
Step 6: Utilize the tools for more functionalities
When you navigate to the Tools section, you'll see a few exciting features. You can export or import bulk prices in CSV format, control category visibility, edit users accounts in bulk, and clear plugin caches from a single place.
Step 7: Use other B2BKing settings to streamline your business
Customers: Navigate to the Customers section to see the list of your customers. They are sorted there along with Name, Company Name, Customer Group, Account Type, Approval, and Total Spent.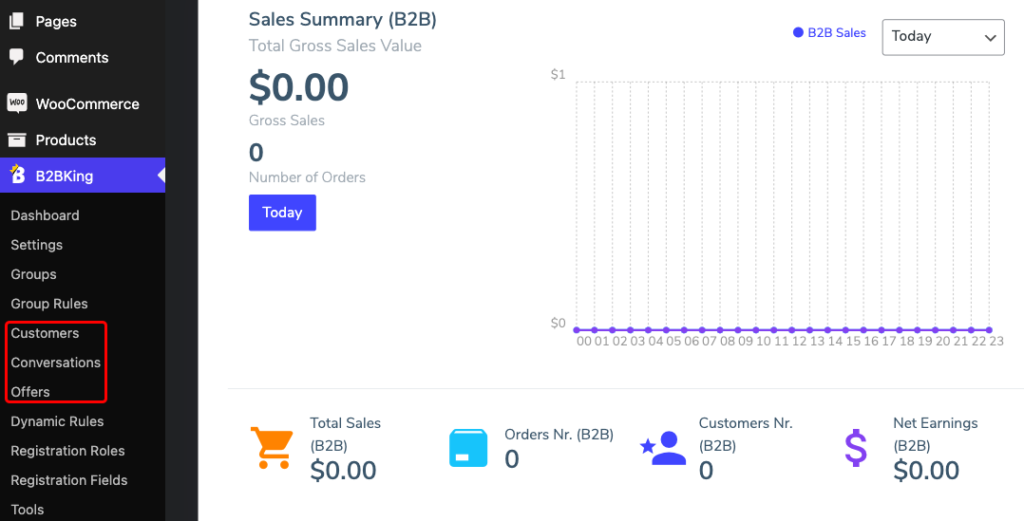 Conversations: Conversations allow you to communicate with your customers, respond to quote requests, ask or receive questions, clarify matters, queries, etc. Customers can also initiate conversations.
Offers: Offers allow you to sell packages (bundles) of products in any quantity and at any price to specific customers or groups. You can use offers to create special deals, offer discounts, or sell packages.
B2BKing Wholesale Plugin Pricing Plans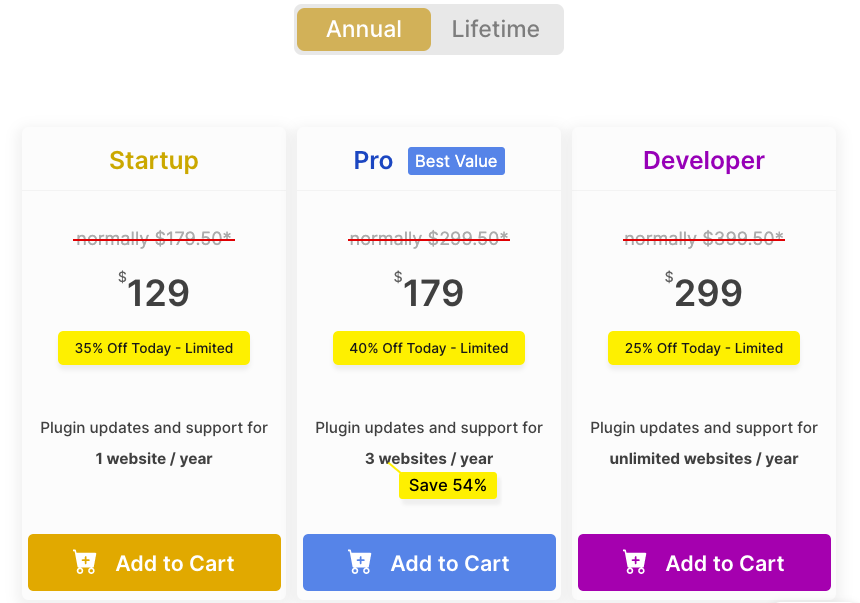 ​​B2BKing offers both a free and a premium version. The free version includes some basic features, such as wholesale pricing, quantity-based discounts, and minimum order amounts. However, the premium version includes many more advanced features, such as custom pricing rules, dynamic pricing, tiered pricing, and advanced tax exemptions.
The pricing of the premium version varies depending on the number of sites you want to use it on and the length of the license. B2BKing offers three pricing plans.
Single Site License: This plan costs $129 and is valid for one site for one year.
3 Sites License: This plan costs $179 and is valid for three sites for one year.
Unlimited Sites License: This plan costs $299 and is valid for five sites for one year.
After one year, you can renew your license at a discounted rate to continue receiving support and updates.
The pricing changes according to the length of the licenses, you can check the Lifetime packages for the information.
It's worth noting that these prices are subject to change, so it's always a good idea to check the official B2BKing website for the latest pricing information.
Get started with B2BKing today
Hopefully, by now, you've understood that B2BKing is a powerful tool for creating a wholesale platform for your online store. Its advanced features, integration with WooCommerce, and excellent support make it an excellent choice for businesses looking to expand into the B2B market. You can also get started with this plugin to take your B2B and wholesale business to the next level.

https://wphive.com/reviews/b2bking-b2b-wholesale-review/
Tanvir Faisal
Md. Tanvir Faisal is a Content Writer at WP Hive with 4 years plus experience in Content Writing, Copywriting, Proofreading, and Editing. He focuses on writing informative content that draws social media attention and enhances search engine visibility. To date, he has successfully developed useful content for many websites across all formats.

Subscribe To Our Newsletter