5 Best Cryptocurrency Payment Plugins for WordPress Websites

There are over 420 million crypto enthusiasts globally. So to capture a broader segment of the market, international brands, such as Microsoft, AT&T, and Burger King, began accepting payments in crypto. This changed the online payment landscape and spurred other businesses into action.
Sensing an opportunity to expand their global reach, companies of all sizes across industries are beginning to offer their consumers the option to pay for their purchases in crypto.
But given the volatile nature of these digital currencies and the hassles of converting cryptocurrencies into fiat money, it involves a complicated process to complete a transaction. This is where cryptocurrency payment plugins come in.
For WordPress website owners, this process has been made remarkably simple, thanks to a wide range of dedicated plugins. In this blog post, we will explore the top five WordPress cryptocurrency payment plugins.
So, if you're ready to join the growing wave of businesses embracing cryptocurrencies, read on to discover the best cryptocurrency payment plugins for your WordPress website.
What are crypto payment plugins?

After you create your e-commerce website using WordPress, it's time to add products to your store, personalize its visual appearance, and add payment plugins, like crypto payment plugins, to tap into a new customer segment.
However, what are crypto payment plugins?
Crypto payment plugins are software extensions or add-ons that enable merchants to accept cryptocurrency payments on their websites. These plugins integrate with existing e-commerce or payment processing systems to facilitate secure and seamless transactions with digital currencies.
Can merchants use them for WordPress websites?
Yes, merchants can use crypto payment plugins for WordPress websites. These plugins provide a straightforward solution for businesses to expand their payment options beyond traditional methods like credit cards or PayPal.
With the right crypto payment plugin installed on a WordPress website, merchants can offer their customers the ability to pay using popular cryptocurrencies such as Bitcoin, Ethereum, or Litecoin.
These plugins are gaining popularity since their integration is simple. They use real-time exchange rates to convert cryptos into fiat money, enable peer-to-peer transactions, eliminate third-party intermediaries, and facilitate direct deposits into the merchant's crypto wallet.
Crypto plugins sound great, but how do you choose one that's compatible with your WordPress website? Let's find out.
How to choose crypto payment plugins for your WordPress website?

To tap into the massive pool of crypto users and establish their stronghold, merchants can begin accepting cryptocurrencies on their online store with crypto payment plugins. Whether you're looking for social media tools or fraud protection plugins for your website, you will be met with thousands of options. It's definitely not easy to pick the right one.
But you can consider the following factors when choosing a crypto payment plugin for your WordPress website:
Supported digital currencies: this is one of the most important factors since not all plugins support various cryptocurrencies. Ensure that the plugin you pick at least supports the cryptocurrencies you prefer.
Cryptocurrency to fiat money conversion: pick a plugin that automatically converts your cryptocurrencies into fiat money, taking real-time conversion rates into account.
Presence of intermediaries: check if the plugin redirects your consumers to a third-party website to complete their payment.
Security and data protection: this is an essential criterion since you don't want your consumer's PII (personal identification information) or crypto wallet address to get leaked. A secure plugin will also ensure that malicious attackers do not intercept your crypto payments.
Hidden charges: ascertain that you read the fine print before integrating the plugin into your WordPress website. See if they charge transaction, withdrawal, or network fees, which would increase the overall costs and impact your profit margins.
User-friendly: your chosen plugin must have a user-friendly interface and offer a seamless experience to your consumers.
Compatibility with your WordPress website: this goes without saying, but however wonderful a crypto payment plugin be, it's of no use if it's not compatible with your website. Ascertain that its crypto theme is compatible too.
Now that you know how to choose a crypto payment plugin, how about we check out some of the best ones?
5 Crypto payment plugins compatible with WordPress websites
Looking for the best payment plugins for WordPress websites will get you many results, which you'll have to filter based on your needs and preferences.
But if you don't have the time to filter all search results personally, here's a list of the best crypto payment plugins for WordPress websites to make choosing one for your website easier.
1. MoonPay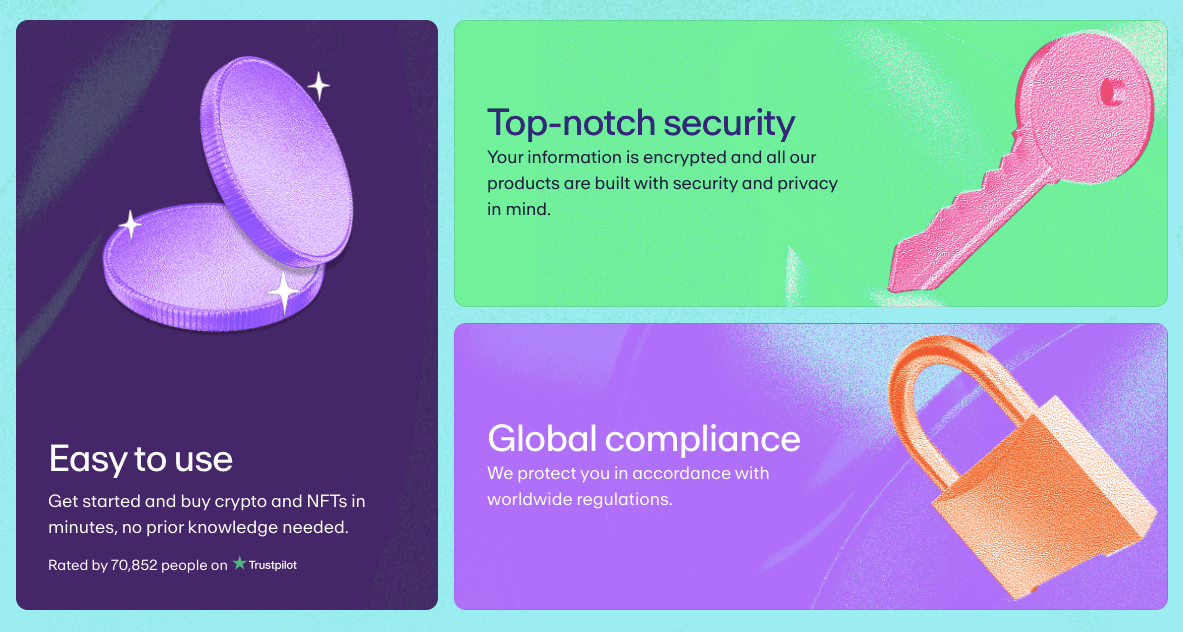 MoonPay is a leading crypto platform that allows crypto platforms, exchanges, wallets, and websites to let users buy and sell crypto with a single integration.
It supports over 80 cryptocurrencies in nearly 160 countries, letting merchants offer their users the option to purchase a horde of cryptocurrencies. For instance, they can easily buy USDT without leaving the merchant's website.
Wondering how to convert the received cryptos to fiat currency? MoonPay takes care of that too. It supports 30+ fiat currencies, so you never have to worry about crypto conversion rates or trust other third parties to convert your cryptocurrencies into fiat money.
MoonPay also makes selling cryptocurrencies easy. Its user-friendly interface, instant KYC verifications, and tight security measures have made it popular among merchants and crypto enthusiasts alike.
The cherry on top? You don't just have to limit yourself to accepting payments in cryptocurrencies. You can also accept all major payment methods, including credit cards, debit cards, wire transfers, Apple Pay, Samsung Pay, Google Pay, and ACH.
Worried about chargebacks? MoonPay deals with all chargeback-related costs and issues, too, so you can solely focus on offering a seamless crypto payment solution.
Moreover, you don't have to worry about compliance regulations while focusing on reeling in consumers across the globe. MoonPay takes care of global compliance and licensing standards so that you can focus on establishing your global brand and increasing your revenue.
2. NOWPayments
NOWPayments is known for its easy integration, wherein you simply set up your account, choose your integration, and place the pay button on your WordPress website. The best part? The integration is absolutely free.
This crypto plugin supports over 160 cryptocurrencies, including BTC (Bitcoin) and ETH (Ethereum), levies low fees of 0.5%, takes care of chargebacks, and facilitates instant payouts to your wallet since it doesn't require blockchain confirmations.
Moreover, you get access to premium account managers who'll be available 24*7 to answer all your questions and resolve your queries.
You can also set up recurring email billing requests to remind customers or clients to clear their bills using cryptocurrencies.
3. MyCryptoCheckout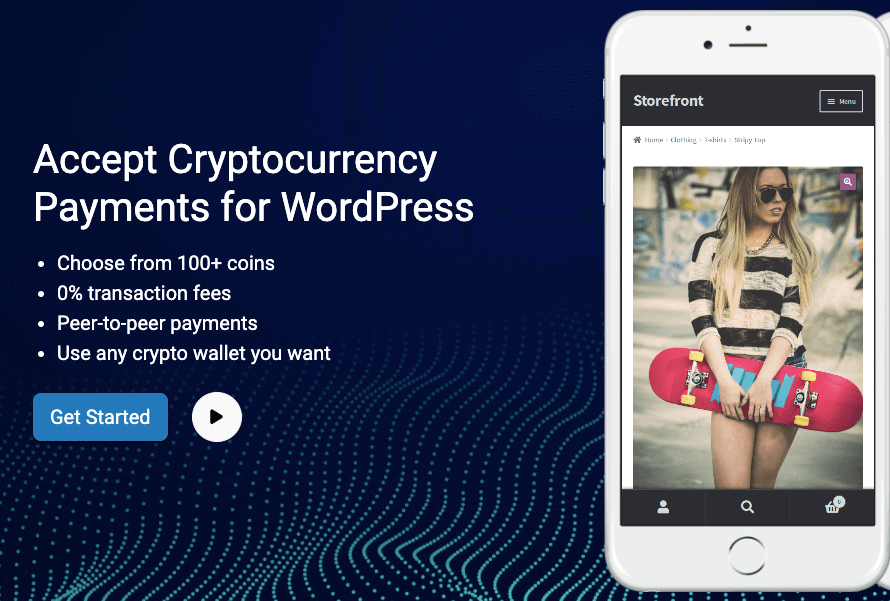 MyCryptoCheckout has been designed exclusively for merchants to help them accept cryptocurrency payments on their WordPress websites.
You can choose from over 100 coins without shelling out any money for transaction fees. Moreover, you can select any crypto wallet you like and do away with the middlemen.
Trusted by over 6000 webshops, MyCryptoCheckout facilitates auto settlement, wherein you can convert selected cryptocurrencies to fiat or stablecoins. You can set up the plugin within minutes by adding your exchange API keys to your auto-settlement options.
Additionally, this crypto payment plugin promotes data privacy and is secure since it doesn't access your funds and can't withdraw them. You can even try out its free version before purchasing a yearly subscription.
4. GoURL
GoURL supports nearly 14 cryptocurrencies, including Bitcoin, Bitcoin Cash, Bitcoin SV, Litecoin, Dash, Dogecoin, Speedcoin, Potcoin, and more.
This solution offers a 100% free setup. You just need to edit a few lines of code to integrate it into your WordPress website. It'll be fully integrated into your website, ensuring that your website receives your consumer's payment information instantly. You'll also receive payment notifications on your email and website.
The registration process is simple, there's no verification involved, and you only need your API keys. This is a secure solution with no risk of chargebacks and is available globally.
Besides being secure and supporting quick payment transactions, GoURL is gaining traction since there's no monthly fee and no transaction limits. It charges no fees for Speedcoin, and the fee for all other coins is merely 1.5%.
GoURL offers a white-label option to add your store's logo to the payment box. You also get free tech support and can transfer all your crypto revenue to your wallet directly. After you receive coins in your wallet, you can convert them into fiat currency, such as USD and euro.
5. Cryptoniq
Cryptoniq is an excellent crypto payment plugin for WordPress and supports cryptocurrencies like Bitcoin (BTC), Ethereum (ETH), Dogecoin (Doge), Tron (TRX), Litecoin (LTC), and Bitcoin Cash (BCH).
This user-friendly solution is based on a decentralized payment system. You don't have to register—adding your details—to use this plugin. You don't have to create a wallet on Cryptoniq, ensuring you have sole control over your funds.
The payment is processed directly from the customer to the merchant's wallet, there are no intermediaries involved, and there's no withdrawal fee.
Cryptoniq offers admin and payment panels that ensure you can easily add the payment details, such as wallet address, product prices, and payment currency. At the same time, your customers can pay through a single click.
Your Cryptoniq license will include up to six months of support from the developer team and any future updates. Just remember that you'll also have to download the Redux Framework plugin to use Cryptoniq.
For other plugins, you can check out BTCPay and Blockonomics.
Best practices for accepting cryptocurrency payments

It is essential for merchants to implement best practices to ensure a smooth and secure cryptocurrency payment process. In this section, we will explore five key best practices for accepting cryptocurrency payments, covering customer education, transparent display of payment options, accurate exchange rate monitoring, robust security measures, and compliance with regulations.
Educating customers about the payment process: Provide clear instructions on how to initiate cryptocurrency transactions, including wallet setup, sending funds, and confirming payment. Educational resources, FAQs, and support channels can help you build trust and confidence among your customers.
Displaying accepted cryptocurrencies and payment options prominently: Clearly communicate which cryptocurrencies are accepted and ensure that customers can easily select their preferred option during the payment process. This transparency reduces confusion and enhances the user experience.
Monitoring exchange rates and ensuring accurate conversions: Use reliable sources or APIs to fetch accurate exchange rates and ensure that the conversion process is transparent and fair.
Maintaining security measures and protecting customer Information: Implement robust security measures, such as using SSL encryption for all transactions, implementing two-factor authentication for wallets, and regularly updating and patching your website's security plugins.
Staying updated with regulatory and compliance requirements: Ensure that you comply with anti-money laundering (AML) and know-your-customer (KYC) regulations if applicable. Staying updated with compliance requirements helps protect your business and maintain a trustworthy reputation.
Embrace these best practices and stay ahead in the ever-evolving world of digital payments.
Cryptocurrency payment plugins for WordPress websites are a game-changer
The masses are increasingly adopting cryptocurrencies. This presents a unique opportunity for merchants to explore new ways to gain consumers and cater to their needs. But it's not easy for online store owners to accept cryptocurrency payments on their WordPress websites.
Crypto plugins make merchants' life more manageable and assist them in configuring their payment infrastructure to support crypto payments. The absence of intermediaries, transaction fees, and integration charges makes them a game-changer.
https://wphive.com/reviews/best-cryptocurrency-payment-plugins/
Tanvir Faisal
Md. Tanvir Faisal is a Content Writer at WP Hive with 4 years plus experience in Content Writing, Copywriting, Proofreading, and Editing. He focuses on writing informative content that draws social media attention and enhances search engine visibility. To date, he has successfully developed useful content for many websites across all formats.

Subscribe To Our Newsletter