7 Best GeneratePress Templates You Should Try for Your WordPress Site in 2023

Templates have made our web design experience easy, fast, and convenient. But choosing the right template is a challenge, particularly if you use a theme like GeneratePress that offers so many design choices.
Now, the question is which are the best GeneratePress templates you can use for your WordPress site at present?
In this article, we have listed down the 7 best and most unique GeneratePress templates that you can give a try to build a perfect and beautiful site in a single click.
We will also talk about some basics of GeneratePress, show how to use the templates, and answer some common questions along the way. We hope you'll find it useful.
Introduction to GeneratePress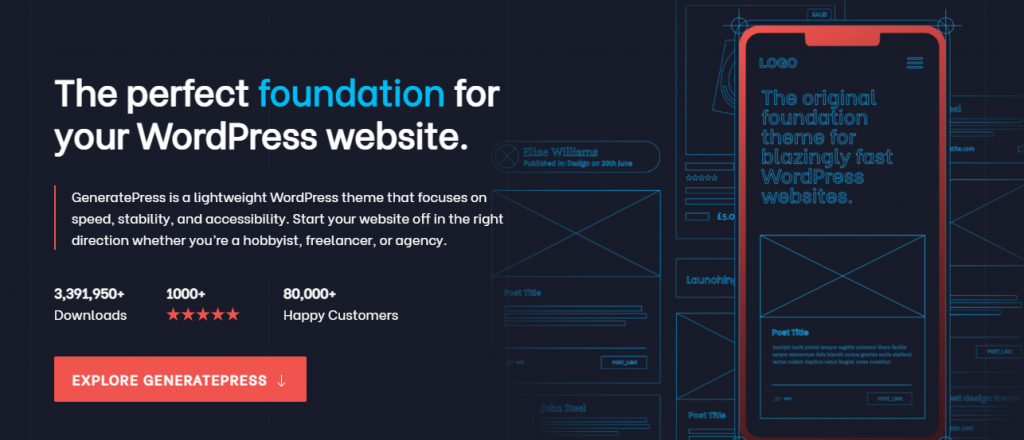 GeneratePress is a popular multipurpose WordPress theme developed by Tom Usborne in 2014. It has been very successful since the beginning. And now, GeneratePress is one of the most installed themes on WordPress.
This theme is very lightweight and fast, currently offering both free (on WordPress) and premium plans that start from $59 per year. Now, let us check out some key facts about GeneratePress to know it better.
GeneratePress in Brief
Active Installations: 400,000+ (on WordPress)
User Rating: 5 out of 5 (on WordPress)
Developer: Tom Usborne
Initial Release: 2014
Price: Free | Premium plans start from $59/year
Website: https://generatepress.com/
Key Features:
Theme builder called Dynamic Block Elements
Site Library with nearly 90 template designs
Lightweight and fast
Minimalistic and clean design
25+ language support
Advanced hook system
5 navigation locations and sidebar layouts
eCommerce and page builder (Elementor) support
If you are interested to know more about GeneratePress, we will highly recommend you read our in-depth GeneratePress review.
7 Best GeneratePress Templates You Should Try in 2023


GeneratePress has 89 templates as of mid-2023, designed for different kinds of websites and industries. All of them are nice and useful. But some of them are unique and exceptionally good.
So, the best GeneratePress templates you can use now are:
Feather
Solo
Connections
Movement
Mentor
Emerald
Dispatch
Note: GeneratePress templates are available for GeneratePress Premium only.
Now, we will give you a brief insight into each of the templates with visuals and clarify for which purpose you can use them. Let's get started.
1. Feather (Best for Business and eCommerce Sites)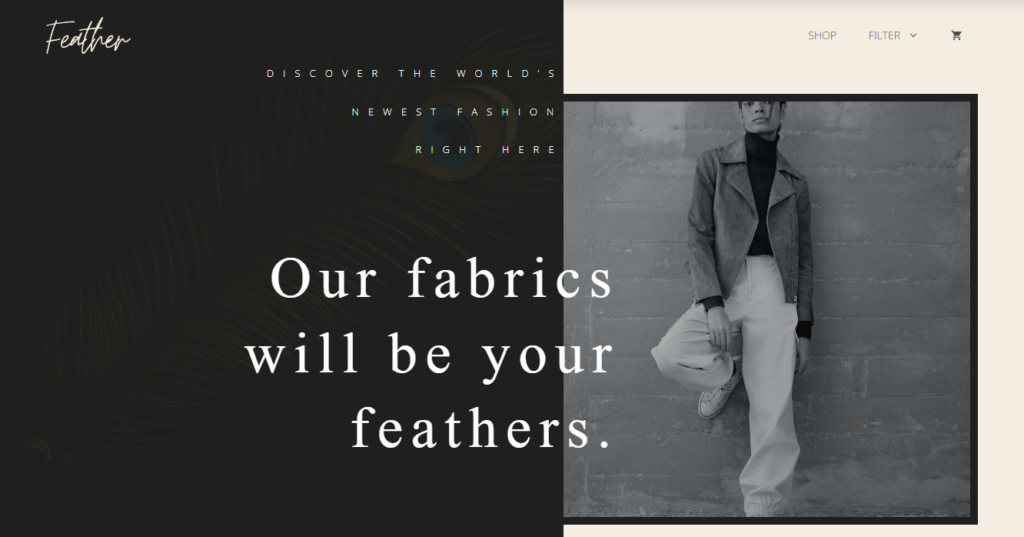 The Feather template of GeneratePress is unique in many ways. In our opinion, it is one of the most beautiful, fastest, and most responsive GeneratePress templates. Anyone would like its clean and distinct design language.
GeneratePress designed this template focusing on business and eCommerce sites, particularly fashion and clothing. You, however, can use it for a company or a personal site as well.
2. Solo (Best for Music and Streaming Sites)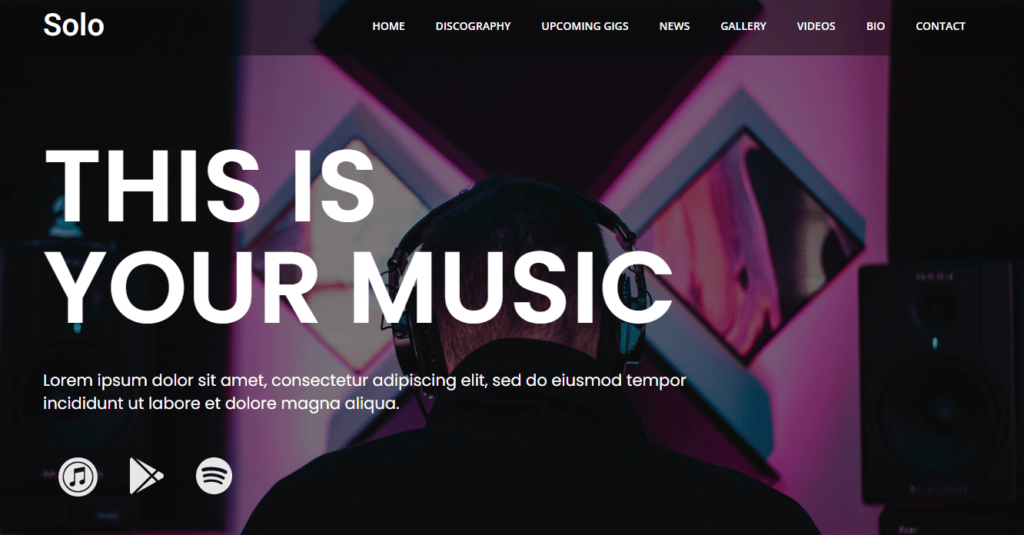 If you are a musician or provide streaming or digital distribution services, then Solo is the perfect template for you. It has a very attractive design that follows the industry standard.
Besides, this template contains some necessary elements – like featured audio/video, events, and news – that media websites in this niche should have.
3. Connections (Best for Art and Wedding Sites)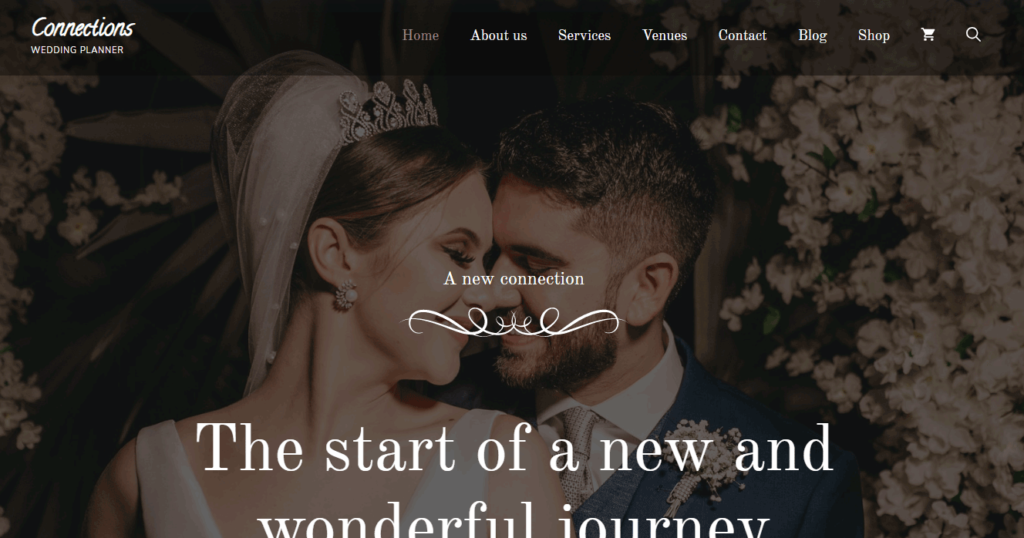 You would simply fall in love with its typography and other design elements when you first look at the Connections template. It is clean and simple yet very attractive.
This template is very suitable for art and wedding-related sites. You can also build an eCommerce in this niche with Connections as it provides wide support for this kind of site.
4. Movement (Best for Companies or NGO Sites)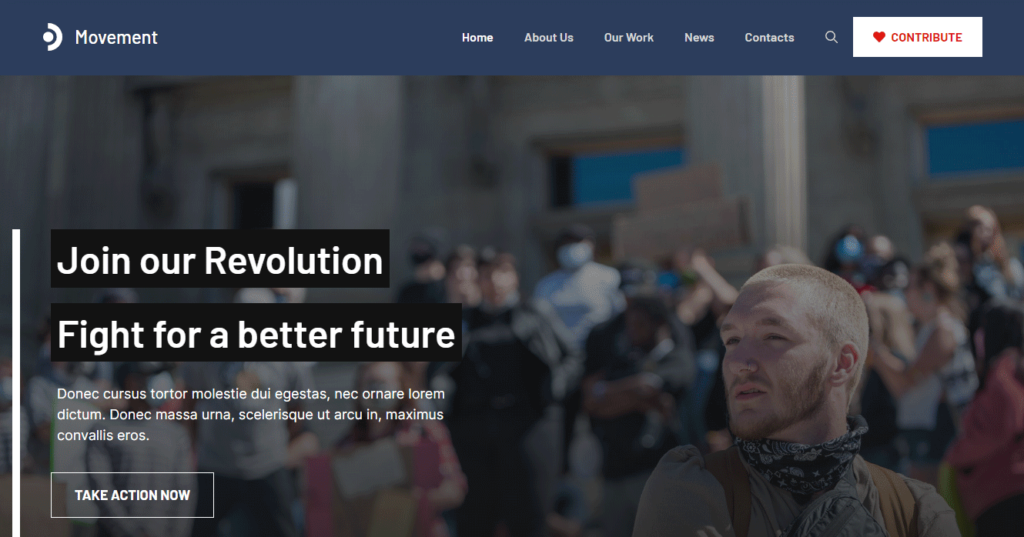 It is one of the best GeneratePress templates that you can use for various purposes although its name "Movement" doesn't reflect it well. Its design is simple but very eye-catchy.
This template is the most suitable for NGOs, companies, and portfolio sites. I, personally, became a fan of its application color – the combination of red and dark ocean.
5. Mentor (Best for Portfolio Sites)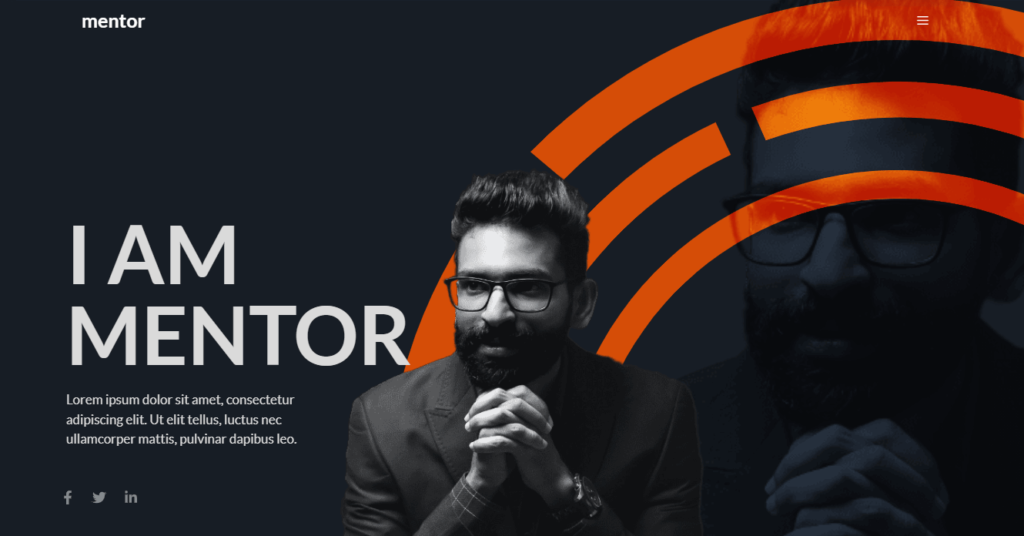 It is the most perfect GeneratePress template design for a portfolio site. Mentor contains all the things that a portfolio site should have, including bio, skill showcase, and certification.
If you want to try some other design for your portfolio site, then you may try this article "10 Best WordPress Themes for Portfolio and Personal Website in 2023 (Free & Premium)".
6. Emerald (Best for eCommerce Sites)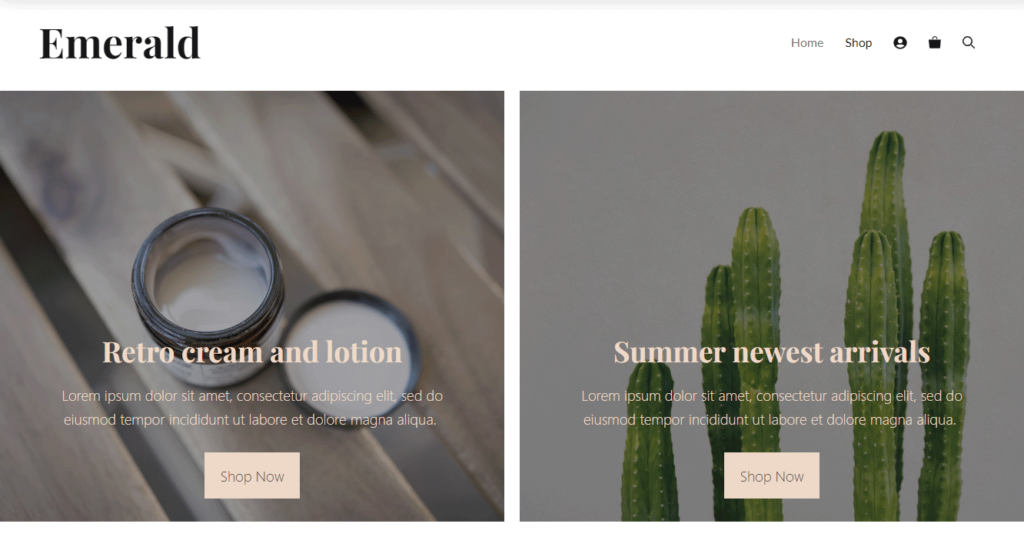 The template Emerald is another exclusive design from GeneratePress to build eCommerce sites. It has top-notch eCommerce integration, an appealing design, and wide customization options.
You can use this template for almost all kinds of eCommerce businesses, even for a blog-cum eCommerce site.
7. Dispatch (Best for Blog or News Sites)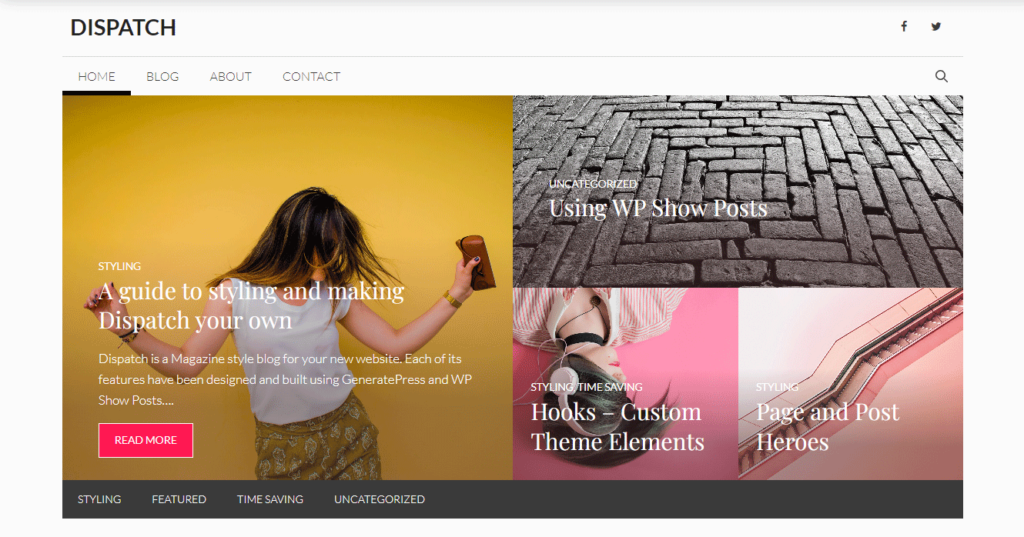 If you are looking for a design for writers, authors, or journalists, this is the perfect template for you. Without any doubt, Dispatch is one of the few GeneratePress templates which is very suitable for blogs or news sites.
Its blog layouts are very clean and eye-catchy. Besides, its category management and navigation system are good as well.
If you are currently using the free version of GeneratePress but want to try all of these exclusive templates, you might consider migrating to one of its premium plans with the link below.
Try All the Exclusive Templates with GeneratePress Premium
How to Import GeneratePress Templates on Your Website
Importing GeneratePress templates on your WordPress site is pretty much easy. All you have to do is to follow the steps below:
Go to the "Appearance" menu from your WordPress dashboard
Click on the "GeneratePress" menu
Press the button underneath the "Site Library"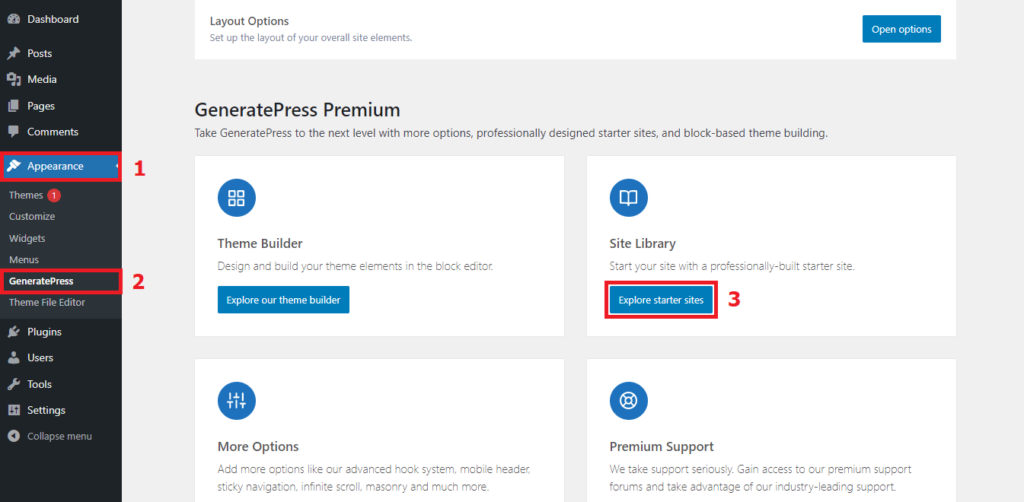 Now, a page will open like the image below. At this point, you need to choose your preferred template from the list.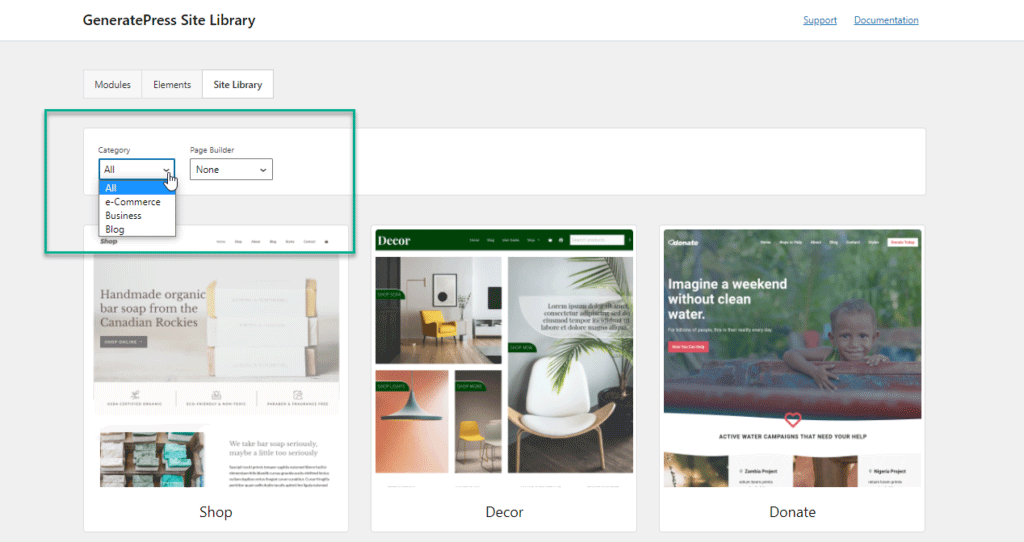 Finally, press the "Begin Import" button to finish the process.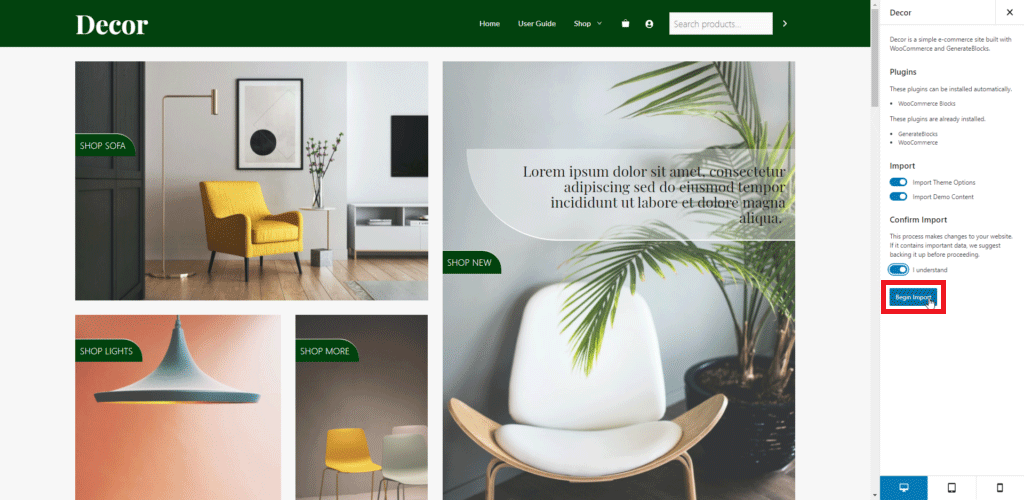 You are done!
You may check the GeneratePress documentation page to find all of its tutorials at once.
FAQ on GeneratePress Templates
Now, we are going to answer some frequently asked questions on GeneratePress Templates, some of which you might find interesting.
What is GeneratePress template?
GeneratePress templates are some pre-built website designs. You can build your desired website by just importing these templates.
Are GeneratePress templates free to use?
No, GeneratePress templates are only available with their premium plans.
Where can I download GeneratePress templates?
You can download GeneratePress templates from the "GeneratePress" menu under the Appearance settings of your WordPress dashboard.
Choose the Right GeneratePress Template to Design a Perfect Site
We tried to cover all the common niches, from eCommerce to news, while preparing our list of the best GeneratePress Templates. So, you won't have any problem finding your desired one here we believe.
Now, all you have to do is to choose the template which is the most suitable for your initiative and start designing your dream website.
Don't forget to let us know which template you liked the most. And don't hesitate to ask any questions in the comment section below.
Stay connected with us via our Twitter and Facebook pages.
https://wphive.com/reviews/themes/best-generatepress-templates/
Abdullah Al Nayeem
Nayeem is a Content Writer at WP Hive. He has 4+ years of experience in the internet and media industry, specializes in writing, editing, communications, WordPress, SEO, eCommerce, digital marketing, and graphic design.

Subscribe To Our Newsletter