Supercharge Your WordPress Editor with these Awesome Gutenberg Blocks

Gutenberg Editor is the next-generation way of editing with WordPress. This editor has adopted a new block-based approach to creating content in WordPress. It replaced the previous TinyMCE editor and brought a lot of new features. You can add or remove blocks in your content with the new Gutenberg editor. In simple words, the Gutenberg editor is more like a page builder where you can drag and drop different blocks in your content.
The best part about is that developers can create their own block plugins for content. These plugins will enhance the functionality of the Gutenberg block editor. For example – you can add 'Testimonial' to your content using such block plugins. The functionalities are endless with these different plugins.
In this post, we'll show you some of the best Gutenberg blocks plugins that will extend the capabilities of the Gutenberg editor and allow you to get the best out of this new editor.
How Do Gutenberg Blocks Plugins Work?


The way that Gutenberg block plugins work is very simple, but we still want to lead with this section because the Gutenberg editor is brand new and you might not be familiar with it yet.
Basically, all of these plugins that we'll focus on are just plug-and-play. That is, all you just install and activate the plugin. Then, you can immediately work with the new blocks from the regular Gutenberg interface.
Gutenberg Editor
The top nine blocks in usage across WordPress.com and sites running with Jetpack are:
Paragraph
Image
Heading
List
Gallery (generally tied with HTML)
HTML (generally tied with Gallery)
YouTube embed
Quote
Separator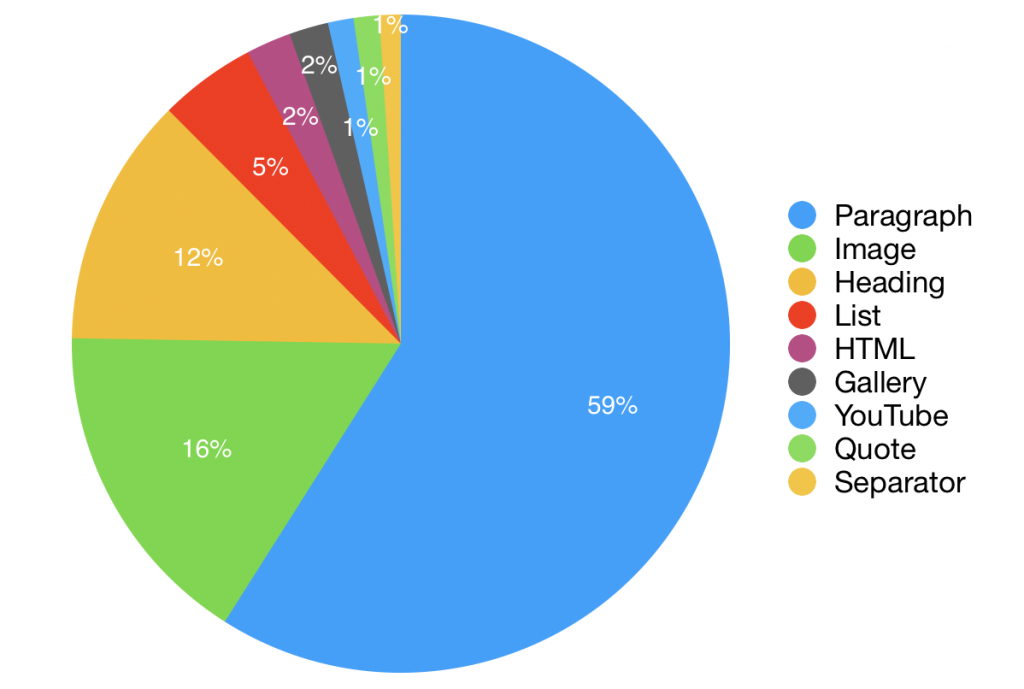 Web pages these days are, on the average, filled with images – via the Image block and the Gallery block – in a significant ratio of roughly 1 or more images per every three paragraph blocks.
The relative proportion of Gutenberg blocks indicates an attempt by the author to minimize the amount of writing they need to do by including lots of:
Lists.
Header text.
Images and galleries.
Quotations.
Separators to improve legibility.
Most Useful Time-Saving Default WordPress Blocks
The Gutenberg block editor includes all types of content elements.
The new blocks make it easy to add elements like buttons, cover images, tables, HTML code and more.
Here are some super useful default WordPress Gutenberg blocks that you can use by default.
Common Blocks – With the help of this block you can write paragraphs, Heading, Insert Image, List, weForms, Quote, insert Audio etc.
Formatting – Here you can write custom HTML, classic editor, insert table, code etc.
Layout Elements – In this option, you will get More button, Column, Media and Text, Separator etc.
Widgets – Here you will get Shortcode, Mailchimp for WordPress Form, Calender etc.
Embeds – In embeds block, you will get all social media sites. You can use them easily to embed Tweets, YouTube videos and more.
Best Gutenberg Blocks Plugins
Here are the best Gutenberg plugins that we've collected to help you enhance your Gutenberg editor and bring more blocks.
1. Getwid – Gutenberg Blocks
Getwid is a collection of 29+ comprehensive Gutenberg blocks.
All these blocks can speed up and simplify the process of building beautiful pages with the new Block Editor. For example, you can use Section (Container) block to create a multi-block section of your post, pick Advanced Heading block to build custom text headings, styles and colors, or build static and animated banners with Banner block.
With some blocks you can add Instagram posts to your site or display interactive maps on your pages with Google Maps block.

Getwid offers an impressive collection of 24+ new Gutenberg blocks, including:
Section (Container) – the most appreciated by users in WordPress.org reviews
Advanced Heading
Image Stack Gallery
Instagram
Banner
Testimonial
Price Box
Social Links
Recent Posts
Counter
Progress Bar
2. Stackable – Page Builder Gutenberg Blocks

Stackable is one of the best block collection plugins that we have ever found for WordPress. It features 20+ blocks, ranging from simple elements to complex features like headers and pricing boxes.
For these intensive features, people are loving this plugin. On the WordPress directory, the block plugin has more than 50,000 active installations and a nice rating of 4.9 out of 5 stars. If you're a blogger or small business owner with a WordPress website, this plugin can be an absolute choice for you to design your site as per your requirements without having prior coding knowledge.
Blocks offered by Stackable:
Header Block
Accordion Block
Call to Action Block
Container Block
Feature Grid Block
Pricing Box Block
Blockquote Block
Posts Block
Button Block
Card Block
Count Up Block
Divider Block
Expand / Show More Block
Feature Block
Icon List Block
Image Box Block
Notification Block
Number Box Block
Separator Block
Spacer Block
Team Member Block
Testimonial Block
Video Popup Block
3. Multicollab – Google Doc-Style Editorial Commenting


Multicollab is not a traditional Gutenberg block, but a tool that extends the features of Gutenberg. This plugin lets people have Google Docs-style editing capability to Block editor, making Gutenberg more writer-friendly.
The tool allows editors to review content on the Gutenberg editor better than ever. By bringing exciting features like suggestions, inline comments, automatically emailing the suggestions and many more within the Gutenberg editor, it has truly revolutionized editing with the native editor.
Key features offered by Multicollab include –
Inline Commenting in Posts
Assign Comments to a Specific Team Member
Reply to and Resolve Comments from Team Members
Add/Track Suggestions and Reviews on All Posts and Pages
Review all Comment Activities with Advanced Reports
Manage Permissions of Users
4. Blocks – Ultimate Page Building Blocks for Gutenberg
With this Gutenberg blocks plugins you can create attractive content. The blocks come with some advanced feature added to the basic WordPress blocks.

This plugin include the following blocks:
Profile Block
Alert Block
Drop cap Block
Social media block
Separator block
Cover image block
Heading block
Text block
Map block
Price block
Button block
Tweet block
5. Gutenberg
Gutenberg is scheduled to release later in this year. That's why the WordPress community gets the time to get familiar with the new editor, the WordPress Gutenberg editor is released as a plugin.
So until the release of WordPress 5.0, anyone who wants to try the new editor can easily use. You can easily download the WordPress Gutenberg editor through the plugin repository at WordPress.org.

This is the main Gutenberg plugin, that includes the Gutenberg editor into your WordPress website. Once you install this plugin and activate it, you will get a new option to edit your pages through the Gutenberg editor.
Until WordPress 5.0 is released with Gutenberg editor pre-included, you can install this plugin and try the editor for yourself. All the Gutenberg plugins listed hereafter, work as add-ons for this plugin.
This plugin provides 11 blocks which included:
Archives
RSS
Legacy-widget
Categories
Block
Latest-comments
Search
Shortcode
Calendar
Tag-cloud
Latest-posts
6. Gutenberg Blocks – Ultimate Addons for Gutenberg
Ultimate Addons for Gutenberg is the most popular Gutenberg blocks plugins in the WordPress repository. It is created by the Brainstorm Force team, the same folks who created Astra Theme, Convert Pro, Schema Pro, Ultimate Addons for Elementor, Ultimate Addons for Beaver Builder, etc.
This plugin has over 20 blocks with some beautiful concepts like the Contact Form 7 styler, Marketing button for attractive CTAs, Content timeline, icon lists, blockquote for tweetable text, etc.

This plugin bundles together 23 new blocks including:
Section Block
Multi Buttons Block
Advanced Heading Block
Post Grid Block
Post Carousel Block
Post Masonry Block
Info Box Block
Google Map Block
Team Block
Content Timeline Block
Social Share Block
Testimonial Block
Icon List Block
Restaurant Menu Block
Post Timeline Block
Call To Action Block
Advanced Columns Block
Blockquote Block
Contact Form 7 Styler Block
Gravity Forms Styler Block
Marketing Buttons Block
Price List Block
Table of Contents Block
7. WooCommerce Blocks
WooCommerce is one of the best plugins for transforming WordPress website to eCommerce site. The new Gutenberg editor let you create amazing content, with multimedia and text. You can include a block with product details.
Wootenberg plugin lets you do that. The plugin adds a new block that lets you easily feature a product through your page or post. This plugin lets you feature a single product or a group of related products by applying relevant filter. You can filter the products based on categories and sales statistics. You can also choose the order in which the products will appear.

A product block created with the Gutenberg block will typically display the product image with the product name below it. This plugin comes with sample data that will give you a better idea of how your product block will look like and what you can accomplish with the available options. The blocks included:
Featured Product Block
Products by Attribute Block
Hand-picked Products Block
Best Selling Products Block
Top Rated Products Block
Newest Products Block
On Sale Products Block
Products by Category Block
Featured Category Block
Products by Tag Block
Products by Attribute Block
Product Categories Lists Block
8. Atomic Blocks – Gutenberg Blocks Collection
As you know, Gutenberg block editor is a block-based editor. For different types or sort of content, you can use different blocks. The WordPress Gutenberg plugin created by the team Gutenberg already comes with all basic blocks.
However, more Gutenberg blocks plugins surely mean more possibilities. These blocks editor will enhance your editing experience by providing more block options. There are several types of important blocks like the inline notice block, Call-to-action block, author profile block, share icon block, etc.


These blocks will let you create some more intuitive content easily. For instance: if you need to display author details at the end of a custom post or page, all you need is just an author block. Or if you need a call to action option to make the users act instantly, you have the call to action block.
Currently, Atomic Blocks has 11 blocks, with more on the way:
Post grid
Container
Testimonial
Inline notice
Accordion
Share icons
Call-to-action
Customizable button
Spacer & divided
Author profile
Drop cap
Once you install the plugin, you'll get a new blocks section in the Gutenberg interface.
9. Gutenberg Map Block for Google Maps
As the name suggests, with this block you can insert a map into your content. There are no multiple setting options, simple and clear function.

You can install , activate and start using the map block. This will let you show a google map into your post or page. The map inserted can be set for a particular address or locations. You can set the API key for your maps and display maps on different parts of your site. You can zoom in and zoom out maps on your site. You can also set the height of the maps to adjust with your content.
10. Advanced Gutenberg Blocks
Advanced Gutenberg Blocks is another Gutenberg blocks plugins that you can use to make the Gutenberg editor better.
The plugin comes with 16 blocks and lets you disable native blocks in the Gutenberg editor. There are also options that let you customize the editor.

There are four main parts of this plugin:
1) Additional blocks: There are some beautiful, customizable and efficient Gutenberg blocks like post links, message box to show notice, warnings, info, etc.
2) The Deactivation settings: If there are any unused Gutenberg blocks that you don't need in your website, you can deactivate them.
3) Settings: This settings page lets you manage the settings of all your blocks.
4) Extensions: You can create your own block and register it through this feature.
This plugin adds many more features into your default Gutenberg editor. There are two WooCommerce product related blocks to show products with the add to cart function.
11. Advanced Gutenberg
Another great Gutenberg blocks plugins that offers some really awesome Gutenberg blocks. Some of the blocks are really awesome and couldn't find in other plugins mentioned in our list.

There is a counter block to attract more user action. Moreover there are some blocks to create tabbed content and show accordions. Besides these blocks, there are blocks for advanced image and videos through your Gutenberg editor. There is also a block for social sharing buttons.
The advanced Gutenberg plugin will change your editing experience. What is worth appreciation, is the up-gradation and enhancement of the features of the existing Gutenberg blocks. Also, the additional blocks are very useful too.
It has 12+ new blocks including blocks for:
Icon lists
Google Maps
Accordions
Tabs
Advanced tables
Advanced buttons
12. Stackable – Gutenberg Blocks
Stackable is another Gutenberg blocks plugins that assists you to create beautiful landing pages for your website with the help of its awesome content blocks.

This plugin adds about 17+ new blocks to the WordPress Gutenberg editor. These blocks help you to design your pages and posts more efficiently. This WordPress Gutenberg plugin add enhancements to the existing blocks, or add some new blocks.
The card block available with the Stackable Gutenberg plugin lets you showcase your page or post section with the card. There is also a block to create customize pricing table with the text, button and prices.
To create attractive pages with headers, there is a header block. You can add image, show text and also include one button for call to action. One of the best block is the video popup to show video.
This plugin has many important Gutenberg blocks like the testimonials, call to action, advanced block-quote, notifications, advanced button, spacer divider and the show more block.
13. Gutenberg Blocks and Template Library by Otter
Gutenberg Blocks and Template Library by Otter is considerably a lightweight plugin that adds extra blocks to the Gutenberg editor. This plugin enables you to create complex pages for business, eCommerce, blog posts, and much more.

The top blocks that are available in this plugin is Section Block. It helps you easily create rows and columns and choose from the different layouts available in the Gutenberg editor.
It has 12 new blocks for you to play with and customize to your content. The blocks included:
Section Block
Advanced Heading Block
Button Group
Service Block
Pricing Block
Testimonial Block
Google Maps Block
About Author Block
Post Grid Block
Font Awesome Block
Sharing Icons Block
Plugin Card Block
14. Page Builder Gutenberg Blocks – CoBlocks
CoBlocks provide some great blocks along with different customization features. With additional blocks and true row and column building, this plugin gives you a true page builder experience for Gutenberg.


There are currently 26 content blocks provided in CoBlocks plugin. These blocks are:
Accordion Block
Alert Block
Author Profile Block
Buttons Block
Carousel Gallery Block
Click to Tweet Block
Dynamic Separator Block
Features Block
Food & Drinks Block
Form Block (New!)
Gif Block
GitHub Gist Block
Hero Block
Highlight Block
Icon Block
Logos & Badges Block (New!)
Map Block
Masonry Gallery Block
Media Card Block
Pricing Table Block
Resizable Row/Columns Blocks
Services Block (New!)
Shape Divider Block
Social Profiles Block (New!)
Social Sharing Block
Stacked Gallery Block
This plugin offers some really great typography controls that let you set fonts, change their size and weights, and much more.
15. Advanced Gutenberg Blocks – Qubely
Qubely is a full-fledged Gutenberg block plugin. You will get plenty of built-in sections & ready layout bundles to create pages and posts easily. The plugin minimizes the limitations of the Gutenberg editor and helps you build any simple to complex layout on WordPress.


Blocks in Qubely comes with some unlimited styling options and features to ensure the best experience with Gutenberg.
The available custom advanced Gutenberg blocks inside Qubely are:
Row
Button
Testimonial
Heading
Counter
Tabs
Accordion/Toggle
Advanced Text
Video Popup
Google Map
Progress Bar
Icon
Divider
Social Icons
Button Group
Button
Info Box
Advanced List
Contact Form
Icon List
Pricing
Block Wrapper
Team
Image
Timeline
Post Grid
More advanced Gutenberg blocks coming
Qubely is releasing updates with new blocks, features, and functionalities regularly. A number of the ready section and layout bundle is also coming soon.
16. Easy Blocks – Gutenberg Blocks Page Builder
Easy Blocks is another free plugin for WordPress 5.0+ users. The blocks are dynamic, and you will see the live changes without leaving your post or page editor. It has 20+ essential blocks which is well enough to create a website.


The blocks are:
Row and Columns Block
Alert or Notification
Author Profile or Box Block
Blockquotes Block
Call To Action
Card Block
Click to Tweet Block
Counter Up Block
Default Row Paragraph Block
Feature Box
Feature Grid
Hero Image Block
Image and Content
Instagram Block
Logo Slider Block
Pricing Table Block
Social Share Block
Title & Sub Title
Testimonial Block
Testimonial Slider Block
Blog Post Grid Block
Multiple variations for blocks is a most wanted feature in this plugin. Select the best variation depending on your type of website and niche. It offers full control to your WordPress post or page. Some more blocks are coming, rely on the user query.
17. Editor Blocks for Gutenberg
Editor Blocks is a very simple Gutenberg blocks plugin. It provides some unique collection of Gutenberg blocks that you can use to create stunning pages.
The team has created a Gutenberg block library to help users to find the best the individual blocks.

The available blocks in this plugins are:
Wrapper Block
Hero Block
Pricing Table Block
Author Profile Block
Team Members Block
Testimonial Block
Callout Block
Brands Block
Features Block
Horizontal Feature Block
Vertical Feature Block
The plugin is available for free. The developer have also built a free theme that works seamlessly with this plugin.
18. Bokez – WordPress Blocks
Bokez is a free Gutenberg blocks plugin that provides the essential blocks along with different customization options.
Currently, there are 14+ blocks available in this plugin and they are:
Video Popup
Pricing Table
Posts Grid
Testimonial
Accordion / FAQ
Profile
Cover
Share Icons
Button
Notification
Blockquote
Divider
Progress bar
Separator With Heading
Section (Row) / Columns (NEW)
If you want to add custom blocks to your website, then this is a great option for you.
19. Kadence Blocks – Gutenberg Page Builder Toolkit
Kadence Blocks is a unique plugin that focus on adding layout blocks than content blocks.
You can add your own backgrounds, as well as custom margins/padding for both desktop and mobile devices.


The available blocks are:
Row Layout
Advanced Gallery
Advanced Heading
Advanced Button
Tabs
Accordion
Testimonials
Icon
Spacer / Divider
Info Box
Icon List
All the blocks are modular, you can deactivate any blocks that you don't want to use.
How to Use the Best Blocks Plugins for WordPress
No matter which block plugins for WordPress you choose, it's very easy to get started with your new blocks.
Once you install and activate any plugin(s), you will get a new accordion section for each plugin in your block list: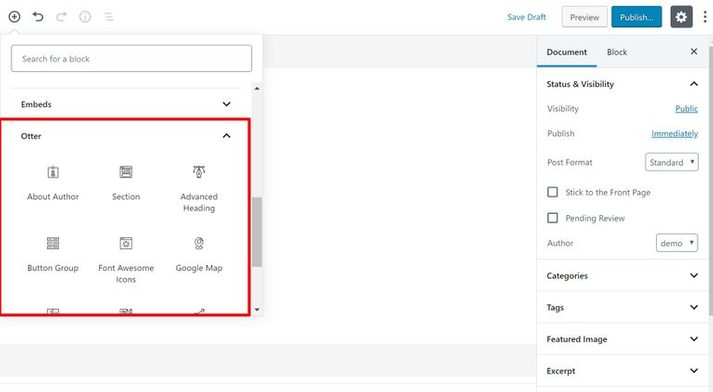 If you don't see any such section, you can search for blocks by name.
Final Words
Hope you've seen all the best Gutenberg blocks plugins. Now it's time to choose one. All the plugins that were mentioned in the list share some blocks which are totally unique.
Choosing a perfect plugin might be difficult as all are very good. That's why, to help you out, we've made some expert recommendations based on different criteria to help you decide the right plugin for you.
Expert Recommendation
If you're looking for quantity, then you should go for Qubely as it provides over 25 unique blocks. But keep in mind that the blocks available in this plugin are mainly designed to help you create beautiful blog posts.
If you're looking to create a beautiful landing page, then you should go for Stackable as it provides some beautiful block with stunning design.
If you work a lot with WooCommerce, Advanced Gutenberg Blocks is the perfect choice for you. It provides a WooCommerce product block and a WooCommerce add to cart button block.
Are you a pro? Want to handle it all by yourself? Kadence Blocks plugin is for you. This plugin gives you the full control over the row and column layout of your website.
That's all. If you have any comments, please leave in the comment box.
https://wphive.com/reviews/best-gutenberg-blocks-plugins-for-wordpress/
Saif Hassan
Product Manager by passion & profession. Lead Product Manager at weDevs, former PM @ Poptin. Passionate about writing & tech. He's an advocate of Human-Centered Design and believes that websites and the tools used to build them should be well crafted, intuitive, and accessible. Cyclist. Reader. A WordPress ninja 🥷, HCI expert & a design thinker 💡

Subscribe To Our Newsletter