7 Best WordPress Quiz Plugins Compared – Which One to Choose?

Thinking from a business perspective, you might be thinking "Why do I need a quiz plugin for my website?" One of the first reasons is to increase user engagement. Quizzes can make your content more interactive, and users usually have a sense of closure after participating in quizzes or trivia.
Quizzes have the power to grow your brand and help get you more social traffic by creating viral content. So, if you're looking for the best WordPress quiz plugins for your website, stick with us.
In this article, we will be discussing the best WordPress quiz plugins to increase user engagement and visitors. Keep reading!
How to Increase User Engagement with WordPress Quiz Plugins?

The formula is simple. Getting more people to talk about your website increases your website visitors. More traffic and more user engagement mean your site will quickly climb on top of Google search results because people like to spend more time on your website.
Even wanted free publicity of your website? Quizzes and trivia can do that for you.
Ever wonder how BuzzFeed manages to keep itself relevant all the time? BuzzFeed started with articles that focused heavily on lists at the beginning. They gradually popularized this whole trivia/poll/quiz genre. BuzzFeed reinvented quizzes to make it more visual, fun, interactive and more personal to its users.
If you want to try new website engagement ideas, try to arrange personal quiz tests/trivia for your users.
Take a look at our article Writing What You Want to Read: 5 Audience Engagement Strategies to Increase User Engagement
For example, you might stumble upon a quiz like "Which F.R.I.E.N.D.S Character Are You?" which delivers the final result based on your answers. They even hold trivia like what type of french fry are you? If quizzes did not generate traffic, they wouldn't have done them.
7 Best WordPress Quiz Plugins to Increase Your User Engagement
Here's a list of the best WordPress Quiz Plugins for 2023. If you are in a hurry, see the plugin list below.
Now we'll take a deeper look at each of the plugins that we have mentioned above. So, let's start our analysis with the first one – WP Quiz.
1. WP Quiz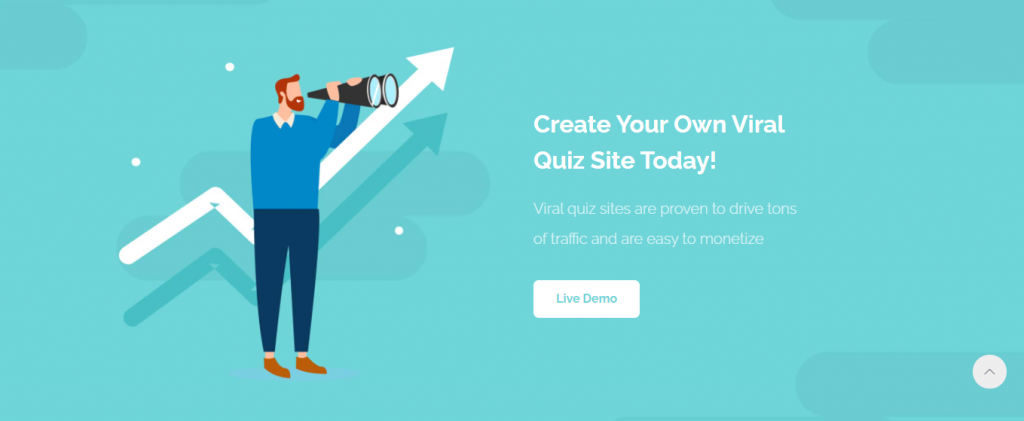 WP Quiz is a flexible and easy to use quiz plugin for WordPress. It comes with 3 quiz types: trivia, personality, and flip cards. You can add images to your questions and answers, allow users to restart quiz, show results at the end, and more.
WP Quiz comes with a ton of Quiz building options and even a shortcode to let you place the quiz anywhere you like. It has two styling options: multi-page or single page quiz. You have the ability to auto-scroll and add social sharing buttons. This plugin is also SEO optimized.
Why You Should Use WP Quiz?
The UI is fully responsive. You can answer quizzes from mobile.
Create unlimited number of quizzes on the free version.
The Pro Version comes with $77 price but it includes new abilities. For example, you can export the quiz results on a separate file.
You can add a flip quiz effect so that users see animations (similar to flipping flash cards) whenever they complete a question.
The plugin has customization tools for changing progress bar colors, animation effects, font colors and background colors.
2. Learndash Quiz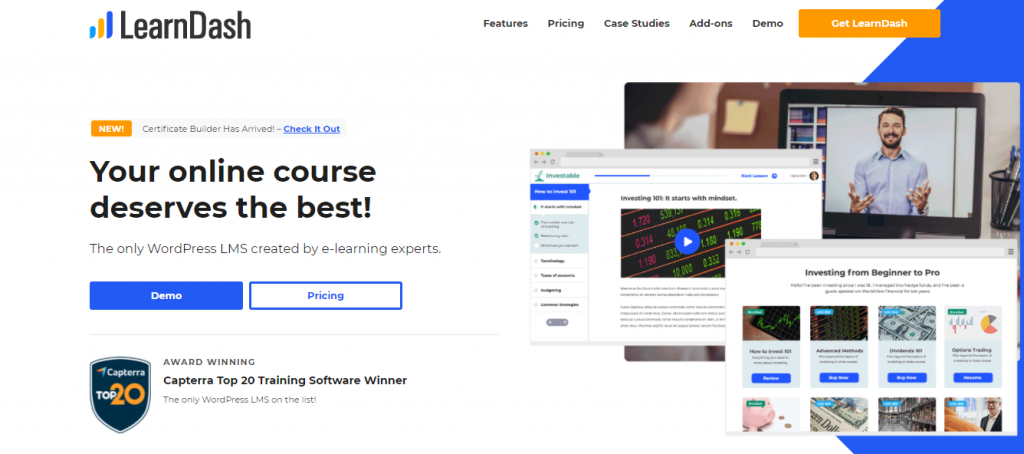 LearnDash is not a single plugin. It enables you to create a fully featured learning management system. The plugin allows you to create comprehensive quizzes. You can create any quiz that you prefer. For example,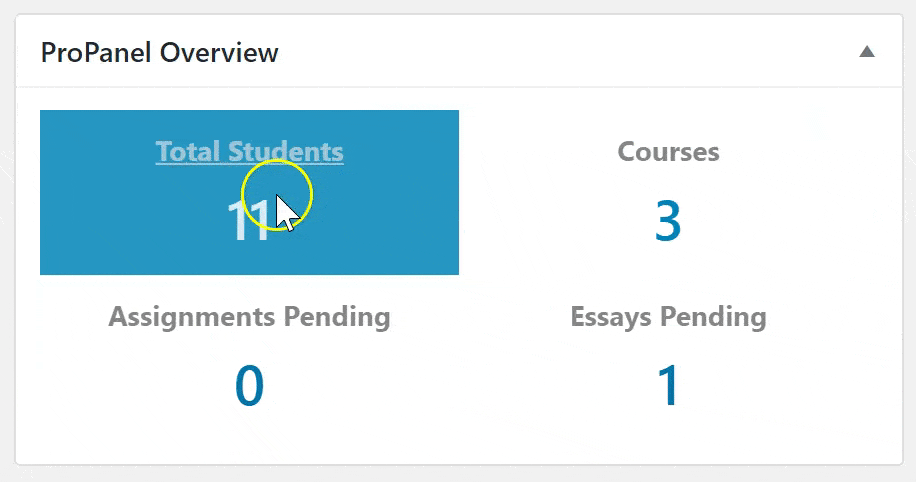 Some of the other features include: timed quizzes, randomized questions, question bank, multi-page quizzes, limit attempts, and more. You can even add media into any of the question and answer choices.
Why You Should Use LearnDash?
Learndash Quiz has support for multiple question types including multiple choice, single choice, matching, sorting, fill-in-the-blank, survey and more.
You can set timer.
Randomized questions.
Post quiz options include redirects, messages, quiz result displays in multiple styles, leaderboard, certificates, and levels.
Major universities like University of Michigan is already using Learndash.
3. Quiz and Survey Master

Quiz and Survey Master is a WordPress quiz test and survey plugin. You can create questionnaires and surveys from the comfort of your WordPress Dashboard. It lets you create quizzes with radio buttons, add comments, and checkboxes.
It also comes with a timer to push people to complete the quiz faster, and you can allow media in the quiz like images or video. If you choose the pro version, you will have the option to not pay for the entire premium plugin by selecting the features you want.
Why You Should Use Quiz and Survey Master?
You can set MCQ questions.
Set true and false questions.
Emails are sent out after the completion of a quiz or survey.
Each quiz/survey can have unlimited results pages. Result pages can be customized, too.
You can send emails after completing a quiz or survey. The plugin also gives you the ability to customize email texts.
4. Quiz Cat

Quiz Cat can also create quizzes similar as BuzzFeed; The plugin has more flexibility as you can add images inside your tests. The free version of the plugin allows creating unlimited questions. You can randomize the question sets and show custom quiz completion messages.
It allows you to add images to each question and answer. You can also create a start and finish screen for your quiz. Each answer can be given a rating and assigned an amount of points. If you're creating a right and wrong quiz for visitors, then this can be useful.
Why You Should Use Quiz Cat?
The interface is clean on both the front and backends. It blends with all WordPress themes and looks wonderful on mobile devices.
Offers unique tools like shuffling answers and providing messages at the end.
You can translate the quizzes to just about any language.
Exciting features like spreadsheet exporting, Facebook Pixel integration and email marketing.
5. ARI Stream Quiz

Ari Stream Quiz packs quite the punch, considering it's free and you receive some email capture settings with your quiz builder. The email lead form integrates with the most popular email marketing tools and you can build personality and trivia quizzes.
It also offers the ability to force your users to submit their email and name to see their results, which is a great way to get more email subscribers.
Why You Should Use ARI Stream Quiz?
You can encourage people to share the quizzes on social media.
Free version.
Pairs with popular email marketing software like Aweber and MailChimp.
Premium support even for free plugin.
6. HD Quiz

HD Quiz is a very easy-to-use plugin to create an unlimited amount of quizzes and embed them onto any page or post. HD Quiz is equally perfect for building strong professional-based questionnaires or fun Buzzfeed style quizzes.
You can also use GIF images with your questions and answers to make them more interactive and fun. Other notable features include a quiz timer, question tooltips for hints, social sharing, the use of images as answers, scoring, and more.
Why You Should Use HD Quiz?
Unlimited amount of quizzes.
Each quiz has individual options.
Each question can have its own featured image.
Animated gifs as question-featured images, or for any answer.
Ability to add a small write-up for each question that would be displayed underneath the question on quiz completion.
7. weForms
weForms might look like a very basic contact form plugin, but do not let the look fool you. weForms packs a lot of features under the hood. We are including the plugin in this quiz plugin roundup because out of the bunch, weForms provides the closest to a WordPress exam plugin. The quiz functionality is available only in the pro version.
weForms is a great WordPress assessment plugin. The Quiz feature is available in the professional version of weForms which starts at $79/ year. Fortunately, the extra money will give you access to some other awesome modules including Trello, Slack, Google Sheets, SMS, and more.
Why You Should Use weFroms?
You can add all types of questions including checkboxes (for multiple answers).
You can add radio buttons (for multiple-choice questions).
You can add text boxes (fill-in-the-blank type questions).
Our Verdict – Which One You Should Use
Using a quiz plugin can do wonders for your website. It can boost your website traffic, increase user engagement and boost your social media presence.
If you are looking for an easy-to-use yet powerful quiz plugin, we would like to recommend you use WP Quiz – because it packs all the features under one umbrella.
If you are looking for a free option, you can use Quiz Cat for your WordPress website.
If you want to keep your website always relevant to your users, we recommend holding quizzes/surveys or trivia to boost conversation.
Choose a Quiz Plugin and Enhance Your Users' Engagement Now
Using the best WordPress Quiz plugins, you will get some amazing outputs.
Stats show that trivia pages work a lot better to grab users' attention, increase user engagement and increase your website traffic.
It enables your users to do something on your website other than reading.
More likely to be shared on Social Media platforms.
And more like to get comments.
So, if you have not been using a quiz plugin for your website yet, choose one now.
https://wphive.com/reviews/best-wordpress-quiz-plugins/
Saif Hassan
Product Manager by passion & profession. Lead Product Manager at weDevs, former PM @ Poptin. Passionate about writing & tech. He's an advocate of Human-Centered Design and believes that websites and the tools used to build them should be well crafted, intuitive, and accessible. Cyclist. Reader. A WordPress ninja 🥷, HCI expert & a design thinker 💡

Subscribe To Our Newsletter