Share the post "7 Best WordPress Quiz Plugins to Increase User Engagement, Backed by Science"
Thinking from a business perspective, you might be thinking "Why do I need a quiz plugin for my website?" One of the first reason is to increase user engagement. Quizzes can make your content more interactive, and users usually have a sense of closure after participating in quiz or trivia.
In this article, we are discussing the best WordPress quiz plugins to increase user engagement and visitors.
How to Increase User Engagement with WordPress Quiz Plugins?
The formula is simple. Getting more people to talk about your website increases your website visitors. More traffic and more user engagement mean your site will quickly climb on top of Google search results because people like to spend more time on your website.
Even wanted free publicity of your website? Quizzes and trivia can do that for you.
Ever wonder how BuzzFeed manages to keep itself relevant all the time? BuzzFeed started with articles that focused heavily on lists at the beginning. They gradually popularized this whole trivia/poll/quiz genre. BuzzFeed reinvented quizzes to make it more visual, fun, interactive and more personal to its users.
If you want to try new website engagement ideas, try to arrange personal quiz tests/trivia for your users. Take a look at our article Writing What You Want to Read: 5 Audience Engagement Strategies to Increase User Engagement
Writing What You Want to Read – 5 Audience Engagement Strategies to Increase User Engagement
For example, you might stumble upon a quiz like "Which F.R.I.E.N.D.S Character Are You?" which delivers the final result based on your answers. They even hold trivia like what type of french fry are you? If quizzes did not generate traffic, they wouldn't have done them.
Why You Should Use WordPress Quiz Plugins
Fortunately, if you use WordPress, there are some WordPress quiz plugins. They can also double as assessment plugin or online examination plugin. You can use them as you want.
According to NewsWhip, BuzzFeed's most engaged article of 2018, was "Does this recording say Yannie or Laurel?"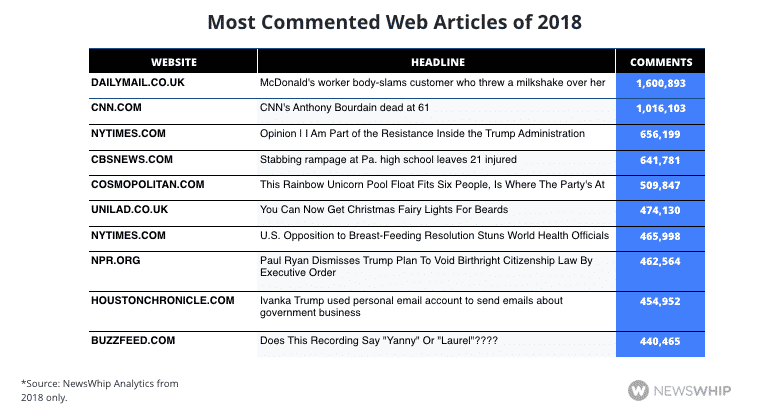 Look closely to the title again. You can find out that BuzzFeed created a trivia question out of a headline. Pretty neat right? Quizzes can hook your readers for longer durations on your website.
More stats shows that trivia pages work a lot better to grab user's attention, increase user engagement and increase your website traffic.
It enables your users to do something on your website other than reading.Posts with quizzes or trivia are
More likely to be shared on Social Media platforms.
More like to get talked on social media platforms.
More like to get comments.
Here's a list of the best WordPress Quiz Plugins for 2019. If you are in a hurry, see the plugin list below
WordPress Viral Quiz – BuzzFeed Quiz Builder
If you want to build BuzzFeed like viral quizzes WordPress Viral Quiz solution should be on your top list. Unfortunately, the quiz plugin is not available on the WordPress repository as it's available on CodeCanyon.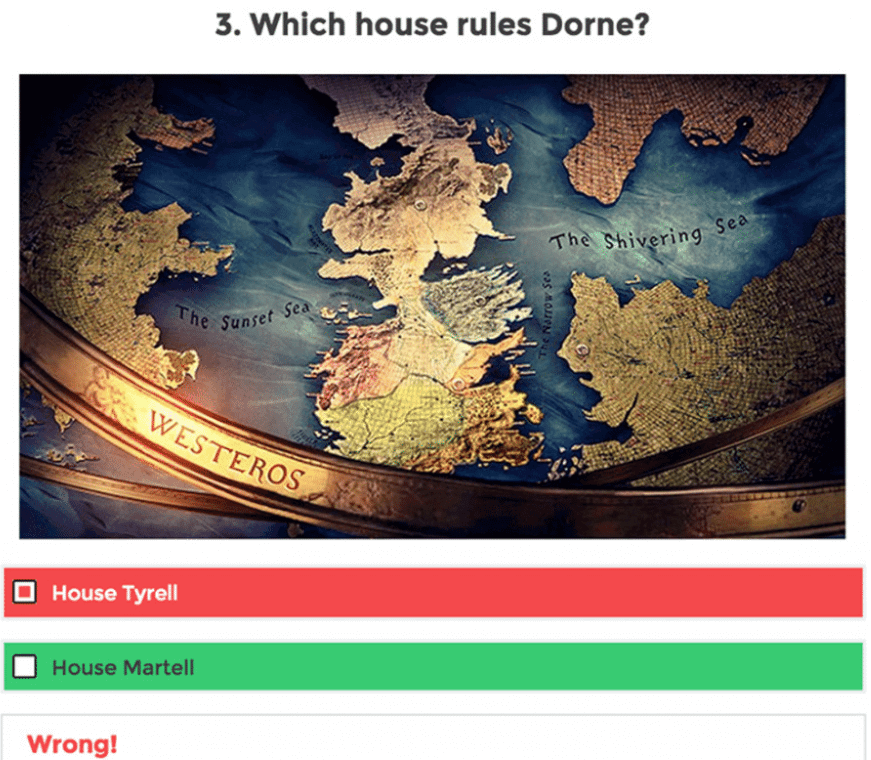 Why You Should Use this WordPress Quiz Plugin?
The plugin has the built-in feature to collect email addresses whoever plays your quiz. Essentially, increasing the chance of having customer emails.
You can set trivia and quiz with large thumbnail images and many result opportunities at the end.
The quizzes have almost the exact user experience like BuzzFeed.
WP Quiz
WP Quiz has both free and Pro Version. You can create a variety of quizzes including personality quizzes, trivia, online examination, MCQ and more
Why You Should Use This WordPress Quiz Plugin?
The UI is fully responsive. You can answer quizzes from mobile.
Create unlimited number of quizzes on the free version
The Pro Version comes with $87 price but it includes new abilities. For example, you can export the quiz results on a separate file.
One of the best WordPress quiz plugins for WordPress, available for free.
Many features in the free version.
Learndash Quiz
LearnDash is not a single plugin. It enables you to create a fully featured learning management system. The plugin allows you to create comprehensive quizzes. You can create any quiz that you prefer. For example,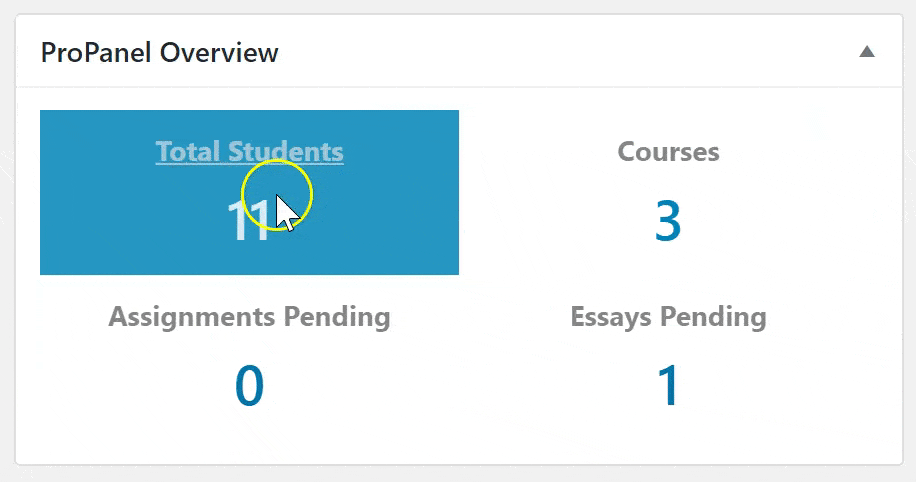 Why You Should Use this WordPress Quiz Plugin
Learndash Quiz has support for multiple question types including multiple choice, single choice,  matching, sorting, fill-in-the-blank, survey and more.
You can set timer.
Randomized questions
Major universities like University of Michigan is already using Learndash
Quiz and Survey Master
Quiz and Survey Master is a WordPress quiz test and survey plugin. You can create questionnaires and surveys from the comfort of your WordPress Dashboard.
Why You Should Use This WordPress Quiz Plugin
You can set MCQ questions
Set true and false questions
One of the advantages of this WoMULTIPLE RESULTS PAGES FOR EACH QUIZ
Each quiz/survey can have unlimited results pages. Result pages can be customized, too.
You can send emails after completing a quiz or survey. The plugin also gives you the ability to customize the email texts.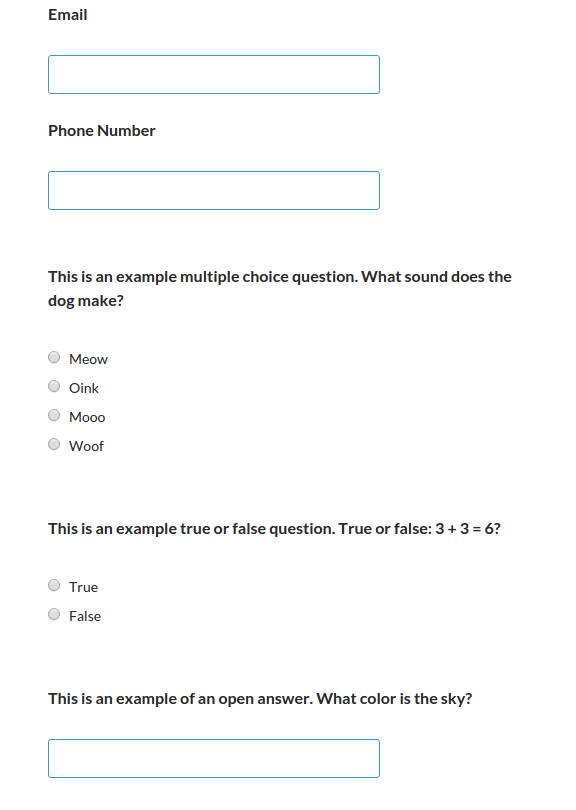 Quiz Cat
Quiz Cat can also create quizzes similar as BuzzFeed; The plugin has more flexibility as you can add images inside your tests. The free version of the plugin allows creating unlimited questions. You can randomize the question sets and show custom quiz completion messages.
Why You Should Use This WordPress Quiz Plugin
This plugin is fully compatible with WordPress 5.0 Gutenberg.
You can create MCQ, true/false, personality quizzes.

You can show different end results based on the answers.
Pro version is available at $49 for 1 website.
weForms
weForms might look like a very basic contact form plugin, but do not let the look fool you. weForms packs a lot of features under the hood. We are including the plugin in this quiz plugin roundup because out of the bunch, weForms provides the closest to a WordPress exam plugin. The quiz functionality is available only in the pro version.
You have to navigate to the specific form's Settings >> Quiz >> Toggle make this a Quiz Form to enable the quiz.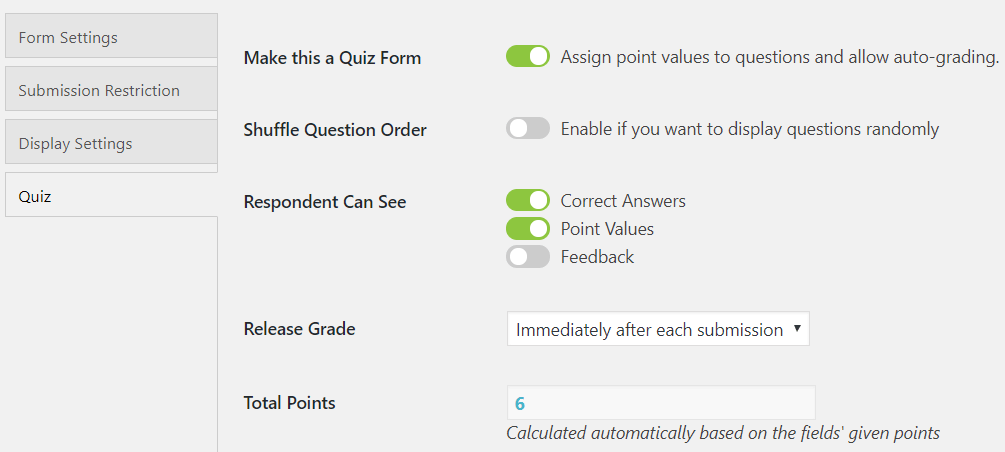 weForms Quiz UIIf you ever wanted to test your student's skills/take exams/set MCQ based questions – weForms should be on your top list. You can also track down the number of times people have taken the quiz from weForms >> Entries.

Why You Should Use This WordPress Assesment Plugin
You can add all type of questions including checkboxes (for multiple answers)
You can add radio buttons (for multiple choice questions)
You can add text boxes (fill in the blank type questions)
weForms is a great WordPress assessment plugin. The Quiz feature is available in the professional version of weForms which starts at $79/ year. Fortunately, the extra money will give you access to some other awesome modules including Trello, Slack, Google Sheets, SMS and more. 
Check out the full list of weForms modules to know more about each module's functionality.
Wrap Up
Using a quiz plugin can do wonders for your website. It can boost your website traffic, increase user engagement and boost your social media presence.
If you are looking for a free option, we liked WP Quiz a lot because all the feature it packs under one umbrella.
If you are looking for BuzzFeed like quizzes and surveys, we recommend using Quiz Cat/WordPress Viral Quiz.
If you want to keep your website always relevant to your users, we recommend holding quiz/surveys or trivia to boost conversation.
Do not forget to check our WordPress SEO Guide to make sure your content is optimized for both search engines and humans.