Happy Addons: The Most Innovative Elementor Addon

Another day, another Elementor Addons. But this time it packs innovation with it.
We all know weDevs. The company behind plugins like Dokan, WP Project Manager, weForms. Well, recently I got to know about their new product in the mix. In WordCamp NYC – I met Tareq & Nizam – The founders and CEO of weDevs respectively. While talking, I got to know about their new product, HappyAddons
I was very amused to see Adam Preiser shared more about the plugin in his Facebook Group WordPress for Non-Techies.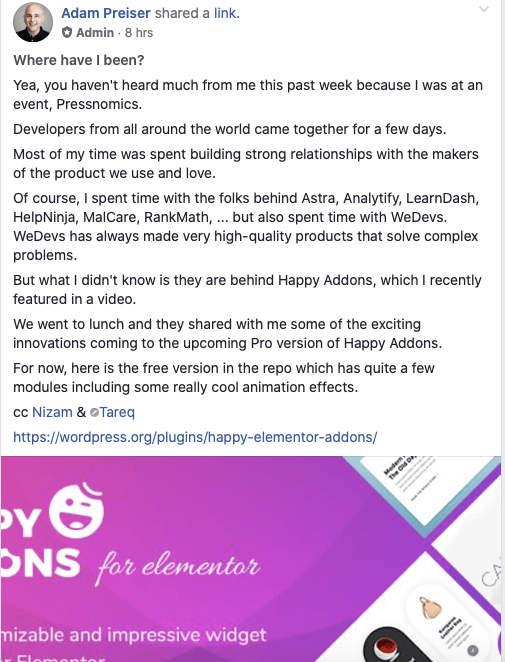 After Adam's post – this immediately piqued my interest, and I thought about giving it a go. I love Elementor and how it has enabled others to create stunning websites in a matter of seconds. So when it comes to trying a new Elementor addon that is surprising everyone – I thought, sure why not? Let's give it a go.
My Experience with Elementor & Happy Addons
I will just admit it outright. When it comes to visual experience – Happy Addons has killed it.
After Adam Preiser shared about Happy Addons, I checked the plugin on WordPress.org repository. I guess I missed this plugin because it's from "HappyMonster" team – not the usual weDevs team. I think it's their new sister concern company.
I tried to make a full website using Happy Addons. There are quite a lot of things Happy Addons offers. If I am not wrong, Happy Addons has cooked around 25 different widgets for WordPress. But it's not just always about numbers right? There are thousands of other Elementor addons out there. I listed some of the most popular Elementor addons a while back with a collection of 90 addons.
Why am I excited about Happy Addons?
Well, first of all – it has a stunning design. I love it when great functionality meets excellent design. And that just what happened with Happy Addons. Let me share some example.
Are Headings important? YES! I am always picky about the design and aesthetics of headings.
I tried to create some headings with Happy Addons, and the result was pretty astonishing. There are undoubtedly other addons which can do this too – but I could pull of sophisticated designs in mere seconds is absolutely stunning. Here's a quick demo you can see
You can implement both Radial & Linear Gradients using Happy Addons – just like you can design with tools like Photoshop, Adobe XD, or Sketch and then apply it on the web without much effort.
You can just copy-paste your hex codes and implement them pixel to pixel. Awesome, right?
Just think – They have 25 more addons that are full of innovation. Each one has its own unique capabilities, not to mention great design.
I am just listing out their list of addons
INCLUDED 25 FREE WIDGETS
Screenshots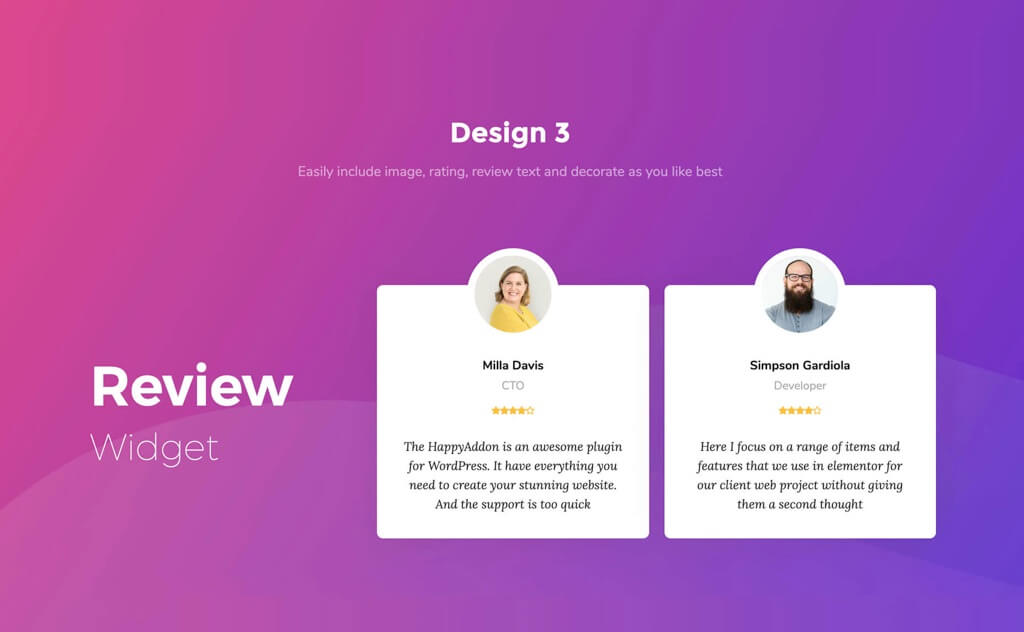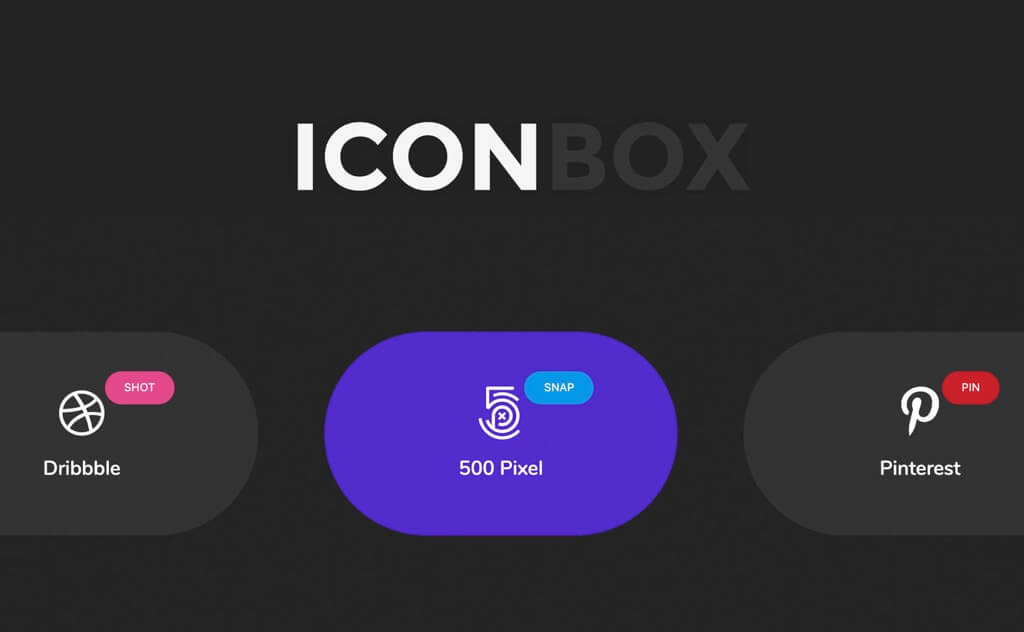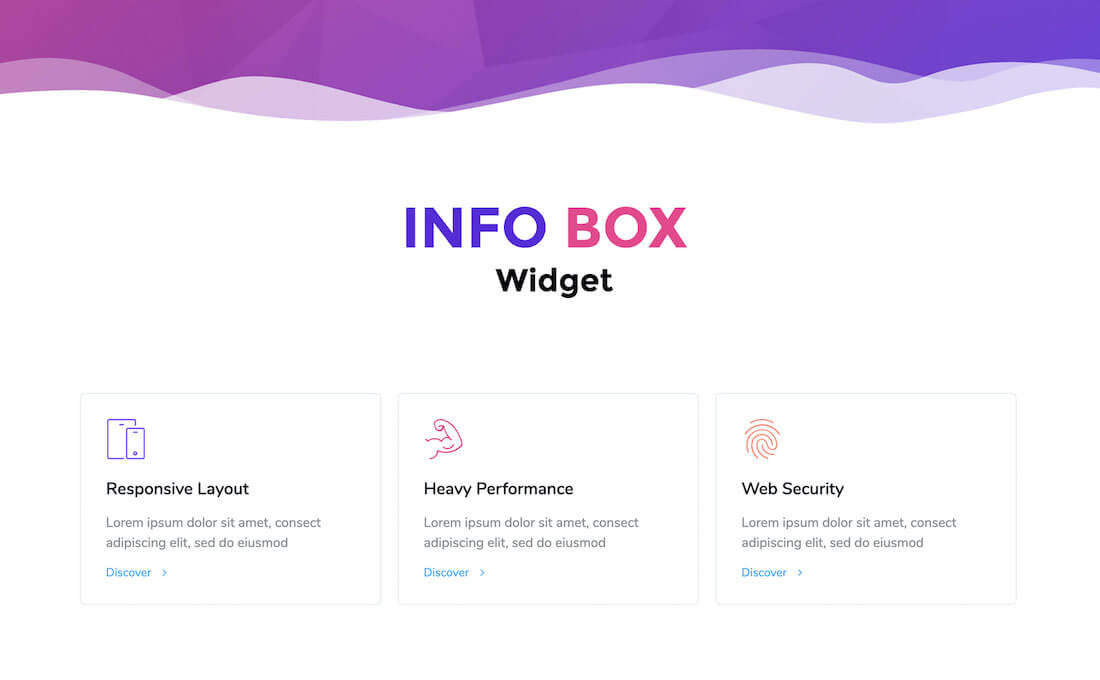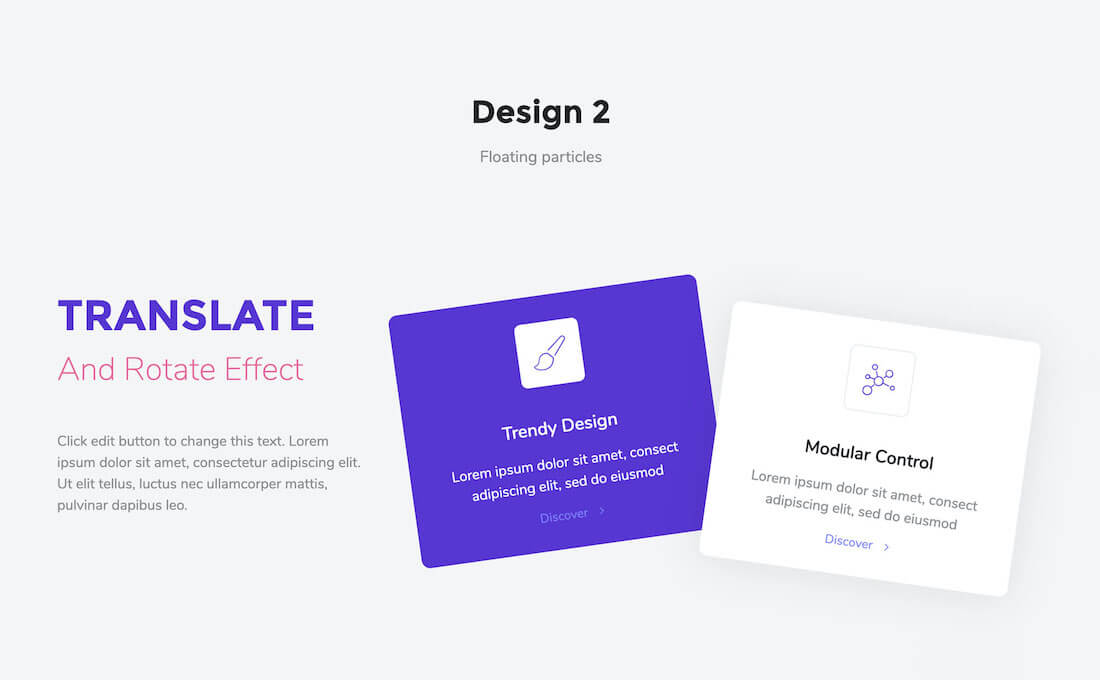 I have just mentioned some of them. You can view the full collection of widgets from their website Widget Collection of Happy Addons. I am including some of the images from Wordpress.org repository to showcase how beautiful they are
Exciting Features in the Pipeline
I sat down with Tareq and Nizam in Wordcamp NYC. I got to know about some of the features they are secretly working on. I found out they have already something called Happy Effects, which can be used to create stunning new effects from Elementor itself. No CSS – no custom coding.
I was amazed by these new effects and will give it a go soon. But you can check out how they implemented the rotation of the earth in their demo. Pretty neat, right?
After talking to them, I got to know that they are implementing cross-domain copy-paste support. It sounds so cool, right? For example, you designed a website with all your addons – and next time, when creating a new website, you can copy-paste from your old site. That's cool!
The Pro variant of Happy Addons is currently scheduled to launch in sometime in the Fall of 2019. These features are now in the pipeline (I got confirmed after talking to HappyAddons team at Wordcamp NYC)
Cross-Domain Copy Paste – The most exciting feature!
Section Nesting: This premium feature would enable any user to add an unlimited number of widget under a single section/column.
Site Sync: You will be able to launch a website from staging state to live state in a few clicks.
Preset: Get to add from a number of preset option like size, color more in the individual widget.
I will be keeping a keen eye on Happy Addons altogether. Meanwhile, you can read about my WordPress page builder comparison article and see how Elementor stacks up against others.
https://wphive.com/reviews/happy-addons-elementor-addon/
Saif Hassan
Product Manager by passion & profession. Lead Product Manager at weDevs, former PM @ Poptin. Passionate about writing & tech. He's an advocate of Human-Centered Design and believes that websites and the tools used to build them should be well crafted, intuitive, and accessible. Cyclist. Reader. A WordPress ninja 🥷, HCI expert & a design thinker 💡

Subscribe To Our Newsletter