MasterStudy LMS Review: Unlocking the Power of Online Learning

Online learning has emerged as a transformative force in the rapidly evolving education sector. And, WordPress has been the easiest platform to start a website. Let's combine these two ideas and build your next online learning website on WordPress. But choosing the right LMS plugin is challenging when everyone claims they're the best.
Here comes the need for guidelines on choosing an effective LMS plugin that can help you craft courses that captivate the learners. This MasterStudy LMS review can help you in this regard. Among the myriad of tools available, MasterStudy WordPress LMS Plugin stands out as a beacon of innovation.
This review dives deep into the core of MasterStudy, exploring its robust features, user-friendly interface, and how it redefines the online learning experience. Plus, we'll guide you through seamless installation and provide a quick step-by-step tutorial.
Background of the MasterStudy LMS plugin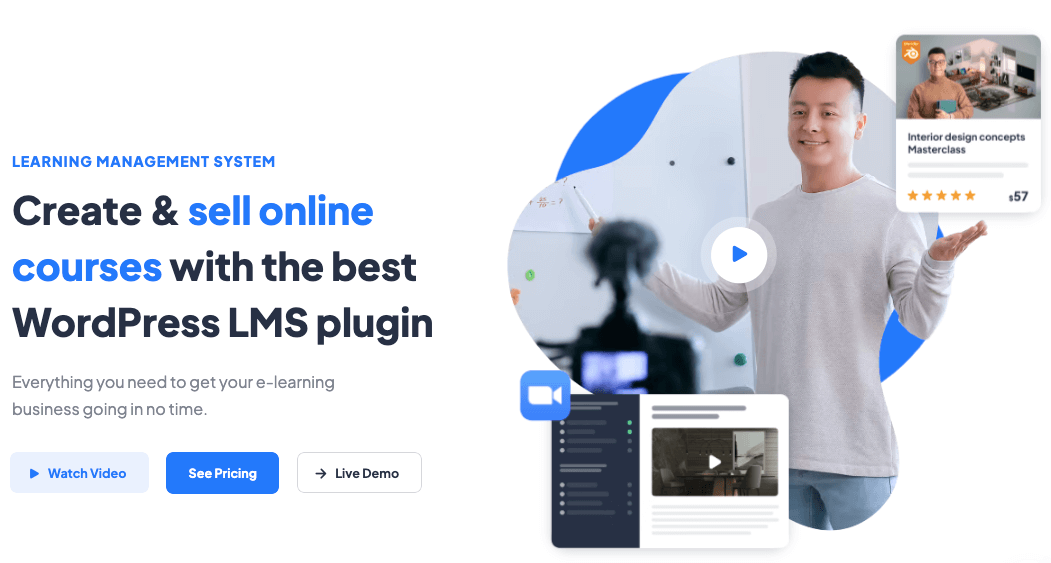 StylemixThemes is the team behind the development and ongoing updates of MasterStudy LMS. It launched MasterStudy in 2019. Since then, this reliable and feature-rich learning management system has been helping users create and sell online courses with WordPress.
MasterStudy LMS WordPress Plugin enables users to create and manage online courses, lessons, quizzes, and educational content. It caters to individual instructors, learning institutions, and online marketplaces. It functions as an effective solution for building and monetizing eLearning websites. Currently, this plugin has:
10,000+ active installations
4.3 out of 5 stars average rating
Compatibility with the latest versions of PHP and WordPress
This plugin is available for free on the WordPress repository. You'll find the premium version on the official StylemixThemes website.
The key features and functionalities of MasterStudy LMS
MasterStudy's feature set is nothing short of impressive. From effortless course creation tools to interactive engagement options, it covers every aspect of online education. Let's have a look at the amazing features MasterStudy LMS offers:
1. Course management
MasterStudy's highly functional course builder lets you craft courses effortlessly. by providing essential details such as the title, descriptions, curriculum, duration, price, skill level, and the number of active students. Its workflow is intuitively divided into sections and steps for easy navigation. Once your course framework is in place, seamlessly integrate lessons, quizzes, and assignments. A complete course looks like the following: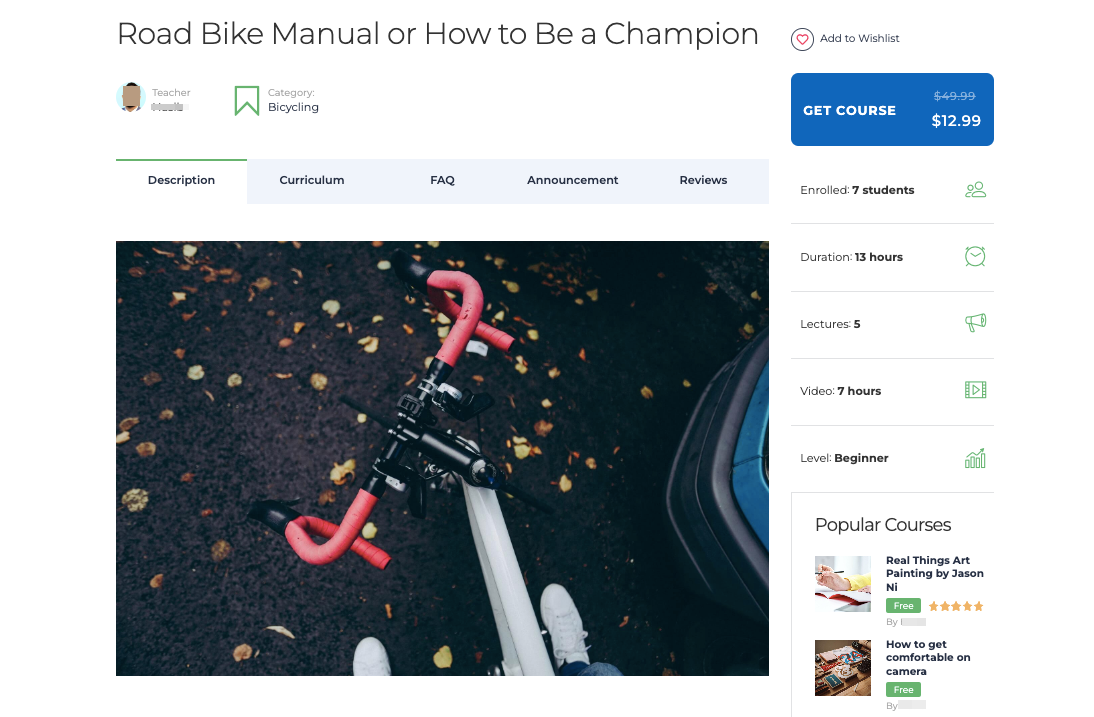 You can add and customize lesson and course sequences, offer previews of specific lessons, and set up flexible pricing options, including subscriptions. It allows you to elevate the course creation further with FAQs and various other enhancements. MasterStudy empowers you to create engaging and comprehensive courses with ease, enhancing the learning experience for both you and your students.
2. Lesson management
After outlining your course structure and organizing the sections, the next step is lesson creation. You have the freedom to craft four unique types of lessons: textual lessons, video tutorials, live online streams, and slideshow presentations. What adds to the convenience is the seamless integration of pre-existing content from a vast library of lessons and quizzes.
3. Course player
You can enhance your student's learning journey with the course player feature. It offers a sophisticated and distraction-free interface. The design is sleek and clean, ensuring a seamless experience for every learner. At the top, in the header, your course name stands out prominently alongside a curriculum button to guide students through the course content.
Additionally, students can effortlessly switch between light and dark modes using a convenient icon. Moreover, navigating lessons is effortless with MasterStudy. Once a lesson is completed, students can simply click the "Complete" button at the bottom of the page to progress to the next one.
4. Email template manager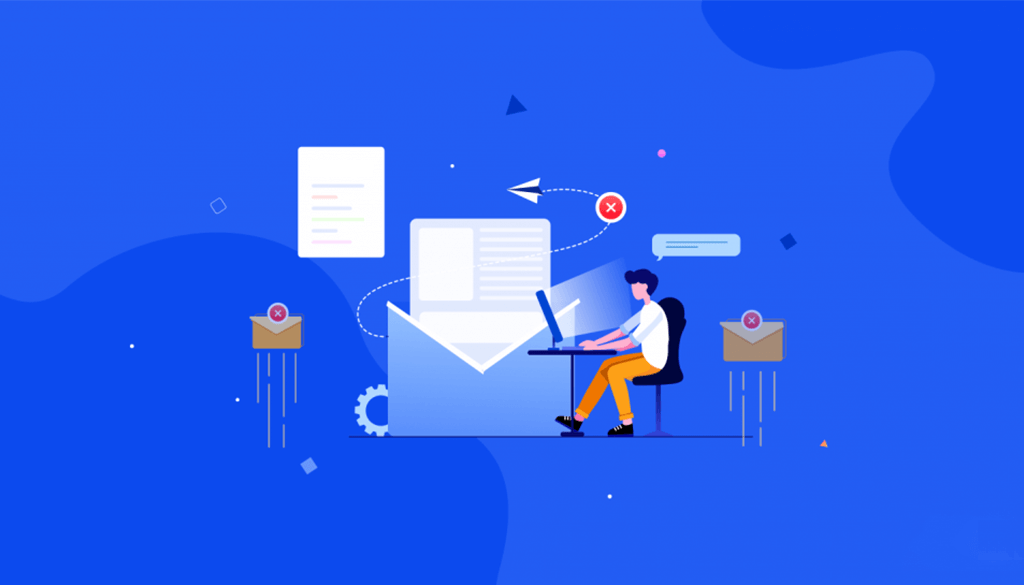 MasterStudy comes with customizable email templates for various notifications and communication needs. You can create unique email templates, whether you're sending custom messages or automated notifications. Categories like Instructors, Lessons, Accounts, Enterprises, Orders, Courses, and Assignments help tailor emails for specific roles or teaching methods.
5. Multilingual support
Your students can experience seamless localization with the MasterStudy LMS plugin, available in multiple languages. It's already been translated into popular languages like English, French, Turkish, German, Dutch, Russian, Italian, Portuguese, Spanish, and more.
6. WooCommerce integration
StylemixThemes includes WooCommerce integration with this WordPress LMS plugin for seamless course sales. You can use it to sell courses, add coupons, and discounts, and integrate multiple payment methods. With WooCommerce and MasterStudy LMS, you can easily operate an eCommerce platform on your LMS website.
7. Free LMS starter theme
MasterStudy also comes with a fully equipped theme with ready-to-use pages, widgets, and blocks for building educational websites. You can create pages easily with pre-designed headers, footers, and content. Just replace demo images and text with your own. This theme is compatible with the Elementor page builder.
8. Integrations with popular plugins and platforms
MasterStudy plays nicely with website builder plugins like Elementor, WP Bakery, and Divi Builder. It supports WooCommerce, Mailchimp, ContactForm7, and one of the most prominent translation plugins WPML. You can also integrate popular platforms like Google Meet, Zoom, and Google Classrooms with MasterStudy LMS.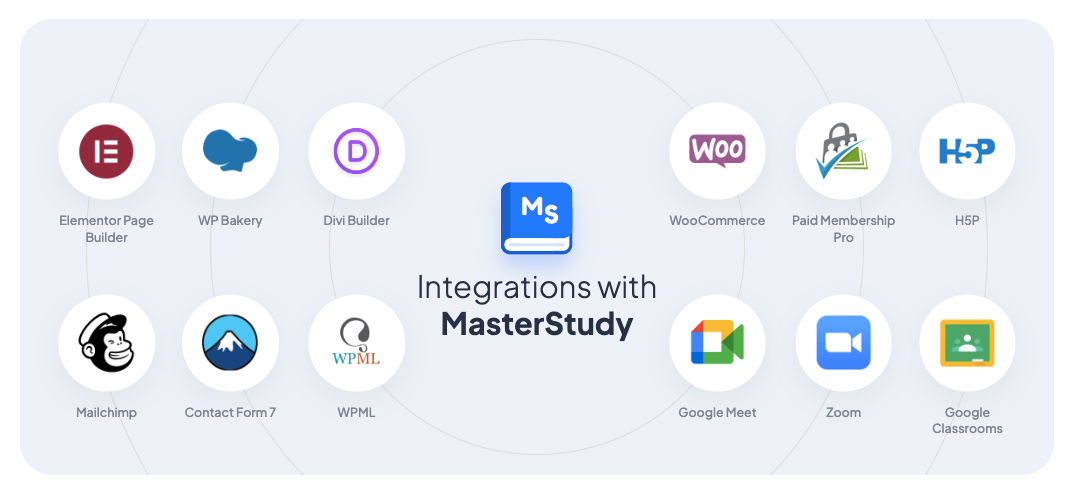 9. Multiple payment gateways
MasterStudy enables you to utilize payment gateways beyond Stripe and PayPal. You can set monthly, annual, or one-time payments. It also lets you easily manage withdrawals for instructors by setting a minimum payout amount. Rest assured, PayPal withdrawal is included in the Masterstudy WordPress LMS plugin bundle.
10. Shortcodes
You can enable the integration of various elements like search boxes, course carousels, instructor profiles, recent courses, and more using shortcodes. These codes can be effortlessly inserted into any page using the WordPress text editor. Plus, they seamlessly integrate with Elementor Widgets, WPBakery Page Builder, and the Classic Editor.
11. Pro version features
MasterStudy LMS comes with many PRO features to enhance your e-learning experience. You can define prerequisites for structured learning paths and engage students with diverse quizzes. Organize your content sequentially and monitor class progress in the grade book.
MasterStudy seamlessly integrates with Google Classroom, Zoom, and Google Meet. It allows you to offer trial lessons and customize user forms effortlessly. You can simplify media management and conduct interactive online testing, all within this powerful plugin.
Currently, it has 20+ Premium addons. Let's have a quick look at the top PRO features:
Certificate builder: Customizable certificates for completed courses.
Udemy course importer: Import courses from Udemy and earn affiliate commissions.
Sequential drip content: Organize e-learning content on a schedule.
Gradebook: View class results and export data.
Live streaming: Conduct live stream lessons.
Group courses: Sell courses to companies and organizations.
Assignments: Allow students to submit essays or files, graded by instructors.
Point system: Motivate learners with a point system for achievements.
Course bundle: Sell bundled courses at a discount price.
Email branding editor: Customize email templates with branding elements.
Google Classroom integration: Import classes from Google Classroom.
Zoom Conference and Google Meet integration: Conduct online meetings with students.
Now you have concrete ideas about the functionalities of MasterStudy LMS. The following section will shed some light on who should use this plugin and why.
Who should use MasterStudy LMS?

MasterStudy LMS is suitable for individual educators, educational institutions, businesses, entrepreneurs, non-profit organizations, and anyone interested in creating and delivering online courses and educational content.
Its user-friendly interface and extensive features make it accessible to many users in the online education industry. The following section precisely explains who should use this tool and why:
Private instructors (Tutors, Coaches)
Easy website creation with interactive lessons and various media types.
Intuitive course builder for seamless lesson organization.
Learning institutions:
Efficient student management, assessments, and grading.
Interactive features like message boards for enhanced student engagement.
Online marketplaces:
Similar services to platforms like Udemy or Coursera.
Manages subscriptions, and payments, and provides certificates.
Separate user profiles for students and instructors.
Enough with the theoretical discourse. Let's get practical and learn how we can use MasterStudy LMS to make the best use of its versatile functionalities.
How to use the MasterStudy LMS WordPress plugin
Using MasterStudy LMS is as easy as using other WordPress plugins. First, you need to install and activate the plugin. Here's your simple installation guide to start your journey:
Access your WordPress admin panel.
Go to "Plugins" and select "Add New."
Utilize the search bar to find "MasterStudy LMS."
Install the plugin and activate it with a click.
If you need further assistance follow this guide- How to Install a WordPress Plugin – Step by Step for Beginners.
Choose your business type from the setup wizard
MasterStudy will show a settings wizard once you install and activate the plugin on your website. It is suitable for both individual and marketplace owners. You can skip the steps if you want. Or you can start building your courses right away by following this product tour.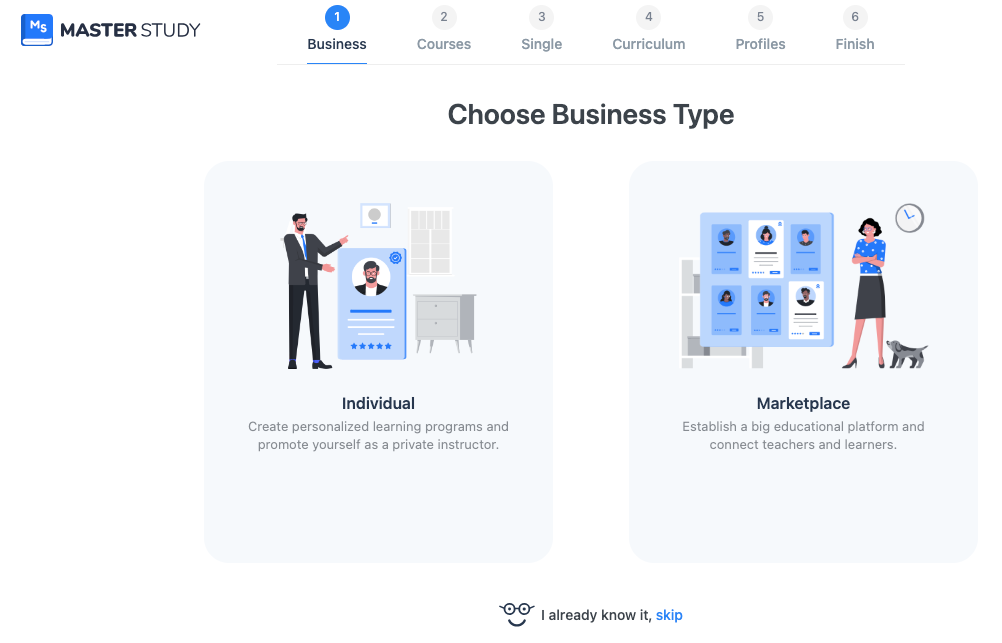 Explore the settings options and configure them correctly
Go to your WordPress admin panel sidebar and click on MS LMS. It will open the settings functionalities of the plugin for you. This plugin covers a wide range of customization options. You can choose colors, currency symbols, currency positions, instructor's earning percentage, and more from the GENERAL settings.
You can enable guest checkout to ensure a better user experience. It also lets you restrict access for instructors to the admin panel. They will be redirected to their account pages.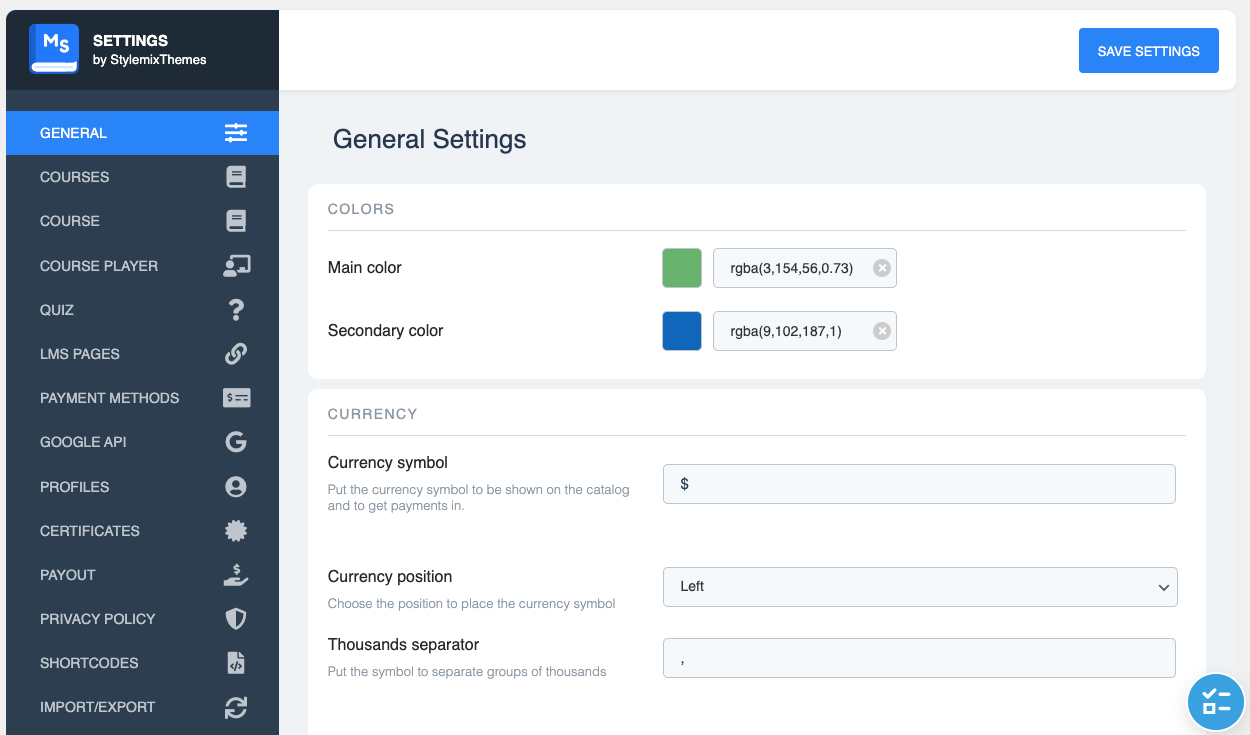 MasterStudy allows offline payment, wire transfer, PayPal, Stripe, and more. It also comes with a PRO certificate builder. You can access all these settings from here and configure the settings for your specific needs.
Add your new course with MasterStudy LMS
Now, it's time to start building amazing courses with the diverse functionalities of the MasterStudy LMS plugin. Simply navigate to MS LMS > Courses > Add New. It will lead you to the course-building page. Put the course name, URL, category, and level, then upload a relevant image to get started. Click on the Create button to go to the next step.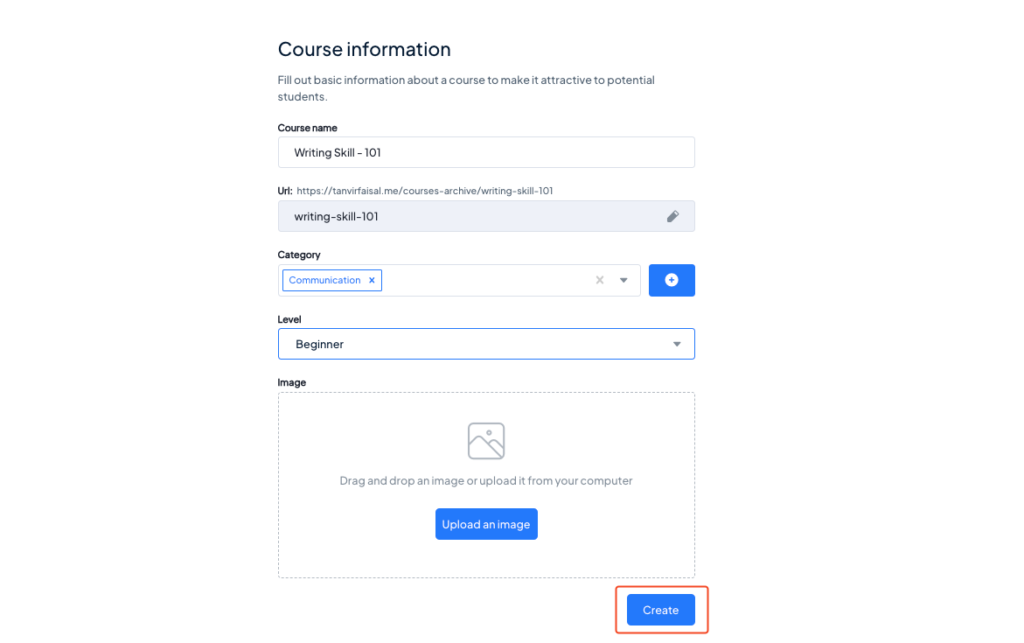 Design the curriculum for your course
You can create the course materials in this section. Name your curriculum and choose the lesson type from a variety of options. You can add:
Text lesson
Video lesson
Steam lesson (PRO)
Zoom lesson (PRO)
Google Meet lesson (PRO)
Quiz
Assignment (PRO)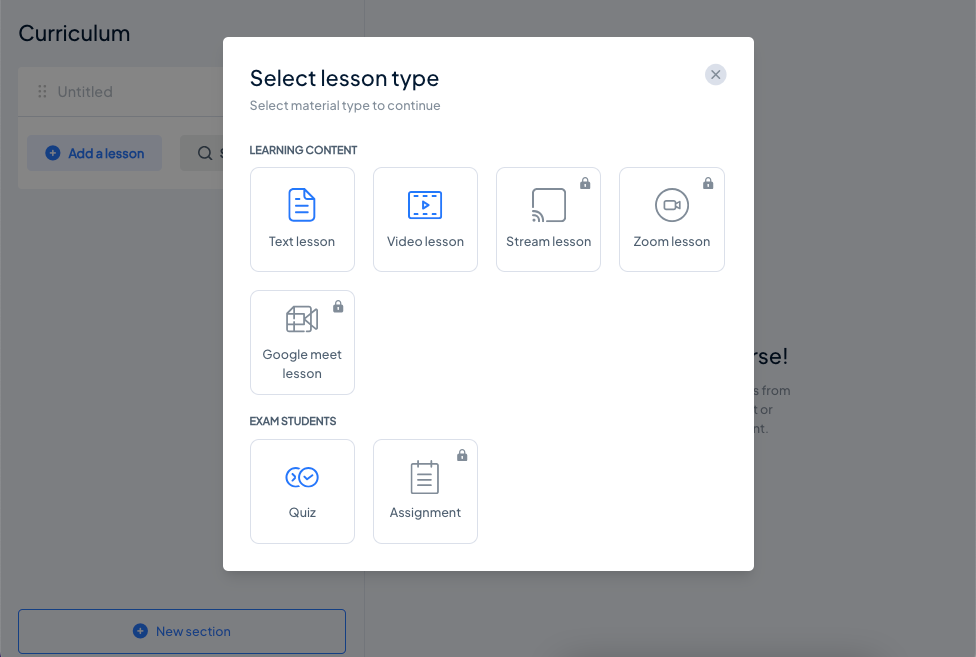 MasterStudy also allows you to choose from course materials that are already available on your website.
Complete the remaining part of the course
You'll see different settings option in the topbar of the course builder. Explore each option to configure what is best for you. Fix the pricing method, add FAQs, and notice if necessary.
You can enable content dripping, which is a PRO feature. It will enable you to deliver course content to students or subscribers over a scheduled period, rather than giving them access to all the material at once.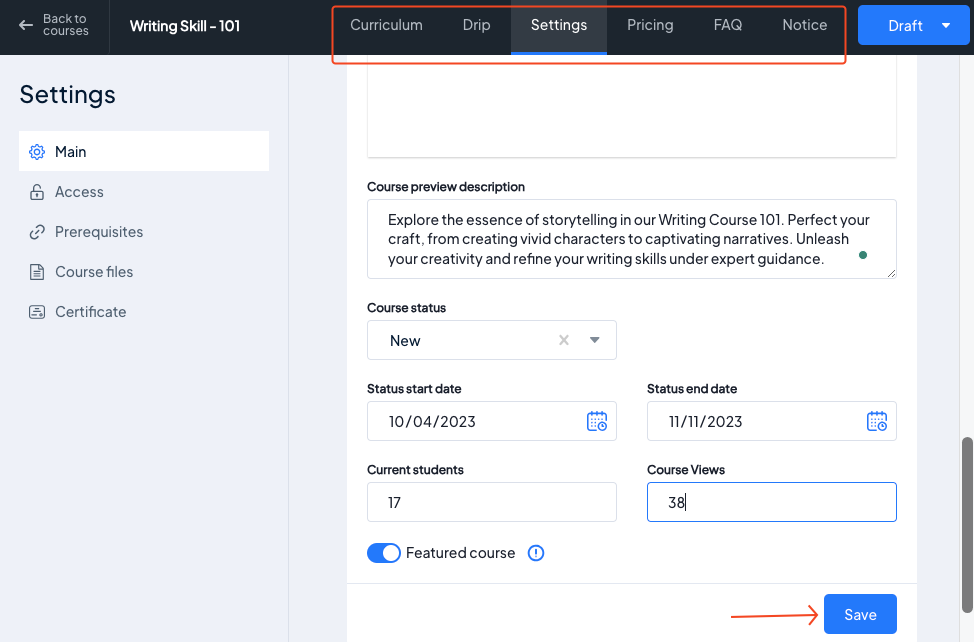 The Settings menu comes with five additional options, namely Main, Access, Prerequisites, Course files, and Certificates. Explore each of them and move to the next step by hitting the Save button.
Buy the PRO version to access 20+ premium add-ons
The free version of MasterStudy LMS is already a complete learning management system based on WordPress. Its PRO version is even better with amazing add-ons and functionalities. On top of that, you'll get priority ticket support and a starter theme with the premium version of the plugin.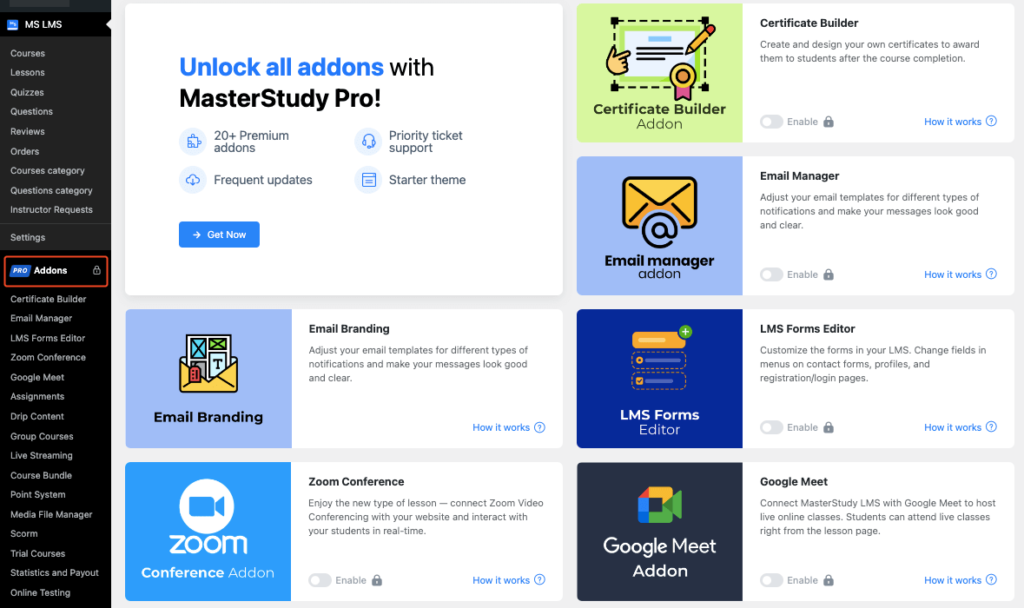 Let's have a look at my favorite PRO add-ons MasterStudy is offering:
Course Bundle: Create a discounted course package by adding related courses.
Point System: Inspire students with points for their achievements and engagement on the website.
Trial Courses: Provide free trials for specific lessons in your online courses to attract more learners.
Statistics and Payout: Manage payments and track course sales data, including profit, payments, and author fees.
Multi-instructors: Work with a colleague and add another instructor to the course to share tasks.
The Gradebook: Monitor students' progress by checking their completed tasks and performance.
Certificate Builder: Create and personalize certificates to give to students when they finish the course.
If you want to unlock the PRO version of the plugin and are planning to buy a plan, the following section can help you.
Pricing model of MasterStudy LMS
MasterStudy LMS comes with both annual and lifetime pricing plans. With a premium plan, you can enjoy access to premium add-ons, ensuring your site is equipped with advanced features. The dedicated priority ticket support ensures your questions are addressed promptly and comprehensively. Plus, you can kickstart your website journey with the versatile Starter Theme.
Here are the pricing options for the MasterStudy LMS:
| Plan Type | Annual Price | Lifetime Price |
| --- | --- | --- |
| Single Site | $79 per year | $199 (one-time) |
| Five Sites | $199 per year | $399 (one-time) |
| Unlimited Sites | $399 per year | $799 (one-time) |
MasterStudy LMS review – Our final verdict
The MasterStudy LMS WordPress plugin stands out for its incredibly user-friendly drag-and-drop course builder. Crafting engaging courses has never been more effortless, making it an ideal choice for both individual educators and those managing a course marketplace. One of the platform's significant advantages is the diverse feature set it offers. It caters to a wide range of requirements.
However, it's crucial to address a few drawbacks. Requiring Paid Memberships Pro for recurring subscriptions might be seen as an inconvenience, especially for those seeking an all-in-one solution. And, MasterStudy lags behind other well-established LMS plugins that offer diverse extensions from third-party developers.
To sum it up, this platform offers an intuitive and flexible course creation experience. Yet, users should carefully assess their specific requirements and the compatibility with their existing tools before making a final decision.
https://wphive.com/reviews/masterstudy-lms-review/
Tanvir Faisal
Md. Tanvir Faisal is a Content Writer at WP Hive with 4 years plus experience in Content Writing, Copywriting, Proofreading, and Editing. He focuses on writing informative content that draws social media attention and enhances search engine visibility. To date, he has successfully developed useful content for many websites across all formats.

Subscribe To Our Newsletter