7 Best WordPress LMS Plugins in 2023

Do you want to create an online learning platform like Udemy?
Now, you can do it using a WordPress LMS plugin without writing a single line of code. These plugins help you create, manage, and sell online courses right from your dashboard.
But which one is to choose?
Well, we have prepared a list of the best WordPress LMS plugins and made a comparison table so that you can choose the best one easily without being further confused.
So, let's check out the list.
What to Look for in a WordPress LMS Plugin

When you want to choose an LMS plugin for your WordPress site, you need to be very clear about what features a perfect LMS plugin comes with.
We have prepared a checklist of features that you need to cross-check while choosing an LMS plugin for your WordPress website. Most of the top-performing LMS plugins have these features at their core.
Visual Course Builder: Allows you to upload different file types like videos, PDFs, links, and other content.
Assignment and Quiz Builder: Helps the course coordinators to evaluate the students and how much they've absorbed the material.
Content Dripping: This feature is great for slowly and progressively releasing course materials to students as they move through your course.
Community: It allows students to interact with each other. It's a great way to reinforce knowledge and build a sense of community among your alumni.
Certificate: Certificates offer students a sense of accomplishment and may also provide value in the professional realm. So, look for a plugin that makes it possible to upload custom PDF certificates.
Emails: Automated emails for enhancing the incentives by giving students a more tangible way to see that they're progressing.
Payment Options: Most LMS systems offer payment through PayPal and/or Stripe. If you prefer a different payment system or live in a country where these options aren't possible, you'll need to find a plugin that supports your preferred payment processor.
Course Progress Information: Your students want to know where they're at in your online courses at all times. This feature will make sure they can easily access this information.
Pricing: The final thing to consider is cost. Some LMS plugins are free, but these tend to offer limited features. For an advanced course-building system, you'll need to either purchase paid add-ons or choose a premium plugin.
So, basically, these are the features you should look for in a WordPress LMS plugin. Now we will talk about the best WordPress LMS plugins so that you can choose one easily.
Best WordPress LMS Plugins in 2023
We took some serious parameters into consideration while preparing this hand-picked list of the best WordPress LMS plugins. Like, we closely monitored every plugin's active installations, features, pricing, customer feedback, and support system.
According to our research, we have prepared this list –
Now, we will take an in-depth look at every plugin and decide which one is perfect for you according to your requirements.
Note: We have made a comparison table at the end of this article. Don't forget to check that table and know which plugin we recommend most.
1. Tutor LMS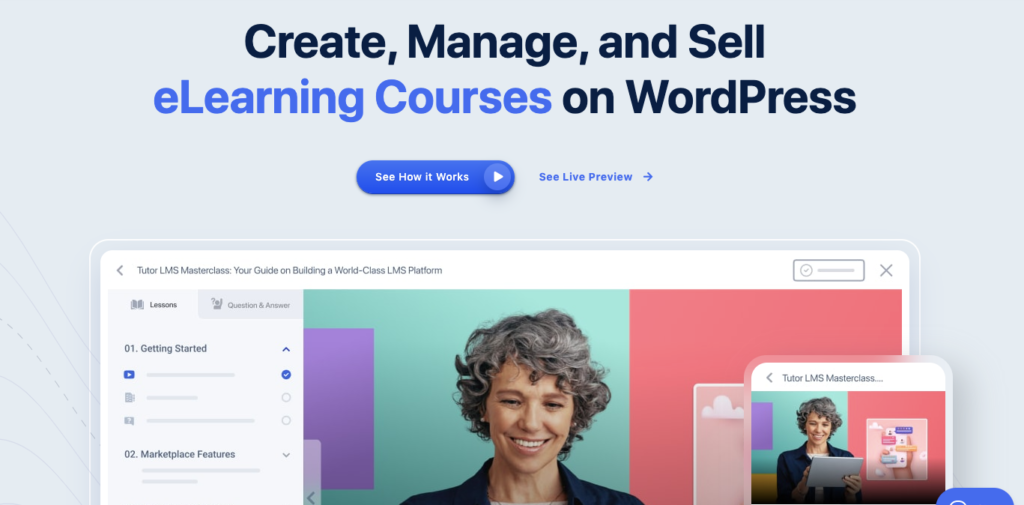 Tutor LMS is the fastest-growing WordPress LMS plugin on our list. Currently, it has more than 50,000 users. It offers a flexible and unified experience that makes course creation, management, and monetization a breeze.
Tutor LMS comes with a drag & drop frontend course builder and Quiz builder to create extensive courses visually in a matter of minutes.
It has other advanced features automated email notification with an email template editor, Q&A, analytics to track the performance of your courses and earnings, content drip, seamless monetization with earnings and commission allocation, and everything you need to create a complete eLearning site on WordPress.
Key features of Tutor LMS
Rich front-end course builder and extensive quiz builder
Multi-instructor support with revenue sharing option
Drag and drop certificate builder to create and customize certificates
Detailed Analytics about the performance of your courses and earnings
Automated email notification system, push notifications, and site-wide notifications
Stylish course detail page, listing, and personalized dashboards for teachers and students
Gradebook, course review, and rating system
Pricing: Tutor LMS has a Free version. Tutor LMS Pro pricing starts at $149.
2. LearnDash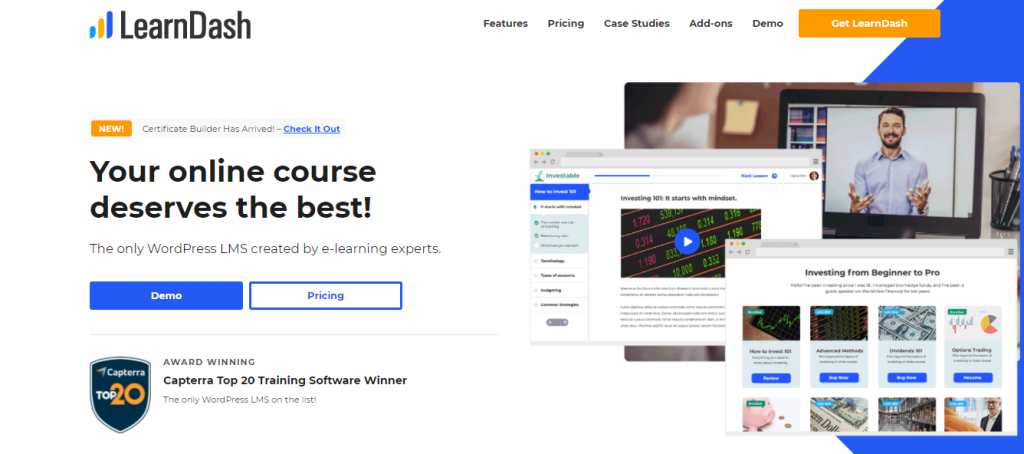 Unlike every other plugin on this list, LearnDash is a premium LMS WordPress plugin. LearnDash makes it super easy to create and sell courses, deliver quizzes, award certificates, and more.
It enables you to offer a robust learning experience to your members and supports the latest gamification, social learning, and micro-content trends.
Using the LearnDash plugin, you can sell your courses in several ways like Membership, One-time price, Subscription, and Course license.
Key Features of LearnDash
Award certificates to students once they complete a course.
Allow your students to track their course progress, print certificates, and more using their frontend profiles.
Offers tools for drip-feeding your content based on a schedule. You can also add lesson timers to ensure that everyone spends a certain amount of time on each lesson.
Offers automated email notifications and detailed reporting.
Supports most media types like videos, audio, images, Adobe Captivate files, and Google Docs.
Pricing: LearnDash has no free or trial version. The pricing plans of the premium version start at $159 per year.
3. MemberPress Course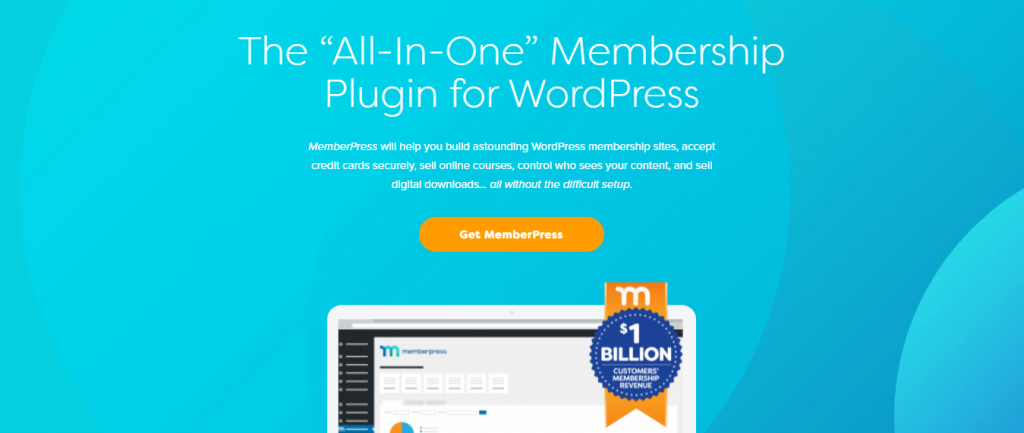 MemberPress is another premium LMS plugin on our list. With this plugin, you can easily create online courses as well as make multiple membership levels, protect exclusive content, sell digital downloads, build members-only forums, and more.
Creating online courses is super simple with MemberPress. Using the visual course builder, you can drag and drop lessons, topics, images, videos, and more, to build your course curriculum.
Key Features of MemberPress Course
Unlimited members, memberships, and restricted content
Course creation is super simple
Automatic upgrade/downgrade prorations
Full subscription and transaction management (including recurring subscriptions)
Unlimited access rules
Easy locking of specific pages, posts, hierarchal post types, standalone files, and more
Content access drip and access expiration
Pricing: MemberPress doesn't offer any free version. For the basic plan of the MemberPress LMS plugin, you will have to pay $179 per year.
4. Teachable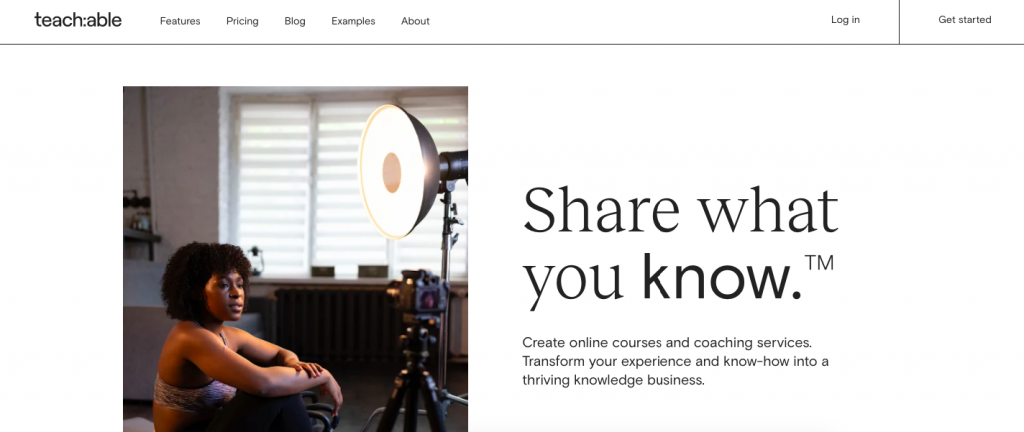 Teachable is not a WordPress plugin. Well, it can be implemented on a WordPress website through third-party plugins. So why is it on our list? Because we think it's an exciting online tool to build an eLearning website.
Whether you are just starting or looking to scale your online course website, this tool can get you on track very quickly and very efficiently.
Key Features of Teachable Course
Easily integratable to WordPress site
Can be used on main/subdomain
Ability to create engaging, multimedia lectures, videos, and coaching sessions.
Amazingly detailed dashboard
Affordable pricing
Pricing: For the basic plan, Teachable costs just $29 per month.
5. LearnPress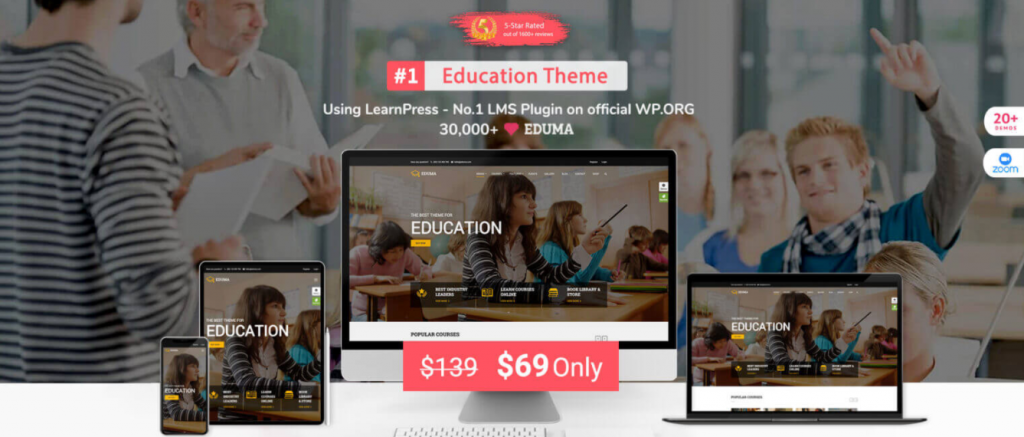 The first pick on our list is the LearnPress LMS plugin. You may have already heard this name. It is one of the most popular free LMS plugins for WordPress websites. More than 100,000 people are actively using this plugin for their WordPress websites.
Unlike most other LMS plugins in this list, LearnPress comes with a setup wizard that makes onboarding easy for all levels of users. With its beautiful interface, you'll find it easy to create courses, and export or import courses from different websites that also use LearnPress.
Most of the basic LearnPress addons are free. But you can also opt to pay for premium addons for items like certificates, co-instructor support, and WooCommerce support.
Key Features of LearnPress
Provides a landing page template for linking ads and talking about course descriptions, curriculum, and more.
Supports a large collection of payment gateways including 2Checkout, Authorize.net, and Stripe.
Allows for multiple instructors, where two or three teachers manage one course.
A badge and point system is available to gamify your courses.
Content dripping is provided, along with random quizzes, paid memberships, and a WooCommerce add-on.
Pricing: LearnPress is fully free to use. But if you want to use its premium add-ons, you will have to pay as per the add-ons pricing.
6. LifterLMS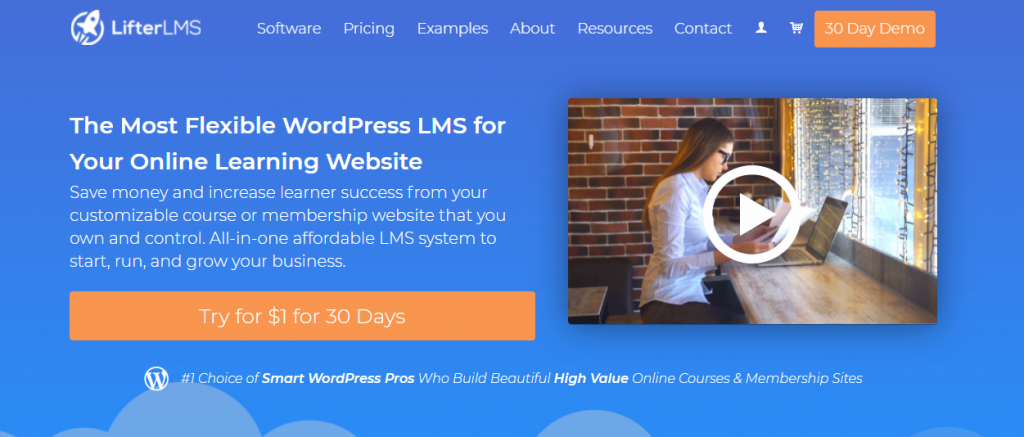 LifterLMS is a powerful free WordPress LMS plugin that's easy to set up and offers a great selection of premium addons allowing you to sell and market your courses and integrate popular apps.
The intuitive drag-and-drop course builder lets you create multi-tier courses with modules, lessons, and categories, providing the flexibility to create small courses or more complex media-rich training programs.
Key Features of LifterLMS
Create multimedia quizzes for your students and set a maximum time limit to test their knowledge.
Make assignments, set prerequisites, drip content, and offer downloadable material for offline learning.
Assign multiple instructors to a single course with a multi-instructor platform.
Students can easily interact with the instructors using forums, lesson comments, timelines, and private coaching areas.
Pricing: LifterLMS comes with both free and premium versions. The pricing plan of the premium version starts at $120 per year.
7. WP Courseware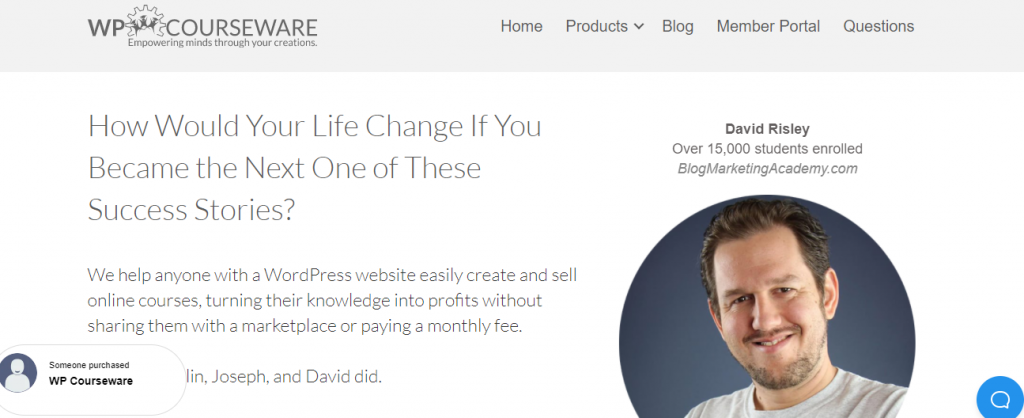 WP Courseware is one of the most promising LMS WordPress plugins out there. Currently, it is being used by some of the top universities in the world and many of its tools are used by enterprise training sites.
It is designed to offer a hassle-free and easy-to-use solution that helps course creators build online courses within minutes.
WP Courseware is fully compatible with WooCommerce, Easy Digital Downloads, and lots of other popular plugins and apps so you can easily sell your courses.
Key Features of WP Courseware
Personalized emails sent automatically to students based on their activity.
Advanced testing tools like timers and retake limits.
The visual designer works with drag-and-drop elements, and it offers essential tools like course protection, drip content, and email notifications.
Allows you to run a multi-instructor system where you assign roles for the teachers for creating and managing the courses they teach.
Pricing: It has three pricing plans. The basic plan starts from $129 per year.
8. Sensei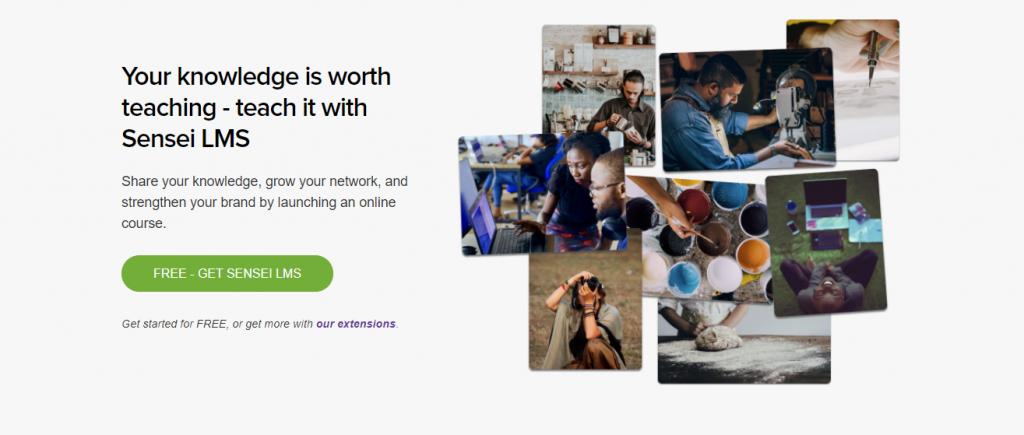 Sensei is our last but not the least pick LMS plugin created by the folks behind WooCommerce. With Sensei, you can create courses and lessons, add quizzes, set prerequisites, allow user registration, and charge for your course content.
Sensei has an advanced analytics system. This allows you to keep track of your users, courses, and also enhances the marketing standpoint of your products. Little features like having random quizzes via a question bank and other little details go a long way to give that extra edge to your courses.
Key Features of Sensei
The WooCommerce integration allows you to instantly charge for a course, whether it be as a subscription or on an individual basis.
The simple course analytics provide information on grading, course completion, and students registered.
Provides several quiz templates for things like true/false, single line, file upload, and multi-line tests.
Sensei displays random quizzes based on a bank of questions you set prior to launch.
Quiz grading can be set to automatic or manual.
Pricing: The base plugin is free, but the additional costs of the other tools would depend on your requirements.
9. Namaste LMS

Though the Namaste LMS plugin is not as popular as the above-mentioned other LMS plugins, it should not be ignored. As it's a promising plugin that comes with short-listed yet powerful features that one might be looking for creating an online platform for selling courses.
Namaste is a good option for anyone who wants to create an online course for free and wants to add advanced features to their courses like creating certificates and badges for their students, grading systems to analyze students, etc.
Key Features of Namaste
Creating and editing a course works similarly to making a standard WordPress post. It's simple and intuitive enough for beginners, but you still have access to more advanced customization options.
You can enable a shopping cart to collect money and manage subscriptions for individual videos or packages.
There's a tool for protecting your files from unwanted intruders.
You can award badges and create a gamified atmosphere to press users to work harder on the lessons.
Best WordPress LMS Plugins – Comparison Table
We have prepared a comparison table of the best WordPress LMS plugins so that you can choose the best-suited one for your WordPress website to create and sell online courses.
| | | | | | |
| --- | --- | --- | --- | --- | --- |
| | Drag and Drop Editor? | Beginner Friendly? | Free/Trial Version? | Review | Pricing |
| Tutor LMS | Yes | 5/5 | Yes | 4.6/5 | $149/year |
| LearnPress | Yes | 4/5 | Yes | 4.5/5 by WordPress.org | $249/year |
| LearnDash | Yes | 5/5 | No | 4.6/5 by Capterra | $159/year |
| MemberPress | Yes | 5/5 | No | 4.8/5 by Capterra | $179/year |
| LifterLMS | Yes | 4/5 | Yes | 4.9/5 by Capterra | $120/year |
| WP Courseware | Yes | 4/5 | No | 4.4/5 by Capterra | $129/year |
| Sensei | Yes | 4/5 | Yes | 4.3/5 by WordPress.org | $129/year |
| Namaste LMS | Yes | 4/5 | Yes | 4.6/5 by WordPress.org | $67/year |
Our Verdict – Which One Is the Best WordPress LMS Plugin
From our in-depth analysis, we have come to the decision that MemberPress is the best WordPress LMS plugin. It's very beginner-friendly and lets you create online courses without writing a single line of code.
Their powerful membership rules make it easy to configure access control, sell course subscription packages, and more. You also get other useful features like content dripping, group memberships, protected file management, reminder emails, and more.
If you're looking for alternatives to MemberPress, we would recommend you pick Tutor LMS. It's also an easy-to-use and beginners' friendly LMS plugin that helps to create and sell online courses with ease.
If you liked our blog, you can follow us on Twitter and Facebook. Thank you.
https://wphive.com/reviews/best-wordpress-lms-plugins/
Shams Sumon
Shams is a content writer with a passion for making WordPress topics easy to understand for everyone through conversational and storytelling approaches. With a background in the WordPress industry since 2019, he has developed a knack for breaking down complex technical concepts into digestible bites. When he's not crafting engaging content, Shams can be found watching football matches, catching up on the latest movies, or exploring new destinations to rejuvenate himself.

Subscribe To Our Newsletter