WordPress 5.3 Introduces Twenty Twenty Theme with Improved Typography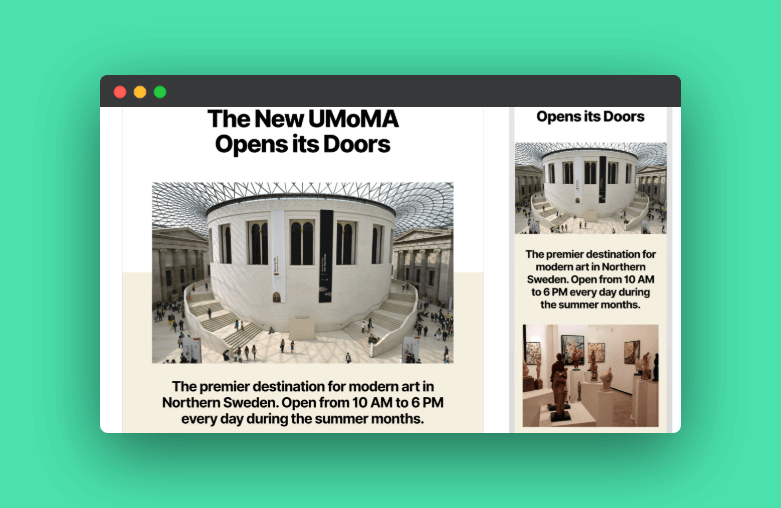 WordPress 5.3 release dates were confirmed, just a few weeks back. After speaking with component maintainers, WordPress Executive Director Josepha Haden confirmed that WordPress 5.3 will include a new bundled default Twenty Twenty Theme.
Twenty Twenty theme development is taking a different route from previous default themes in that it will not be designed from scratch.
I think something that would be cool is taking a theme from the community that is already doing cool stuff with the features we've been introducing, and modifying it to fit with the 5.3 release.

Haden
The Twenty Twenty theme development team has made with three key persons. Mr. @anlino will work as lead designer, Mr. @ianbelanger is taking charge of full development, and Mr. @poena representing the Theme Review team.
What is WordPress Default Theme?
WordPress comes with a default theme to show the front-end of the website. This is the first theme that you can see when you first install WordPress. The user can then replace it with any other WordPress supported theme.
The default WordPress theme is usually feature rich and can be used to create most basic websites. It also serves the purpose of a fallback theme. In case any WordPress theme gets deleted or something goes wrong, then WordPress automatically run with the default theme.
The first WordPress theme was created by Matt Mullenweg with the release of WordPress in 2003. Kubrick was the default WordPress theme until it was replaced by TwentyTen in WordPress 3.0.
Every year since 2010 the developer team behind WordPress comes out with a new default theme that is named after the year. TwentyTen is still one of the most popular themes in terms of downloads.
Key Features of Twenty Twenty Theme
Keeping the flexibility at its core, the designer team is working on it. The theme can be used for both organization or a business. Users can combine columns, groups, and media with wide and full alignments to create dynamic layouts to show off their services or products.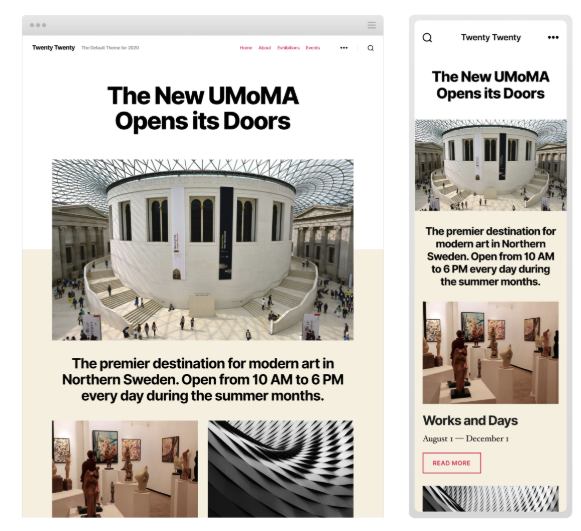 They can also use it for a traditional blog. For that purpose there will be a centered content column.
New Typography
Another focusing point of the theme is clarity and readability. So, at the end the theme will include the typeface Inter, designed by Rasmus Andersson. The tall x-height of Inter makes it clear in the smallest of font sizes, and provides a strong personality when used in big headings.
The Inter font comes in a variable font version in default themes as 1st time. It contains all weights and styles of Inter in just two font files. In modern browsers, Inter will help keep the number of requests and the page size down. Older browsers will fall back to load each weight as a separate file.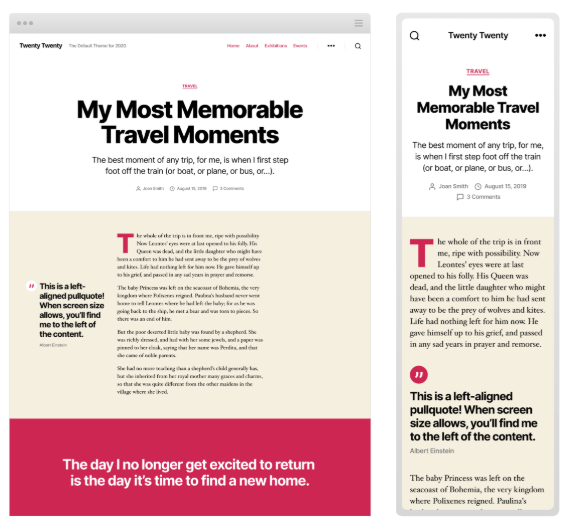 To keep load times short and data caps distant, running text will be set in a stack of serif system fonts.
Twenty Twenty theme will include full support for the Gutenberg Block Editor, as well as editor styles which make sure the editing experience matches the end result. To speed up the development process, Twenty Twenty will be based on the WordPress theme Chaplin, which was released earlier this summer.
Final Words
WordPress 5.3 will be the last major release of 2019. It will release in November 12, 2019, with a decent margin of time to avoid WordCamp US (early November) and the U.S. Beta 1 is expected to release in September 23 and a Release Candidate is scheduled to follow on October 15.
You can also find full page mock-ups of Twenty Twenty Theme here:
Those who are adventurous can download Twenty Twenty right now from GitHub. You can play around with the theme in its current state. Once it is stable, Norén and his team will merge it into core and continue development on Trac. Soon it will also find its way to WordPress.org repository.
Install Twenty Twenty
There will be weekly meetings held in the #core-themes Slack channel for those who want to contribute to the design and development. The first one is scheduled for Tuesday, September 10, 2019, 01:00 AM GMT+6.
If you have any comments, please leave in the comment box
https://wphive.com/news/wordpress-5-3-twenty-twenty-theme/
Saif Hassan
Product Manager by passion & profession. Lead Product Manager at weDevs, former PM @ Poptin. Passionate about writing & tech. He's an advocate of Human-Centered Design and believes that websites and the tools used to build them should be well crafted, intuitive, and accessible. Cyclist. Reader. A WordPress ninja 🥷, HCI expert & a design thinker 💡

Subscribe To Our Newsletter