How to Install WordPress on cPanel the EASIEST WAY (2023)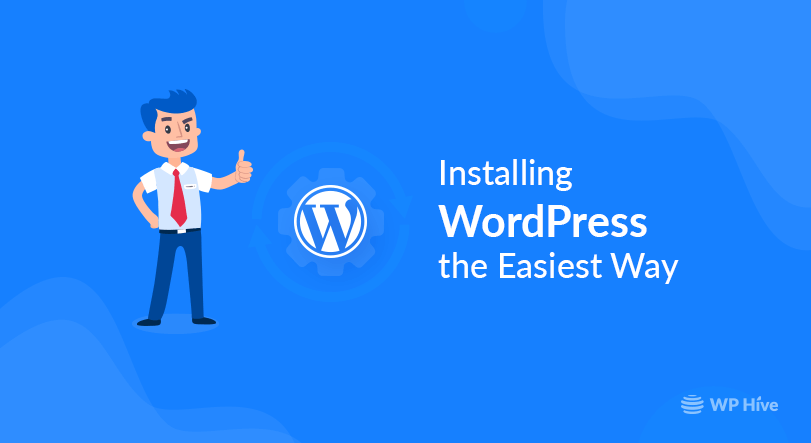 Install WordPress the easiest way on cPanel. It's not rocket science!
WordPress is widely accepted by both developers and the user community not just because it's free. The immense popularity behind WordPress is its users and developer community. When WordPress started in 2003, nobody was focusing on ease of use. When you are building something for the users, you must also know how to reach your users. If you want to install WordPress on cPanel today, we have got the easiest tutorial with step-by-step guidelines.
Matt and his team focused more on users than any other platform like Joomla or Drupal. And that paid off. Now more than 40% of all the website on the internet, uses WordPress. If you are still not sure about WordPress, you can do a side-by-side comparison between WordPress vs Wix to make an informed decision.
It's easy to use and manage, for anyone even with zero knowledge of coding. WordPress is the most used CMS (Content Management System) right now because it has got loads of features, remarkable flexibility with plugins and themes and above all, it has excellent usability.
Today we are going to cover the easiest way to install WordPress on cPanel. When you are going to build your site, WordPress can be the best option for you. You might consider Wix too as there are some debates between Wix vs WordPress, WordPress vs. Blogger. WordPress vs Typepad vs Squarespace. However, most people will be convinced to go with WordPress.
Today many web hosts offer tools to install WordPress on cPanel automatically which is a lot easier if you are installing WordPress manually for the first time. You can have your site ready just by few clicks! Let's take a peek on how to do a fresh WordPress install and then you can initiate your web journey.
[For this article, we are supposing that you have bought a Shared/Dedicated Hosting server from any of the thousands of online shared hosting providers. If you do not know about the words Shared/Dedicated, then do not worry. If you are confused about choosing a provider, then tweet us at @HiveWP. We'll be happy to give you a one-to-one consultancy without any cost. Yes, for free!]
Getting cPanel Information from Your Hosting Provider
To install WordPress on cPanel, you need to have your details from your hosting provider. If you do not know what the details are, then do not worry. You should get an email from your hosting company that will resemble like this. Your provider will send the email after completing the sign-up process.
Step 1: Changing the Nameserver to Install WordPress on cPanel the Easiest Way
The first thing to do after getting an email like this, you need to make sure that your domain has the correct nameserver. Each provider has their user interface to do that. For example, take a look at this gif which changes a domain's nameserver at ResellBiz.
If you are buying the domain and hosting from the same provider, you do not need to change the nameservers in most of the cases because the provider already does that for you.
Step 2 – Logging into cPanel
So what's cPanel? What do I have to do with it? Have I heard it a few times.
– Do not worry if you are hearing the word for the first time. It's like the steering wheel of your car.
Now retake a look at that information. Once you find your IP address, you can step forward to log in to cPanel.
On your browser bar, type YourGivenIP:2082 – it means that just add :2082 at the end of your URL.
For most servers, you should be welcomed with a cPanel login page. If not then, try looking for a cPanel URL. In our image we can see at the top that our provider has given a URL to login directly to cPanel without using any IP. If the first method fails, then try example.com/cpanel (replace example.com with your actual domain name).
You'll be presented with a screen like this

Now it is pretty straight forward. Try putting your username and password for the cPanel. The credential is provided in the email. Once you successfully log in, you'll be taken to the control panel of cPanel.
The control panel might look like this

Try finding the icon WordPress under 'Softaculous Apps Installer'
Click 'Install' on this page.
You will see a screen like this one

Important: Now, if you want to see your website whenever you type "example.com" then you must keep the 'In Directory' option blank. Otherwise, when you click your domain example.com, your site would not be loaded. [This tutorial is for basic users, so we are not covering installing in a subdirectory or subdomain]
Scroll down and fill up the admin information carefully.


Important: This username and password will be used in WordPress login, so write it down elsewhere. You will need the credentials more than you can expect.
Success!

You have successfully installed WordPress! See that was not difficult. You can log in at WordPress Dashboard at your domain.com/wp-admin (After installation, it will provide the exact URL). Well, that is how you do it.
Wrapping Up on Install WordPress on cPanel the EASIEST WAY
Installation of WordPress isn't a concern anymore. The fact is when you start your WordPress journey; you have to be keen on exploring. You can find out a lot more about what WordPress can do. For example, would you believe these websites were made from WordPress?
If you have already selected WordPress as your web platform, then do not forget to follow our Ultimate WordPress Security Guide [2023]. Also, check out the best tips to speed up your WordPress website.
For any installation issues, or troubleshooting, leave a comment, and we will reply.
https://wphive.com/tutorials/how-to-install-wordpress-the-easiest-way/
Sakil Adnan
Sakil Adnan is an Author, Content Strategist, and Editor. Completed his Graduation in Business & Marketing. Passionate about WordPress, history, religion, and literature. Enjoys exploring new things beyond regular responsibilities. Believes in teamwork and loves empowering team members. Now working as the head of content at weDevs and WPHive.

Subscribe To Our Newsletter