In order to get higher traffic on your website, there is no alternative to optimizing your website content. When we are talking about content optimization, there are two big players in this field to consider. One is the Yoast SEO, and another one is the All in One SEO Pack.
Though the All in One SEO Pack plugin has quite fewer active installations (2M+) than Yoast SEO (5M+), it is the strongest competitor to fight back.
In this blog, we are going to review the All in One SEO Pack plugin thoroughly. We will take an in-depth look at its features, performance, and ease of use. Eventually, we will decide whether it is worthy of trying or not.
Before jumping into the analysis, let me show you the importance of having an SEO plugin for your website.
The Importance of an SEO Plugin for a WordPress Website

An SEO plugin helps you to create a website that is search engine friendly. It enables you to discover new audiences and get more traffic and sales from your website.
Basically, search engines are the primary source of traffic for most websites on the internet. Each day thousands of new websites appear on the internet competing for the top rankings in search results. So, you need to optimize your site to stick to the race. And an SEO plugin with an SEO guide can rescue you in this situation.
You know WordPress provides a built-in SEO-friendly setup right out the box. But, there are still many things that you can do to improve your SEO score by adding meta tags, generating XML sitemap, avoiding duplicate content, and so on. An SEO plugin allows you to do all these things. 
You may also be surprised to find out how much traffic you are missing by not optimizing your site properly. Therefore, choose a perfect SEO plugin for your website and ensure your appearance on the top of the search results. 
All in One SEO Pack Features at a Glance
All in One SEO Pack is a feature-rich SEO plugin for WordPress sites. You will get all the necessary features that you need to maintain your website ranking on the search engine using this plugin.
Some of the common features of All in One SEO Pack plugin are mentioned below.
Installation is simple as other plugin installations on your WordPress site
You can integrate it with eCommerce sites, including WooCommerce
Automatically optimizes your titles for Google and other search engines
It automatically generates meta tags in case if you need
Avoids the typical duplicate content found on WordPress blogs
This plugin is compatible with many other plugins
This is a multilingual plugin. It has been translated into 57 languages so far
It is completely PHP7 compatible.
Now, we will take a look at its advanced features.
It provides the opportunity to submit your website sitemap to Google and Bing to improve SEO score
You can submit the image XML sitemap to Google and Bing to improve your image SEO score
It supports AMP (accelerated mobile pages) which makes it easier for you to get more traffic from mobile search users
It allows you to override any title, meta description, and meta keywords that you want
You can set advanced canonical URLs to make better use of SEO
It redirects attachment pages to parent posts.
These are the key features of All in One SEO Pack plugin. All these features are easy to customize and impactful for optimizing your website content. 
All in One SEO Pack Plugin Configuration
As I said earlier, All in One SEO Pack plugin installation and configuration is really an easy process. Follow these steps and configure your SEO plugin.
Step 01: Navigate to Dashboard > Plugins > Add New. In the search box type All In One SEO Pack.
Step 02: Once you find the plugin, click on the Install Now button and activate this plugin.
Step 03: Navigate to Dashboard > All in One SEO > General Settings. You will find an interface like the following.
Note: Click any of the question marks and you will see the following.
A short description
A link to the relevant help documentation article
Step 04: Scroll down and configure the following options,
Home Page settings
Title settings
Content Type Settings
Display Settings
Webmaster verification
Google Analytics
Schema Settings
Noindex Settings
Advanced Settings
Keyword Settings
Once you are completed all these settings, your All in One SEO Pack plugin is ready to work.
Review of the Key Features of All in One SEO Pack Plugin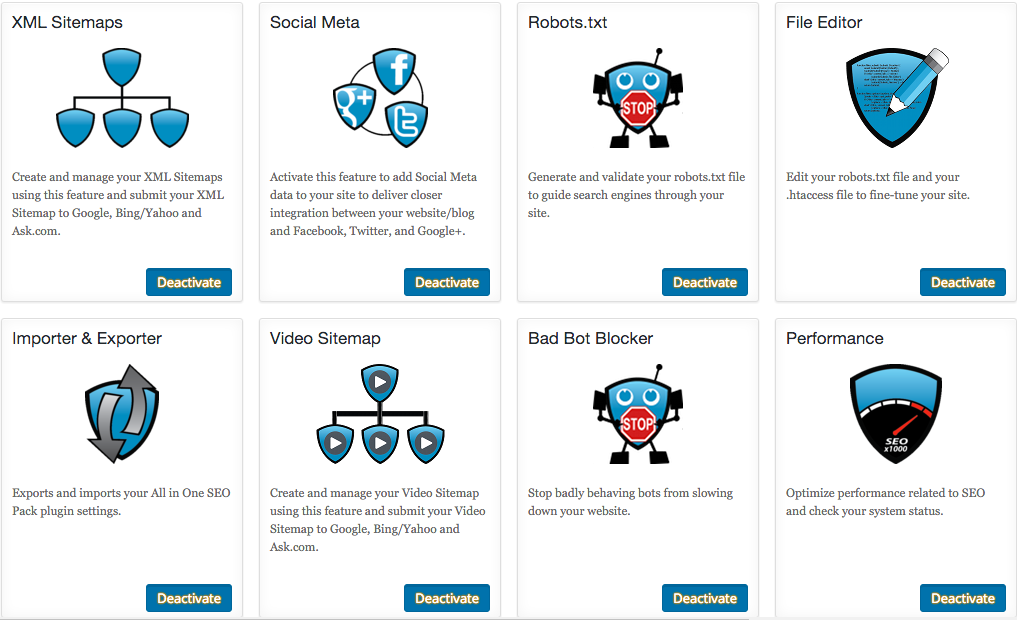 Before reviewing these features, we need to know how to activate it. Some of the plugin features are not activated by default.
You need to visit All in One SEO > Feature Manager to activate them. You can enable or disable the following modules from the feature manager.
Activating a module will add its own settings page under the plugin's menu. You can visit that page to configure that particular feature and how it behaves on your site.
Now, we will review each of the features one after another. So the first one is XML Sitemaps. Let's begin.
XML Sitemaps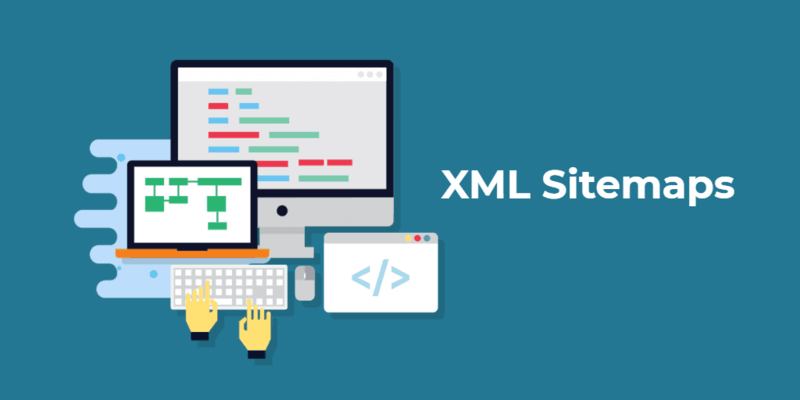 A sitemap notifies the search engines like Google whenever you update something on your blog such as publishing a new post, updating a post or page and so on. It provides a ton of XML sitemap functionalities including;
Notifying Google
Notifying Bing (when you make changes to your site)
The option to use taxonomies
Including date on archives
Creating compressed sitemaps
Creating sitemaps for all of your blog posts
So you really don't have to worry about sitemaps or using any other sitemap plugin. All you need to do is to simply activate the plugin and activate the sitemaps feature from it.
Social Meta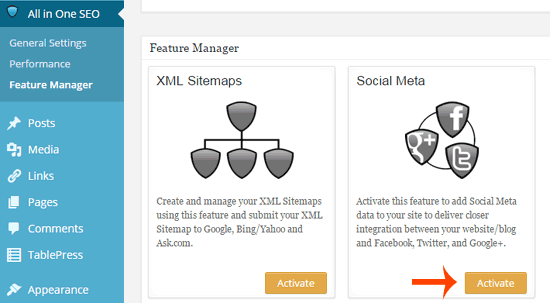 SEO is not just meant for optimization and keyword research. Social signals also play a vital role in terms of increasing your search engine traffic. Social Meta lets you do the following settings.
Facebook Open Graph tags and Twitter card settings to control how your site looks when shared on social media
Facebook authors/app IDs, etc.
Basic social schema markup.
Robots.txt
The robots.txt file is primarily used to specify which parts of your website or blog should be crawled by spiders and search engine crawlers. You can tell search crawlers to specify what type of pages to follow and what to avoid following.
File Editor
Accessing important files like Robots.txt and .htaccess sometimes create problems. It causes the site to break if you make any mistakes. But the file editor option of All in One SEO pack makes it easy to access those files.
You can edit files like Robots.txt, .htaccess files with ease using this plugin as you can access them directly from the plugin dashboard.
Importer & Exporter
Importer and exporter is really a cool feature of All in One SEO pack plugin. It cuts down the redundancy work on a big scale. If you want to import or export all of your All in One SEO pack settings, you can easily do so using this feature. It saves time dramatically.
Bad Bot Blocker
You can block bad bot through this feature. Apart from bad bot blocking, it also helps you to block referral spam. Both of the blocking takes place using HTTP. If you want to track block bots, it will let you do that.
There is another option called "Use Custom Blocklists". It allows you to make a list manually that you want to block.
Performance
Using the performance feature of All in One SEO pack, you can control 3 major settings.
Memory Limit
Execution Time
Force Rewrites
You can also check the System Status, list of Active Plugins, and list of Inactive Plugins using this feature.
Overall Pros and Cons of Using the All in One SEO Pack
All in One SEO Pack offers so many beneficial features for maintaining top position on the search engine result. But that doesn't mean it hasn't any con. Let's talk about its pros and cons shortly.
Pros of All in One SEO Plugin
Simple and easy to setup.
Easy to edit the title and description.
Advanced tools to control indexing, tagging, and search engine following as well as turn it off for a particular post and page.
All in One SEO Pack offers lots of features in the free version.
Cons of All in One SEO Plugin
There is no content analysis or SEO scoring unlike in Yoast SEO.
All in One SEO does not have easy navigation and importing data from Google Search Console features.
There is no support in the free version of the All in One SEO Pack.
Pricing of All in One SEO Pack Pro
All in One SEO Pack plugin offers both free and premium versions. You can download the All in One SEO free version if you want to give it a try before heading to the pro version.
But if you need All in One SEO Pack Pro for the access to:
WooCommerce functionality
SEO for taxonomies
Video sitemaps
Premium support and video screencasts.
Then you can purchase it
The premium version of All in One SEO is available on three pricing plans. At the time of writing, the prices had been reduced by 40 percent.
All three options include one year of access to support and plugin updates. After the annual license has expired, you have the option of renewing or using the plugin unsupported and without access to updates.
Our Verdict
Personally, we like the performance of All in One SEO Pack plugin. The pricing of the pro version is fair enough too. Besides, the free version can take the whole responsibility of your SEO sector. However, it will resist you to access some key features.
But, beginners who are not familiar with SEO jargon may find it quite difficult. The configuration of the key features needs expertise and experience, I must say.
Overall, All in One SEO Pack offers a comprehensive set of features to become your SEO powerhouse. I recommend you give it a try. Don't forget to let us know your experience through the comment box below.