8 Best Keywords Everywhere Alternative [Free]

Are you looking for a free alternative to Keyword Everywhere? If it is so then you're in the right place. Keyword Everywhere has stopped its free version and released the paid version. In this article, I'll be listing the best Keywords Everywhere alternatives (free) today.
What is Keyword Research?
Keyword research is an SEO process of discovering keywords and phrases that people use to search for information on the internet. Keyword research can optimize your content.
Why Keyword Research is Important from an SEO perspective?
Keyword research can be beneficial in many aspects of online marketing. It is the first step in any SEO campaign.
It is very important to know what people are looking for and provide the right content using phrases that they can understand. Say, for example, the mission of Google is to show high-quality websites in their search results, that answer user's queries.
If you want to increase the Google ranking, you need to give the Google bot the right signals when crawling the content of your pages. One of the best ways to do this is through keywords.
Higher rankings in search engines are equivalent to get more traffic. As shown in the graph below, websites that appear at the top of the SERPs get more than 60% of traffic from search engines.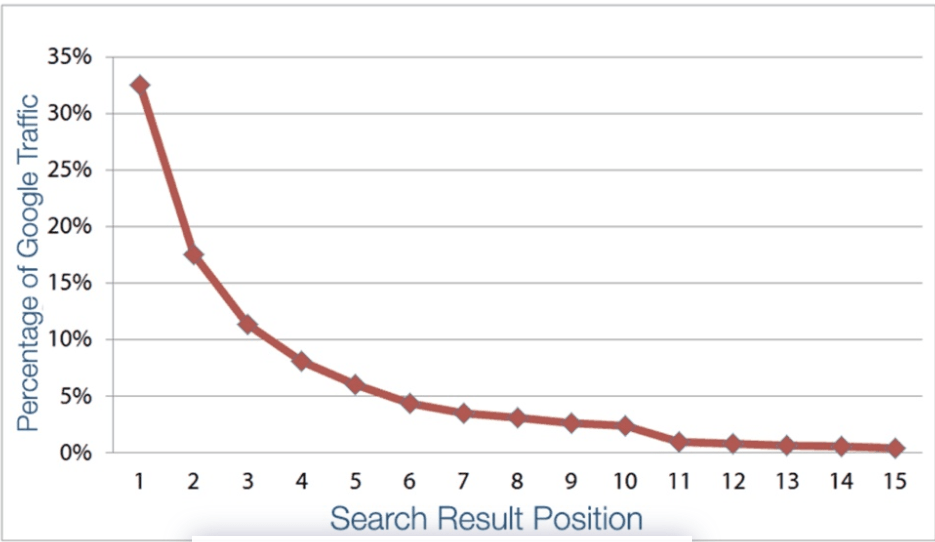 Keywords are just like a compass for your SEO campaigns. They tell you where to go and how you're making any progress.
Keyword research helps you to figure out the thoughts, fears, and desires of your target market. That's why keywords research gives you tremendous insight into what potential customers are looking for.
In fact, keyword research is market research for the 21st century.
How does User Intent Affect Keyword Research?
User intent is now one of the most crucial factors in your ability to rank well on search engines like Google. Today, people want to find your web pages not by name but by keyword.
It's easy to take keywords for face value. But unfortunately, keywords may have many different meanings beneath the surface. Because the purpose behind a search is so important to your ranking potential, you need to be extra careful how you interpret the keywords you target.
Let's say, you're researching the keyword "how to write a blog" for an article you want to create. "Blog" can suggest a blog post or any blog website too. What a searcher's purpose is behind that keyword will influence the direction of your article. Does the searcher want to learn how to write a blog post? Or do they want to know how to launch a website domain for the purposes of blogging? If your content strategy is only targeting people who are interested to write a blog, you'll need to use proper keywords to reach those people.
To verify what a user's intent is in a keyword, it's a great idea to simply enter this keyword into a search engine yourself, and see what types of results come up.
Free Keywords Everywhere Alternatives
Personally, when Keywords Everywhere became paid on Oct 1, I uninstalled the extension immediately. Not because I can't pay. But rather, to get myself to go out there looking for something new and even better.
Let's look at the alternative tools I now use for SEO. That's what you came here.
1. Keyword Surfer
Keyword Surfer is the best Keywords Everywhere Chrome Extension alternative. This chrome extension does exactly what Keyword Everywhere used to do and more.
How to Use
Install the Chrome Extension of Keyword Surfer.
Now search for anything on Google and it will show the search volume for that keyword, along with the keyword.
The default search volume is for USA. You can change it to any country by clicking on the flag icon from the sidebar.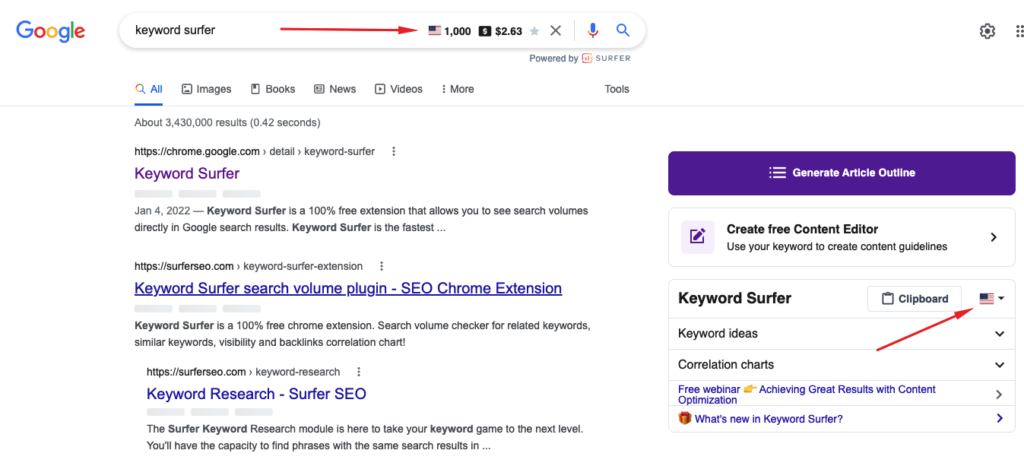 Pros
Free
It works same as Keyword Everywhere, so no learning curve.
Country-wise filtering option
Shows search volume and CPC metrics
Cons
Can not get data for search difficulty
No ads
Pricing
2. Google Keyword Planner
Google Keyword Planner is a popular name in the SEO industry. This is a free tool that helps you find the most appropriate keywords for your article. It is one of the most trusted tools in its category.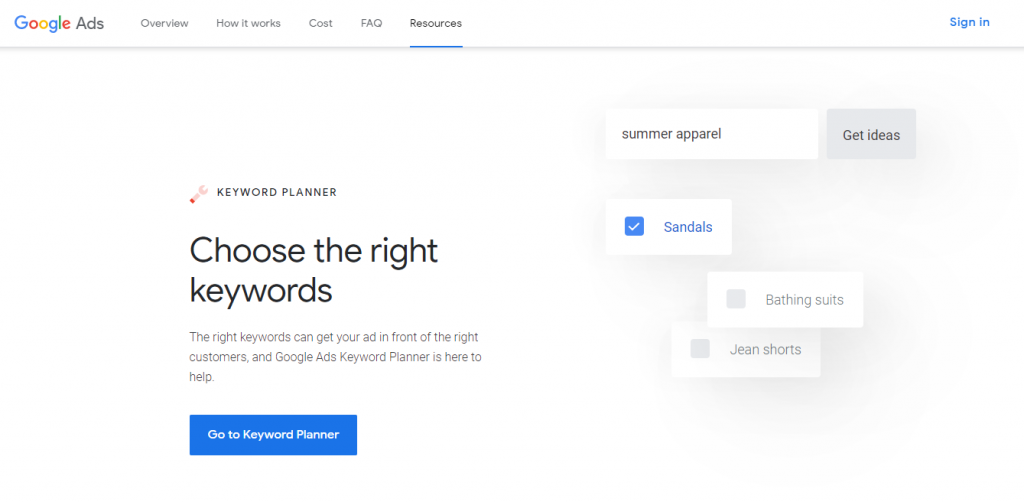 How to Use:
First, log into your Google Ads account.
Click on the Tools icon on the upper right corner of the screen.
Choose Keyword Planner under Planning.
In the "Find new keyword" box, type a relevant word to your advertising and press Enter.
Finally, click on Get Started to get a list of useful keywords.
Pros:
Hyper-local Search Volume feature allows users to view keyword volume based on a very specific geographical area. While the older version allowed users to search in either "local" or "global" columns.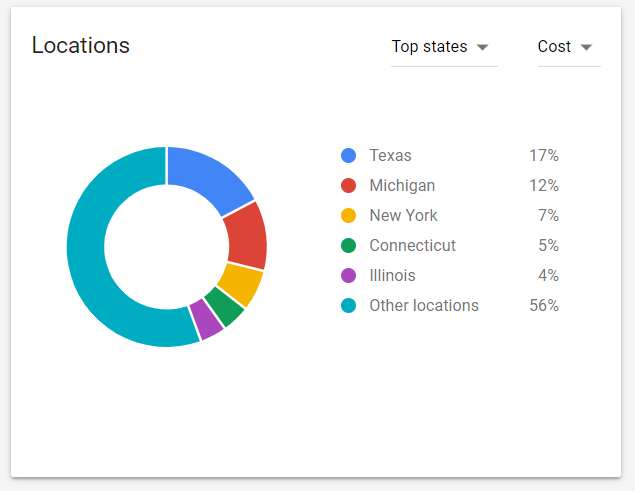 New Ad Groups Tab feature serves to help out with PPC advertising. It's a great tool to check which keywords are related by topic.
Filter Out Keywords Below a Set Search Volume feature lets users filter out keywords if their search volume isn't up to par.
Cons:
Broad and phrase still exist when Google AdWord users choose how keywords are added to campaigns.
There is no more searching option for related terms.
Pricing:
Check out Google Keyword Planner
3. LSI Graph
LSIGraph is another important tool that will provide semantically linked keywords to include in your content. To get the correct related keywords, you must use a research tool like LSIGraph.
How to Use
Go to LSIGraph.
Then enter any keyword to "Enter keyword to generate LSI keywords".
Now click on the Generate button to get a list of LSI keywords.
There are some other parameters like Trend, Volume, CPC, Competition, LSV which are available in the paid versions.
Pros
Find synonyms for your main keywords
Free to use
Fast loading time and easy to use
Up to 20 keyword searches per day if you provide your email address, without that 3.
Cons
No export feature available
No metrics and filters options
Pricing:
4. Google Trends
Google Trends is a great tool to see what is trending on Google. It visualizes how search trends change over time.
How to Use
Visit Google Trends.
Enter a keyword in the search box.
You will see the relative popularity of that search query over the past 12 months.
Let's check the Google Trends data for "WordPress 5.3."
Pros
You can compare different search terms against one another.
Show search interest over a period of time.
A relatively simple graphic interface to show how issues are being searched online over time.
Cons
Some of the data is a bit lacking as it only shows Search results over time and not actual searches.
Google Trends always defaults to the USA country. It would be nice if it would save your search preference.
It would be helpful if it also helped to present the top search results over time.
Pricing

5. WordStream
WordStream is a leading online advertising company that offers software and services for thousands of happy clients. It is very similar to the Google AdWords Keyword Planner and is useful for anybody who needs to do keyword research.
How to Use
Go to WordStream.
Then enter a keyword in the "Enter Keyword or website URL to find suggestions" box.
Optionally you can Choose an industry and select country.
Hit on the Search button and you will get a result like the following screenshot:
Pros
The database is regularly updated and analyzes thousands of searches every day.
Links directly with Google Ads account.
It provides you with competition and important keywords that are targeted specifically for your industry of choice.
Cons
After 30 searches, you have to pay.
Some additional features require signing up with your email address.
Pricing:
Free, limited to 30 searches, email address required for some additional features.
6. Ubersuggest
Ubersuggest is a great tool to spot keyword opportunities whether for SEO or content development. It can provide you with a bunch of long-tail keyword variations, some of which are useful for content marketers.
How to Use
Just visit Ubersuggest.
Enter the keyword in the "Enter a domain or a keyword" and click on the search button. You can also select the country.
You will get a search result having Trends, Volume, CPC, PD and SD like the following:
Pros
Free
Includes platforms other than Google search including images, YouTube, shopping, and news
User-friendly interface
Location with language filtering capabilities
Includes search, competition, and CPC metrics
CSV export options
Filters to add or remove specific words
Cons
No organic difficulty for ranking
Distracting advertisements
Pricing

7. Keyword Sheeter
Keyword Sheeter is another free alternative tool of Keyword Everywhere. It generates a very long list of keywords based on a keyword of your choice.
How to Use
Go to Keyword Sheeter.
Enter your Keyword on the box.
Click on Sheet keywords
You will get a Keyword table like the following
Pros
Filter keywords by using a "positive" and "negative" filter even while keywords are loading
Very simple and easy to use interface
Generates more than hundreds of ideas
Fast load time
Easy export feature options
Cons
No metrics
Not clear where keyword recommendations are coming from
No location filters
Pricing
8. SEOStack
SEOStack is a free chrome extension and from my point of view is the best alternative tool of Keywords Everywhere. It can be used to easily generate a long list of keywords.
If you got used to writing content with Keywords Everywhere – then SEOStack will be a great fit for you. (At least, that's what happened with me!)
How to Use
Just install the extension from here.
After complete, the installation clicks on the SEOStack tool and you will get a window like this.
Just type the keyword in the "Enter seed keyword" field and click on the Start button.
You will get the related keywords.
You can select sources from YouTube, Bing, Yahoo, Amazon, and eBay in addition to Google.
Pros
Generate a list of long-tail keywords quickly and easily
Easy to use
Multiple tabs to get multiple results
Country and language filters options
Suggestions from Google, YouTube, Bing, Amazon, Yahoo, and eBay
Easy export CSV
Get volume and CPC data
Cons
Need Google Keyword Planner to extract CPC metrics
Only for Google Chrome
Pricing
9. Soovle
Soovle is another free tool to get keyword suggestions from Google, Bing, YouTube, Yahoo, Answers.Com, Amazon, and Wikipedia. It provides a complete picture of the keywords that can be found on each search engine, so you can find the keywords that best fit your content.
How to Use
Visit Soovle
Type the keyword in the Soovle search box.
You will get the related keywords like the following
Pros
Simple and easy to to use
Perfect to discover long-tail keywords
Save CSV easily
Get a list of related keywords without loading a new page
Useful demo to see how it works
Cons
No option to get CPC, competition, search volume, and other metrics
Pricing:
WhatsMySERP
WhatsMySerp is a free Chrome extension that helps you get more data about what you're searching on Google, including search volume and cost per click. Tabs for "People also searched for" and "Related Keywords" will also be displayed with respective CPC and volume metrics. This keyword search tool was created to replace the other well-liked options, such as Keywords Everywhere, which have now chosen to charge for their services. The same valuable data is again available for 0$ with WhatsMySerp.
Why using an alternative to Keywords Everywhere makes sense
When the Keyword Everywhere tool became paid I personally started looking for the best alternative free tool. I made this post after the complete research of all the free tools that I mentioned above.
I would suggest you install the Keyword Surfer using those free keyword tools. This chrome extension is the closest Keywords Everywhere alternative that is also free. The chrome extension will show the searches of the keywords right beside Google search, just like Keywords Everywhere used to do.
Are you still using the Google Keyword Planner? Or, using UberSuggest? Let me know in the comments.
https://wphive.com/reviews/keywords-everywhere-alternative/
Saif Hassan
Product Manager by passion & profession. Lead Product Manager at weDevs, former PM @ Poptin. Passionate about writing & tech. He's an advocate of Human-Centered Design and believes that websites and the tools used to build them should be well crafted, intuitive, and accessible. Cyclist. Reader. A WordPress ninja 🥷, HCI expert & a design thinker 💡

Subscribe To Our Newsletter