5 Best Free WordPress SEO Plugins Compared in 2023

Search Engine Optimization(SEO) plays a major role in content writing. It increases search and visibility, and exposure of your brand through organic search results.
However, it is not as easy as it sounds. And it is certainly impossible without any SEO tools.
To help you find a perfect SEO plugin for your site, today, in this post we are going to show you the best free SEO plugins in 2023. Check this list and pick a plugin for you as per your requirements.
But before that let us guide you on why you need an SEO plugin.
But Why You Need an SEO Plugin


Every website needs an SEO plugin. No matter how important social networks can be for a site, SEO is often the most important factor for a site's growth.
Not following SEO best practices, or not doing SEO at all, can be quite detrimental to your site's performance.
Fortunately, there are quite a few efficient SEO plugins available in WordPress that will help your cause and we are going to list the 5 best free WordPress SEO plugins and compare them with WP Hive so that you can choose the best one.
Why WP Hive?
Well, you may have heard the news about the new upgraded version of the WordPress repository WP Hive. It is a platform where you have the opportunity to not only download a plugin but also
Get an in-depth review of the plugin
See the test results based on different performance metrics
Compare plugins to see which one is best
Discover plugins using various categories.
5 Best Free WordPress SEO Plugins

SEO plugins are the extension modules for the content management systems. It has features that impact website analysis, online marketing, and of course search engine optimization.
However, you only need to use one SEO tool as they all have quite similar features with exceptions. So, we are going to list the best SEO tools for you and also give you an insight into their features.
Yoast SEO
All In One SEO
Rank Math
SEOPress
Google Keyword Planner
1. Yoast SEO Plugin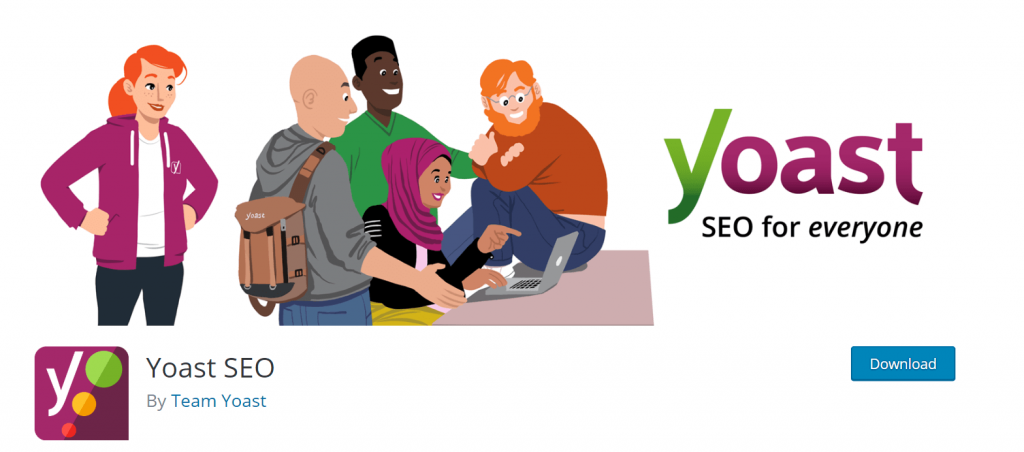 The first on the list of best free WordPress SEO plugins is Yoast SEO. It is one of the most popular SEO plugins with over 5M active installations and 4.7 ratings from 15000+ reviews.
It offers a detailed analysis of your content based on the keyword you have chosen. You can easily get a detailed insight into your writing to make sure it's SEO optimized. Also, it lets you add Open Graph Metadata and social media images to your content.
It has a smooth import system, so you can easily transfer your previous SEO data from the old plugin. Yoast SEO automatically creates an XML sitemap for all your content. Therefore it is easy for search engines to crawl your website.
It has a premium version for $89 that has,
Internal linking suggestions
Content insights
Redirect manager
1-year free access to 24/7 support
However, the free version has enough essential features to help you if you are on a budget.
Related: Rank Math vs Yoast SEO- Which One Should You Go for as a Beginner?
2. All In One SEO Pack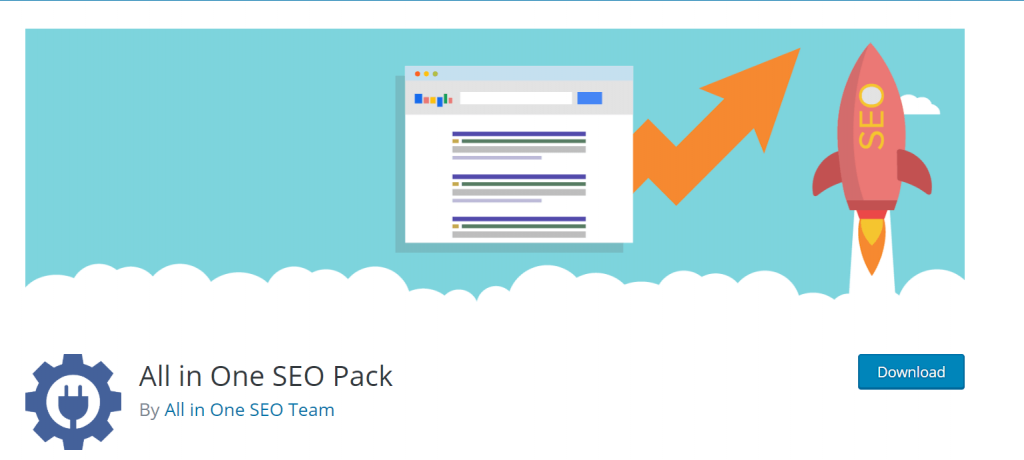 Next on our list of best SEO tools is the All In One SEO Pack. With over 2M active installations it is easily among the best free WordPress SEO plugins.
It lets you add SEO title and meta tags, open graph meta tags, XML sitemaps, image sitemaps, and more. The setup process is easy as it has a feature manager that lets you control different settings. All In One SEO pack support SEO on custom post types.
Also, if you make any changes to your site it will automatically notify search engines like Google, and Bing.
It has 3 kinds of paid versions Individual, Business, and Agency with different prices. Those paid versions offer,
Image SEO Module (Business Plan and above)
Advanced Support for WooCommerce
SEO for Categories, Tags, and Custom Taxonomies
Social Meta for Categories, Tags, and Custom Taxonomies
Support for Google Tag Manager
Advanced Google Analytics tracking
It is more affordable than Yoast SEO, so you can easily go for it.
3. Rank Math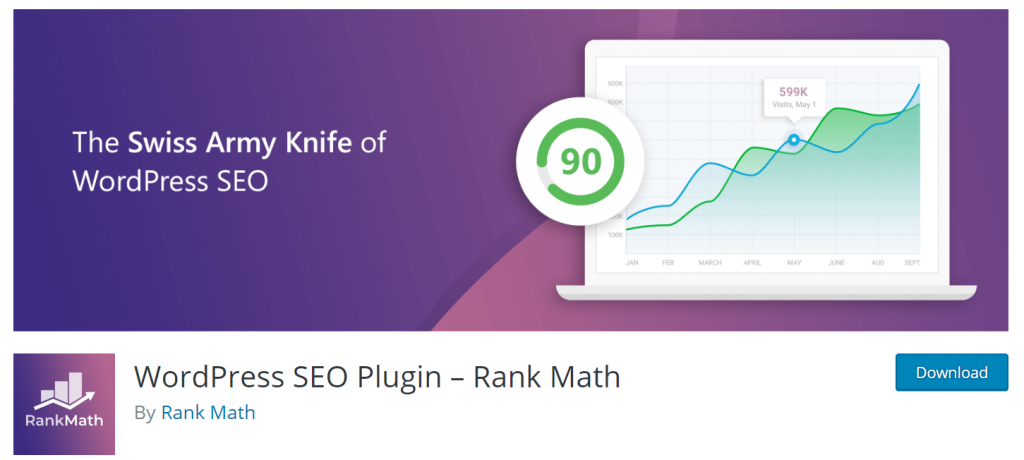 Rank Math is one of the most popular SEO plugins in WordPress with a perfect 5-star rating and over 300k active installations.
It allows you to optimize your website search engines and social media. It has an efficient setup wizard that helps you not only to install the plugin easily but also help you import data from previous SEO plugins.
You can add meta titles, descriptions, and Open Graph metadata to your blog posts. It is a perfect plugin to avoid SEO mistakes.
The plugin allows you to generate an XML sitemap, and connect to Google Search Console.
Rank Math is currently free! But they plan on releasing a pro version soon. But the free version has enough features like,
Module Based System
Smart redirection manager
Local business SEO
SEO optimized breadcrumbs
Deep content analysis test
404 monitor
Which is enough to get you through.
4. SEOPress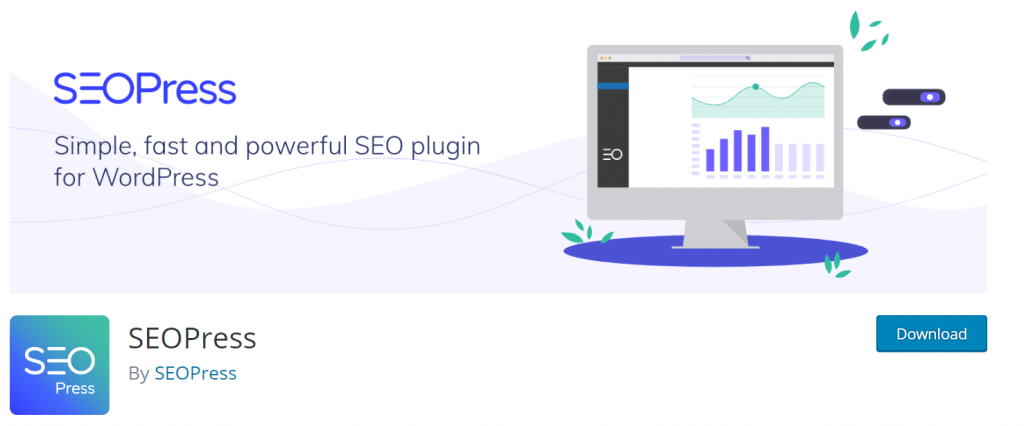 With over 100k active installations, next on our list of best free WordPress SEO plugins is SEOPress. It has got a perfect 5-star rating from its user.
It includes all the features you would expect from an SEO plugin like meta title, description, open graph support, image and content XML sitemaps, redirects, and more.
It is comparable to any other top SEO plugins in the market. Beginners can find an easy setting while for the experts, there are some complicated settings.
It has a pro version for $39 with features like,
Import & Export SEO metadata from a CSV file
Import Redirects from a CSV file
Backlinks
Google XML Video Sitemap
Google Structured Data Types
Robots.txt
5. Google Keyword Planner

All the effort we are putting into Search Engine Optimization so that, Google recognizes us. SO, a tool from them will obviously make our list. That is why we will be including Google Keyword Planner.
No one on the planet has more data on what people are searching for than Google. This tool offers its own keyword ideas from Google itself.
It's free! It is mainly to show their advertisers the keywords they can bid for their campaigns. It gives them an estimate of search volume, number of results, and difficulty level.
More importantly, it helps the bloggers to find keywords that will help them outrank all other sites.
Now, we have listed the 5 best free WordPress SEO plugins for you. But, which one you are going to choose?
Comparing Best Free WordPress SEO Plugins Using WP Hive To Find The Best One
Yes, the concept is exactly how the title shows. One of the main functionalities of WP Hive is that you can compare a plugin with a similar plugin, and based on different metrics it will declare a winner.
So, we are going to use that feature and show the best SEO plugin among the four as Google Keyword Planner is an online tool.
This will not only help you choose the best one but also save your valuable time. As you don't have to go and give a trial one by one.
We are going to start with the process of finding the best SEO tool.
First, go to wphive.com. There on top the menu, you will find an option called Compare.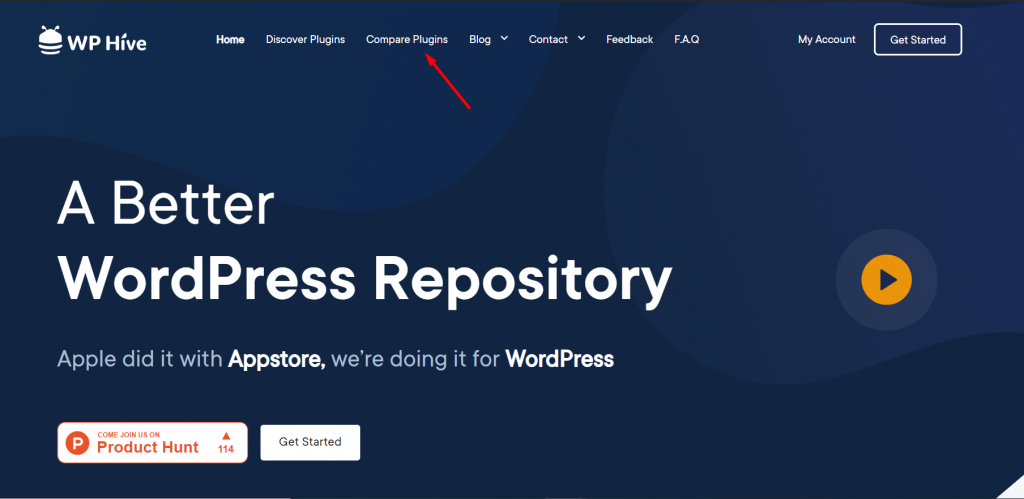 Second, you need to put the names of the plugins you want to compare.
Yoast SEO vs All In One SEO Pack
We are going to start with Yoast SEO comparing with the All In One SEO Pack. Type their name on both text boxes.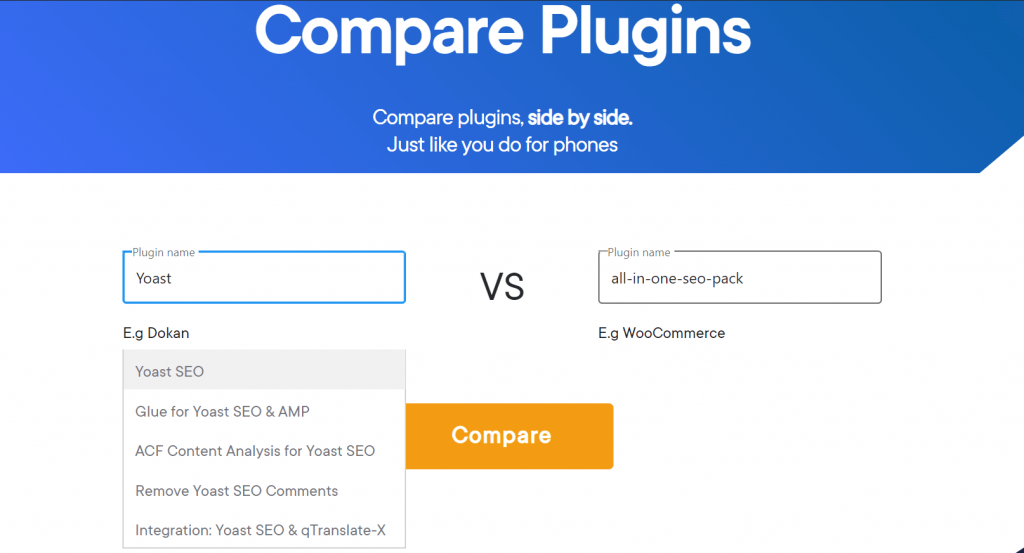 After you hit the Compare button, you will see the comparison based on memory usage, page speed, and other criteria. You can see the metrics.

All In One SEO Pack vs Rank Math
Onto to comparing All In One SEO and Rank Math to find out which one is the best free WordPress SEO plugins among the two.
Write their name in the compare box and hit the Compare button.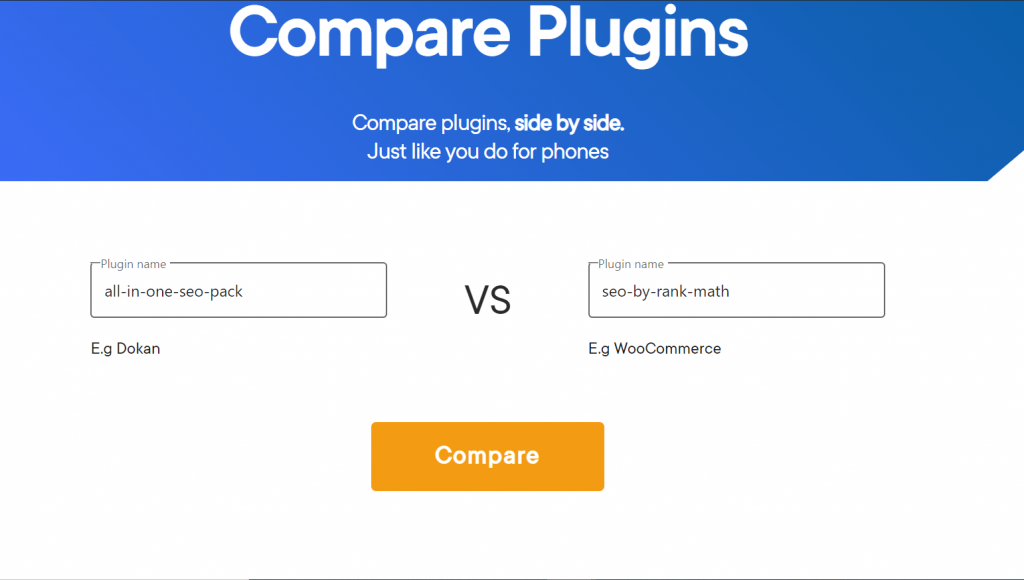 On to the next page to see the winner.

Rank Math vs SEOPress
Last but not the least, we are going to compare Rank Math and SEOPress.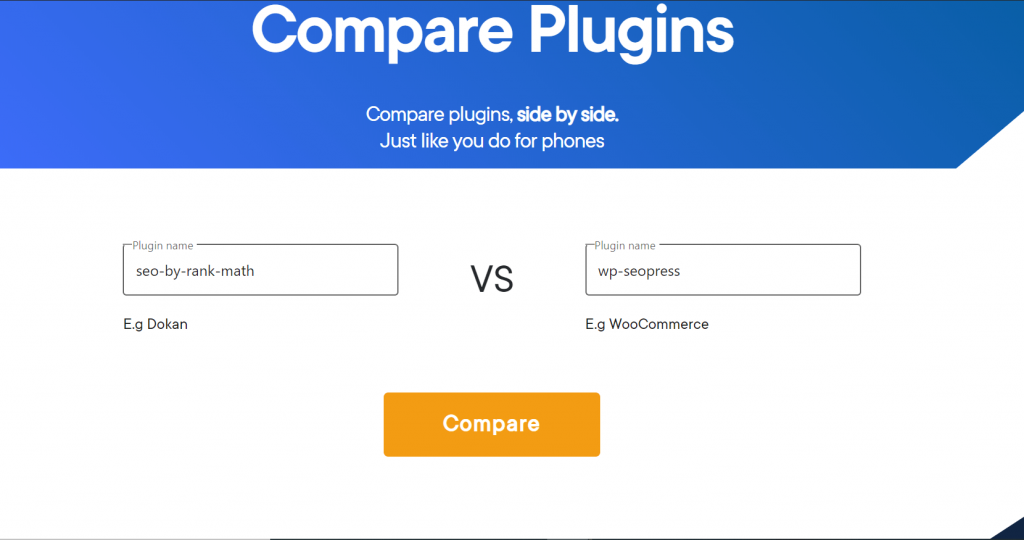 The winner is,

End Result
So, we can say the best free WordPress SEO plugin after comparing using WP Hive among the 4 is,
Rank Math SEO plugin.
You can try with any other SEO plugins than the listed ones and you may get different results.
Final Word
We used to ask Google, expert opinions, ask questions on forums to determine the best plugin. We are not saying it is a bad practice. However, you would get different opinions every time.
That is why we have come up with WP Hive. The answer to all your questions. You can get all the performance metrics and decide for yourself which plugin to choose.
We hope you found our solution to your liking. Do share your opinion.

https://wphive.com/articles/best-free-wordpress-seo-plugins-compared/
Rabbir Shad
Shad is a WordPress enthusiast along with a passion for technology. He loves football, reading books, watching movies, and tv series in his free time.

Subscribe To Our Newsletter