Top WordPress Multilingual Plugins Compared in 2023

If you have audiences from around the globe, then creating your content in more than one language is probably the best idea to get more engagement. Though English is the most used language on the web, certainly it's not 100%.
In a study by W3Techs, English was found to be the language used by 59.6% of websites surveyed, making it the most prominent language on the web by far.
So, if you want to get more visitors to your site by providing content in multiple languages, it's time to turn your website multilingual. You can make your site multilingual, simply using a WordPress multilingual plugin. And we will provide you with a list of the best plugins that you can consider.
Why WordPress Multilingual Plugin Matters


Using a WordPress multilingual plugin, we can get massive SEO advantages. Suppose, you have blogs on your site translated into other languages like German and Spanish.
Google crawls and indexes them separately for different languages. Thus you can get a better SERP result for native users.
Kinsta says,
We saw an 18% increase in overall organic traffic by translating our blog into 10 different languages.
As we know English language blogging market is already saturated. So, translating your site into other languages gives you the guarantee to get better organic traffic.
Neil Patel tried this very strategy and received a massive 47% increase in organic traffic.
Besides the SEO advantage, having a site in the native language is going to automatically result in a much better user experience. And a better user experience can affect everything from your conversion rates, time on site, and bounce rate.
Selection Criteria to Choose a Multilingual Plugin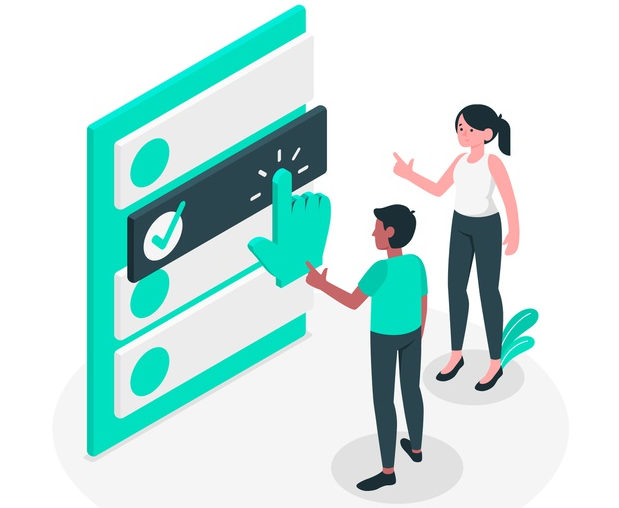 We are going to share with you a hand-picked list of the best WordPress multilingual plugins. Having said that we have followed a criterion to pick these plugins. Here we are disclosing the parameter that we had focused on while choosing a plugin.
Top Features: We choose plugins that come with cutting-edge technology and modern features.
Number of Active Installations: More number of active installations means more people are loving it. So, we prioritized plugins that have more active installations.
Review & Rating: These are the real-time data from the users. That is why we focused on how people are talking about the plugin.
Number of Languages Supported: As these are WordPress multilingual plugins, so took a special look at how many languages they support.
WPHive Insights: Using the WPHive chrome extension, you can get insights about any WordPress plugin you wish to. Like does this plugin have any issue with PHP or WordPress's most updated version compatibility or does this plugin provide regular updates? So, before choosing a plugin, we made a WPHive test and if it passed then we picked that plugin.
Top WordPress Multilingual Plugins for 2023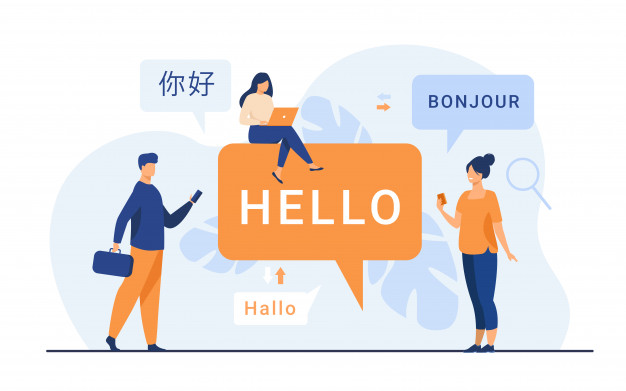 When it comes to the WordPress multilingual plugins, there is quite a long list of plugins are available. Then again we have filtered those plugins with our parameters and made a list that we have mentioned right below.
ConveyThis
Loco Translate
Polylang
GTranslate
TranslatePress
Google Language Translator
Weglot Translate
Bogo
But before that always remember the below quote:
It's crucial to make sure your choice of WordPress multilingual plugins is compatible with your theme. It's a good idea to take a full backup of your website before installing any plugin if you aren't sure about compatibility.
ConveyThis

If there is one truly convenient way to translate your website, it must be through ConveyThis!
It is the most translated language plugin in the WordPress directory (over 38 language contributions) and is growing fast. ConveyThis makes it very simple to integrate into the WP website and activate as many as 100+ languages.
ConveyThis uses automatic machine translation to translate your entire site and adds a language switcher button. So within the first couple of minutes, you'll already have a working, SEO-friendly multilingual site.
It comes with both free and paid plans. A free plan that lets you translate up to 2,500 words into one language, the paid plans use SaaS-style billing, which means you'll need to continue to pay for as long as you want to use the service.
Key Features of ConveyThis
Translate to 100+ languages
Fast and accurate automatic machine translation
Translate attributes, alt text, meta-text, and page URLs
100% compatibility with all themes and plugins (including WooCommerce)
SEO-optimized (all translated pages will be indexed by Google, Bing, Yahoo, etc.)
Active Installations: 2000+
Ratings: 4.6/5
Pricing Plans: Paid plans start at €4 a month for one language and up to 10,000 words.
Loco Translate


Loco Translate is a WordPress multilingual plugin that provides in-browser editing of WordPress translation files and integration with automatic translation services. You can directly translate all the pages, posts, menus, widgets, etc. Moreover, you also directly translate all the texts of WordPress themes and plugins from your dashboard.
Apart from these, Loco supports keyboard shortcuts for faster translating. It also provides Gettext/localization tools for developers, such as extracting strings and generating templates.
Key Features of loco translate
Integrates with translation APIs including DeepL, Google, Microsoft, and Yandex
You can extract translatable strings from your source code
Support for PO features including comments, references, and plural forms
Built-in translation editor within WordPress admin
Create and update language files directly in your theme or plugin
Active Installations: 1+ Million
Average User Ratings: 4.8/5
Polylang

Polylang is one of the top-rated and most downloaded WordPress plugins to create a bilingual or multilingual WordPress site. It's super easy to use. All you need to do is, write posts, pages and create categories and post tags as usual, and then define the language for each of them. The translation of a post, whether it is in the default language or not, is optional.
You can use as many languages as you want. RTL language scripts are supported. WordPress language packs are automatically downloaded and updated. You can translate posts, pages, media, categories, post tags, menus, and widgets.
Key Features of Polylang
It supports Right-to-Left (RTL) language scripts
Browser language detection option for translations
You can use a subdomain or separate domain for each enabled language
Categories, post tags as well as some other metas are automatically copied when adding a new post or page translation
A customizable language switcher is provided as a widget or in the nav menu
Active Installations: 600,000+
Average User Ratings: 4.7/5
GTranslate

GTranslate plugin uses Google Translate automatic translation service to translate WordPress sites with Google power and make it multilingual. It gives you the opportunity to translate more than 100 available languages. That's how your site will be available to more than 99% of internet users.
The paid version of GTranslate is fully SEO compatible which will increase your international traffic and sales. This translation plugin is a budget multilingual WordPress solution that combines automatic and human translations to save money and is easy to implement.
Key Features of GTranslate
The plugin supports all right-to-left (RTL) languages
Integration with Google Analytics for tracking the results of your translations
The auto-switch option translates content based on the browser language
Provides lazy loading for language flags to boost performance
Makes sure neural machine translations with human-level translation quality
Active Installations: 200,000+
Average User Ratings: 4.9/5
TranslatePress


TranslatePress comes with a super easy-to-use user interface that anyone can use. The interface allows you to easily translate the entire page at once, including output from shortcodes, forms, and page builders. It also works out of the box with WooCommerce.
TranslatePress also integrates with Google Translate to enable automatic translations. You can then manually translate the Google-translated content to ensure it reads correctly in the context of your website.
Key Features of TranslatePress
It is compatible with most WordPress themes and plugins
You can boost your site rankings with SEO-friendly URLs for multiple languages
It offers more features such as translation-block CSS class, language switcher shortcode, conditional displays, and more
It fully supports WooCommerce so, you can translate WooCommerce Store easily
Active Installations: 100,000+
Average User Ratings: 4.5/5
Google Language Translator


Google Language Translator is a family member of the GTranslate. It automatically connects to Google translate API and can fetch translations for any supported languages. Using the Google Language Translator, you can translate any posts, pages, categories, tags, menus, widgets, themes, and plugins.
It allows you to add a language switcher to easily translate your web pages, or you can automatically translate content based on the user's browser language.
Key Features of Google Language Translator
Google Analytics integration
Multilingual SEO – Enable search engine indexing
Neural machine translations with human-level translation quality
Increase traffic and AdSense revenue
Search engine friendly (SEF) URLs
Active Installations: 100,000+
Average User Ratings: 4.7/5
Weglot Translate

Weglot Translate is easily installable and quick to set up. It is fully compatible with all platforms like WordPress themes, and plugins. You can translate your WordPress website into 100+ languages within minutes, with no coding required. It follows Google's best practices for multilingual website translation, serving all translated web pages with clean source code.
More surprisingly, Weglot Translate makes it easy to migrate from other WordPress multilingual plugins like Polylang or WPML. Simply deactivate your existing translation plugin and install Weglot Translate.
Key Features of Weglot Translate
Manage and edit all of your translations through a user-friendly interface
Collaborate with team members and trusted translators to translate together, directly inside Weglot
Weglot Translate's in-context editor lets you translate directly within the webpage
The language switcher is fully customizable for multiple design choices
It's optimized for SEO
Active Installations: 40,000+
Average User Ratings: 4.8/5
Bogo


Bogo is a straight-forward multilingual plugin for WordPress. One unique feature of Bogo is, it does not create any additional custom table on your database, unlike some other plugins in this category. This design makes Bogo a solid, reliable and conflict-free multilingual plugin.
With more than 9000 active installations and 4.5 user ratings out of 5 till to date, Bogo has been proving itself a promising WordPress multilingual plugin. It's a perfect plugin for translating your blogs and pages.
Key Features of Bogo
Bogo lets each logged-in user select a language for their admin screen UI
Bogo provides the Language Switcher widget
Increase traffic and AdSense revenue
It's an SEO-optimized plugin
The Bogo plugin assigns one language per post
Active Installations: 9000+
Average User Ratings: 4.5/5
Compare Plugins Yourself & Choose the Best One

If you are still confused about which one you should choose for your website, nothing to worry about, you can make a comparison among all the plugins. And then you can choose the best one for your site.
Yeah, that's right. WPHive gives you an opportunity to compare everything like memory usage, page speed, compatibility, and many more between two plugins.
For example, we will compare two plugins to find out which one is more promising to use. Our first pick is Loco Translate and our second choice is Polylang. Okay! Let's get started.
Memory Usages: At first, we focus on which plugin consumes less memory. As we know less memory consumption is better for a plugin.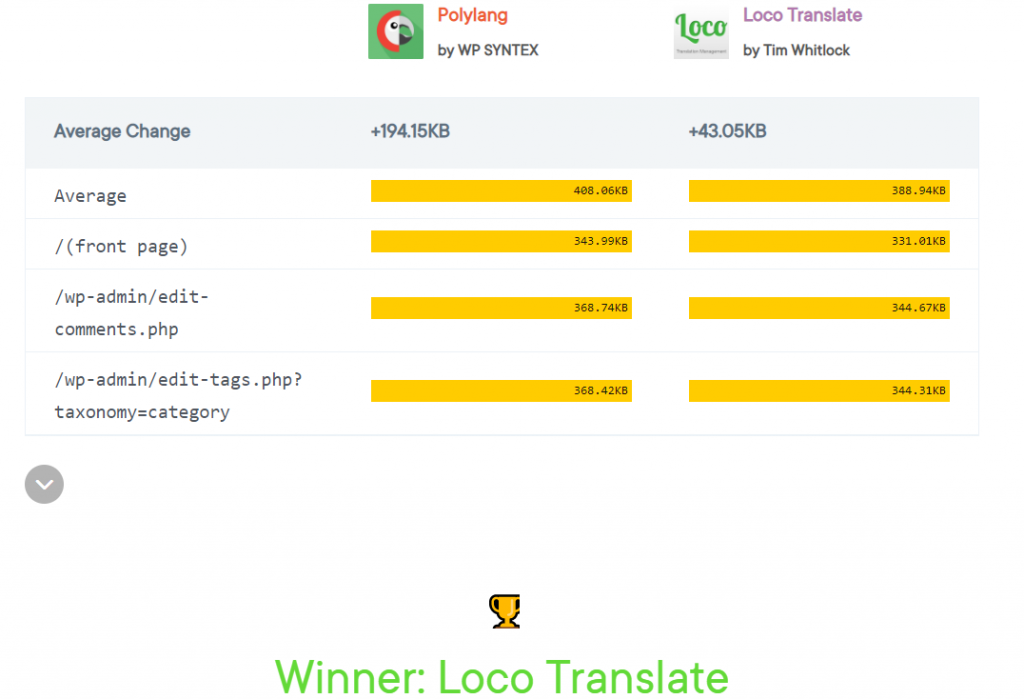 We can see that Polylang consumes +194KB whereas Loco consumes only +43KB. So, it is clear that Loco is the winner of this round.
Page Speed: Page speed is another crucial factor to check before selecting a plugin. A less time-consuming plugin ensures a faster website.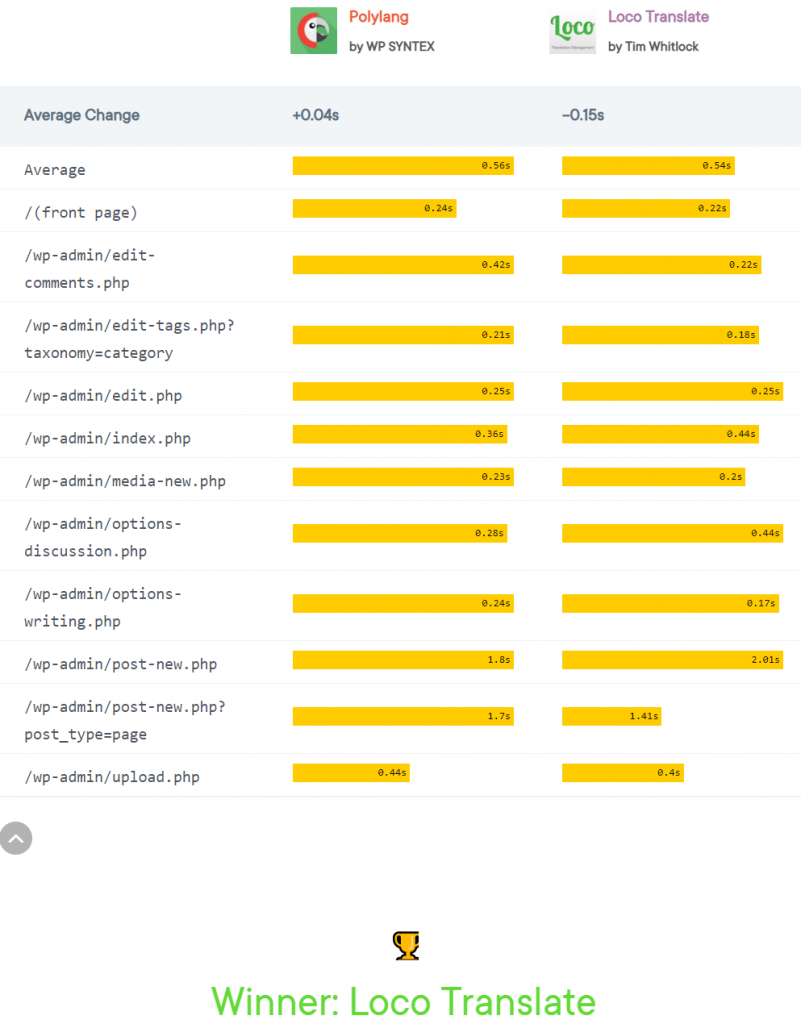 Loco Translate wins this phase too in competition with Polylang.
Other Criteria: In this stage, we will check other criteria like PHP, JavaScript, and WordPress compatibility, HTTP, Database, and many more.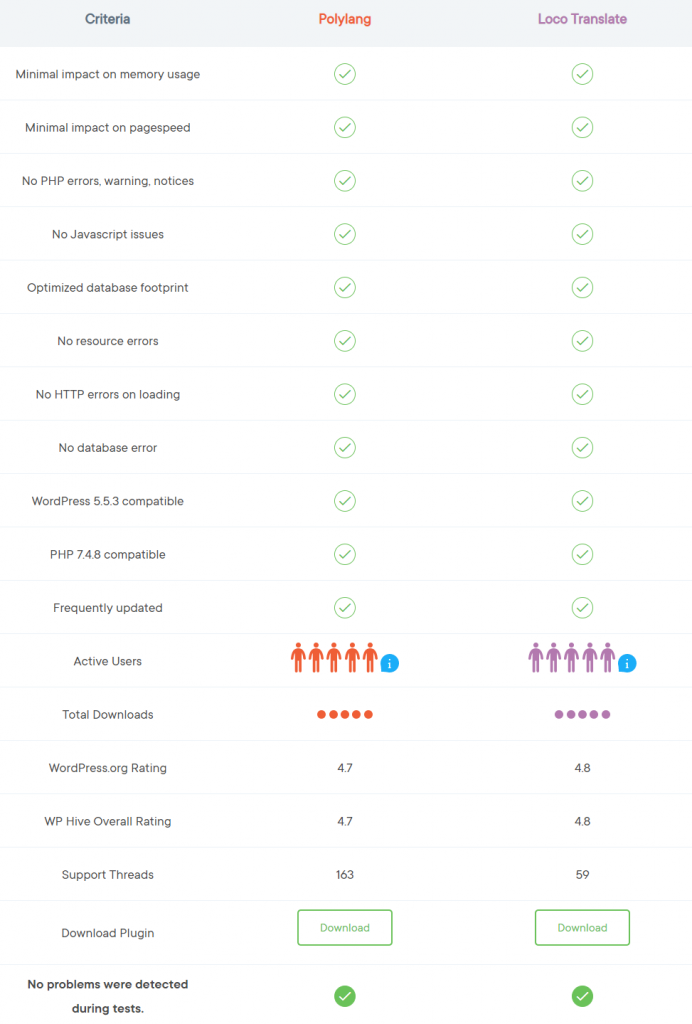 You can choose Loco over Polylang if you don't have any special requirements to look after.
You can make this comparison between any two plugins anytime you want to.
WordPress Multilingual Plugins- FAQs
Can WordPress support multilingual?
Yes, WordPress supports multilingualism. It can automatically redirect users to a language based on their region, or users can select their preferred language using a dropdown link.
How do I make my WordPress multilingual?
You can make your WordPress site multilingual using a WordPress multilingual plugin. Just choose a free plugin from the repository, install, and activate it on your site. Then turn your site into multilingual with the help of that plugin.
Should I blog in my native language?
It actually depends on your target audience. You can blog in your native language if your target audience is only from your language and it's a tiny number. If you want to target an audience from around the world, you should choose mostly used languages like English, Spanish, and so on.
What is the best WordPress multilingual plugin?
There are a few WordPress best plugins available for you-
1. ConveyThis
2. Loco Translate
3. Polylang
4. GTranslate
5. TranslatePress
6. Google Language Translator
7. Weglot Translate
8. Bogo
Over to You
If you want to take the advantage of this multilingual world, make sure your site is multilingual too. These WordPress multilingual plugins are an easy and quick way to translate your website's language to suit your visitors.
If we have missed your favorite WordPress language plugin, let us know.

https://wphive.com/reviews/best-wordpress-multilingual-plugins-compared/
Shams Sumon
Shams is a content writer with a passion for making WordPress topics easy to understand for everyone through conversational and storytelling approaches. With a background in the WordPress industry since 2019, he has developed a knack for breaking down complex technical concepts into digestible bites. When he's not crafting engaging content, Shams can be found watching football matches, catching up on the latest movies, or exploring new destinations to rejuvenate himself.

Subscribe To Our Newsletter