An Analysis of 30000 Free WordPress Plugins

WordPress plugins respiratory offers all kinds of customization for site admins. With 55,000+ options to choose from in the free WordPress Plugin Directory, it may be difficult to sort the best from the good. This analysis of free WordPress Plugins will help you to choose the best.
So, here's an analysis of free must-haves, the WordPress plugins that can help take your site from good to great.
If you visit the WordPress plugins respiratory, you will get a list of Block-Enabled Plugins, Featured Plugins, Beta Plugins, and Popular Plugins.
WordPress.org Plugins Review
If you explore any one plugin of the respiratory, you could see some common characteristics of popular plugins.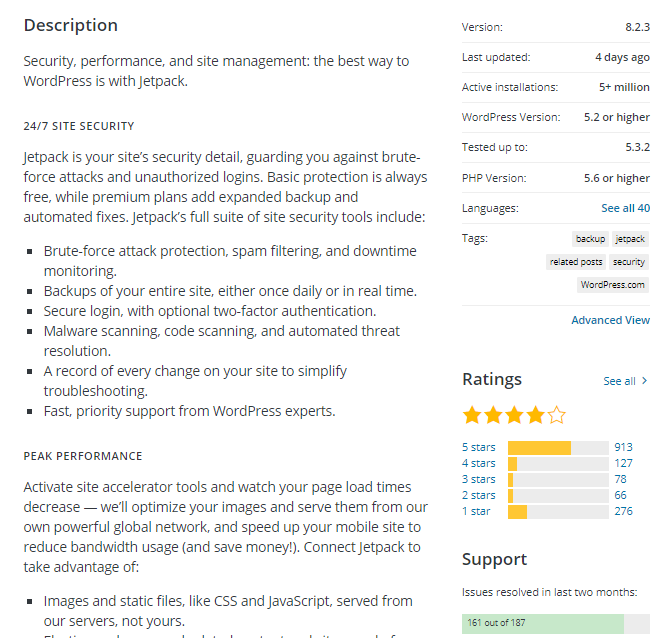 The common characteristics that you could see:
Last updated;
Active installations;
Ratings – total number of reviews and the average rating score (1 to 5 stars);
Support – total number of support threads in the forum.
Analysis of WordPress.org Plugins Free
In my analysis, I have not included recently added plugins, because these plugins have no objective data.
My analysis will focus on plugin active installations, the total number of downloads, the number of ratings, number of support threads (in the last month).
Free WordPress Plugins Analysis
Analysis of WordPress plugins is limited to those that are detectable through passive analysis. In this instance, passive analysis is through the examination of a regular web request and parsing the HTML and HTTP headers.
You may also like: 11 Best WordPress Gallery Plugins for 2023
SEO Plugins
When it comes to improving the SEO of any WordPress site, there are two plugins that come to mind; 1. WordPress SEO by Yoast and 2. All in One SEO. The best thing about these plugins is they are open-source software. A new contender has entered the scene – SEO Framework.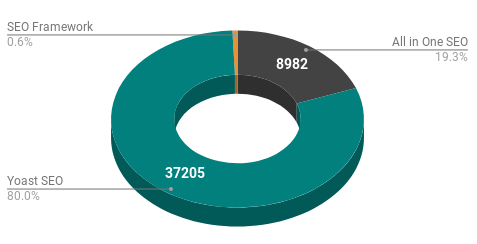 Top 50 Plugins With The Highest Number Of Active Installations
Here are the lists of the top 50 plugins with the highest active installations.
Top 50 Plugins With The Highest Number Of Ratings
Below are thirty of the most viewed plugins you should consider when building and hosting your WordPress website:
Top 50 Authors With The Highest Number Of Published Plugins
Top 100 Popular Plugins
The top popular plugins are:
Top 100 Most Used Words in Plugin Names
WooCommerce
widget
post
custom
form
simple
page
easy
product
image
contact
gateway
payment
google
builder
slider
social
manager
gallery
forms
admin
woo
posts
login
content
integration
lite
user
search
menu
advanced
media
responsive
block
elementor
SEO
shortcode
blocks
button
free
analytics
email
Facebook
popup
order
chat
Gutenberg
video
add
live
feed
disable
share
API
gravity
ultimate
editor
bar
category
theme
auto
pro
link
checkout
products
cart
shipping
list
remove
digital
web
generator
pages
images
widgets
mobile
WC
from
your
shortcodes
text
booking
comments
dashboard
hide
map
display
featured
fields
links
visual
portfolio
add-on
code
redirect
embed
CSS
carousel
youtube
import
Conclusion
With tons of WordPress plugins available, it is difficult to ignore the next popular plugin that claims to change your blogging life. In the case of a website with the perfect features, you might ignore your actual goal—attracting the perfect audience. So ignore the instinct that tells you to install the next excellent plugin, and listen to the voice of reason. Just choose from the necessary plugins that I've listed above and take your focus where it should be-towards your audience. I hope you have found the time to express your gratitude to those who have helped you build your own blog(s). 
https://wphive.com/reviews/an-analysis-of-30000-free-wordpress-plugins/
Editorial Staff
Editorials from WP Hive staff.

Subscribe To Our Newsletter