Rank Math Content AI – Your SEO Content Writing Assistant for WordPress

Writing great content is the only way to build a solid foundation of valuable resources that can help your company establish its industry authority. However, for that, at first, you need to get traffic to your site.
On today's internet, to get traffic, you need to rank higher in search engine results. This is because Google and other search engines have become the main source of traffic for the websites. That's we are seeing more and more tools coming into the market, aiming to help our content become more SEO-optimized.
One of the latest addition to this list is Rank Math Content AI. This new tool from RankMath works as a personal writing assistant. We will talk about what this means for you in the next sections of our article. As RankMath stated –
Content AI will hold your hand while you write and ensure the content you create is worthy of top Search Engine Rankings.
In this article, we will dive deep into RankMath's Content AI to know what exactly this tool does and how to use this tool. We will also explain to you the pricing model (which is quite complex right now).
Now without further ado, let's get to it.
How Rank Math Content AI Generates the Suggestions


Rank Math Content AI provides actionable suggestions based on the keyword and target country provided by the user.
These suggestions include the proper length of the content or the number of headings. The Content AI will also tell you how many links to insert, and how much media to upload.
However, answering the question of WP Tavern on how the bar is generated, Rank Math CEO Bhan Ahluwalia said the following
"This is a computation performed based on the top-ranking content in search engine results pages (i.e., characteristics of content that ranks)."
So the easiest conclusion is that they analyze the data of already ranked pages on that keyword and generate recommendations using those data.
The Key Features of Rank Math Content AI – What to Expect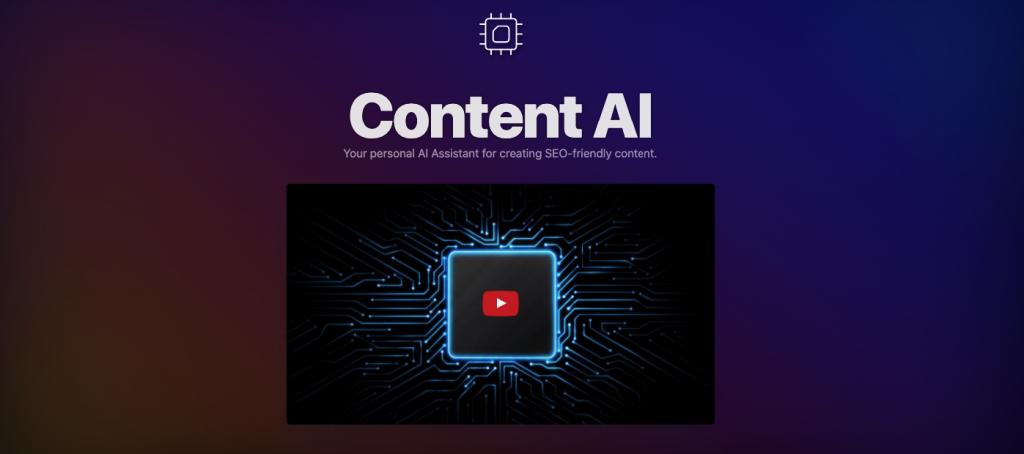 Rank Math Content AI aims to help you become a better content writer with all the great features it has to offer. However, it is still a new tool. Thus, we're assuming it still has a lot more features to become a complete package. As of now, the tool offers the below features. To generate the suggestions, all you need to input are the focus keyword and your target country.
Word Count and Number of Heading Suggestions: Rank Math Content AI recommends how many words the article should have and how many headings to use.
Keyword Suggestion: Often we optimize our article with a couple of different keywords other than the focus keyword to give it a better chance to rank. Content AI shares a couple of important keywords to use along with your focused keyword. They also share a couple of different lists of keywords for Content Body, Heading, Title, and Meta Description.
Keyword Information: The Keywords provided by Rank Math Content also have other information such as Search Volume, CPC, and Ad Competition that can help decide which keywords to use and which to ignore.
Related Keywords: Rank Math also provides some related keywords along with important keyword suggestions.
Related Questions: With Google emphasizing more and more on PAA or People Also Ask, Rank Math Content AI shares related questions to answer based on the keyword.
Links Recommendation: Rank Math's smart suggestion also includes possible external links that you should add.
How to Use Rank Math Content AI
The features sound really promising. Now let's show you how to enable and use this tool from Rank Math, step by step.
1. Turning on Content AI
If you have Rank Math pro installed on your website, you can enable Content AI by following the below method. (Even if you have the free version installed on your site, you will find the Content AI, but with the ability to research just 5 keywords).
First, navigate to WP Admin Dashboard > Rank Math > Dashboard.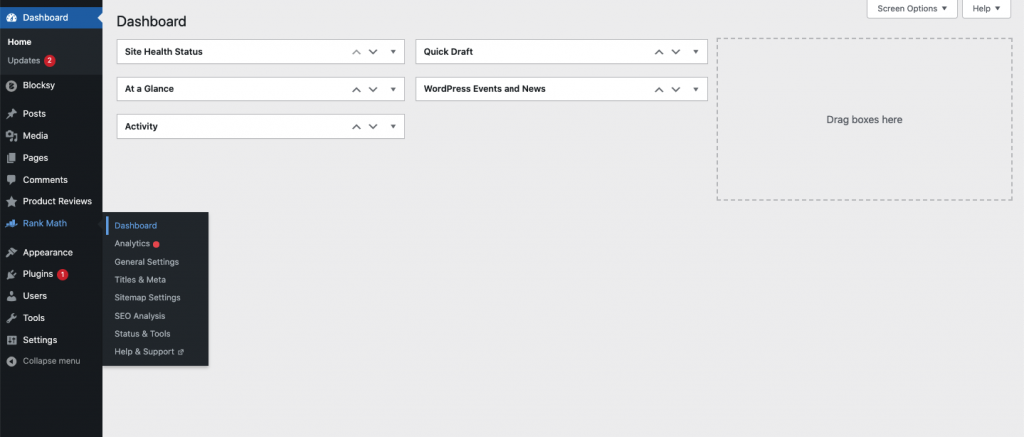 Now enable the Content AI module from the page.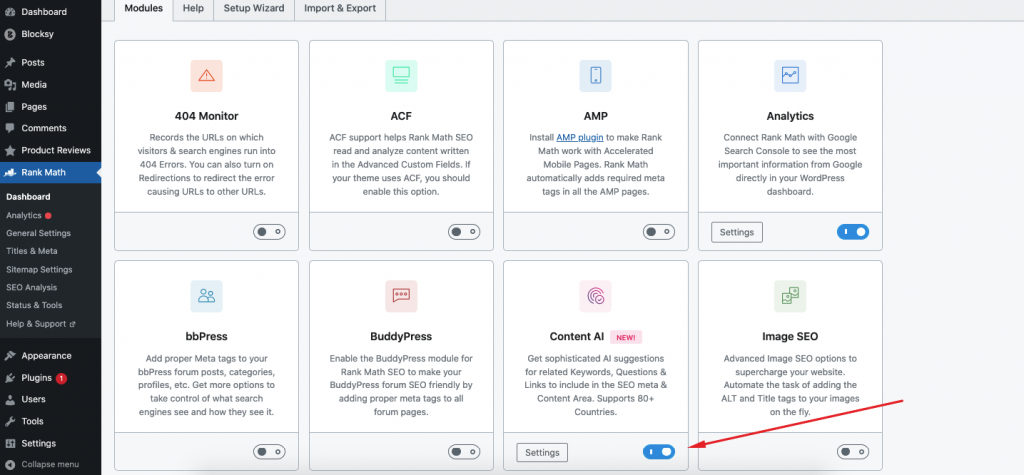 That's it, Content AI has been activated on your website. Now you can find the Content AI option on your blog post sidebar, inside the Rank Math option.
2. Exploring Rank Math Content AI Suggestions from Post Edit Page
To view the Rank Math Content AI suggestions after enabling the tool, access the editor page of any blog post.
Click on the Rank Math button from the top right section.

Now, click on the Content AI option that you will see just beside the Focus Keyword box.

After that, insert your preferred Focus Keyword. Also, don't forget to add the target country for the keyword.

After that, it will take some time to generate the data and will show you shortly after. As you can see from the image above, primarily you will see the Word Count, Link Count, Heading Count & Media Count.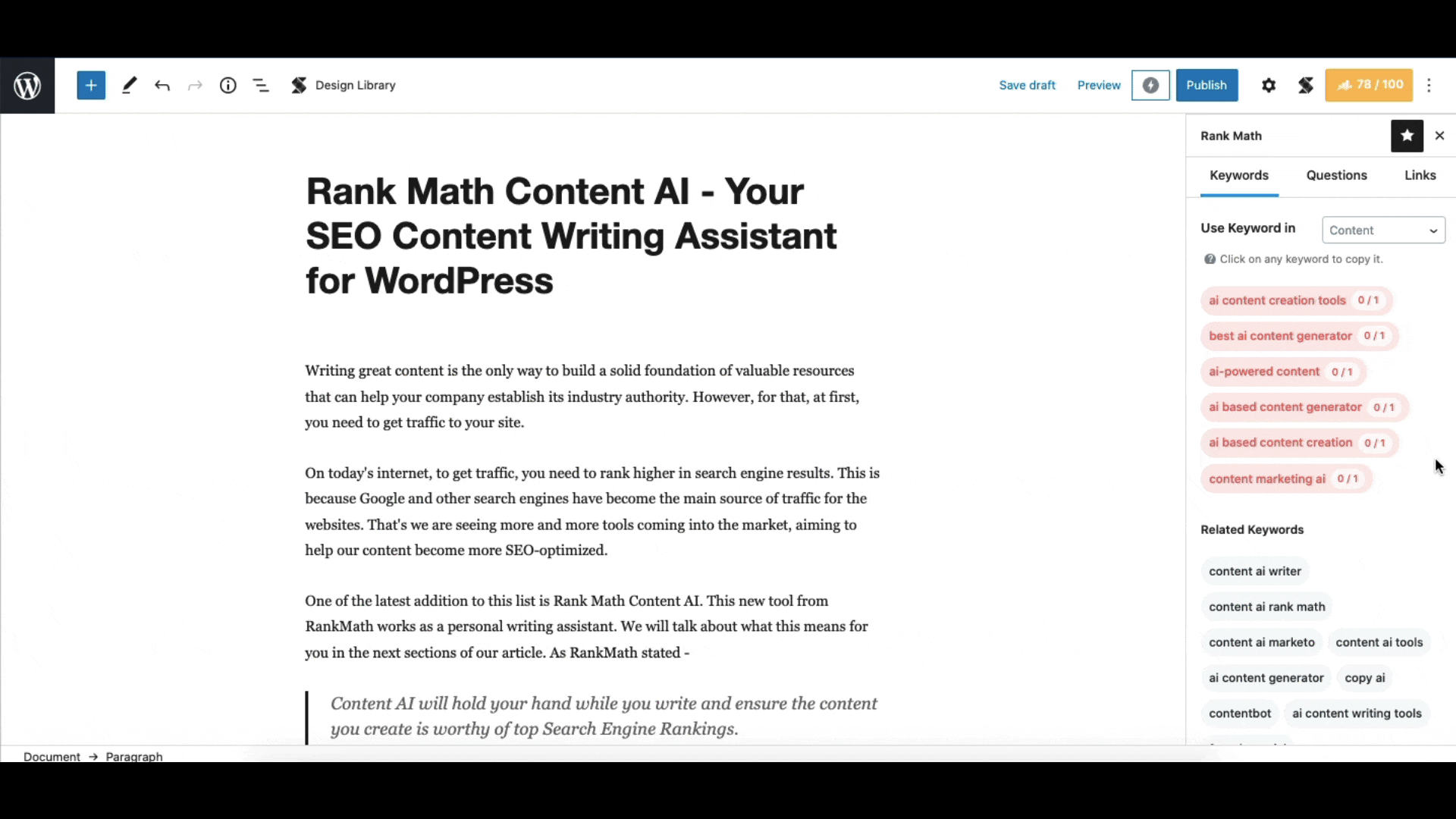 Each keyword also shows Ad Competition, CPC & Volume if you hover them.

You will also find related questions to your keywords along with the Keywords tab.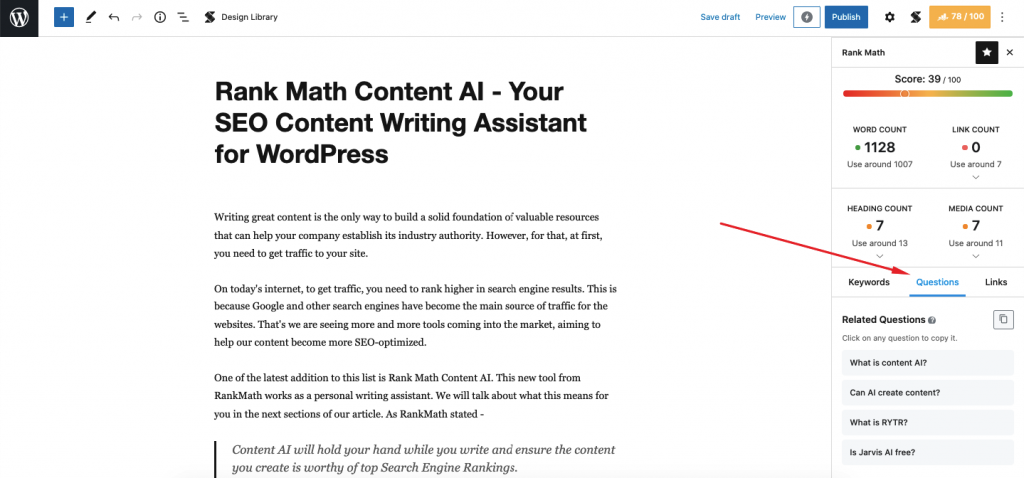 If you click on the Copy icon on the Questions tab and paste it on the blog, it will automatically add the questions to the Rank Math FAQ Block. There is also a link tab that you can see from the image above. However, we did not find any good suggestions from the link tab.
3. Understanding Rank Math Content AI Score
As you write, and add links, heading, media, and keywords, the score of Rank Math Content AI updates automatically.
Please note that the Rank Math SEO score and Rank Math Content AI score are different from each other. According to Rank Math –
The SEO score is a measure of how well your content is optimized for the basic SEO practices. To calculate the SEO score, Rank Math performs basic SEO tests on your content to see if it uses focus keyword(s), links to external resources, etc.
So, now that you know how to use the Rank Math Content AI, and what the score means, let's get ahead know the pricing model of this tool.
Rank Math Content AI Pricing
Rank Math Content AI doesn't need to be purchased differently other than their SEO plugin. Instead, Rank Math introduced a credit system for using the Content AI. Each credit will allow you to research a single keyword. That keyword will then be stored against your email, so it will not cost you another credit if you search for that keyword again.
The free plugin of Rank Math comes with 5 free credits of Content AI. The pro, business, and agency plan comes with 15, 125 & 600 Content AI credits respectively.

Surprisingly, Content AI credits are only granted as a part of their launch benefit and cannot be purchased separately. You can only upgrade your subscription for additional paid credits.
Rank Math Content AI – Still a Long Way to Go
Rank Math Content AI claims to make groundbreaking changes to how we write and optimize our content within WordPress. While it does generate some cool and convincing-looking suggestions, not all the information seemed to be reliable. We believe the tool is still far from comprehensive and will take some time to reach its full potential.
When checking some of our top articles, we found they were presented with not very good scores with Rank Math Content AI. However, all those articles were ranked among the top 3 or on the first page of Google.
With that being said, the heading count and media count are quite good indicators for beginners as they tend to use fewer numbers of heading and media, making the article hard to read. Overall, we think, like other tools, Rank Math Content AI also has its usage. But similarly, it should not be taken as the standalone, fixed set of information to write SEO optimized article. As the Rank Math CEO also said –
We completely agree, and while AI content has come a long way, we're very much also still fans of well-researched content that's put together by humans like you and I (as is all of the content on our own blog)
Like any other writing assistant, this is also an assistive tool, not something that you can 100% rely upon. Being the first of its kind in WordPress, it has its potential but it still has a long way to go.
Want to be the first to know when we publish our results of using this plugin in the future? Then you should definitely subscribe to our newsletter.

https://wphive.com/seo/rank-math-content-ai-seo-writing-assistant/
Faisal Sarker
Faisal is a tech blogger who excels at WordPress Content Writing. Apart from sharing useful info pieces that help people around the world, he also likes to travel and read books of all genres in his leisure time.

Subscribe To Our Newsletter