7 Best WordPress FTP Plugins to Manage and Securely Transfer Your Web Files

Your website is a combination of varieties of files, folders, plugins, commands, and codings. To run it seamlessly you have to edit and update many of these elements from time to time.
But doing this through the WordPress dashboard or cPanel is not always efficient. Because you can't see the overall status of all your web elements together through these two means.
Using an FTP client can help you solve all these file management agonies. This article will present to you the best FTP clients for WordPress to let you choose the right one for your website.
Before that, we'll cover some basic burning questions. Let's get started without wasting any more time!
What is FTP?


FTP stands for 'File Transfer Protocol'. So, how does FTP work? It gives you access to your web host server. Using this access, you can check all your files behind your website, anytime. If necessary, you can edit and update them.
Also, you can upload and transfer files from your computer to the website. Even from one website to another. And for that, neither you have to log into your cPanel, nor WordPress dashboard.
The Myth of WordPress FTP Plugin
The FTP plugin enables you to manage all your web elements from the WordPress dashboard. Unfortunately, not too many dedicated WordPress FTP plugins have been developed so far.
But you'll find countless WordPress file manager plugins by which you can get the same experience of using an FTP client. The main difference between these two is that you have to use the WordPress dashboard for File Manager.
But for FTP clients you don't need to depend on anything. At the end of this article, we'll recommend to you some best WordPress file manager plugins by which you can get FTP-like support. Keep reading.
What Are the Benefits of Using FTP Clients for WordPress Sites?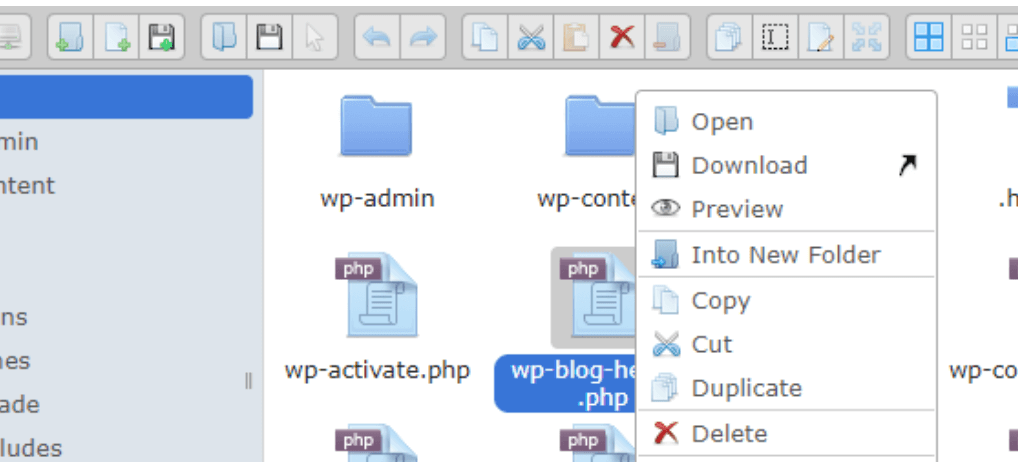 FTP clients can make the following things easy to do on your website.
With an FTP client, you can upload a large number of files to your hosting server. You won't have to upload them one by one from your WordPress dashboard.
It can help you troubleshoot to find out any hidden conflict within your website.
You can instantly make a change to your web files and create directories whenever you wish.
Also, you can delete or update your existing plugins and change the running theme if necessary.
Best WordPress FTP Clients
Now, we'll discuss the best-performing WordPress FTP clients in this section. This will help you choose the right one as per your requirement to organize your web files.
FileZilla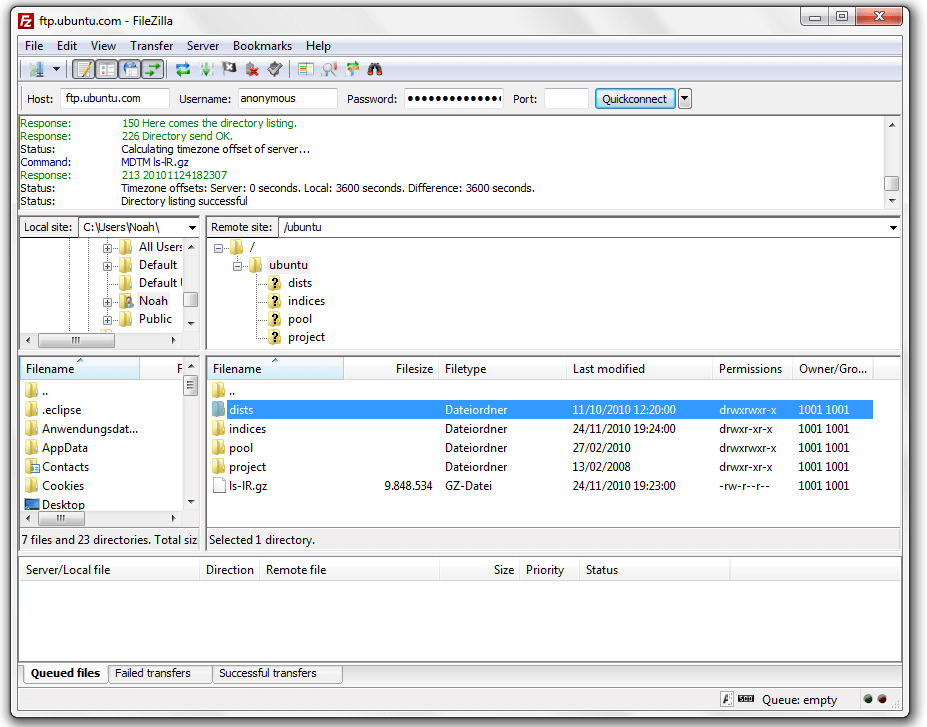 FileZilla is a free and one of the most well-known FTP client to manage web files. It seamlessly works with all types of computers whether it is Mac, Windows, or Linux.
Pros
FileZilla supports a good number of protocols such as FTP, FTPS, and SFTP
You can use bookmarks to save your past activities and remember your file locations
The drag and drop feature allows you to migrate your WordPress files effortlessly
FileZilla supports 50+ languages and counting
It allows you to transfer large files which are sometimes larger than 4 GB
It has an active and thriving community that supports with regular updates and developments
Cons
Its interface is extremely outdated which will bewilder the beginners
Sometimes it shows errors while uploading files to multiple folders together
Pricing: Free
Our Verdict: If you are looking for a free FTP client that works with all the operating systems, FileZilla will be a great option.
Cyberduck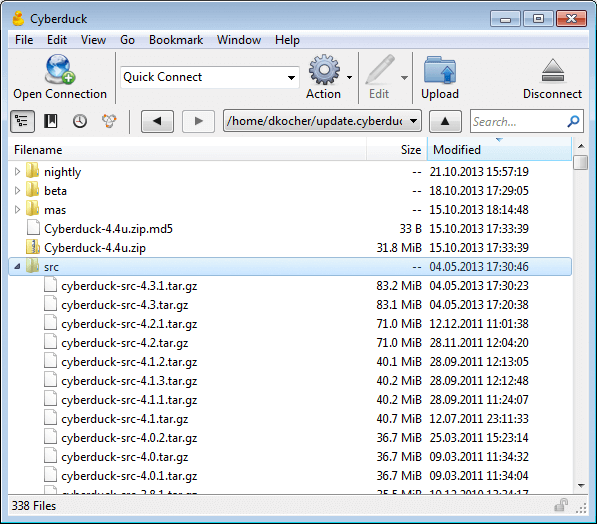 Cyberduck is another easy-to-use FTP client both for beginners and advanced developers. It is an open-source and cross-platform FTP client that is compatible with both Mac and Windows.
Pros
Cyberduck allows you to connect servers via multiple protocols like FTP, SFTP, S3, Backblaze B2, Azure, and WebDAV
You can easily integrate this FTP client into the text editor
It allows you to use an external file editor to change or modify all your web documents
It smoothly integrates with the biggest cloud storage like Amazon S3, Microsoft Azure, and OpenStack Swift
The bookmarking feature helps you see the logging history, files, imports, and more
You can use its drag-and-drop module or copy-paste feature to move files
Cons
Often it causes trouble in getting access to a WordPress file called htaccess
It doesn't work with the Linux operating system
Price: It has a free version available. Its paid version starts from $10/one-time.
Our Verdict: If you are a Windows or Mac user and looking for a way to link your server to cloud storage, Cyberduck will fit you.
WinSCP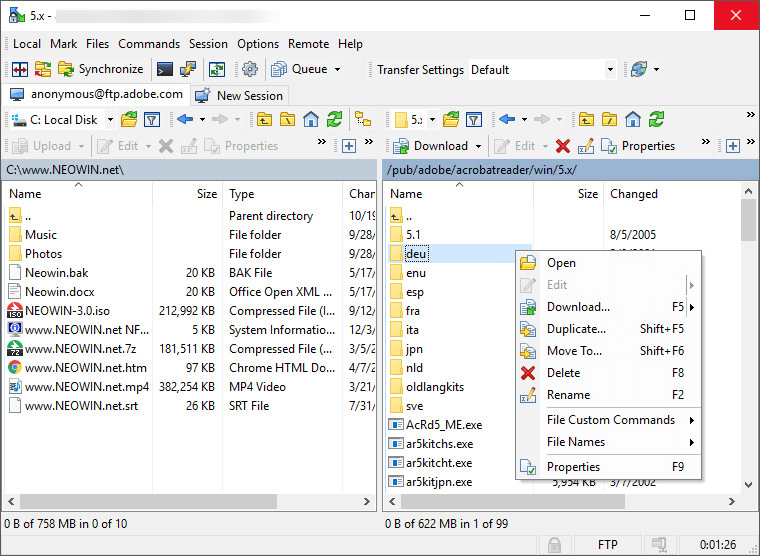 WinSCP is a powerful file manager and an FTP client to send and manage web elements. It's very simple but effective. You will find too many things on its interface but it won't take you a long time to have a grasp over them.
Pros
It lets you encrypt all the files to secure everything you place on your server
You can set master passwords to save your web files from decryption by malicious software
Admins can restrict import files from modifying by other users
You can change the user interface as you want
It allows dozens of languages for global users
You can integrate the text editor of your choice
Cons
WinSCP doesn't work with Mac and Linux
Sometimes, it causes a problem if you run inspections too frequently
Price: Free.
Our Verdict: If you are a general Windows user and looking for simplicity, you can choose this FTP client (WinSCP).
Transmit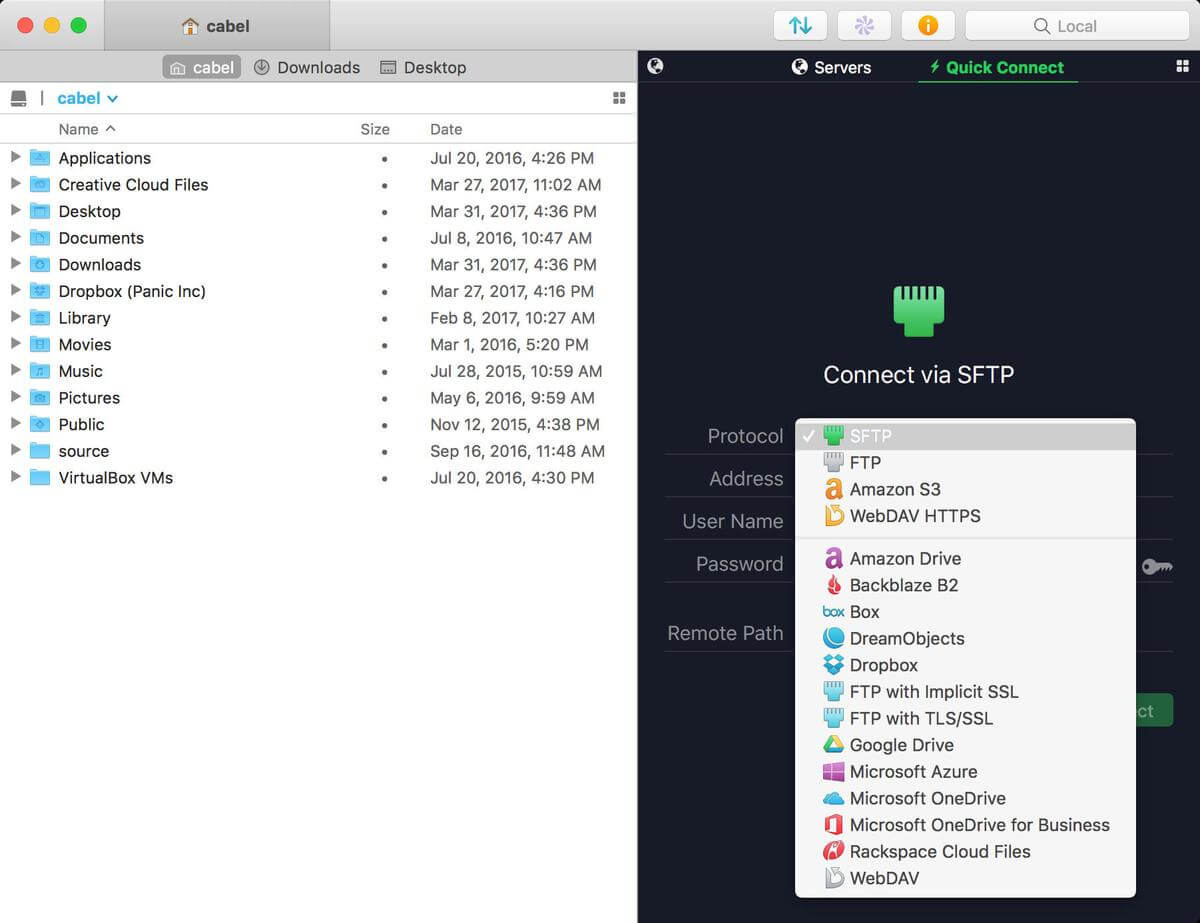 If you are looking for a Mac-only FTP client, you can choose to Transmit. It has numerous exclusive features that make its market stand out. You can manage and link your web files to multiple servers at once.
Pros
It has a dual-pane view that makes it easy to locate specific files faster with a Finder tool
You can use its 'Get info sidebar' it finds out important information from files while browsing them
You can select a large number of files and rename them together with the 'Batch Rename' tool
It lets you jump to your favorite folders using the 'Places' or bookmark bar.
You can set two-factor authentication for additional security in the login
Its Panic Sync feature lets you sync local and cloud sites at a fast speed with more security
Cons
Transmit doesn't work with Google Cloud Storage
It doesn't support Windows and Linux operating systems
Price: It has a free version available. The paid version starts from $45/one-time payment.
Our Verdict: If you look for a Mac-dedicated FTP client with the fastest speed, Transmit will be a good option.
WS_FTP Professional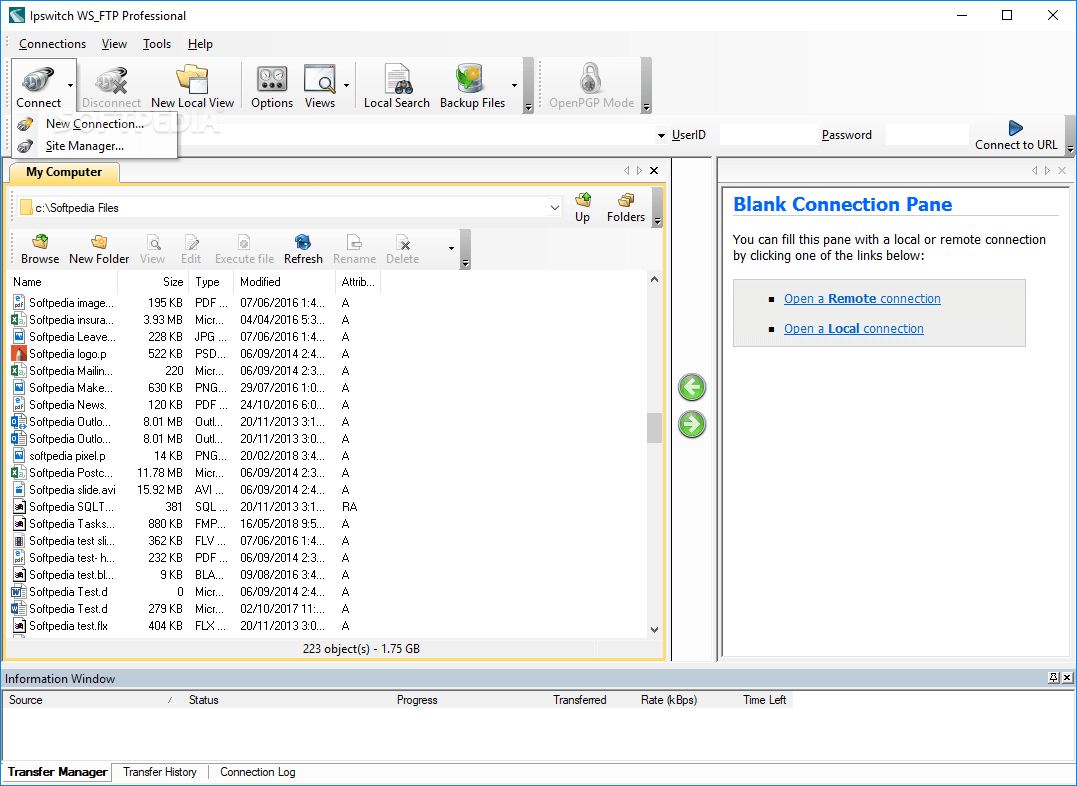 WS_FTP Professional is another great FTP client for WordPress because it provides advanced admin tools, easy customization, and an extreme level of encryption. It backs up each of your files based on a schedule so that nothing goes missing while transferring.
Pros
WS_FTP Professional offers you superior security with file encryption, FIPS 140-2, signature key, and backups
It will let you compress files directly from the window and synchronize with a number of devices and servers
You will get premium customer support alongside the community form
You can set email notifications to get an instant signal whenever a transfer happens
It supports five file transfer protocols: FTP, SSL/FTPS, SSH/SFTP, HTTP/S, and OpenSSL
Cons
It works only with Windows, not with Linux and Mac operating system
The Premium version is expensive for average users and small business
Prices: It has a free version available. The Premium version starts from $54.95 with a 30-day warranty.
Our Verdict: WS_FTP Professional offers best-class security only for Windows users.
CuteFTP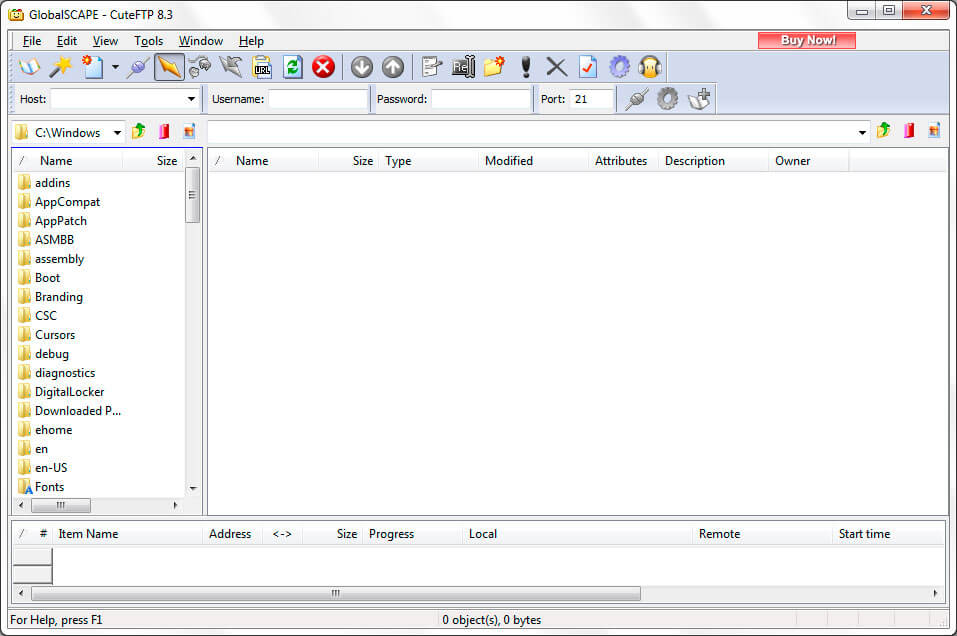 CuteFTP is available both for Windows and Mac operating systems. It will get an easy-to-use interface, top-notch security, and plenty of automation options available in it.
Pros
Using its drag-and-drop feature, you can transfer 100 files at once.
It works both with Windows and Mac system
You can use its Tappln tool to share files to different devices like phones and iPads from your computer.
It has a password authentication protocol that provides more security to your files and elements.
You can transfer web files manually or set an automation schedule.
Cons
It has separate price tags for Windows and Mac systems
Its premium plan is a bit expensive compared to other alternatives
Price: It has a free version available. The Mac version will cost you $39.99 and the Windows version will cost you $59.99.
Our Verdict: Since it's a premium plugin, you will get some exclusive features in it like top-notch automation, superior automation, and customer support.
Free FTP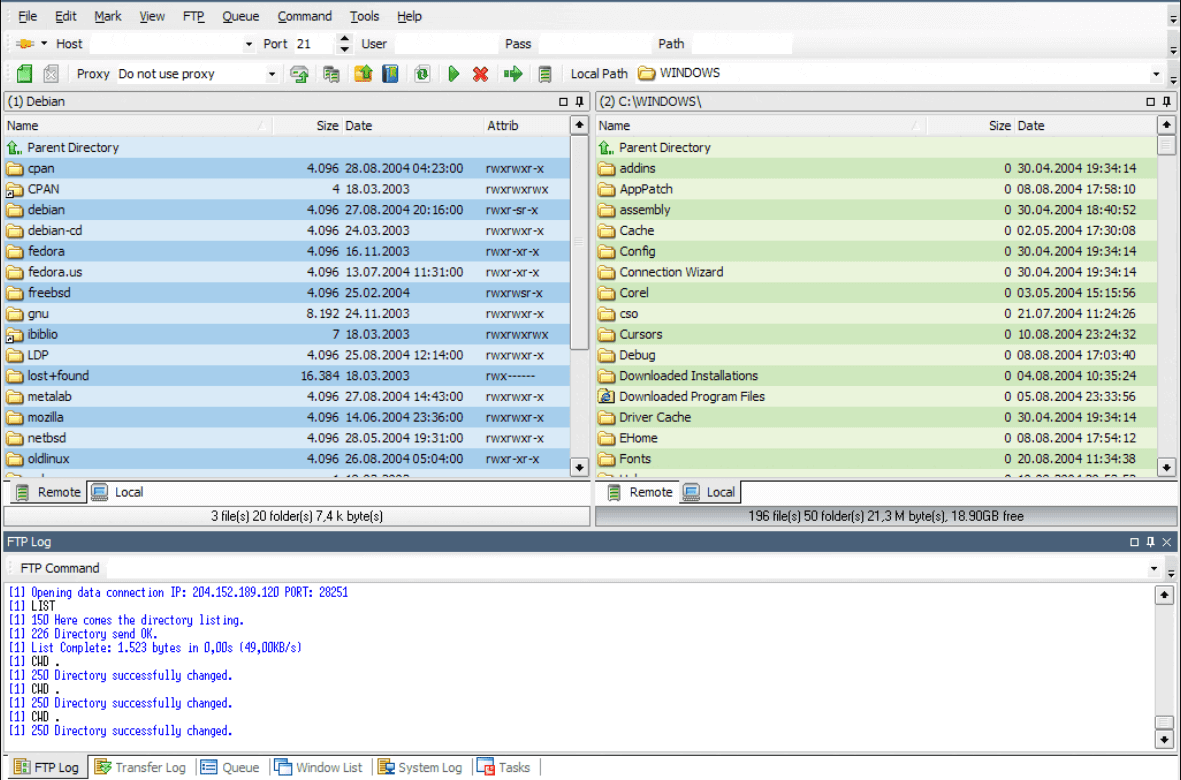 Free FTP is a tremendously popular FTP client among Windows users. It has a free version available names Direct FTP that simply upgrades the features available in this Free FTP version.
Pros
It has a permission feature available that lets you set only the right users are accessing your WordPress files
While uploading, you can side-by-side compare your files in your local and remote servers
Its history feature lets you remember and find out where you stored your web files
A status bar at the bottom shows you if there is any error happening while transferring your files
Cons
It doesn't work with Linux and Mac operating system
Free FTP is best only for average users, not for advanced-level users
Price: Free FTP is completely for anyone. But the premium version Direct FTP costs $39.
Our Verdict: If you are looking for a solution with HTTPS and TSL support, you can choose this FTP client.
5 Best WordPress File Manager Plugins
If using the FTP client is hassling for you, just choose a WordPress file manager plugin. It will give you almost the FTP client-like experience. Let's have a quick look at the five best WordPress file manager plugins in this section.
WP Media Manager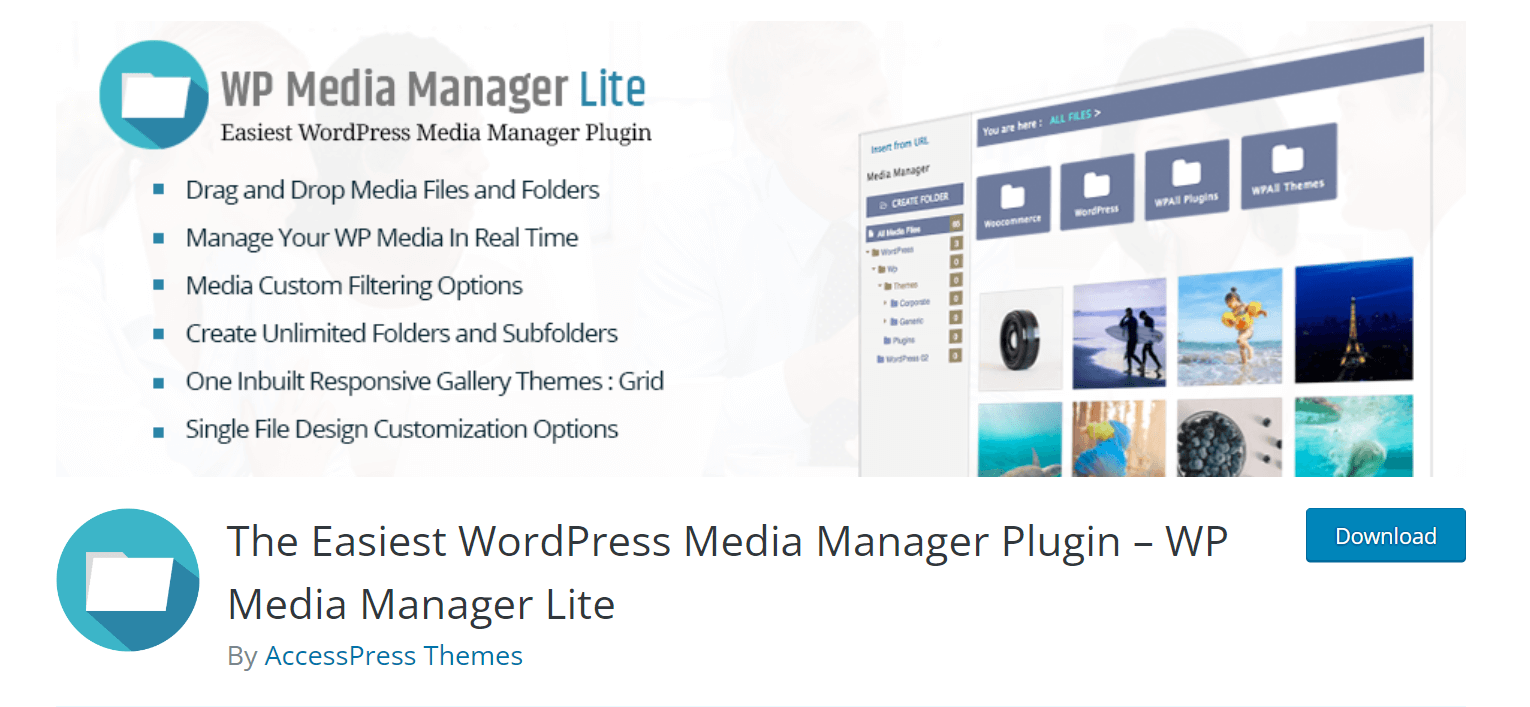 WP Media Manager will give you a simple and straightforward interface to organize your files and folders. It has drag-and-drop functionality and. advanced settings for files and images. It seamlessly works with all popular plugins.
FileBird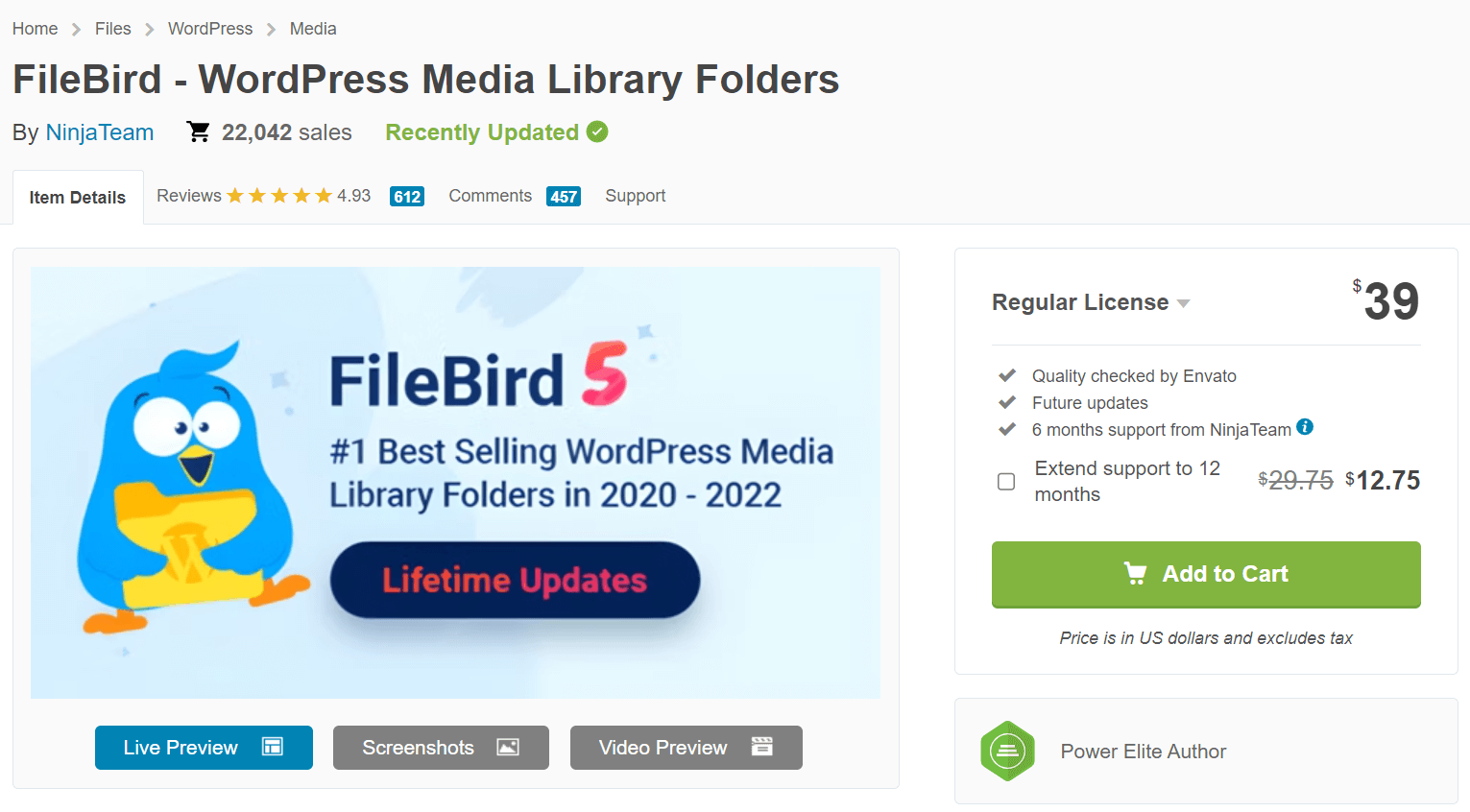 FileBird lets you delete files and folders in bulk quantity, has the drag-and-drop feature, supports multiple languages, and offers you an enhanced search function to quickly find out your desired files.
File Manager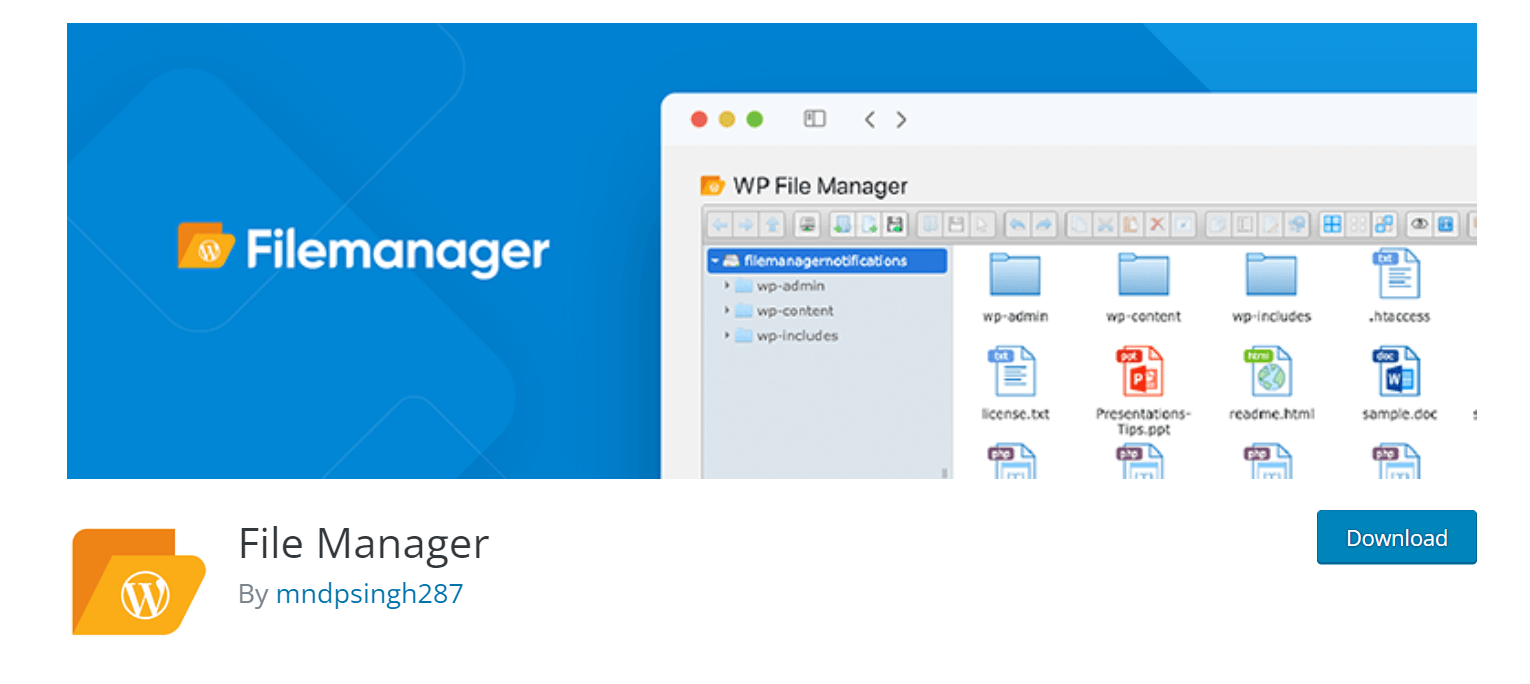 With a simple UI and logical layout, File Manager gives you the ultimate control over your files and folders. You'll get a database and code editor in it. Besides, it supports multiple file types, actions, PDF files, and new themes.
Advanced File Manager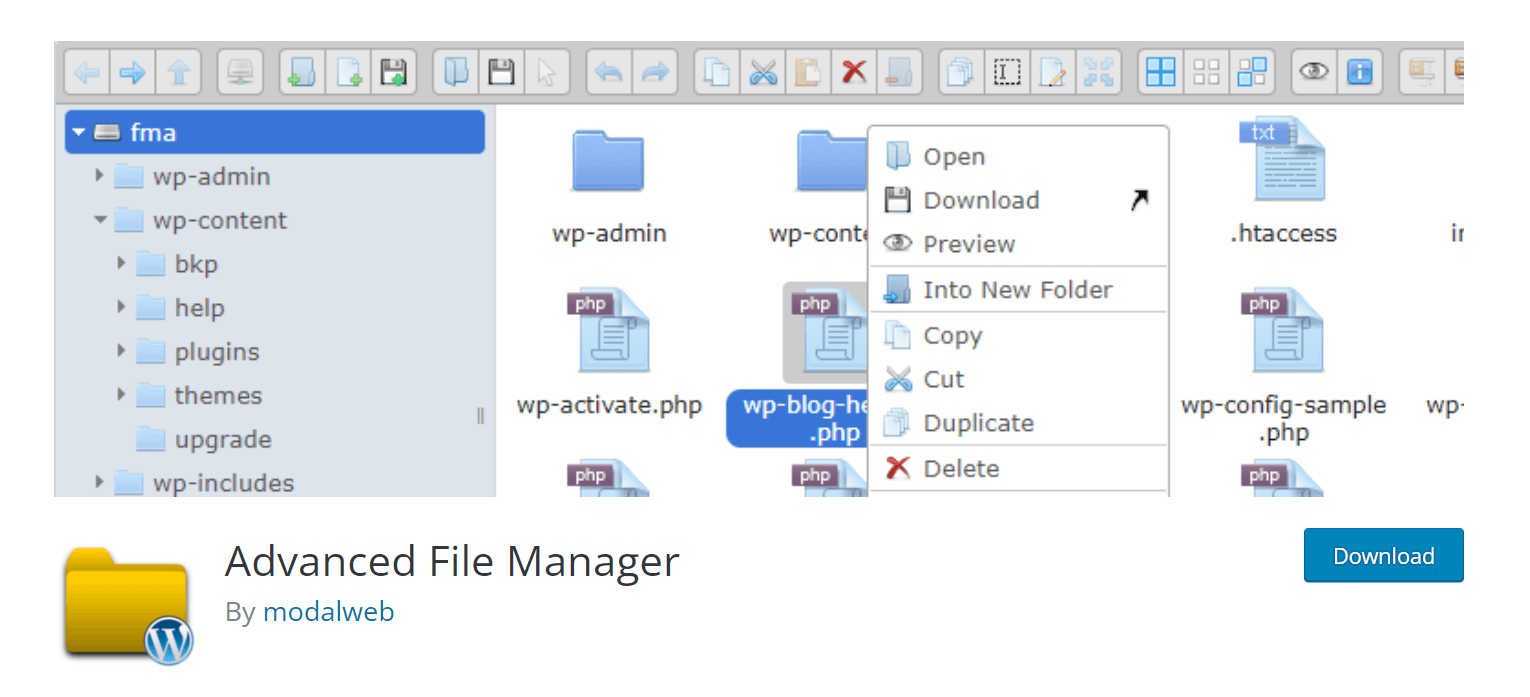 Advanced File Manager is a completely free-to-use file manager plugin. You'll get many advanced and premium features in this plugin without any cost. It will offer you shortcode control, file modification, image editor, file preview, and more.
WordPress Real Media Library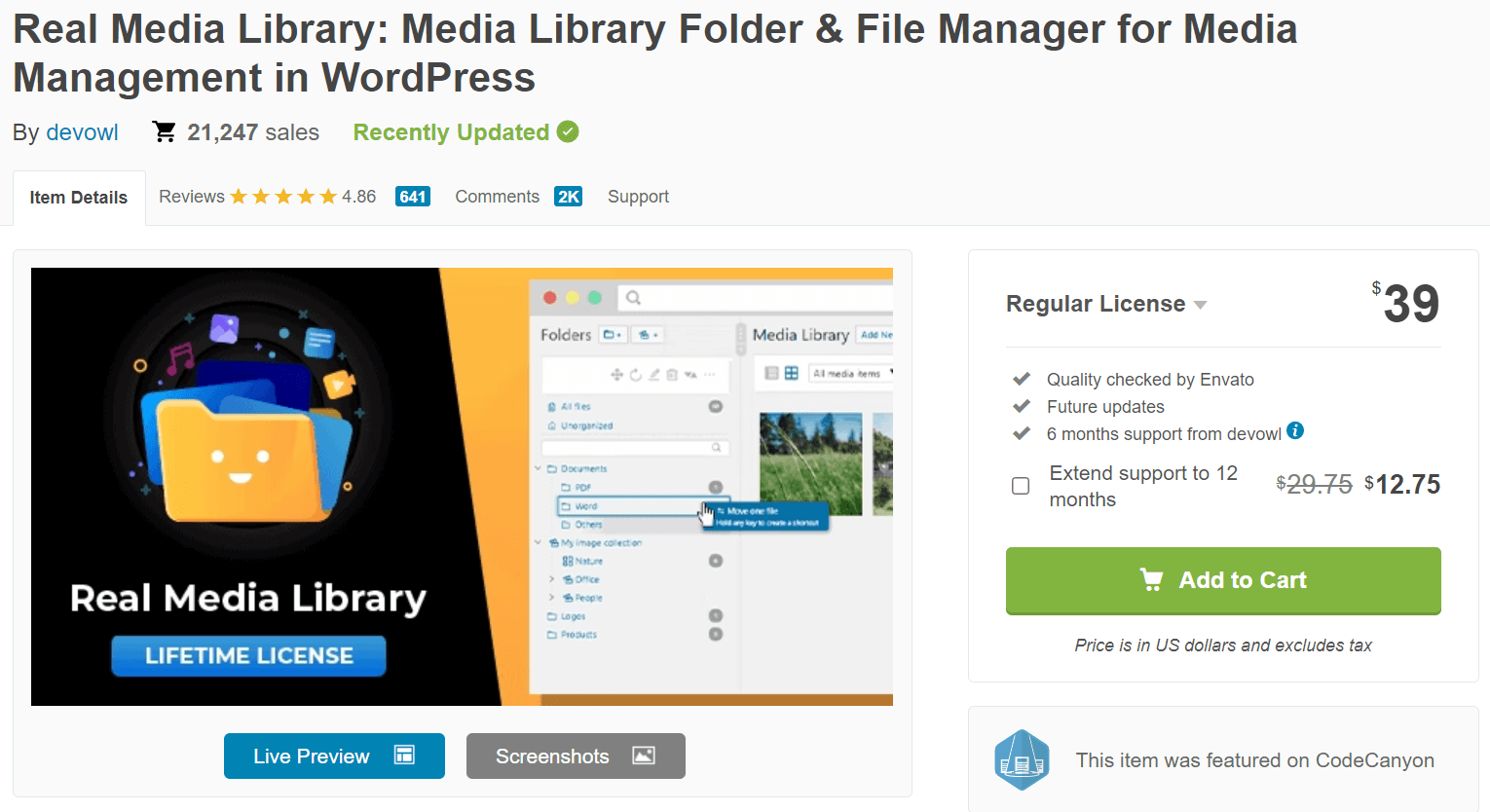 The biggest advantage of using WordPress Real Media Library is it's fully compatible with page builders. Also, it can handle multiple file types, lets you modify bulk quantity files, supports WooCommerce content and works with numerous languages.
FAQ on Best WordPress FTP Plugins
This section will cover the most frequently asked questions on the best WordPress FTP plugins.
Is there an FTP plugin for WordPress?
Actually, there is no dedicated FTP plugin for WordPress as of today. But there are many file WordPress manager plugins that will give you an FTP-like experience.
Do I need an FTP client?
If you want to edit and transmit files and elements with your web hosting server all at once, using an FTP client is a must. But if you are a beginner user, you won't need this.
How many types of FTP are there?
There are three types of FTP out there. They are FTP Plain, FTPS, and FTPES.
How can I overcome security challenges in using FTP?
FTP cannot always make a secured tunnel through which you can transmit safely. Sometimes, your files and information can be hijacked from FTP cloud storage. You can use FTPS to overcome this security threat.
What is the FTP server used for?
The FTP server uses computer systems to upload, download, and transfer web files and elements over the internet from one location to another.
Final Thoughts on WordPress FTP Plugins
Ease of use and convenience rules in the modern era of internet. That is why FTP clients are becoming popular, as they are very easy to use. WordPress FTP clients can add an extra layer to your data security as well.
Hope you've got a crystal clear idea of the differences between FTP clients and FTP plugins and chose the one you need. Which one will you use? Don't forget to let us know.
If you find any important is missing here, please inform us through the comment section. And subscribe to us for interesting articles coming onward. Follow our Facebook and Twitter channels for regular updates.
https://wphive.com/reviews/wordpress-ftp-plugins/
Fuad Al Azad
Fuad Al Azad is a creative writer who loves to blog on everything in between tech, marketing, and eCommerce. Alongside, he is an admirer of fact, fiction, and philosophy.

Subscribe To Our Newsletter