Introducing FlyWP: Elevate Your WordPress Experience with Seamless Server Management 🚀

Say goodbye to the complexities of managing your WordPress site and server tasks. WeDevs proudly presents FlyWP, a powerful server management solution tailored for WordPress enthusiasts.
FlyWP streamlines the entire process, from optimizing site performance and ensuring security to handling backups and monitoring. With a user-friendly dashboard and developer-centric tools, it's the all-in-one solution for a hassle-free WordPress experience.
With FlyWP WordPress server management solution, you can choose popular servers like DigitalOcean, AWS, and more. You can also enjoy features like automatic speed optimization, daily backups, and a built-in malware scanner. Let's explore FlyWP and its capabilities to elevate your WordPress site management to the next level.
Benefits of using a server management solution for WordPress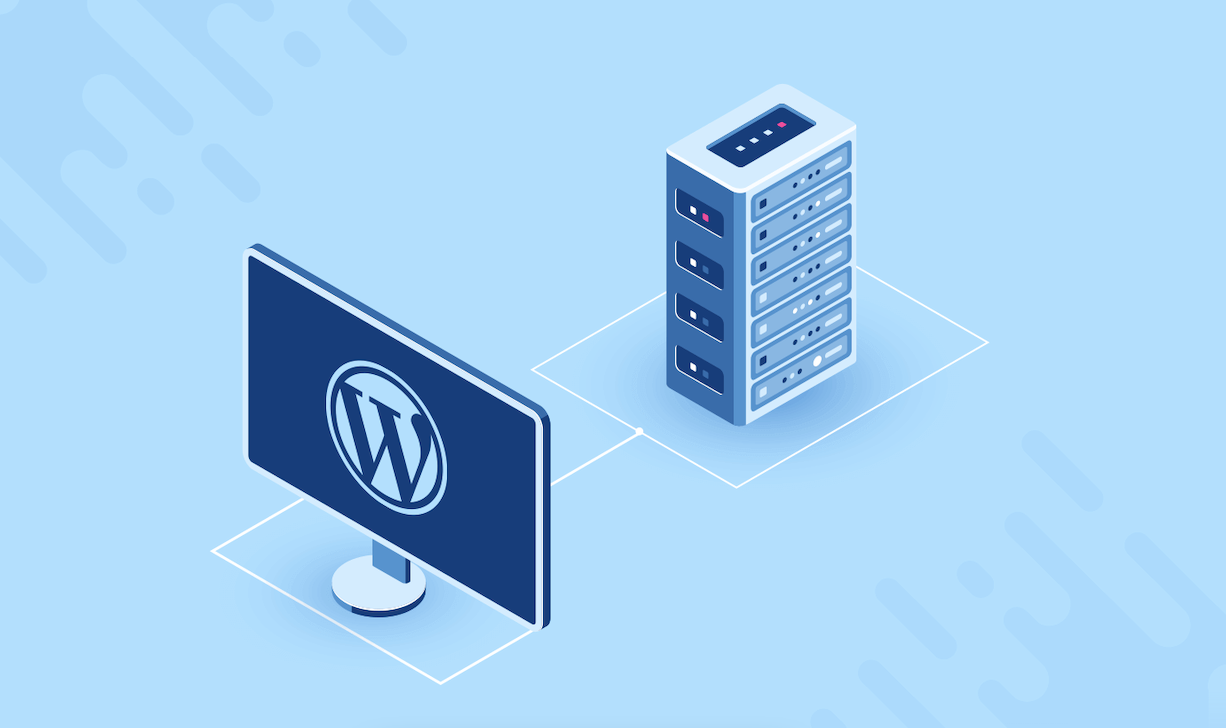 A server management solution can significantly impact the performance of your WordPress site. It combines automation, WordPress security measures, and performance optimization to provide a seamless and reliable experience for both site administrators and visitors. Take a quick look at the benefits of using a server management solution for WordPress.
| Key aspect | Benefits of server management for WordPress |
| --- | --- |
| 1. Smooth operation | Ensures optimal performance and reduces downtime by efficiently managing resources. For example, employing load balancing and resource allocation strategies enhances user experience and lowers bounce rates. |
| 2. Security | Improves website security with firewalls, malware scanners, and SSL certificate integration. Notable examples include implementing firewall rules, conducting regular malware scans, and mitigating risks of cyber threats to protect sensitive data. |
| 3. Task automation | Automates routine tasks like backups, updates, and monitoring for time and resource efficiency. Specific instances include scheduled backups, automatic plugin updates, saving time, minimizing human error, and ensuring site reliability. |
| 4. Compatibility with popular servers | Supports various servers (e.g., AWS, Digital Ocean), providing flexibility and scalability. This encompasses easy integration with cloud services, custom servers, and the ability to tailor hosting solutions for scalability as the site grows. |
| 5. Performance optimization | Facilitates team management with different roles (Super Admins, Server Admins, Site Admins). This involves role-based access control, and a centralized team dashboard, and enhances collaboration by allowing efficient delegation of tasks for large teams. |
| 6. Uptime monitoring | Facilitates team management with different roles (Super Admins, Server Admins, Site Admins). This involves role-based access control, a centralized team dashboard, and enhances collaboration by allowing efficient delegation of tasks for large teams. |
| 7. Team collaboration | Utilizes caching mechanisms, automatic updates, and development tools for optimized performance. Examples include full-page caching, and automatic theme updates, resulting in faster loading times, improved SEO, and enhanced user satisfaction. |
FlyWP has more than what the above table has encompassed. Read the following sections to learn more about this WordPress site management platform on the cloud.
FlyWP: A powerful server management system for WordPress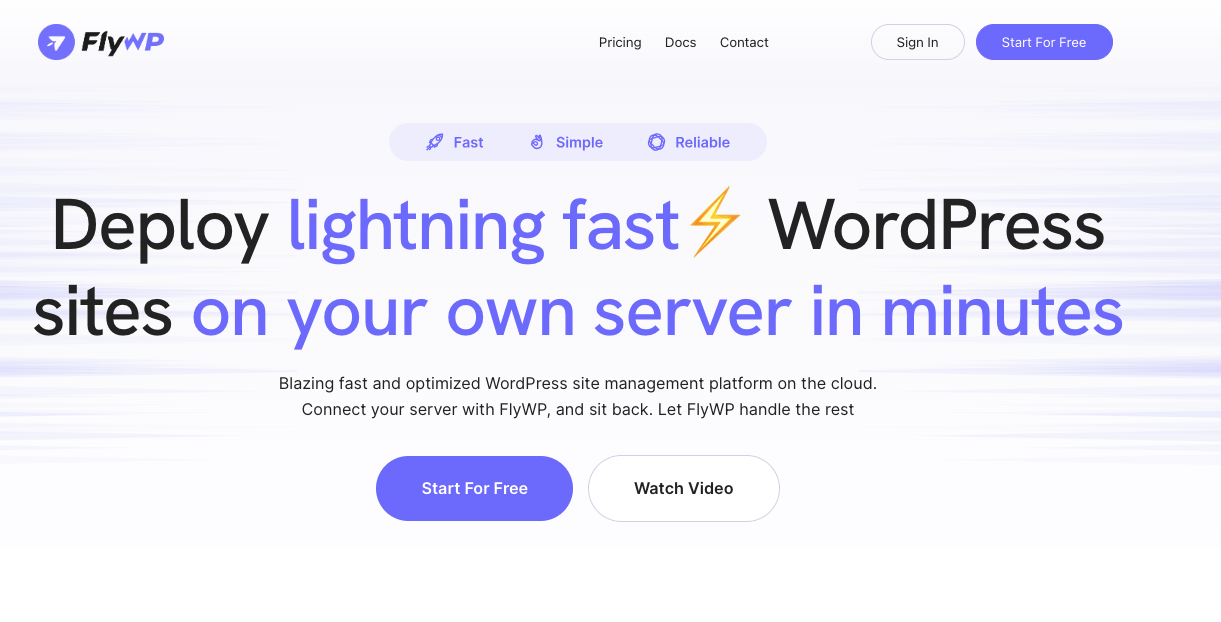 FlyWP is a server management solution for WordPress sites. It helps you launch WordPress sites lightning-fast on the server in minutes. With FlyWP, users can experience the power of Docker for optimized site management in the cloud.
Imagine a centralized dashboard where server optimization, security reinforcement, backups, and real-time monitoring connect seamlessly. This is FlyWP – a robust server management system designed to simplify your WordPress experience.
Flexibility is at FlyWP's core – it supports renowned servers like DigitalOcean, AWS, Google Cloud, Vultr, and even custom servers. It also automates tasks like backups, updates, and monitoring.
Besides, FlyWP isn't just about optimization and security; it's a hub for collaboration. From team management with varied roles to enhanced staging sites for risk-free experimentation, it ensures that your WordPress journey is not just efficient but enjoyable.
Top features of the FlyWP server management system
We've already said that FlyWP is a feature-rich server management system. We are going to talk about the most prominent ones of them in this section that have made FlyWP exceptional from the rest. Take a look at them below.
1. Compatibility with any server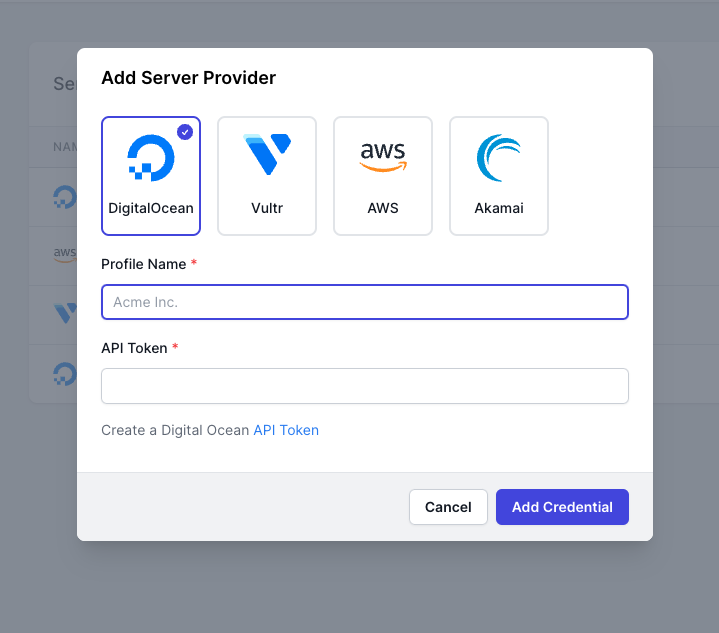 FlyWP stands out with its incredible flexibility. It is compatible with various servers, namely DigitalOcean, AWS, Google Cloud, Vultr, and even custom servers. This means you have the freedom to choose the server that best aligns with your specific needs.
It provides you with unmatched control over your WordPress environment. Whether you prefer popular cloud services or have a custom server setup, FlyWP adapts to your hosting preferences to meet your unique requirements.
2. Ideal for WordPress eco-system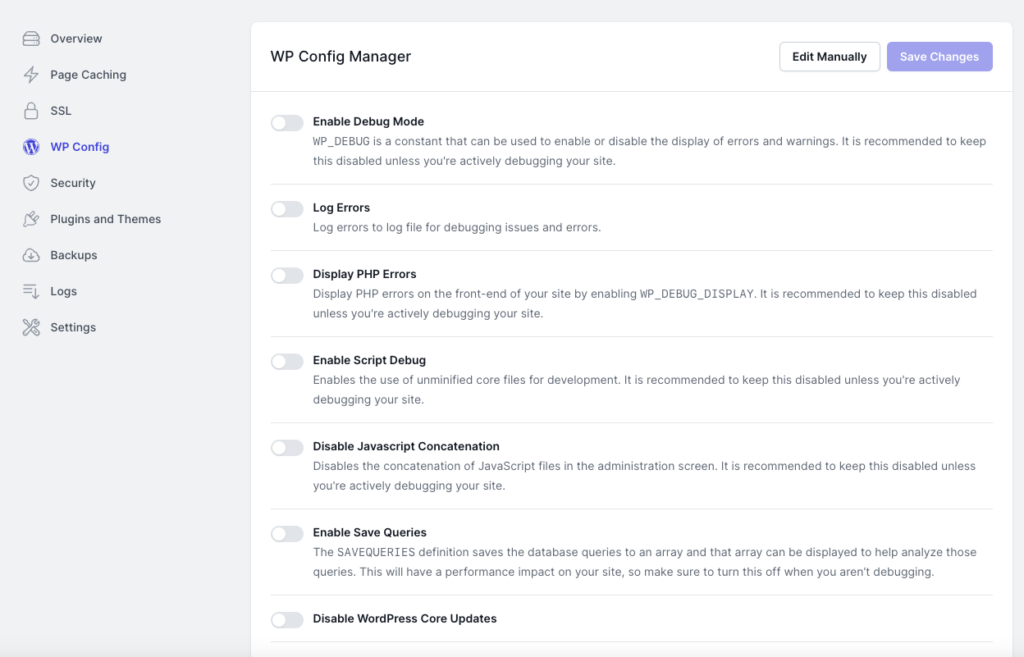 FlyWP is specially crafted to be fully optimized for WordPress. It ensures that your site management is integrated with the WordPress ecosystem. Automatic updates for plugins and themes guarantee that your site stays current, secure, and performs at its best.
The WP Config Editor provides you with complete control over your site's settings, making customization easier than ever. Gain control with features like debug mode, error logging, PHP error tracking, script debugging, and the capability to disable core updates. You can also fine-tune your WordPress experience with remarkable power at your fingertips.
3. Unlimited staging sites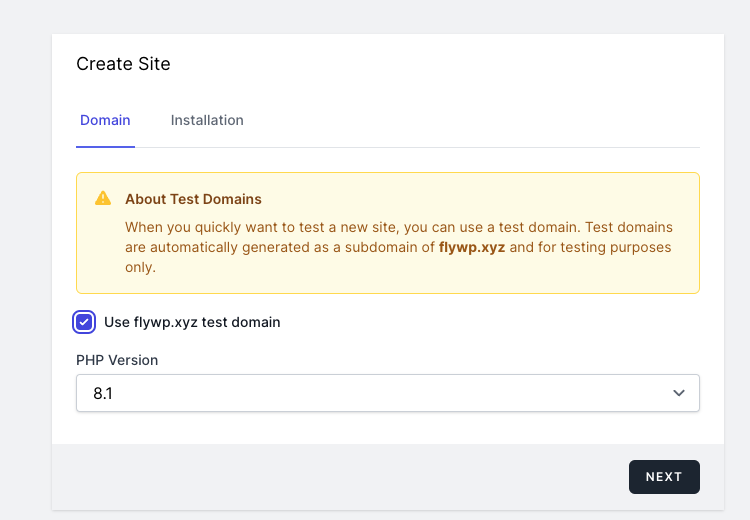 FlyWP makes creating and managing staging sites a hassle-free experience. This feature allows you to experiment with new ideas and changes in a secure environment without impacting your live content. It's like having a playground for your website where you can test updates, plugins, and themes without any risk to your production site.
This functionality is particularly valuable for onboarding new team members while providing them with a hands-on experience. With FlyWP's enhanced staging sites, you have the flexibility to innovate and experiment with ease, ensuring a smooth transition from testing to implementation.
4. Centralized management
FlyWP introduces a game-changing feature – centralized management. You can take care of all your site management tasks seamlessly, converging into a single and user-friendly dashboard. No more juggling between multiple interfaces and logins. This not only streamlines your workflow but also saves you valuable time. Thus, FlyWP's centralized management brings simplicity and efficiency to the forefront of your WordPress experience.
5. Reliable backup options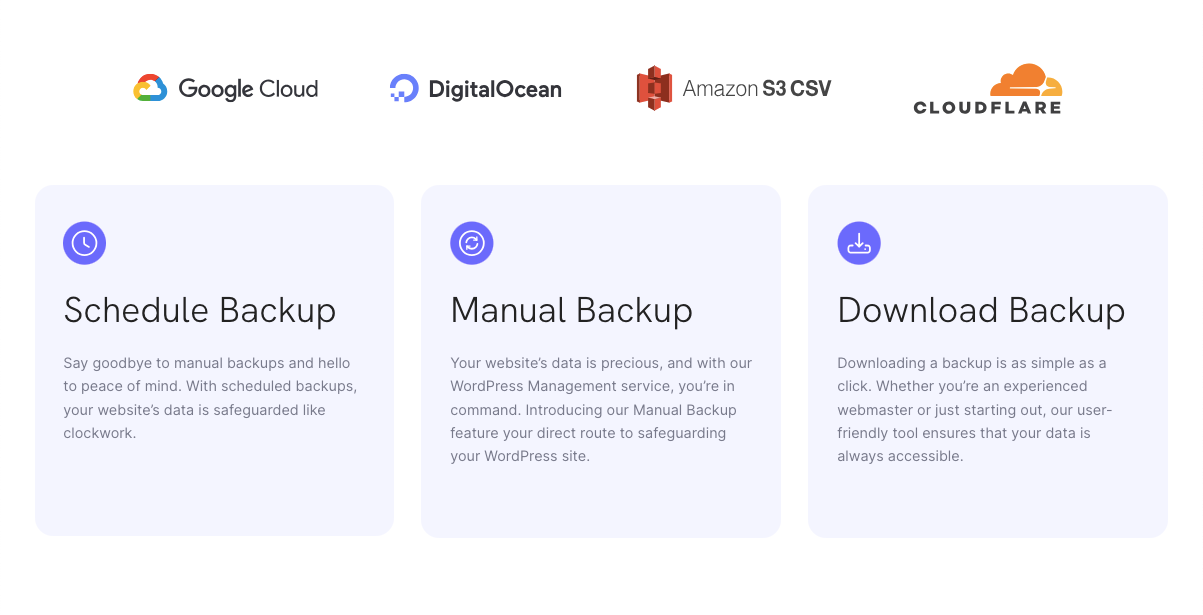 FlyWP understands the importance of safeguarding your data. It enables you to have the flexibility to schedule regular backups, create manual backups whenever needed, and seamlessly restore the data when necessary.
These backup options act as a safety net, assuring that your website's data is secure and recoverable. FlyWP goes the extra mile by allowing you to host your backups on trusted cloud providers such as AWS S3, Digital Ocean, Cloudflare R2, and Google Cloud.
6. Enhanced efficiency
Experience a significant performance boost with FlyWP. Caching is a vital factor in your site's speed, and FlyWP takes it to the next level. With features like full-page caching, Redis caching, and seamless integration with popular caching plugins, your site loads lightning-fast, providing a delightful user experience.
Effortless Full-Page Caching: This feature turns your website into a static site, cutting out the need for PHP and database queries for a smoother browsing experience.
Swift Redis Caching: By reducing database requests, Redis caching speeds up your WordPress site, ensuring quick and responsive performance.
Seamless Plugin Integration: Whether you go with FlyWP's option or another caching solution, our platform adjusts to your choices, ensuring a seamless user experience.
Automatic updates, development tools, and caching mechanisms work in harmony to ensure your site exceeds performance expectations. FlyWP's commitment to boosted performance goes beyond faster loading times; it contributes to improved SEO, increased user satisfaction, and an overall enhanced online presence for your WordPress site.
7. Developer-centric tools
FlyWP caters to developers with a suite of user-friendly tools. Features like "Push to Deploy" empower developers to streamline deployment changes effortlessly, while "Easy Switching of PHP Versions" provides flexibility in managing your server environment. Direct access to your MySQL database and logs offers comprehensive control. This allows developers to delve into the details of their site's data and performance.
These tools make FlyWP an ideal choice for developers seeking a server management system that provides the necessary tools for efficient and hassle-free development. So, FlyWP is not just about managing servers; it's about empowering developers to navigate their WordPress environment with precision.
8. Team coordination feature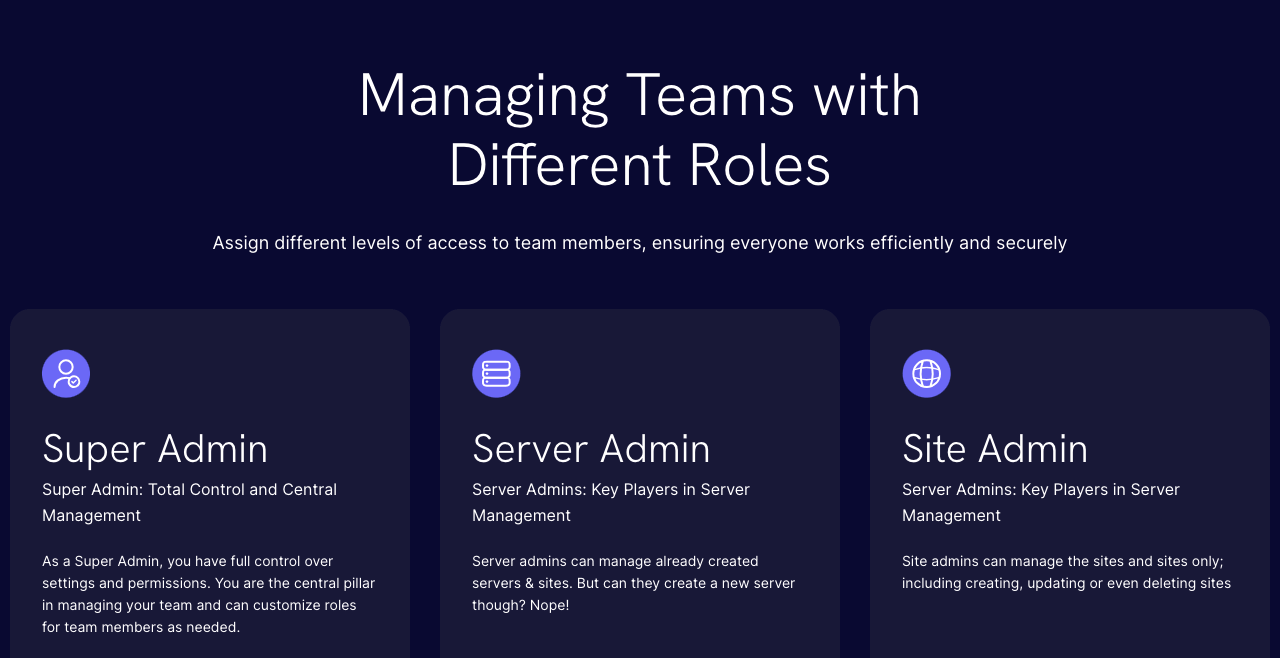 No matter if you have a small, focused team or a large group with diverse roles, FlyWP ensures efficient collaboration in your WordPress endeavors. Under one tab, you gain full freedom to manage team members with different roles, including Super Admins, Server Admins, and Site Admins.
Each role comes with specific tasks for streamlined collaborative website management. This eases assigning the right level of access and control to each team member. With centralized control and defined roles, your team can work cohesively and make website management a collaborative and efficient process.
9. Robust security with timely monitoring
FlyWP ensures that your WordPress site remains resilient against potential threats. Automatic firewall, site isolation with Docker, free SSL certificates, and integration with Cloudflare form a formidable defense against cyber threats.
FlyWP doesn't just stop at prevention; it provides real-time monitoring to keep a vigilant eye on your site's uptime and performance. Instant alerts are triggered at the first sign of any issues, allowing you to address them promptly. FlyWP is like your virtual security partner that offers peace of mind by strengthening your site against vulnerabilities.
See the following video to learn more about FlyWP, a Docker-powered, lightning-fast, and optimized WordPress site management platform on the cloud.
Pricing of FlyWP- Monthly, yearly, and LTD
FlyWP offers pricing plans catering to different user needs, ranging from hobbyists to high-performing teams. It provides around-the-clock customer support via email to assist with any type of issue you may encounter. Begin your journey with a complimentary 14-day trial – no credit card necessary.
Monthly pricing plans of FlyWP:
Hobby Plan: Tailored for personal and hobbyist users, includes 1 server, and unlimited sites for $9/month.
Growth Plan: Most popular, empowers business scaling with confidence, includes 10 servers, unlimited sites, and site backup for $19/month.
Business Plan: Server management for high-performing teams, including unlimited servers, unlimited sites, site backup, and team features for $39/month.
Yearly pricing plans of FlyWP:
Hobby Plan: Tailored for personal and hobbyist users, including 1 server, and unlimited sites at $90/year.
Growth Plan: Geared towards business scalability, offering 10 servers, unlimited sites, and site backup at $190/year.
Business Plan: Designed for high-performing teams, providing unlimited servers, unlimited sites, site backup, and team features at $390/year.
Lifetime plans of FlyWP- for a limited time only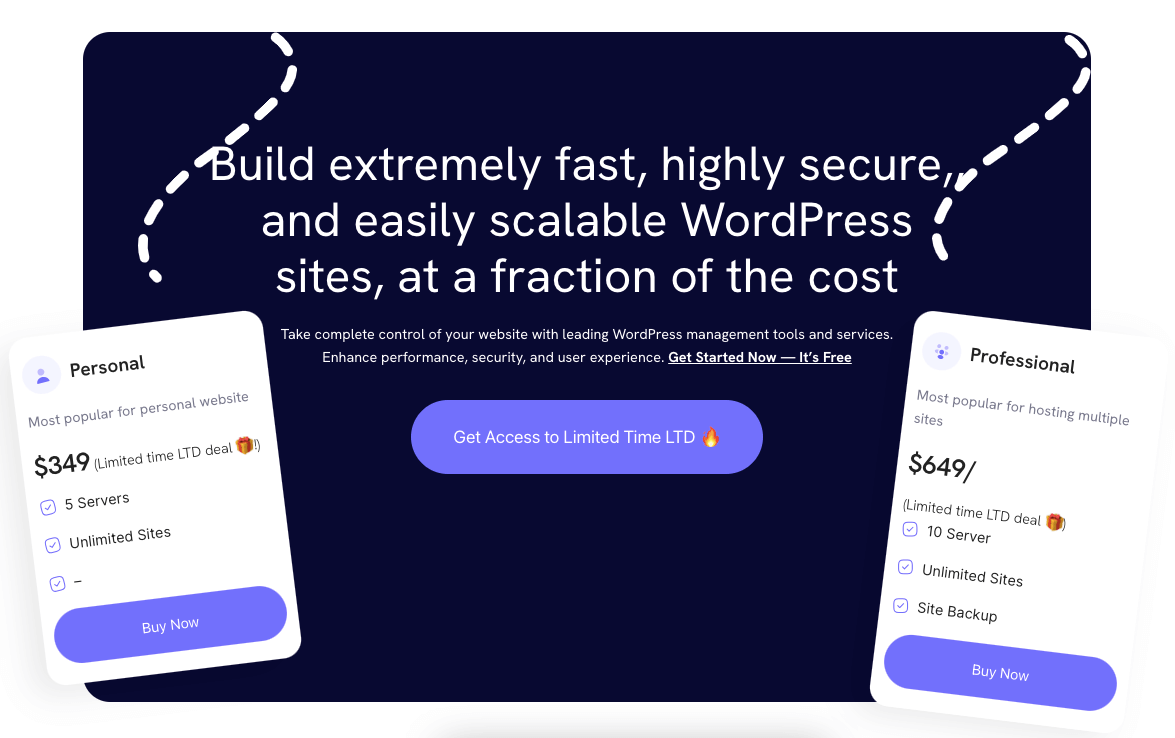 For a more sustainable and long-term commitment, FlyWP offers lifetime plans. Here are the pricing options for you:
5 Server Plan – $349/lifetime
10 Server Plan – $659/lifetime
15 Server Plan – $949/lifetime
You can uncover the full potential of FlyWP by taking advantage of our complimentary 14-day trial period. Once the trial period ends, make a seamless transition to an elevated experience by subscribing to one of the premium plans.
Frequently Asked Questions (FAQ) about the FlyWP server management system
As FlyWP is a brand-new product, you may have many questions and curiosities about this solution. You can visit the FlyWP documentation section for user guidance. However, below, we have answered some potential questions that may be roaming your mind.
Q1: What makes FlyWP different from other server management tools?
FlyWP stands out with its exceptional flexibility, supporting a wide range of servers, including DigitalOcean, Google Cloud, AWS EC2, Vultr, and custom servers. Its optimization for WordPress, developer-friendly features, and centralized management set it apart from the rest.
Q2: Is there 24/7 customer support available with FlyWP?
FlyWP provides round-the-clock customer support to address any issues or queries you may encounter during your server management journey.
Q3: How developer-friendly is FlyWP?
FlyWP is built by developers for developers, providing tools for efficient debugging, automatic deployment from Git, access to MySQL via PHPMyAdmin, and compatibility with WordPress CLI.
Q4: Is technical experience required to use FlyWP?
FlyWP caters to both experienced developers and users without heavy technical expertise, making it accessible to a broad audience.
Q5: Does FlyWP give support related to the hosting providers?
FlyWP's support services are exclusively dedicated to addressing issues and concerns related to FlyWP.
Q6: Why would I need more servers? Isn't one server enough?
The main goal is to allocate resources effectively, ensure good performance, and make smart choices in separation.
Each server has a fixed amount of RAM, processor capacity, and other key resources. Every server comes with a limited set of resources, including CPU, memory, and disk space. As you add more sites or apps to a single server, these resources get shared out.
Having more servers lets you divide up resources more precisely, making sure each site or app gets what it needs to work well. If you pile too many sites onto one server, it can cause performance problems.
If one site gets a lot of visitors or uses a lot of resources, it might slow down or affect the other sites on the same server. Having more servers helps distribute the load better. Also, some people might want to keep their websites on one server and their work-related sites on another.
Embrace the future of WordPress management with FlyWP
FlyWP is not merely a new entrant into the world of server management; it adds a new dimension to simplifying and enhancing the WordPress experience. It is not only about managing servers; it's more about empowering you to use the full potential of your WordPress sites.
That's the overview for now. Seize this opportunity to elevate your server management journey. Say farewell to the complexities of site management and embrace the potency of FlyWP as your go-to server management solution for WordPress.
https://wphive.com/news/flywp-wordpress-server-management-solution/
Tanvir Faisal
Md. Tanvir Faisal is a Content Writer at WP Hive with 4 years plus experience in Content Writing, Copywriting, Proofreading, and Editing. He focuses on writing informative content that draws social media attention and enhances search engine visibility. To date, he has successfully developed useful content for many websites across all formats.

Subscribe To Our Newsletter