Google Blacklist Warnings: How You Can Avoid Them

Each second, 40,000 searches are made on Google. To a large part of the world, Google is the internet. Naturally, most of the websites on the internet depend on the incoming traffic from Google. But this can all change very quickly if your site gets blacklisted by Google.
If your site gets added to Google Blacklist, whoever tries to enter your site through search engines, will see it as not secured.
This can result in a sharp traffic drop, as users will not feel comfortable visiting an unsafe website. That is why Google blacklist warnings are something that you should not take lightly.
In this guide, we will show the Google blacklist warnings and how you can protect your websites from them. If your site is already blacklisted by Google, there is good news for you as well, because we will also show you the proven ways of removing your site from the Google blacklist.
Table of Content
What Is Google Blacklist and Why Should You Care About It


Google blacklist is a part of the web safety initiative taken by Google. Every day millions of people search for information on Google. As Google is a reliable source of information for people around the world, it wants to keep its visitors safe. That's why Google spends a lot of money on internet safety and finding unsafe websites.
Google's safe browsing initiative includes consistently coming up with new ways to identify websites that are harmful to its users.
A site can be blacklisted by Google if it is hacked, or attacked by malware. On average, 10,000 websites get blacklisted by Google every day. The most possible aftermath for a blacklisted website is getting omitted from the Google search engine index.
That means chances are that users will no longer find your site on the search results. Even if someone tries to access your site directly, they will be welcomed with a warning like the below image.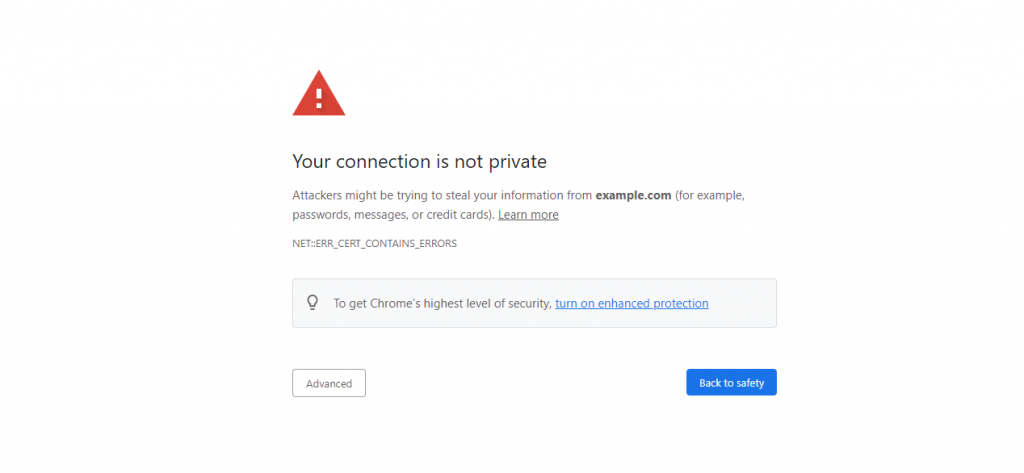 Moreover, hundreds of web services including the popular web browser Mozilla Firefox uses Google's transparency report to mark unsafe websites. Which only means one thing, further damage to your site.
Google Blacklist Warning – Signs that Your Site Is Blacklisted
There are a couple of signs that you will notice when your website gets blacklisted by Google. Some of the signs are very obvious and some you will notice if you research a bit. Following are the signs that will let you know that your site is in fact blacklisted by Google.
1. Safe Browsing Warning while Entering a Website
The most obvious sign of a blacklisted site is that visitors will see a warning page while trying to visit your site. If the symptoms are mild, the warning will look something like the image that we have shared above.
Apart from that, your site can also show a loud warning like the one below.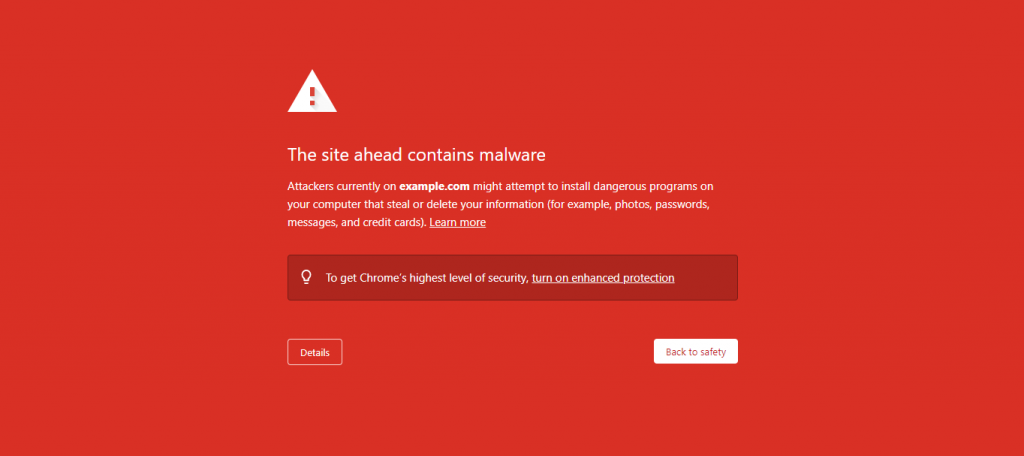 You can check all such signs and what they mean by entering chrome://interstitials/ on the Chrome address bar. Some of these warnings are overridable, while some are not.
2. Checking Google Safe Browsing Site Status
Another way to know if your site is blacklisted by Google is by checking the Safe Browsing Site Status. Just by entering your website URL on the page, you can check whether your website hosts any unsafe content or not. Unsafe content eventually results in your site getting into Google Blacklist.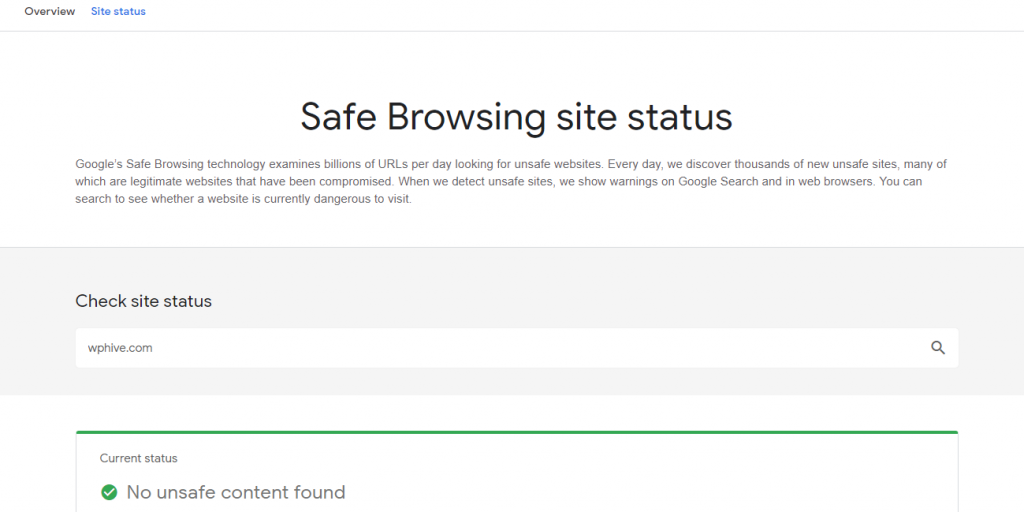 3. Warning Message on Search Engine Result Page (SERP)
Another warning sign of your site getting into Google Blacklist is from Google SERP. You know your site is on Google Blacklist when you see a warning sign under your website on the Google search result page.

Users might still be able to access your website, but they will be warned once again while entering your website.
4. Sudden Drop in Traffic
Even if you don't notice any of the warnings, you will definitely notice a big drop in visitor numbers if your site is blacklisted by Google. As most people will prefer not to visit your website when they see a warning sign on the front door, you will face a sharp drop in traffic.

If you do notice such a decrease, do check with the other sign and you will know if your site is in fact blacklisted by Google.
How to Remove Your Site from Google Blacklist
Trying to remove your site from the Google blacklist is your top priority, as soon as you notice it. However, once your site is in control of the hacker or attacked by malware, it can get quite complex to take the control back or minimize the damage that has been done.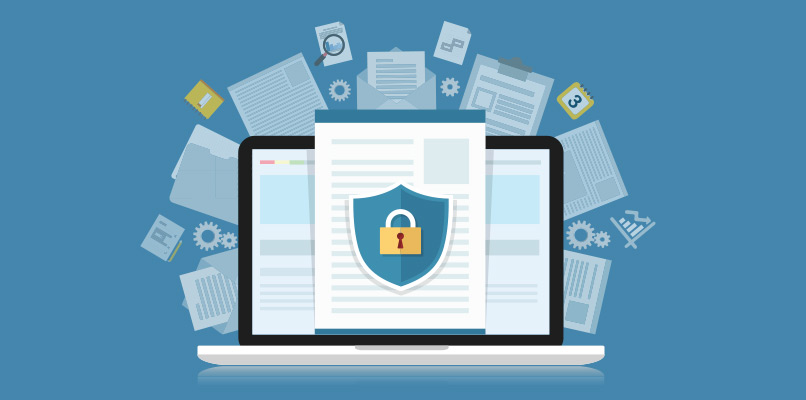 Once you are sure that your site is blacklisted by Google, here is what you need to start doing straight away.
1. Log in to Google Search Console to Identify the Exact Blacklisted URLs
Start off by taking assistance from the Google Search Console, as it can help you with some decent insights on exactly which URLs are causing the problems for your website. For that, first, log in to Google Search Console, After that, go to Security & Manual Actions > Security Issues.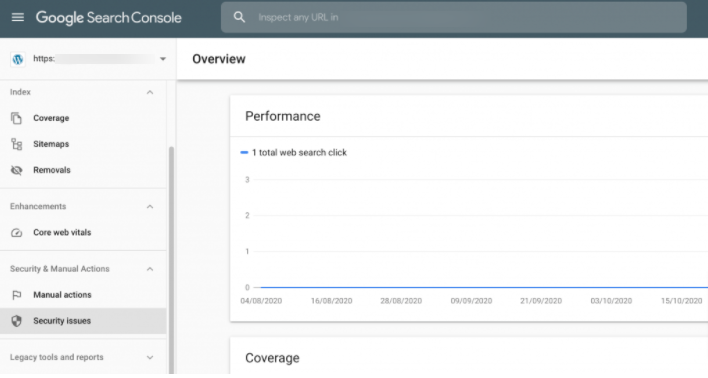 From here, you can get the data of which URLs are causing the issues that resulted in the Google blacklist. This will make you ready to start doing the cleanup works to get your site off the blacklist.
2. Check Other Blocklists
Apart from the Google blacklist, there are quite a few other blocklists that can give you an idea of what went wrong with your website. They will also help you with the cleanup process. The most well-known blocklists to check are as follows –
Bing Blocklist
Yandex Blocklist
McAfee SiteAdvisor
Norton SafeWeb
BitDefender
ESET
3. Find and Clean the Malware
Once you find out the problem, you will have to get to work. There are two ways to find and clean the harmful files, codes, and links from your website.
i. Using Plugins to Clean Malware: Unless you are a web security expert, the suggested way for the cleanup process is by using a dedicated security plugin.
There are quite a few good WordPress plugins to help you clean malware from website.
ii. Clean Malware Manually: Another way to clean malware, malicious codes, files, and links from your website is by doing it yourself. However, in order to do that, you need to have good knowledge of WordPress security and the process can be quite complex. So if you are not a specialist, we suggest you not go manual.
4. Request for a Review to Remove Google Blacklist Warning
Once you are done with cleaning all malicious substances from your website, you need to head over to the Google Search Console once again. Now navigate to Security & Manual Actions > Security Issues and click on Review Request.
Google will then review your website, and if everything is okay, it will be removed from the Google blacklist.
Reasons that Your Site Can Be Blacklisted by Google
Google blacklist can be the worst nightmare for your website. As much as you want to protect your site from getting into Google blacklist, you can not do so without knowing the reasons for which your site can be blacklisted.
Below are the key reasons which can get your site to Google blacklist.
If your site is hacked, it can be blacklisted by Google.
DDOS or Bruteforce attack is a common reason for blacklisting by Google.
Spam link injection by hackers is another reason that your site can be blacklisted by Google.
Malware on your website can result in your site getting on the Google blacklist.
Your site can get blacklisted if someone injects Malicious code for spam redirection.
How to Protect Your Site from Being Blacklisted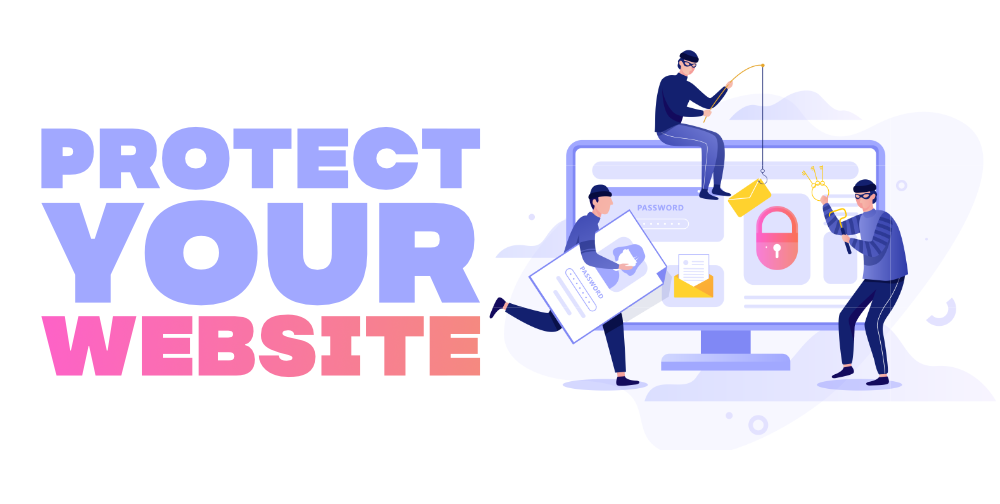 In order to protect your website from the Google blacklist, you have to take some stiff measures. This includes some steps that directly help with site security and some steps that will help recover your site for any malware attack. Following are things you can do to protect your site from getting blacklisted.
Install a WordPress security plugin to monitor any security issue in realtime. Here is how WordPress Firewall & Security plugins can protect your website.
Consider running regular security audits.
Keep your site backed up. You will be able to restore the most recent backup copy of your site if it is attached by any malware. You can choose any one of the best backup plugins for WordPress.
Update WordPress, plugins, themes regularly. This will make it hard for any malware attack or the risk of your website getting hacked.
Related: Wordfence vs Sucuri: Which is The Best WordPress Security Plugin
Wrapping up
Getting into the Google blacklist can bring all sorts of trouble for you. Not only you will be deindexed by the Google search engine, and lose a lot of organic visitors you will also be flagged by many other web services that depend on Google's safe browsing report.
That is why regularly check if your site has any signs that indicate it is blacklisted by Google. If your site is already on the Google blacklist, you can follow the steps that we described in this article to bring it out from the blacklist.
However, first and foremost, harden the security of your website to make sure it never gets into the Google blacklist in the first place.
We did not cover a comprehensive security guide in this article. But if you own a WordPress site, and would like to get some tips on WordPress security, so that you can tighten up the security of your website, click on the link below for a detailed guide to do that.
https://wphive.com/performance-security/remove-google-blacklist-warnings/
Faisal Sarker
Faisal is a tech blogger who excels at WordPress Content Writing. Apart from sharing useful info pieces that help people around the world, he also likes to travel and read books of all genres in his leisure time.

Subscribe To Our Newsletter