7 Best Themes to Improve Google Core Web Vitals Score

Google announced a new set of metrics – Core Web Virals to measure the user experience on a web page in April 2020. Needless to say, the Core Web Vitals focuses mainly on website speed. But this is not all. Performance of your web pages on Core Web Vitals metrics will also impact your website ranking.
Below is what Google has to say about it –
Today, we're building on this work and providing an early look at an upcoming Search ranking change that incorporates these page experience metrics. We will introduce a new signal that combines Core Web Vitals with our existing signals for page experience to provide a holistic picture of the quality of a user's experience on a web page.
As Core Web Vitals become more and more important on the web, it is high time to optimize your website speed. However, making a WordPress website fast depends on many things. One of the primary things that impact the speed of a WordPress website is its theme.
So today, our article will focus on some of the best WordPress themes for Google Core Web Vitals. Keep reading!
Why Themes are Important to Optimize Your Website for Google Core Web Vitals


Themes are essential to decorate your WordPress site and give it a distinct look. Changing the overall design of your website also affects another important factor of your website, SPEED.
As a WordPress theme comes with icons, images, and a lot of elements, they impact your website speed. Having more built-in features can also slow down your site. But that doesn't mean your theme should not be featureful.
It's important to choose a theme that satisfies your need but doesn't have unnecessary features. Another way to minimize the overdo of features includes choosing a theme that lets you disable the features that you don't need.
Related: Best and Free SEO Friendly WordPress Themes to Drive More Traffic
Apart from built-in elements and features, another thing that is important to have in a theme is a clean coding structure. The clean coding structure of a theme helps to make a website load fast. Thus it also has an impact on Google Core Web Vitals.
However, for a beginner, it is not easy to understand and ensure all these things. So we tried to make it easy for you by handpicking the best themes to make your website fast. Which will also impact your performance on Google core web vitals.
Top WordPress Themes to Improve Your Website Speed
We tried and tested a lot of themes in order to find the themes that help your website do well on Google's core web vital metrics.
Below is the list of the 7 best WordPress themes to make your website blazing fast.
GeneratePress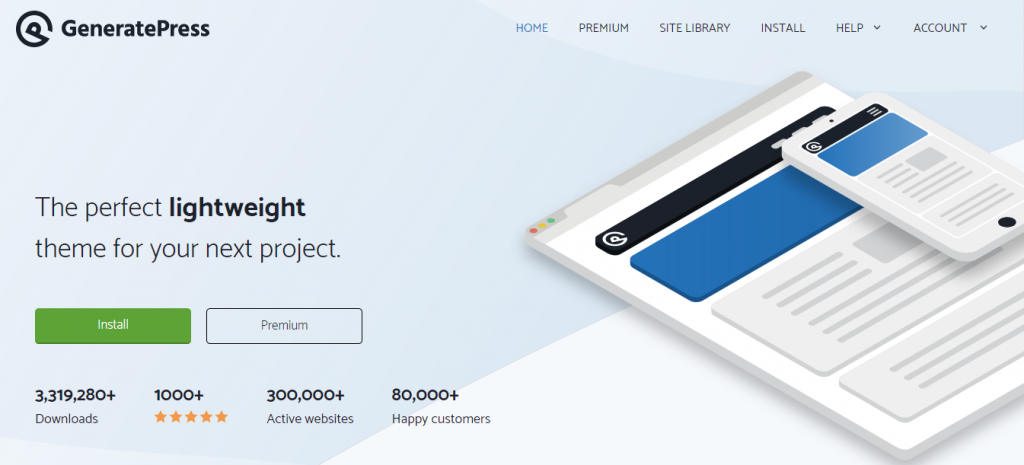 GeneratePress is one of the most popular WordPress themes. With more than thousand reviews, it stands with 5 out of 5 rating on WordPress repository while we write this article.
One of the prime reasons behind the success of GeneratePress is Tom Usborne's effort on making this theme as light and fast as it can be. But the best thing is that, while this theme is highly optimized for speed, it doesn't really cut down on features. Speaking of features, below are some of the best of GeneratePress.
Features
Surprisingly fast and lightweight, making it one of the most optimized themes for core web vitals
You can disable features that you don't use
Optimized for SEO. Also has schema built-in
Compatible with the top page builders
100% responsive
Astra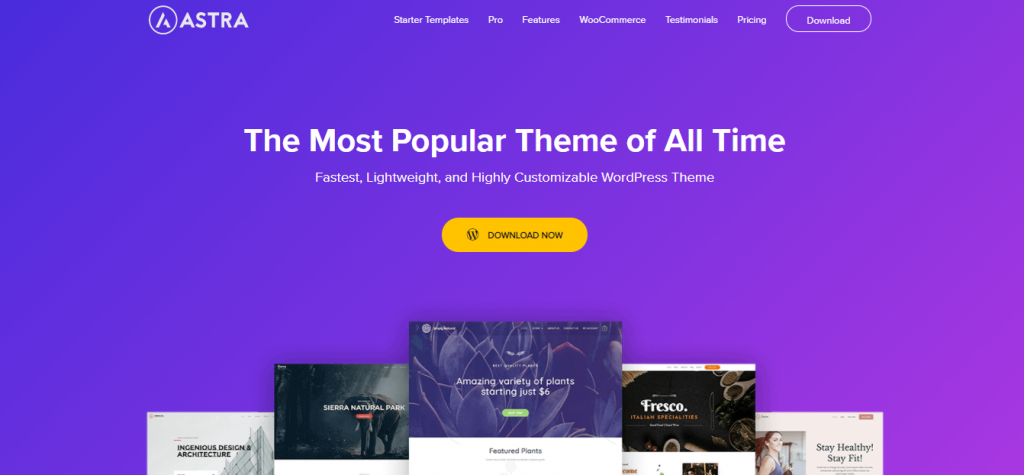 Astra is as fast, like really fast. It claims a load time of 0.5 seconds, and our experience was quite similar to that as well. Likewise, it did well in the core web vitals test as well. Astra is packed with essential features.
It lets you customize a lot of things through the default WordPress customizer. Apart from that, it also has a dedicated header-footer builder. All in all, there is more reason to buy Astra, than not. Here are some key features to make your decision even easier.
Features
Fast loading time, particularly because of being jQuery-free
Offers a lot of customization opportunities
Popular page builders compatible
Lots of free and premium demo sites
Kadence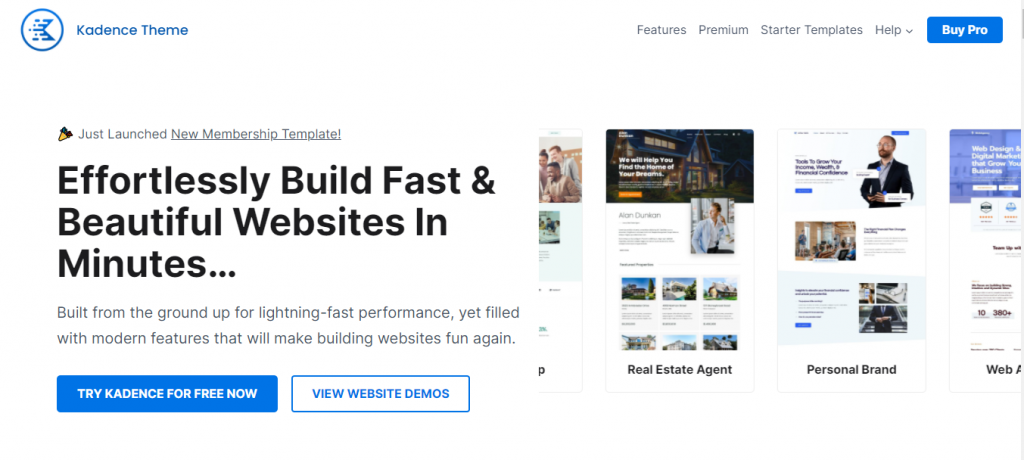 Kadence is another theme that satisfied us with its performance. The fast nature of this theme is perfect to help rank your site on Google, by getting good results on core web vitals. Kadence also comes in with a lot of useful features.
Plus, if you buy the Kadence Membership aka the pro version, you will get all the Kadence plugins with it as well. Keep in mind that the premium version is a bit pricier than most themes.
Features
Very quick loading time
Super SEO-friendly
Nifty features like scroll to top, built-in social links out of the box
Advanced customizability
Schema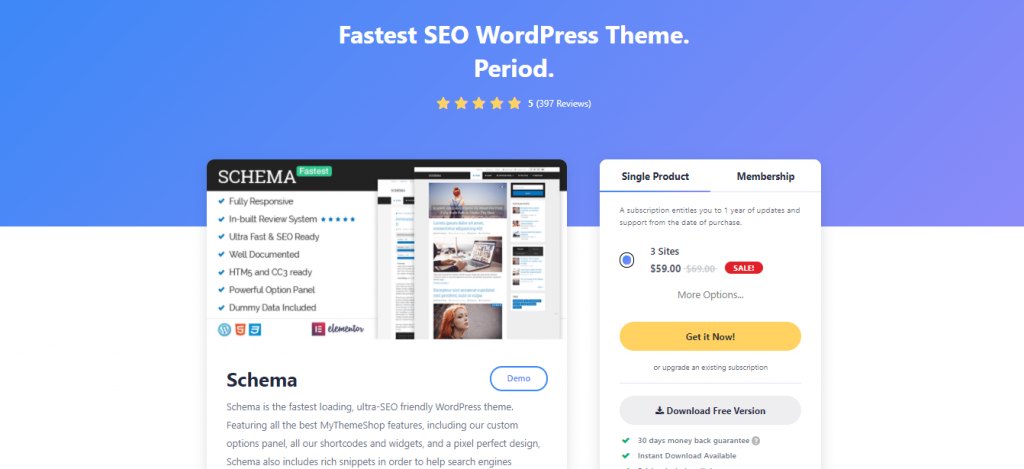 Schema is developed by the top theme development company mythemeshop. Given their experience in building themes that make websites load fast, Schema gave us hope. And, to be honest we were not disappointed with the website performance.
As the name suggests, it is actually developed with SEO performance in mind. So there's no reason to be surprised when you see your website perform better than before in search engines after installing this theme.
Features
Amazingly fast and lightweight
Rich snippet and in-built review system for better ranking on search engine
Lots of useful shortcodes
Built-in ad management module
OceanWP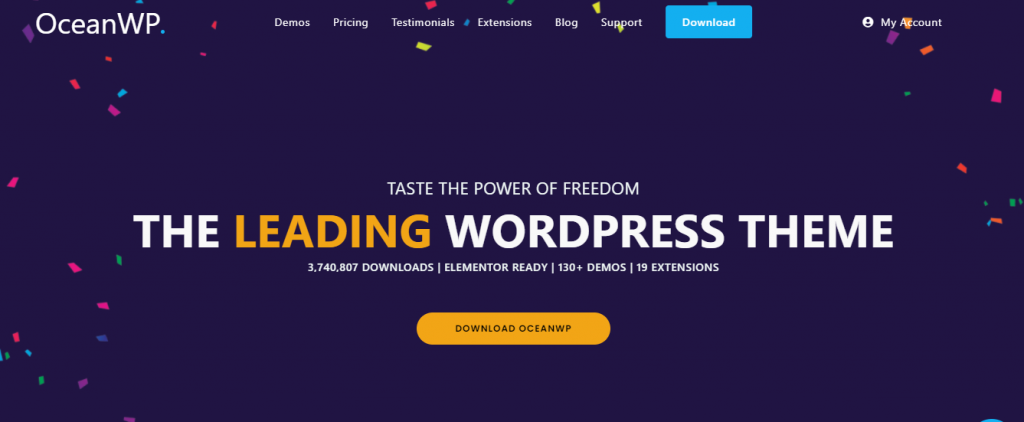 Whether you are a WordPress developer, site owner or just a WordPress enthusiast, there's a good chance that you have heard of the theme OceanWP. Such is the popularity of this theme, that it already has close to 4 million downloads on WordPress.org.
It is another theme that performed extraordinarily during our tests. Plus it also has an array of exclusive features as well as essential features.
Features
Quick loading time.
Highly customizable.
Advanced mega menu.
Divi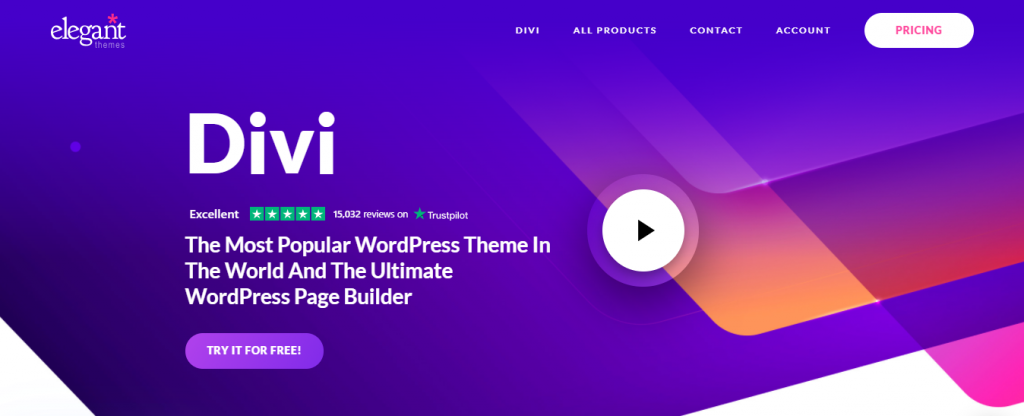 Divi is a theme with a full-fledged page builder in built. This has led Divi to be one of the most popular themes for WordPress. But this is not all. Despite offering many features, Divi is lightning fast on most occasions.
It is also highly optimized for SEO performance. Due to its fast nature, Divi is a great theme to improve your core web vitals score as well. It offers some great features (mostly on its builders), and the list is only getting better.
Features
Minimalistic theme that is great for building fast websites
Well-optimized for SEO
Divi Page builder included
Countless ready-made website packs
Hello Elementor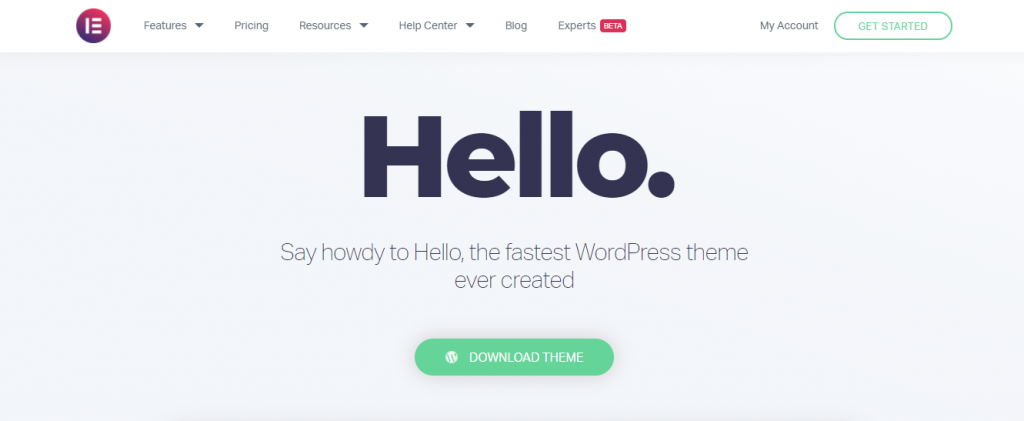 While there's a common conception that Elementor slows down websites, Hello tried to prove it wrong. This theme is an example of how an Elementor-build page can load fast when you use a properly compatible theme. Hello is a theme from the developer of the popular page builder Elementor itself and it makes your website blazing fast.
While it might not be the single-best theme for Google core web vitals, Hello is arguably one of the best themes for WordPress if you use it alongside Elementor. What's more, it's fully free!
Features
Minimalistic theme that helps your website load fast
Works like a charm with Elementor
WooCommerce builder to build an online store efficiently
Ready-made child theme for free
Developer-friendly code
How to Check the Impact of a Theme of Google Core Web Vitals
Checking the impact of a theme on your website in regards to core web vital is pretty easy. Google has a tool called Google PageSpeed Insights that helps you keep track of your website speed. In addition to that, you can also check your website's performance on core web vitals.
To do that, simply visit Google PageSpeed Insights, insert your website link, and click on Analyze. Below is what kind of result you will get.

What More Can You Do to Improve Your Score on Core Web Vital (Bonus Point)
Are you are struggling to score well on Google core web vitals, despite using one of the themes above? Don't worry, here's a list of things you should do to make your website perform well on core web vitals.
Implement lazy loading on your website, to make above-the-fold contents load faster than the others.
Optimize your images as much as you can. Use compressed image formats like webP, if possible.
Make critical CSS and JS codes inline. Minify CSS and JavaScript code and optimize CSS delivery.
Use image placeholder video. Try not to have a video above the fold.
Use only the fonts that you need and preload them.
Consider upgrading to a faster server.
Use a modern WordPress CDN (Content Delivery Network).
Use server-side caching.
If you follow all the instructions stated above, improving your performance on core web vitals will be a matter of time.
Stay Ahead of Your Competition by Using Core Web Vital Optimized WordPress Themes
Themes play a crucial role in website speed. As WordPress is a content management system, it ideally lets you manage your content, not the backend of your website. So optimizing your website for speed is rather hard in WordPress.
So it's important to look at as many aspects of your website as you can, and try to optimize them. As we use themes to change the styling of our website, it has a big impact on website speed and thus on Google core web vitals score as well.
If you use the themes that we have mentioned above, it will be easier for you to optimize your website for core web vitals. We hope you liked the article and it helped you in making your website faster. If so, consider liking our page on Facebook and follow us on Twitter.
https://wphive.com/reviews/themes/best-themes-for-google-core-web-vitals/
Faisal Sarker
Faisal is a tech blogger who excels at WordPress Content Writing. Apart from sharing useful info pieces that help people around the world, he also likes to travel and read books of all genres in his leisure time.

Subscribe To Our Newsletter