21 Outstanding Websites You Won't Believe Were Built with WordPress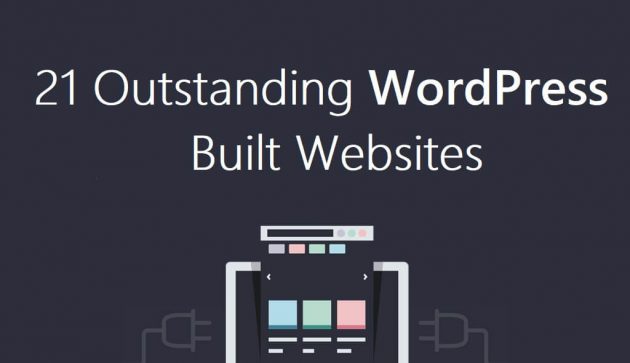 The world is not the same after Matt Mullenweg created WordPress. Maybe no one ever thought a content management system at the same time could be this accessible, varied, and organized. The door to endless opportunities was created for bloggers, start-up organizations, e-commerce, small credit business, and enterprises.
We have handpicked some of the prettiest and more delicate-looking websites built with WordPress around the internet.
21 Great Examples of Websites Built with WordPress
So here comes the list. We have featured WordPress websites from across the world that has come to humankind's aid in different ways.
1. We Virtually Are
'We virtually Are' is one of the great examples of WordPress website. Virtual reality is an exciting and sophisticated theme. Andy Taylor Smith has been interested in this for a long time. He aims to tell people the untold stories in the most real way possible. He created a studio for that named "We Virtually Are." This studio has a profile on Facebook, Twitter, and YouTube. For its Website, Smith has used WordPress. We Virtually Are is a UK based company, and has a wonderful and lucrative homepage.
In this page, they have attached the stories they covered so far. The amazing thing is you can get the history of "virtual reality" in its history section. In this website, their purpose is explicitly stated. A tour to this site is a tour of a virtual reality world.
2. Da Ink
Da ink website, the Australia based company, has done some out-of-the-box thinking while designing their website. The website is a goldmine for tattoo lovers. If you look carefully, you'll get to see the name of the creator Drew A picture inscribed on the Dark Background. This dark gothic look is attractive to the youngsters.

Here in that tattoo section, there are subsections. Tattoo enthusiasts can check online what variety A picture offers to them. This guy does know his community. As this website contains the precise location and a contact form to connect with admin directly.
3. Design Museum Denmark
Probably one of the most excellent WordPress website examples is Design Museum Denmark. The website is a unique piece of art standing on WordPress and merges antiquity with modernity. This website's most beautiful thing is its color combination.
It's an old themed brownish colored layout looks soothing. Its parallax scrolling and interplay of colors hypnotize the eyes.
Museums documents, Library information, exhibitions of the different era, journals even the booking system under which you can visit the museum is recorded here.
4. The Official Star Wars
You always liked those Stormtroopers right? Star Wars official blog site is created on WordPress. It is a proud moment for WordPressians who are Star Wars fans. Maybe this was the best way to preserve the contents about Star Wars on WordPress and keep them updated.
Look at the view of the website. There are sections like a blog, videos, games, and apps, community, etc. In the news and blog section, there are blogs on individual characters of star wars and as a whole.
This website hosts declaration and tickets of yearly star wars celebration.
5. The Walt Disney
Everyone from the twenty-first century probably knows the name "The Walt Disney" or "Disney" or "Mickey Mouse." Mickey Mouse is just a product of The Walt Disney company. This company has lots of other products too. They used WordPress for their website designing.
This website has a modern design with special emphasize on picture size. Another attractive feature is its colorful appearance on an off-white background. This was the best way for them to show their present condition, so far achievements, working sectors, introduce their brands, etc.
6. Chicago Sun-Times
Chicago Sun-times is an excellent example of WordPress website. This evidence apart from being colorful for personal or business purpose website WordPress can also serve a serious purpose. They used one of its most popular themes-Newspaper themes.
Chicago Sun-Times is Chicago's oldest daily and been upgrading with time. It decided to remain updated with the WordPress content management system. The tone of this site is black and white and has a grid layout.
7. Greenwich Library
The tradition of unuseful public service websites is changing. Greenwich Library can be considered as one of the pioneers to break this tradition. T

It is amazing how this website now contains information about its history and contemporary digitalized library simultaneously.
8. Jenny Bristow
The famous Irish food ambassador, reaching to fame with UTV cooking show has launched her website using WordPress. The website designer also used the new HTML5 standard. WordPress made it easier for him.
The design is ordinary but resourceful. There is not much use of colors. More focused on blog sections. Food bloggers can benefit themselves by looking at books, cookery school, food filming, recipe available on the site.
9. MTV News
MTV News is one of the websites to stay connected with celebrities, movies & music. MTV news has chosen WordPress as the Content Management System for their website. The logo is exactly the way it is on television. This site has a glamorous, sparkling look congruous to the type of news it holds. It gives importance to picture quality and animations. Parallax scrolling is another characteristic of this site.
10. Bata
If anyone writes about WordPress's success story, the name Bata will be there as a part. Bata the worldwide known footwear brand uses WordPress for its Website.
Bata's website has an option to choose a country on its front page. It then shows you products according to your country.
The noticeable feature is beside companies profile, the story there is the list of Bata executives. A way to win the faith of customers.
11. Microsoft News Center
The inventor of Dot Net framework runs their blog on WordPress. Funny right?
– No! If it works then why choose something complex?
Like Chicago Sun-Times, Microsoft News center also uses WordPress for their website. This site has an ordinary look. The color blue has a prevalence on this site, In a regular frame it has managed to wrap the essential genre blogs on the page.
12. Katy Perry
This American musician has created a personal website using WordPress. A better way to showcase her photos, tours, recent works and so on in an organized way.

Her website has a significant orange tone with a static background. Animations are all over in the site.
13. Mercedes Benz
One of the most significant examples of WordPress websites is Mercedes Benz official website.
This website has a warm theme on a black background. This website has utilized carousel movement. It's boxed structure make contents look organized.
14. Thirty Dirty Fingers
It is a Paris based graphic studio. Its vintage look only shows how much WordPress can do. It is another dark themed site with amazing graphics.
Other than this It is focused on picture quality and has parallax scrolling.
15. Pygmalios
This is a Slovakia based company that works on business strategy and customer behavior. The company uses WordPress for their website.

The website looks colorful with dominant black and purple combination. Parallax scrolling is another character of the site.
16. Airnauts V2

Airnauts V2 a Poland based company. They use WordPress for their site. The theme they use is considered to be the best theme of WordPress. Parallax scrolling lets the page start on dark tone then move on to a lighter tone.
About Airnauts, their slogan is about creativity meeting technology.
Why You Should Care More About WordPress
40% of the internet is powered by WordPress already. WordPress wins in most comparisons like WordPress vs. Wix. The statistics rise high every day. So it is almost impossible to mention all the examples of WordPress websites. This article was just an attempt to show the diversity for which WordPress is used. There are fat chances we still missed out on special mentions. So just come ahead and let us know in the comment section!
https://wphive.com/reviews/21-outstanding-websites-you-wont-believe-were-built-with-wordpress/
Sakil Adnan
Sakil Adnan is an Author, Content Strategist, and Editor. Completed his Graduation in Business & Marketing. Passionate about WordPress, history, religion, and literature. Enjoys exploring new things beyond regular responsibilities. Believes in teamwork and loves empowering team members. Now working as the head of content at weDevs and WPHive.

Subscribe To Our Newsletter