WordPress vs Wix – Which One You Should Choose in 2023?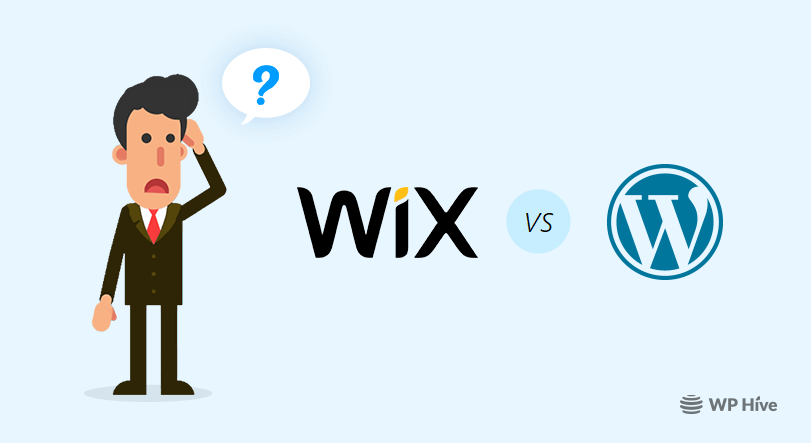 "Why do I need a website" – You can ask yourself million times and come up with more than one valid answer. Whatever your goals are, chances are, you will choose some easy website creating tools such as WordPress or Wix.
You need to know the basic differences and advantages of WordPress vs Wix to make an informed decision. Both of them serve one purpose –  offering you the tools and support you need to create a basic website. Without further ado, let's compare WordPress vs Wix in 2023.
Note: This article will compare WordPress, the self-hosted blogging software [not WordPress.com] and Wix.com.
Ease of Use WordPress vs Wix [2023]
Wix.com offers a very clean visual editor for making website designs.

You can easily drag and drop many elements from the provided menu bar.
You can choose from a wide variety of themes.
Use different themes and colors; experiment with different fonts and customize the whole website in different ways.
WIX ADI – Pinch of Artificial Intelligence in Design
The Wix ADI is one of the first few examples where AI comes to rescue you.
Wix ADI offers you a unique prebuilt website according to your need, powered by Artificial Intelligence. This makes the whole process a lot easier. A few clicks and boom! You have your own website!
WordPress – Easy as Pie
Although WordPress is the most used CMS right now that has occupied more than 40% of total websites on the internet, your average Joe will find it a bit little intimidating to install WordPress for the first time.
Because one has to have some basic Domain/Hosting related ideas to explore WordPress for the first time. But once you install it, the whole world is much smoother than Wix. You can have millions of themes that offer tons of customization. For example, a plugin like WP ERP can turn your website into a full-fledged HRM manager basically in a few clicks. The possibilities are endless once you pass the initial WordPress installation.
Ease of Use Winner – WordPress vs Wix: Wix
WordPress vs Wix – Meeting Your Custom Requirements [2023]
Wix offers more than 200+ apps in their marketplace. Some of them are free, and some of them are premium.
These extensions help to grow your site and cater to your custom needs. However, essential extensions like a gallery and contact form may require a premium monthly subscription and each extension has its own price.
On the other hand, the scope of extensibility is endless in WordPress. Want SEO? There's a plugin for that. Want forms? There's a plugin for that. Want to add cool-looking social sharing buttons? There's a plugin for that. With WordPress, there can be infinite numbers of options you have to organize WordPress as you want it.
It's as easy as installing an app from the App Store.
Granted, you need some fundamental technical skills, but once you pass the initial hurdle, you will be good to go!
Flexibility Winner – WordPress vs Wix: WordPress
WordPress vs Wix Cost Comparison
Cost is one of the most crucial factors when developing a website. Whether you are a newbie or a professional, the building cost is always a major concern while designing a website. Let's make a fair comparison of both WordPress and Wix which will give you a basic idea.
You can make a free website on Wix and use the AI-powered WIX ADI building tool for free. The whole experience is so great that you will have your site ready in under 5 minutes. However, one major flaw is you cannot use your own custom domain name with it. Your site will be under Wix's subdomain and will look something like username.wix.com/sitename
Another major drawback is the Wix App Store is, in fact, smaller compared to WordPress. WordPress has a massive collection of plugins, themes, and resources. For 1GB bandwidth, 500 MB storage and a domain Wix charges about $4.50/mo. That's about $50/year. But you can comfortably host a WordPress.org website with a domain and hosting for about $20.
Best bang for the buck: WordPress
Security & Support
WordPress is open-source software. On the contrary, WIX follows more like SaaS (Software as a Service) model.
As WIX has full control from deploying the server, managing the database, managing the server connection – all the hard stuff, in this case, they can provide tighter security and can patch their vulnerability much faster.
However, WordPress runs on the server you have chosen. It might not have the latest PHP version, or a Solid State Drive (SSD). WordPress depends on the users to be able to perform and reach its true potential. So the security is not as tight as Wix. However, WordPress has plugins like WordFence, and Security Ninja to cover you from the latest malicious attacks.
The clear winner, in this case, would be WIX as they can mitigate any attack much faster.
Security Winner: Wix
Support – Thinking Ahead
WIX has more streamlined support than WordPress in this case. You can visit the comprehensive support page at WIX and probably resolve your issue from the documentation. 24×7 Support is available for Wix users.
WordPress support forums are helpful hub too. You can ask for support for plugins or themes. The developers reply most of the time. However, a reply is not guaranteed and additional support may involve costs.
Support Winner: Tie
Verdict WordPress vs Wix
Both WIX and WordPress are two extremely good platforms to build your website. Both the platforms have adequate options to choose from that will cater to most users. If you want a simple workflow, are not on a budget, and want a tension-free business without worrying anything about the website, WIX is your go-to option.
14 Reasons to Choose WordPress over Wix
At least 7x more resources
WordPress.org is open source and free for a lifetime
Video tutorials are available for free
Cost-effective
Both the managed version of WordPress and the hosted version of WordPress are free.
 Thousands of plugins are available for free (Check our coverage of best WordPress plugins 2023)
Thousands of free themes available
There are many ways to improve pages peed
Great eCommerce support with WooCommerce and Dokan.
You can organize content with tags, categories, posts, and pages
Create beautiful websites with the help of page builders like Elementor
Create a WordPress blog in minutes
You can test or debug on localhost
If you feel like customizing the websites more than usual, future-proof your site, or tinkering with it then WordPress is your go-to option.
https://wphive.com/reviews/wordpress-vs-wix/
Sakil Adnan
Sakil Adnan is an Author, Content Strategist, and Editor. Completed his Graduation in Business & Marketing. Passionate about WordPress, history, religion, and literature. Enjoys exploring new things beyond regular responsibilities. Believes in teamwork and loves empowering team members. Now working as the head of content at weDevs and WPHive.

Subscribe To Our Newsletter