Best Email Marketing Software in 2023 (Full Anatomy of weMail)

Do you run such a business where you need to send bulk emails regularly to manage your customers? If so, then email marketing software is an inevitable tool for your business.
But before you can start thinking about sending bulk emails, you need to find the best email marketing software that will help you manage your subscribers and deliver emails on time.
That is why today we are going to analyze the top email marketing software around you right now, weMail.
We will take an in-depth look at its unique features, pricing, and configuration as well. So, keep reading and find out how it will greatly impact your business.
The Necessity of an Email Marketing Software


Email marketing software can manage your contact lists, help you design and send compelling emails, and track whether these were opened and read. The good news is that it does not cost much to get started with email marketing.
However, before start reviewing the best email marketing software, let me show you some crucial points why you need to use it.
Target Different People with Different Campaigns: You can create what's known as buyer personas, through your email marketing service, in order to target different people with different campaigns. For instance, you can target your regular customers in a way and apply a different approach for new customers.
Keeps You in Contact with Your Audience: Email marketing software allows you to keep both existing customers and potential new clients informed about what's going on with your business, new promotions, etc.
Cost-Effective: Email marketing provides a high return on investment (ROI). According to Campaign Monitor, every $1 spent on email marketing typically generates about $38 in ROI. This statistic indicates just how cost-effective email marketing can be for businesses, especially smaller businesses that are working with smaller budgets.
Reach More Mobile Customers: With two-thirds of emails being read on smartphones or tablets, email marketing proves to be an effective tactic for helping businesses reach and engage those consumers that are using their mobile devices. Having said that the number of mobile users is going crazy day by day.
Automate the Email Marketing Process: Automating your emails helps improve the relevancy and timeliness of your campaigns. You can use triggers and workflows to automatically send messages to consumers after they take a specific action.
What to Look for in an Email Marketing Software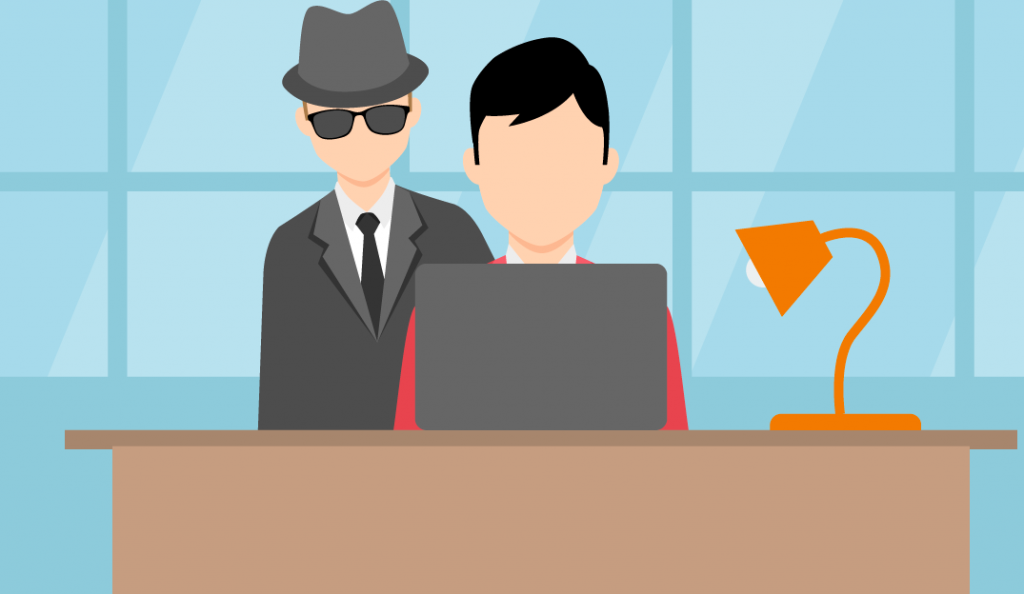 You just can't see and pick a random email marketing software for your business. Because choosing unfit software can harm your marketing campaign rather than help you to outreach your clients.
So, when you're choosing an email marketing software, be prepared with a checklist that will help you to choose the best fit according to your business requirements. Here is such a list of what you should look for in an email marketing software.
Drag & Drop Editor: An easy-to-use visual editor that will let you customize your email templates (without any coding) is your best bet for getting campaigns sent out quickly and efficiently.
Different Campaign Types: Your software should be able to support a range of email types, including regular newsletters, A/B tests, and autoresponders.
Marketing Automation: Whether you need just simple autoresponders or more targeted automated campaigns, it's important to make sure that your software can cater to your automation needs.
Sign-up Forms: A good newsletter tool will allow you to create your own form to capture subscribers, which can either be embedded on your site or hosted on a separate landing page.
Integrations: Your email software needs to be able to link up to your other key applications, e.g. your blog, online store, CRM, and analytics tool.
Deliverability: What good is a newsletter service if your emails don't get past the spam filters? Good email marketing software ensures that your email will land in your customers' inboxes and improve the deliverability of email.
GIF: It's a graphic file that can be animated. Why is this important? It's essentially impossible to embed a video in a newsletter that works across all email clients; most of the time it would be blocked. That's why animated GIFs are a popular way to add moving images.
weMail Review – Full Anatomy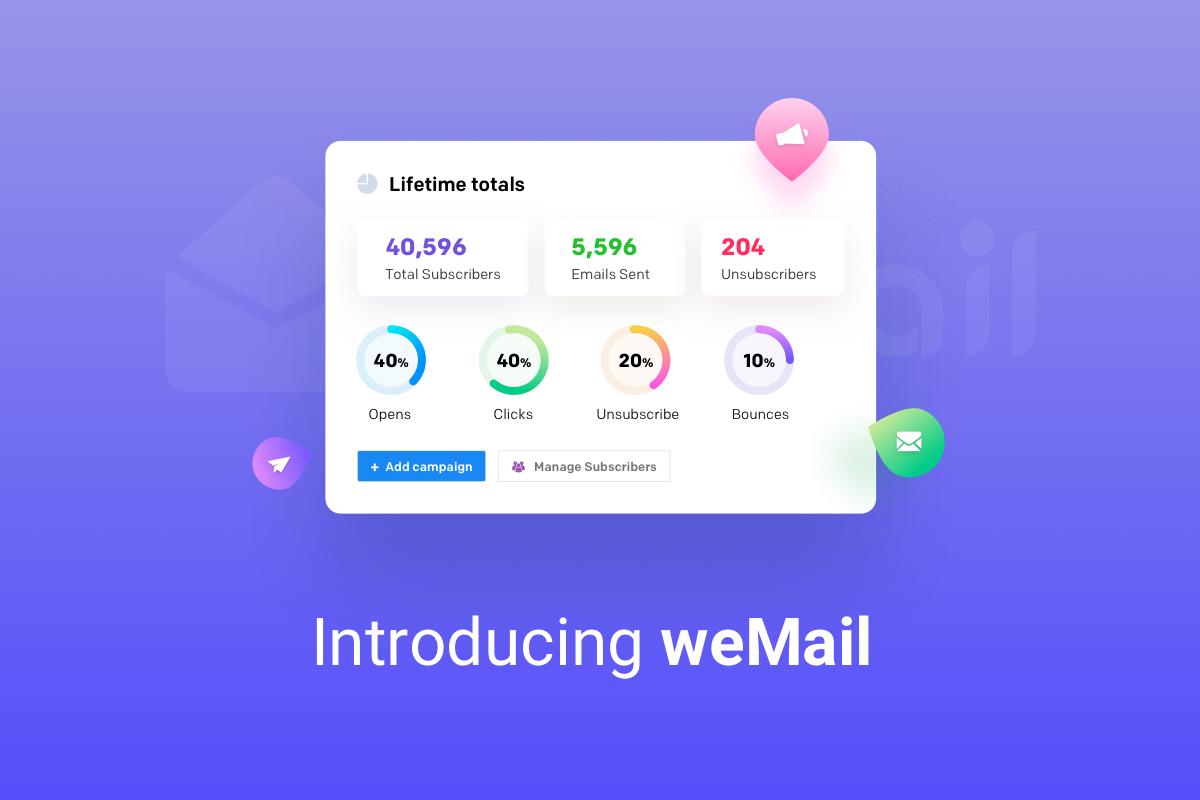 Email marketing is so popular nowadays. And, email marketing software like weMail makes this process simpler than ever before.
Using weMail, you can create and send engaging emails with your preferred email sending gateway, grow subscriber lists, and promote services and products all within the WordPress dashboard.
Doesn't it sound simple? More to redeem below.
These are the top features that weMail comes with. Now, we will flip every feature of weMail to check how good it is rather than other popular email marketing software in the market.
The uniqueness of weMail

Before making this analysis, we tried some of the best email marketing software on our WordPress site to identify the uniqueness of each of the tools.
Though the sole purpose of all the tools is to make email marketing easier than before, the working procedures are different from each other. Having said that some of the tools have some unique features too.
Let's talk about the uniqueness of weMail. Unlike most other popular email marketing software, weMail offers some features that either no other tools have ever been introduced or have been introduced partially.
However, weMail gives you the full freedom to use,
Deep WordPress Integration: WordPress integrations like Registration opt-in, WooCommerce opt-in, Comment opt-in, Transactional email, WP user sync, and many more make weMail stand out from the crowd.
Embed Forms: With HTML embed forms of weMail, you can place them anywhere. Widgets, posts, or pages weMails embed form will work anywhere. Apart from it, customizable embed form options make it easy for anyone to create an HTML form with custom fields.
Beautiful Templates: Whether it is any standard or automated email campaign that you are planning to run, just create it without any hitch using the beautiful built-in templates of weMail.
Opt-in Forms for Retargeting Option: weMail is loaded with four different types of opt-in forms. They are the Inline, Floating Bar, Slide up, and Modal. These opt-in forms will help you get email subscribers without having to install another plugin for your WordPress site.
Integration with Top Email Sending Gateways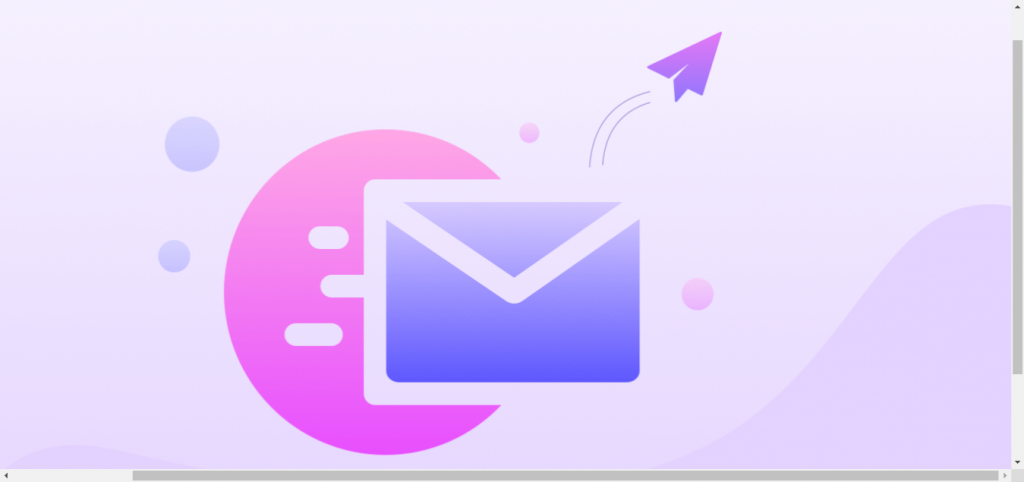 The first and foremost responsibility of an email gateway is letting you send your bulk emails to your subscribers easily. You can send thousands of emails at a time using any of the email sending gateways. Also, you can receive, and track emails through a gateway.
The weMail has been introduced with seven email gateways so far. Each of the gateways is popular, top-rated, and comes with easy to use functionalities. This allows you to get benefitted from any sending API you like.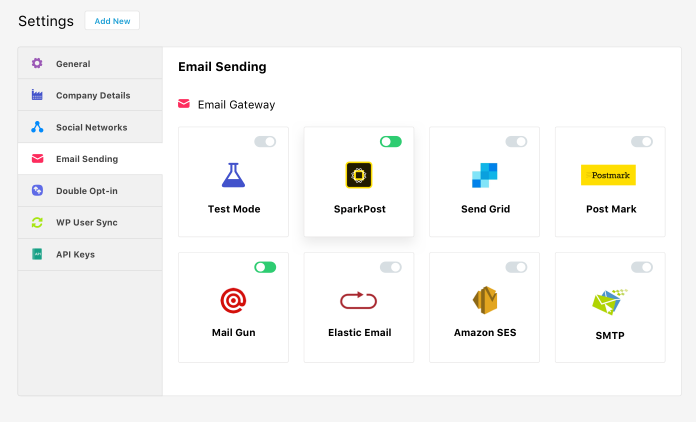 You can build and manage your email lists or groups easily with these below-mentioned email gateway integrations.
MailGun
Postmark
SparkPost
SendGrid
Amazon SES
SMTP
Elastic Email
The main goal of using a third-party sending gateway is to help you send unlimited bulk emails at the minimum cost possible.
For any other email platform, you need to increase the budget depending on your subscriber number. Furthermore, you can change your sending gateway on the fly, whenever and wherever you require.
To configure these top email-sending gateways, you can watch this video. This is a step-by-step and easily described tutorial video to help you in configuring it in no time.
Comprehensive Campaign Reports & Analytics
Without the help of a complete report of your ongoing email campaigns, you will be unable to take steps for your future campaigns. That is why weMail ensures the easiest way to take a close look at your ongoing campaign report so that you can understand how should be your next campaign.

Some of the top analytics you can get with weMails are-
24 hours digest and notifications
Email link check
Google Analytics integration
Email Campaign overview, etc
It is not possible to run successful email campaigns if you can't design your campaigns properly with your email marketing tools. So being able to set up, design, automate, and manage your email campaigns is as important as sending those emails.
You can create either a standard or an automated campaign using premade email templates.
Standard Campaign: Send email campaigns to your email list with segments that make your email more resonate with your email list.
Automated Campaign: Automated your emails when you need to. Welcome new users on the site, and automate a series of emails to take the manual process out of the way of your email workflow. Whether you are sending it to a single list or multiple lists.
Templates: Need templates for your email campaigns? weMail has built templates just for that. Use templates you find best suited for your email content so that you don't have to search for templates.
View all the templates here – https://getwemail.io/templates/
Watch this video to know how to run your first-ever email campaign with weMail.
Opt-in Forms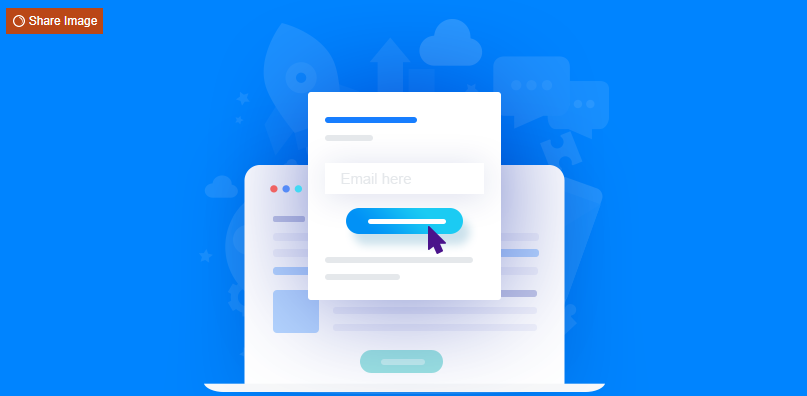 Sometimes a user may need to place embedded and opt-in forms within the site to collect emails from the visitors. This method can get very difficult if your used marketing tool doesn't allow you to do so properly.
But with weMail, place your embed forms anywhere and it will work like magic on any posts, pages, or widgets. Create an HTML form with custom fields easily with the help of customizable embed form options.
Moreover, there are multi-purpose multiple opt-in and double opt-in forms to collect leads better. Get to place the opt-in forms in the form of inline form, floating bar, slide up, and Modal.
Inline: Show an inline subscription box on your website with an inline opt-in box. Collecting subscribers will be easier than ever.
Modal: Want to show a pop-up of a collecting modal box? You can use the modal opt-in box to get subscribers into your preferred list.
Floating Bar: The floating bar will auto-float at the top or bottom of your website. You can use this opt-in box, to collect subscribers.
Slide Up: If you want something fancier. You can use the slide-up opt-in form.
Popular Forms Integration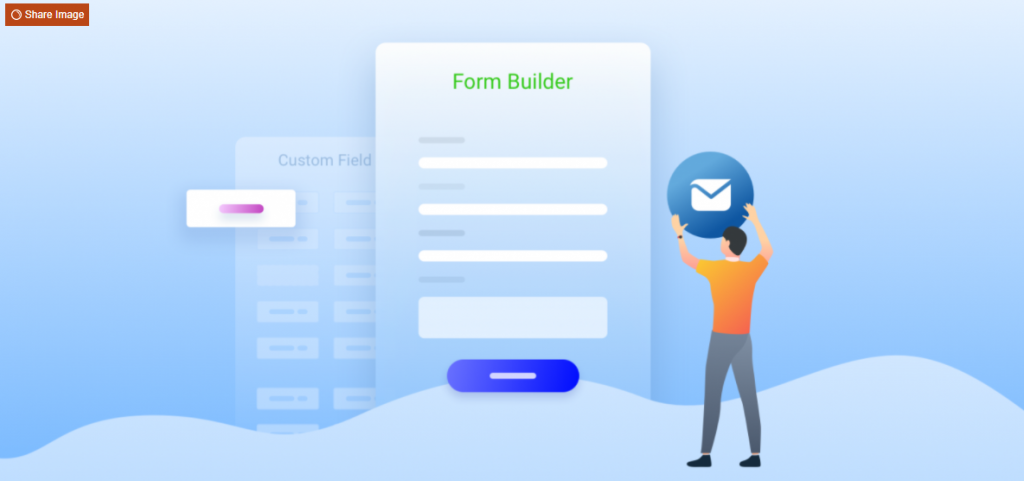 An email form is an online form used to collect information from subscribers, especially to help build a relationship with these subscribers.
To increase your customer satisfaction, retain existing customers, increase brand awareness, and build sound relationships, a form builder is an essential part of your business. 
To get started, you'll use the weMail Form to design your signup form and signup response emails. Then you'll be ready to share your form across all your online channels and watch your audience grow.
With weMail, you can create unique and interesting forms that will help you reach out to your subscribers, and you can engage with them more effectively.
weMail has features that can help you create a form just as you want. You can create an HTML form that can be set anywhere on your webpage.
weMail offers integration with many popular forms plugins like,
weForms
Ninja Forms
Caldera Forms
WP Forms
Gravity Forms
Contact Form 7
Formidable Forms
Happy Forms
Fluent Forms
These are the best ones in the WordPress ecosystem. So you can easily use any of the above forms to build and design your forms/templates.
Top WordPress Integrations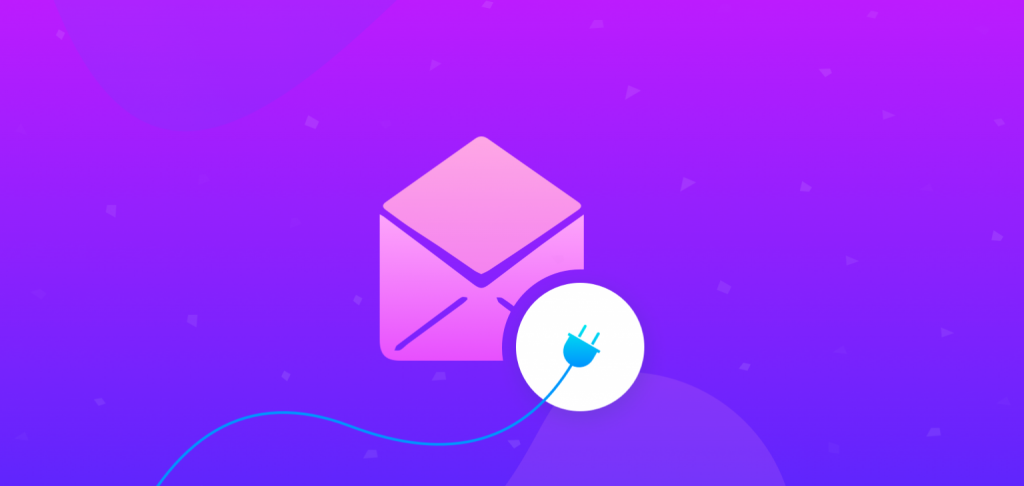 weMail has constant WordPress integration support to make your email marketing smooth and faster. You just install weMail to your system. Then this platform lets you integrate a lot of powerful email plugins into your system. It's that much easier.
For example, you can add a WooCommerce Opt-in plugin with weMail. Whenever a purchase is made in your WooCommerce store, this tool automatically sends the data to your weMail database and creates a lead. Which will let you retarget the customer by sending newsletters and offer via emails later.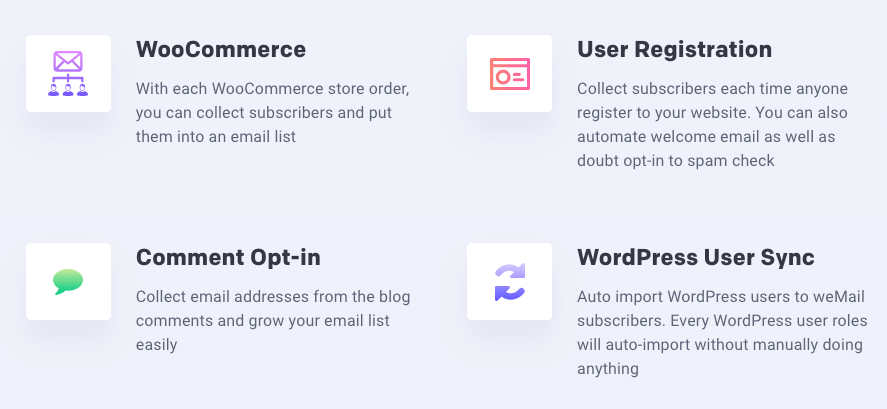 Apart from WooCommerce opt-in form, there are a few more integrations we can look into,
Registration Opt-in: Collect subscribers from users' registration, making it easier for the website owners to put registered users into a separate email list.
Comment Opt-in: Collect subscribers from users' comments, and keep the reader coming back to your blog post with a newsletter.
Transactional Email: Send your WordPress site's transactional emails via weMail. All the emails from your WordPress website will be sent from weMail if you enable this option.
WP User Sync: Allow WordPress users to auto-import into new subscribers in weMail.
Team: Manage an entire team of email marketing with default WordPress users.
WordPress Post Block: You can add the latest WordPress blog post in the email campaign drag and drop editor.
WooCommerce Product Block: Add WooCommerce product block in the email content with just drag and drop.
Email Listing & Management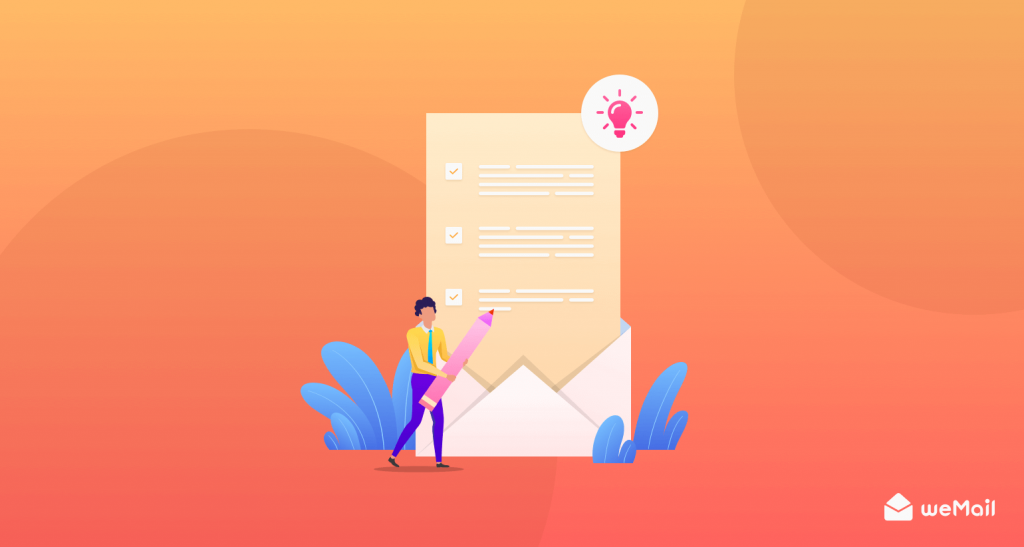 Managing subscribers is one of the challenging tasks in email marketing. To lessen these hurdles, weMail comes with a step by step list management feature. From collecting leads, create a database, to turn the leads into active subscribers, weMail helps you to make strategic moves.
Some of the remarkable advantages of weMails subscriber management system are-
Auto clean email list: Remove the inactive user from the list automatically.
Automated welcome email: Set several welcome emails and send them to every new user each time they subscribe to get your newsletters.
Handling Bounced Emails: Analyzing the bounced email, you can create a more active email list.
Import & Export: Import your custom templates, and email list from other email marketing tools to weMail using our built-in import settings. Migration is easy, simple, and solid. Exporting your email contacts to CSV is just a single click away. Especially, the Mailchimp sync option is very useful. You can import your subscribers from other email services with ease.

Multiple List Send: You can send email campaigns with multiple lists in the same campaign and not worry about sending duplicate emails.
Segments: Segments are one of the most crucial parts of email campaigns. You can segment emails with detailed targeting options. For example – you can select emails that didn't open in any campaign(s). You can select email contacts with specific words and many more exciting options.
Tags: Tag your email users accordingly to your needs. Whether it's for marketing purposes or software free/premium users. You can tag users to differentiate when needed.
Pricing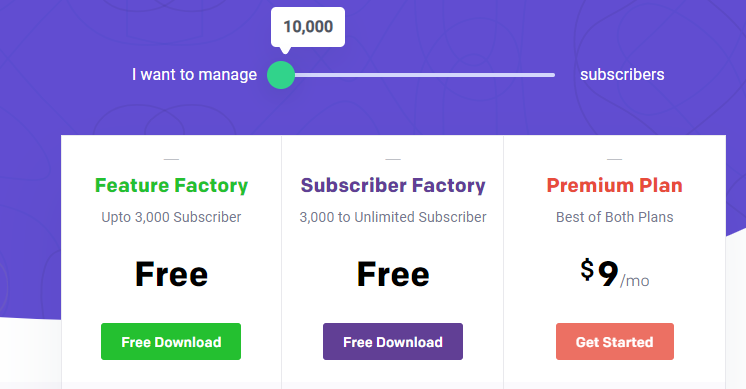 The best part of the weMail email marketing software is its pricing. If you value your money, weMail should be your first choice.
Surprisingly managing the first 3000 subscribers and sending emails to them is completely free for you. For managing more subscribers and getting a few more premium features, you will be needing to pay $9 per month.
Yeah! You have heard it right. This is that cheap if we compare it with other email marketing software.
So, if you are talking about the pricing of email marketing software, weMail is certainly unmatchable.
weMail vs Top Email Marketing Software (Comparison Table)
Here, we have considered MailPoet, Sendy, WP Offload, and MailChimp as competitors of the weMail.
Now, we will make a quick comparison between them to identify which email marketing software is the most suitable for your business.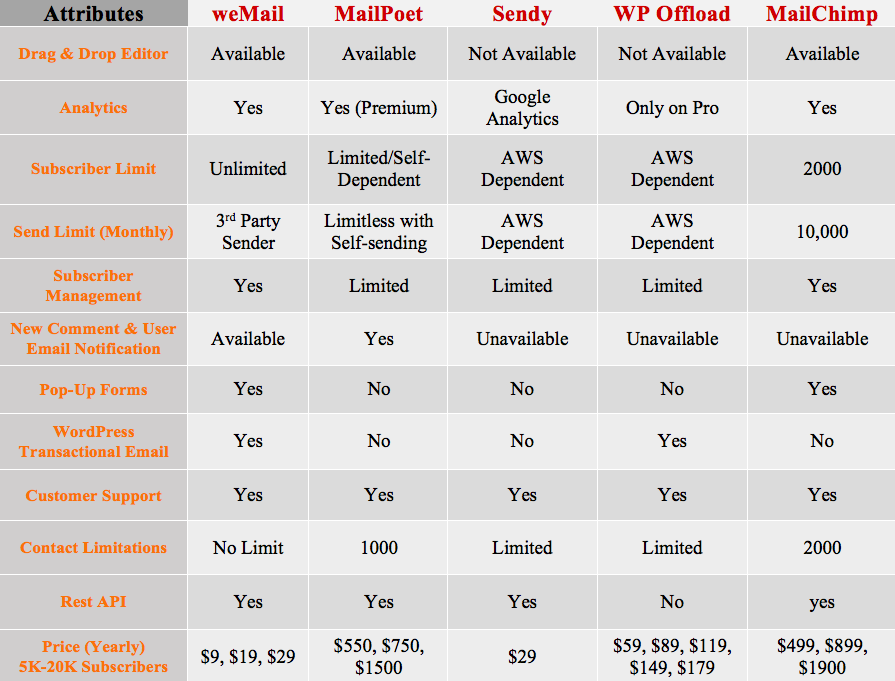 We can clearly see how weMail makes a difference for your business than other popular email marketing plugins.
If you need more specific comparisons like their performance, loading time, and more, you can do it yourself using our WPHive plugin comparison feature.
You can compare any of the WordPress plugins using this feature.
How to Install & Configure weMail in Your WordPress Site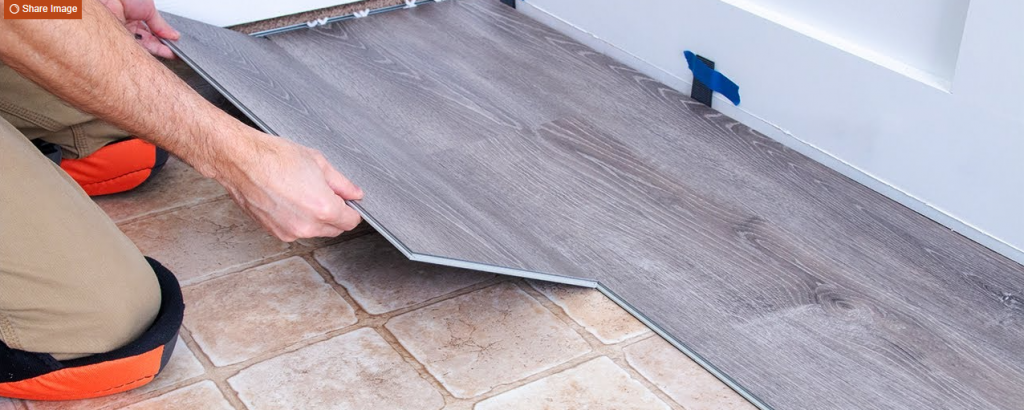 Installing weMail is as like other WordPress plugins. Having said that, here, we are going to show you how to install and configure weMail in moments.
So, follow the below steps to get your job done.
Login to the admin panel of WordPress.
Navigate to Plugins → Add New → weMail. Click Install. Once installed, click on Activate to get started.
Now after successfully activating weMail, navigate to the new weMail icon on your WordPress dashboard.
You need an API key to connect with weMail services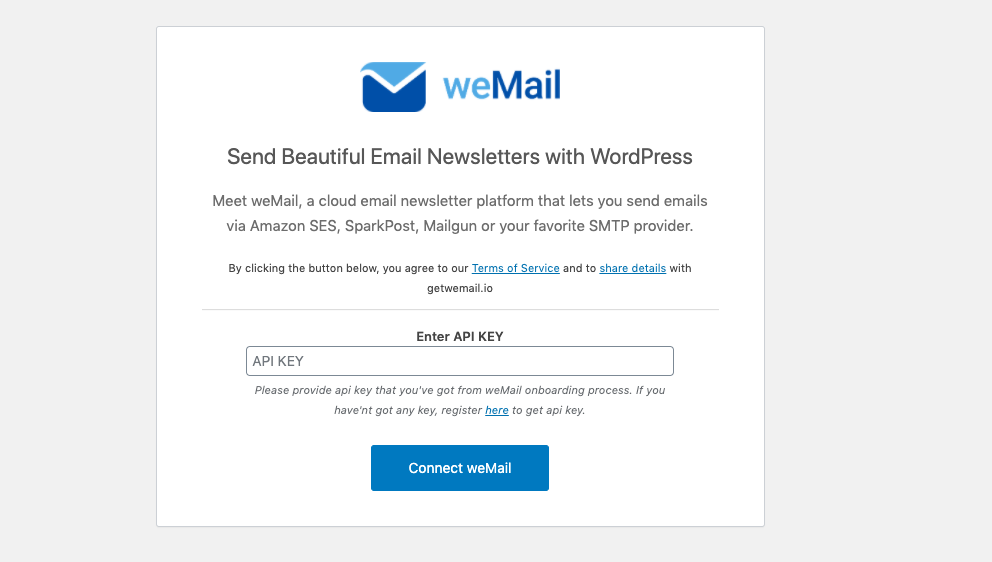 Click on the register "here" button or you can visit this link – https://app.getwemail.io/register to get the API key for weMail
Sign up & log in and you will have this dashboard

Click "Add a new site" button & add your website URL then click "Next"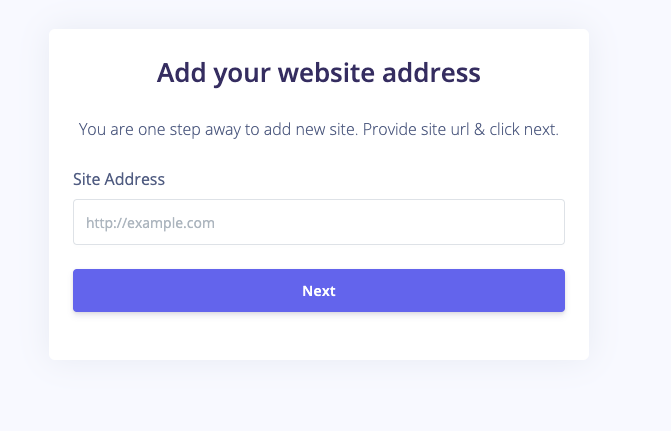 Copy the API Key and paste in the weMail plugin field shown earlier & click "Connect weMail" button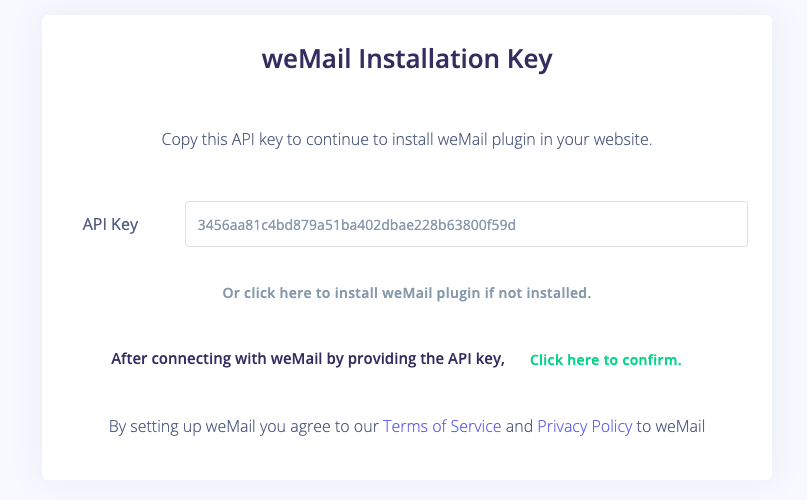 Click on "Click here to confirm" to confirm & complete the API setup process.
weMail wizard will guide you to set up API, Lists, Import Users, and Company info settings, you skip these steps if you want.
After connecting to weMail you will be greeted with weMail's user intuitive dashboard. Just connect to your email sending API, create campaigns, and start delivering emails.
Know more about weMail from here.
Overview
After installing, you will get an overview page like the one below.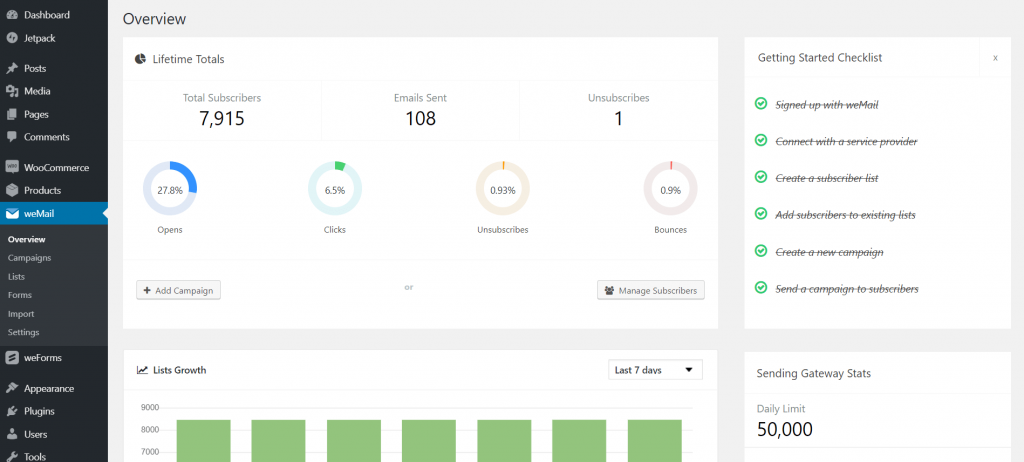 Installation is done. Welcome to weMail!
Once you're done with your installation part of weMail on your site, follow this video to configure it as per your site requirements.
Boost Your Campaign with the Right Email Marketing Software
If you look at the bright side then the biggest benefit of using an effective email marketing tool is that all the email campaigns can be tracked or monitored. The best part is you can generate a number of email campaign related stats and reports to analyze the effectiveness of each particular campaign individually.
When you choose the best email marketing software for your business, nothing can hold you back to launch a perfect marketing campaign. That will of course, not only drag you a huge number of new customers, but it will also ensure a higher ROI rate.
So, grab weMail now and launch your email marketing campaign ASAP. Good luck!
https://wphive.com/reviews/best-email-marketing-software-for-small-business/
Shams Sumon
Shams is a content writer with a passion for making WordPress topics easy to understand for everyone through conversational and storytelling approaches. With a background in the WordPress industry since 2019, he has developed a knack for breaking down complex technical concepts into digestible bites. When he's not crafting engaging content, Shams can be found watching football matches, catching up on the latest movies, or exploring new destinations to rejuvenate himself.

Subscribe To Our Newsletter