Enhance Your Online Marketplace Capabilities with 10+ Amazing Dokan Features

WooCommerce has made it easier to create an eCommerce site on WordPress. But it allows users to create only a single-seller online store. In order to create a multivendor marketplace using WooCommerce, you will need Dokan – one of the best multivendor marketplace plugins.
With time, this plugin has earned the number one spot among other multivendor plugins, thanks to the efficient support and excellent features Dokan offers. The Dokan features are perfectly aligned with the needs of both buyers and sellers. Dokan also comes with 37+ modules to cater to users' expectations.
The Dokan team continuously strives to enhance the functionalities of the plugin. Each update and release offers new features or improves a previous feature to ensure optimal performance.
This article will look at the top Dokan features and modules that helped it become the best multi-vendor marketplace plugin in the WordPress ecosystem.
A Brief Introduction to Dokan- The Best Multi-Vendor Marketplace Plugin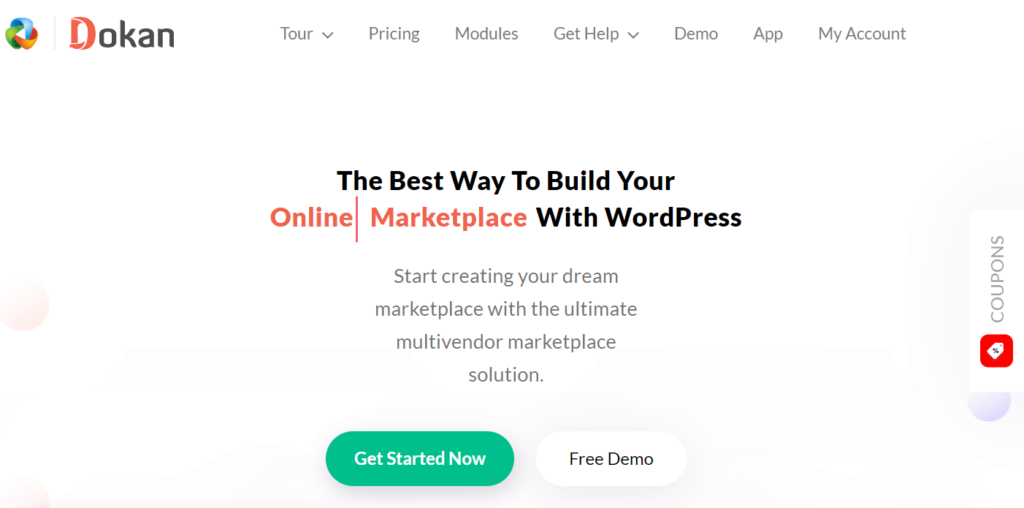 weDevs introduced Dokan Multivendor, the first complete marketplace solution based on WordPress and WooCommerce. It gained huge popularity right from the beginning when it was launched in 2015.
Since then, Dokan is growing bigger each year with more active installations, reviews, features, modules, and more.
To date, it has 70,000+ active installations with 500+ reviews and an average rating of 4.5 out of 5 stars. Moreover, it has been downloaded almost 2 Million times in total across multiple channels including WordPress.org.
Why You Should Choose Dokan?
More and more entrepreneurs are joining the eCommerce industry each year. They can easily build an online shop from scratch using WordPress and WooCommerce. However, WooCommerce doesn't support creating a multivendor marketplace without a multivendor plugin.

The creators of Dokan addressed this problem and built an effective solution to help the WordPress community. It was really difficult to create a multivendor marketplace before the advent of Dokan.
After testing many similar apps, we settled for Dokan simply because it is the best platform.

Administrator in Consumer Goods
Here are a few points that explain why you should use Dokan.
With Dokan, you can now build a multivendor marketplace without facing the hassle of custom development.
Dokan is currently 7 years old with significant experience in helping you build a powerful online marketplace.
It provides 24/7 customer support to the users so no one gets stuck midway.
Team Dokan works tirelessly to upgrade the plugin and solve its bugs(if any).
Most importantly, the mechanism of Dokan multivendor benefits all stakeholders including marketplace owners, buyers, and sellers.
Owners get a commission for each sale. Vendors can start selling online without creating an online store from scratch. And, buyers can choose from a wide range of products on the same platform.
Empower Your Online Marketplace with Excellent Dokan Features


Dokan comes with some amazing features that helped it stand out among competitors. Here we've listed the notable features only. Dokan users will get more features available at their disposal if they buy the premium version.
Let's learn about the features you'll get as an admin/marketplace owner at first.
1. Create Independent Stores for Your Marketplace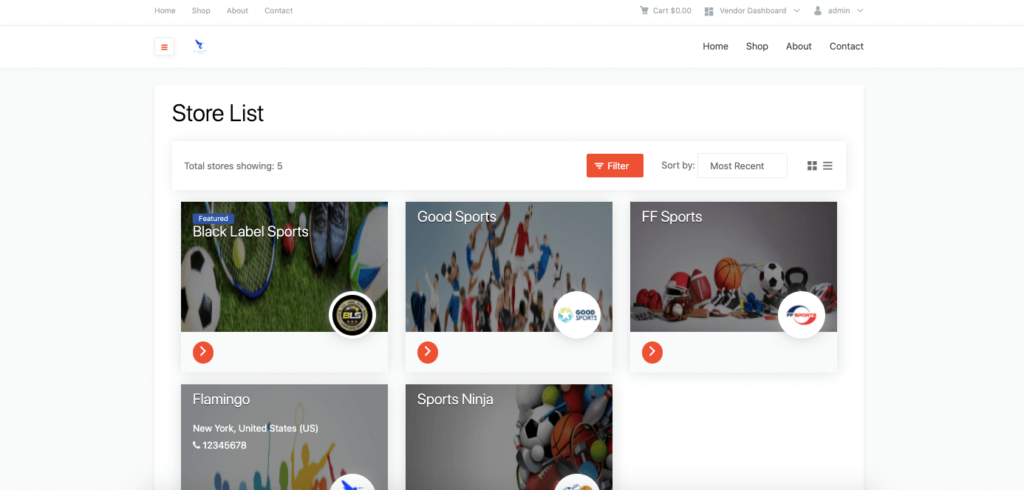 Though a marketplace hosts multiple vendors on the same platform, Dokan keeps every store separate from the others. Each vendor will get a customized storefront with full control over his online shop.
Customers also can freely choose products from any of these independent eCommerce stores without getting intervened by unexpected third-party sellers.
2. Choose from a Wide Variety of WooCommerce Compatible Themes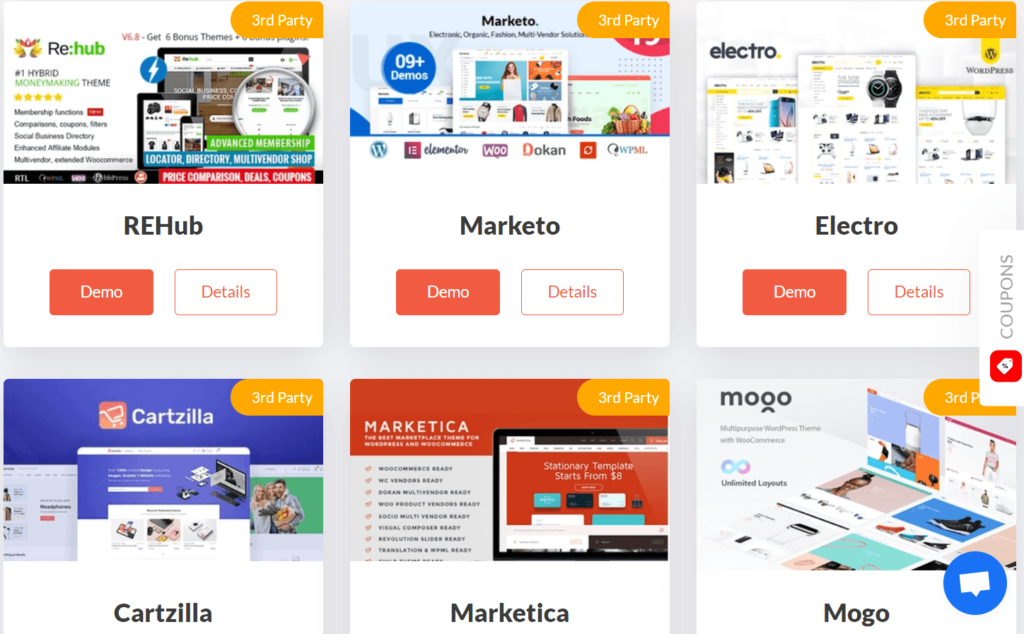 Dokan is powered by WooCommerce. That's why it supports all themes that are compatible with WooCommerce. Initially, Dokan offers a free theme to start with.
There are numerous WooCommerce-compatible themes available in the WordPress ecosystem. You can use any of them to build your online marketplace.
3. Have Complete Control Over the Vendors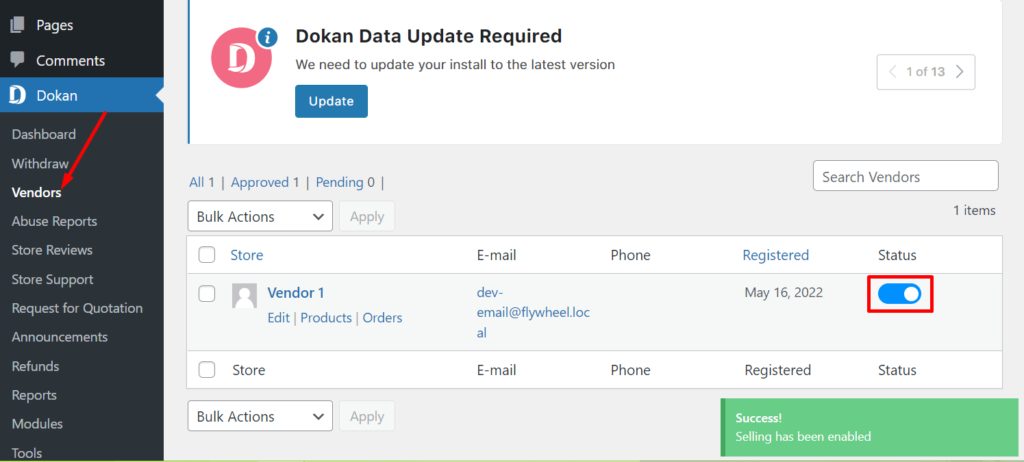 As an admin, you can enable or disable selling for any vendor anytime. It allows the marketplace owners to have complete control over the vendors.
The admin also can promote a particular vendor by labeling him as a Trusted Vendor on the basis of the vendor's performance and credibility.
This feature rewards the hones and trustworthy vendors and motivates other vendors to do better.
4. Earn a Commission from Each Sale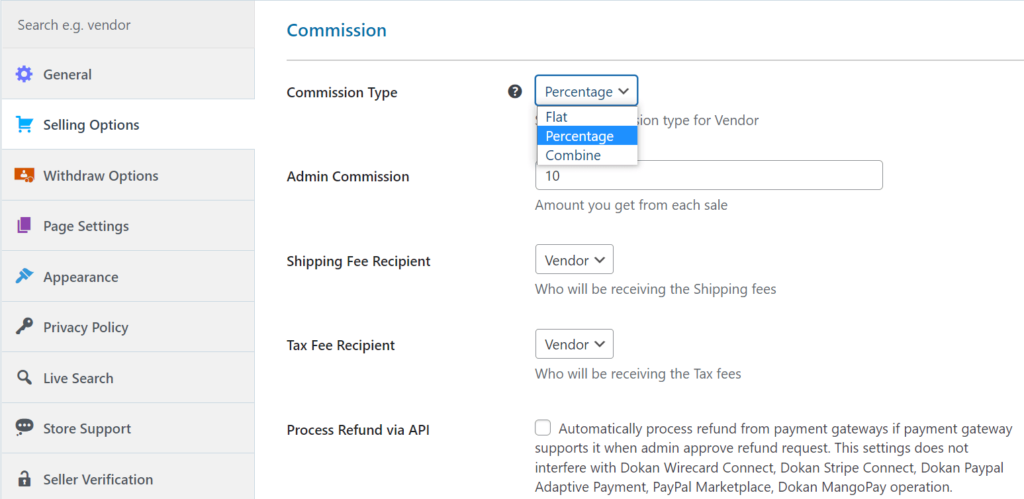 As a marketplace owner, operator, or admin, you can charge a flat commission for all vendors or a specific percentage on a particular vendor or product.
And, you can also combine both flat and percentage-based commissions for the same vendor. This flexibility of choosing from multiple commission models caters to the different needs of the vendors.
5. Let Everyone Know the Latest Announcement Instantly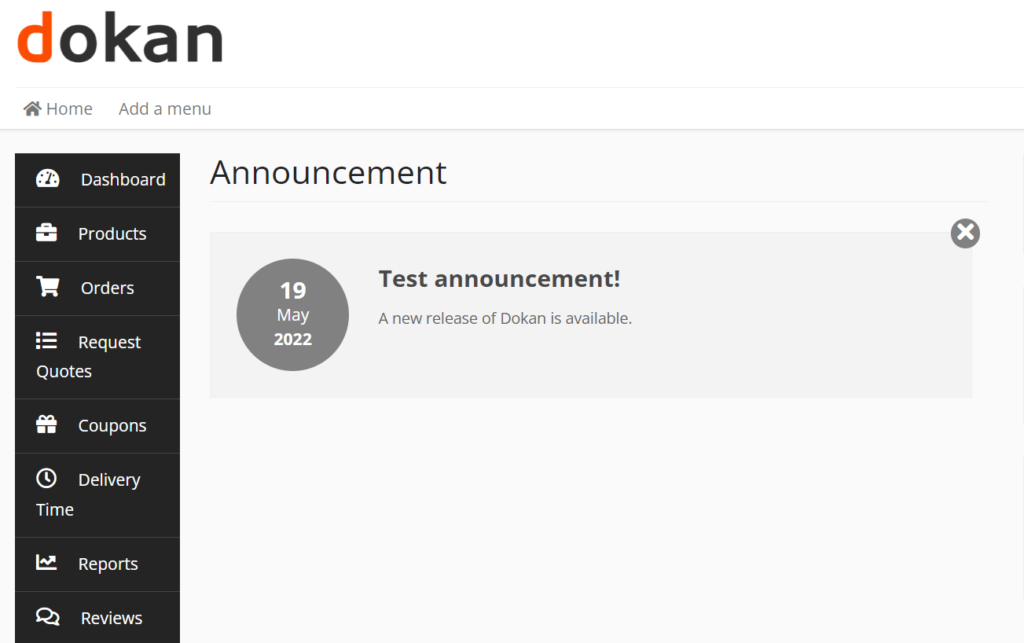 Sometimes, marketplace owners have important messages to convey to the vendors. It's really painstaking to reach out to every vendor and communicate with them personally. Dokan has an announcement section for the admin.
The admin can make announcements and they will reach the vendors instantly. Vendors can access these announcements from the frontend.
6. Scale Your Marketplace with Limitless Possibilities
With Dokan, you can onboard unlimited vendors and the vendors can list unlimited products to sell. Dokan allows sellers to create a wide range of products, including-
Physical products
Variable products
Downloadable products
Bookable products
Auction products
This scalability provides freedom for the vendors. They can sell almost anything using the excellent Dokan modules.
7. Get 24/7 Support from Our Expert And Dedicated Team
Since online stores deal with money, marketplace owners don't want to take risks and depend on customer support for different issues. That's why Dokan users require special attention and the creators of Dokan employ the best men to do that.
The Dokan support team is always there to help its users. The premium users get 24/7 ticket-based support for 1 year.
Now it's your turn to know about the Dokan features that provide vendors with great opportunities.
1. Control Your Operation from the Frontend Dashboard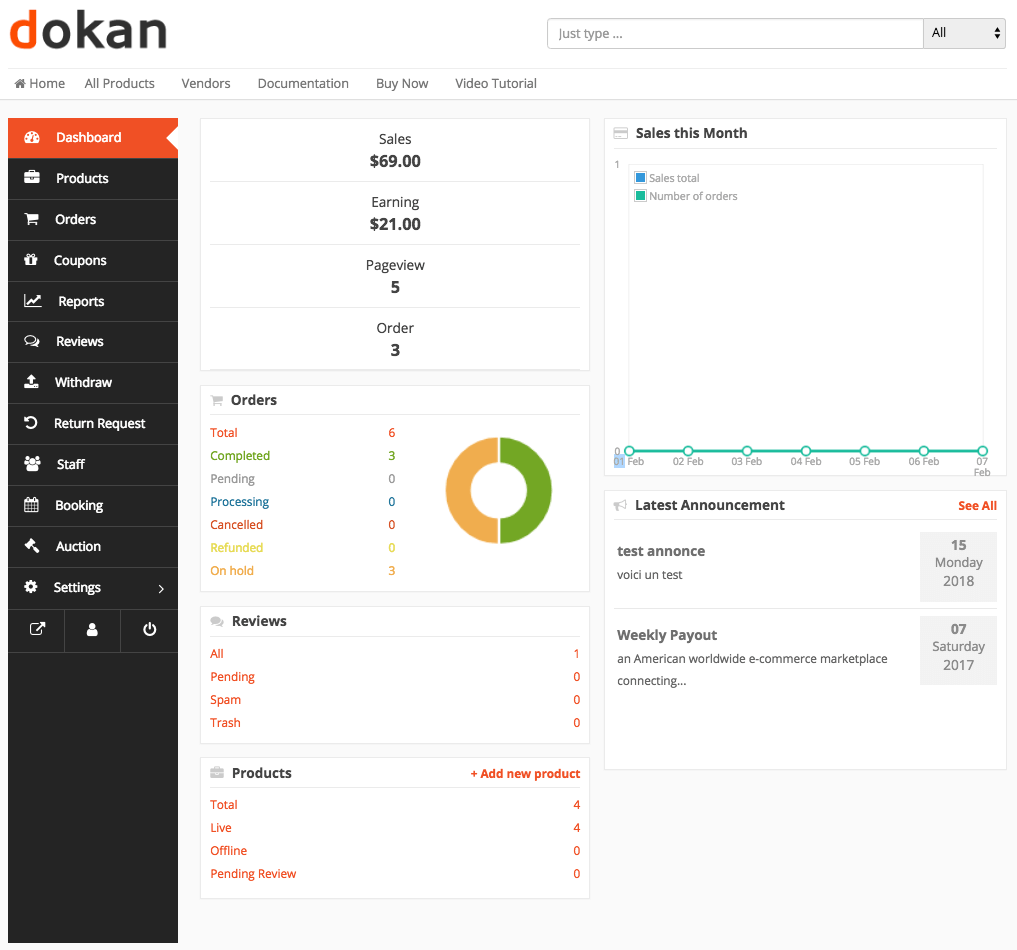 Customers can manage their orders, accounts, billing, and shipping addresses by accessing a rich frontend. Vendors can also manage their inventory, coupons, reports, reviews, discounts, delivery time, and more.
Dokan allows both buyers and sellers to see the summary of all their activities from their respective dashboards.
2. Track Your Sales with In-depth Reports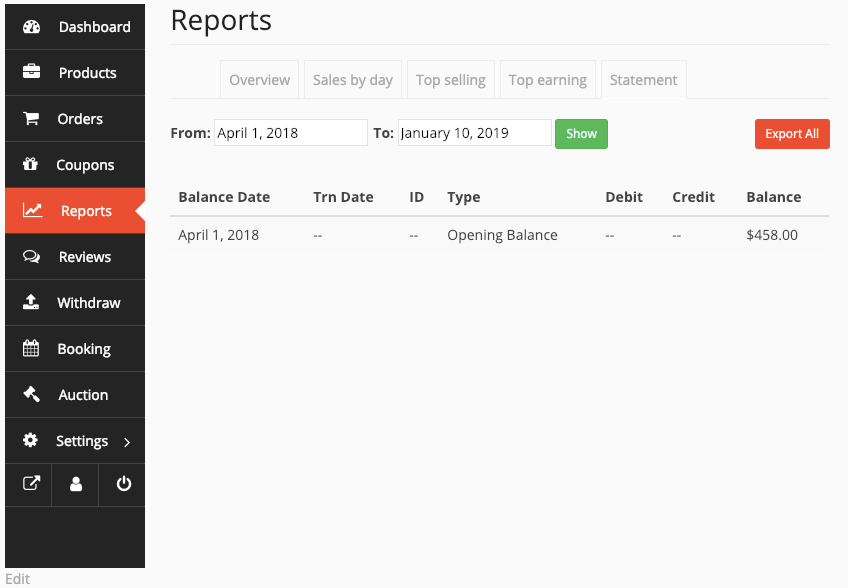 Dokan allows vendors to get a complete overview of the sales and other performance metrics of the store. It provides a detailed sales report for a specific period of time.
You can also get information about best-selling items, top-earning sales, and accurate statements from the reporting system.
3. Manage & Create Your Coupons Efficiently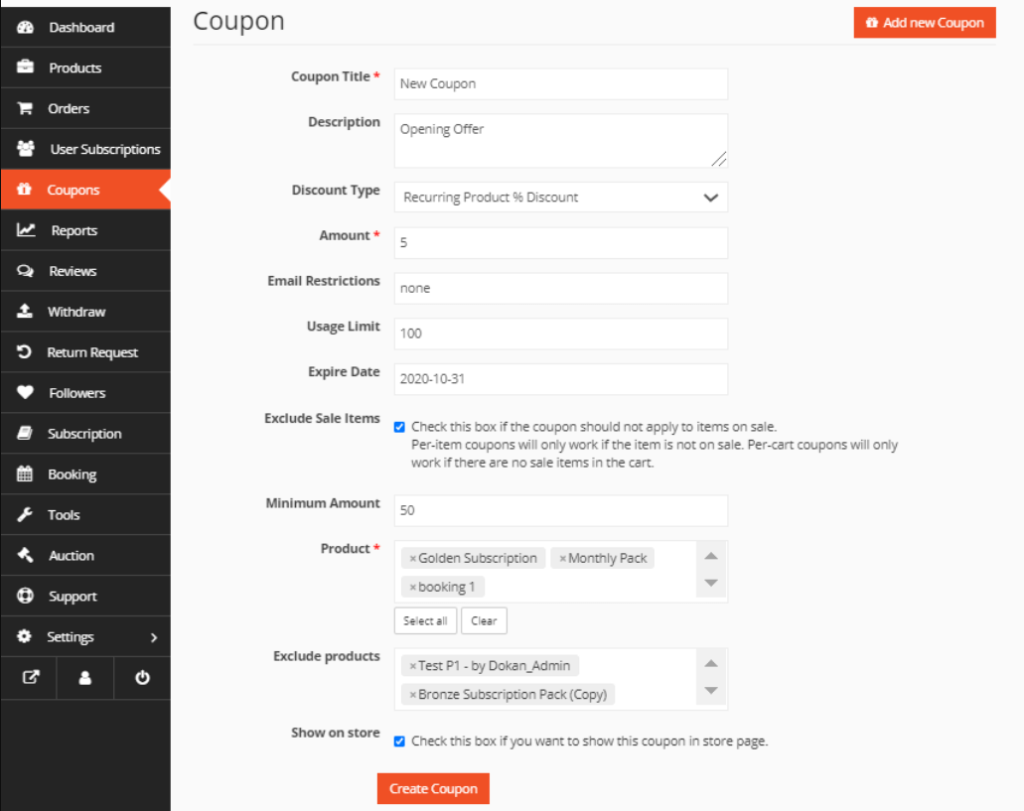 Online shops often offer discount coupons to attract customers. Dokan makes it simpler for vendors to create and manage coupons with usage limits, expiry dates, and other restrictions.
Even you can exclude items on sale if you want. Dokan's coupon management system has everything a vendor may need.
4. Add Review Sections to Improve Brand Value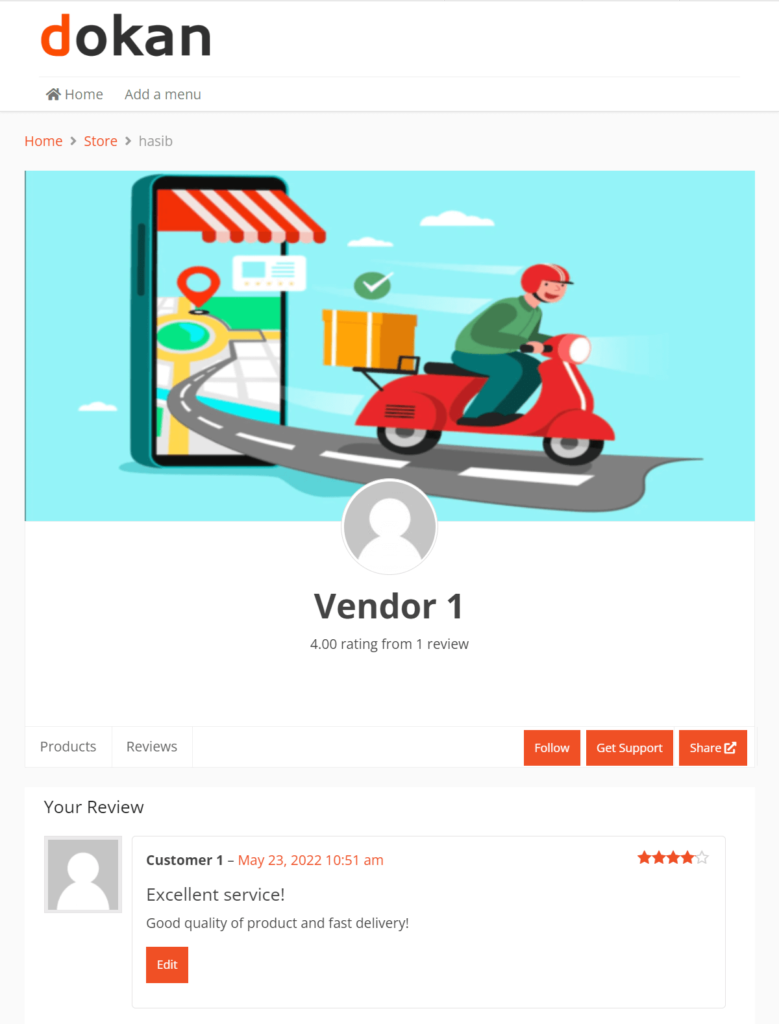 Reviews work as social proof and encourage customers to buy from a seller. According to Digital.com, 88% of eCommerce customers check at least three reviews when they buy online.
Dokan brings review sections for vendors and products. Customers can rate both sellers and their products. Good reviews increase brand value and ultimately generate more sales.
5. Vendors Can Withdraw Money with No Hassle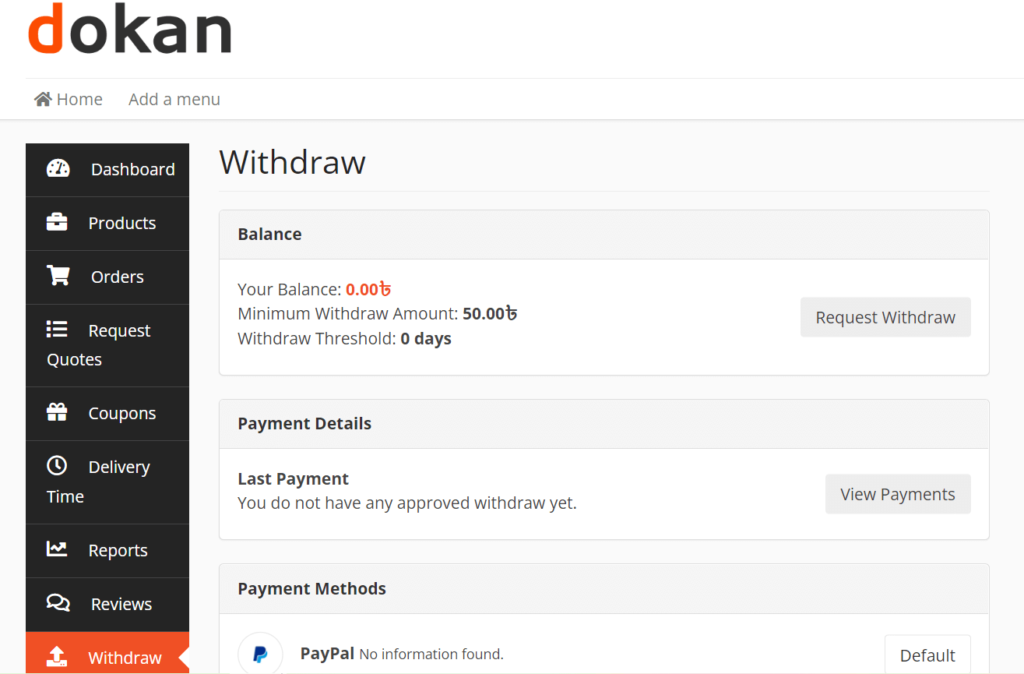 Dokan made it very straightforward for the vendors to request withdrawals to the admin using the frontend dashboard. As an admin, you'll get full control over the minimum and maximum withdrawal limit, payment channel, and more.
You can even see the complete list of pending, approved, and canceled withdrawal requests from the backend.
6. Vendors Can Configure the Settings As They Want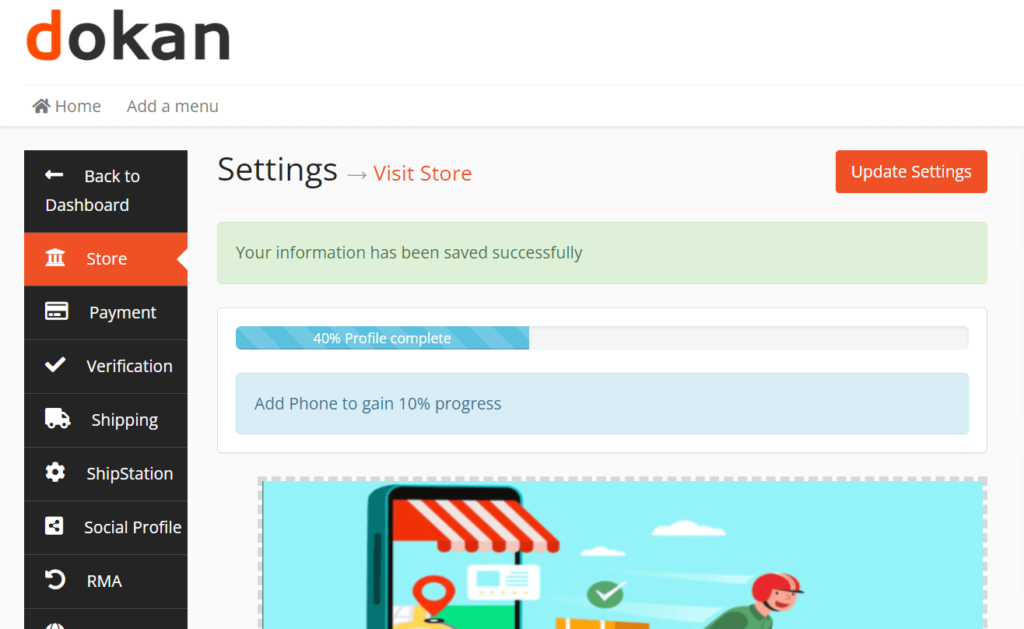 Marketplace owners don't need to put extra effort to configure the sellers' online stores. Dokan frontend dashboard lets vendors add required information regarding their brand, mission, vision, and other related things.
The vendors can also ensure their brand identity with a banner, profile photo, and more.
7. Vendors Can Track Their Orders from the Frontend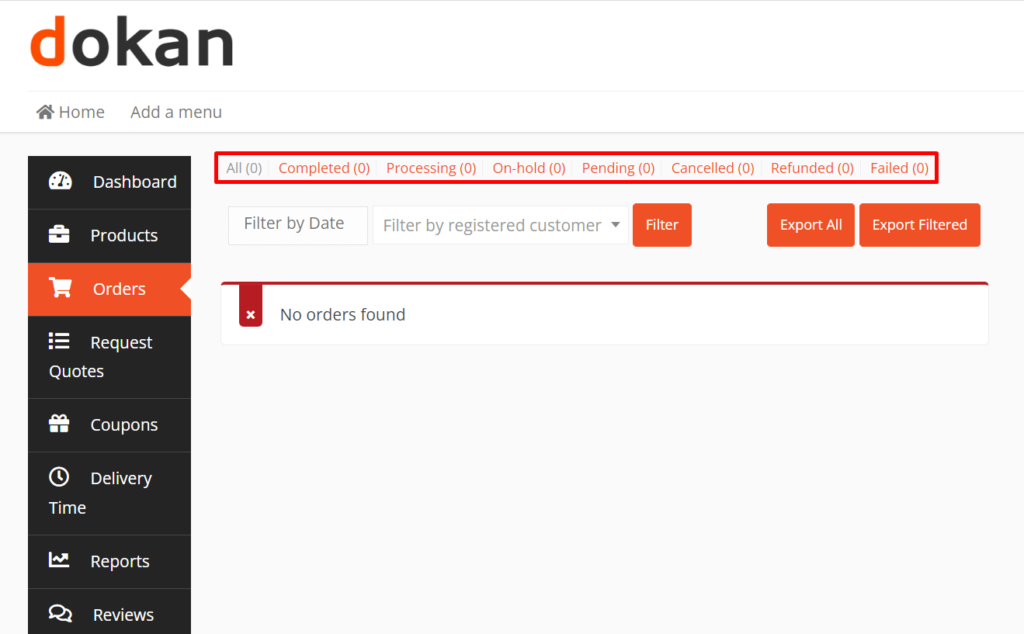 Order tracking and management are one of the best Dokan features. Vendors can manage their orders from the frontend dashboard. They can see the order status of all products from the list. The order categories are as follows-
Completed
Processing
On-hold
Pending
Canceled
Refunded
Failed
These are all the order statuses an online store can possibly have. So, you can remain worry-free with Dokan, when managing orders.
8. Ship Your Products with Great Convenience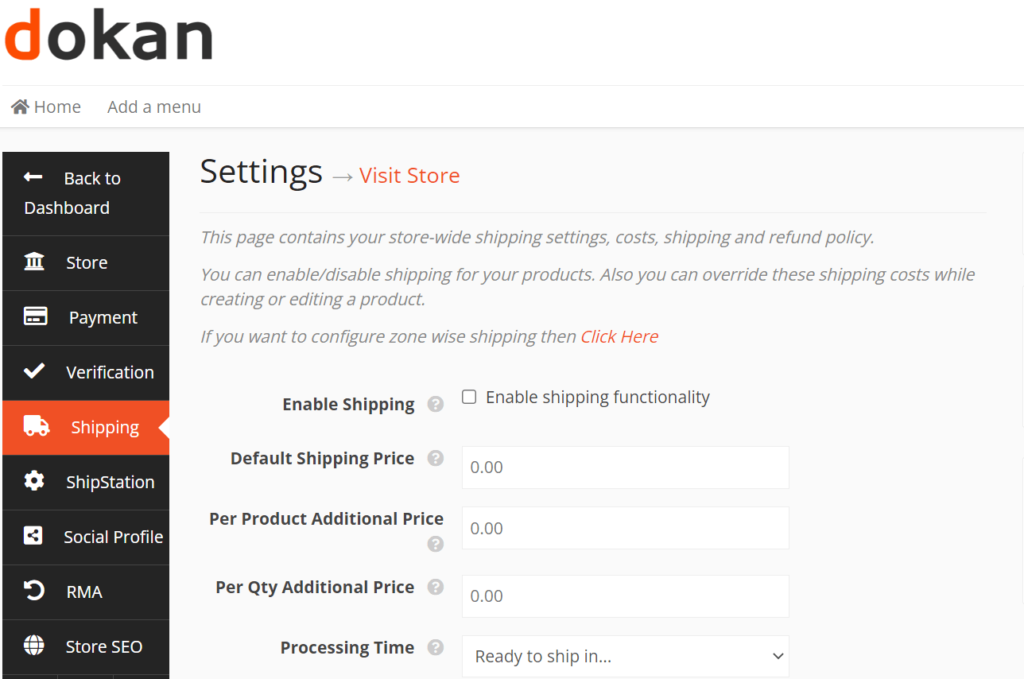 A marketplace receives orders from a variety of places. You need not worry about the shipping hassles. Dokan allows vendors to manage shipping and delivery for their own stores based on zones.
It also integrates ShipStation. Vendors can complete the shipping process with popular shipping solutions through ShipStation.
Top Dokan Modules for Your Marketplace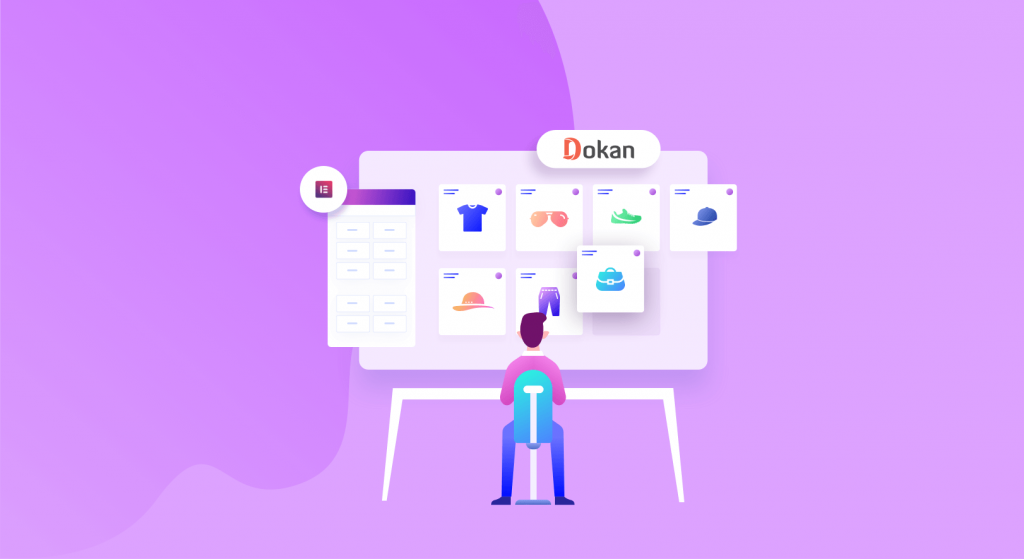 Along with features, Dokan comes with 37+ modules to enhance its functionalities for the users. It is also compatible with popular WordPress plugins.
Here we've listed only the top modules that mainly involve the integration of other third-party solutions with Dokan.
Stripe Connect: Dokan supports the famous payment gateway Stripe. You can now manage all your payments instantly at low fees. You will require WooCommerce 4.5.2+, Dokan Pro (latest version), and Stripe API Keys to use this module.
Wirecard: This module enables Dokan users to integrate the Moip payment gateway for customers, vendors, and themselves. WooCommerce, Dokan Pro (latest version), and a Wirecard Account are all you need to use this module.
Elementor: You can customize your storefront using the Elementor Customizer module to make it appear attractive to the customers. You will require WooCommerce, Dokan Pro, and Elementor Pro to use this module.
EU Compliance Fields: The European Union has strict rules to ensure consumers' rights. Dokan comes with the required fields to align with EU laws for both customers and vendors.
Geolocation: Now customers can search for a product based on locations. The Geolocation module needs either Google Map API or a Mapbox access key to start functioning. You'll need WooCommerce and Dokan Pro to enable this module.
Table Rate Shipping: With this module, vendors can set conditional shipping rates for their products based on distance, weight, item count, and more. WooCommerce and Dokan Pro are enough to allow vendors to use this excellent module.
Product Advertising: This is an additional way of earning more for the site admins. They can highlight and display site-wide advertisements for products and vendors. You will require WooCommerce, and Dokan Pro( Business or Enterprise) to get this module.
Dokan MANGOPAY Integration: Dokan is integrated with MANGOPAY to help you with direct payout. You'll require WooCommerce, MANGOPAY, and Dokan Pro to use this module.
Razorpay: Now you can complete transactions using Razorpay, one of India's most popular payment solutions. You'll need a Razorpay account to use this module.
Minimum Maximum Order: Both admins and vendors can define the minimum and the maximum number of orders for the customers. They can also set limitations on the amount that can be spent on a transaction. You'll need WooCommerce and Dokan Pro to use this module.
Subscriptions: The subscription module is available for both marketplace owners and vendors. Owners can create a subscription-based package instead of a fixed commission. And vendors can sell subscription-based products and services. To use this module, you'll need Dokan Pro (the latest version), WooCommerce 4.5.2+, and WooCommerce Subscriptions Extension.
Rank Math SEO: SEO plays a vital role in ensuring search engine visibility for your products. Dokan is compatible with Rank Math SEO. You can optimize your product SEO and drive buyers to the website easily with this module.
Vendor Analytics: Dokan offers in-depth sales reports and analytics for the vendors. Vendors can see their store's performance and take data-driven actions to make improvements. You'll require WooCommerce, and Dokan Pro (Business or Enterprise) to enable this module.
Dokan PayPal Marketplace: PayPal is one of the most used payment platforms all over the world. The advanced PayPal integration with Dokan allows users to use all PayPal features. You'll need WooCommerce, a PayPal account, and Dokan Pro (Business, Enterprise) to use this module.
Dokan vs Other Multivendor Marketplace Plugins: Head to Head Comparison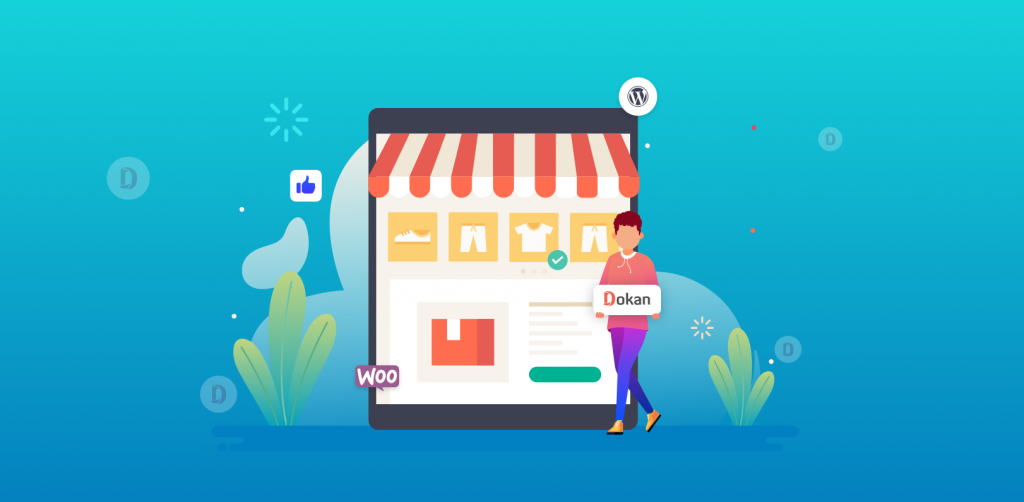 Dokan is the leading multivendor marketplace plugin on WordPress. It has a few strong competitors who are doing good. We've listed the Dokan alternatives and presented a head-to-head comparison table here to help users make informed buying decisions.
| | | | | | |
| --- | --- | --- | --- | --- | --- |
| Features | Dokan Pro | WCFM Marketplace | WC Vendors | WC Marketplace | YITH Multivendor |
| Starting Price | $149/yr | $168/yr | $397/yr | $494/yr | €99,99/yr |
| Active Installations | 70,000+ | 30,000+ | 10,000+ | 10,000+ | — |
| WordPress.org Rating | 4.6/5 | 4.5/5 | 4.4/5 | 4.4/5 | — |
| Dokan MangoPay Integration | Yes | — | Yes | Yes | — |
| Minimum Maximum Order | Yes | — | — | — | — |
| Razorpay | Yes | — | — | Yes | — |
| Product Advertising | Yes | — | — | — | — |
| Stripe Connect | Yes | — | Yes | — | Yes |
| Table Rate Shipping | Yes | — | Yes | Yes | — |
| Elementor | Yes | — | — | — | — |
| Rank Math SEO | Yes | — | Yes | — | — |
| Dokan PayPal Marketplace | Yes | — | — | Yes | — |
| Delivery Time | Yes | — | — | — | — |
| Product Subscription | Yes | — | Yes | — | Yes |
| Making Announcements | Yes | — | — | — | — |
| Frontend Dashboard for Vendors | Yes | Yes | Yes | Yes | Yes |
| Order Management | Yes | Yes | Yes | Yes | Yes |
| Withdraw System for Vendors | Yes | Yes | Yes | Yes | Yes |
| Geolocation | Yes | Yes | — | — | — |
| ShipStation | Yes | — | — | — | — |
FAQ(s) About Dokan Features

You may have a lot of questions regarding these excellent Dokan features and modules. Here are a few frequently asked questions that can help you.
1. Does Dokan support multisite installation?
No. One Dokan plugin is meant to be used on only one database. But, you can use it on a subdomain of your WordPress multi-site system.
2. How many payment methods are supported by Dokan?
Dokan supports two types of payment methods- adaptive and non-adaptive payment methods. Admin commissions and vendor earnings are automatically split and deposited to respective accounts. Here is a list of Dokan-supported payment gateways:
1. Stripe (Adaptive)
2. Wirecard (Adaptive)
3. PayPal
4. MANGOPAY
5. Razorpay
It also supports other WooCommerce-compatible payment gateways.
3. Can a vendor update or change a product's shipping status?
Yes, Dokan introduced this feature from Dokan Pro v3.2.4 and onwards.
4. Does Dokan have an option that allows customers to contact the seller through WhatsApp?
Yes, it has a live chat feature that can be used via WhatsApp. Vendors and customers can take part in a live chat there.
5. Can I buy Dokan Pro on a monthly basis?
No, currently Dokan has only two types of subscription packages- yearly and lifetime.
Build Your Next Online Marketplace with Dokan
We hope now you know about all the significant Dokan features and modules. You can easily build your next marketplace with Dokan. But you require a few things to create an online marketplace using Dokan.
You must have WordPress installed on your website. Then, the following plugins will help you build your desired marketplace.
WooCommerce
Dokan Light & Pro (Dokan Professional, Business, or Enterprise Package)
A Compatible Theme for Dokan
Once you fulfill the prerequisites, you can build an online marketplace with Dokan.
<<Build Your Own Marketplace Website Using Dokan>>
With 37+ modules and compatibility with 70+ popular WordPress plugins, Dokan is the market leader in the multivendor marketplace builder niche.
Entrust Dokan with your marketplace and you can rest assured that it is in the right hands.

https://wphive.com/reviews/dokan-features/
Tanvir Faisal
Md. Tanvir Faisal is a Content Writer at WP Hive with 4 years plus experience in Content Writing, Copywriting, Proofreading, and Editing. He focuses on writing informative content that draws social media attention and enhances search engine visibility. To date, he has successfully developed useful content for many websites across all formats.

Subscribe To Our Newsletter