For a long time, the WordPress SEO plugin category was dominated by Yoast SEO and All in One SEO. But you might have to think a bit differently if you get to know Rank Math SEO.
Rank Math was introduced in 2018, and since then its popularity only increased. Thanks to its ease of use, awesome functionality in both free & premium versions and innovation, it quickly rose to the top tier.
Today we will introduce you to this plugin in detail. We will let you know about how it works, what it can do, and which features offers. Whether you are an SEO expert, writer, marketer, or site owner, you need to use an SEO plugin. And this Rank Math review will surely help you choose the better one.
This is a detailed and completely unbiased review of the plugin. So let's get started!
Rank Math Overview- The Swiss Army Knife of WordPress SEO


Rank Math is a WordPress SEO plugin that is being actively used in more than 800,00 sites. While being a relatively new addition to the WordPress SEO category, it has rocketed in popularity.
This plugin offers an option to add up to five focus keywords to optimize any pages and posts of a WordPress website. Apart from that, you will get a score for all the pages and posts, which will make it easy for you to make them more SEO-optimized.
It offers almost all the features that you will find in prominent SEO plugins like Yoast SEO. Moreover, there are also some innovative features that you will only find on Rank Math SEO.
Rank Math Features at a Glance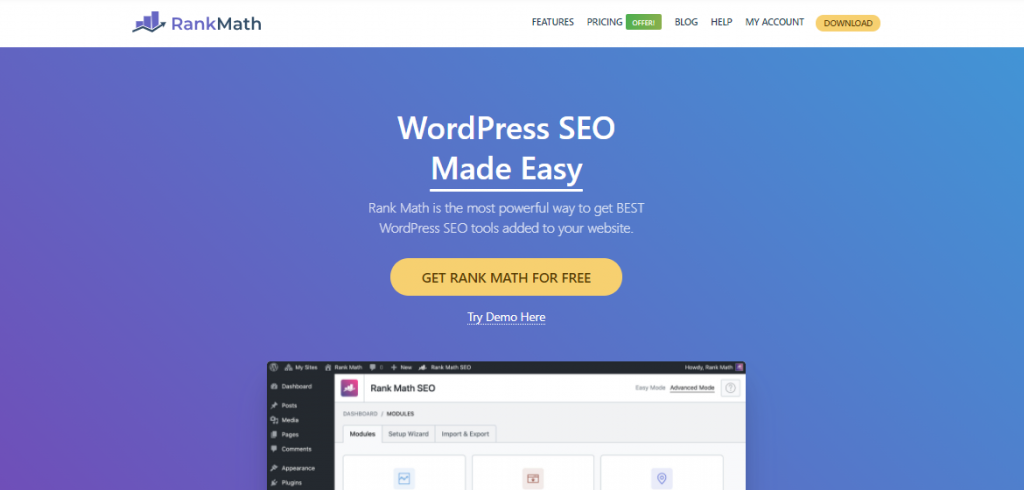 The immense popularity of Rank Math SEO came on the back of its features. No Rank Math review possible without the feature review of this feature-packed SEO plugin for WordPress.
Its free version offers many features that are only available in pro for many plugins. On top of that, the pro version offers some extraordinary features that are nowhere to be seen in other plugins.
But the most impressive thing that makes Rank Math special is the adaptiveness to new ranking factors by Google, quicker than any other plugins.
How so?
We will get to know about them as we go ahead with the article. For now, let's check out the features that Rank Math offers on its free version, as well as in the pro.
Rank Math Features – Free Version
The free version of the Rank Math SEO is often enough for most personal and business sites. Such is the extent of features that it offers. Here are the features from Rank Math free version.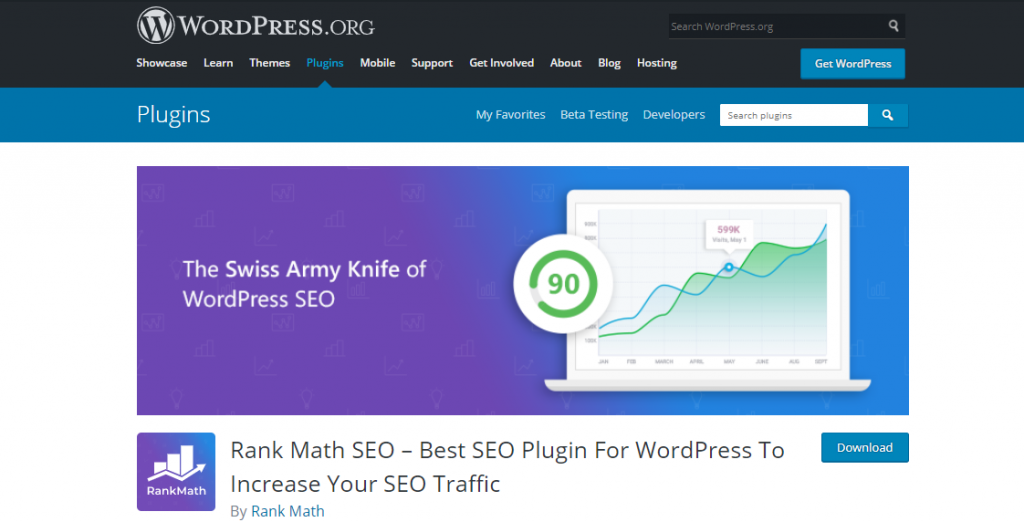 Option to add up to 5 keywords for a single page/post.
Lets you add meta description for Google and Social Media.
Lets you set canonical URL for each page/post.
Shows optimization score for each page/post based on the optimization for key SERP metrics.
Shows optimization score for overall website based on all page/posts score.
Rich snippets like FAQ blocks are built in.
Google, Bing, Alexa, Yandex & Pinterest verification tool.
Google Analytics integration to show important data like monthly search impression, clicks, CTR and total ranked keywords.
Lets you edit robots.txt and .htaccess file right from the WordPress dashboard.
Automatically create sitemap for your website.
Monitors 404 error pages.
Lets you add breadcrumbs to your pages/posts.
Offers 10+ modules to extend the features of Rank Math and integrate with other crucial plugins.
Yes, all these features are available in just the free version. Now let's take a peek at the exclusive features that Rank Math SEO offers in the premium version.
Rank Math Features – Premium Version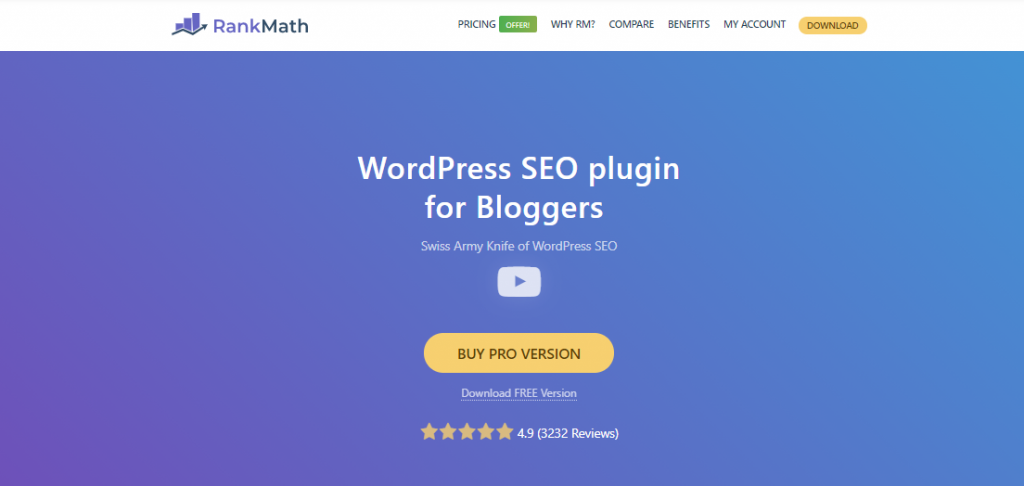 Given the awesome list of features, Rank Math offers in the free version, you can already guess about the premium plan. Well, no more guessing! Here are all the key features of the Rank Math premium plan at a glance.
Premium version offers keyword rank tracking.
WooCommerce SEO.
Advanced insight for each article.
Single post SEO reports.
Advanced Schema markup features.
Ability to import Schema Markup from other websites.
Custom schema builder.
Knowledge graph meta data.
24x7x365 support & many other creative SEO features.
Rank Math pro is a very affordable option compared to other top SEO plugins. The plugin offers two different packages. They cost just $59 and $199 respectively.
The plugin also offers 30 days money-back guarantee.
Rank Math- Pros and Cons
Rank Math offers so many features for free that you can not really complain about anything. However, to show you both sides of the coin, here are the pros and cons of RankMath SEO plugin.
Pros
Rank Math's free version is the most comprehensive free SEO plugin in the market right now.
Self-explanatory setup wizard.
User interface is very intuitive.
Rich Snippet, Schema, Rank Tracker, Google Analytics and many other features are built in, which would require you to install 10 more plugins.
Superb customer support.
Cons
We found it to conflict with some plugins. However, they are now fixing this.
May take some time to get used to, given the number of features.

Rank Math vs Yoast SEO
Here comes the biggest question. While Rank Math is a good plugin, does it stand against the big fish, Yoast SEO?
We tried to find out.
Where Rank Math is ahead
Rank Math allows you to add up to 5 focus keywords per page/post for free, compared to Yoast SEO's 1 focus keyword.
Rank Math offers advance Rank Tracker tool, which is not available in Yoast SEO.
Rank Math also has Google Analytics dashboard unlike Yoast SEO.
Rank Math offers URL redirection in free version and Yoast SEO does not.
Better price proposition.
More user-friendly
Where Yoast SEO is ahead
Yoast SEO provides better WooCommerce SEO support.
Yoast SEO is actively installed on more than 5 million site compared to Rank Math's 800,000+
Yoast SEO is in WordPress SEO industry for a long time and is more stable.
Compared to the features on offer, Rank Math is certainly the better option. Apart from the feature we mentioned above, other features of Rank Math and Yoast SEO almost the same. So as you can guess, there's not much to differentiate between these two plugins. Also, Yoast SEO exists in the market for more than 10 years successfully, which certainly tells that it is good at what it does.
However, if you look at the features, Rank Math does seem to be a better option than Yoast SEO at this moment.
Rank Math Automated Performance Test by WP Hive
Rank Math did extraordinarily well on our test. It has minimal impact on memory usage, making its impact quite minimal on PageSpeed. We also did not find any errors in it. It is compatible with the latest PHP & WordPress versions as well.

Overall, Rank Math is safe to use. It is also a very lightweight and fast plugin that won't increase your page loading time.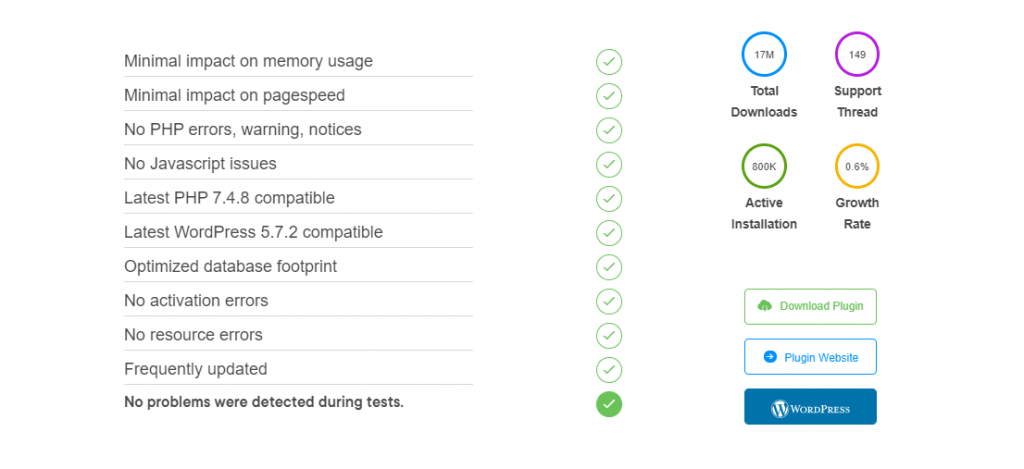 WP Hive automated Rank Math review checked the Memory Usage & PageSpeed impact of the plugin in detail.
We found that the average memory of Rank Math is 365.85 KB, which is better than 69% of plugins. It increases the page loading time by just 0.07%, which is faster than 90% of plugins.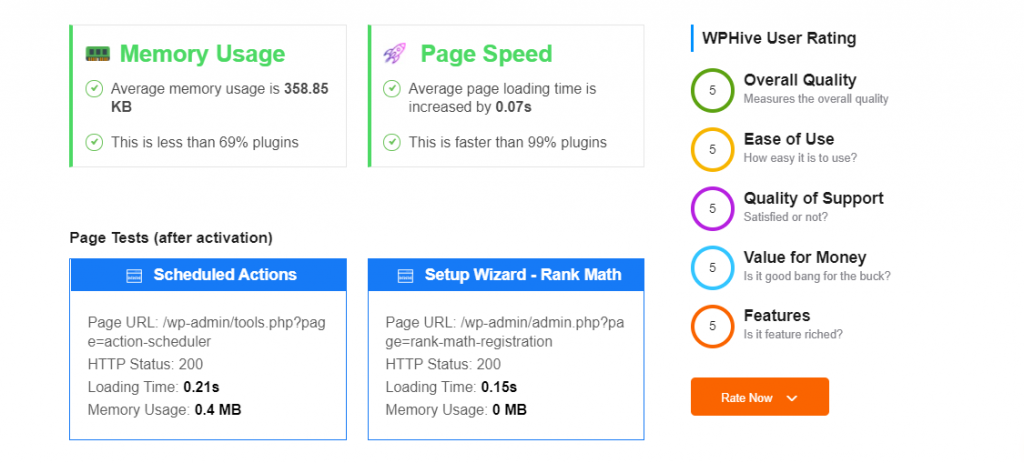 So it is safe to say that, Rank Math will not make your site slow.
Getting Started with Rank Math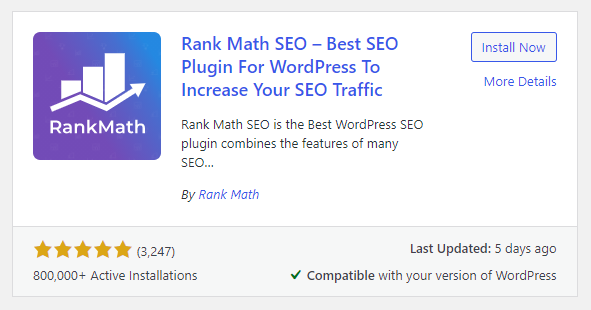 Are you convinced that you want to use Rank Math on your website after reading this Rank Math review? Then, let's get acquainted with the process of getting started with this plugin.
Rank Math SEO plugin does not have any prerequisites, so if you have a WordPress site, you can easily install this plugin from the WordPress repository.
Once you install the plugin, you will be greeted with a Setup Wizard. If the setup wizard does not appear, you can also find that from the sidebar of your WordPress admin dashboard. Let's go through the setup wizard process.
Connect your account: To continue with the rest of the setup wizard, first you need to connect your Rank Math account (free). If you don't have one, you can create one easily using Google, Facebook, & your WordPress account. And the conventional registration using email & password is also there.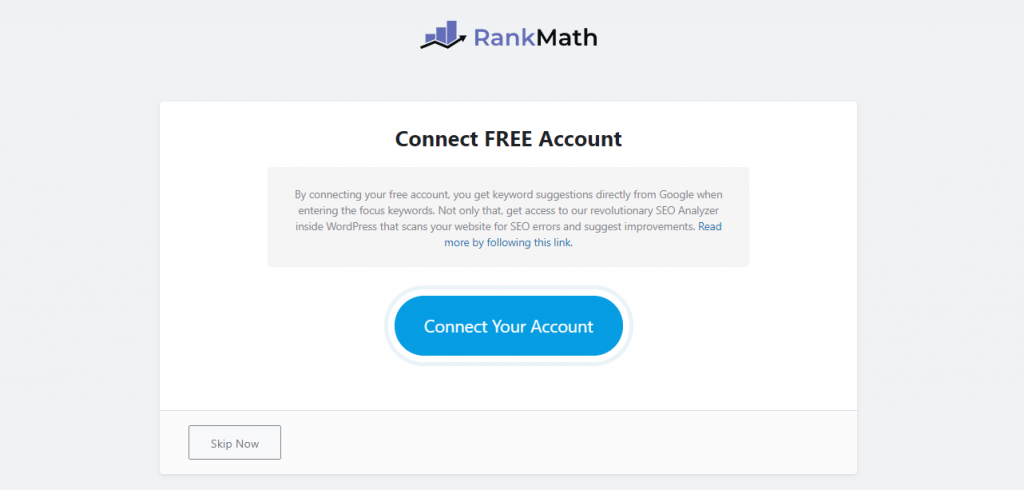 2. Set the Expertise Level: Then you'll find the options to choose between Easy, Advanced & Custom modes of Rank Math. We recommend you to use the Advanced option, as it offers all the functions. However, custom mode, which is recommended for expert SEO's, is limited to the pro package only.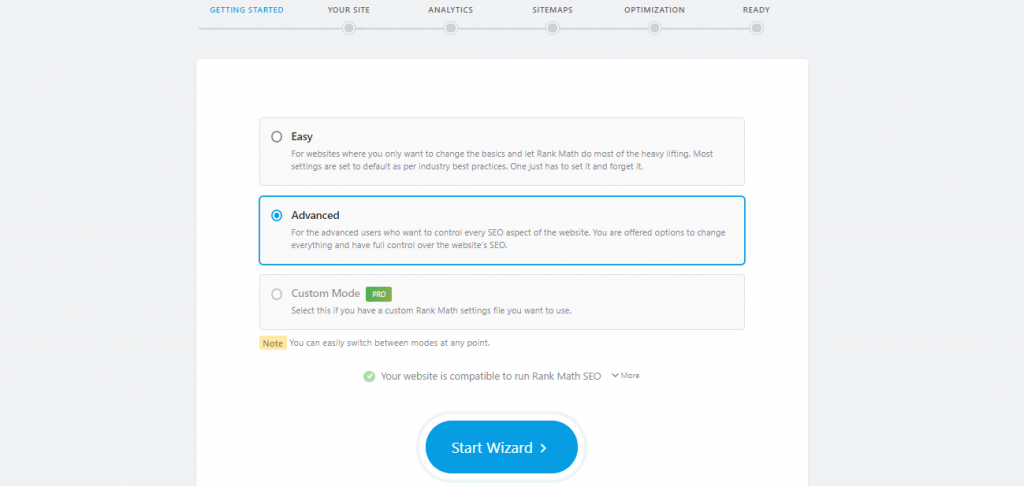 3. Website Essentials: Now you will find the option to choose your website type, upload default feature image for social media, and logo for google.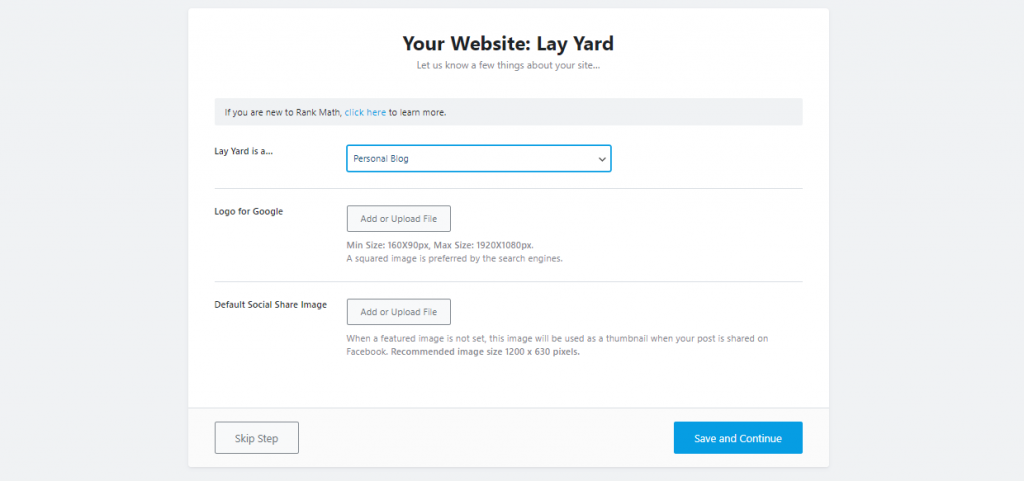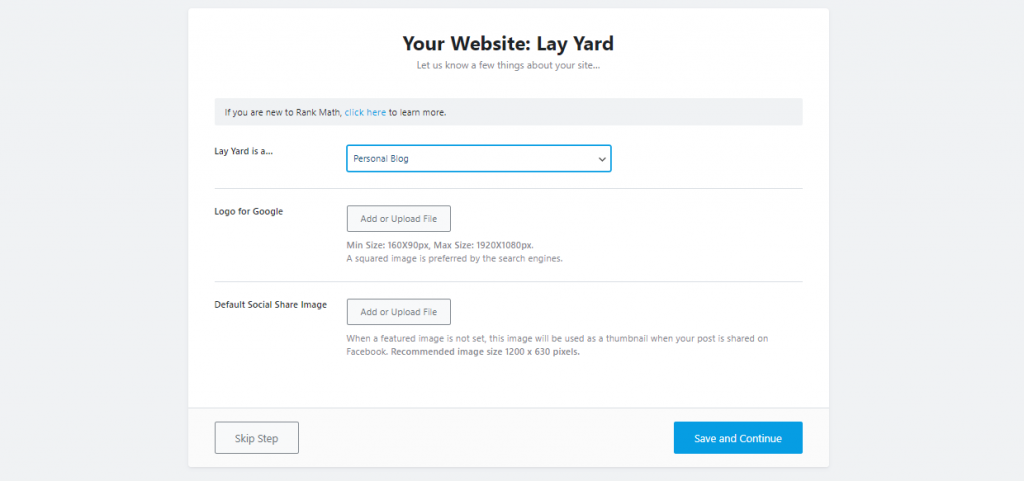 4. Connect Google Services: After doing the above, you will be asked to connect Google services. For features like keyword rank tracking, or performance monitoring, this data is needed. However, you can opt not to connect Rank Math SEO to Google services.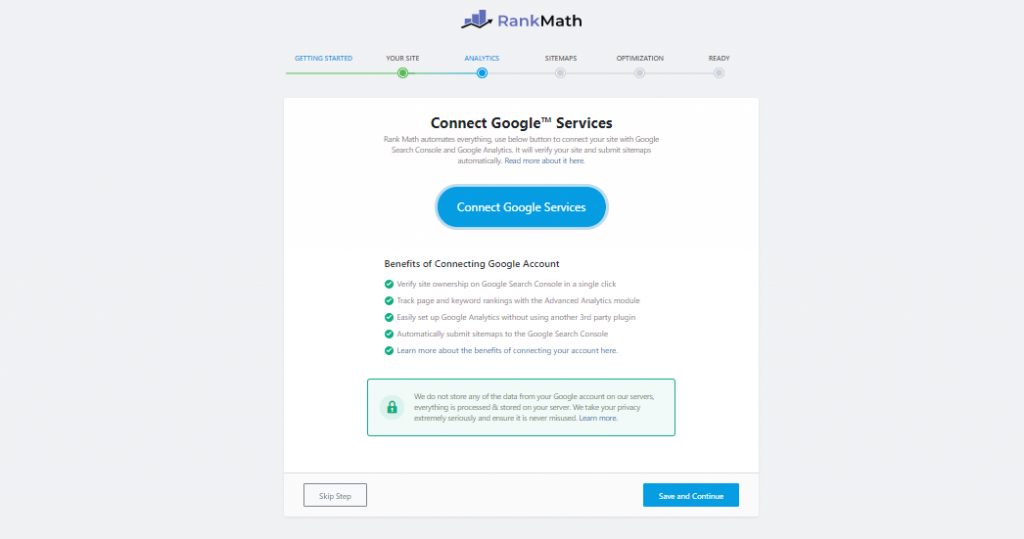 5. Sitemap Creation: Sitemap helps the search engine understand your website structure better. The next phase of your setup wizard will help you create a sitemap for your site.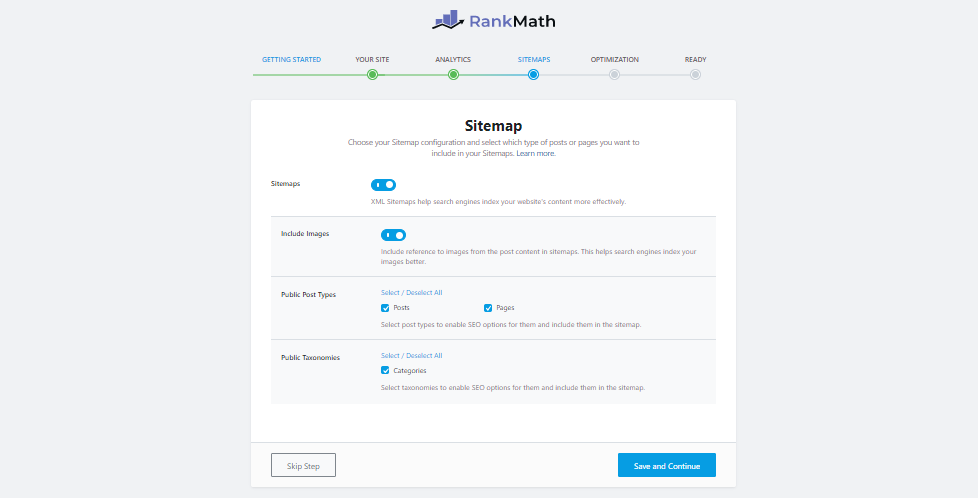 6. SEO Tweaks: The last step of the setup wizard deals with some common SEO tweaks that include Noindex Empty Category and Tag Archives, Nofollow External Links, and an option to Open External Links in New Tab/Window.
With that, you are done with the basic setup wizard. After that, you will have to configure the setting of this plugin to better optimize your website.

How to Use Rank Math
Configuring the Rank Math SEO is very easy, thanks to its intuitive user interface. The good thing about Rank Math is that most of the options work as modules. That means that you can completely turn off any feature, any time.
Now let's get to know how you can configure Rank Math for your website through some of the key Rank Math features.
Dashboard
Dashboard option will let you enable or disable certain modules or options, as we have talked above. As of now, there are 17 modules available on Rank Math.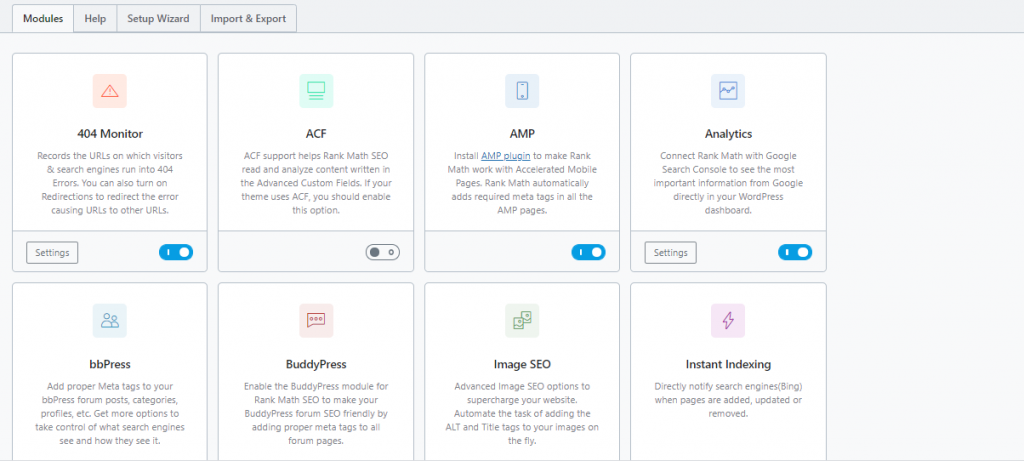 Analytics
Analytics option will let you see the result of your optimization, such as search impressions, total ranked keywords, search clicks, average CTR, rank tracker, and such. These data will be derived from Google services. But first you have to connect to Google services using Rank Math SEO.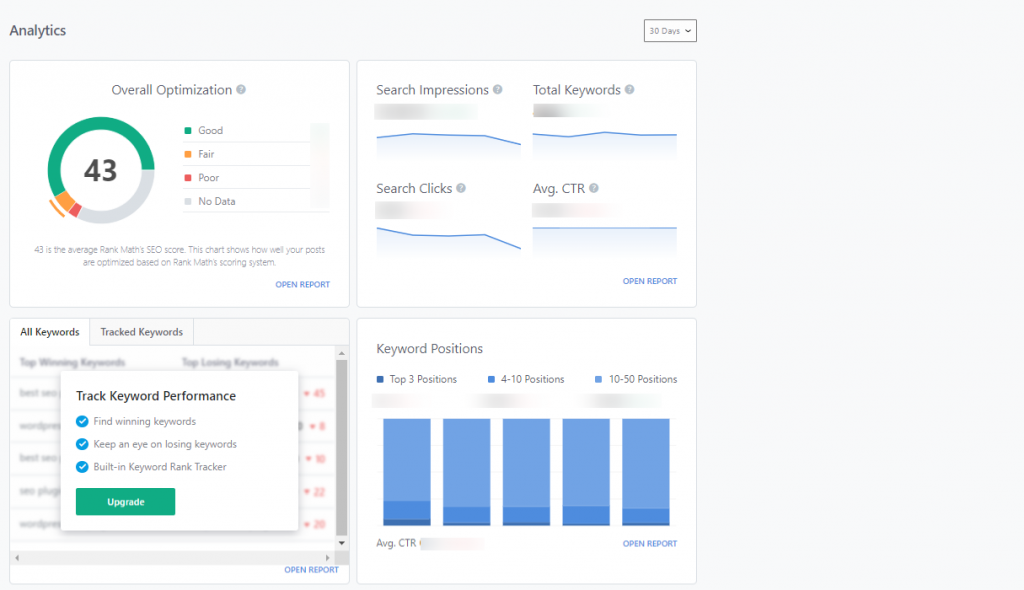 General Settings
General settings include options like enabling breadcrumb, edition .htaccess, and robots.txt. But two of the most important options on general settings are Webmaster tools and 404 monitor.
The first option let you submit your website to search engines like Google, Bing, Yahoo. The second option monitors if there are any 404 errors, which are bad for a site's ranking.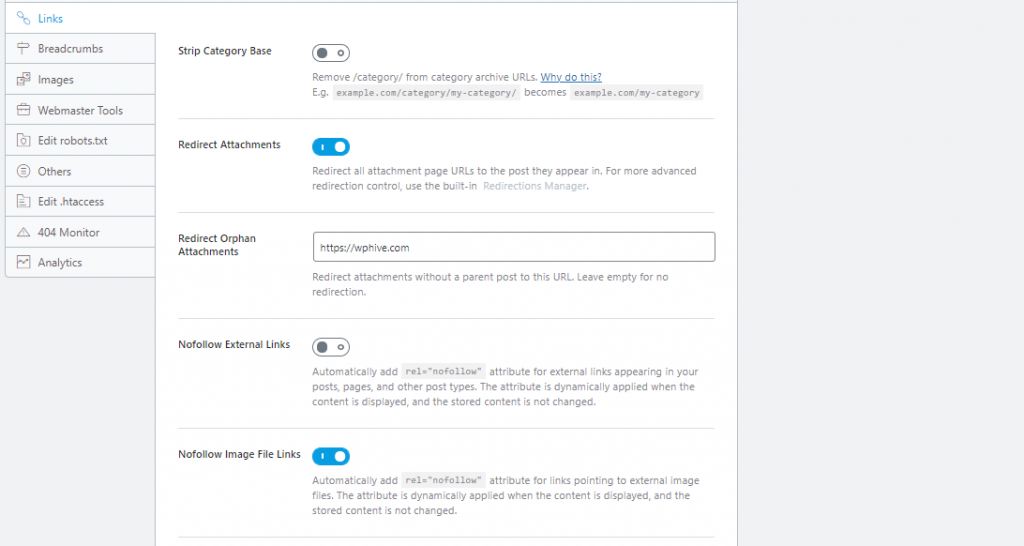 Sitemap Settings
If you want to customize sitemap-related settings, you can customize them from here. You can enable images with sitemap, include feature image, opt for pinging search engines when sitemap is updated and such.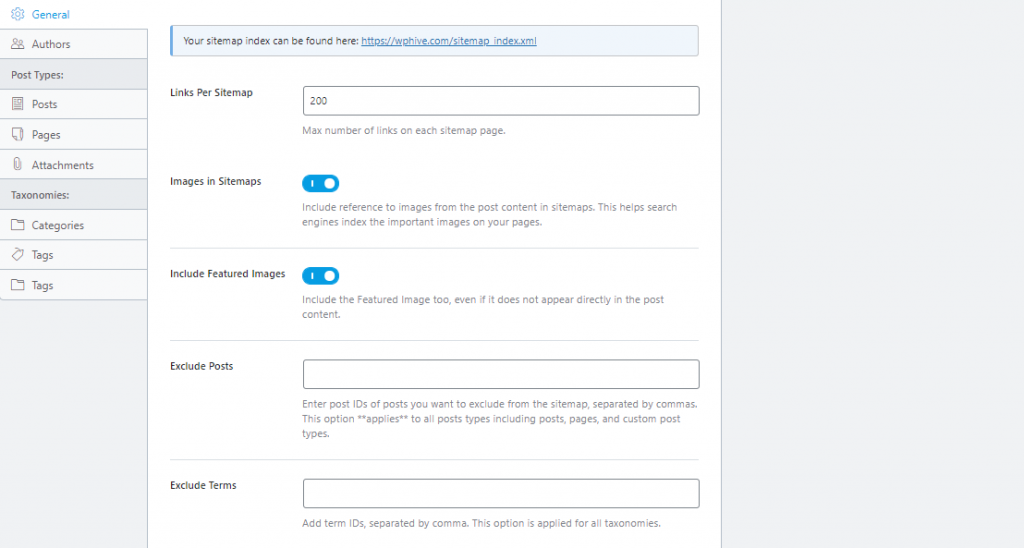 Role Manager
You can set which features of WP Hive are accessible to a user category using Role Manager.
For example, you might not want to let an author edit the General Settings, you can disable or enable that access from here.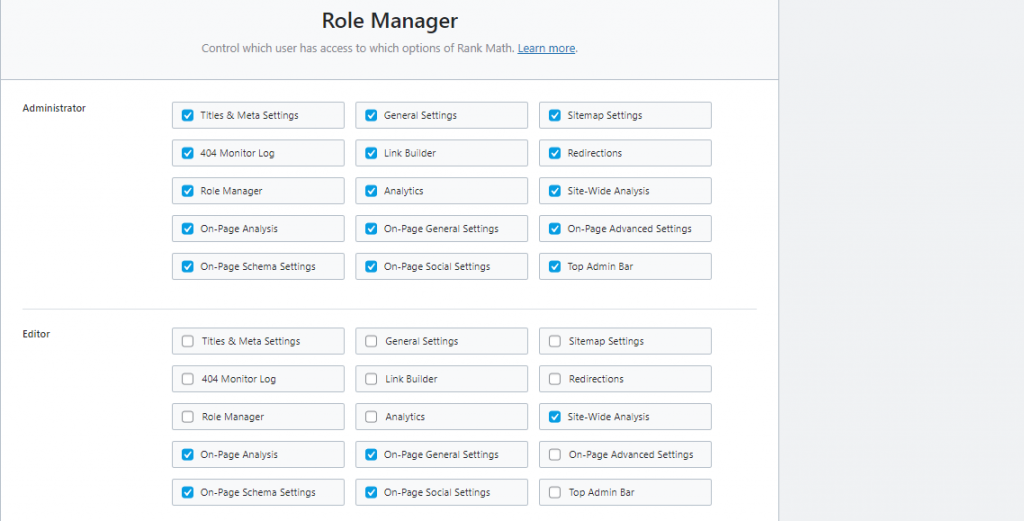 Individual Post/Page SEO
Rank Math helps you optimize posts and pages effortlessly for better SEO performance. You can find the Rank Math button on the right top of the page. After clicking on it, you will get the option to add up to 5 focus keywords. You can then track what you can do with your page to further optimize the page.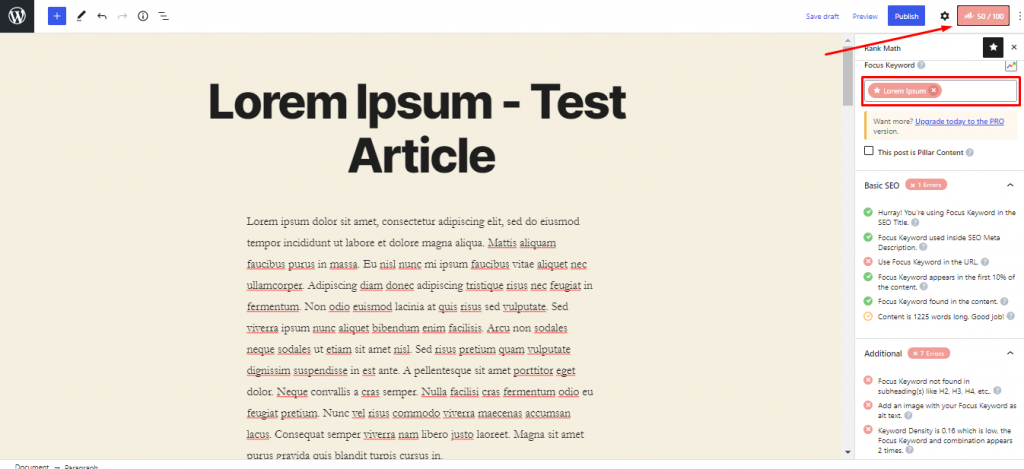 You can also set the content as a Pillar Content, add meta description, SEO titles and set certain type of meta for the post. There is also a Gutenberg block called FAQ by Rank Math, that you can use inside a post editor to add FAQs. This will help you rank on Google People Also Asks.
These are some of the most important settings of Rank Math. There are tons of other settings that you will appreciate once you use the Rank Math SEO plugin.
Frequently Ask Questions about Rank Math
There are some common questions about Rank Math that we saw on forums and online groups. We know you might have them too. So here are the answers to some of those questions.
Is Rank Math any good?
Rank Math is certainly a Good SEO plugin. It compares toe to toe with other top SEO plugins with its great features.
Is Rank Math better than Yoast?
Both Rank Math and Yoast will cover all the bases when it comes to SEO. However, Rank Math is better if you compare the feature list. It also has a more intuitive UI which is very easy to use.
Is Rank Math free?
Yes, Rank Math is free. It is available in the WordPress repository as an opensource. However, there is also a premium version of this plugin.
Can you use both Yoast and Rank Math?
You can not use both Yoast and Rank Math together. There can be a conflict of settings, which can be disastrous for your site's SEO performance. It is certainly not recommended by us to use both plugins at a time.
How much does Rank Math SEO cost?
Rank Math is free to use. There is also a pro version of this plugin that starts from $59 for a site.
Also read: Ahrefs vs SEMrush: Which One to Choose As Your SEO Tool
Over to You
No matter how much value your content adds for people, it will go in vain if you don't focus enough on SEO. SEO plugins are available to make it easy for you to optimize your website.
However, there are so many choices that you might be wondering which plugin does it better. Well, at the end of it all, it all comes down to personal preference. We do encourage you to try plugins like Yoast SEO and All in One SEO as well.
But if we be honest, after this Rank Math review, it is obvious that it has a slight edge over other SEO plugins. Especially if you consider its value for money and awesome list of features.
Which SEO plugin do you use now? Let us know in the comment section.