Best WordPress RSS Feed Plugins Compared

It's a myth that the popularity of WordPress RSS feed plugins has been decreasing over years.
While the appeal of social media is unmatchable, people still use RSS feed plugins to stay updated with relevant and interesting content. It's one of the best ways of getting an in-depth look at a website's content, rather than discovering only what's pushed up on social media.
When you want to autofill your website with content from multiple sources, RSS feeds helps you out.
RSS feed plugins display all the aggregated content in a readable format, and it can be a great way to boost your website engagement.
So, if you're planning to choose a RSS feed plugin for your WordPress website, let us guide you on which plugin you should pick.
We're going to show you the 7 best WordPress RSS feed plugins with their top features so that you can easily select one from them as per your budget and requirements. So, let's get started!
Why You Need to Use WordPress RSS Feed Plugins

The full form of RSS is Really Simple Syndication. Using a RSS feed helps your subscribers to get updates about new posts, and also lets you curate multiple articles from different websites.
Apart from it, here are some other benefits that you'll get while using a top RSS feed plugin.
Higher Retention Rate: If your visitors can quickly navigate through your RSS feed, they are more inclined to stay up to date with the new content you are uploading. That will help you to get back your visitors again and again.
More Referral Domains: Your RSS feeds may be embedded on other websites or news feeds, thus raising your content visibility level and brand awareness. If your RSS feed contains link to your website, it will count a new referral domain when someone new embed your RSS feed on his website.
More Visibility: Regardless to say apart from computer users, mobile devices are rapidly taking over the market and RSS Widgets make it easy for mobile phone users to follow your posts. That surely increases the visibility of your content as well as your website.
Multiple Types of Content Promotion: You can bring a lot of value to the website by adding different types of content from other websites and blog feeds. Your consumers might love the multiple types of content that you share.
Now you know what is RSS feed plugins and how they can add value to your website. It's time to discuss some of the best WordPress RSS feed plugins that you can use for your website.
Best WordPress RSS Feed Plugins for Late 2023
Let's be honest, there are many WordPress RSS feed plugins available for WordPress. But you can't just randomly pick a plugin and use it for your website. You need to find the best one as per your requirements. So, check this list carefully and pick the best plugin for you.
Now we'll take an in-depth look at each of the above-mentioned RSS feed plugins to know more about these plugins. Let's get started with the first one – WPeMatico RSS Feed Fetcher.
Featured Plugin: WPeMatico RSS Feed Fetcher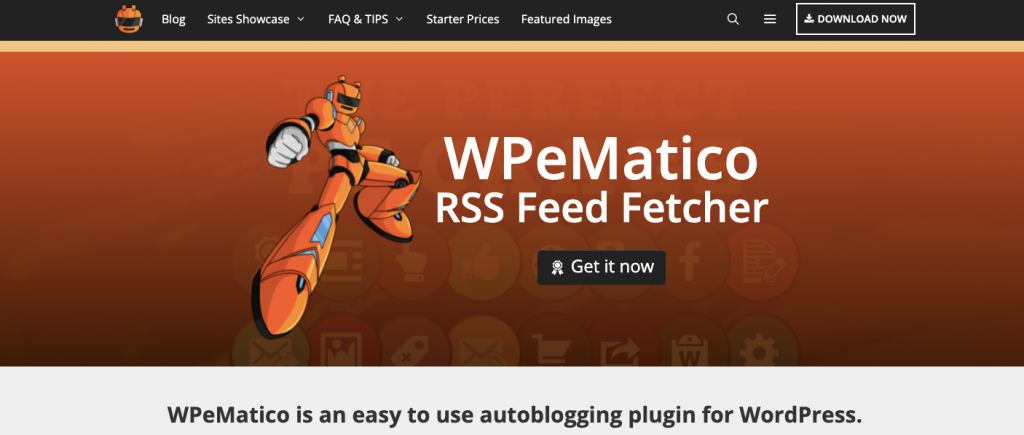 When we are talking about the best WordPress RSS feed plugins, WPeMatico RSS Feed Fetcher has all the features to be topped on that list.
It's one of the most popular RSS feed plugins with more than 20K active installations and 4.8 out of 5 ratings on WordPress org. It's an excellent plugin based on auto blogging. Using this plugin, you can import RSS feed items as actual posts or as custom post types.
When we were testing this plugin on WP Hive, we found no issues at all in terms of memory usage, page speed, and different compatibility tests.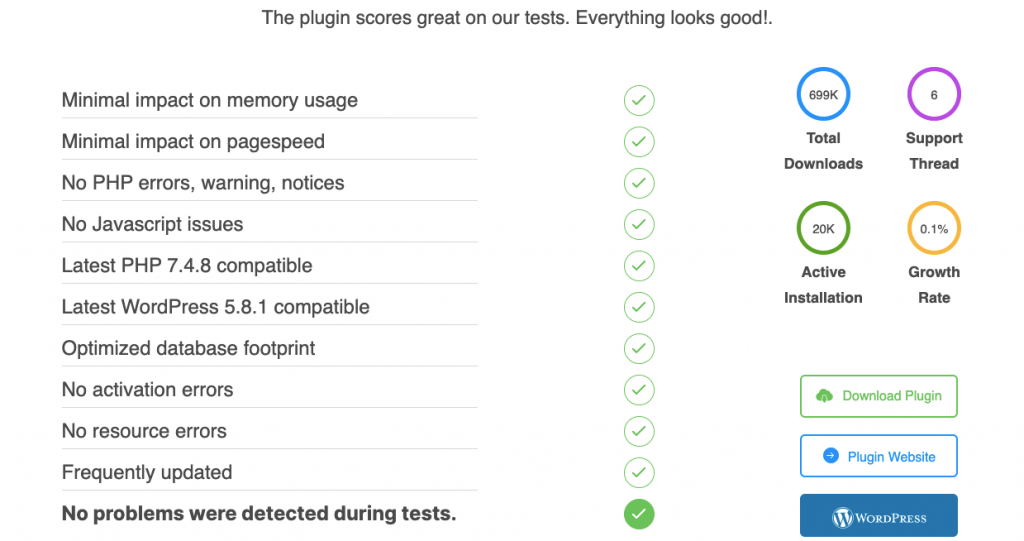 Click here to manually check the WPeMatico RSS Feed Fetcher plugin performance test.
With the well-organized interface, the WPeMatico RSS Feed Fetcher plugin lets you choose from which post type to use, a default post status, how often to fetch, and a lot of other settings.
You can easily create a new feed by simply filling some fields. However, if you want another feed like Atom, you can edit the page template file. Likewise, you can personalize the number of items per feed or even create feeds from the external site with full content.
This premium plugin also introduces an option to create private feeds and see them exclusively when connected to a blog. You can also analyze the URLs for the complete routing of images and links.
Note: The free version has everything you need to publish from feeds, plus you can find at etruel a lot of addons with professional filters and get full content among other things.
Key Features
Allows you to get posts directly from RSS feeds and create them automatically in WordPress as entries, pages, or media.
Lets you fetch data from Facebook or eBay.
Enables you to filter keywords.
The XML campaign type provides the necessary tools to get items from XML files as if they were RSS feeds.
Create posts from YouTube feeds, getting the title, image, embedded video, and description.
Create new forums or select one already created in bbPress to publish new topics within it, one for each item read from the feed.
Pricing: WPeMatico RSS Feed Fetcher Pro pricing starts at $82.
Echo RSS Feed Post Generator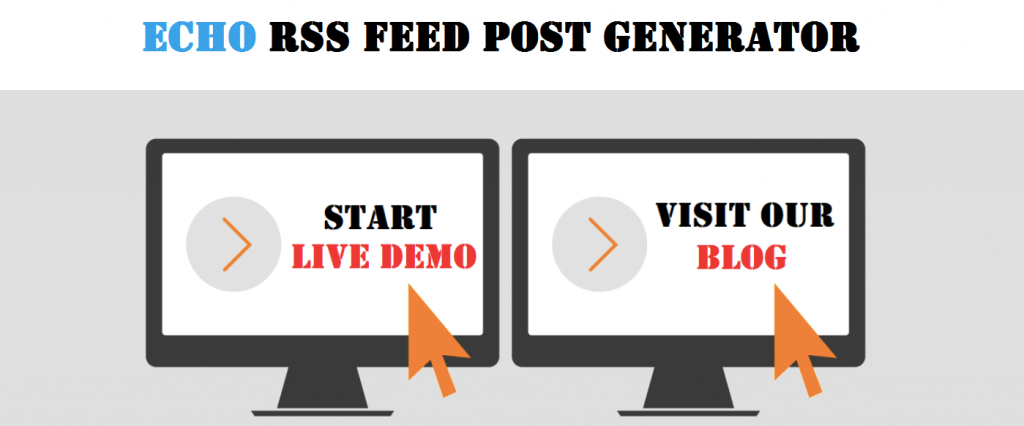 Echo RSS Feed Post Generator is a WordPress auto blogging RSS Feed plugin to automate WordPress blog posts. You can customize the template of each generated feed post to match the design of your website.
This plugin is highly customizable and easy to use. It comes with support for fields to help you add images, videos, and thumbnails for a variety of themes.
You can use this plugin to connect to any RSS feed and get updates about the latest news articles or content from the site of your choice. Likewise, you can use it to generate fresh content daily for your website.
Key Features
Configure multiple RSS feed sources with the ability to enable or disable individual feeds.
Import unlimited content from an unlimited number of RSS feeds.
Built-in shortcodes and Gutenberg blocks to display your imported posts from feeds with ease.
Customize the display templates of generated posts to match your website's design.
Set the default post status to Published, Pending, Draft, or Private.
Pricing: Regular license starts at $27.
"Explore More About Echo RSS Feed Post Generator"
RSS AutoPilot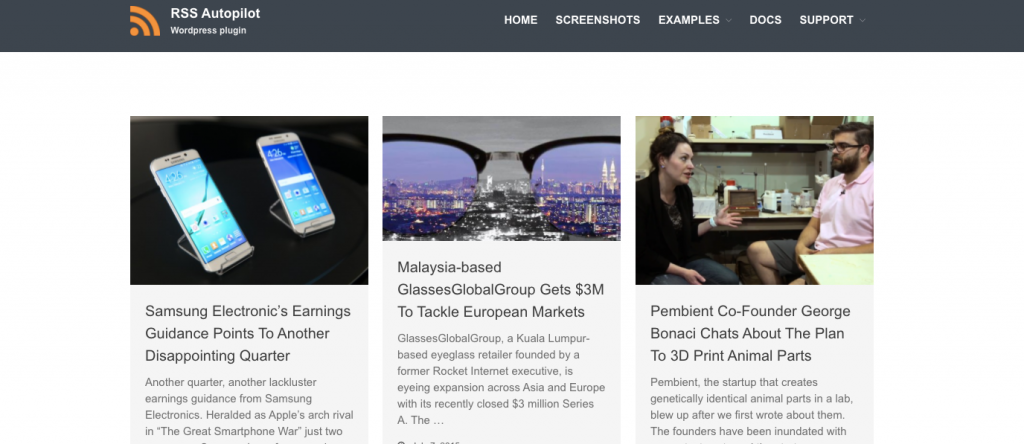 RSS AutoPilot is a unique WordPress plugin that allows you to display the recent posts of your blogroll links and is capable of downloading the RSS feed with ease.
It creates posts in WordPress using a unique Content Extractor feature. This feature allows you to manually pick content or detect them anywhere on your website.
Besides the RSS feed, you can also be able to download Atom using this plugin. Atom is also an XML format data but it's easier than RSS feed to deal with.
Key Features
Lets you fetch different news or content directly from other websites' pages.
This plugin is completely multilingual.
It supports both Atoms and RSS Feeds.
It has an automatic link remover tool.
Comes with a unique content extractor.
Pricing: You can buy RSS AutoPilot Plugin exclusively at $22.
"Explore More About RSS AutoPilot"
RSS Aggregator by Feedzy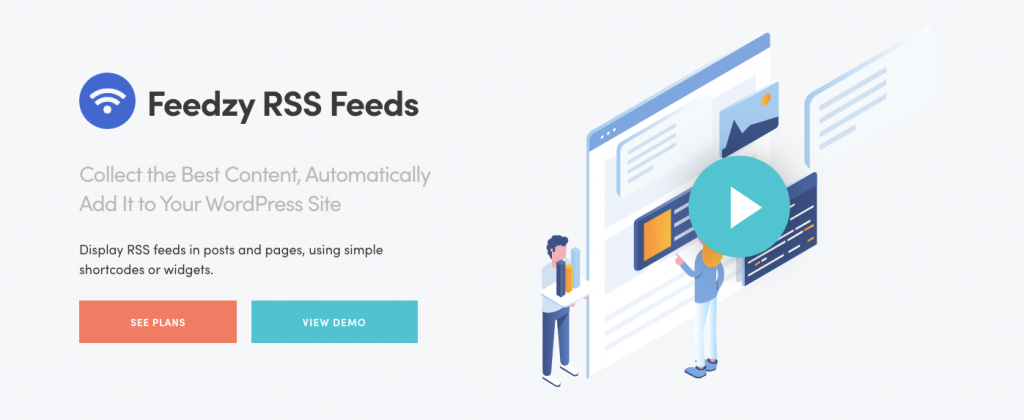 RSS Aggregator by Feedzy is a perfect plugin for converting RSS feeds into blog posts in WordPress. It comes with several themes that allow you to customize how your feeds are displayed. The featured pictures, excerpts, post statuses, font sizes, and general layout may all be changed.
You may rearrange your posts to suit your preferences, resulting in content that looks natural on your website. It also works with your affiliate links, allowing you to promote goods with your affiliate ID and earn money by directing affiliate visitors to third-party sites.
Key Features
Allows you to place your Feedzy RSS feed anywhere on your WordPress site with shortcode integration.
Provides responsive RSS feed automatically.
Lets you import as many feeds as you want.
With the pro plan, you can simply post your RSS feeds as a widget by dragging it into any widget area.
Enables you to avoid duplicate content.
"Download RSS Aggregator By Feedzy Free"
Super RSS Reader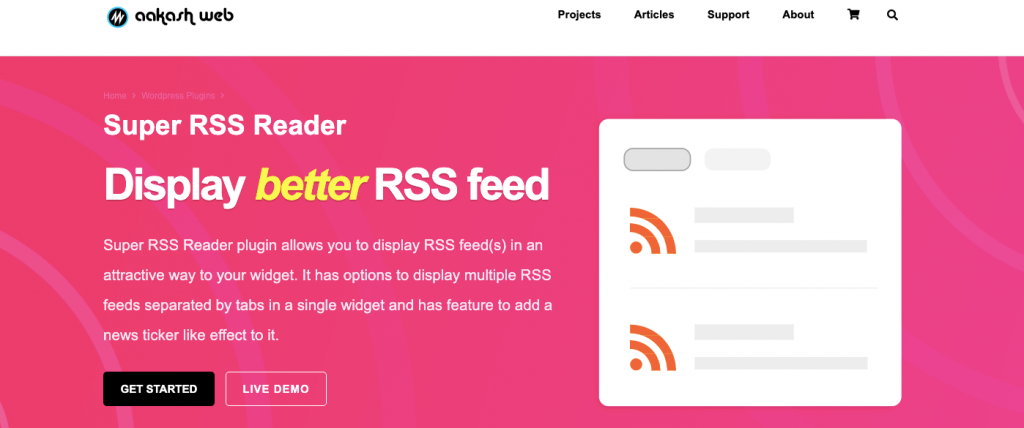 Super RSS Reader is a simple, handy jQuery widget that lets you display RSS feeds in custom widget areas on your website. You can add as many feeds as you like, and then separate the feeds into tabs, so users can switch between multiple feeds, depending on their interests and preferences.
This plugin lets you name your RSS feeds and tabs as you please, decide how many items you want to display (from 1 to 20), display item content, date, and author (if available), and show thumbnails, etc.
There are also several color styles for you to choose from (grey, dark, orange, simple modern, or no style), and the widget height can also be adjusted.
Key Features
Display multiple RSS feeds in one widget/area in separate tabs.
Display the thumbnail of the RSS feed, align them and even display it as the cover image of the feed.
Show the RSS feed anywhere on your website with all the mentioned features.
Provides responsive RSS feed to small screens automatically.
It"s simple, lightweight, and optimized enough to be on point to display RSS feeds.
"Download Super RSS Reader Free"
Product Feed Pro for WooCommerce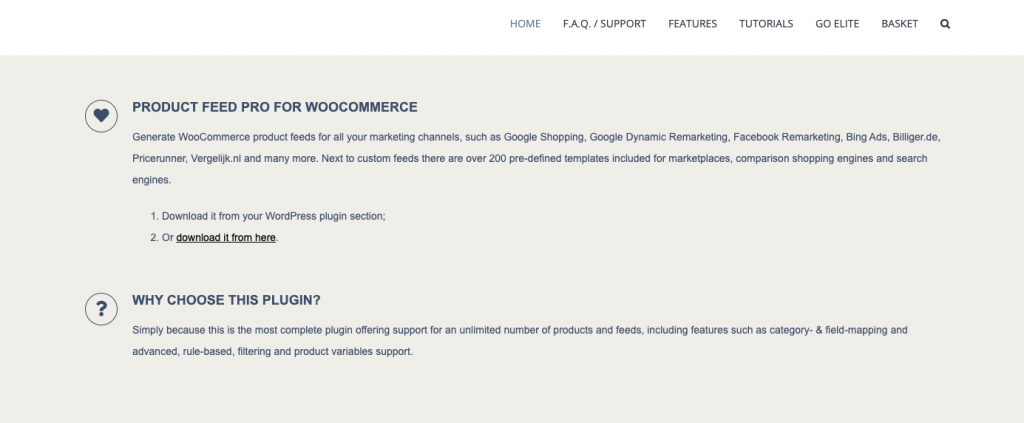 If you are an online store owner or marketer, then this plugin can help you immensely. Product Feed Pro for WooCommerce is a Feed plugin to generate WooCommerce product feeds for all your marketing channels.
You can also use this plugin for Facebook remarketing, bing ads, Google shopping, etc. The plugin comes with support for an unlimited number of products and feeds. Likewise, it comes with features like filtering product variable support, category and field mapping, and so on.
The Product Feed Pro plugin introduces multilingual features and it integrates with the Polylang plugin. As a result, you can create content in the language of your preference.
Feature Highlights
Supports an unlimited number of product feeds.
Lets you add a critical Google Shopping Feed field to your site.
Supports product variables.
Provides you the Google analytics support.
Supports multilingual content.
"Download Product Feed Pro Free"
CBX RSS Feed for Custom Post Types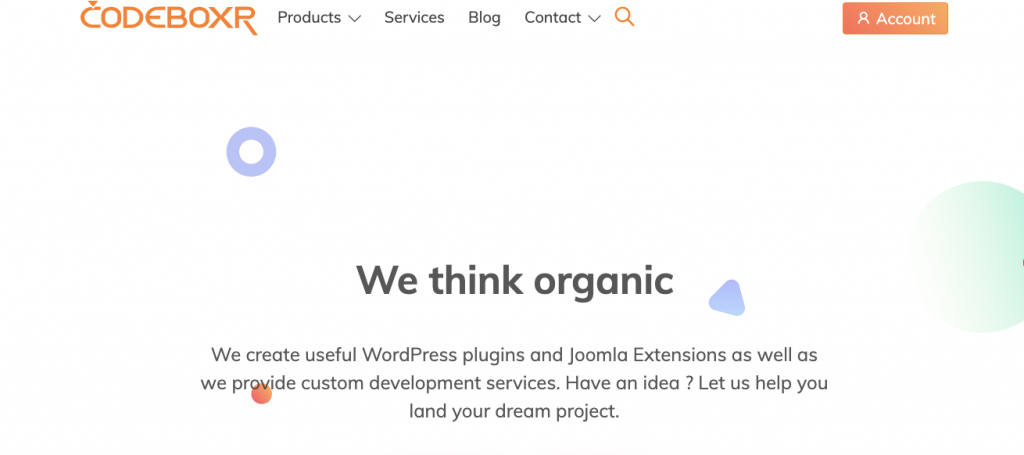 This RSS feed widget makes it easy to view feeds of custom post types in your default WordPress feed. By default, WordPress enables you to add RSS feed support for each custom post. Most individuals who log in to your website may only see your main feed, which only contains blog entries.
CBX RSS Feed for Custom Post Types is a free plugin. More than 1000 people are actively using this plugin on their websites. Also, it has got 5 out of 5 ratings so far on the WordPress repository.
Key Features
It's a lightweight and fast-loading RSS feed plugin.
Lets you integrate the custom post-style feeds into the main WordPress stream.
Gives you the opportunity to pick which post styles you want to show.
All categories have Enable/Disable option.
"Download CBX RSS Feed Plugin Free"
WordPress RSS Feed Plugins- FAQs
Does WordPress have an RSS feed?
WordPress provides an RSS feed by default. On top of that, you can add RSS feeds using an RSS feed plugin.
What is an RSS plugin in WordPress?
RSS Feeds allow websites to publish content in an XML file format. This allows users to subscribe to content using RSS feed readers, like Feedly. By default, WordPress publishes RSS feeds for your blog posts, categories, authors, and more
Can I get an RSS feed for free?
Yes, you can get RSS feeds for free using RSS feed plugins. There are some popular free plugins for you to choose from.
1.WPeMatico RSS Feed Fetcher
2. Echo RSS Feed Post Generator
3. RSS AutoPilot
4. RSS Aggregator by Feedzy
5. Super RSS Reader
6. Product Feed Pro for WooCommerce
7. CBX RSS Feed for Custom Post Types
What is RSS used for?
RSS feed is used to provide subscribers with new content from frequently updated websites.
Is it legal to use the RSS feed on your website?
Unless specific permissions are given to replicate the writing, it is not allowed to be posted on any other website.
Only the original website where the content was produced, and the RSS feeds the website sends the content to, fall within the limits of fair use.
Choose The Best WordPress RSS Feed Plugin and Customize It for Your Site Now
RSS feed can help you to increase traffic to your site as well as engagements. But, importing and modifying RSS feeds manually are time-consuming jobs. So, find an appropriate WordPress RSS Feed plugin to get your job done with ease.
For that, you can rely on our list. However, we suggest you choose a plugin that matches your requirements. Let us know which plugin you are going to use in the comment box below. It will help other visitors to make their choice with confidence.
Follow us on Twitter and Facebook to get new and fresh content every week. Also there you can share your feedback with many other talented people like you.
https://wphive.com/reviews/best-wordpress-rss-feed-plugins/
Shams Sumon
Shams is a content writer with a passion for making WordPress topics easy to understand for everyone through conversational and storytelling approaches. With a background in the WordPress industry since 2019, he has developed a knack for breaking down complex technical concepts into digestible bites. When he's not crafting engaging content, Shams can be found watching football matches, catching up on the latest movies, or exploring new destinations to rejuvenate himself.

Subscribe To Our Newsletter