Funnelforms Review: Create a High-performance Lead Generation Form with Ease

There are hundreds of form builder plugins available on WordPress, but Funnelforms stand out from the crowd with its multi-step lead generation functionality.
With Funnelforms, you can easily and intuitively create a high-performance Lead Generation Form and thus get more customers ready to buy, acquire the right personnel, and digitize your business processes. The free plugin includes everything you need for your lead generation, while the Funnelforms Pro plugin and its extensions unlock even more question types, features, and integrations.
The multi-step funnel approach is effective in guiding website visitors through a series of questions. This can help qualify them as leads and move them closer to making a purchase or taking other desired actions. Simply put, Funnelforms is a powerful tool for businesses looking to optimize their lead-generation efforts and grow their customer base. Let's know more about the plugin from this Funnelforms review.
What is Funnelforms and how can it help you?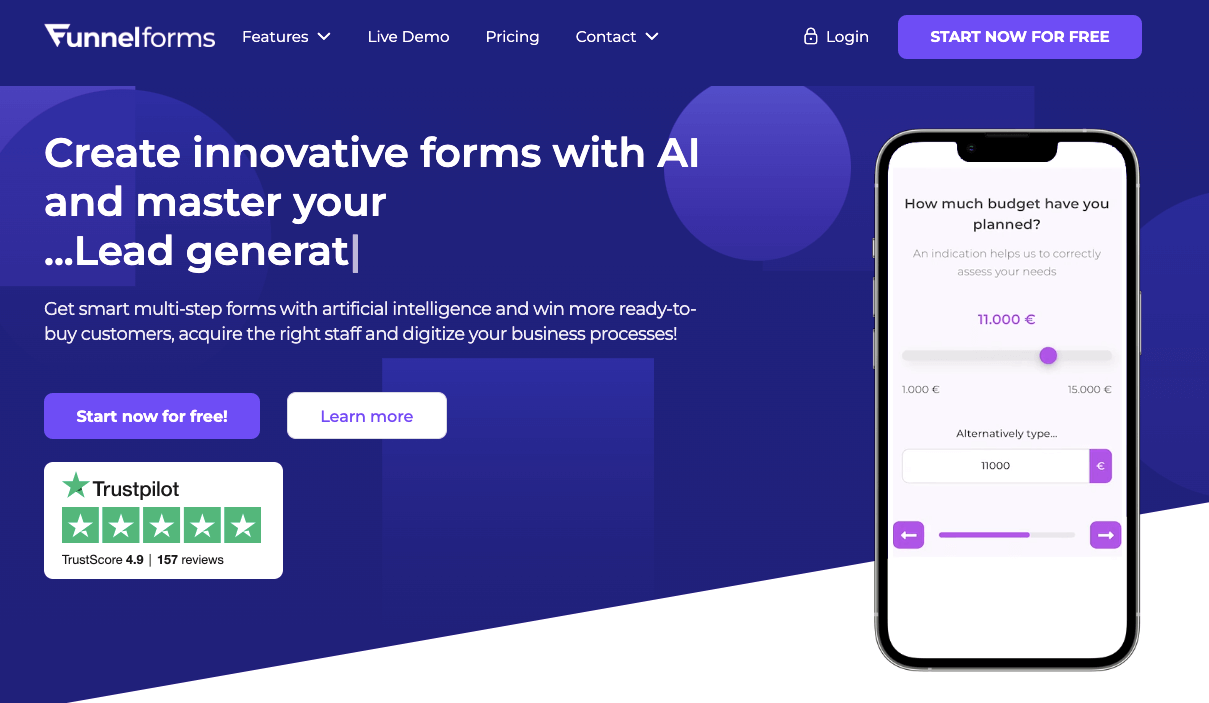 Funnelforms offers a comprehensive set of features and tools for businesses looking to improve their online marketing efforts and generate more leads. The plugin's focus on multi-step forms and its range of customization options make it a powerful tool for businesses of all sizes. You can ask the visitors relevant questions using Funnelforms and guide them through a pleasant customer journey.
Key features of Funnelforms
Let's have a look at the top features of Funnelforms that can help you guide the visitor to complete the funnel form.
1. Ask different types of questions
You can ask one or multiple relevant questions to your visitors with this plugin. Provide them with a predefined choice as an answer and gather the required information that you can use in the future. You can also use an icon or custom image in place of written text to keep the funnel more engaging.
2. Include a suitable text field
Sometimes you may need personalized data to collect more information from the visitors. You can add a text area to let the visitors add longer text.
3. Let visitors book an appointment
The Funnelforms plugin also has an appointment booking system integrated with the form. It allows you to connect iCloud, Google, Office 365, Exchange, or Outlook calendar if your business needs so. After connecting the calendar, you can define available slots and sync the dates with your calendar automatically.
4. Drag & drop elements to build smart forms
Creating smart contact forms, selling forms, and any generic forms is a piece of cake if you use Funnelforms. Simply choose the type of question you want to add, then customize it using the drag-and-drop builder.
5. Use conditional logic to create interactive forms

Funnelforms has taken its functionality to the next level with its ability to guide visitors to the targeted funnel and direct them to the final destination as you expect. The innovative form builder with easy implementation of conditional logic lets you connect the questions and elements in one final multi-step form.
6. Build GDPR-compliant funnel forms
Since you'll be collecting personal data through this plugin, it's crucial to consider GDPR compliance. Funnelforms takes care of that as it's GDPR-compliant according to current, Europe-wide data protection laws. It stores personal data within the website and doesn't share any information with third-party servers.
7. Integrate with over 5,000 tools
Funnelforms offers a variety of integrations with popular third-party tools and platforms. It helps businesses streamline their lead generation and marketing efforts. Some of the notable integrations include Mailchimp, GetResponse, HubSpot, Zapier, and Make. With Funnelforms, you can build very good automation with other tools as well as additionally connect with Zapier and Make.
8. Get 24/7 premium support
You'll get access to a lot of amazing features in the free version of the plugin. But, if you need further assistance while using the plugin for your lead generation efforts, you need to buy the premium version of Funnelforms. It comes with 24/7 premium support for paid users.
Other than these key features, Funnelforms packs a few exciting features to help its users create effective lead-generation forms. Lead dashboard, tracking & statistics, integrations to tools, and autoresponder are a few of them. Let's learn how you can create lead-generation forms by using Funnelforms.
How to collect leads using Funnelforms
We assume now you have an overview of the capabilities of Funnelforms as a lead-generation tool. This section of the review will show you how you can create a lead generation form and collect leads with this plugin for your WordPress website. The first step is installing it on your WordPress website. I used the Pro version Let's get started…
Step 1. Install Funnelforms on your website
Go to your WordPress dashboard and navigate to Plugins > Add New. Then write the plugin's name you want to install on your website. For this case, type 'funnelforms' and hit the Install Now button right beside the search result, and activate the plugin afterward. This is the free version of the plugin.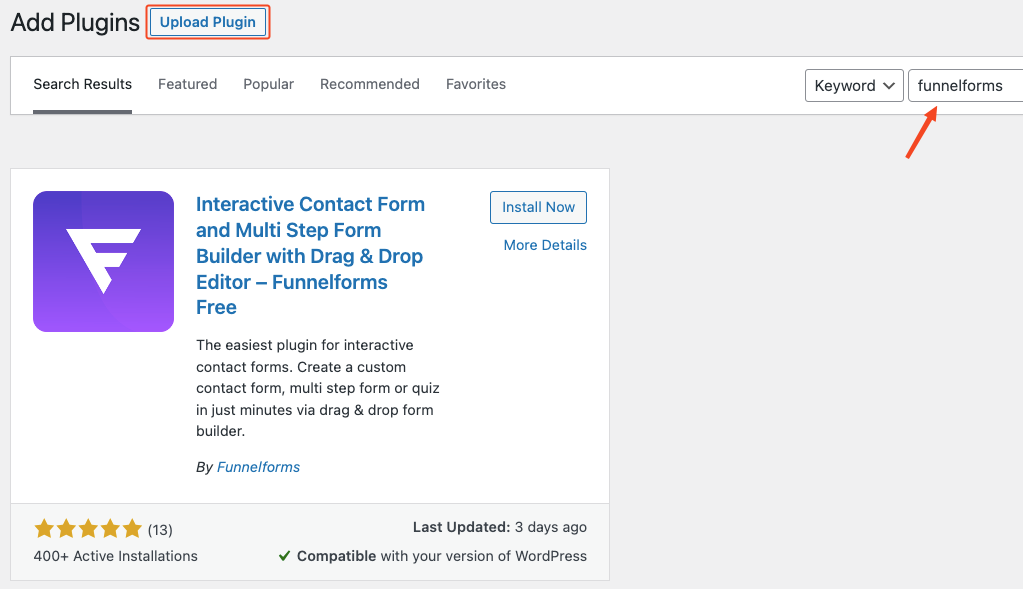 If you have the Pro version click on the Upload Plugin button and choose the. ZIP file from your computer downloaded from your account on the Funnelforms website. Then activate the plugin to move to the next step.
You can follow this guide on how to install a WordPress plugin for a detailed step-by-step guide.
Step 2. Explore the 'First steps' to create your funnel
Click on the First steps, it will show you the checklist you need to follow to use Funnelforms to its fullest potential. Here, you'll also get an introductory video of the plugin. You can watch the video to get a basic overview of the plugin beforehand.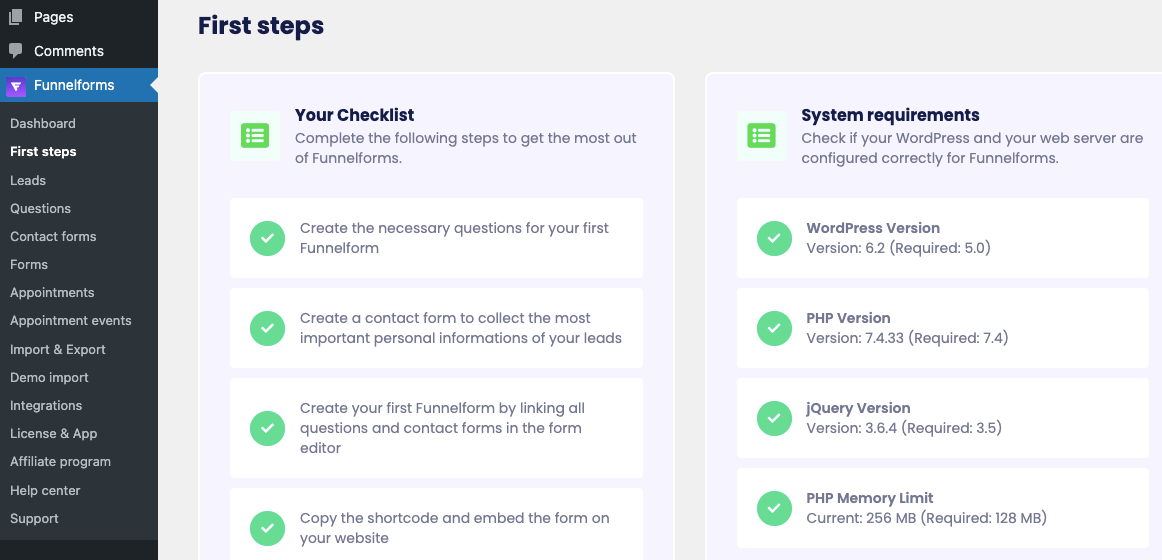 Remember that, not all the options you see in the above pictures aren't available in the free version. Dashboard, Appointments, Import & Export, Demo import, and integrations are available only in the Pro version.
Step 3. Create your first funnel form
A funnel form usually consists of three parts such as questions, contact forms, and finally the form where you'll get all details including the WordPress shortcode.
Click on the Questions menu from the left admin bar. It will take you to the page where you can design a new question for your form. You can choose any elements from the left side.
Funnelforms comes with a great collection of icons from where you can select the icon as a part of the answer. You can select an image from your computer or media library as well. And, click on the plus icon to add a new answer to your question.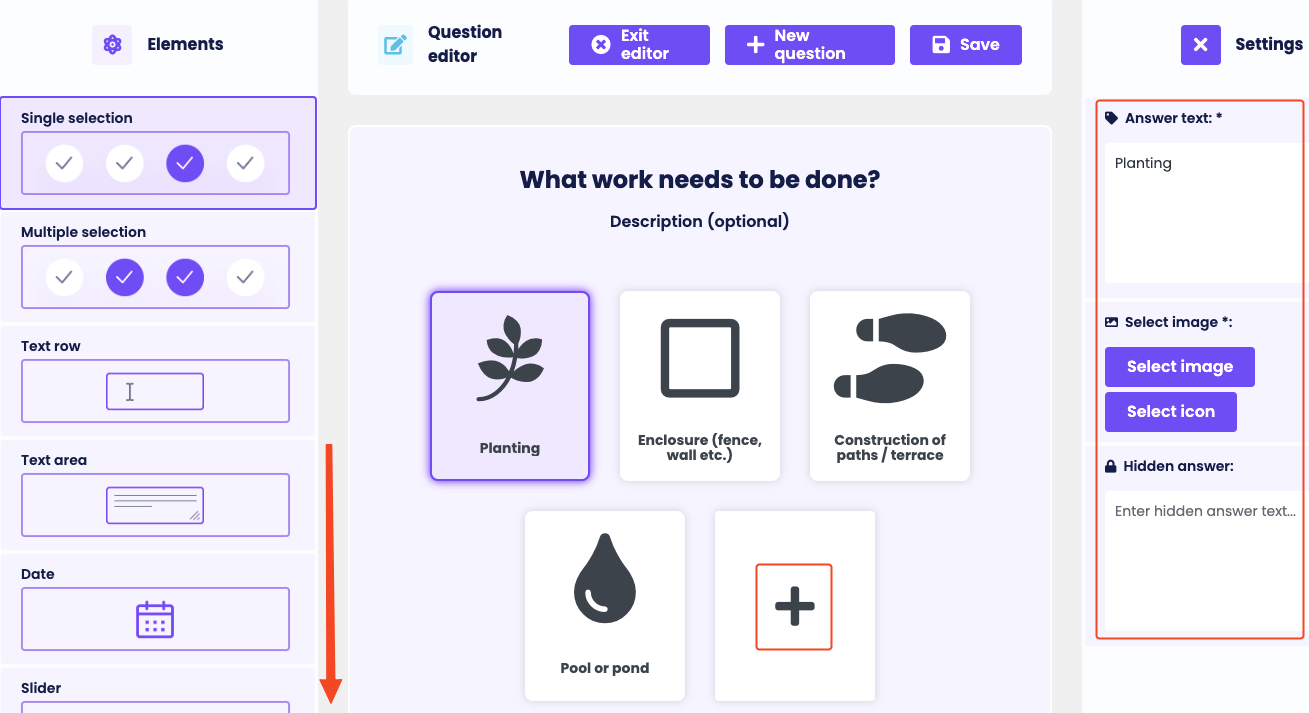 You can add more elements like HTML content, file upload, dropdown, address, and appointment booking along with the elements you can see in the above image.
Now, create a contact form where the responder can provide his personal information and submit the form. You can drag any element from the left side and drag it to your contact form. You can also add Google reCaptcha and HTML content as an element.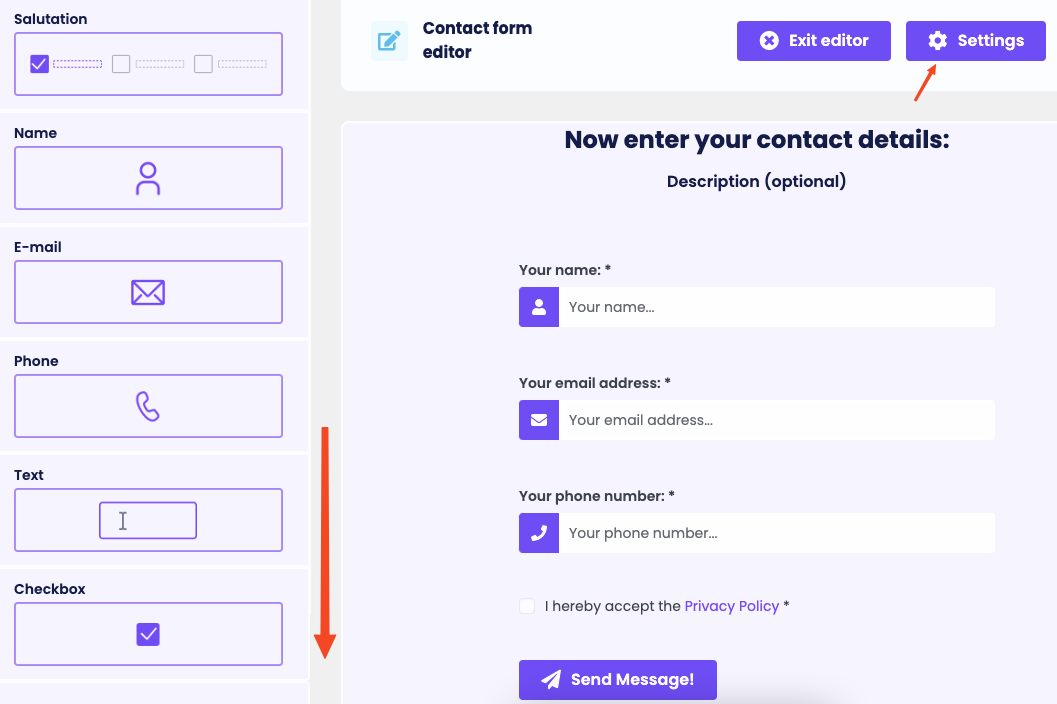 Click on the Settings option to define other required fields like sender name, sender email, recipient email, and more. You can also enable automatic email replies from here. Save the changes once you put all the required data for the contact form.
Step 4. Add conditional logic and design the form
Then go to the Forms where you'll see all the elements of the form that you've created in the previous steps. Drag the elements from the left to the editor. You can use conditional logic in this step to guide the users in the right direction based on their responses.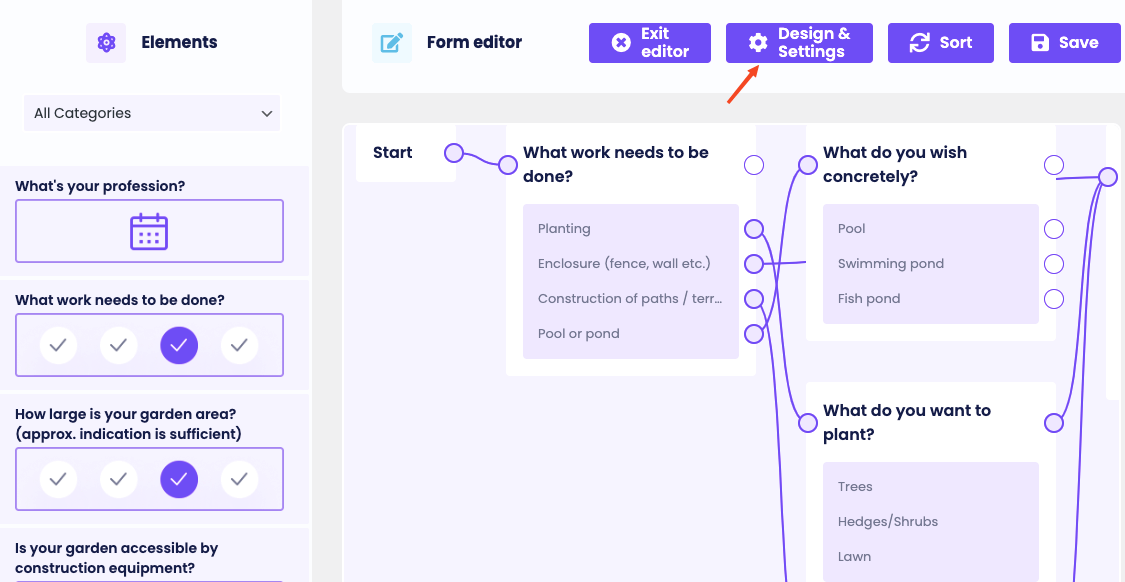 Select the Design & Settings menu from the top part if you want to customize the form more. It'll take you to the customization page as shown below.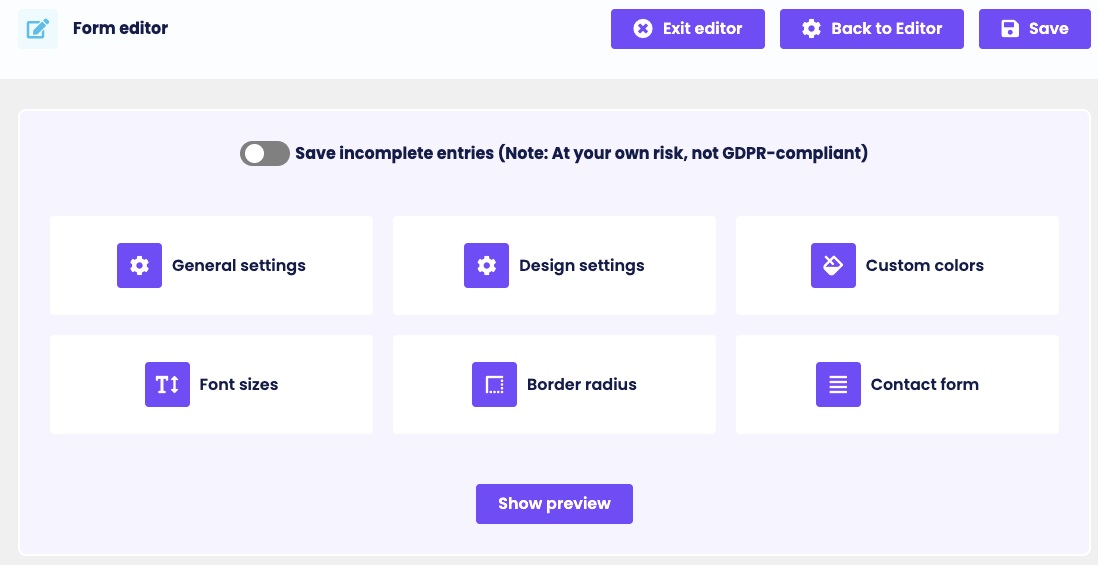 Make necessary changes and hit the Save button to complete designing the multi-step funnel form. Your funnel form is ready, you can see the preview to experience the journey.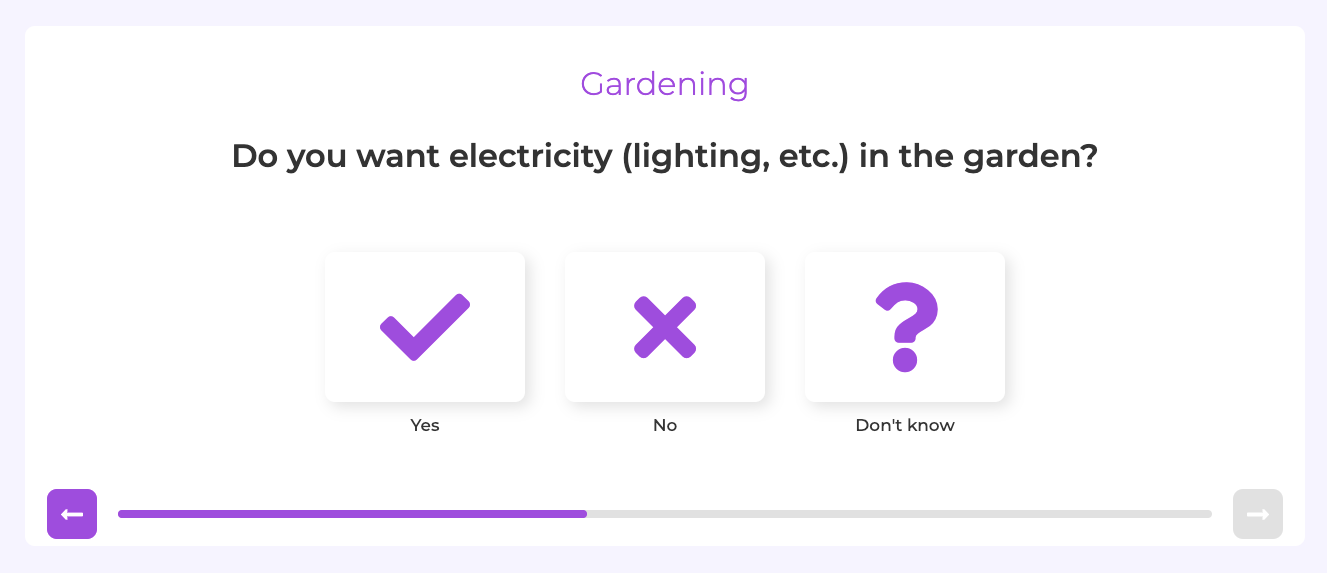 Our form looks like the following image. As you go forward answering the pre-defined questions, you can see the progress bar getting completed.
Step 5. Import a demo form to get it done easily (Pro feature)
Funnelforms comes with 15 ready-made demos that you can import to your website within a few clicks. The easiest way to create a funnel form is to use one of these relevant demos and then customize it to your needs.
Choose the Demo import menu from the left admin bar and select the demo you want to use from the 15 options.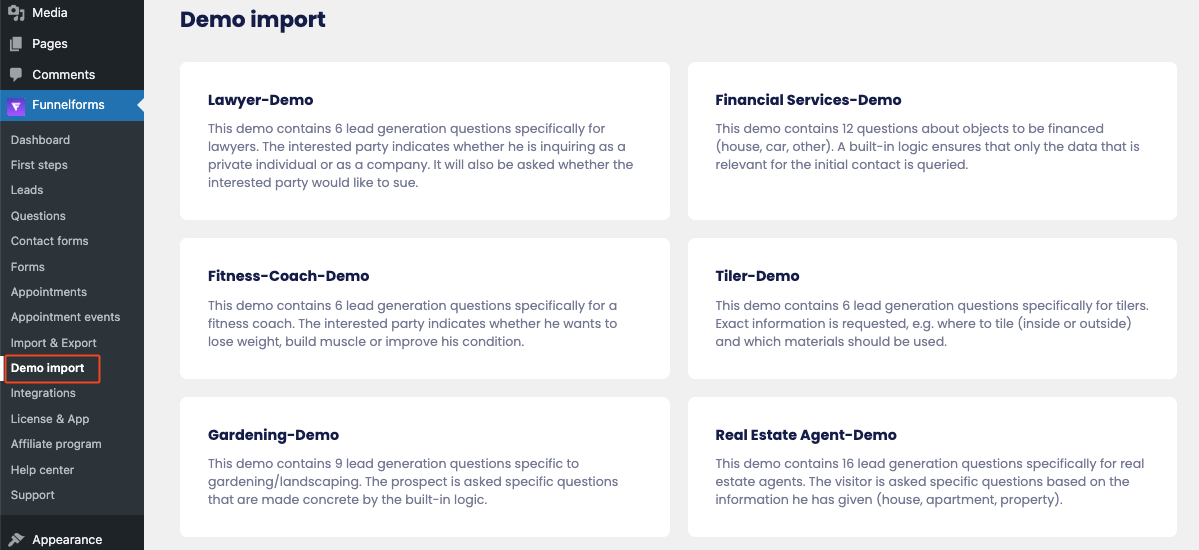 You'll see all your forms including the one you create and the one you import as a demo in the Forms menu.
Step 6. Embed the shortcode to your website
Navigate to the Forms menu from your Funnelforms admin bar. You'll see the form title along with the WordPress shortcode. Copy the shortcode associated with the form you want to use. And, paste the code where you want to show the form across your website.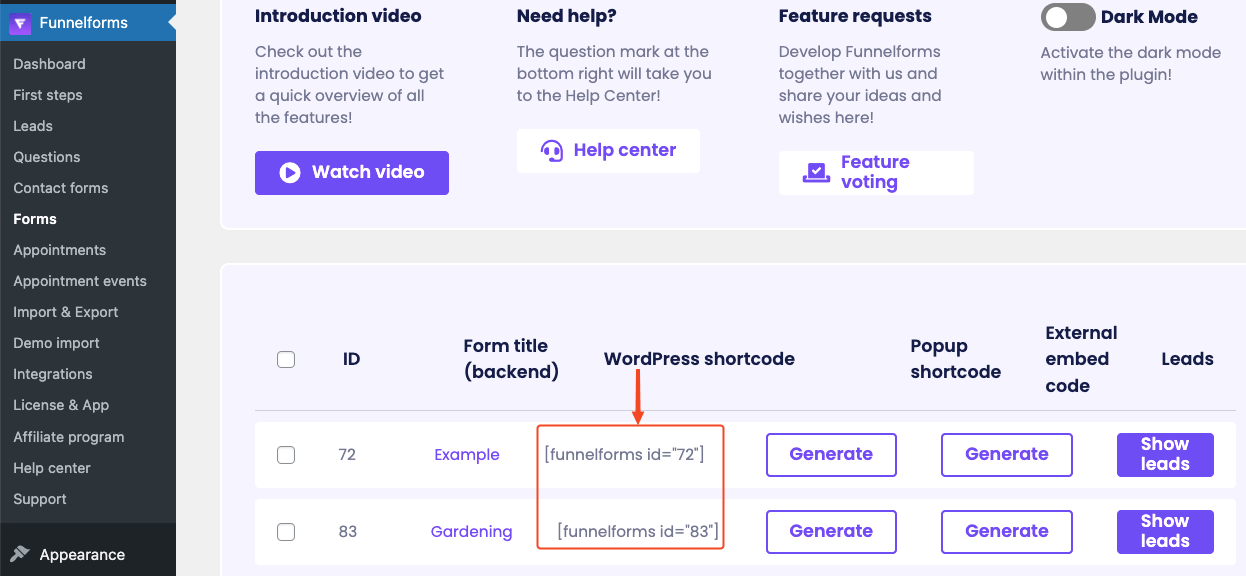 You will see the form on the front end as it appeared in the preview.
Step 7. Track your performance from the dashboard (Pro feature)
Go to your Funnelforms dashboard to see all data including impressions, leads, conversion rate, and the number of collected leads in a specific period. You can measure the performance of your funnel and make necessary adjustments based on these pieces of information.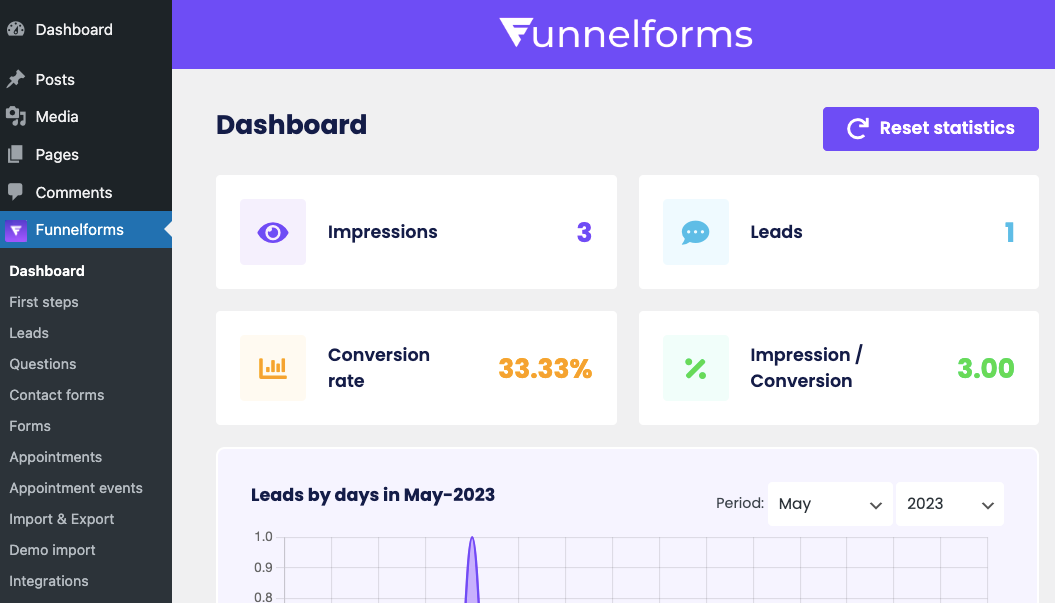 You can also hit the Reset Statistics button to start counting from scratch.
Step 8. See all your leads in a single place
Go to the Leads menu from the Funnelforms admin bar. It will take you to the list of leads you've gathered along with many other functionalities. You can filter the leads collected against a specific form by selecting a form title from the dropdown menu in the top right corner. Funnelforms also shows leads collected via all forms as well.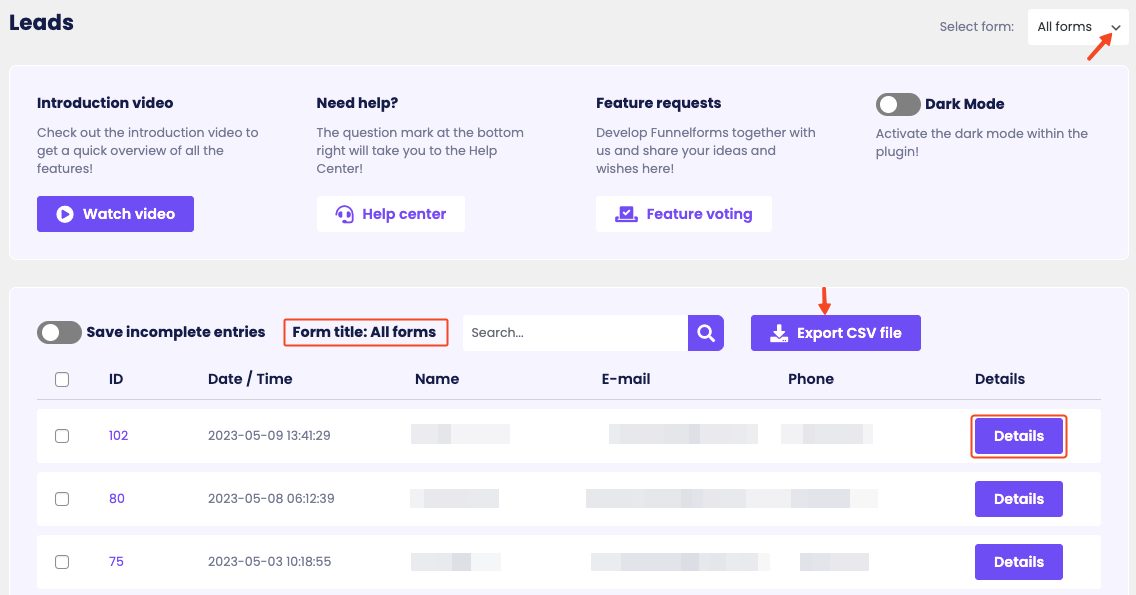 Hit the Export CSV file button to export the leads as a CSV document. And, click on the Details button to know the available information for a lead. Thus, you'll get more qualified leads using smart, intuitive, and high-performance Lead Generation Forms. It will help you get more customers ready to buy, acquire the right personnel, and digitize your business processes.
Funnelforms pricing plans
Funnelforms Free: This plan is free to use and includes access to the platform's drag-and-drop funnel builder, multi-step forms, customizable design, conditional logic, and more. However, it does have some limitations, such as a maximum of three forms, and four question types.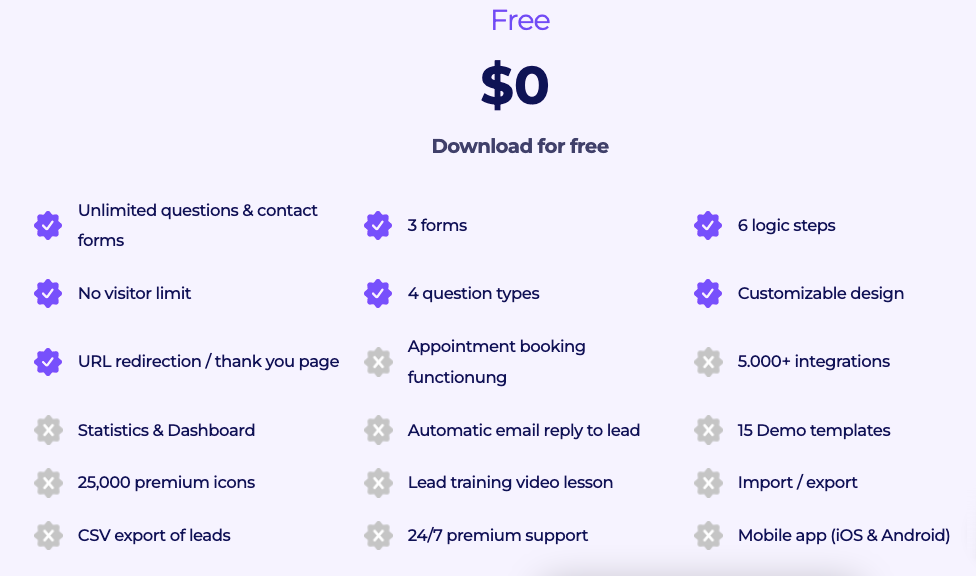 Funnelforms Pro: This plan starts at $1 per the first month and after that $22/month. The premium version includes all the features of the Free plan, as well as access to additional question types, features, and integrations. It also includes unlimited forms, fields, and submissions.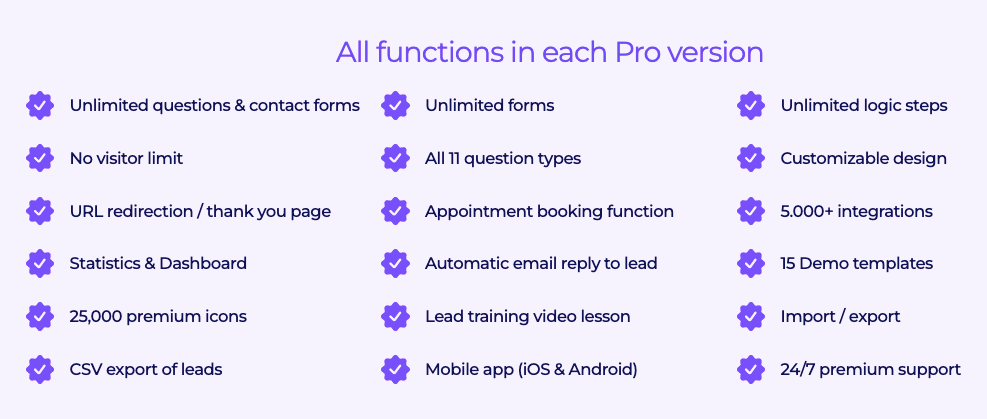 The Free plan is a great way to try out the platform and get started with basic lead generation and funnel building, while the Pro plans offer more advanced features and customization options. The pricing is also transparent and affordable, making it accessible to businesses with different budgets.
Our verdict on Funnelfroms as a lead-generation tool
Based on the features and our hands-on experience using Funnelforms, we can surely say it's a comprehensive and affordable lead-generation plugin for businesses of all sizes. Its drag-and-drop funnel builder and multi-step form functionality can help businesses create targeted and effective lead-generation campaigns. The analytics and lead scoring features can help optimize conversion rates and prioritize follow-up efforts.
The availability of a free plan with limitations also allows businesses to try out the platform before committing to a paid plan, while the Pro plans offer more advanced features and integrations for businesses looking to scale their marketing efforts.
To sum it up, Funnelforms seems to be a reliable and customizable tool for businesses looking to improve their online marketing efforts. Its range of features and pricing plans make it accessible to businesses with different needs and budgets, and its focus on multi-step forms can help businesses generate high-quality leads.
https://wphive.com/reviews/funnelforms-review/
Tanvir Faisal
Md. Tanvir Faisal is a Content Writer at WP Hive with 4 years plus experience in Content Writing, Copywriting, Proofreading, and Editing. He focuses on writing informative content that draws social media attention and enhances search engine visibility. To date, he has successfully developed useful content for many websites across all formats.

Subscribe To Our Newsletter