9 Proven Tips on How to Make Your WordPress Site GDPR Compliant

Chances are, you're well aware of what GDPR compliance is and if you don't, then it's something you'll want to know about. Anyone who requests, stores, and uses the data of another person within the EU is subjected to GDPR.
GDPR known as General Data Protection Regulation is an EU law that was introduced in 2016 in order to help users within the EU to have more control over their own data. The objective of GDPR is to give users control over what businesses and individuals can do with their information. The regulation lays down strict rules on how organizations must handle, process, and protect personal data.
As a website owner, it's important to ensure your WordPress site is GDPR compliant to avoid any legal consequences. In this article, we'll provide you with 9 essential tips on how to make your WordPress site GDPR-compliant and protect the personal data of your users.
GDPR in action: what it means

In practice, GDPR means that organizations must obtain clear and informed consent from individuals for the collection and use of their data. They must provide a way for individuals to access and control their data, and implement appropriate technical and organizational measures to secure information.
For example, if a person within the EU makes a purchase online, they can choose to opt out of having the business store data for use in marketing purposes and third-party marketing. Any business that is in the EU or has customers within the EU and doesn't comply will face a hefty fine.
Not only that but the lack of care toward GDPR compliance loses customers. Cisco found that 90% of their respondents claimed they wouldn't buy from a company if they didn't know how their data would be used.
In this guide, you'll understand the importance of compliance, why your website needs to be GDPR, and top tips on how to achieve that. By the end, you'll be able to action these tips and sleep a little more easily at night, knowing your site is GDPR compliant.
The importance of compliance in the digital age

Compliance and cyber security are at the heart of digital transformation in this age. Consumers are increasingly concerned about how their data is used and how secure that data is in the hands of others.
While some businesses have taken data compliance seriously, there are still many that have yet to become compliant with their practices. In fact, RSM Global found that 30% of European businesses are still not compliant with GDPR.
GDPR compliance and compliance, in general, is essential for a number of reasons, including:
Increases trust and credibility
Keeps data more secure
Easier business process automation in place
Improved data management
Improved brand reputation
Within this digital age, the influence of compliance has a variety of advantages that any business online should be jumping at the chance to leverage.
Why does your site need to be GDPR compliant?
In order to adhere to GDPR compliance, every part of the business that collects information needs to do so in accordance with the law. Your website is part of that and so every effort needs to be made to ensure that compliance is met, including any third-party apps you might use to gather data via your site.
Since 2016, GDPR has been making it crystal clear that if you're not willing to be compliant, then you'll face the repercussions. Those repercussions are substantial and hit hard in the worst way.
If you don't comply, you'll be subject to heavy fines which amount to a maximum of €20 million (nearly $22 million) or 4% of the company's annual, global turnover. GDPR has since given out over €300 million worth of fines – so they mean business.
9 tips on how to make your WordPress site GDPR compliant

How do you improve compliance on your WordPress site? WordPress is one of the most-used platforms for websites and it's one of the easiest when it comes to usability. The platform also makes it less stressful for GDPR compliance, so here are a few tips to ensure yours is compliant in 2023.
1. Get yourself a GDPR representative
If you don't have a scooby about GDPR – that's any business outside of the EU, then don't be disheartened. There are a lot of resources out there that help identify all the areas of compliance you'll want to implement for your business.
For those that don't have the time, nor patience for GDPR compliance, then a GDPR representative might be just what you need. You'll need to adhere to the rules when it comes to GDPR representative requirements. Your GDPR representative must be:
An individual, company, or organization established in the EEA
They must be able to represent your obligations under the EU GDPR
With a GDPR representative in place, it makes the whole compliance process a lot easier to manage.
2. Update your WordPress site to the latest update

To help keep your site compliant, you'll want to ensure you have given your site the latest update of WordPress. This will help ensure your site is running to the required standards needed for any tools and apps you use that are also GDPR compliant.
It's always good to keep your site updated with the latest version of WordPress, especially from a security point of view. You do have the option of choosing between a manual update on your WordPress site or enabling the auto-update. This might be more helpful if you or the person responsible for the site, forget to update it once a new update comes in.
Also Read: How to Update WordPress Manually and Automatically
3. Use GDPR-compliant plugins only
To help ensure all elements of your site are GDPR-compliant, the choice of plugins is worth considering. While there is an abundance of plugins to choose from – more than 60,000 free ones in fact – not all of them are going to be GDPR-friendly.
With that being said, make sure that every plugin you introduce to the site, it's been cleared for GDPR compliance. It's better to be vigilant with this than to just haphazardly choose whatever you please. If you end up doing the latter, you may cause yourself more of a headache than you'd like, having to delete all the ones that aren't compliant.
4. Enable an opt-in for all forms and subscription opportunities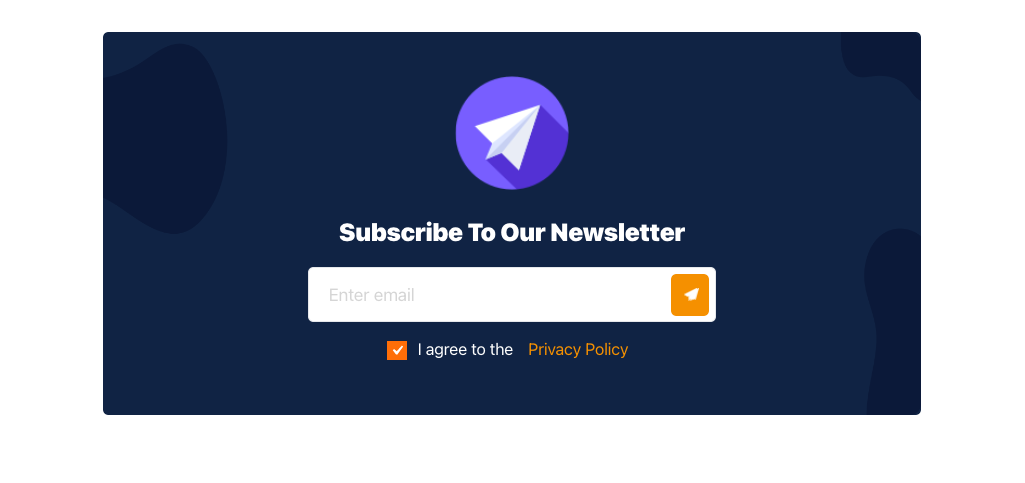 The ability to opted in or out of being added to a database should be made simple and clear for all users when browsing your site. For all forms and subscription opportunities, it's important to enable the opt-in function so that the user knows they are giving over their information for marketing purposes.
This is typically in the form of a tick-box and goes at the bottom of the form before they press submit. Try not to minimize the size of the wording and give both the option to opt in or out so that they will have to tick one before submitting.
<Get Introduced to weMail: A Great Email Marketing Tool for WordPress>
5. Notify users about cookies and ask for consent.
With cookies collecting personal data, it's essential that your site has a cookie banner notification that allows users to give their consent. Nowadays, the use of cookies and GDPR means users pick and choose what cookies are collected.
Being able to tailor what information is tracked and collected is just another way GDPR has allowed users to gain back control of their data. While it might be a pain for businesses on their ability to collect data, it's important to add this banner to your site.
6. Make your website secure with HTTPS.
Data security and navigating the web safely have become a priority concern with many users existing on the web. With a digital footprint, no one is safe from the cyber criminals that are growing in their methods and efforts to catch vulnerable users.
It's important to ensure your website is secure and that involves using HTTPS. Not every business or website, in general, has made the move from HTTP to HTTPS but it's important to do so. GDPR requires this to be implemented in order to help mitigate any data security risks.
Introducing this change also provides more trust in the users who are visiting and engaging with your site. Seeing an HTTP site will mean a lot of users may end up clicking off.
7. Keep your company/site privacy policy updated.

GDPR requires you to keep your company and site privacy policy updated. This is the information provided to users on what data you collect, your purpose for this data collection, and how you'll ensure this data is protected.
For GDPR, your policy needs to be comprehensive and have full disclosure that your users are able to access at all times. WordPress has a built-in privacy policy template that you should use and this is accessed on your settings via the privacy page.
8. Make it easy for users to opt out and delete data
You don't want to purposefully run rings around your customers, especially when it comes to how their data is handled. GDPR requires your business to give the user the ability to download their data or transfer it elsewhere.
They should also be able to erase any personal data they no longer want you to hold. This is something that should be accessible at all times and not difficult to do.
9. Have a double opt-in for new email subscribers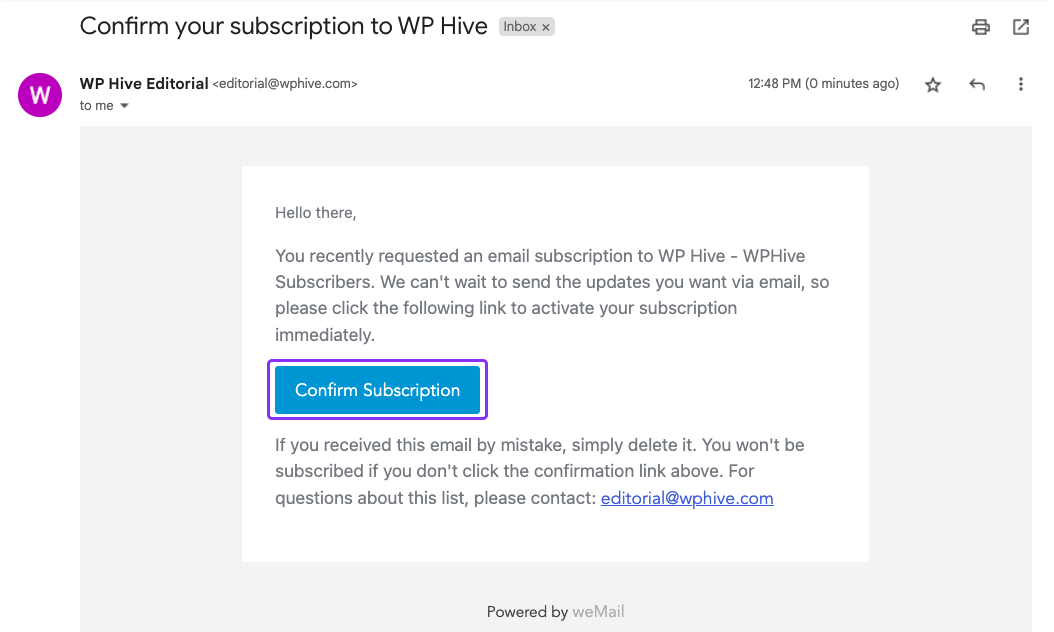 Finally, when it comes to providing opt-ins for your new email subscribers, be sure to offer a double opt-in. This isn't a GDPR requirement in itself but it will make controlling and managing data a lot easier.
With a double opt-in, the user needs to confirm via email their subscription before they're subscribed. It will help lead to more quality and committed leads signing up for their data.
Recap: Primary rights protected under GDPR
The General Data Protection Regulation (GDPR) grants EU citizens the following primary rights:
Right to Access – individuals have the right to request and obtain a copy of their personal data.
Right to Rectification – individuals have the right to request the correction of inaccurate personal data.
Right to Erasure (also known as "Right to be Forgotten") – individuals have the right to request the deletion of their personal data.
Right to Restrict Processing – individuals have the right to restrict the processing of their personal data.
Right to Data Portability – individuals have the right to receive their personal data in a structured, commonly used, and machine-readable format.
Right to Object – individuals have the right to object to the processing of their personal data for certain purposes, including direct marketing.
Right to Not be Subject to Automated Decision-Making – individuals have the right not to be subject to decisions based solely on automated processing, including profiling.
These rights give EU citizens greater control and protection over their personal data.
Become GDPR compliant in 2023 and avoid those hefty fines
No business wants to pay out unnecessary fines when GDPR compliance is easy enough with the right guidance and knowledge. Become GDPR compliant this year and save yourself some much-needed funds. Keep your customers happy and continue to draw in high-quality leads with a glistening reputation.
https://wphive.com/tutorials/how-to-make-wordpress-site-gdpr-compliant/
Tanvir Faisal
Md. Tanvir Faisal is a Content Writer at WP Hive with 4 years plus experience in Content Writing, Copywriting, Proofreading, and Editing. He focuses on writing informative content that draws social media attention and enhances search engine visibility. To date, he has successfully developed useful content for many websites across all formats.

Subscribe To Our Newsletter