Marker Content Article Library: Your Go-to Content Marketplace for WordPress

If you're a website owner or a blogger in need of quality articles, look no further. Marker Content Library is designed to provide you with a vast selection of articles tailored specifically for WordPress websites.
It's important to publish top-notch content that captures the attention of your readers and drives organic traffic. That's why you need a collection of articles spanning various categories to ensure that you'll find the perfect fit for your niche. Whether you're looking for technology insights, business tips, health guidance, or lifestyle inspiration, Marker Content's extensive library has got you covered.
With Marker Content Article Library, accessing exceptional content for your WordPress website has never been easier. Its user-friendly interface and efficient search features allow you to quickly find and purchase quality articles. Read this Marker Content review and learn how you can say goodbye to the hassle of content creation using this article library.
What is Marker Content Article Library?

Marker Content is a content creation platform that offers pre-written articles in a wide range of categories. It allows businesses and individuals to create quality content for their websites and blogs. Marker Content acts as a marketplace that brings together writers and buyers in perfect synergy.
Businesses were investing precious working hours creating content that already existed, while writers faced challenges in connecting their work with businesses seeking their expertise. Marker Content recognized the need for a bridge to unite these two parties to mitigate the existing gaps between writers and businesses.
In fine, Marker Content is committed to providing affordable, high-quality content that helps businesses and individuals establish a strong online presence. Here's a closer look at what makes Marker Content Article Library the go-to marketplace for WordPress content.
Why you should use Marker Content Library
Choose Marker Content Library for high-quality, ready-made articles that save time and costs. With a user-friendly interface and content written by expert writers, it's a convenient and reliable resource for your content needs. Here are the reasons why you should consider using Marker Content.
Time and cost savings: Instead of spending valuable time creating content from scratch or hiring freelance writers, Marker Content Library allows you to quickly browse and purchase ready-made articles, saving you time and reducing costs.
Convenience and ease of use: The platform is user-friendly, making it easy to search, select, and buy articles that suit your specific requirements. You can access the content library conveniently from anywhere, at any time.
Expertly written and researched articles: Marker Content Library features articles written by experienced writers who specialize in different fields. Each article is carefully researched and edited to ensure that it is accurate, informative, and engaging. This ensures that the content is well-researched, accurate, and written to a high standard.
Affordable price: Despite the high quality of the articles, Marker Content Article Library offers them at an affordable price. This makes it an ideal platform for bloggers and small business owners who need quality content but are working with limited budgets.
Fast turnaround time: One of the benefits of using Marker Content Article Library is the fast turnaround time. Once you have selected and purchased an article, you can import it immediately. This means that you can quickly add fresh, quality content to your website or blog without waiting for a writer to complete the work.
How to use Marker Content Library for your business marketing

The Marker Content Article Library plugin allows WordPress users to easily access the Marker Content Article Library directly from their WordPress dashboard. With this plugin, you can search and browse for articles by keyword and purchase articles directly from the dashboard. Once purchased, the articles are available for importing and can be added to the user's WordPress site with just a few clicks.
Learn how to use Marker Content Library for your business marketing from the below sections.
1. Install the Marker Content Library plugin
Log in to your WordPress dashboard and navigate to Plugins > Add New. It will take you to the search directory of the WordPress dashboard. You need to type the plugin's name in the search bar to find the target plugin.
Since Marker Content Article Library is still a new plugin, you may find it hard to get the plugin on the first page of the search result. We typed "Marker Content Article Library written articles for you"- more specific keywords to get it.
You can also visit Marker Content Library on the WordPress repository and download it to your computer. Then hit the Upload Plugin as marked in the below picture. It will let you choose the plugin file from the storage location where you saved it.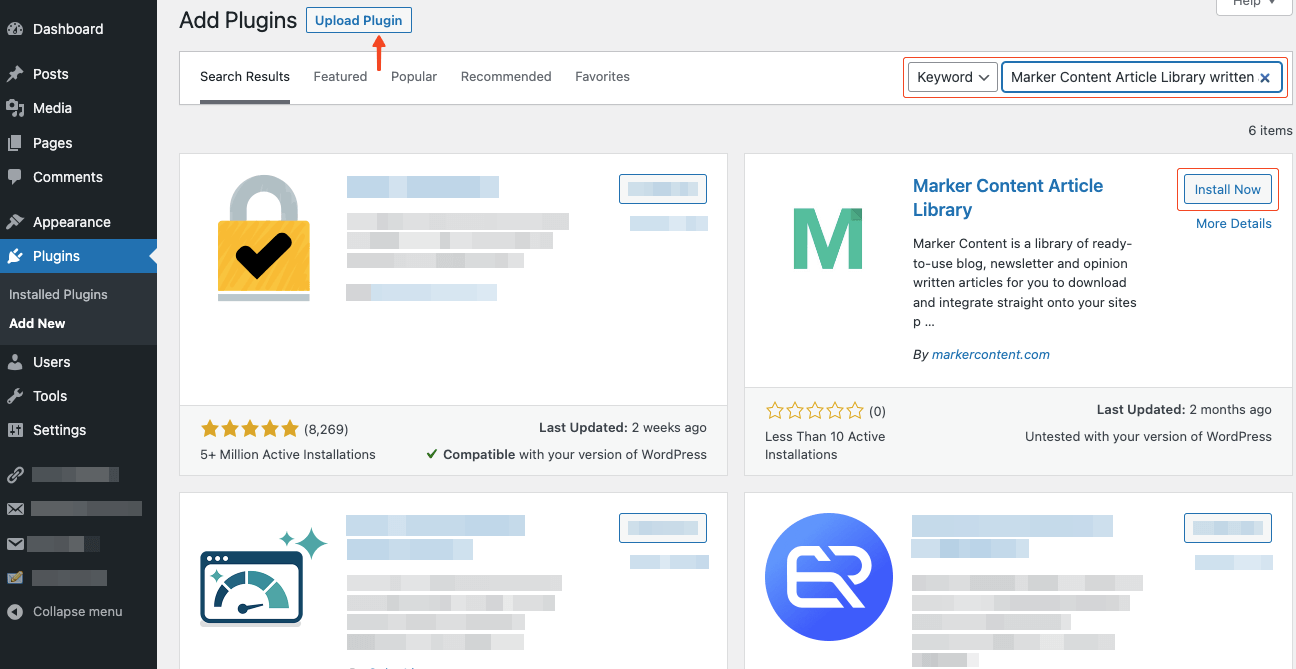 Then activate the plugin to start using it on your website.
You can follow this guide on how to install a WordPress plugin for further assistance.
2. Sign up or log in to your account
Upon successful installation and activation, you'll see markerContent on the left sidebar of your admin panel. Click on it. It'll take you to the login page. Put your credentials in the required fields or create a new account by signing up for Marker Content.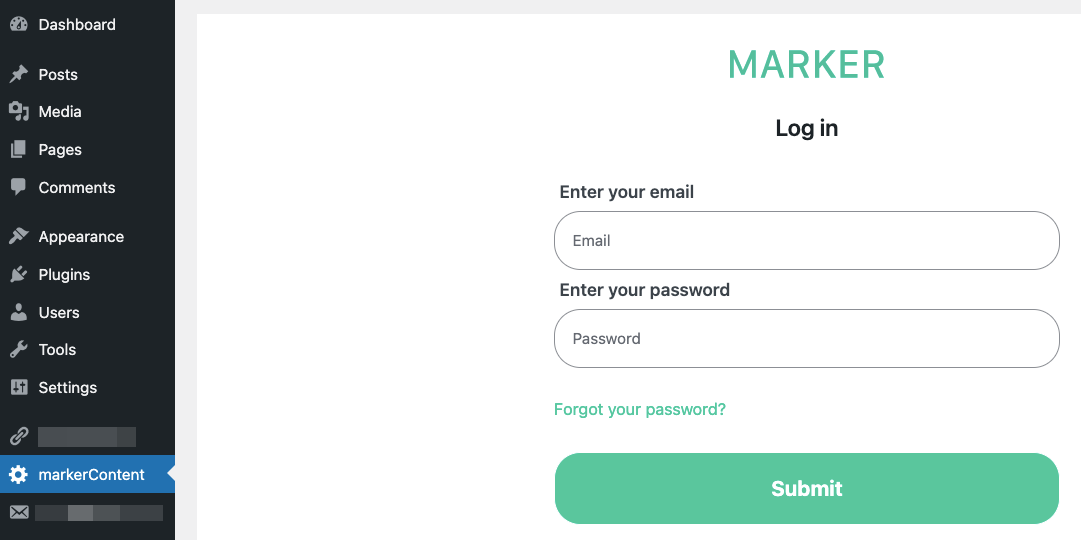 You'll see the below Welcome Message if your login is successful.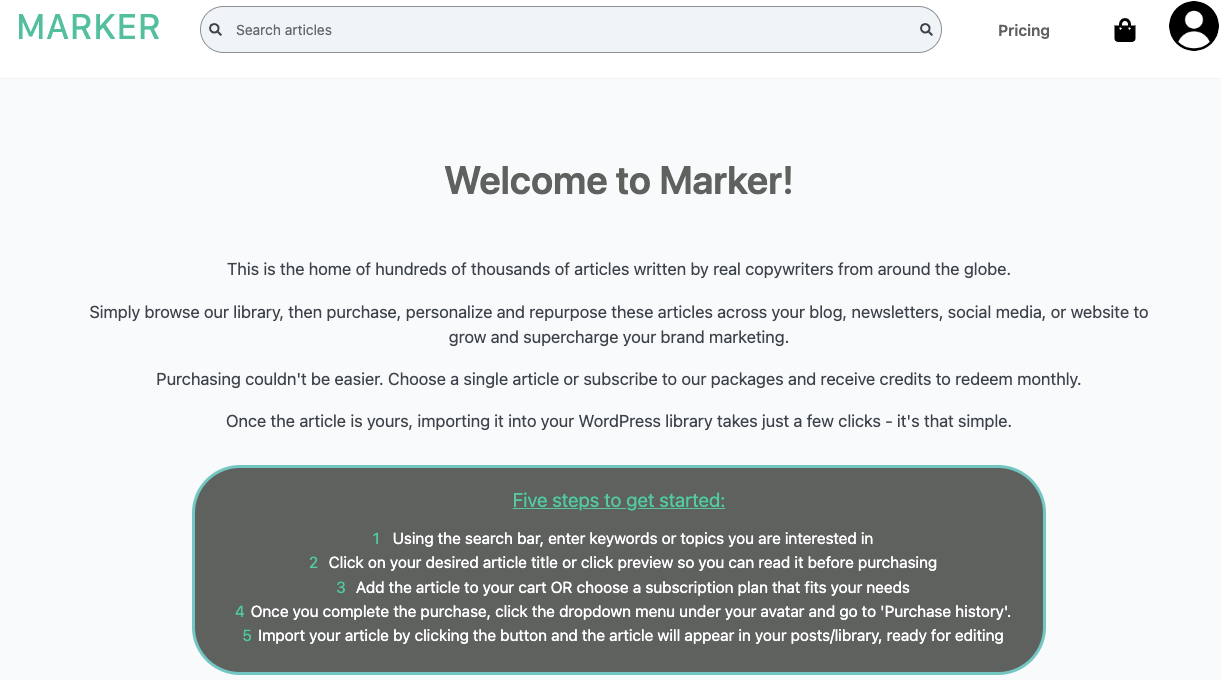 Scroll down on the page to see all available articles written for you to download and use right away.
3. Search for your desired content
You can easily find an article for your topic by searching for it. Type your topic on the search bar if you have a specific topic in your mind. All related articles will appear here on the search page and you can choose one that matches your requirements the most.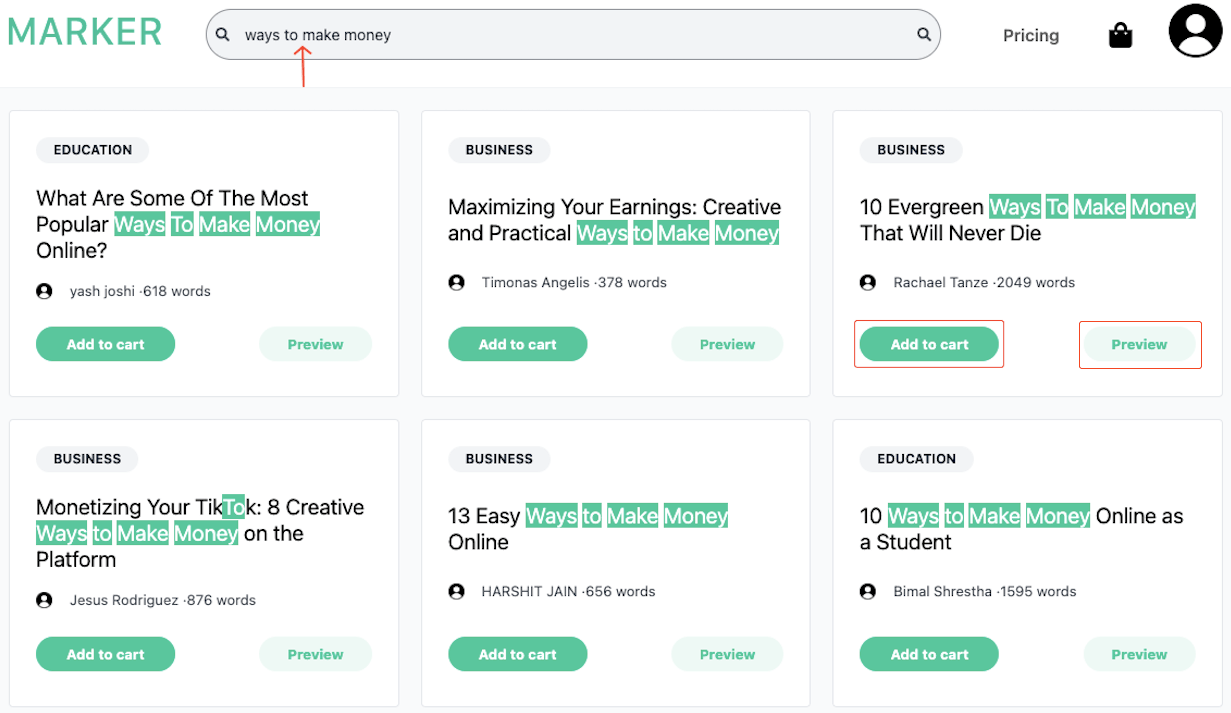 We searched for 'ways to make money' and chose "10 Evergreen Ways To Make Money That Will Never Die". Add your article to the cart or you can see a short preview of the post to see how it's written.
4. Buy a single article or subscribe to Market Content
Go to your cart after adding the article to the shopping queue. Click on the Continue to Checkout button to make the payment.

You can also hit the Subscribe button to expand other pricing options, including both annual and monthly plans.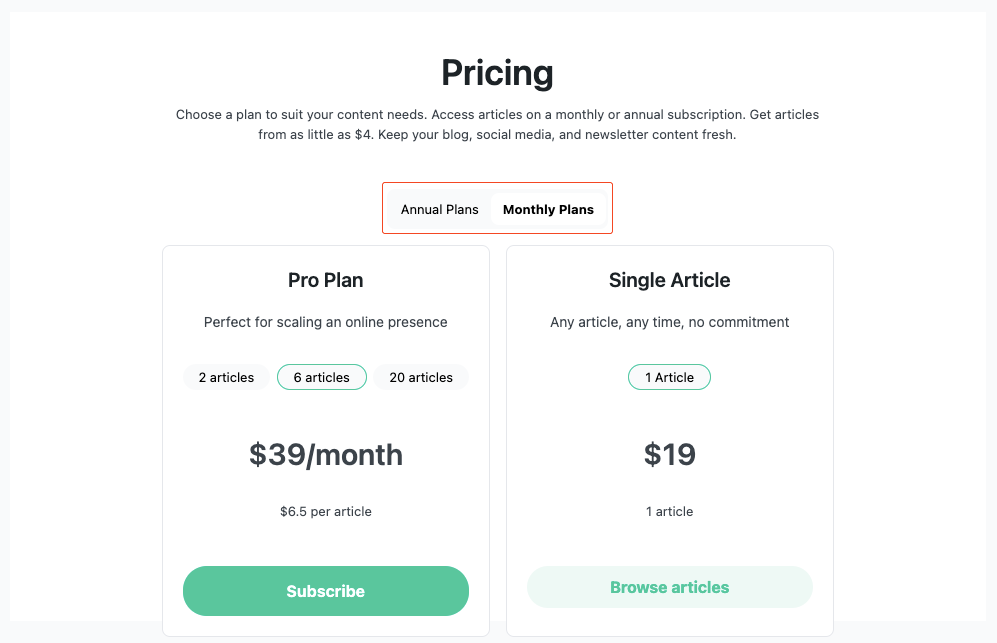 We continued to check out and it took us to the payment page powered by Stripe. You can purchase using Visa, MasterCard, American Express, and Discover cards.
The payment page will redirect you to the 'Payment successful' page as shown in the following image.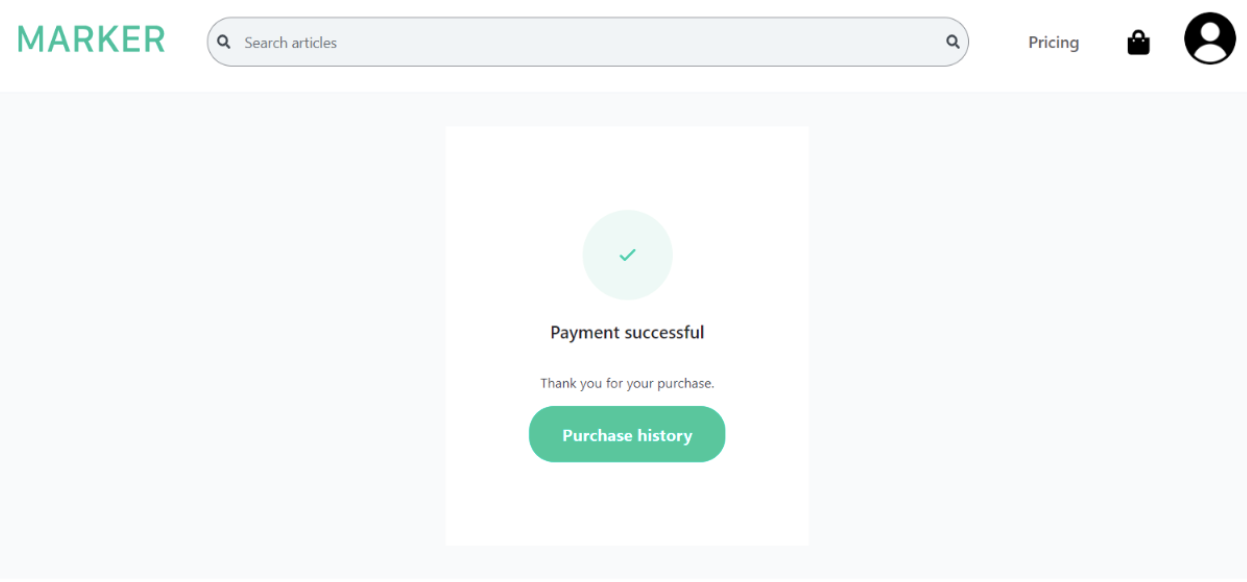 5. Import your post to WordPress
After a successful purchase, you will see the bought article in your Marker Content dashboard. Navigate to markerContent from your website's admin panel. Click on the Import to Posts button.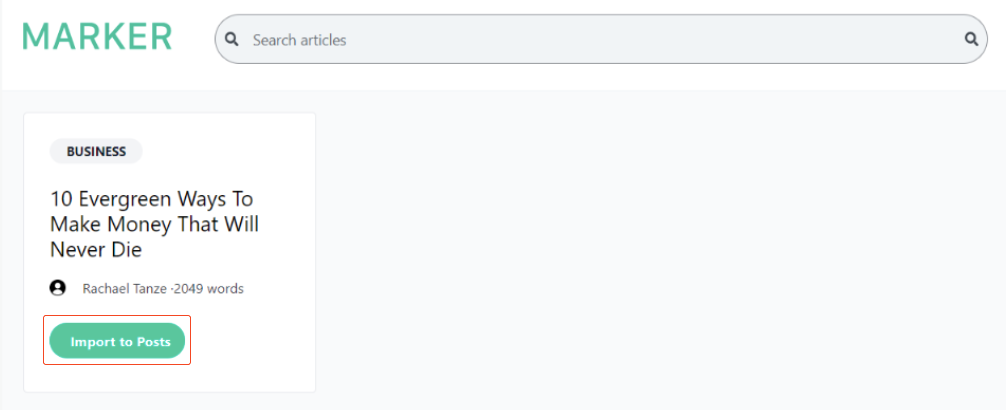 That's it! Your post has been published immediately. You can see the post from the Posts > All Posts menu.
6. Edit your article to personalize it for your brand
All articles of Marker Content are pre-written and cover the generic topic. So, you need to edit them to add a touch of personalization. We suggest you tailor the content to your website's business type so that it caters to your target audience's needs.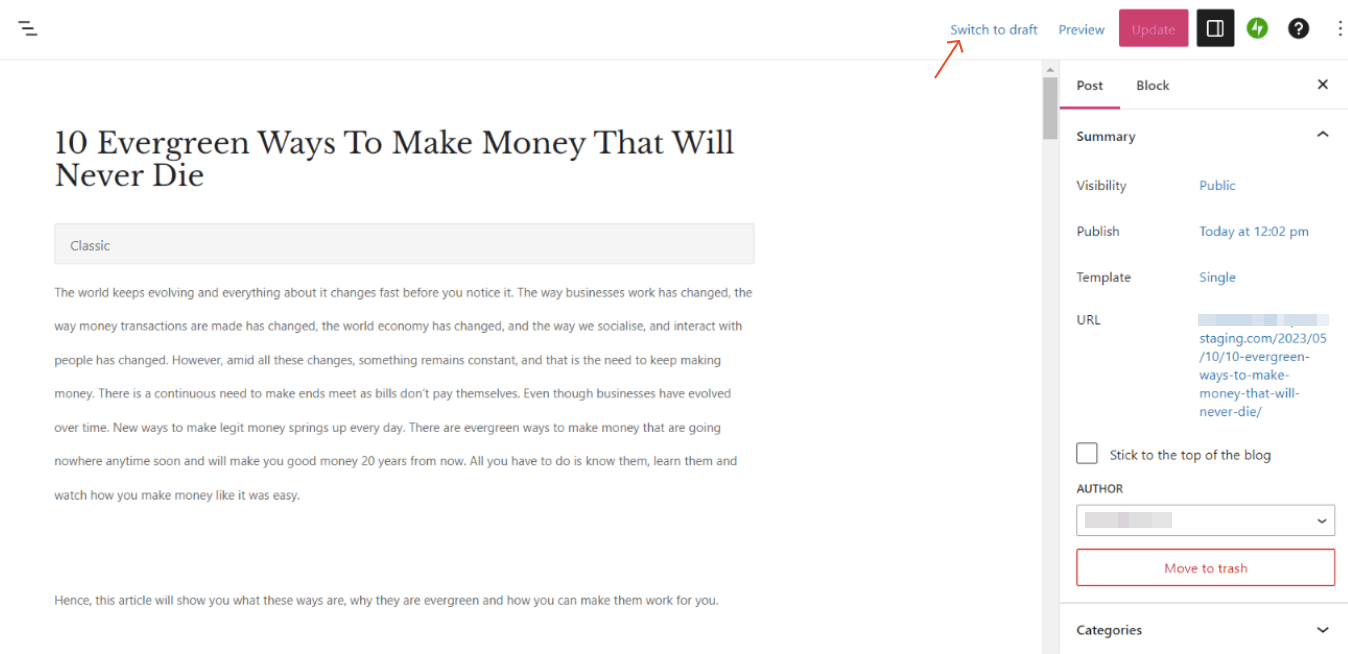 You can unpublish the post immediately and Switch to draft. Then publish it after making the necessary adjustments.
7. Optimize your content for SEO
Don't forget to optimize your content for SEO (Search Engine Optimization) to increase your website's visibility and drive targeted organic traffic. Optimize your content with relevant keywords, meta tags, and other SEO techniques and improve your chances of appearing on the first page of search engine results. This higher visibility increases the likelihood of users clicking through to your website, resulting in increased traffic and potential conversions.
Marker Content review: What it could do better
During the testing process, we had a smooth experience using the Marker Content plugin. Everything was top-notch except the importing process. The post directly gets published after the import. It would have been better if the post was sent to the draft section of the posts instead of getting published immediately.
This will allow users to edit and optimize the article, and add media files, links, and featured images as necessary before finally publishing the article.
Pricing plans for Marker Content Library

Marker Content comes with four monthly plans as follows:
Single article at $19: Any article, any time, no commitment
The basic plan at $18/month: 2 articles, perfect for small and growing businesses
Pro plan at $39/month: 6 articles, perfect for scaling an online presence
Enterprise plan at $99/month: 20 articles, perfect for brands, agencies, or publishers to strengthen content strategies
It also has three annual plans starting at $199/year. Explore more from the Marker Content pricing page.
Step up your content marketing game with Marker
Marker Content allows you to save valuable time and resources by eliminating the need to write content from scratch. Instead, you can browse Marker's extensive collection and find articles that align with your niche and target audience. Each article is crafted by experienced writers who ensure accuracy, relevance, and engagement.
So? Why settle for mediocre content when you have Marker Content at your disposal? Elevate your content marketing efforts and unlock the potential for greater reach, engagement, and success in your online endeavors.
https://wphive.com/reviews/marker-content-article-library/
Tanvir Faisal
Md. Tanvir Faisal is a Content Writer at WP Hive with 4 years plus experience in Content Writing, Copywriting, Proofreading, and Editing. He focuses on writing informative content that draws social media attention and enhances search engine visibility. To date, he has successfully developed useful content for many websites across all formats.

Subscribe To Our Newsletter