Masteriyo LMS Review – One of the Best WordPress LMS Plugins

As you set sail on your own eLearning business venture, we want to introduce you to an effective tool that will make your dreams come true – Masteriyo LMS! Yes, there are a few LMS solutions available in the WordPress ecosystem. But. Masteriyo stands out with its powerful and user-friendly features and affordable prices.
Say goodbye to the complexities and distractions that hindered your progress in the past, and say hello to a seamless and intuitive course creation process. Whether you're an educator, entrepreneur, or aspiring eLearning expert, Masteriyo has something special in store for you!
So, get ready to discover how Masteriyo can transform your eLearning experience into a successful business. This Masteriyo LMS review will guide you through the journey to creating impactful courses that captivate learners.
What is Masteriyo LMS?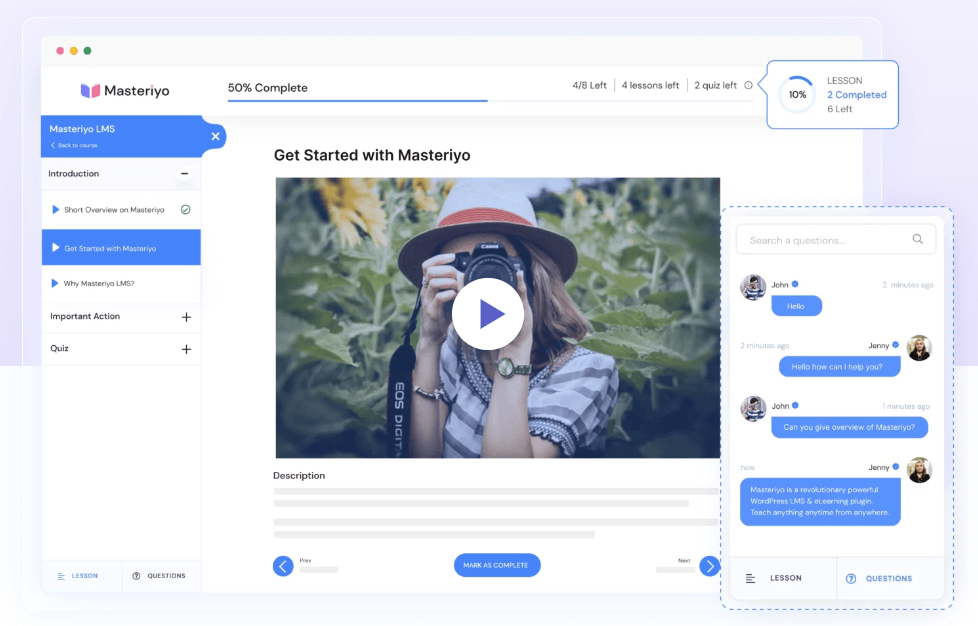 Masteriyo LMS is a WordPress plugin that offers a fast and intuitive course-building experience for educators and trainers. It allows users to create, sell, and manage online courses directly on their own WordPress websites.
The plugin includes features like a powerful quiz builder, assignment creator, certificate builder, grade book addon, distraction-free learning mode, Q&A section, and review system. Its built-in order system and PayPal integration also support seamless course selling.
You can also make use of additional eCommerce options through integration with WooCommerce and Stripe. Simply put, Masteriyo is a comprehensive solution for easily building fully functional LMS websites. Let's know the key features of the Masteriyo LMS plugin from the below section.
Key features of the Masteriyo WordPress plugin
Masteriyo is a promising WordPress LMS plugin with a range of features that may appeal to educators, trainers, and course creators. Here are the top features and functionalities of Masteriyo:
Single Page Application (SPA) interface
Masteriyo introduces a fast and intuitive course-building experience through its Single Page Application interface. It allows you to create course segments, such as sections, lessons, quizzes, and assignments, within a single structured interface. Changes can be saved quickly without the need for page reloads.
Powerful quiz builder
Masteriyo includes a robust quiz builder that enables you to create interactive quizzes to assess learners' knowledge and progress.
Assignment creator
The plugin provides an assignment creator feature, allowing you to create and manage assignments for students to complete as part of the course.
Certificate builder
Masteriyo offers a certificate builder feature, allowing you to create customized certificates that can be awarded to learners upon course completion.
Review system

Masteriyo incorporates a review system that allows students to rate and provide feedback on the courses they have taken.
Gradebook addon
With the gradebook addon, you can track and manage student grades and performance within the LMS.
Zoom integration
The Zoom add-on is available in the pro version. It enables the instructor to schedule and take live classes. Students can join the live sessions directly within the Masteriyo plugin.
Distraction-free learning mode
Masteriyo includes a distraction-free learning mode that helps students focus on the course content by eliminating unnecessary distractions.
Q&A section
The plugin provides a dedicated Q&A section, enabling student engagement and interaction through questions and answers.
Seamless course selling
Masteriyo includes a built-in order system and supports PayPal integration, enabling you to sell your courses directly from your website.
Payment gateway integration
In addition to PayPal, Masteriyo offers native integration with Stripe for accepting payments. It also supports integration with WooCommerce if you need more eCommerce options.
Course discounts
The plugin provides a Coupons addon, allowing you to offer course discounts to attract and incentivize learners.
Overall, Masteriyo aims to provide a comprehensive solution for creating fully functional LMS websites with its range of features and intuitive interface. It combines course creation, assessment tools, payment integration, and engagement features to support educators and trainers in building and selling online courses.
Why you should choose the Masteriyo LMS plugin

Unlock the full potential of your online courses with Masteriyo, the revolutionary WordPress LMS plugin that is reshaping the eLearning landscape. With meticulous research and an unwavering commitment to user experience, Masteriyo offers an array of compelling features and advantages that set it apart from the competition.
Unmatched flexibility
Masteriyo understands that every educator and trainer is unique, which is why it offers both free and paid versions to suit your specific needs. With the free version, you can dive into building robust LMS websites without stretching your budget. For those seeking advanced functionality and premium support, the paid plans are competitively priced, ensuring cost-effective solutions for solopreneurs and agencies alike.
Speed and efficiency
Experience the fastest and smoothest course-building process ever with Masteriyo's Single Page Application (SPA) interface, powered by React JS. With it, you can say goodbye to cumbersome page reloads and fragmented workflows. Seamlessly create and edit courses, navigate tabs, adjust settings, and save changes instantly—all in one place.
Elegant simplicity
Embrace the minimalist design of Masteriyo, where simplicity is elevated to an art form. Masteriyo aims to simplify the course creation process by offering a clean and intuitive interface, reducing distractions and unnecessary complexities. This enables course creators to focus their efforts on creating content that resonates with learners.
Selling made effortless
Masteriyo empowers you to monetize your courses effortlessly. With its integrated ordering system and PayPal support available even in the free version, you can start selling your courses without the hassle of additional eCommerce integrations. On top of that, Masteriyo seamlessly integrates with popular platforms like WooCommerce and Stripe, expanding your eCommerce capabilities to new heights.
Engagement and results
Engage your students on a deeper level with Masteriyo's powerful features such as quiz builder, assignment creator, and certificate builder to assess and reward learners. Foster interaction and knowledge sharing through the Q&A section. Moreover, the review system allows students to rate and provide valuable feedback on your courses. Thus, Masteriyo helps you create a dynamic and immersive learning experience that resonates with your audience.
How to use Masteriyo LMS to sell your online courses
With Masteriyo LMS, you can effortlessly sell your online courses and build a thriving eLearning business. Then promote your courses through various channels to attract learners and succeed in the business. Let's explore this tool with us. Your journey toward educational excellence starts here.
1. Add Masteriyo LMS to your website
First, you need to Install and activate the Masteriyo LMS Plugin on your WordPress website. Here are the simple steps to do that:
In your WordPress dashboard, navigate to "Plugins" and click on "Add New."
Search for "Masteriyo" and click on "Install Now" next to the Masteriyo LMS plugin.
After installation, click on "Activate" to activate the plugin.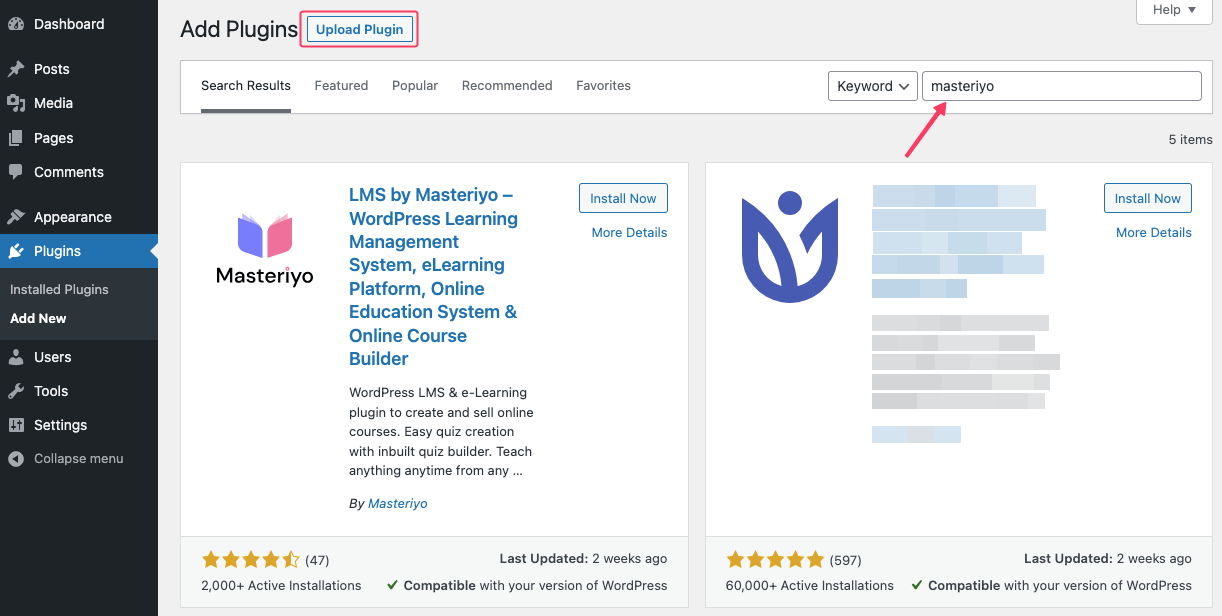 You can also download the zipped version of the plugin from WordPress.org and upload the plugin by clicking on the "Upload Plugin" button. Need further guidance? Check out our tutorial on how to install a WordPress plugin.
2. See the overview of all available courses
Once Masteriyo is activated, you'll find a new menu item called "Masteriyo" in your WordPress dashboard. All the sub-menus are available under this section. The first option is Analytics. It shows you an overview of all the courses including the number of total courses, lessons, students, reviews, and more.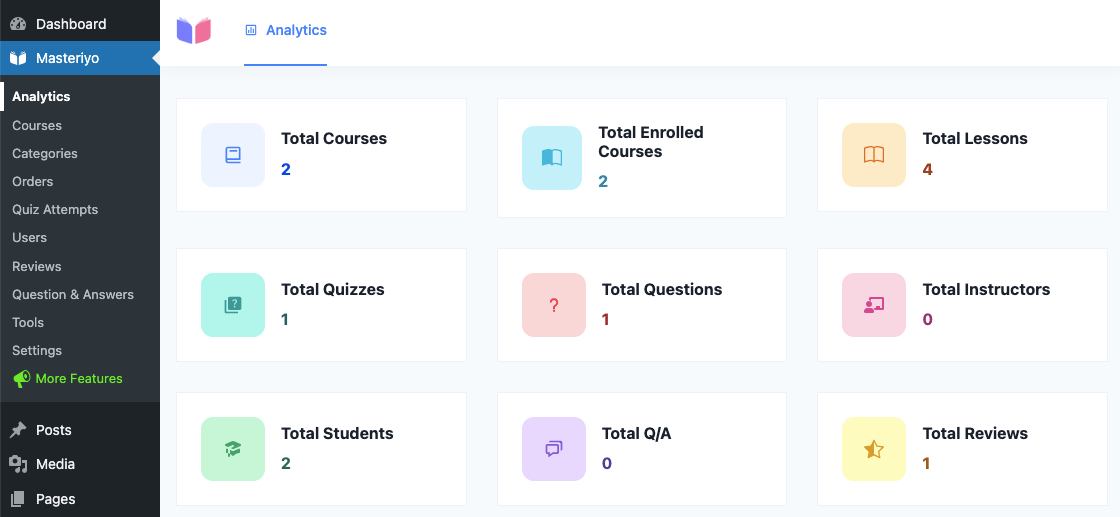 You'll also get a sales report shown in graphs on this analytics page.
3. Create a new online course
Click on "Masteriyo" and then "Courses" to start creating your online courses. Here you'll see the list of courses along with other course details including the instructor's name, price, number of students, and course creation date.
Click on "Add New Course" to create a new course. It will take you to the next steps where you can add the course details.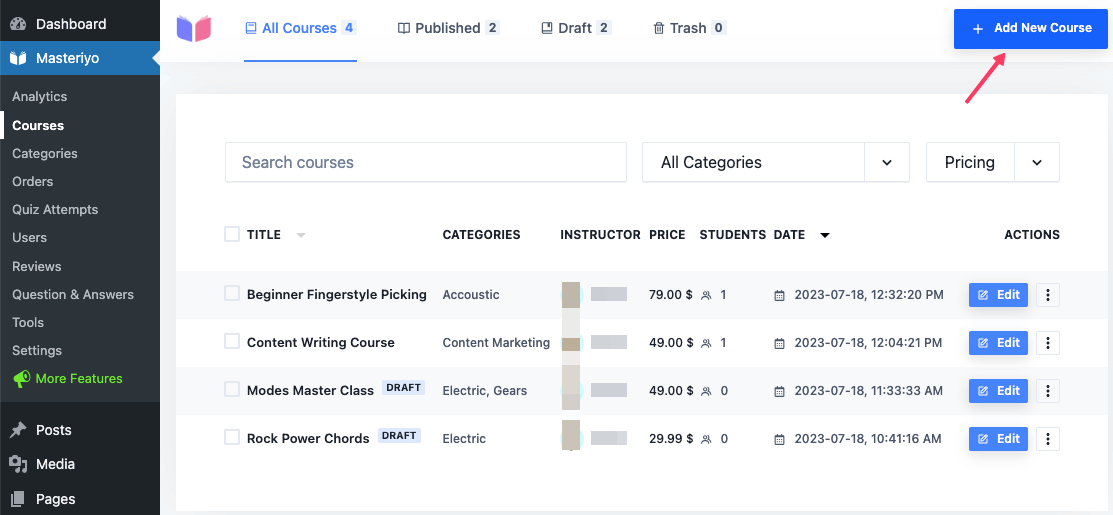 Add the course title, description, course highlights, categories, featured image, and any other relevant details. Save the changes to the draft. Then go to the "Builder" sections from the top bar menu.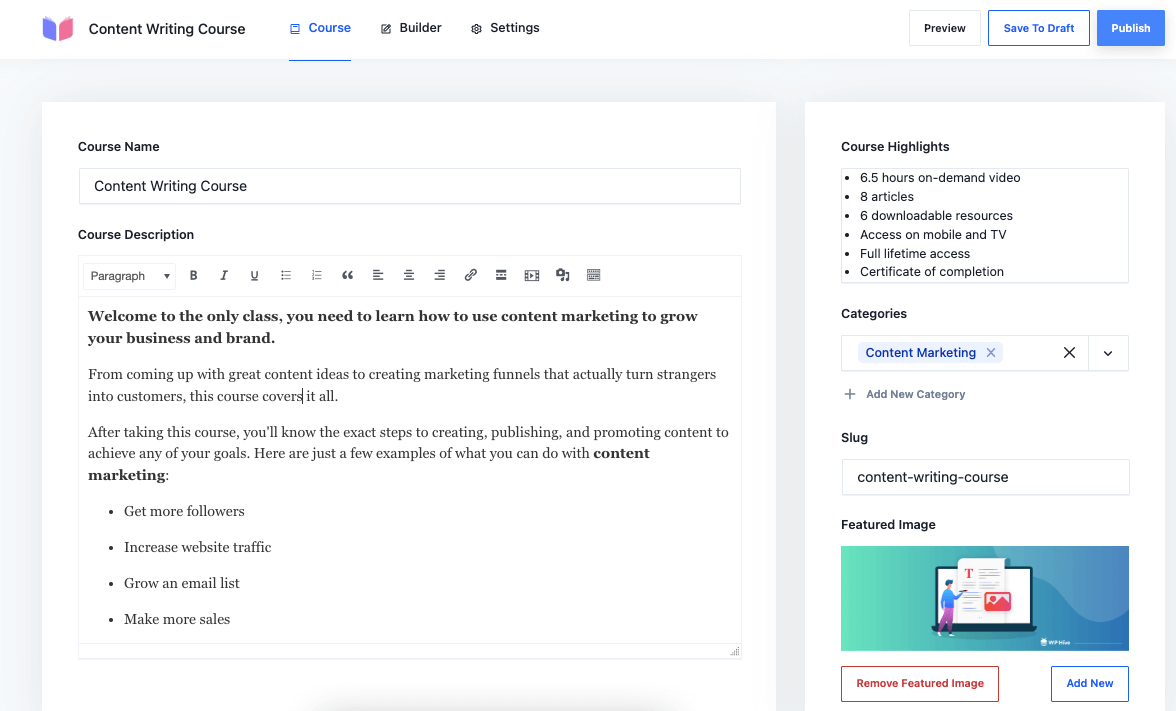 You can create sections, lessons, quizzes, and assignments (pro feature) within each course. Click on the "Add New Content" button to add a quiz, lesson, or assignment, and click on the "Add New Section" to add a new section consisting of new content. Save the changes.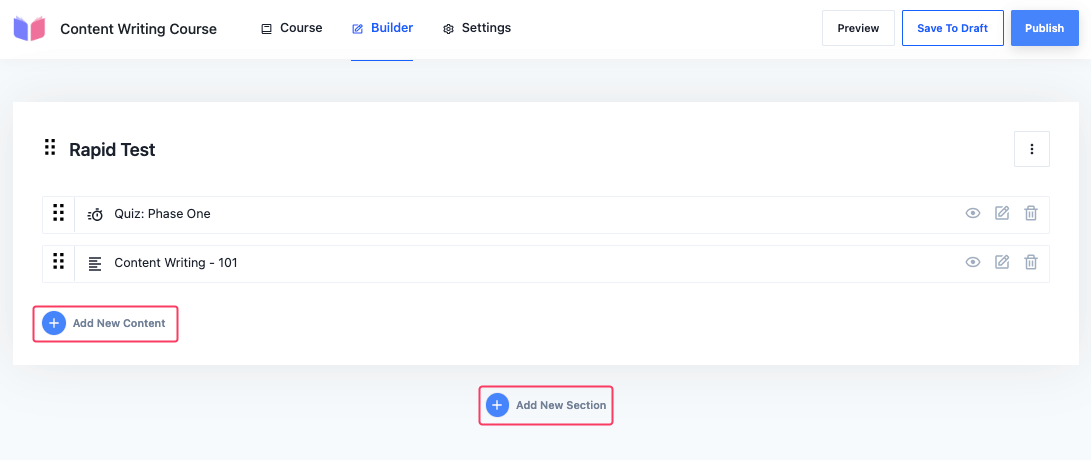 Then navigate to the "Settings" tab from the top bar. This section offers a wide range of configurations for your course. The "General" part allows you to add course difficulty level, course duration, and more.
The "Display" option lets you control how you want to show the curriculum on a single page. And the "Pricing" part lets you choose the pricing option from free and paid.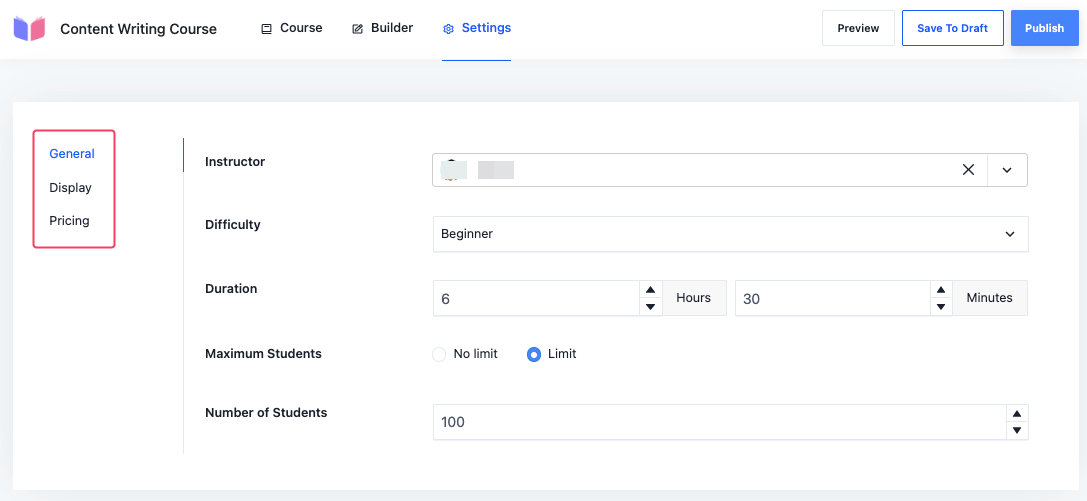 The pro version of the plugin comes with two additional tabs in the "Settings" section. You'll see the "Content Drip" and "Certificate" tabs here if you're using the Masteriyo Pro.
Save the changes and hit the "Preview" button to see how the course you've just created appears publicly. It will look like the following: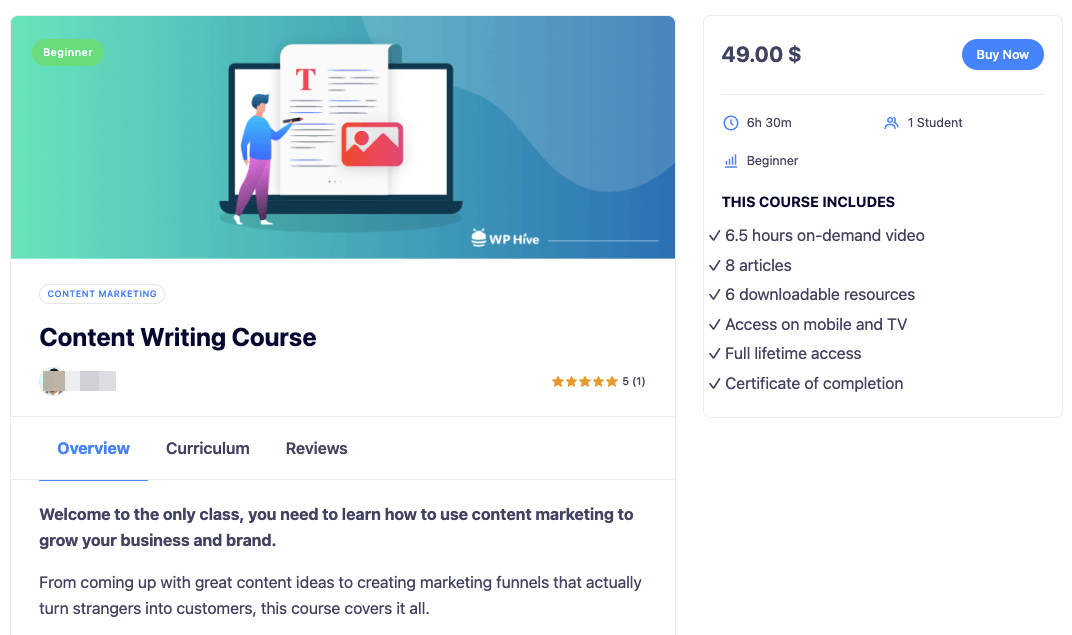 Students can make a purchase simply by hitting the "Buy Now" button. And, you can manage the orders from the backend once they complete the checkout process.
4. Control all your orders in a single place
Let's explore the order sections now. Navigate to "Orders" from the left sidebar and you'll see all orders including their order statuses such as Completed, Pending, and On Hold.
You can also edit the order statuses from this page. Simply click on the "Edit" button and you'll find the details of the order. Change the information as per your requirements.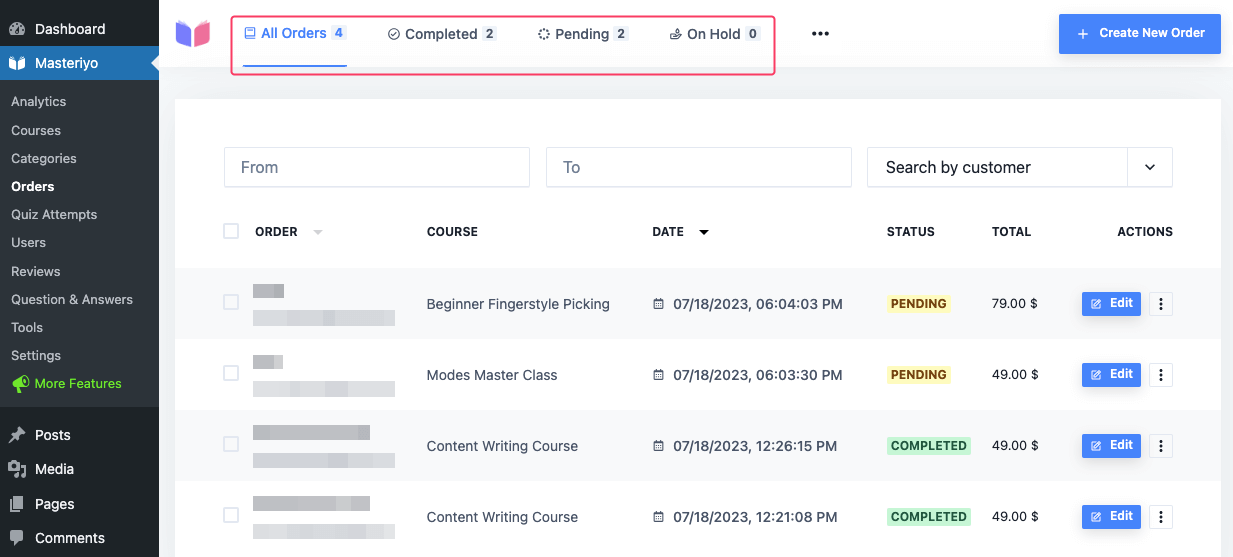 Masteriyo lets you change the order status to Pending, On Hold, Completed, Cancelled, Refunded, and Failed. You can also change the method of payment from this settings page.
5. Moderate the reviews if needed
You can enable readers to give a review for your course from the Settings section of the Masteriyo plugin. All the reviews are available under the "Reviews" sub-menu. Click on "Reviews" and you'll find them. Click on the "Edit" button to moderate them if required.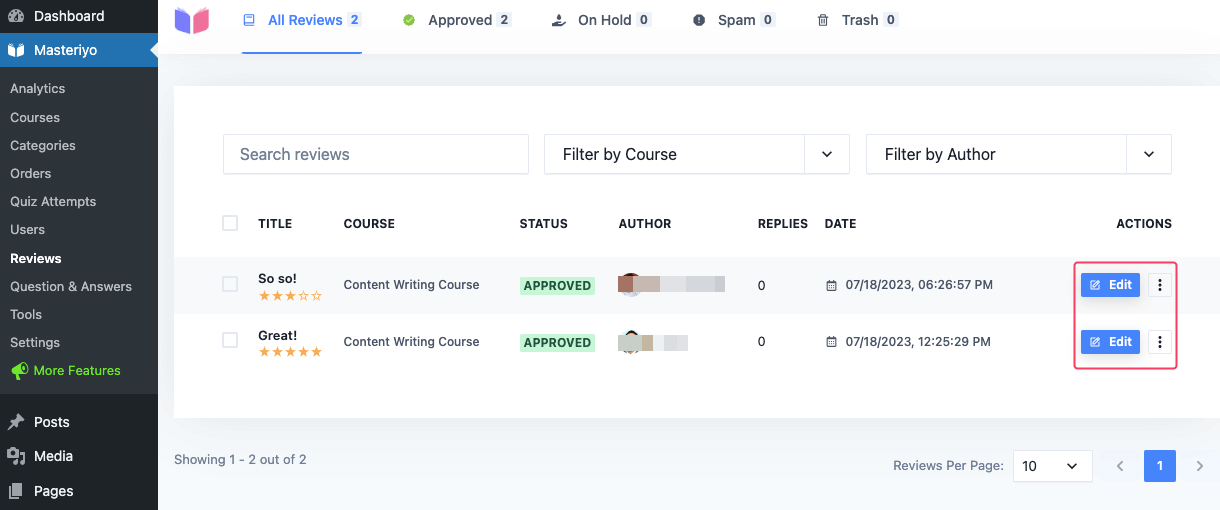 6. Make use of the import/export functionalities
Another important feature of the Masteriyo LMS plugin is its import/export functionalities. Go to "Tools" to expand the Import and Export options. Masteriyo also provides you with a few sample courses. You can initially install them to explore how Masteriyo functions.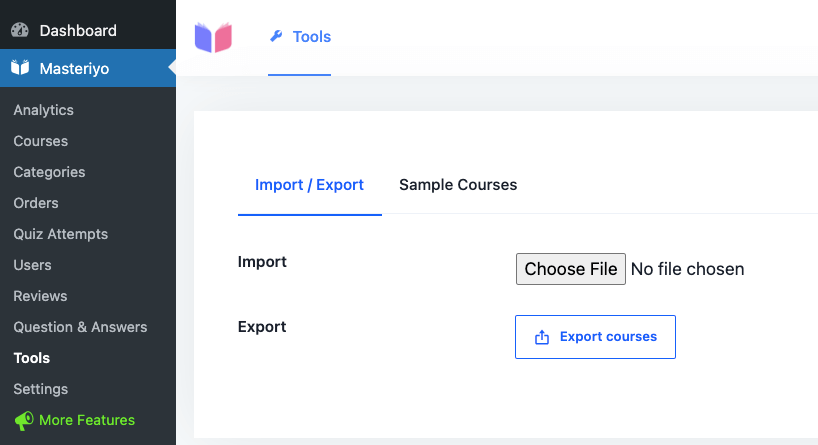 7. Configure the settings option as per your needs
Here comes an important part of the Masteriyo plugin. The "Settings" section lets you control the look and styling of the courses. The "General" tab lets you choose the right web page designated for Courses, Learn, Account, Checkout, and Instructor Registration.
Go to the Courses Page tab to fix the number of courses that should appear on a single page. You can also choose the total number of courses to be shown in each row. This section also lets you enable search, AJAX behavior, course filters, and sorting.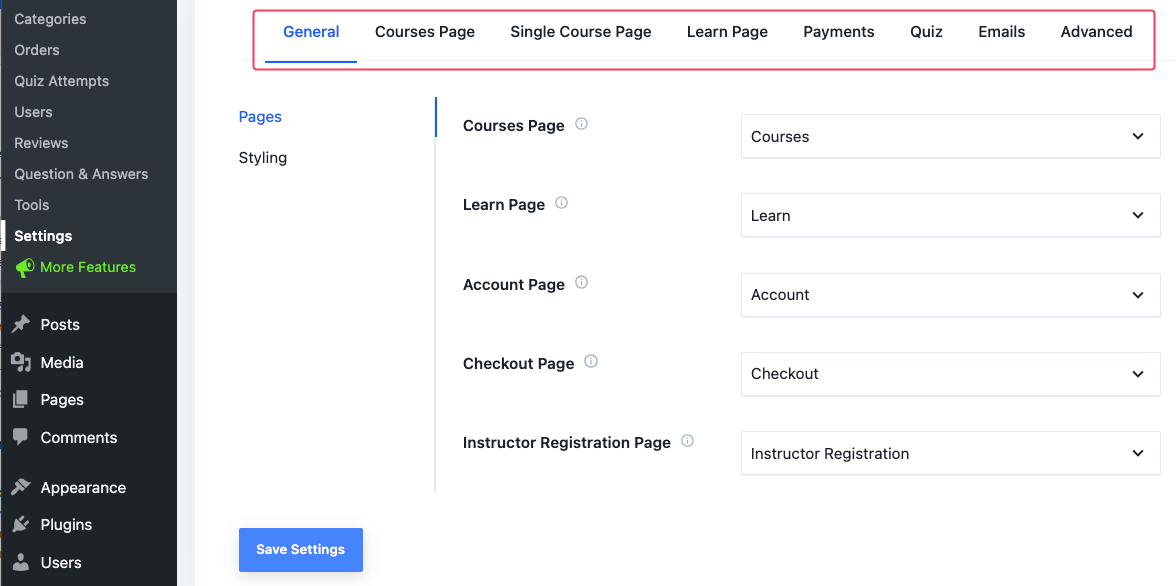 You can enable users to submit reviews simply by clicking on a toggle button from the "Single Course Page" tab. And, the other tabs also offer relevant configuration options. You will get useful customization options for your website.
8. Explore the wide range of paid add-ons
The Masteriyo LMS plugin offers a wide range of add-ons for paid users. The most useful add-ons include Stripe integration, WooCommerce integrations, downloadable course materials, assignments, certificate builder, advanced quizzes, coupons, content drip, Elementor integration, and more.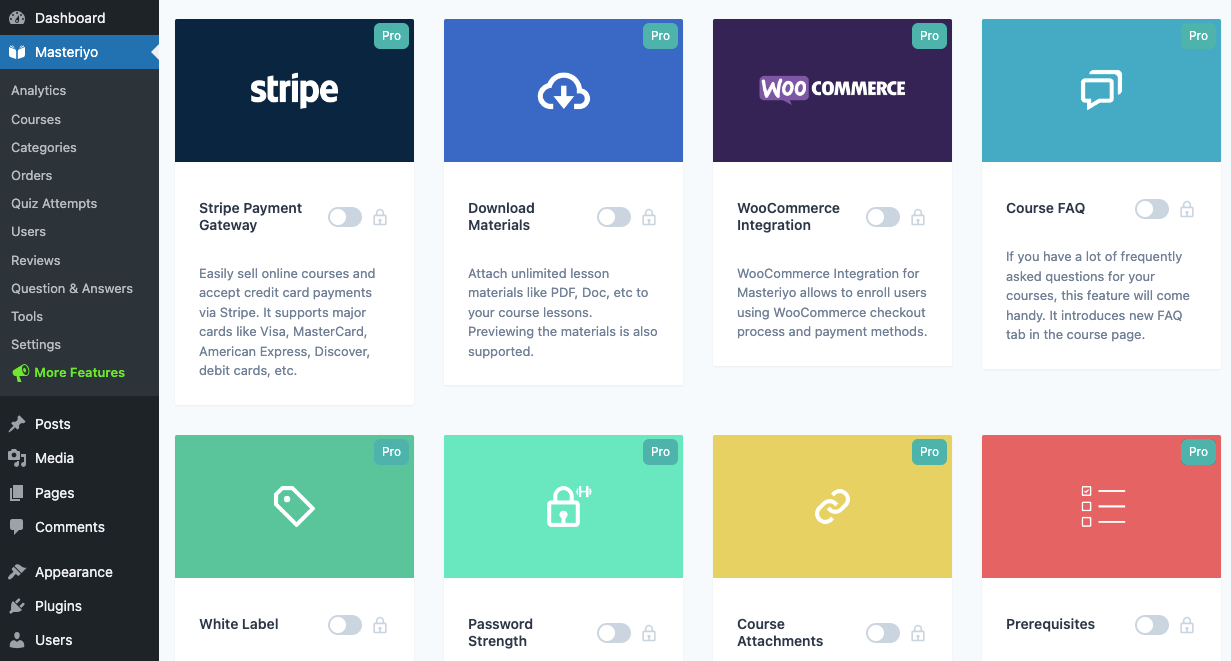 You can buy a pro version of the Masteriyo LMS to unlock these amazing features. Know more about the available pricing plans of Masteriyo from the below section.
Masteriyo pricing plans – Choose what you need
Masteriyo believes in providing flexibility and options to suit your unique eLearning requirements. The pricing plans are thoughtfully designed to cater to the diverse needs of individual course creators, educators, and businesses alike. Along with the free version, you can choose from the following pricing plans.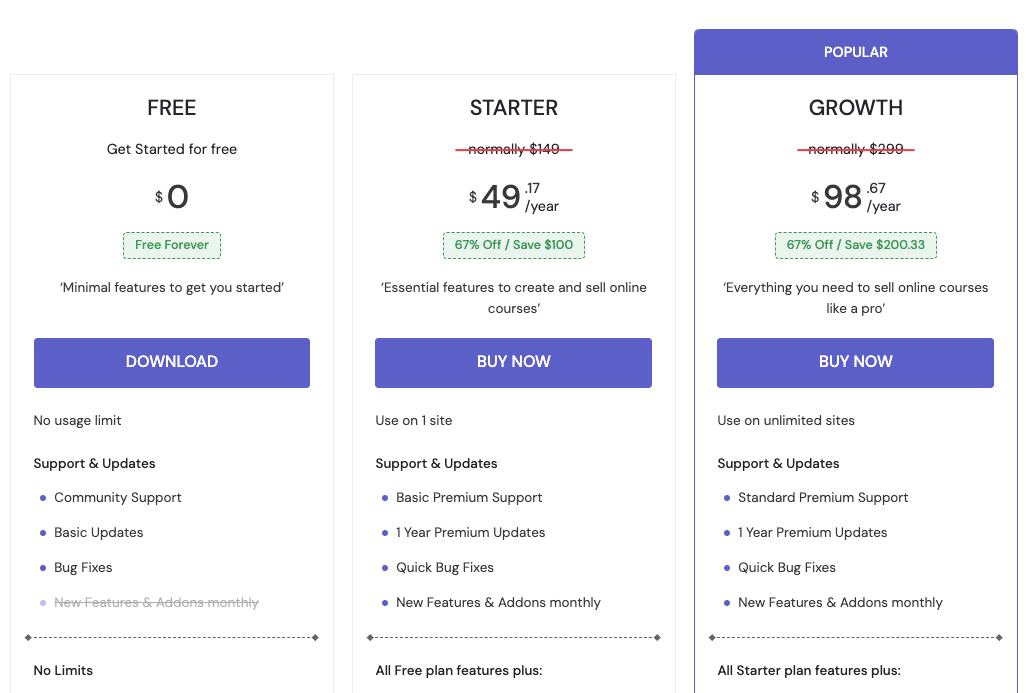 1. STARTER – $49.17/year: For an affordable price of $49.17 per year, you'll get access to Masteriyo's powerful features to set up one site and begin your eLearning journey. The Starter plan is an excellent choice for individuals and solopreneurs who want to establish a strong online presence.
2. GROWTH – $98.67/year: Ready to take your eLearning initiatives to the next level? The Growth plan is the ideal choice. For only $98.67 per year, you can unleash the full potential of Masteriyo across unlimited sites. Perfect for educators, trainers, and agencies with multiple courses and websites, the Growth plan empowers you to scale your eLearning business effortlessly.
What makes Masteriyo pricing special?
Competitive advantage: Masteriyo offers a compelling combination of affordability and advanced features, making it a cost-effective option compared to other LMS plugins in the market.
Simple and transparent: With Masteriyo, what you see is what you get. The transparent pricing ensures you understand exactly what features are included in each plan, making it easy to pick the one that aligns with your goals and budget.
Room to grow: Whether you're just starting or have grand ambitions, the pricing allows you to grow at your own pace. Upgrade to the Growth plan when you're ready to expand your eLearning empire.
Expert support: Regardless of the plan you choose, you'll receive dedicated support to ensure your success. The Masteriyo team is ready to assist you in making the most of Masteriyo's features and capabilities.
Money-back guarantee: Your purchase comes with the ultimate assurance of a no-risk 14-day money-back guarantee. If, for any reason, you feel that it's not quite the perfect fit, you'll get a 100% refund of your money without any pesky questions.
So, whether you're starting small or aiming high, Masteriyo has the right plan for you. Get started today and embark on a rewarding journey of eLearning excellence.
Masteriyo LMS Review: Our final verdict
After extensive analysis and in-depth evaluation, we discovered that Masteriyo is a true game-changer for individuals seeking to establish an eLearning business. However, advanced users seeking intricate course creation tools may need to buy Masteriyo Pro as certain aspects are missing in the free version.
Masteriyo emerges as a reliable and empowering eLearning platform, especially for beginners and educators seeking user-friendly customization. Its compatibility, security standards, and translation capabilities make it a promising choice for global reach.
With its seamless integration, stellar customer service, and evolving features, Masteriyo is poised to elevate your eLearning journey to new heights. It stands out from other LMS plugins with its array of features and functionalities, catering to diverse needs and preferences.
With Masteriyo's affordable pricing plans and a money-back guarantee, you can enjoy a risk-free opportunity to take your eLearning journey to the next level. So, let's unlock its full potential and embark on an exciting eLearning website journey.
https://wphive.com/reviews/masteriyo-lms-review/
Tanvir Faisal
Md. Tanvir Faisal is a Content Writer at WP Hive with 4 years plus experience in Content Writing, Copywriting, Proofreading, and Editing. He focuses on writing informative content that draws social media attention and enhances search engine visibility. To date, he has successfully developed useful content for many websites across all formats.

Subscribe To Our Newsletter