Happy Addons Review: A Unique Elementor Addon for WordPress You Can Use Now

Your website building experience with Elementor would enhance drastically if you use a powerful addon with it. There are numerous options available right now. However, Happy Addons is unique among them.
What makes Happy Addons so different from others? What kind of features and facilities does it offer, and would you consider it to build your website? You will find answers to all of these questions in our detailed Happy Addons review.
First, we will talk about almost all the necessary things you need to know about Happy Addons, from the features to the pricing plans. Then, we will share its pros and cons, and give our opinion.
So, let's get started.
The Overview of Happy Addons

Happy Addons is a WordPress plugin that enhances the usability and functionality of the Elementor plugin, the most popular page builder in the WordPress ecosystem.
In brief, Happy Addons works as an addon to Elementor. It adds extra customization options and features to Elementor's page-building system. This is why it's also called Happy Elementor Addons or simply HappyAddons.
The functionalities Happy Addons adds to the Elementor environment are vast, as it contains over 100 widgets, 21 distinct features, and 500 templates.
Besides, it holds an astounding rating point of 4.8 (with 280+ five-star ratings) on WordPress.org. And the best part is that you can use this plugin and many of its widgets and features for free!
Happy is also one of the top officially enlisted Elementor addons.
Happy Addons in Brief
Now, let us know some key facts about the Happy Addons plugin briefly here.
Active Installations: 200,000+ (on WordPress.org)
User Rating: 4.8 (on WordPress.org)
Pricing: Free on WordPress.org | Premium plan starts from $39
Update Frequency: around once a month (both free and premium)
Initial Release: 2018
As mentioned earlier, Happy Addons is packed with many widgets and features. In the next part, we will share a list of top widgets and features with you, and then describe some of those we liked the most.
Top Widgets of Happy Addons at a Glance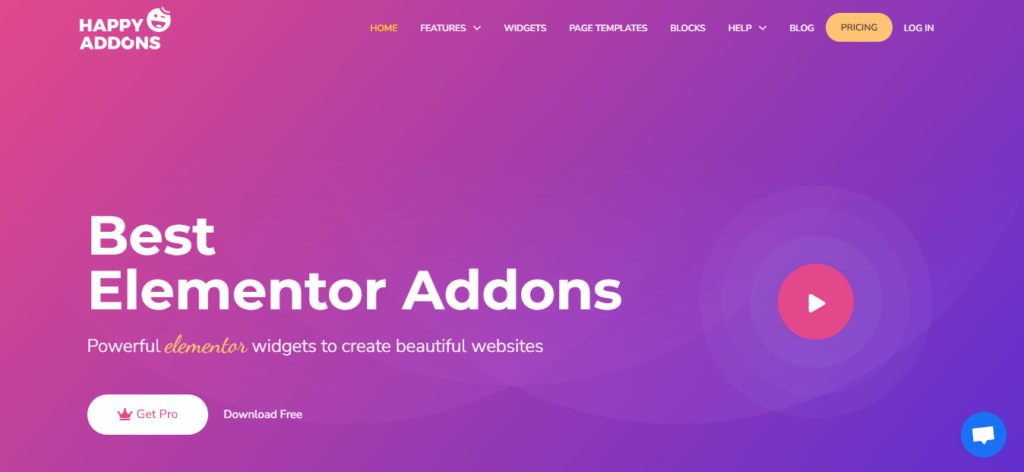 The Happy Elementor Addons has 100+ useful widgets, more than 45 with the free version and over 50 more exclusively on the premium editions. The top widgets among those are:
Post (group of 8 widgets- 3 free & 5 pro)
WooCommerce (group of 8 widgets – pro only)
EDD (group of 5 widgets – pro only)
Forms (group of 8 widgets for free)
Mega Menu (pro only)
360 Rotation (free)
Content Switcher (free)
Comparison Table (free)
Lord Icon (free)
List Group (pro only)
Advanced Data Table (pro only)
Image Accordion (free)
Now, we are going to talk about 2 widgets – Mega Menu and Comparison Table with their use cases in the following part.
Let's continue.
Mega Menu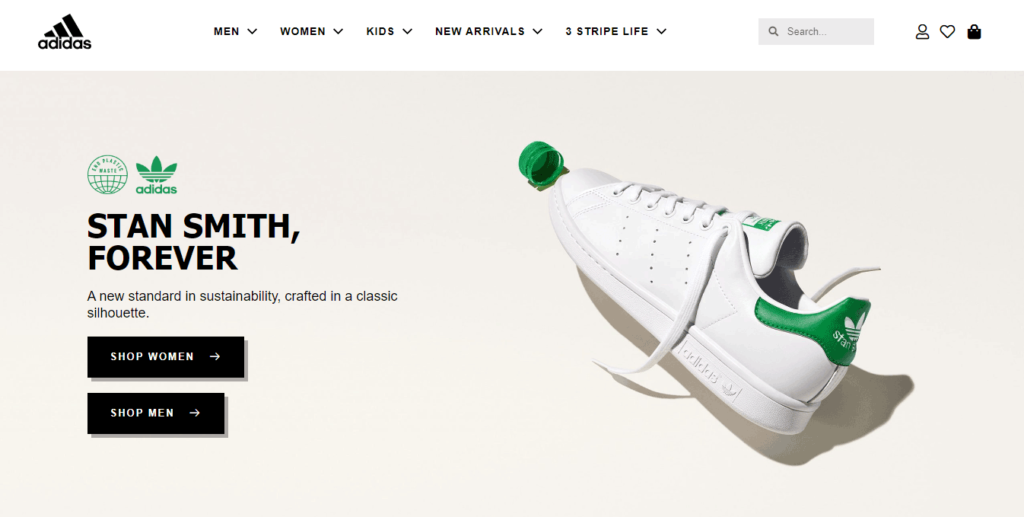 The Mega Menu is a distinct Happy Addons widget (only available with the premium versions) that allows you to create and manage expandable menus on your WordPress site quickly and effortlessly.
You will find more about this widget in the following link- Mega Menu Documentation.
Comparison Table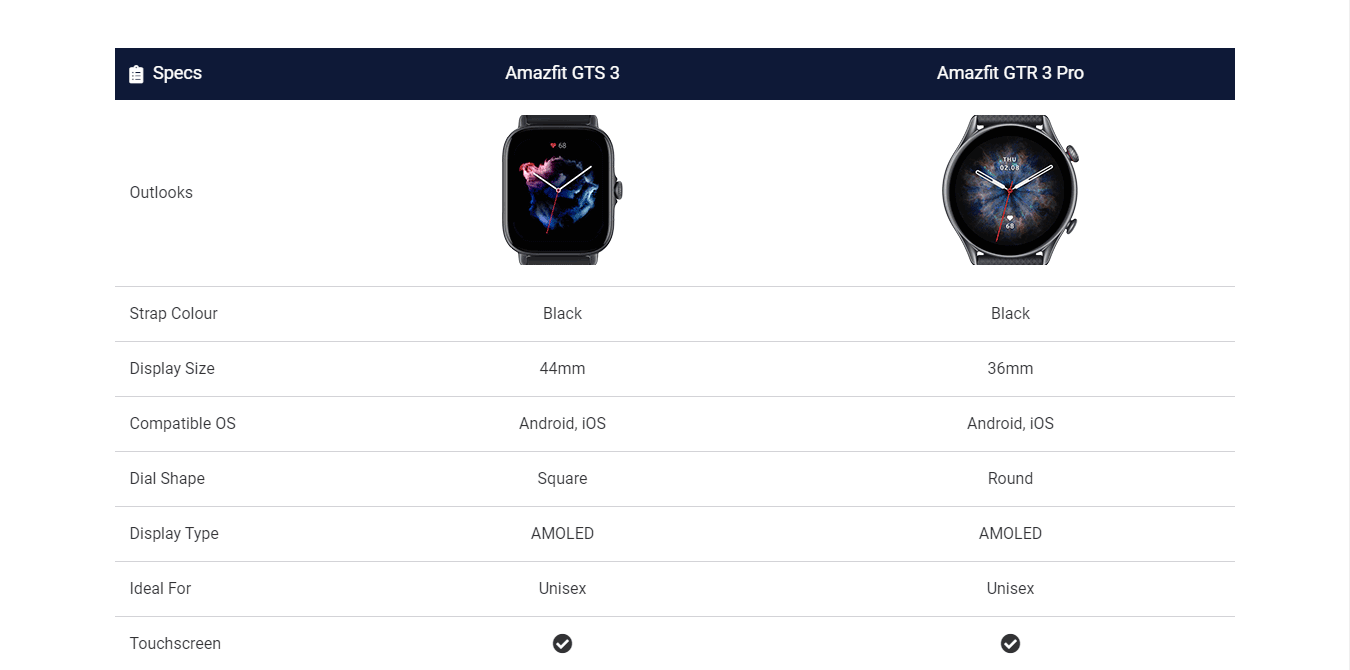 As the name suggests, Comparison Table is a widget that allows your site visitors to compare different sets of information, like two smartphones or apps.
It is a very useful widget. Fortunately, Happy Addons offers it for free. Click on these links to know more about this widget- Comparison Table​ Documentation.
Widgets are the key selling point of the Elementor addon industry. In that case, Happy Addons is surely ahead of most of its competitors with a large number of offerings.
Check all the Happy Addons Widgets here
Best Features of Happy Addons at a Glance
Apart from the widgets, Happy Addons offers 21 special features that will enhance your website building experience remarkably. The following are some of the best ones:
500+ Line Icons (free)
Preset (pro)
Unlimited Section Nesting (pro)
Image Masking (pro)
Live Copy (pro)
Display Condition (pro)
Happy Tooltip (free)
Happy Shape Divider (free)
Custom Column Order (free)
Widget Background overlay (free)
We liked many of the features. But here we will share details of two of our favorites – Live Copy and Display Condition. If you are interested to know more about all the features, please check the link below.
Check all the Happy Addons Features
Happy Addons Live Copy Feature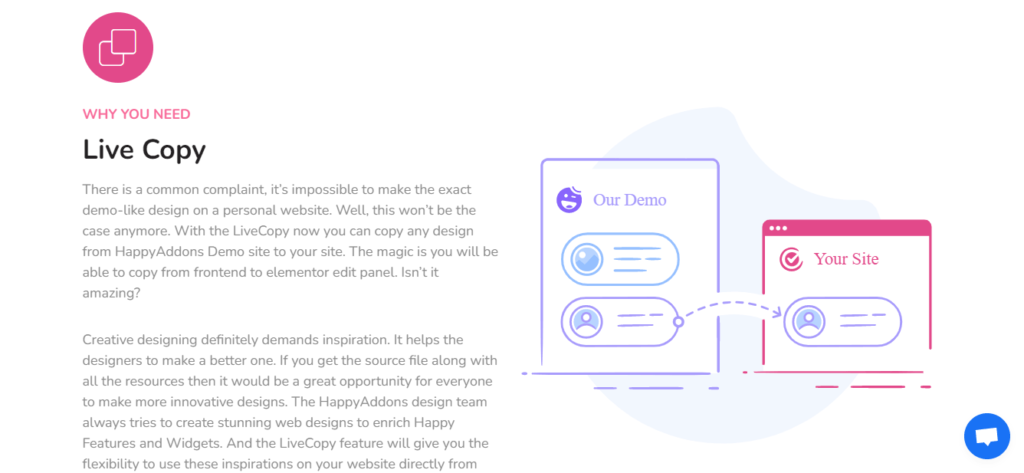 It is very difficult to make the exact demo-like design on a personal website. But with the help of the Live Copy feature (pro only), you can now copy any design from the Happy Addons Demo site to your main site instantaneously.
It is a feature that Happy Addons innovated and now many are following suit.
Learn more about this feature here: Live Copy & Paste Doc.
Happy Addons Display Condition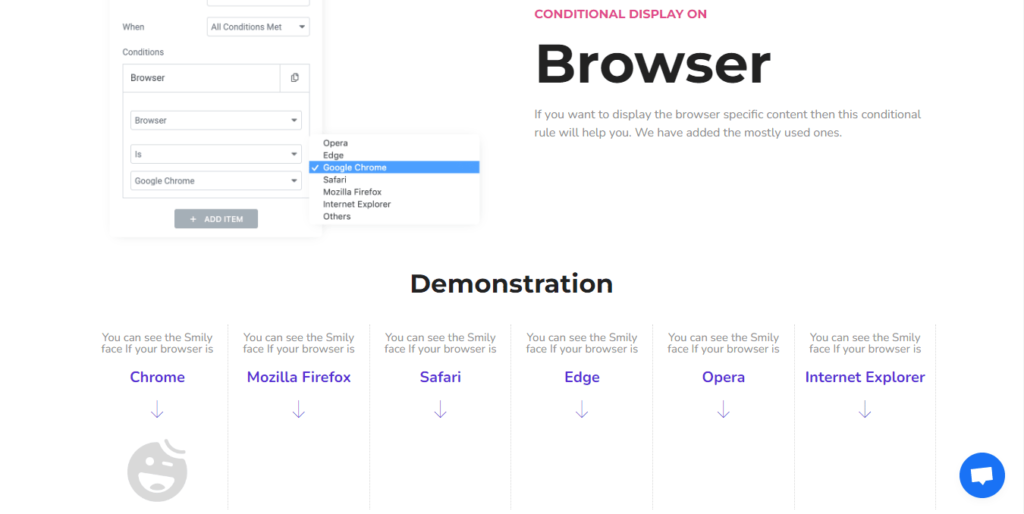 The Display Condition is a unique Happy Addons feature (pro only) that lets you set specific rules or conditions to display certain content of your website to a certain group of users.
It's very crucial to provide your visitors more personalized experience. It is also important to maintain your privacy and security. Follow these links to know more about this feature: Display Condition Documentation.
How to Use Happy Addons with Elementor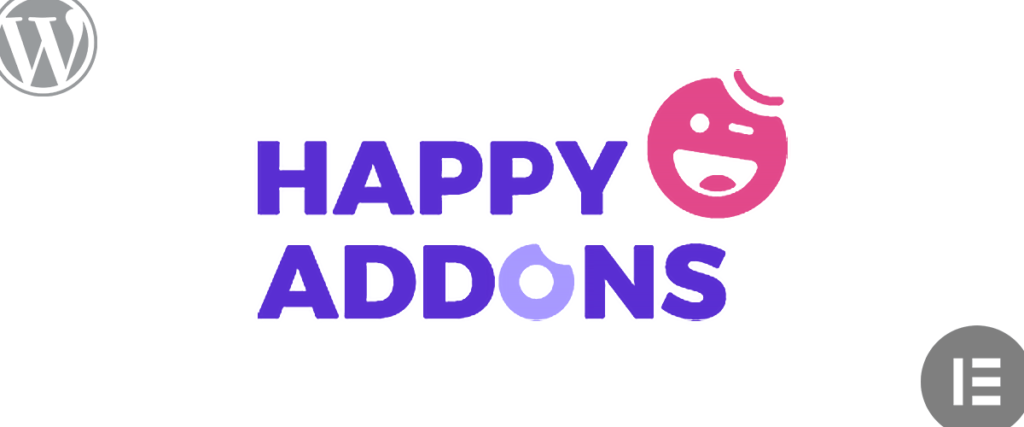 Building a website with Happy Addons is fun. It's not much difficult. In this basic tutorial, we will show you how to build or customize a page, and create an entirely new one with Happy.
We have divided this tutorial into 3 segments:
Happy Addons Installation and Activation
Building a Page with Happy Addons Manually (Drag & Drop)
Using Page Templates to Create Attractive Pages Instantly
Before jumping into this tutorial, let's check out what you need to have to build a website on the WordPress ecosystem with Happy Addons.
Prerequisites for the Turorial:
WordPress and Elementor's latest versions are pre-installed
Happy Addons plugin
If you want to try the pro features by following this tutorial, you will have to install the Happy Addons Pro version.
Part 1: Happy Addons Installation and Activation
The installation process of Happy Addons is similar to that of any regular plugin. Since you have installed Elementor already, we are assuming that you know the procedure.
It's not a problem at all if you don't know. Follow this easy tutorial "How to Install a WordPress Plugin" and get Elementor and Happy Addons installed right away.
As soon as you hit the "Activate" button after installing Happy Addons, you would be taken to the activation page. Here, you need to give a particular emphasis.
Set the configuration for a "Regular User"
Toggle on the widgets and features only those you need
Keep pressing the "Next" button till the end 😉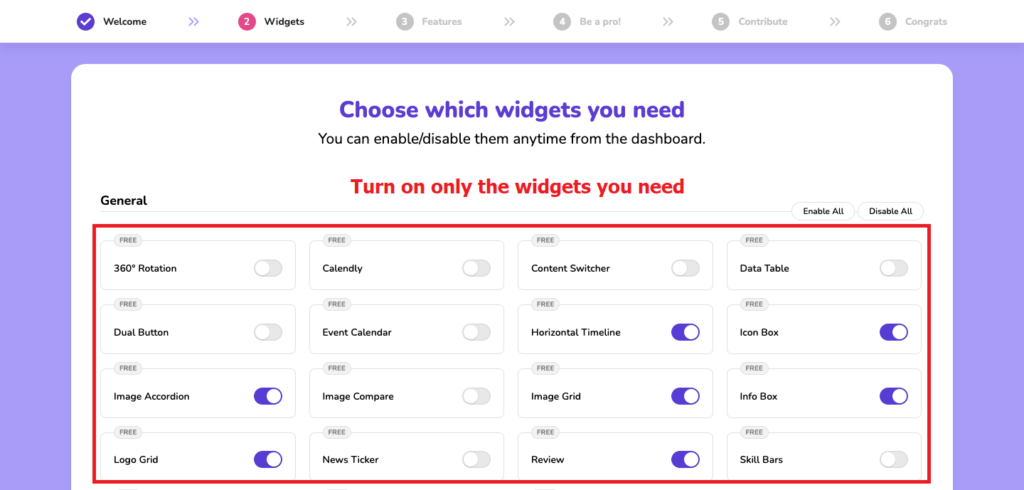 Note: We are recommending you again to turn on the widgets and features only those you need. This will keep your site performance higher.
In case you turn on all features mistakenly, you can turn them off manually. To know how to do it and the detailed installation processes, please follow the tutorials (linked below) from team Happy Addons.
Part 2: Building a Page with Happy Addons Manually (Drag & Drop)
You can build an entire website with Happy Addons by just dragging and dropping elements to the places you need. Just open any of your existing pages that you want to customize or create a new one, then click the "Edit with Elementor" button.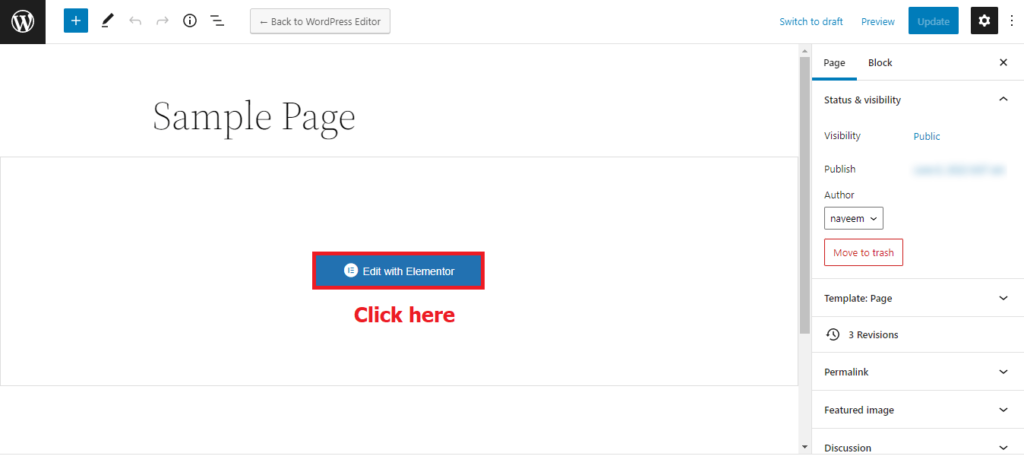 Now, your editor will open with the Elementor instead of the default Gutenberg. Here, you can drag and drop the widgets to build your page. Just follow these steps:
Find out the Happy elements from the left editor panel
Add a new section by clicking the "+" icon (if you need)
Drag any widget from the left
Then, drop it inside a section and customize it if necessary
Press the "Update" button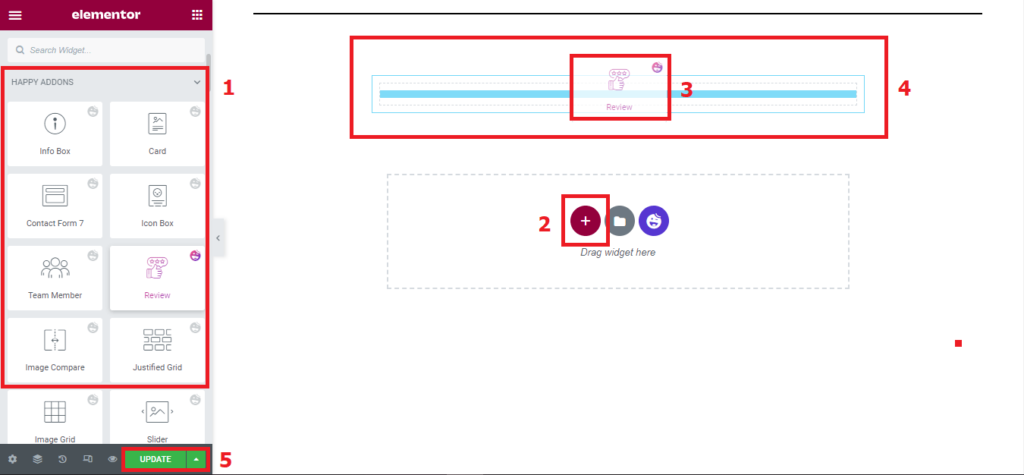 You can add, delete, or customize almost any part of your website by following this method. We have shown you one, now it's time you try others on your own.
Part 3: Using Page Templates to Create Attractive Pages Instantly
If you have no time or don't want to take any hassle to build a page manually, then you can do it instantly by choosing any of the pre-built page templates of Happy Addons.
Just open an existing or create a new page by following the steps we mentioned earlier. Then, click on the Happy icon (indicated in the image below).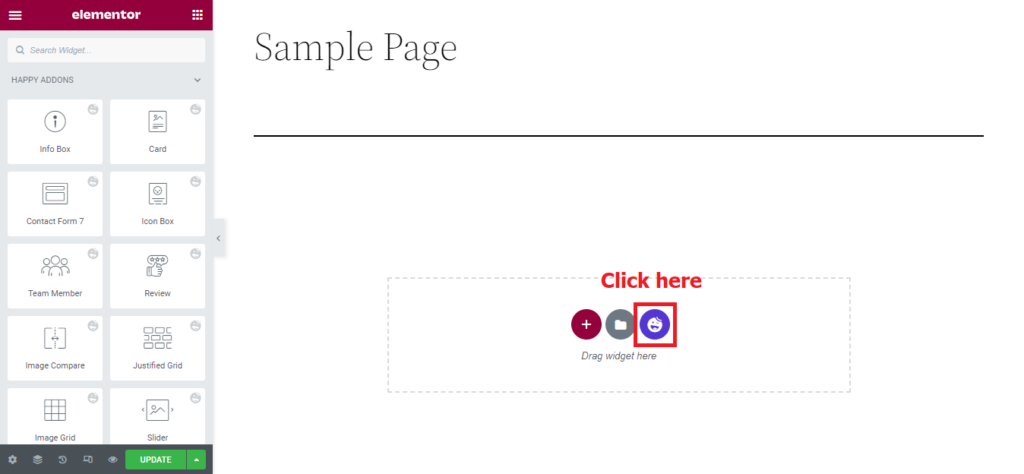 Now, the Happy Addons Templates will open. From there, choose the page design you like, then press the "Insert" button. Boom! You are done.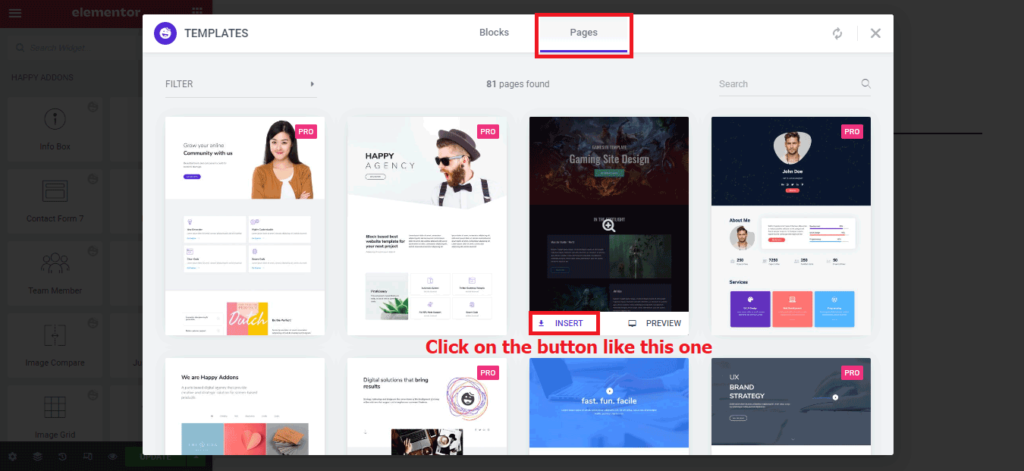 At this point, all you have to do is to edit the texts and do some other customizations as per your need. Finally, press the "Update" button like before.
For More: Introducing Happy Templates: 400+ Ready Templates To Give Your Site A Unique Look
Bonus: Deactivation of Unused Widgets with 1-Click
After using Happy Addons for a few days, the plugin will automatically track which widgets remained unused. You might opt to deactivate them at that point, and you can do it with just one click.
Just follow the steps below:
Go to the "HappyAddons" menu from your Dashboard
Click on the "Analytics" sub-menu
Press the "Disable All Unused Widget" button. All Done!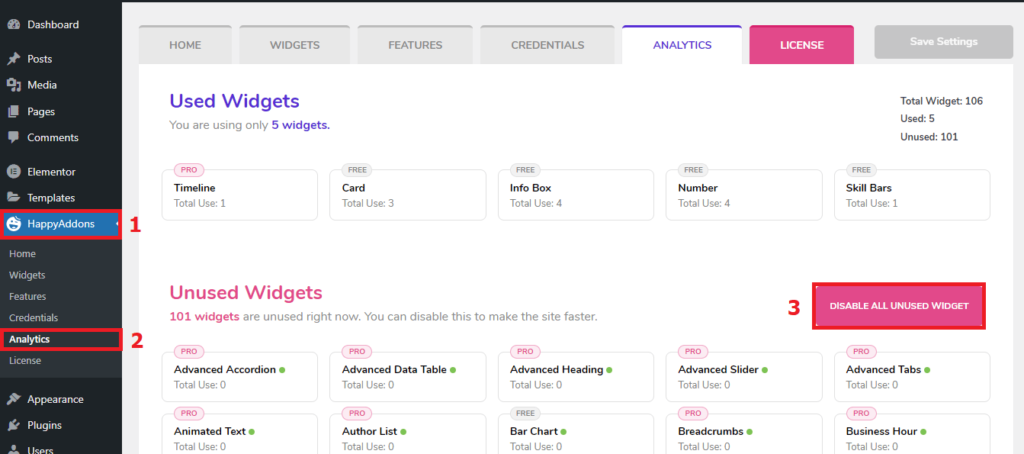 It is a basic-level tutorial designed to focus on beginners mostly. If you are a power user, you may check the advanced as well as all the tutorials from the link below:
WP Hive Test Results and User Feedback on Happy Addons Plugin
WP Hive conducts some particular tests on the plugins in its repository. Happy Addons did excellent results in our tests, marking positive in all the areas without any issue.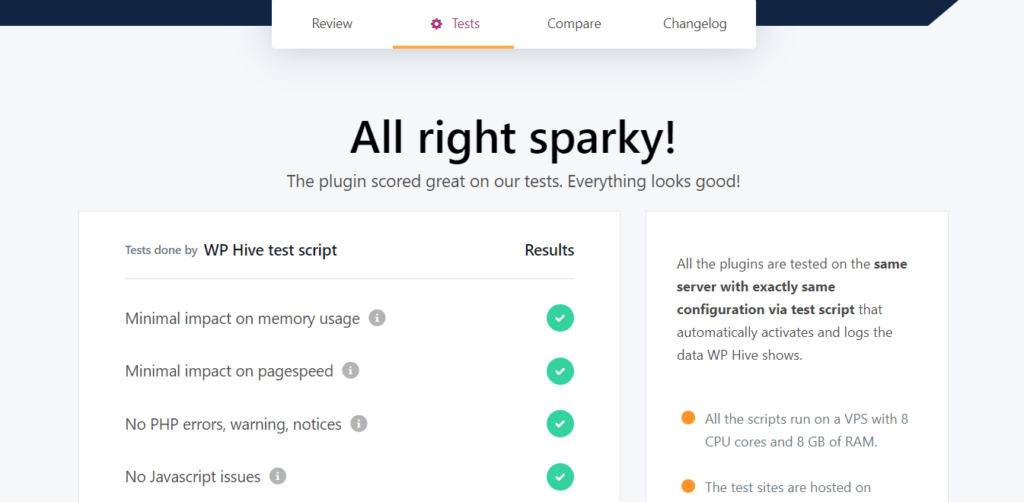 Before giving our final review on Happy Addons, let's have a look at how did it perform. First, we will show you the test results (performance) in brief, then share the user feedback.
1. Performance
Happy scored an outstanding result in this area. Its average memory usage is 2.92 KB, and it increases page loading time by 0.02 seconds, which is very rare in this category.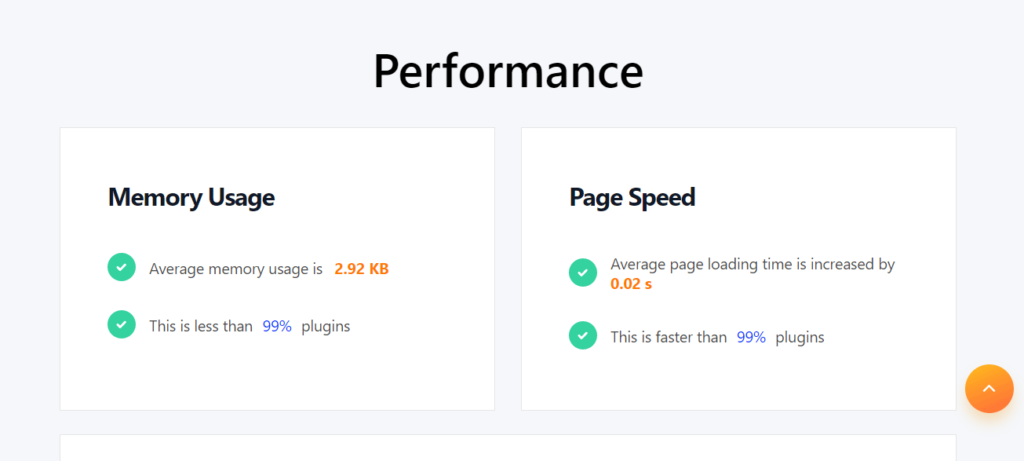 2. User Feedback
All the user feedbacks Happy Addons received on our site so far we're very positive, 5 out of 5 in all the criteria. The following image will tell you the detail.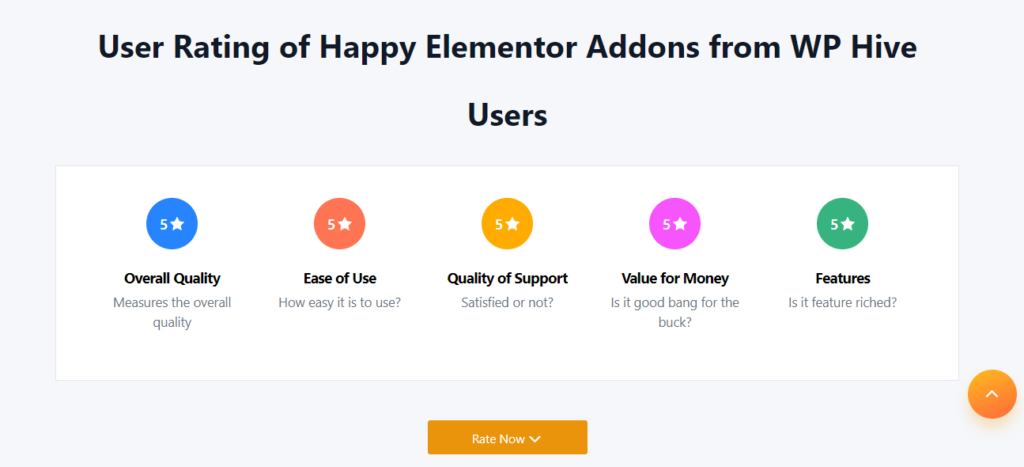 If you are interested to know more about the Hive test results and user feedback, we will request you to follow the link below.
Happy Elementor Addons Tested with WP Hive
Happy Addons Pricing Plans at a Glance
Pricing is another area where Happy Addons stands out from the competition. Its pricing plans are affordable, attractive, and free of ambiguity.
The Happy pricing plans are divided into two categories – annual and lifetime. Each of them has 3 plans, and they consist of all the pro widgets and features. But the service and the number of site support make the distinction.
| | | |
| --- | --- | --- |
| Plan Name | Annual | Lifetime |
| Starter: 1 site support and limited service | $39 | $149 |
| Professional: 5 site support and unlimited service | $89 | $349 |
| Business: 1000 site support and unlimited service | $189 | $549 |
Click the following link to find out more about the Happy pricing plans.
Summary of Happy Addons Review: The Good, The Bad, and Our Verdict


Happy Addons has impressed us in many ways. It is not perfect, but it offers many exclusive and useful stuff that others don't. Plus, its performance is top-notch and pricing plans are clear-cut.
So, we have divided the final part of our Happy Addons review into 3 segments.
Pros
Cons
Final Verdict
We have prepared this review based on our practical experience of using this plugin. Your experience might vary slightly, but the end result would remain more or less the same.
Pros of Happy Addons: The Best Things It Offers
These are the things we liked the most about Happy Addons that would enhance your user experience significantly. So, the pros of Happy Addons are:
Numerous widgets, features, templates, and customization options
Fully functional free version with lots of useful widgets and features
Offers many premium stuff for free unlike the competition
Contains many unique widgets and features, like EDD and Live Copy
Fast, responsive, and less memory usage and impact on page loading
Affordable and attractive pricing plans with no ambiguity
Option to deactivate unused widgets and features with 1-Click
We hope the developer will keep the awesomeness intact, rather they add new feathers to their crown from time to time. Let us know what you liked the most in the comment section.
Cons of Happy Addons: The Scopes for Improvement

These are the stuff we didn't like to which the developer needs to give particular attention for improvement. So, the cons of Happy Addons are:
The vast number of widgets and features might confuse a new user, deactivating the rarely used widgets can help
Need to be more user-friendly for Entry-level WordPress users with detailed docs and video tutorials.
The shortcomings of Happy Addons are negligible compared to the good stuff it offers. But it is still worth mentioning. We hope the developers would consider our remarks and make the product even better.
Our Verdict on Happy Addons
Happy Addons is one of the best and unique Elementor addons – in terms of widgets, features, free offerings, performance, and price – available in the WordPress ecosystem at present.
We highly recommend you consider Happy Addons while building your website with Elementor.
We will suggest you use its free versions first. Once you get used to it and like what it offers, then you may go for the premium plans.
If you ask us to rate Happy, then we'll give it 9.5 out of 10. What would be your rating? Don't forget to let us know.
Top 5 Happy Addons Alternatives at a Glance


You can find several other Elementor addons that are direct competitors of Happy Addons and are also feature-rich.
Here are the top 5 alternatives to Happy Elementor addons that you can give a try.
FAQ on Happy Addons

We have included some frequently asked questions about Happy Addons in this part, some of which you might find useful.
What is HappyAddons?
Happy Addons is a WordPress plugin that is used as an add-on to the Elementor plugin to enhance its usability and functionality.
Is Happy Addons free?
Yes, of course, HappyAddons is a free plugin. It offers both free and premium services.
Which is the best addon for Elementor?
Happy Addons is one of the best and most unique add-ons for Elementor at present.
What do I need to use Happy Addons?
You need to make sure the following to use Happy Addons:
1. WordPress (4.7 or higher)
3. Elementor plugin (free)
4. Happy Addons plugin (free)
How much HappyAddons costs?
Happy Addon is a free-to-use plugin. If you want to get the best out of it, you may try its premium plans. It starts at $39.
Final Words- Which Elementor Addon Would You Choose?
We hope our in-depth Happy Addons review would give you a comprehensive idea about this plugin and help make your final decision.
Are you going to choose Happy as your Elementor addon? Let us know in the comment section below.
Don't hesitate to ask any questions regarding this review. And stay connected with us via our Twitter and Facebook pages.
https://wphive.com/reviews/plugins/happy-addons-review/
Abdullah Al Nayeem
Nayeem is a Content Writer at WP Hive. He has 4+ years of experience in the internet and media industry, specializes in writing, editing, communications, WordPress, SEO, eCommerce, digital marketing, and graphic design.

Subscribe To Our Newsletter