An Introductory Guide to Hubspot WordPress Integration

HubSpot is a comprehensive inbound marketing solution for any website. It hosts a number of customer relationship management (CRM) tools that anyone can use for content management, marketing, sales, and customer services.
Each of Hubspot's tools is so powerful that using them you can easily optimize your website to drive quality traffic.
The good news is that you don't have to install each of the tools one by one. HubSpot allows you to manage all its tools from one single platform. If you have a WordPress site, you can integrate them all using a single plugin.
However, there are still many people who can't believe HubSpot WordPress integration is so easy. This article will guide you on how to integrate HubSpot with WordPress. But before that, we will cover some basic questions. Be with us till the end.
Features that Make HubSpot A Great Choicee


If you have a website on WordPress, you will need various plugins to make it work. But the HubSpot WordPress plugin alone is equivalent to many of them. How? Let's explore the features that make this plugin so special.
Forms and Popups
Creating forms out of scratch by coding is really a critical job. But using the HubSpot drag-and-drop builder, you can create forms without a single line of coding. Also, you can use their pre-built templates to get ready your forms and popups overnight.
CRM and Content Management Platform
HubSpot CRM and Content Management Platform provide you with every possible way to grow your business by lead generation, pipeline management, prospect tracking, contact management, and email marketing. You can segment your contact list for deeper insights.
Live Chat and Chatbots
As per Invespcro, 73% of customers find live chat to be the most satisfying way of communication. And 69% of USA users love chatbots to get quick support. HubSpot WordPress plugin gives you a live chat option by which you can make your website live for 24 hours.
Email Marketing Automation
Are you looking for ready-made email templates to create newsletters, eBooks, and onboarding emails? HubSpot has many professional and eye-catchy email templates for you. You can use its drag-and-drop email builder to give your emails more flavor. You can adjust typography, colours, and design as well.
Analytics
HubSpot has built-in analytics. It gives you a straightforward and 360-degree view of all the interactions between your users and subscribers. It helps you to run and analyze A/B tests smartly to discover new strategies and how to overcome shortcomings.
How Hubspot Integration with WordPress Can Benefit You
HubSpot divides all its tools into five hubs. They are- Marketing Hub, Sales Hub, Service hub, CMS hub, and Operations hub. You can purchase them separately or as a bundle as per your needs.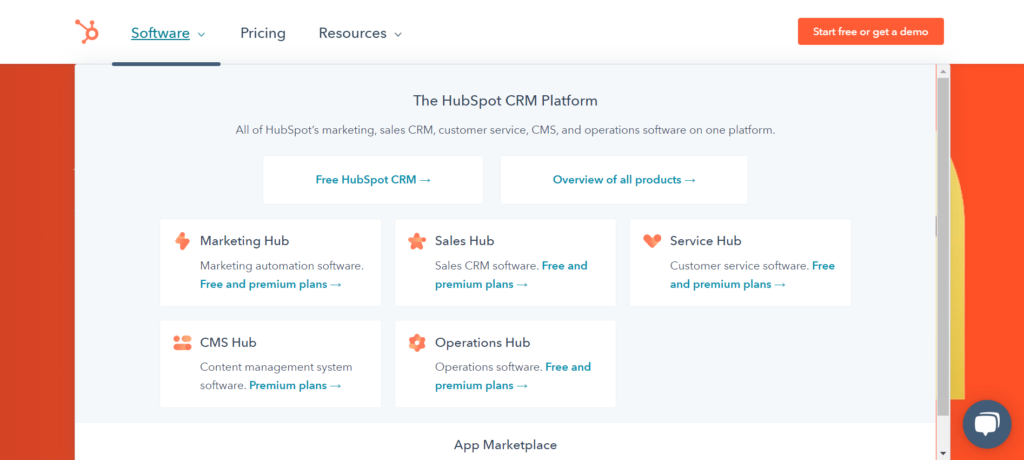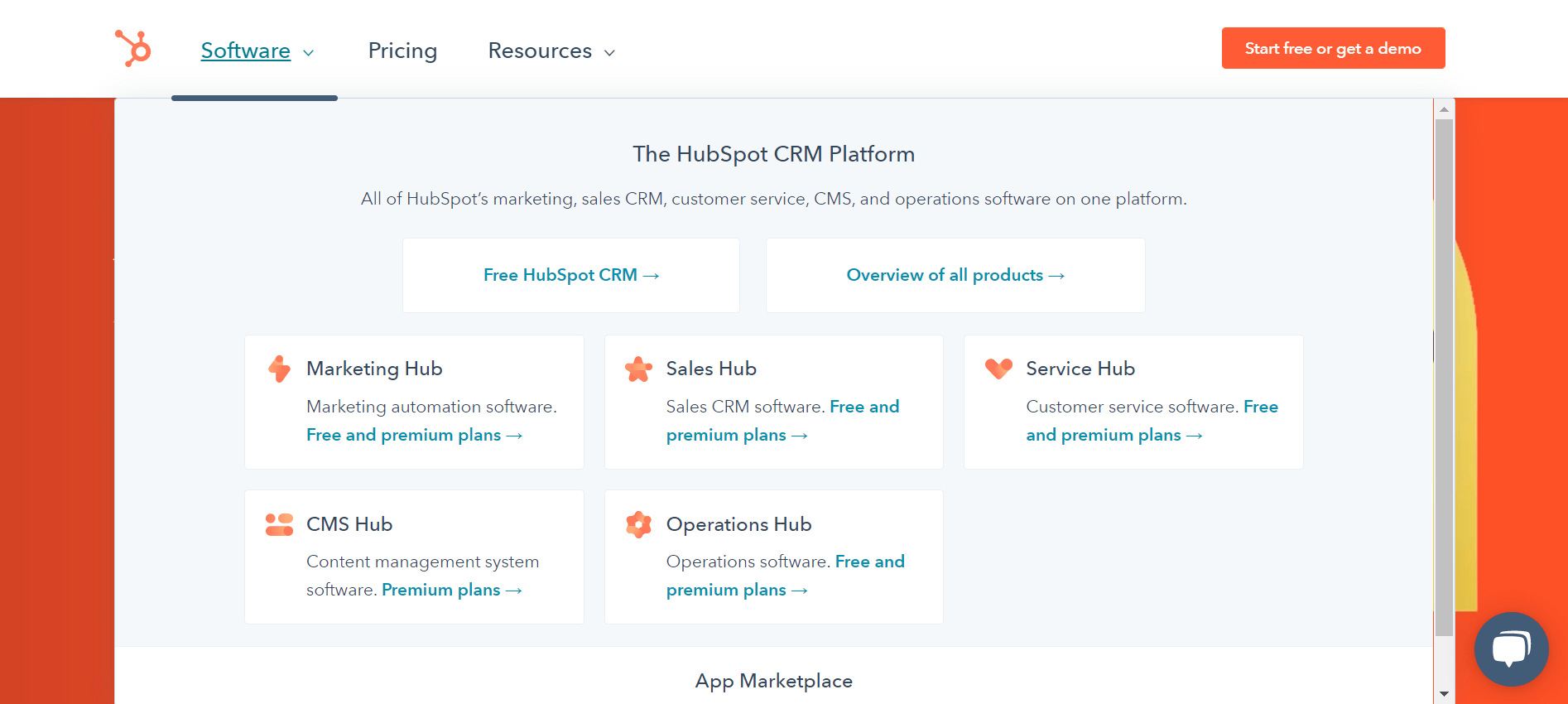 What can you do with these tools and hubs? Below we crafted a quick reply to this question.
Generates Qualified Leads
You will get live chat, conversational bots, support tickets, VoIP calling, omnichannel messaging, and many other options in the Service Hub. Using them, you can attract new leads, nurture them, receive their feedback, and make them happy with instant services.
Research Buyer Persona
90% of online businesses end up in failure within the first months of their startup. One of the key reasons is they don't give enough importance to studying buyer persona. Since HubSpot provides you with a 360-degree view of your leads' activities, you can create a map of your buyer persona and design your strategies.
Support Marketing Campaigns
For effective marketing results, you have to keep your leads engaged with quality content, run paid promotions, and them to the end of the sales funnel. Marketing hub offers you content management, ad tracker, SEO, social media, and email automation by which you can run successful marketing campaigns.
Promote Business Growth
To grow an online business, you need to increase customer retention, build sales funnel, extend partnerships, diversify offerings, and be active in communities. But it's very difficult to manage all these alone. You need a robust solution like HubSpot. It will enable you to handle all these tasks from one single location.
Seamlessly Integrate Other Extensions
HubSpot seamlessly integrates with any WordPress plugins and powers up them. For example, suppose you have a WooCommerce store. HubSpot WordPress plugin can reduce the cart abandonment rate by onboarding and follow-up emails if someone goes out of your website leaving products in the cart.
Step-by-Step Guide to Hubspot WordPress Integration
Now, we are going to show you how to do HubSpot WordPress integration with step by step easy guide.
Note: HubSpot is a humongous platform. It is not possible to provide a complete overview of how to use and integrate each of its tools only in this article. This article will discuss the major key elements of this plugin.
Step 01: Install and Active the HubSpot Plugin
First, install and activate the HubSpot plugin from the WordPress plugin section.

Step 02: Setup HubSpot Account
Right after you activate the plugin, you will get to the sign-in page. Click on the Sign-in button.

Now, it's time to create an account in HubSpot. You will be taken through a number of pages. Don't worry! It won't take you much time and the process is quite simple.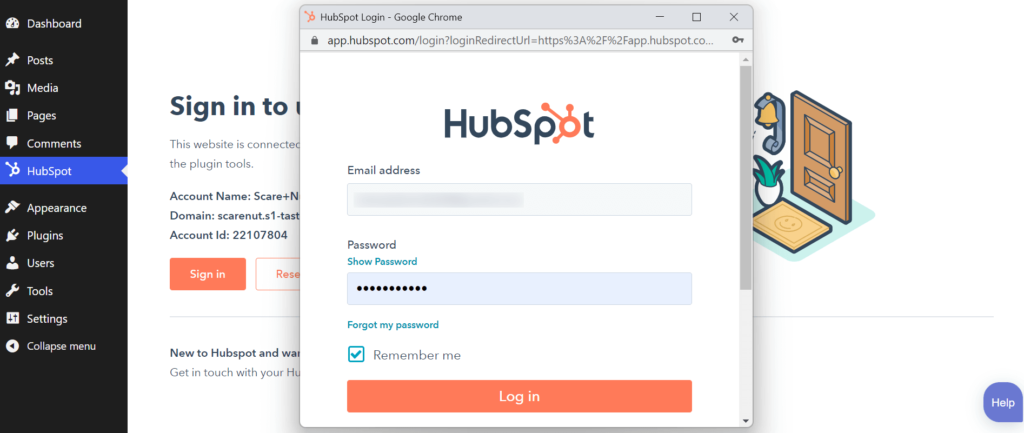 After creating an account, you will see the HubSpot dashboard right in front of your screen. This is also known as HubSpot User Guide.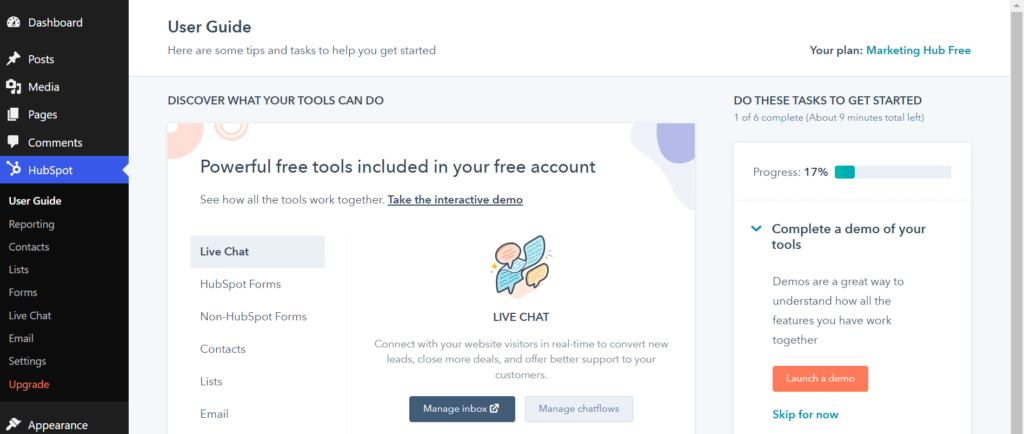 Step 03: Manage Contacts
You can create contacts in two ways: manually and by importing CSV files. First, talk about the manual process. click on the Create contact button from the top-right corner.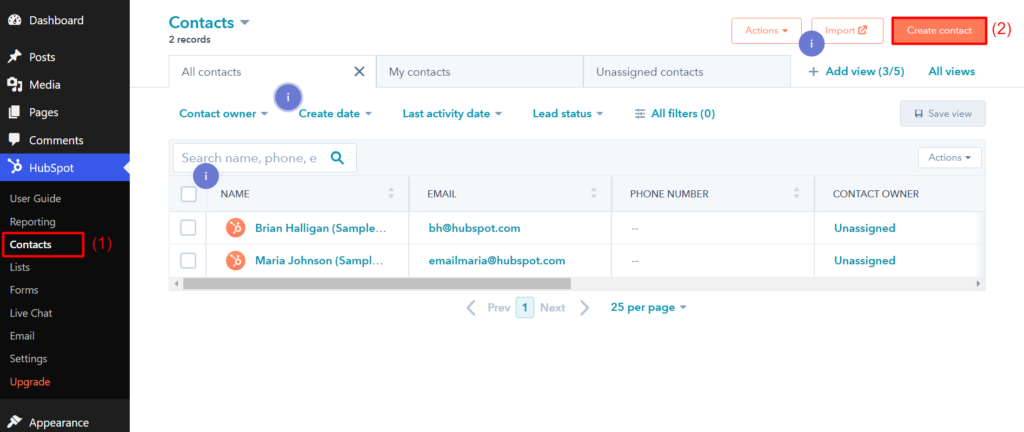 Input necessary information to create new contacts as you need.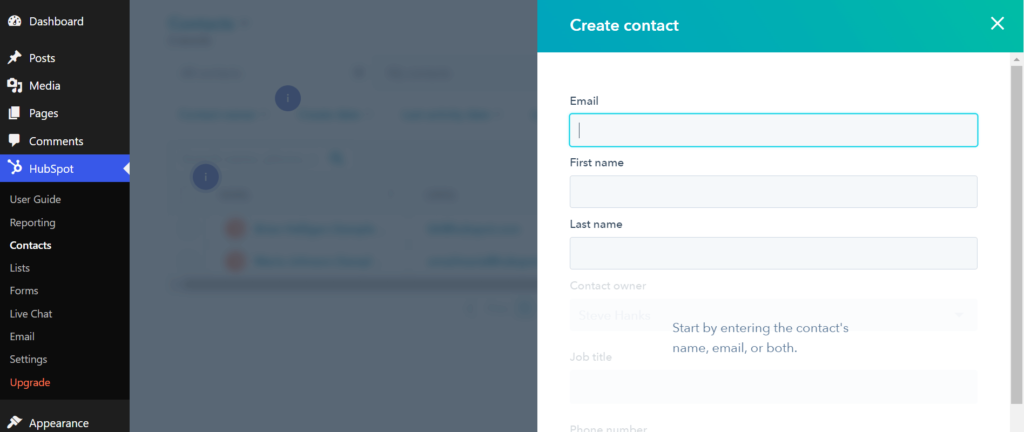 But if you already have CSV files, you can directly import them to the contact section. To do this, click on the Import button.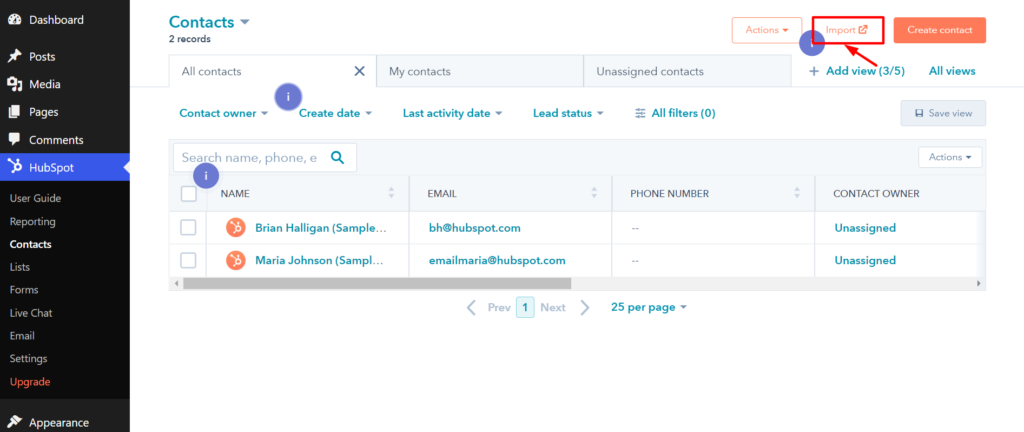 Then, click on the Start an Import option.
(Note: HubSpot currently has 40+ apps. If you have already connected your website to any of those apps, you can import contacts from there as well.)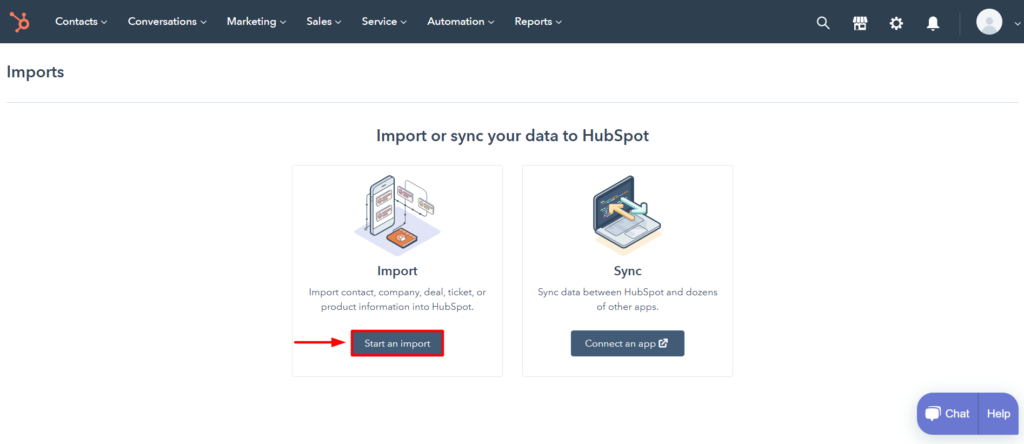 Select the File from Computer option and then press the Next button.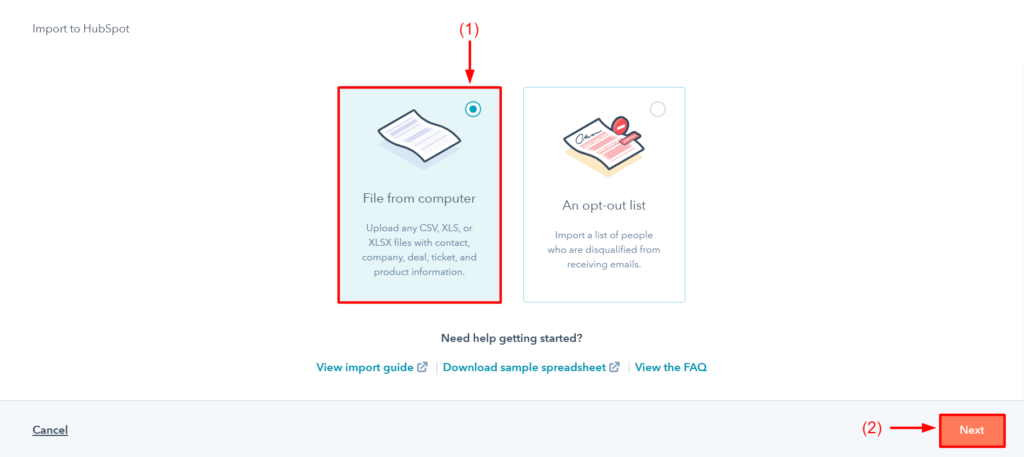 This way you will get some more pages and options up front. Select the correct options according to your requirements and come to the last page where you can upload your CSV file. After that, hit the Next button.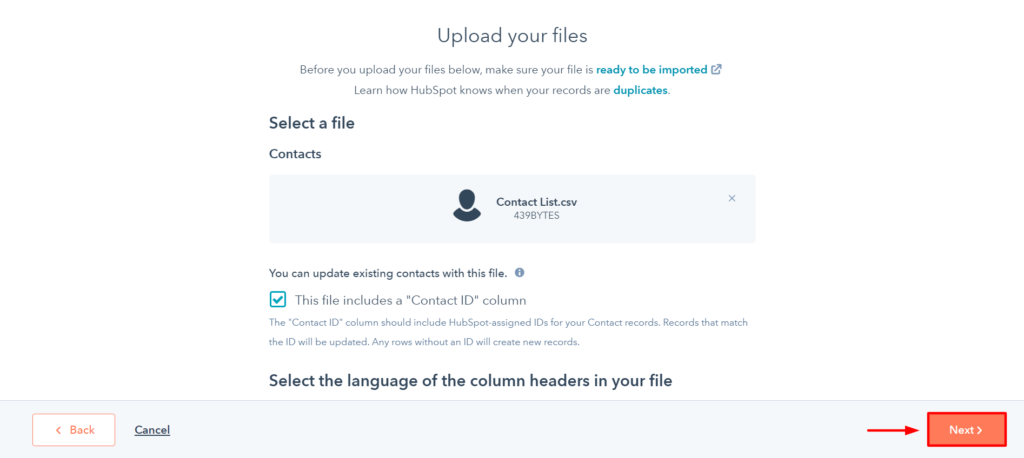 Once your contacts are imported, you can divide them into multiple lists, assign them for specific objectives, and do more actions as per your need.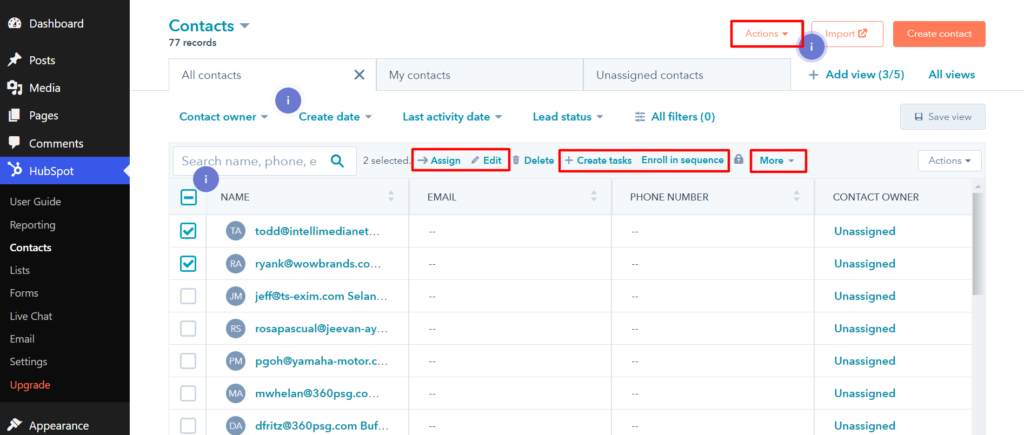 Thus, you can manage your contacts with more advanced options for deeper insights.
Step 04: Create Lists
Here again, you can import lists directly if you have CSV files following the same process shown above.
So, let's see in this section how to create a list manually. First, click on the Create list button.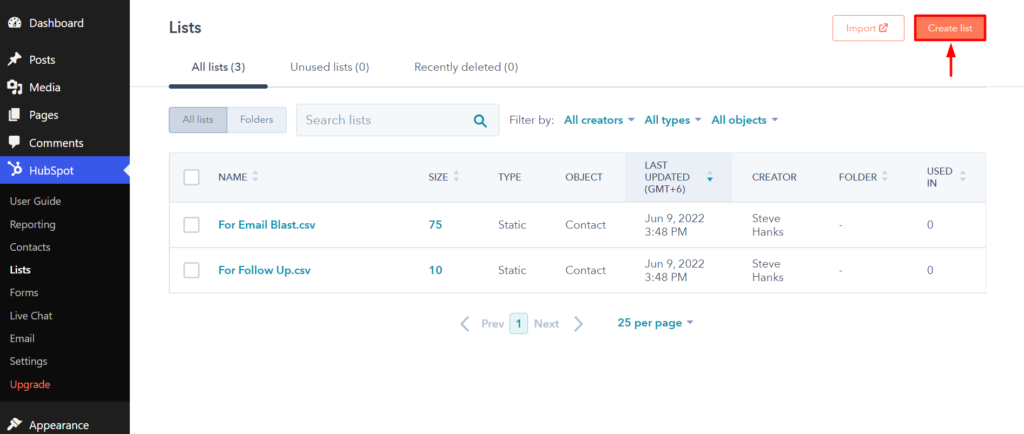 Select the type of contact form you want to create. Give a name to the list. Then, click Next.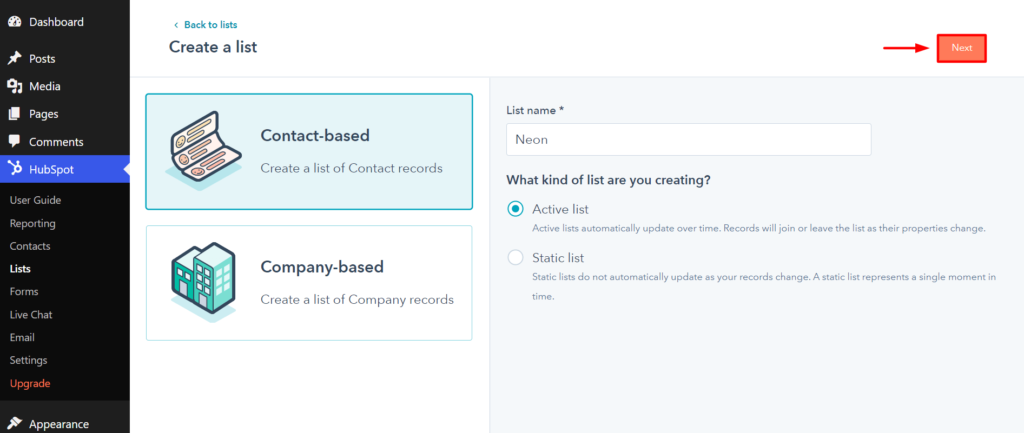 Now, it's time to add some filters so that you can get the exact emails/contact into your new list. Just click on the + Add filter button. You will get options available in it.
Choose the filters as you wish. Your desired emails/contacts will automatically appear on the left side.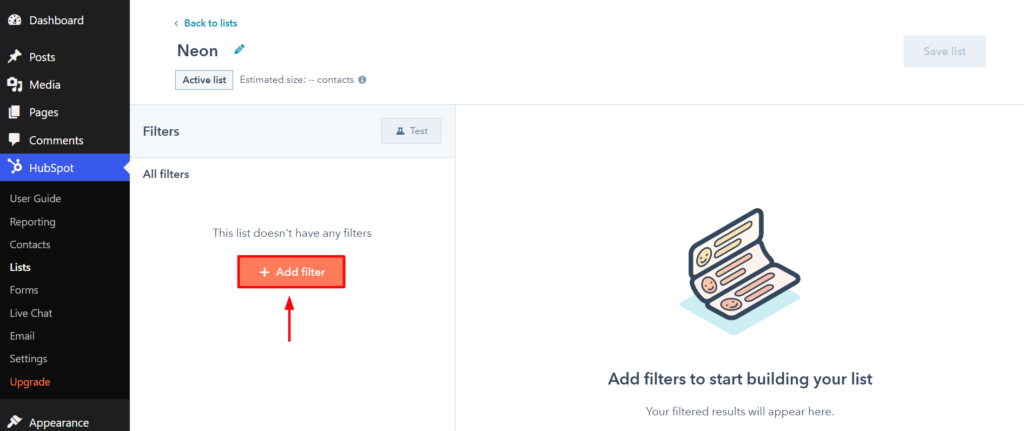 Below you can see the emails filtered out on the left side. Now, if you hit the Save list button, these will be saved as a new list.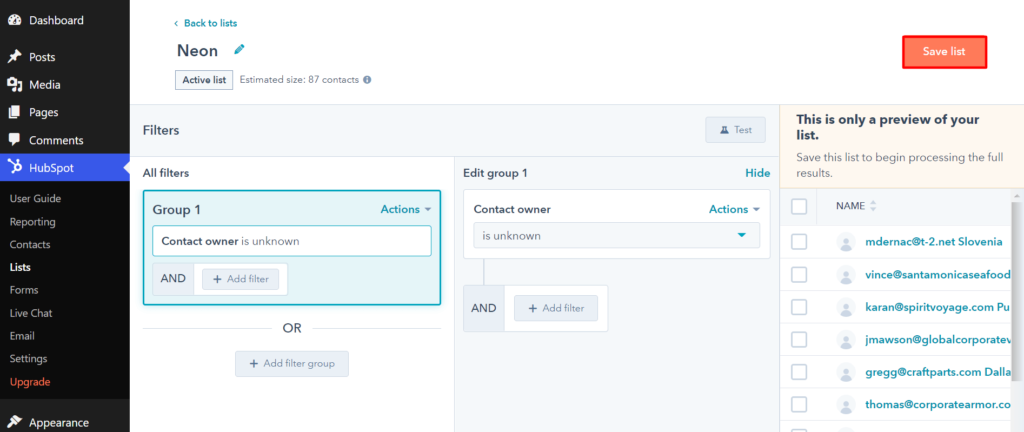 You can see the new list appearing in your list section.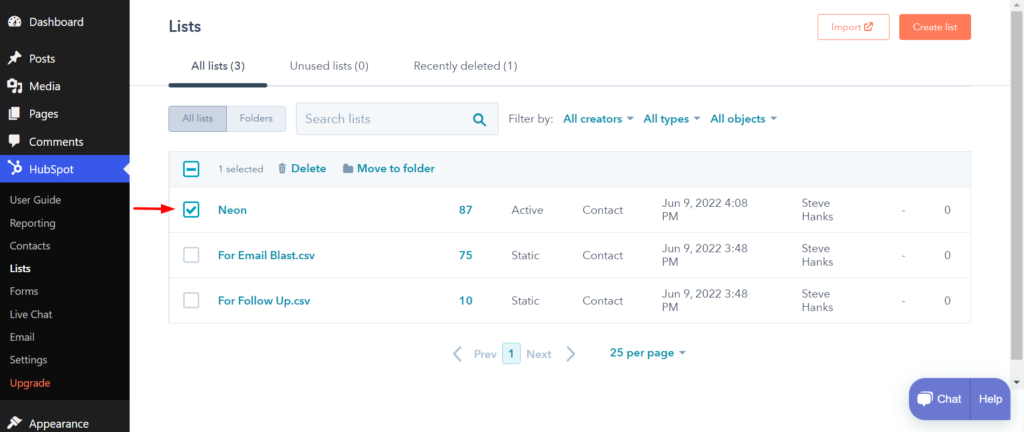 Step 05: Create Forms
Using forms you can grow leads and subscribers quite easily. To create a new form, click on the Create a free form button from the top-right corner.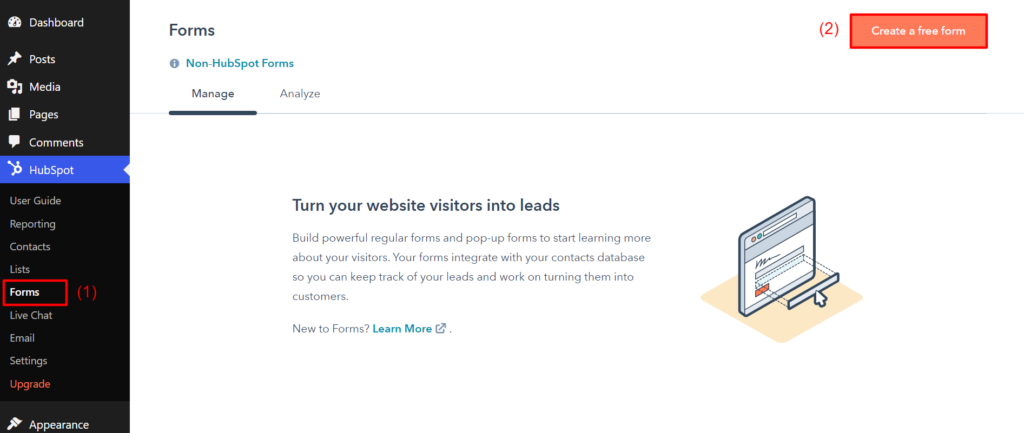 Select the type of form you want to create. Then press Next from the top-right corner.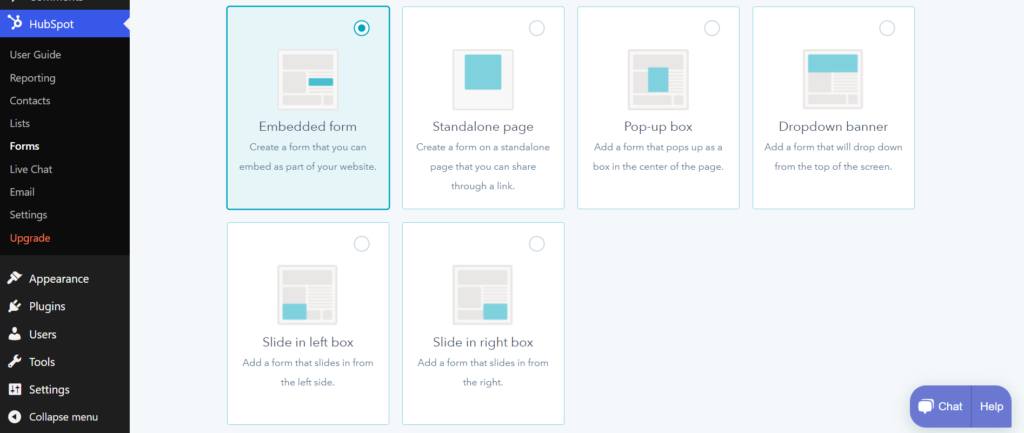 Selecting the Blank template option, you can create a new form out of scratch. But you will find different types of templates already available in this section. You can choose any one of them to save your time and labor.
For this article, we are selecting the Registration type. Then, hit the Start button.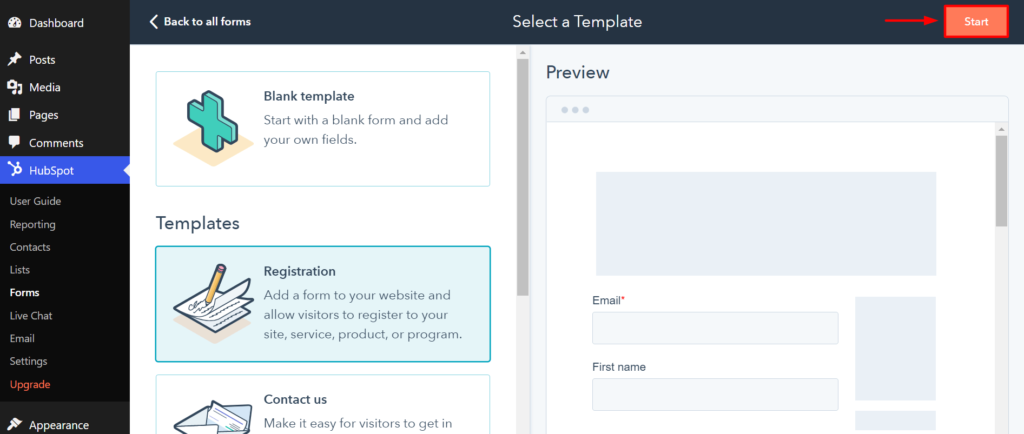 You will get a ready-made template there. You can further customize it by adding new fields using the drag and drop feature.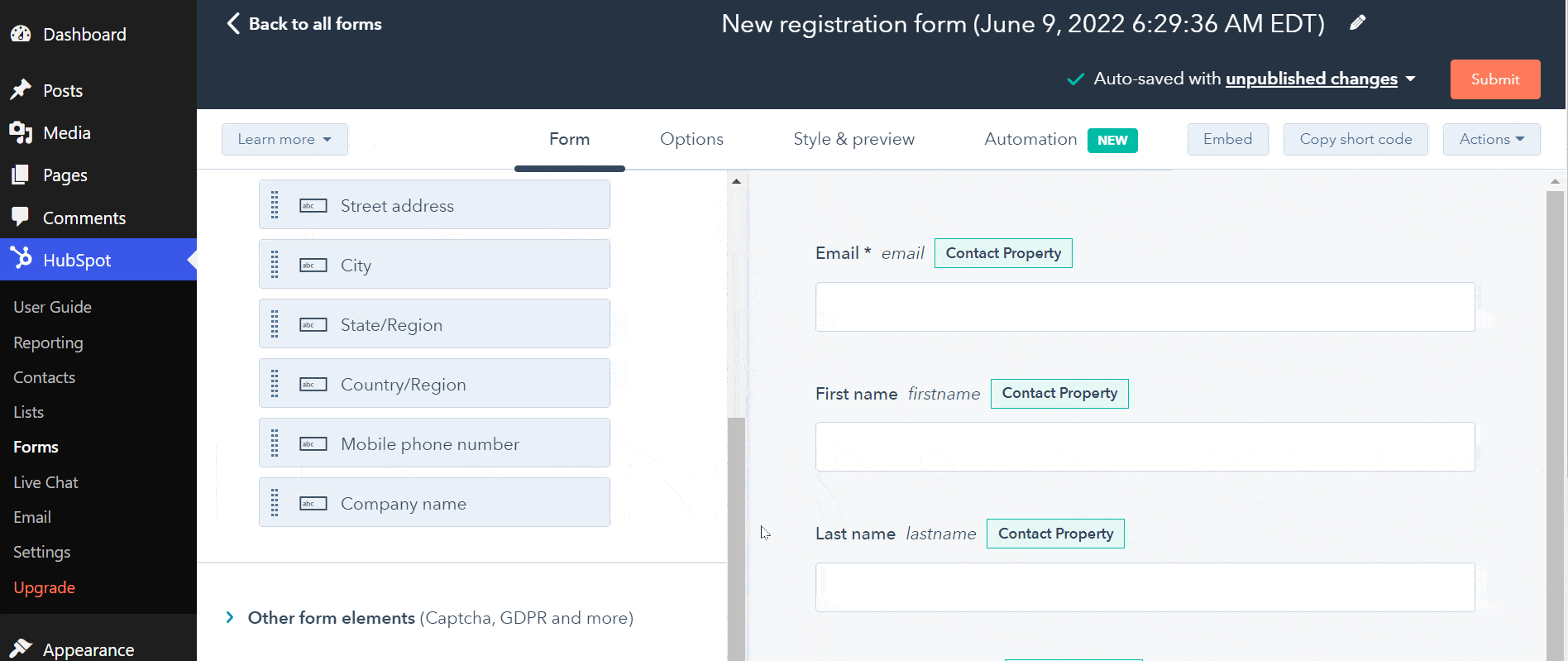 Once your form is ready, hit the publish button. You will get a popup coming up with a shortcode. Copy and paste it anywhere on your website you want.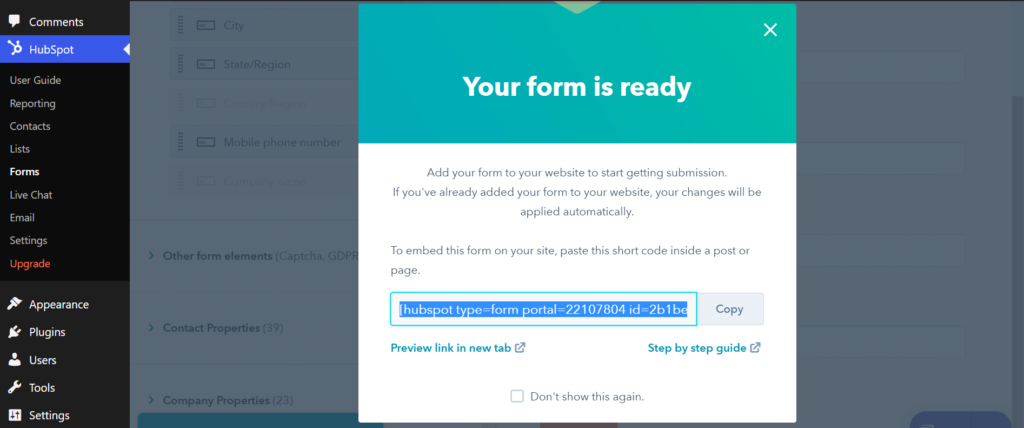 Thus, you can create and publish new forms using the HubSpot WordPress Plugin.
Step 06: Enable Live Chat
Go to the Live Chat option. Then, click on the Create chatflow button from the top-right corner.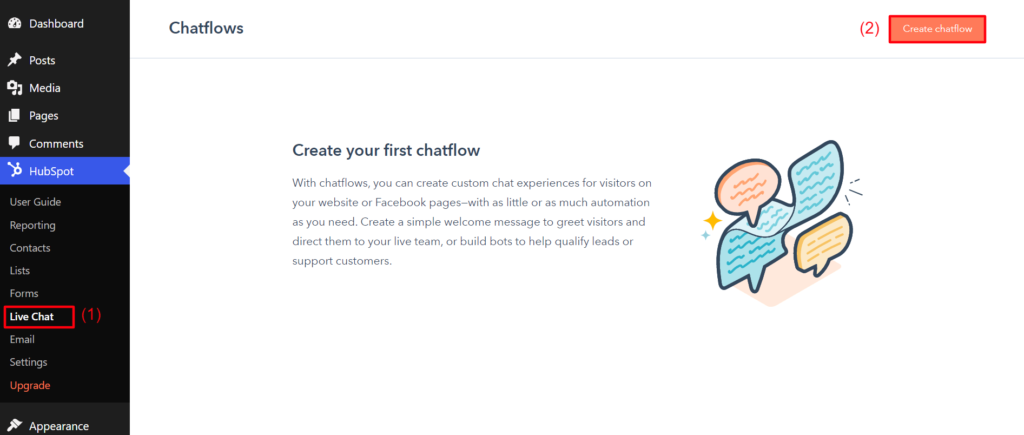 You will get two categories: Live chat and Bots.
You will see more options in both of these categories as well. Choose the option you want to start your chatflow with. After that click on the Next button from the bottom-right corner.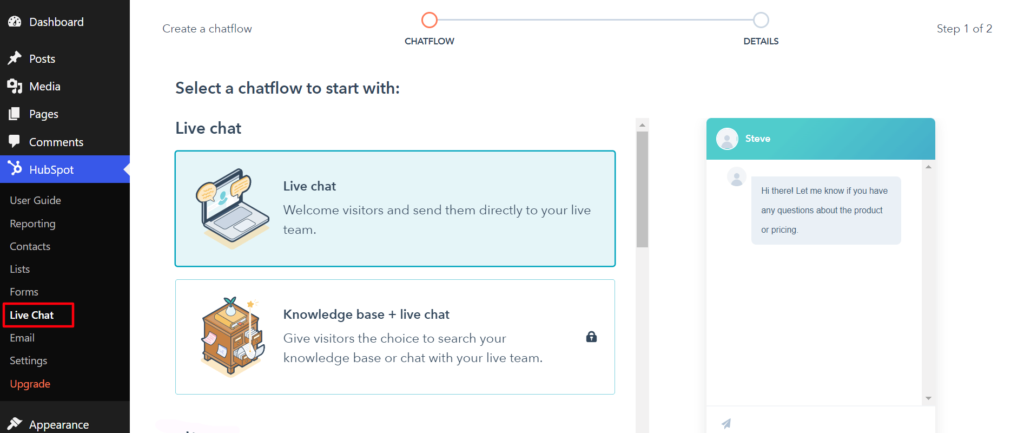 Click on the Select a language option if you want to change the language of your chat box. Here, we are keeping English for this tutorial. After that, click the Create button from the bottom-right corner.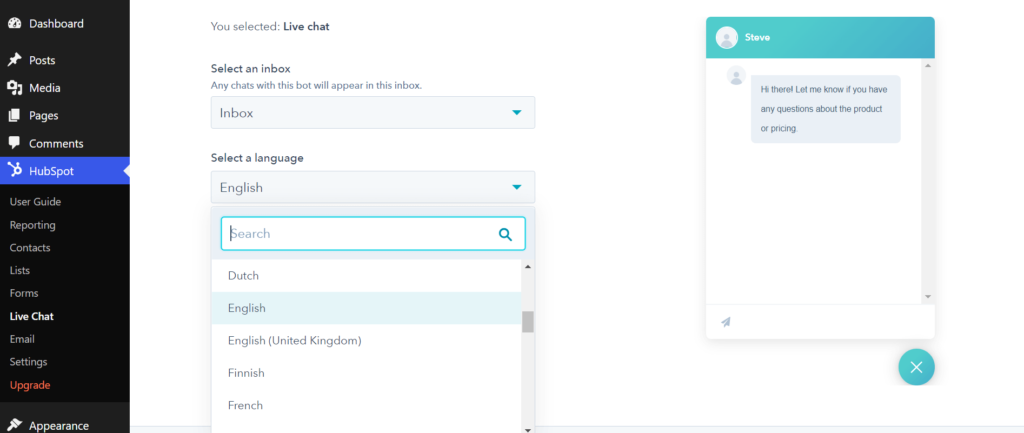 Now, it's time to customize and build your chatbox. Click on expand-icons following the below image. You will get some more fields to modify the architecture of your chatbox. If you are done, toggle on the enable option from the top-right corner.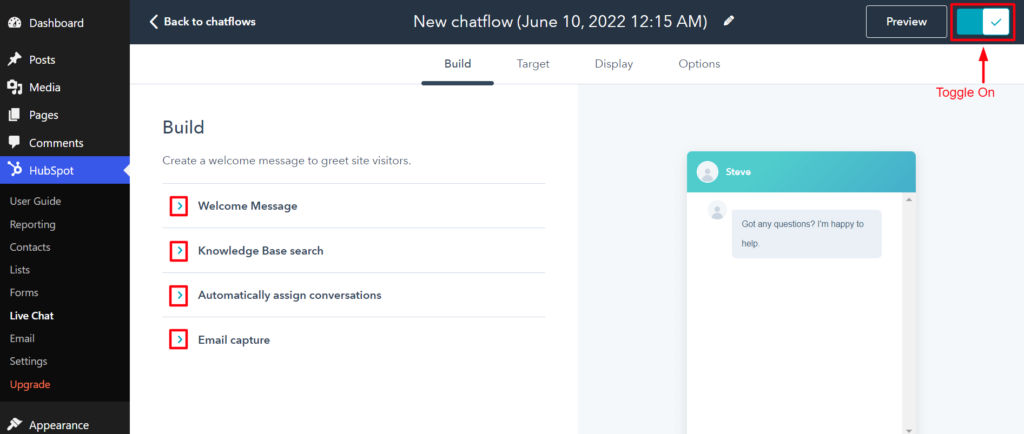 Knowledge Base search and Automatically assign conversations are reserved only for premium users. Unless you are upgrading to the premium version, you cannot use them.
Step 07: Setup Email Marketing
You will get too many options in your email section. But for now, click on the Create email button from the top-right corner.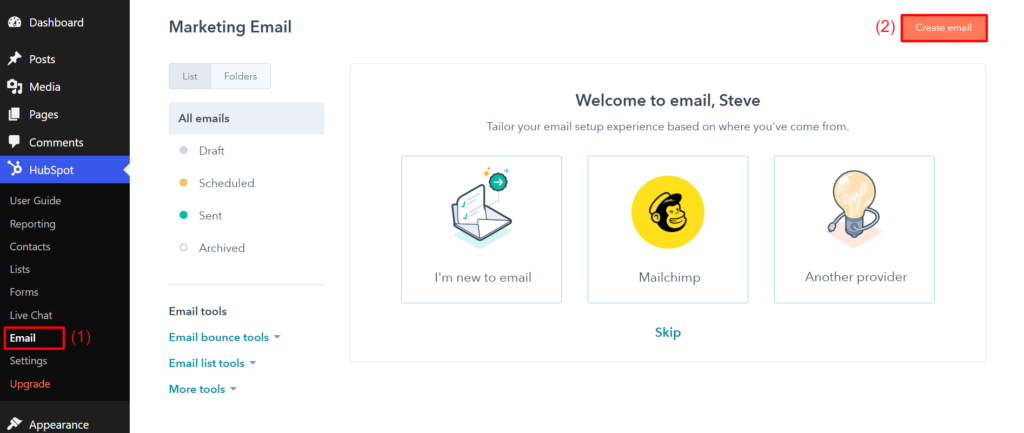 You cannot enable email automation unless you upgrade this plugin to the premium version. For now, select the Regular option.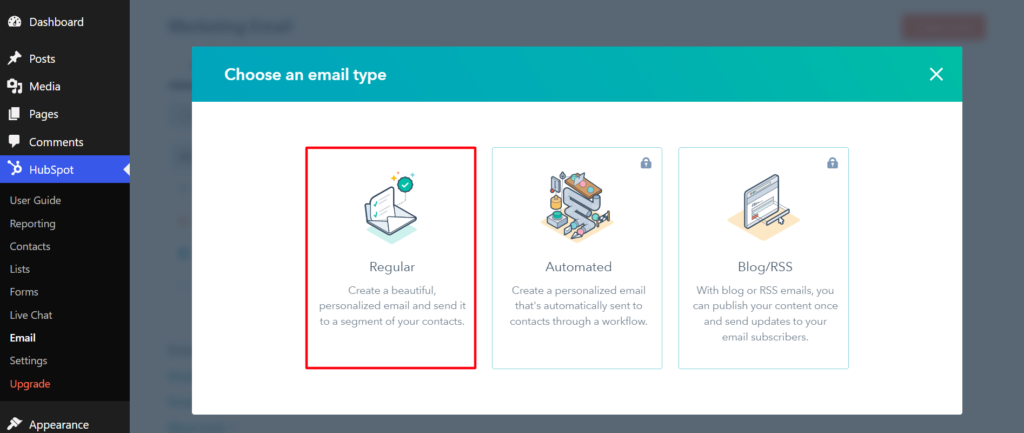 You will get five free templates available to craft your email copy.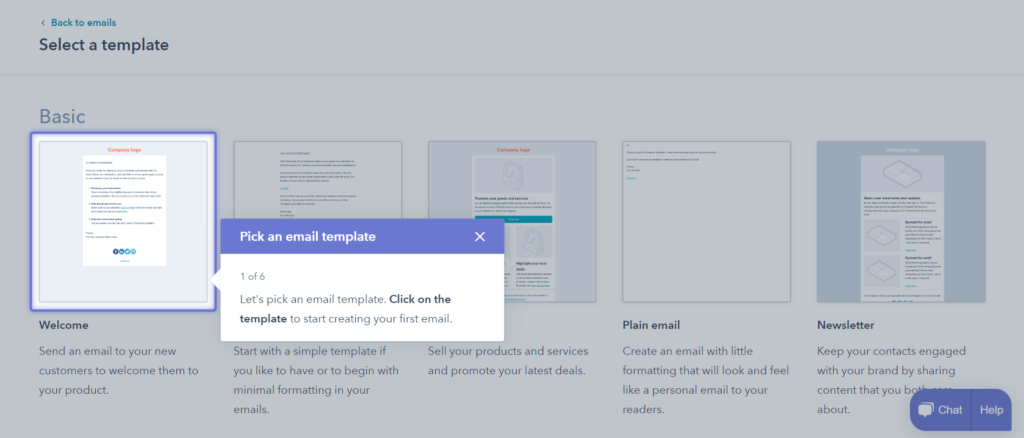 But if you are a premium user, you will get too many eye-catchy temples. Choose any one of them according to your type of email.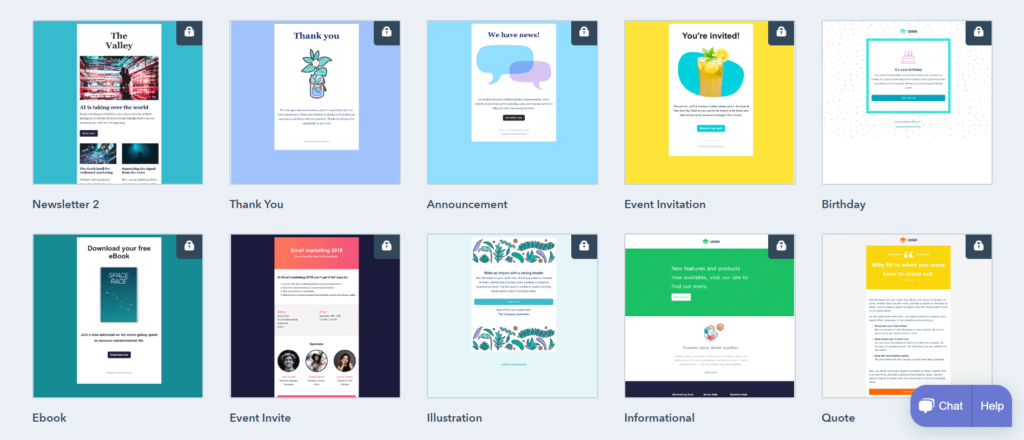 You will get the drag and drop builder option to further curate your email design. You can add photos, CTA buttons, text style, and more. Then click on the Review and send button from the top-right corner.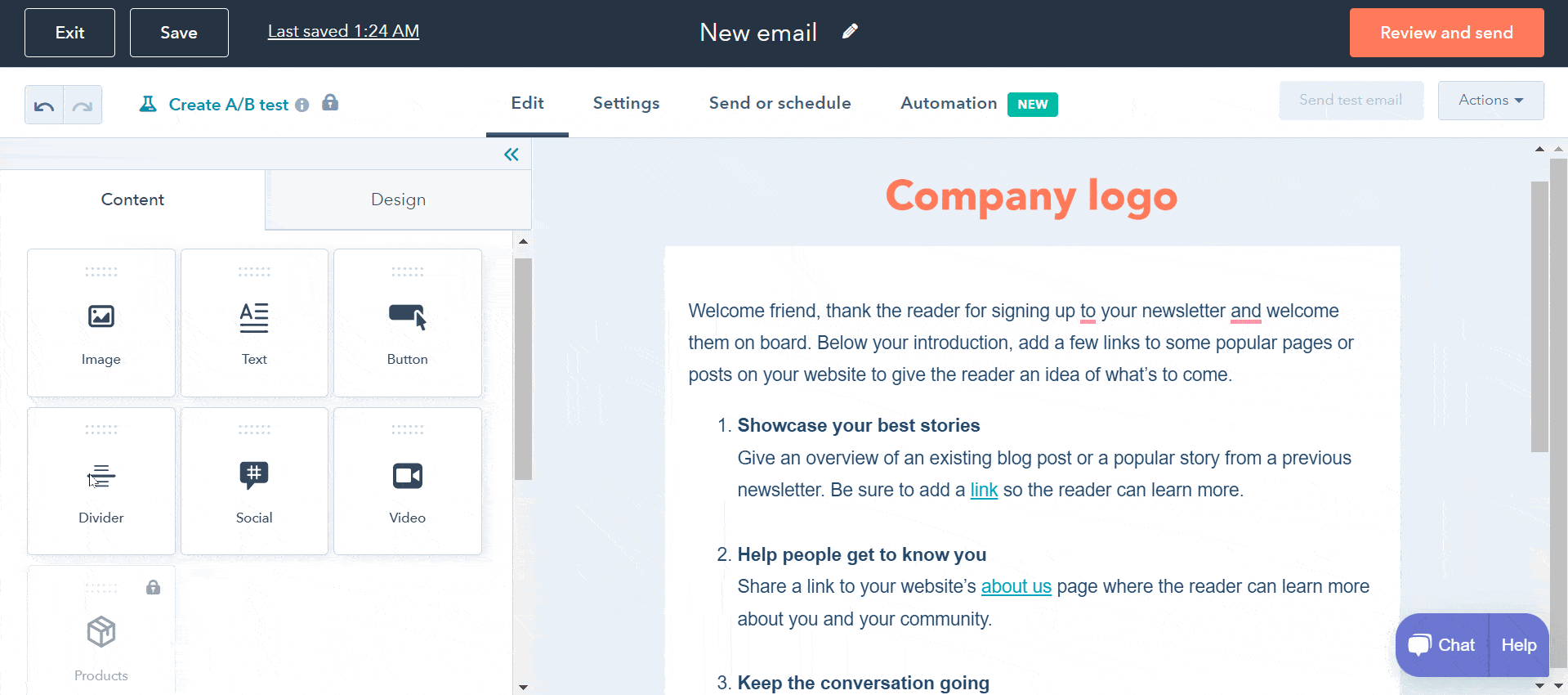 Now, you have to add the email addresses of recipients, email subjects, and company addresses. When you are done, you see the Send button getting activated. Click on it to start sending emails.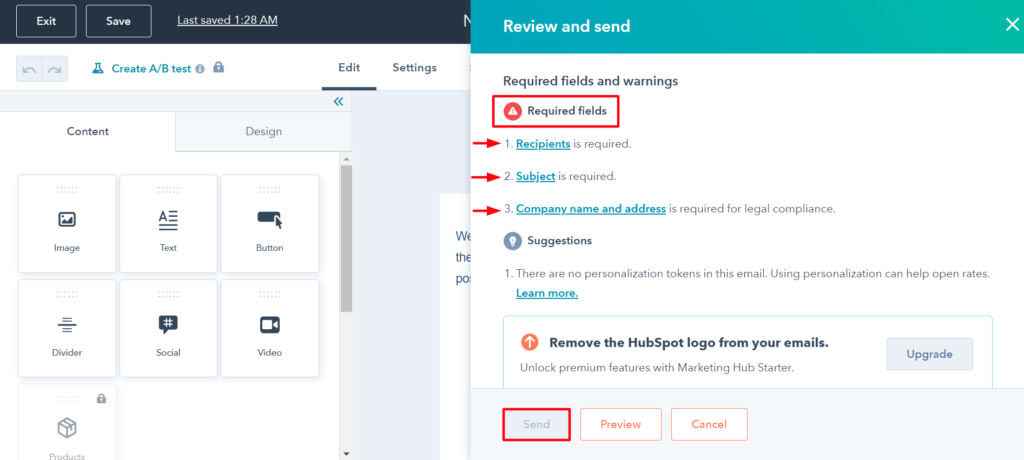 This is how you can enable the HubSpot email marketing option.
FAQ on HubSpot WordPress Integration
Here, we are going to answer a list of common questions that people usually ask about HubSpot WordPress Integration.
Does WordPress integrate with HubSpot?
Using the HubSpot WordPress plugin, you can easily integrate WordPress with HubSpot.
What is HubSpot good for?
HubSpot is a robust CRM platform. You will find almost everything you need on this platform to create and scale up your online business and take your user experience to the next level.
You can do the following things using the HubSpot platform:
1. Generates Qualified Leads
2. Research Buyer Persona
3. Create Forms and Popups
4. Enable Live Chat and Chatbots
5. Support Marketing Campaigns
6. Promote Business Growth
7. Seamlessly Integrate Other Extensions
8. Use Analytics for 360-degree views
What is HubSpot used for in WordPress?
HubSpot is a compact inbound marketing solution for any website. It hosts a number of customer relationship management (CRM) tools that anyone can use to drive quality traffic, boost customer happiness, develop communication, and convert like crazy.
Is HubSpot a CMS or CRM?
HubSpot is actually a CMS at first. But unlike the other CMSs, HubSpot gathers a number of top-notch CRM tools on the same platform.
However, if you are a WordPress user, you can quickly integrate it into your CMS using the HubSpot WordPress plugin and use all the tools and features.
How to integrate HubSpot with WordPress?
Integrating HubSpot with WordPress is a very easy thing to do.
Log into your WordPress dashboard. Install and activate the HubSpot plugin. Then, create an account using all your web information. Once complete, HubSpot WordPress integration is done.
Our Final Verdict on HubSpot WordPress Plugin Integration
It's true that when someone installs this plugin for the first time, he gets confused seeing its myriad of tools and features. But it doesn't take much time for him to be impressed with its number of features and benefits.
HubSpot WordPress plugin is indeed a shop where you are getting everything you need to run a website, whether it is for commercial or non-profit.
Once you perfectly integrate HubSpot with WordPress, everything will be so easy that not for long you can stay away from your website.
Hopefully, you have found this article helped a lot. Subscribe to us if you love to receive more interesting articles like this one. Follow our Facebook and Twitter channels for regular updates.
https://wphive.com/tutorials/hubspot-wordpress-integration/
Fuad Al Azad
Fuad Al Azad is a creative writer who loves to blog on everything in between tech, marketing, and eCommerce. Alongside, he is an admirer of fact, fiction, and philosophy.

Subscribe To Our Newsletter