Wordfence Security: A Must-Have Security Plugin for WordPress

The Internet has become an integral part of our lives. From shopping to reading newspapers, everything is now done online. Billions of websites have made our life easier than ever. However, with every opportunity, there is also a threat lurking behind it.
Websites are not any different. That is why website security has been one of the most important issues for cyber specialists. WordPress, the largest Content Management System also faces the same problem. Because it is an open-source software and anyone can use, study, change, and redistribute its source code.
Therefore, it is not impossible to plant any unwanted line of code to any of the plugins. That's why many security specialists are now providing security plugin for WordPress websites.
That is why we are going to discuss one of the most popular security plugin "Wordfence Security" in today's article.
Quick Navigation
Why Does WordPress Safety Matter?
As we said, WordPress is the largest CMS in the world with over 35% of websites in the world built using this platform. This kind of popularity made it a target for hackers and evil-doers. WordPress is well aware of this and they now have a security team of 50 people consisting of security specialists to prevent any attack from happening.
However, after all the security measures being taken by WordPress, the threat is still there and WordPress security issue is still a challenge. This is because WordPress is a platform where anybody without prior coding knowledge can build a website. That's why many of them don't even know if a malicious code is planted on their website. And even if someone can, it's not possible to check all the code every day. So what do we do?
You can follow a step by step guide for WordPress security or we can use an alternative method which can solve all the problem at once.
One of the best ways a WordPress site owner can ensure website security is by using security plugins. There are a lot of security plugins available online, but here we will talk about Wordfence Security, the most downloaded security plugin for WordPress.
What is Wordfence Security?
Like the name suggests, Wordfence Security is a security plugin for WordPress. It has an active installation of more than 3 million where no other security plugin crossed the 1 million mark on the WordPress plugin repository.
So, why do so many people choose this plugin to tackle the WordPress security issue? Throughout this article, we will try to find the answer to this question. If you want to know why Wordfence Security is so popular and If you should use it too, read the next parts carefully.
Basic Features Of The Wordfence Security Plugin
Wordfence Security works as a malware scanner and a firewall for your website. It also has a premium version. But unless you are being very careful, the free version has all the necessary features that will get your basic security covered.
Features in The Free Version
A 24/7 firewall for your website that finds and blocks every malicious traffic of your website
Ensures endpoint security, meaning your connection with an endpoint client can't be breached
Built-in malware scanner that checks for everything suspicious on your core files, themes, and plugins and eliminates malware, bad URLs, backdoors, SEO spam, malicious redirects, and code injections
Warns you if it finds any dissimilarity in codes on core files, themes, and plugins with their counterpart on WordPress repository
Checks and alerts you for many common security issues and vulnerabilities.
It Also Ensures Login Security For WordPress Websites With Some Nifty Features. Such As:
TOTP based two-factor authentication for maximum security
Prevents bots from signing in to your website by using login page CAPTCHA
Does not allow website administrators to log in with known compromised passwords
Limit login attempts to prevent brute force attacks from happening.
Basic Functionalities of The Pro Version
Real-time firewall and malware signature update that you'll get in the free version after 30 days
Realtime IP blocklist that blocks all the requests from malicious IPs
Checks and alert you if your site has been blacklisted for spamming or any other security issues
It can block all the IPs from specific countries.
Pros & Cons
Wordfence Security has a tremendous amount of popularity among WordPress users, because of its great functionalities. That doesn't mean that it has no lacking. So let's have a brief look at the Pros & Cons of this plugin, shall we?
Pros
Wordfence Security has an array of features on its free version, that makes it capable of being your primary security plugin for a small website
The Premium version offers features like live tracking of your traffic and how attacks are being handled
Provides regular firewalls and malware database updates.
Cons
Wordfence Security is a pretty heavy plugin. Because of this, we have seen a noticeable decline in our site performance after installing it. Although there is an option to limit storage use, it might still feel heavy if your site runs on a shared hosting and low storage
Wordfence Security does have some excellent features, but unfortunately, some of the features are aimed at experienced security professionals. A regular site owner might face difficulties to understand all the options and what they do
Free version delays all security updates for 30 days, meaning you will be under potential threat for the time being. Thus, it is advised to use the premium version if possible.
Wordfence Pricing
Wordfence Security provides a pretty good job with its free version. But if you want real-time firewall and malware database updates and some more useful features, you can upgrade to the premium version.

The pricing depends on the number of sites you want to protect. The more sites you discount you can avail. A standard premium license for a single website costs just $99/year. You can also get a one time discount of 10% if you buy the license for two years and 20% if you buy for three years straightway.
Other Security Plugins Compare To Wordfence Security
Before you go on to choose any plugin, it's always a smart thing to compare that with some other similar plugin. Luckily WP Hive made it very easy to compare between plugins.
For your convenience, we have come up with an even more detailed comparison with Wordfence and some of the most popular security plugins. And this is what we found out.
| | | | | | |
| --- | --- | --- | --- | --- | --- |
| Features | Wordfence Security | Sucuri Security | iThemes Security | All In One WordPress Security | Malcare Security |
| Malware Protection | Yes | Yes | Yes | – | Yes |
| Firewall | Yes | Premium | Yes | Yes | Yes |
| Real-time IP Blacklist | Premium | Yes | – | – | – |
| Core Integrity Check | Yes | Yes | Yes | Yes | Yes |
| Notifications | Yes | Yes | Yes | Yes | Yes |
| Brute Force Protection | Yes | Premium | Yes | Yes | Yes |
| Login Page Captcha | Yes | – | Yes | Yes | – |
| Two Factor Authorization | Yes | – | Premium | – | – |
| Country Blocking | Yes | – | – | – | – |
| Active Installation | 3 millions + | 700k + | 900k + | 800k + | 10k + |
| Pricing | $99/yr | $19.98/mo | $52/yr | Free | $99/yr |
From the comparison table above, you can get a clear understanding of security plugins and their features.
Finally, what about our views on Wordfence Security? Is the free version capable of protecting your site? Also, is the premium version worth the price? Let's head over to the performance test to know more.
Performance Checking of Wordfence Security Through WP Hive
WP Hive has an impressive feature that lets you check the performance of a WordPress plugin. You can check the performance of any plugin that you like before you decide to install or even buy that. This helps you to make a smarter decision. So, we have also done the same and checked the performance of Wordfence Security with WP Hive, and got some pretty contrasting results.
Initial Test
The first part of the performance test is all about the quality of the plugin. And Wordfence Security is passed this test with ease. It is compatible with the latest WordPress and PHP versions. There are no code errors, neither there are any activation error.
However, as we already informed you, Wordfence Security is a memory-hungry plugin and that reflects on the performance tests.
Performance
Wordfence Security uses as much as 3898.97 KB memory on average, which is more than 99% of plugins. Impressively, it increases the page loading time of your website 0.13 seconds on average.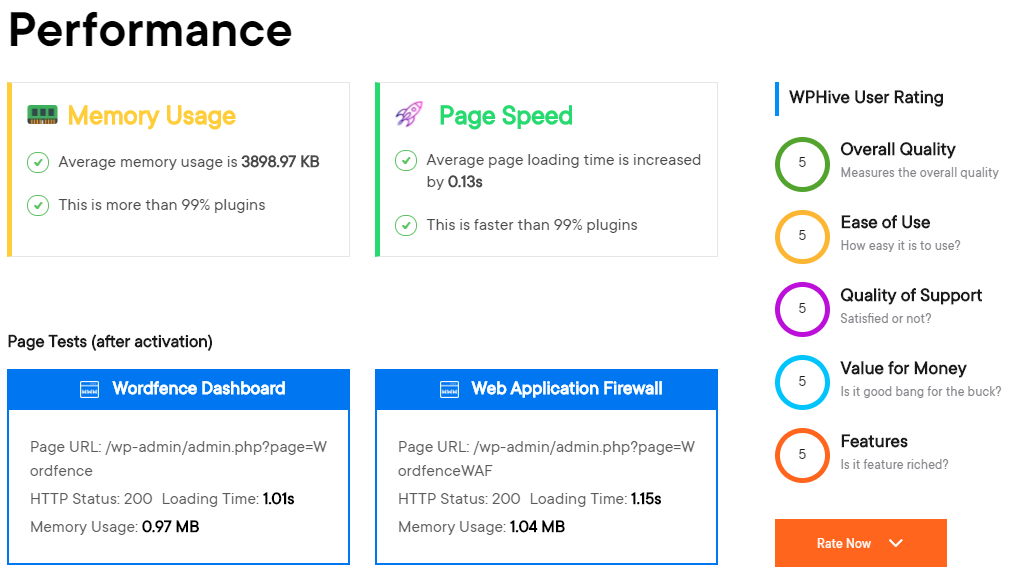 Stats
Wordfence Security is one of the most downloaded plugin from WordPress repository. Its 649k installation in a single week when reviewed this plugin, is a testament to its popularity. You can also check some more stats of the plugin below.
Our Verdict
Wordfence Security has been around for a long period. Over time it has become one of the most comprehensive security plugins for WordPress. The free version has some excellent features to keep your website safe. The pro version exceeded our expectations and surely outperformed every other security plugins that we tested. This is one of the best security plugins that you can put your trust in.
If you have a new and small website, we recommend you to continue with the free version, as it has almost all the features that the premium version offers. However, for a larger website, you will not want to have any loopholes. So we recommend using the pro version for a larger website.
So, that was it for our Wordfence Security review. We hope this article will clear your doubt about whether you should use Wordfence Security or not. Let us know what do you think. Also, you can share your experience with Wordfence, waiting to listen from you!
https://wphive.com/reviews/plugins/wordfence-best-security-plugin-for-wordpress/
Faisal Sarker
Faisal is a tech blogger who excels at WordPress Content Writing. Apart from sharing useful info pieces that help people around the world, he also likes to travel and read books of all genres in his leisure time.

Subscribe To Our Newsletter