How to Write a Blog Post (Step By Step Guide)

Starting a blog is hard, and there are a lot of pitfalls along the way. Especially if it's your first time. But, if you know the proper steps, then you don't need to worry about.
In this definitive guide, we tried to show you how to write a smart post. Before writing a blog, you must know some aspects like the purpose of the post, target audience, content structure, and more.
So keep reading.
Prepare Yourself to Write a Blog Post
Before anything else, preparation is the key to success.

Alexander Graham Bell
If you think if you sit to write a blog post and you will write 2000 words in a flash, then you are mistaken. Without preparation, you won't be able to write 100 words. That is why you need to make sure you are fully prepared before starting a blog post.
Moreover, if you are prepared then you win half the battle. Because writing smart blog posts is not as easy as it sounds. It takes passion, perseverance, and a lot of patience to write a good blog.
However, don't worry. We are going to take you through the steps that will ensure you are more than ready to start your blog.
1- Select Your Target Audience
In the web world, the audiences are the king and your duty is to please your king. Before starting to write, you must understand the audience. You need to focus on what they want to read and what they don't.
Therefore, you need to decide on which type of audience you are going to write. Then the idea will get more clear on your head. It will become easier to choose a topic and pursue it.
To properly research your target audience, you can use BuzzSumo where you find your users through social media like Facebook, Twitter, Quora, Linkedin, and more.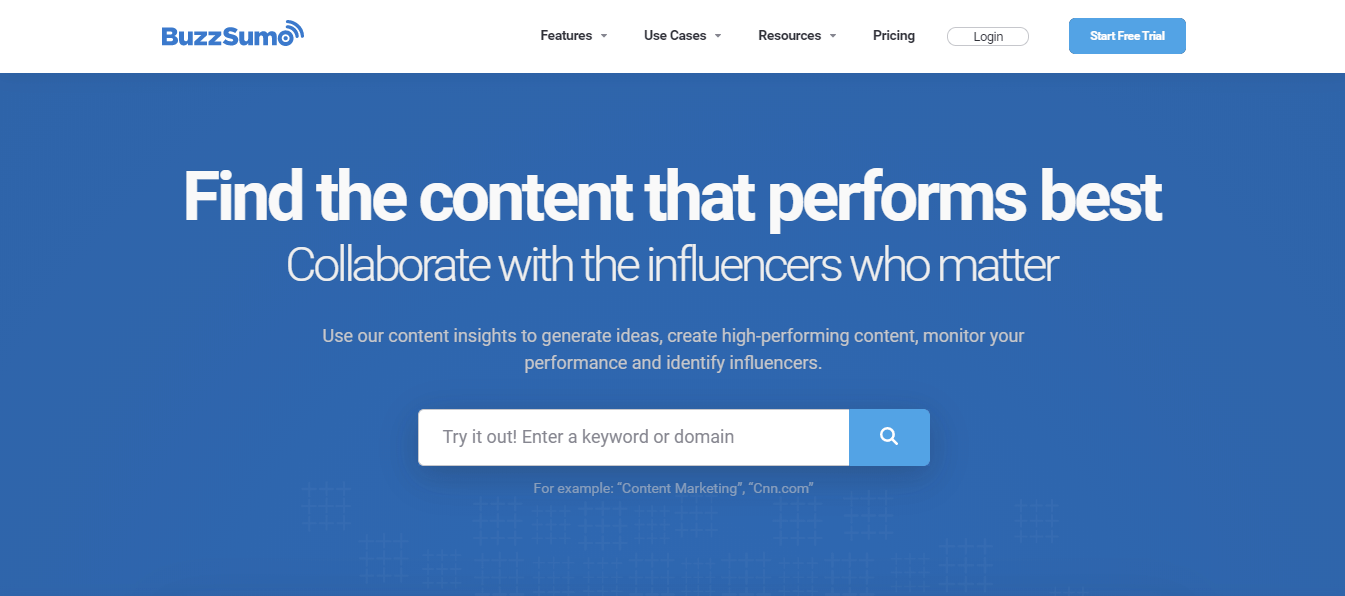 Here you just need to type the content name that you want to write.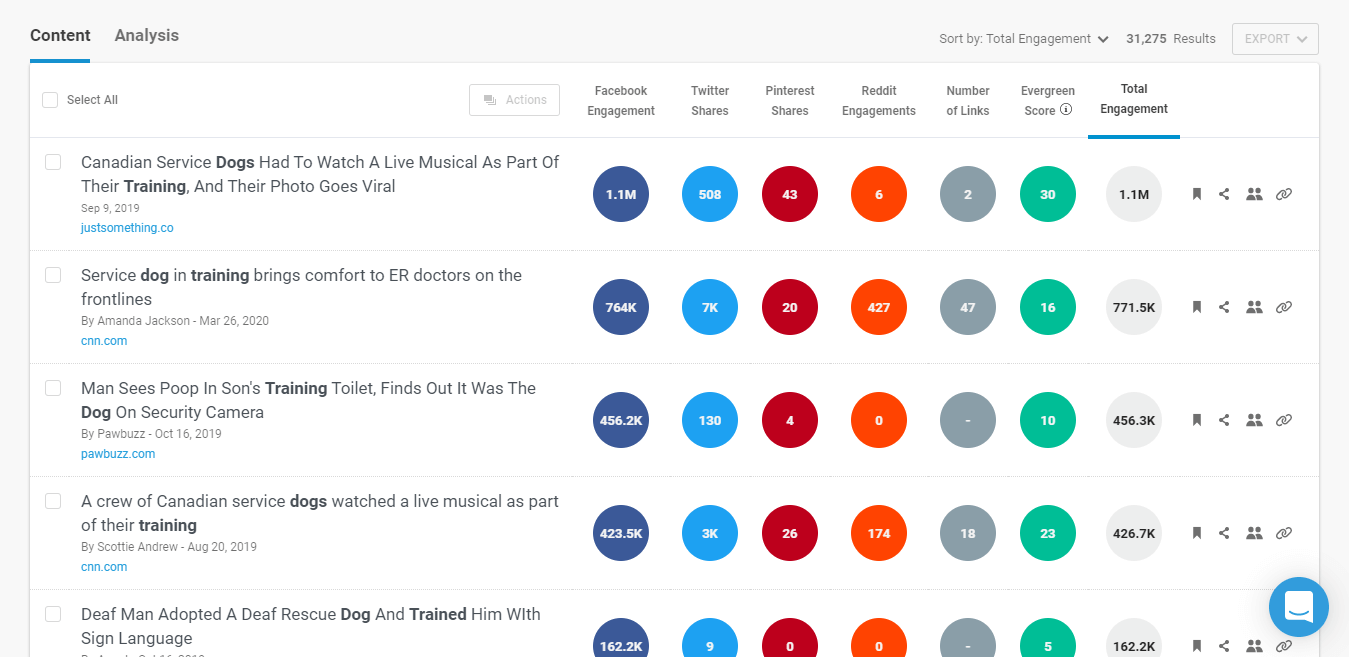 For example, we choose dog training as our topic to find our target audience with this topic among popular social media.
2- Decide On Your Purpose For Writing The Blog
After finding your target audience your next job is to focus on your blog purpose. Every post in the world is written with a purpose behind it. That's why the audience reads it. If your blog doesn't add any value then there is no point in writing.
That is why it is very important to ask yourself why you're writing and what influence your writing will have on the audience.
For example:
You can write a blog to provide valuable information about any technology. In addition, you can also write to share your knowledge and experience on that technology with your users
You can write to entertain and amuse people
Your blog can convince people about your idea, as well as buy your product and services
If you are a traveller, you can write about the experience and hardships you faced on those journeys and more.
We are not saying these points should be the purpose of your blog. These are just the examples so that you will get a clear idea what we are trying to say.
3- Find An Useful Topic
Now that you know about your purpose, you need to select a topic that goes well with that. You have to find a niche topic that your specific users may find it most convincing.
For selecting your topic, you can use modern keyword research tools with (Chrome Extention) like Ubersuggest.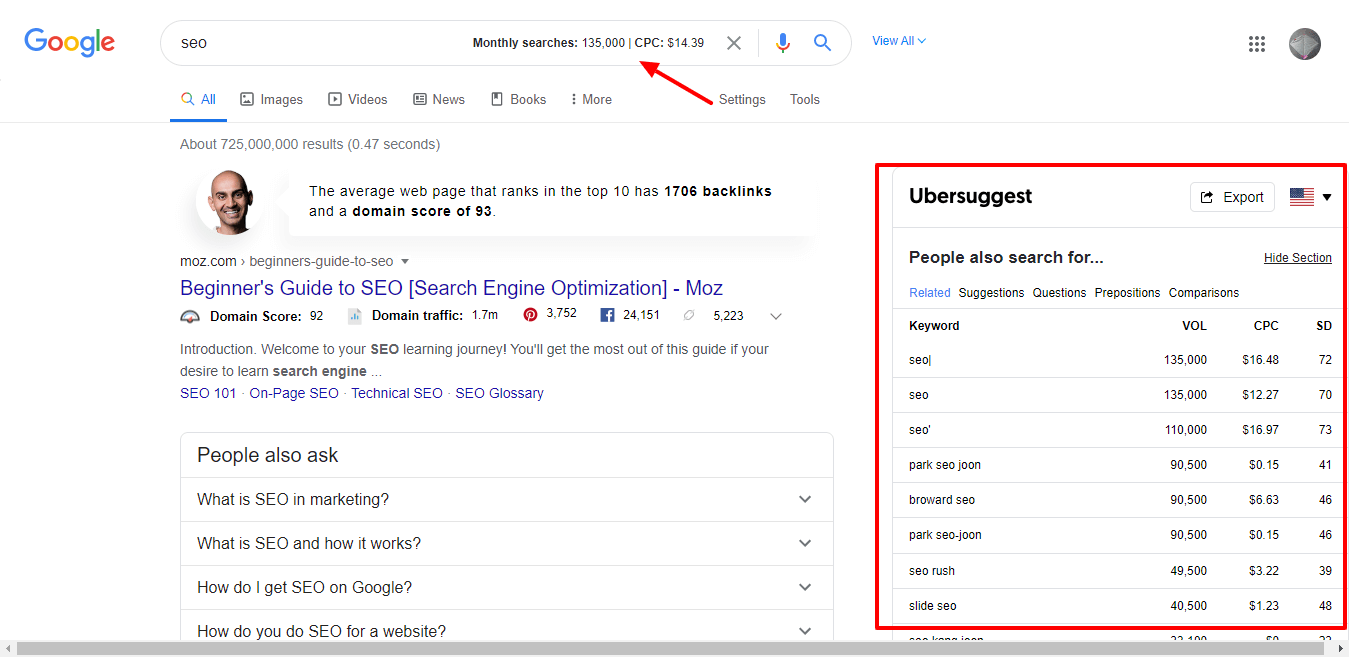 With that, you can find out if your chosen topic is popular or not and if people are still searching for it. You need to ensure that your topic will help people for a long time period.
To check the trend of your niche or content topic you may use Google Trend. Check out the below image.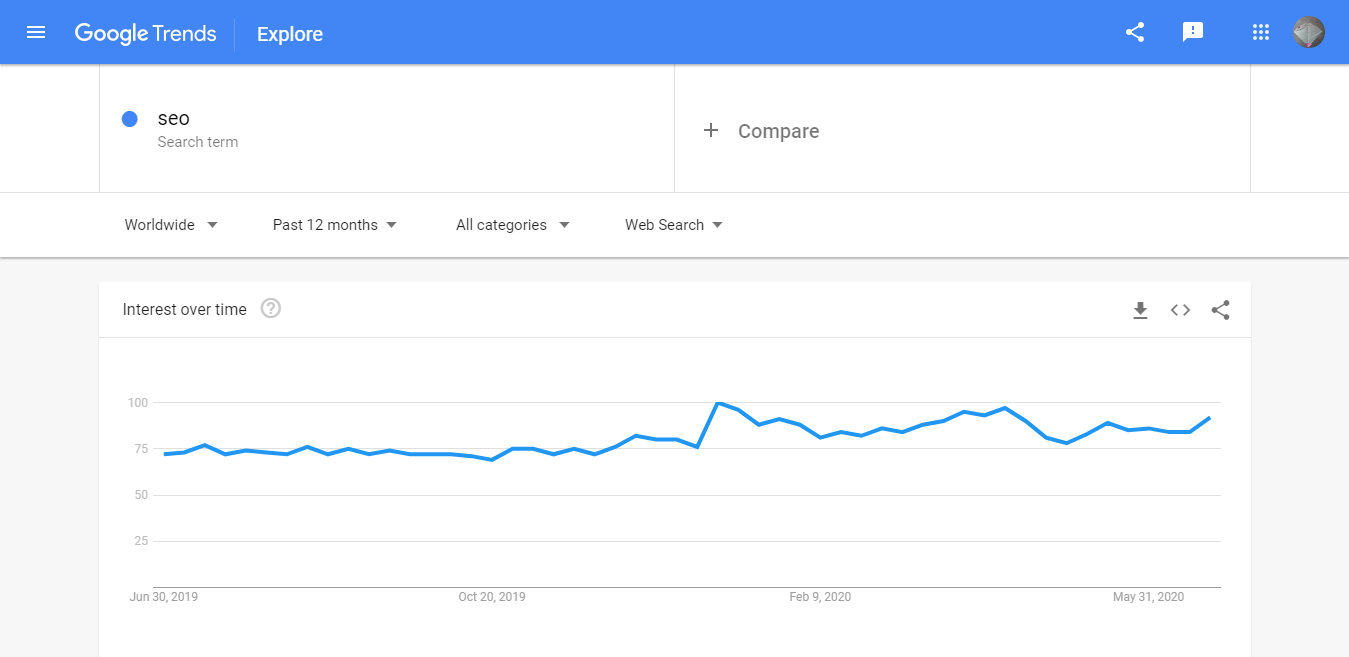 Also, you can find out when your topic is most in-demand and when it faces a downfall. That way you can create your structure accordingly.
4- Prepare A Complete Outline for The Post
Your blog outline refers to the map of your content. In fact, your blog can not be well written without preparing a proper outline. Your blog outline should include,
Primary keyword
LSI keywords (Sub keywords)
Keyword Volume
Title
Heading
Subheadings
So, if you are writing a huge blog, the this outline will save your from getting confused in the middle.
Here you see an image below that shows how you can prepare a content outline.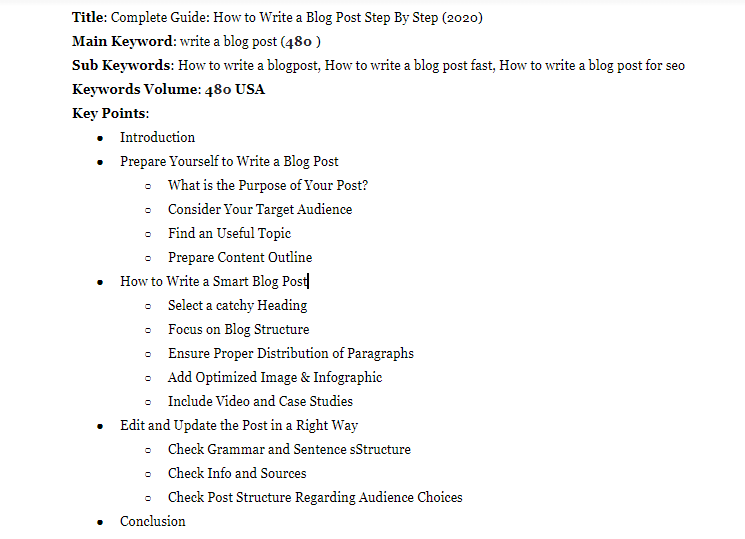 How To Write A Smart Blog Post
It's time to show how you can write a blog post by following some smart tips step by step. If you apply these steps you can easily write stunning posts that your users love.
Let's do it.
1- Select A Catchy Heading
The first thing the audience will notice is your headline. So, your headline should be catchy and informative. However, don't choose a headline that will promise the readers one thing but deliver something else.
Every post starts with a heading. That means if your heading doesn't grab your audience's attention, you will blow the chance of engaging with your readers through your blog. That's one of the main reasons to have a catchy heading for your blog.
Now the question is how can you write a heading that will love by the users? Well,
First, your heading should be written in 15 to 20 words. BuzzSumo Says that heading with the 15 to 20 are more engaging by the users.
Secondly, you can easily start your heading by adding some proven phrases. Here the list of most suitable phrases that users like more.
Finally, if you need to start a blog heading with a number you must apply the terms in the image below.
Let's create a catchy headline that based on the 12 to 15 words as well as has a number and a phrase.
From the above blog title, your audience will know exactly what you are trying to say. They will get a clear message and it will create more engagement.
2- Focus On Blog Structure
Blog writing is a lot more like essay writing than it is writing fiction.
There are millions of blog being published everyday. So, how your blog is going to stand out? The answer is Structure. An well structured blog is bound to catch the attention of the audience.
So, include a proper introduction. You can start with a story. Your introduction is the place to make it clear why someone should keep reading. Next, to engage your users you can add subheading, image, infographic, video, as well as many internal & external links.
In addition, you can also add a table of contents that you want to cover through your blog.
Related Article: CTA Best Practices With Killer Copywriting Ideas
Most importantly, you should not use many colors, animation, and graphics that can create a bad impact on your user's attention.
Here's the quick list for create a stunning blog structure.
Table of contents
Subheading
Paragraph
Image
Infographic
Video
Internal link
External link
You may also read this article where we talk about the blog writing checklist step by step.
3- Ensure Proper Distribution of Paragraphs
When you are writing a huge blog, you need to break down your blogs into little paragraphs. So that, it becomes easier for the readers to skim through your content.
A post may contain many paragraphs to fulfill the user's requirements. So it's very important to distribute those paragraphs according to the blog topic. In addition, you need to add subheadings to separate your paragraphs.
Also, you shouldn't use more than 300 paragraph words in a post without distributing by subheading.

Take a look at the above image carefully. Here you see how this post distributes the paragraphs by adding image and subheading.
4- Add Optimized Image & Infographic
As we mentioned earlier blogging is about smartness. And all most every blog writer uses image and info-graphics in the post. But the majority percentage is not following the SEO guideline to optimized their image.
So always add image Alt Tag in your image by focusing on the SEO. In fact, you also use image optimization tools like TinyPNG for compressing your website images.
Here an example of an infographic that expresses the idea of a travel website very easily.
5- Include Video and Case Studies
Similar to image and infographic, video is another option to modernize your blog. By adding a video your users are engaging more to your content. Because most of the users love to watch videos than reading a blog post.
Plus, you may also use real-life case studies to prove your statement. This is another proven tip that may bloggers are applying in their blog for grabbing more users.
Users come to your website to find a solution to their problems. With case studies, they can relate to their problems and also find answers that they were looking for. If you share the case studies that you did earlier to solve your problem then it'll be more helpful for your users and they will be able to relate to your blog.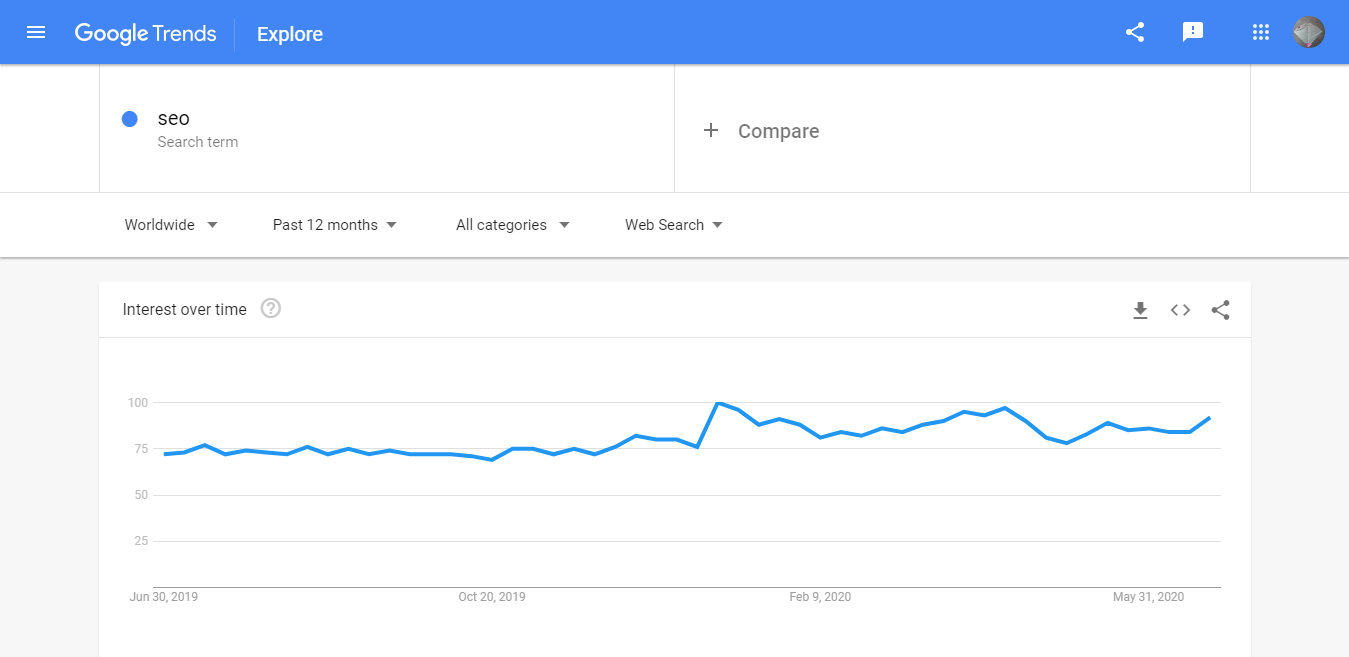 You can also imagine the picture as a case study of SEO trend. So apply this proven strategies for writing quality blog.
Edit & Update the Post In A Right Way
After finished the blog writing your next job is to focus on its edit and update. To do this you have to check out theses below part.
1- Check Grammar & Sentence Structure
When you're writing on a topic it's very natural to do some grammatical mistakes as well as to miss sentence structure. So after finishing your blog, you need to look for grammatical errors and sentence mistakes as part of your proofread.
To do this you can use Grammarly as one of the best tools for blog writers to find out the grammar problems and spacing issues.
2- Check Info & Sources
Every post fills out a lot of info and resources. So you have to be very careful with your blog resources. In fact, you should check all of your internal & external links. If you find some links which are not compatible with your blog topic you must remove them.
Besides, you need to add only authentic information. It helps building trust with your users.
3- Check Post Structure Regarding Audience Choices
When you're editing your post you should consider yourself as an audience. If you think that you like the post structure as a user then you can publish the post.
Otherwise, you should focus on the blog structure more to fulfill your audience desired. However, you also share the blog post to your friend before publish and get the blog's feedback from them.
If you get positive feedback from them then you can publish your post.
Conclusion
The most important thing to remember when writing content, though, is to write about something that you enjoy. If you're writing about something that bores you senseless, this will come across and it will bore your readers too.
No matter how closely you follow the steps, if you don't like writing he steps won't help you to go much further.
However, if you follow the above steps it will help you reach your full potential. In fact, it will also increase your knowledge about some modern tools and SEO plugins that will help in your blog writing.
If you have any issues regarding this blog share with us as well as comment on us what do you learn from this complete guide?
https://wphive.com/tutorials/how-to-write-a-blog-post/
Adnan Khan
Adnan Khan is a passionate writer who loves to write and read WordPress related stuff. Besides, he is very imaginative and likes to fly kites and play soccer in his off time.

Subscribe To Our Newsletter