Contact Form 7: Feature Review & Performance Checking (Compared with WPForms)

Why do you actually need a contact form on your website? It's easy to display your email address and other contact info, isn't it enough for your audience?
No! Everyone has a website nowadays. All of them are trying to collect more leads-traffics, more feedback from their audience to upgrade their business. So, if you think only displaying email or contact info will get the job done, then you are totally wrong.
To collect customer data, suggestions, feedback, and customer opinions you need an efficient Contact Form plugin integrated with your website. While emails would make you vulnerable to spam, a contact form plugin will help you reduce spam, and increase security. A contact form makes it easier to generate leads, collect real-time data, and more.

We believe that the benefits of using a contact form are undeniable. Therefore, this post is going to assist you by giving an overall review on Contact Form 7, a popular contact form plugin in WordPress territory.
So, let's get on with the review😊.
Get Familiar With Contact Form 7
Contact Form 7 started its journey back in 2007. It was developed by Takayuki Miyoshi. Slowly the plugin won the customer's heart and now it has become the most empowered form builder plugin, leaving behind other form builder plugins of the WordPress ecosystem. For example, Ninja form, Gravity Form, WPForms, etc.
Currently, Contact Form 7 has more than 5+ million active installations and over 1000+ 5 star ratings. So you can imagine how popular this plugin is. Despite having a complicated interface, people are using this plugin as the main contact form on their website.
Basic Features & Functions of Contact Form 7
You can add an online form to your WordPress site without any hassle. This is the main selling point of Contact Form 7 for years.
But only this feature is not enough to justify its uniqueness or popularity. Rather it has more functionalities that could easily persuade anyone to use this plugin as a primary form builder on their perspective WordPress site.
In order to stand out among other popular form builder plugins and make the most out of it, Contact Form 7 also has some unique functionalities and features. That's what we'll be discussing in this review post.
So let's have a look at the main functionalities of Contact Form 7 and how they should be implemented in the right way.😊
01. Easy To Add A Contact Form
Adding an online form with Contact Form 7 is easier than ever. Yes, if you're a regular user of WordPress, then you will able to create a contact form for your WordPress site. You can also operate everything from the admin area.
Here, as you can see there are four available options in the interface area. "Form", "Mail", "Messages", "Additional Settings". Each section has individual functionality to customize and insert the essential fields in your contact form.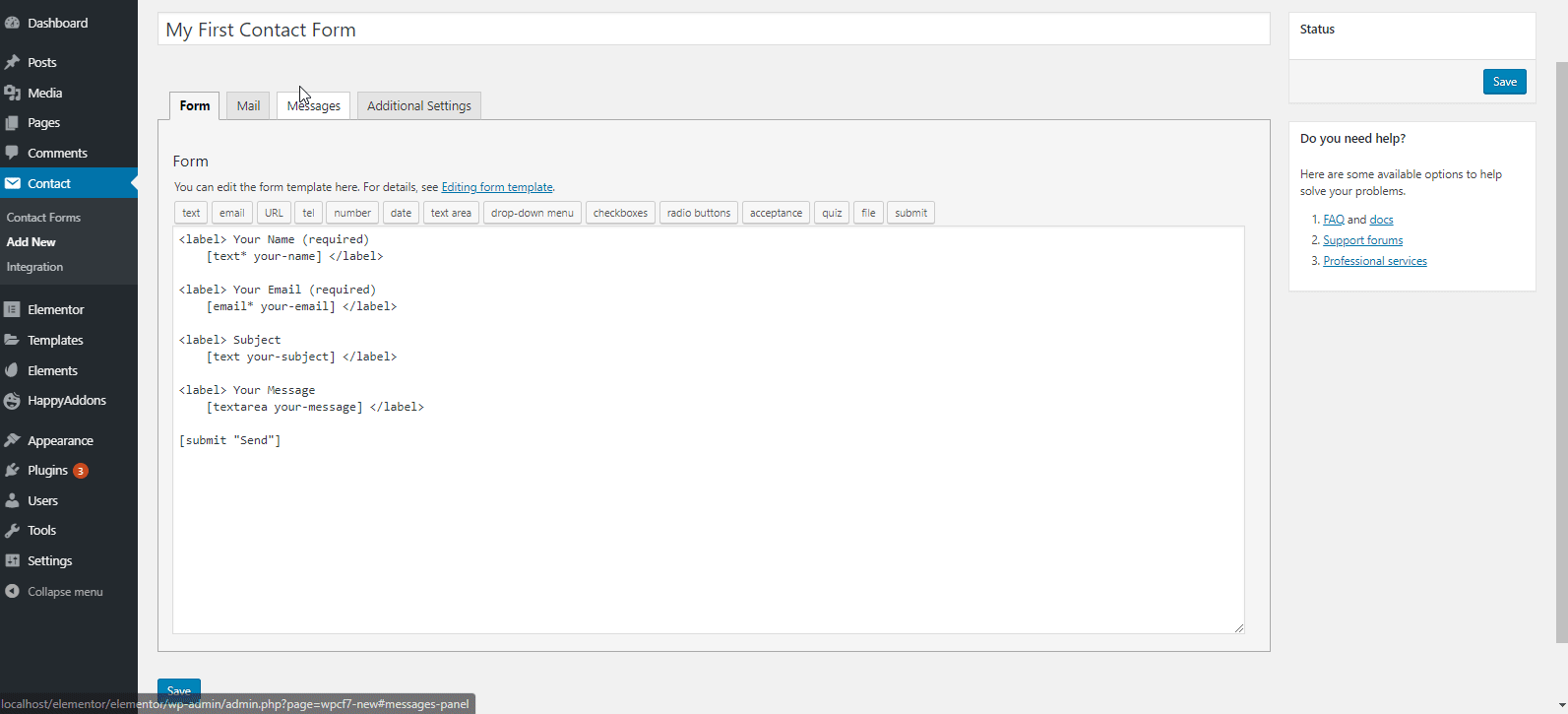 When you are done with the customizing process, hit the 'Save' button. And immediately, you'll get a shortcode.
Next, create a new page where you want to publish your form and then just paste the shortcode that you copied earlier. Then click on the 'publish' button.
Finally, your form is ready to use. You can watch the final output by clicking on the 'Preview' button. That's it!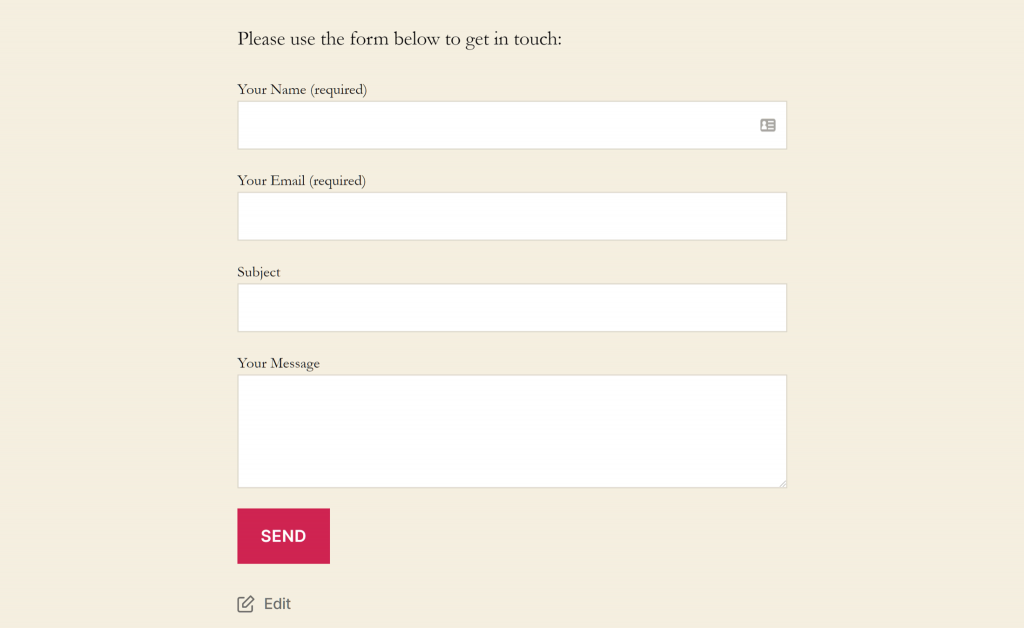 So, you can see that the process is very easy. Therefore, anyone who doesn't have any coding knowledge can easily create a form.
02. Individual Form Editing Interface For Emails
More than 269 million emails are sent per day worldwide & expected to grow its number more than 320 billion in 2022

Campaign Monitor
Email Marketing is one of the proven ways to actually maintain business communication with customers.
And with Contact Form 7 you have the opportunity to easily set up email functionalities in one place.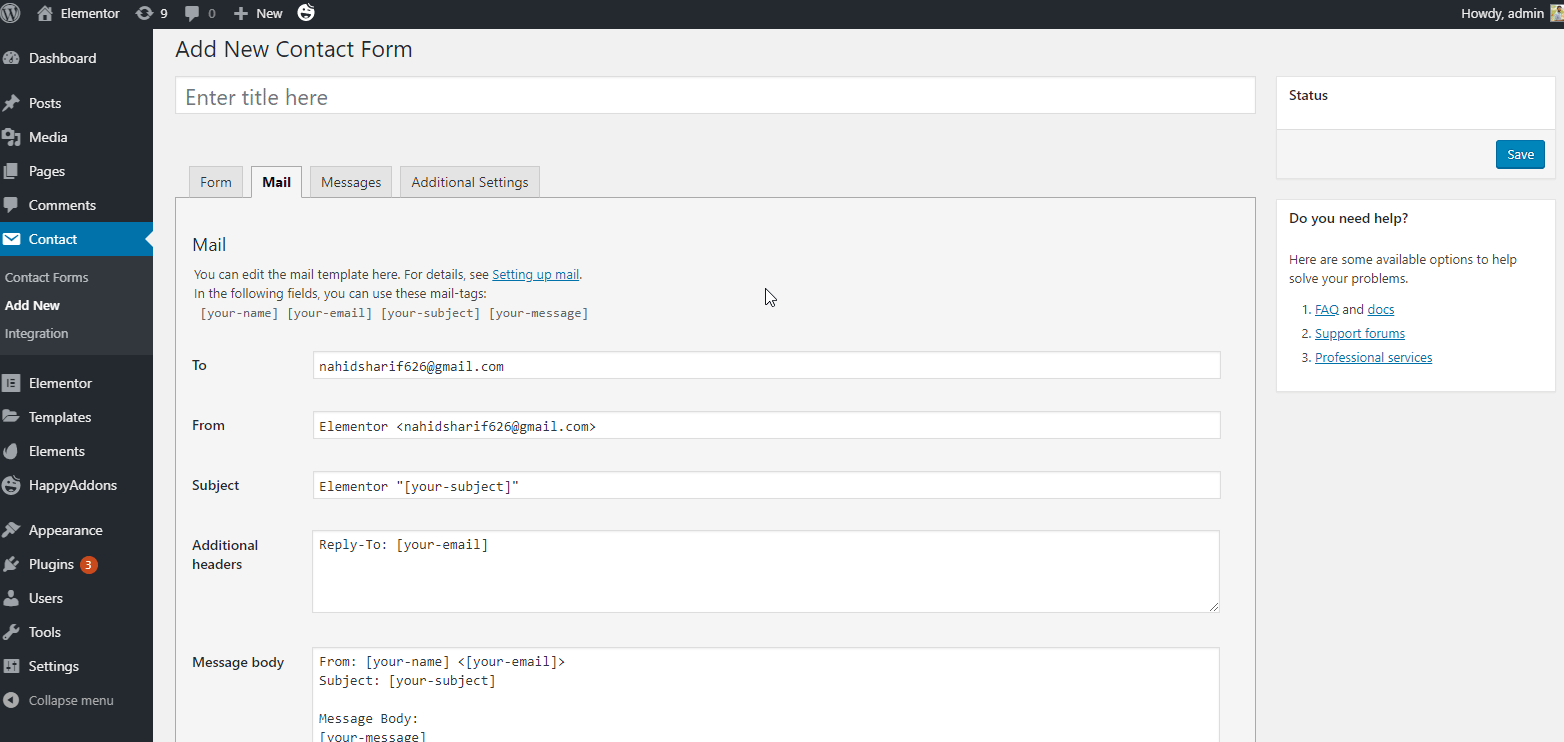 In short, it's a compact interface where you can easily configure everything related to email. For example:
03. Advanced Form Building Opportunity
You can add more advanced and complex items with Contact Form 7 which is not easy but possible. Using the buttons on the form editor, you can easily insert the options in the form.
You can also insert the basic elements for the form where you will get a popup after you click on an element. For example, you can mark required fields, add placeholder text, and configure them according to your input.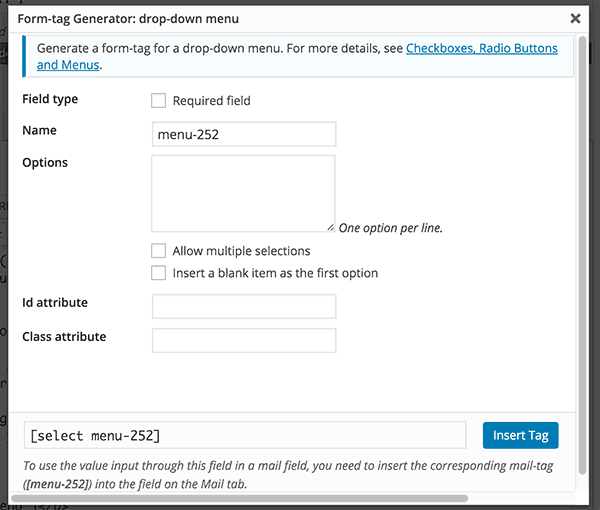 04. A Rich Collection of Form Fields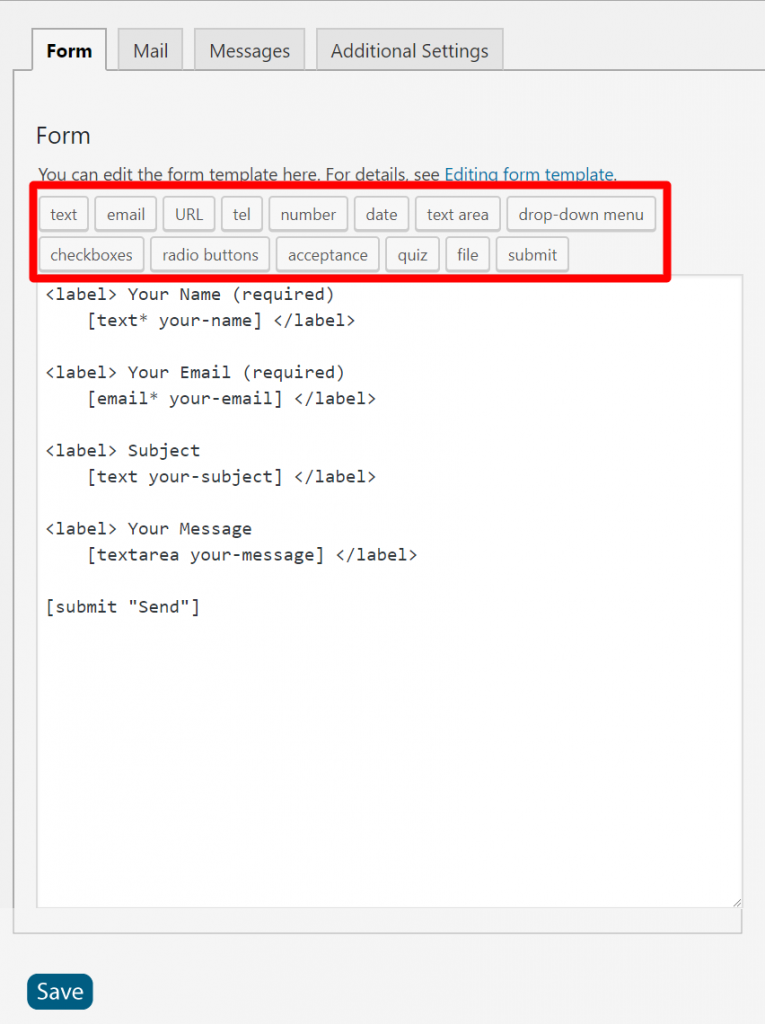 With Contact Form 7, you'll get a useful set of form options. As you can see from the screenshot above, there are a number of handy form fields that let you create a contact form for your website easily.
The extended form field options of Contact Form 7 include:
Text
Email
URL
Telephone number
Number
Date
Text Area
Drop-down menu
Checkboxes
Radio buttons
Acceptance
Quiz
File attachment/upload
Submit button
05. Integrations To Improve User Experience
To give users what they want or make their tasks easier, integrations with other plugins can play a vital role. Contact Form 7 misses some features which are found in other paid form builder plugins, like Gravity Forms, or WPForms.
But still, Contact Form 7 makes up for it by having integrations that can easily enhance your opportunity to add more features to your contact form.
let's check out the integrations of Contact Form 7 below:
Flamingo: It allows you to save responses/messages submitted by users through the contact forms into the database
Bogo: It helps you easily build a multilingual blog on a single WordPress install
Recaptcha: Helps to secure your WordPress site with added security
Akismet: Prevents spam comments
Constant Contact: Using content contact in Contact Form 7, you can plan powerful email marketing campaigns to reach your business goals.
Additional Features of Contact Form 7
Helpful documentation & support system
Contact Form 7 database addon
Different contact form Skins or layouts to make your online form more appealing and amazing
Contact form 7 HTML templates for email
Astonishing style options for the Contact Form 7
Contact Form 7 Honeypot that adds a hidden field to your contact form
Redirection feature for Contact Form 7.
These are the basic functionalities you will get along with Contact Form 7.
Pros & Cons of Contact Form 7
Despite having some unique functionalities (discussed in the earlier section), Contact Form 7 also has some disadvantages. In order to finalize whether to use Contact Form 7 or not, the following pros & cons will easily help you make the decision.
Pros of Contact Form 7 Plugin
Easy to install on any WordPress site (versions)
It has in-built or ready-made contact forms that can easily be added to any post or page
Different custom fields are available to add
100% compatible with any WordPress theme
Has a facility to add re-captcha for preventing spam action
Auto-updates and upgrades will add more features
Cons of Contact Form 7 Plugin
The interface of Contact form 7 is not as easy especially, for beginners
Support options are limited
The core plugin is unable to perform without the help of third-party addons
No preview options are available to check whether the form is okay or not
Checking The Performance of Contact Form 7 with WP Hive
Well, in this section of this review, we are going to explore something interesting now. We are going to review the performances of Contact Form 7 with the help of WP Hive.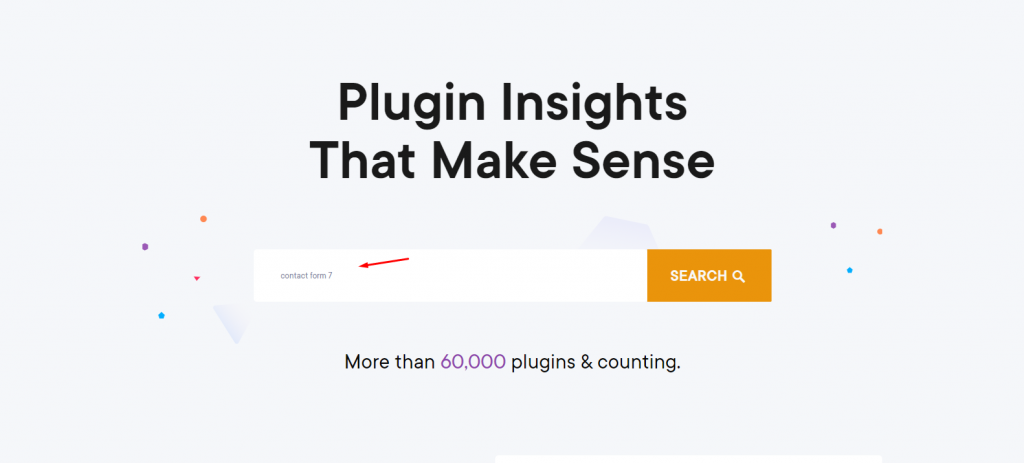 WP Hive, a new take on WordPress repository will assist you to check any plugin's performance, getting insights, and let you make a data-driven decision. For instance, you can search for plugins, compare with other plugins, and get the test result in the end.
Initial Test
After you type "Contact Form 7" in the search button, you'll able to see the entire test report one by one. So initially we found some necessary information below.
Here as you can see Contact Form 7 is 100% compatible with the latest PHP version and WordPress as well as. Most importantly, there are no activation errors are found here.
Performance Of Contact Form 7
Next, we'll check the performance. After you scroll down you can find the performance part very next to the earlier section.
However, you can see the performance here. Memory usage is less than 99% plugins, page speed is faster than 99% plugins, and other related insights are given below here.
Impactful Statistics Of Contact Form 7
In the statistics section, you can see the different insights with a graphical presentation. For example, the number of downloads, last update history, ratings, etc.
Contact Form 7 vs WP Forms
As a part of the review, an effective comparison can enhance the overall discussion giving more value & interest. In that case, WP Hive will allow you to compare plugins easily and with providing more impactful insights like WPForms review.
Okay without further ado, let's see the comparison of Contact Form 7 & WPForms and their overall features:
Ease Of Use
We all know that Contact form 7 is the oldest and one of the most popular WordPress contact form builder plugins. But when it comes to adding a form, it seems a little bit hard for you if you're a beginner. Because you need to use HTML to format the form in the text area
On the other hand, with WPForms, you can stay relax & calm. Because it's super cool to add a form. Most importantly, you don't need to apply or know any HTML knowledge. If you're a novice user, surely it will be great journey for you with WPForms.
Preview Opportunity
It's very sad to inform you that there is no preview option in Contact Form 7. So it seems hard to measure whether the designed form looks good or not.
Good news! you can always find an opportunity to check and measure what is going on or how your form looks like. Yes, you can easily preview your designed form with WPForms.
Features
However, we've already talked about the features of Contact Form 7 in the earlier section. You can find all the basic items to create a form with Contact Form 7. Such as text, number, data, drop-drown, and so on. These are very common. If you want to extend its functionality, you have to integrate third-party-addons.
On the other hand, WPForms itself a package where you'll find all the enriched and useful tools for your online form. More interestingly, you can unlock more advanced and features by upgrading into the WPForms Pro.
Support & Documentation
You can submit support request in the WordPress support forum. But it should be kept in mind that support system in the WordPress directory, don't expect a quick response.
Well, in WPForms you'll get the most comprehensive support with real-time. They offer support ticket for customers, extensive documentations for an easy guideline including enriched tutorials.
Let's Compare Contact Form 7 Vs WPForms with WP Hive
Simply navigate to WP Hive compare page, and type the plugin names.
Memory Usage:
If you start comparing Contact Form 7 with WPForms, the first comparison that you will see is memory usage. Here you can able to see their overall memory usage comparison side by side. For example, front page, taxonomy, options, new posts, and uploads.
However, you can see that the average memory usage of Contact Form 7 is +318.18 KB and WPForms is +1105.86 KB. So the winner is Contact form 7
Page Speed:
In the very next part, we'll get a speed test comparison. You will see comparison including average speed, front page speed, comments, and taxonomy, and so on.
So after running a comparison test, the average page speed of Contact Form 7 is +0.01s and WPForms is +0.02s. Again the winner is Contact Form 7.
Some other useful comparisons:
After you scroll down, you'll find some other useful things about Contact Form 7 and WPForms.
You will see the comparison of frequent updates, active users, total downloads, WordPress ratings, WP Hive ratings, support threads, issues while testing, etc.
So these are the comparisons you can figure out with WP Hive. Or if you want to explore the comparison by yourself, you can easily do that.
Final Words On Contact Form 7
Our review has come to an end. Throughout this post, we tried our best to represent each & every possible thing that you should know about Contact Form 7.
In order to make a wise decision on whether to use Contact Form 7 or not, the comparison part will definitely help you. So the gear is in your hand, either you can check other form builder plugins or you can stay with Contact Form 7.
However, let us know if this review article helped you out or not. You can suggest us which plugin we should review next. You can tell that in the comment section or you can contact us through the form. We're eagerly waiting for your feedback.😊

https://wphive.com/reviews/contact-form-7-review-with-detailed-comparison/
Nahid Sharif
Nahid is a marketer by profession and writer by passion, the feeling of independence and free thinking always keeps him going! If not writing, he's either running his eyes over the science fiction stories or playing acoustic guitar, writing lyrics and taking photos of nature!

Subscribe To Our Newsletter