Stratum Addon Review – 20+ Minimalistic Elementor Widgets for FREE!

Elementor has brought a revolution to WordPress website design. Something so big that has drawn more than 10 million active installations in just six years of existence. The number translates to roughly 7% of the world wide web.
The rise and rise of Elementor also built opportunities for hundreds of companies to bring add-ons to their users. These addon plugins mostly extend the available features of Elementor. Stratum Addon is one such plugin.
Stratum is developed by MotoPress, the same company behind the popular Getwid Gutenberg Addons.
The best thing about the addon is that it did not try to reinvent the wheel. Instead, it created 20+ widgets that are truly useful for designing an Elementor-powered website.
In this Stratum Addon Review, we'll share what it can offer you and a look at some of its widgets. More importantly, we will tell you what we think about the plugin. Let's take a deeper look.
Stratum Addon – A Brief Overview


Stratum Addon is a useful collection of Elementor widgets that can help you design your website efficiently and beautifully. The plugin is developed by MotoPress and has close to 100,000 downloads. It also has 10,000+ active installations at this moment.
The plugin does not offer every possible widget, rather it is a business-focused concise collection of 20+ widgets. All of the widgets are free to use, while the premium version offers advanced settings and customization.
Another great thing about the addon is that you can use all its widgets in the navigation menu as well. Sounds interesting?
Well, the Stratum Mega Menu plugin is built to work along with the Stratum Addon. This makes it easy for you to add the widgets to the menu built using the Stratum Mega Menu.
Now let's check the list of the widgets the Stratum Elementor Addon offers with details.
20+ Elementor Widgets of Stratum Addon
At this moment, Stratum offers 23 widgets. They are –
Advanced Accordion – It is an accordion builder with advanced options. It helps to create interactive content (image, text, and more) using the accordion feature. It is possible to change the accordion type to toggle as well. You can also integrate the accordion into your custom Library templates.
Advanced Google Map – You can insert your business location on Google Maps and display it. It is possible to use an unlimited number of Google Maps custom markers. There are also multiple map styles for you to choose from.
Advanced Posts – It helps to display the latest posts and pages using automatically. Multiple grids, lists, carousels, and masonry layouts are available to display the entries.
Advanced Slider – Advanced slider helps to display product carousels and intro sliders. You can alter the number of columns, horizontal and vertical scrolling, navigation, etc.
Advanced Tabs – This widget will let you create fully-customizable horizontal or vertical-oriented tabs that support custom Library templates. You can also shrink the content alignment to space-consuming tabs.
Banner – The banner widget is another cool widget from the Stratum addon. It helps to create animated banners for your WordPress site.
Circle Progress Bar – This widget lets you add and display dynamic progress circles in percentages and/or with a text description.
Counter – It helps to visualize important data using the dynamic counter. Especially useful for showing the number of projects, portfolios, and related achievements.
Flip Box – The flip box widget lets you display cool flip boxes with fully customizable front & back sections. You can choose between 6 flip effects (the same number as the Pro widget).
Image Accordion – Want to create image-based accordions? That is also possible to design using the Stratum Addon. Additionally, you can highlight your images with hover and click effects.
Image Hotspot – It helps to create tooltips on images; you can also change the styling of tooltips.
Instagram – For shops and portfolios, it might be important to add an Instagram feed to your website. This option allows you to display as many posts as you want, in as many columns as you want.
Masonry Gallery – This is a gallery widget, that allows you to add a good-looking gallery plugin with multiple animation effects.
Price List – It helps to primarily create price charts, catalogs, and other types of price lists for websites. Can be used in other ways as well.
Price Menu – If you own a restaurant, you can display food menus. Can be used for similar listings that require a focus on images.
Price Table – Have multiple pricing plans for a single product and want to display them in a comparative style? This widget can do it for you.
Testimonial Carousel – For business websites, it's almost mandatory to have a testimonial section. This widget lets you add gorgeous-looking testimonials to your website.
Vertical Timeline – This widget helps to display a series of events in a vertical timeline graph with great animation effects. You can add different types of media as well.
Horizontal Timeline – It does the same thing as the abovementioned widget but in the opposite direction. You can display a list of events in chronological order using a horizontal timeline framework.
Lottie Animations – This widget lets you add scalable Lottie animations to your WordPress site using the built-in library. You can also customize the animations.
Countdown – It helps to add a countdown timer, in either circle or box style. You can set the time and customize the design.
Table – This is a traditional table widget that will help you to create responsive tables. You can customize it by styling the rows and columns.
Content Switcher – It is a multipurpose widget that helps to create tabs or a toggle to structure your content.
As you can see, all the widgets offered by Stratum Addon are highly useful and almost every website needs these features. Importantly, the plugin offers all these widgets for free.
Advanced Settings & Customization
The good thing about Stratum Addon is that it offers you do not feel limited even when you are using the free version. However, there are some additional customization settings for each widget that you will get in the premium version.
Now let's take a hands-on look at the plugin.
Hands-on With Stratum Addon Review
Similar to any other WordPress plugin, the first step of using Stratum Addon is installing it on your website. You can install the free version of the plugin from WordPress.org.
Also, the premium version can be purchased from the MotoPress website or from the option called Get Premium if you already have the free version installed.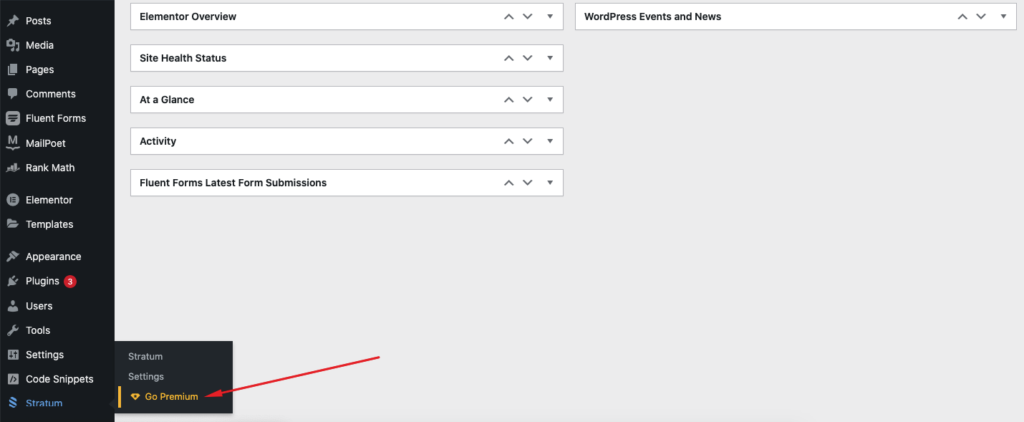 We used the Stratum Addon Pro version during our detailed review. While we used all 23 widgets that this plugin offers, we will be sharing a selected few in this section of our blog.
Advanced Slider
The advanced slider is like a fully-functional slider inside the Stratum Addon.
You can customize the content, carousel settings, navigation setting, style the slider, and even add animation effects.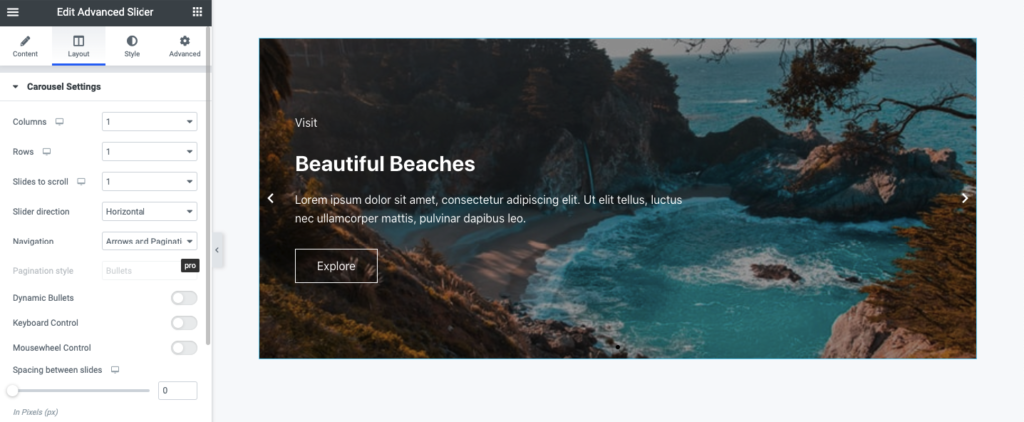 Advanced Slider widget does not just help you add traditional sliders but also gorgeous carousels like the following.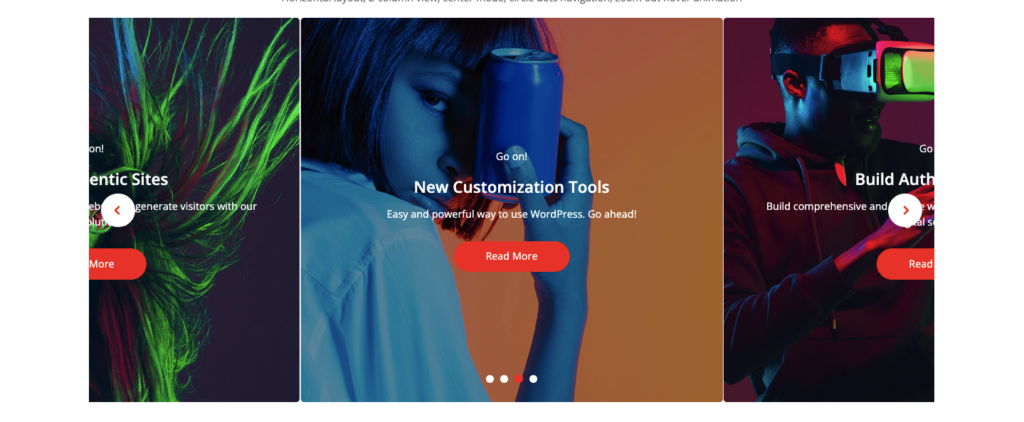 You can also add vertical sliders as well, which you can customize to give your pages a distinct look.
Content Switcher
If you want to show multiple contents in a single place using a button for switching between them, the content switcher is a great option. You can show monthly and annual pricing of a product on a single page that a user can change by clicking on a button. You can use it for other purposes as well. Below is an example.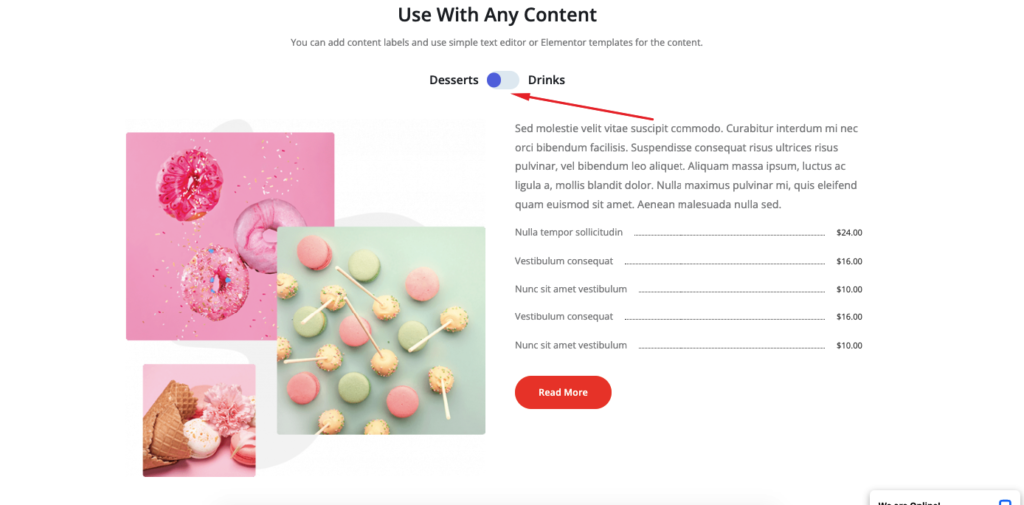 Using the content switcher widget is very easy as well. You can choose between Multiple & Toggle Tabs styles. You can also customize the placement, Tabs Style, and Content Style.

Lottie Animation
Lottie is a library that renders animations live on your website. With the use of Lottie animation, you can present your content beautifully and interactively.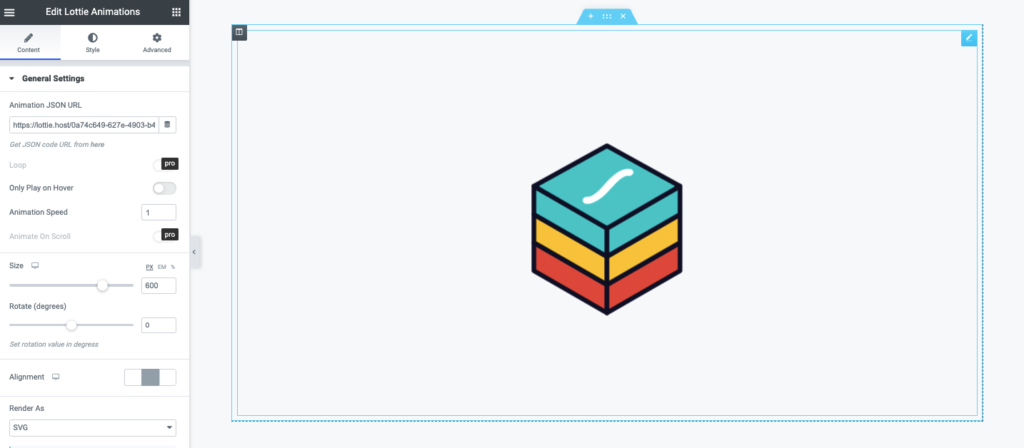 You can add a Lottie JSON link to add an animation.
You can set it to play the animation on hover, and set the animation speed. There are options to customize the size of the animated element, rotation, alignment, opacity, and more.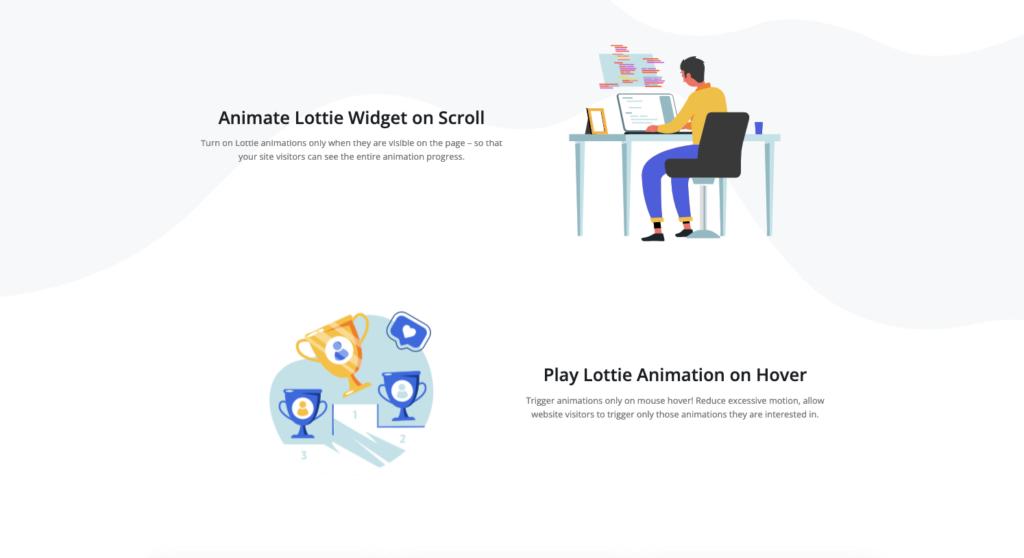 You can design beautiful animation on your website using Lotti.
Flip Box
Flipbox is another way to show two different pieces of information in the same area. Users can view the second set of information by just hovering over it.
So basically, there is the front and back part of a Flipbox.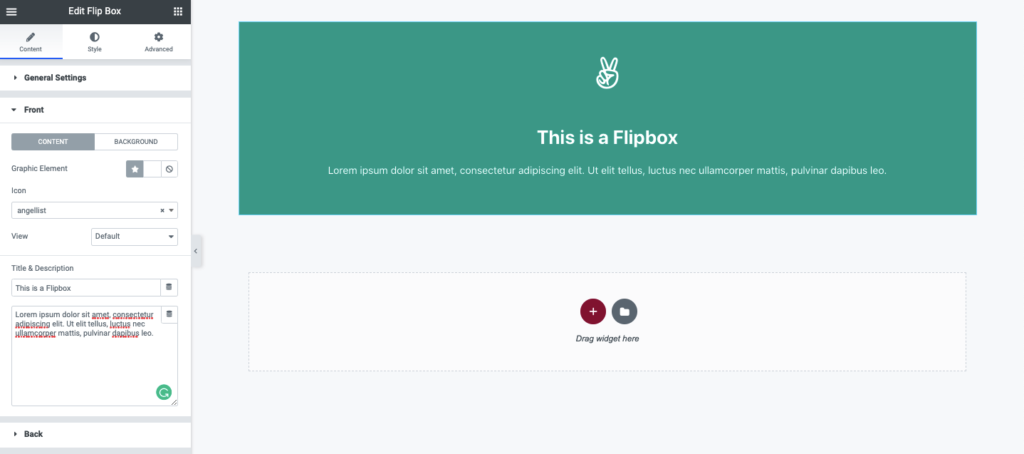 You can design left-right, up-down, slide-in-out, and zoom-in-out flip boxes using this widget.

Price Menu
Displaying pricing beautifully can increase your chance to sell products. Especially for restaurants price menu widget of Stratum Addon can be an excellent addition. You can use it for other kinds of products as well.
With this widget, it is possible to add a pricing list along with an image box to show off the products.
You can customize the item title, description, price, image, background, and more.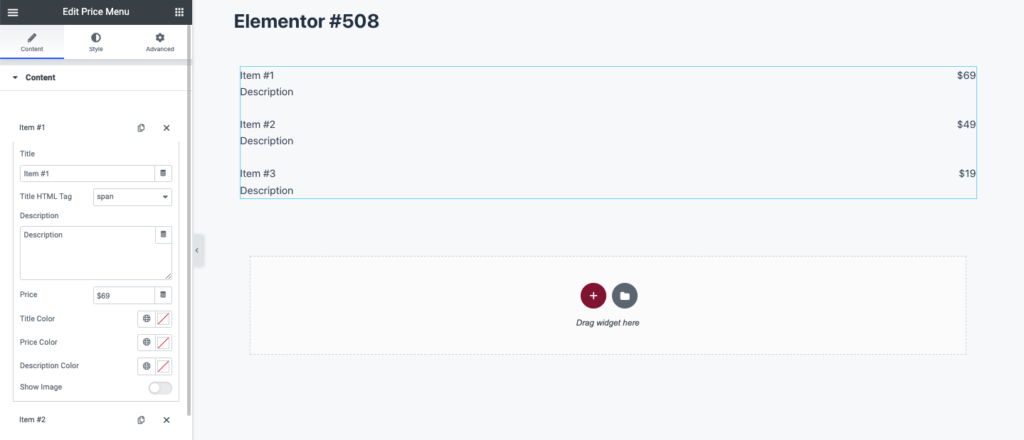 Ultimately, you can design a beautiful pricing menu like the following.

WP Hive Automated Test of Stratum Addon Plugin
WP Hive's automated test result for Stratum Addon was impressive. The plugin had no errors, was compatible with the latest PHP & WordPress versions, and is frequently updated.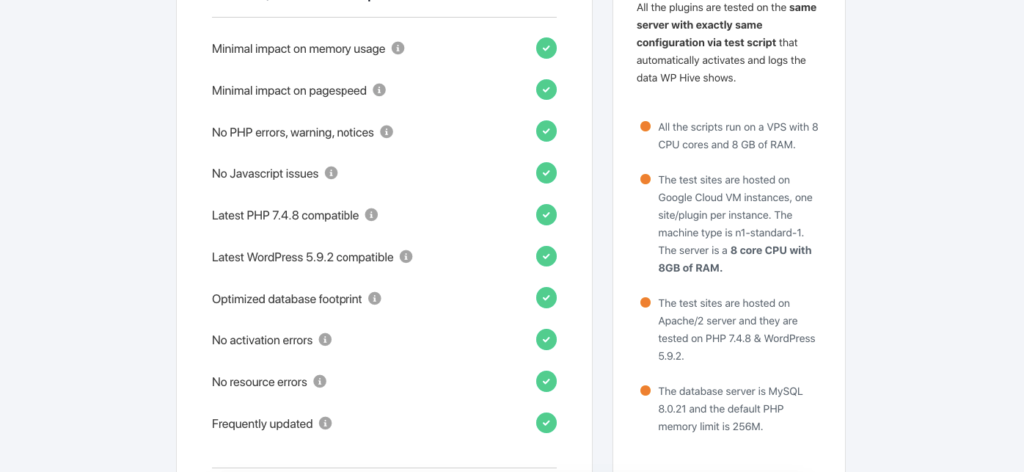 On average, the plugin uses 193.93 KB of memory, which is less than 99% of the plugin.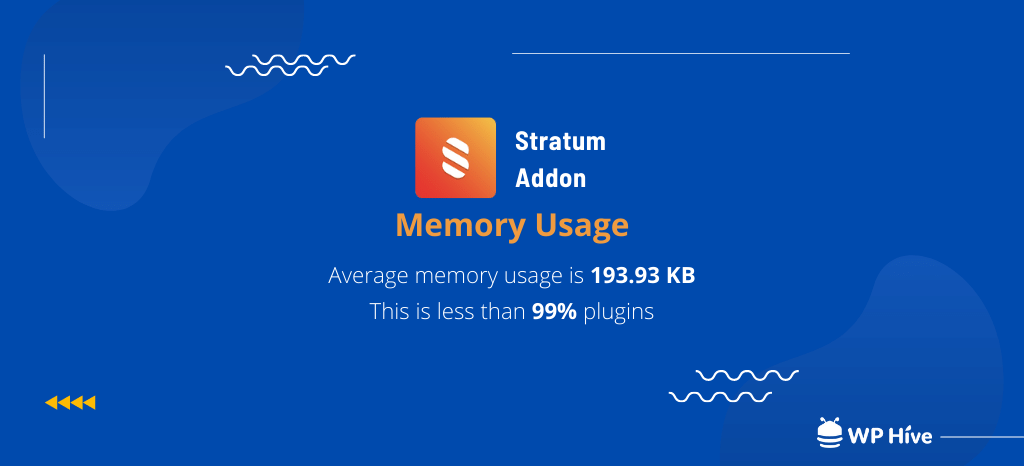 The plugin is also faster than 99%. On average, page speed is increased by 0.1s.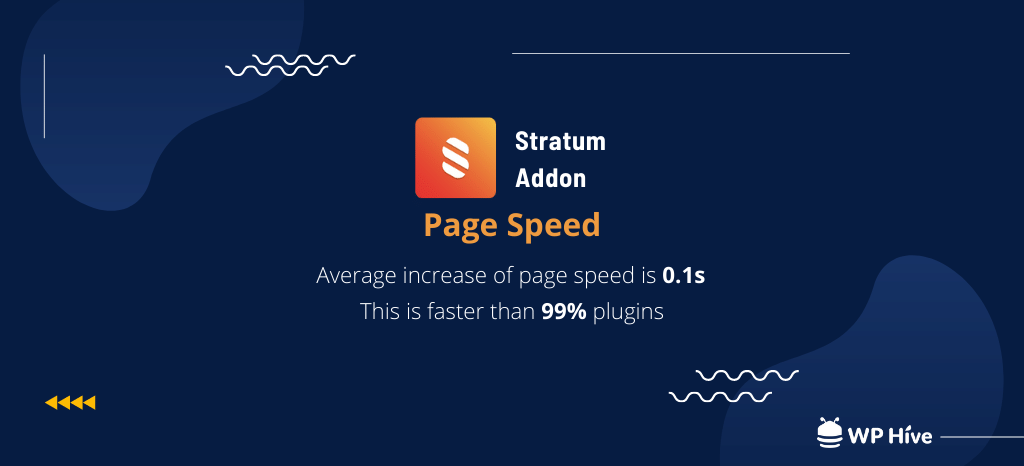 Stratum Addon Pricing
The Stratum Addon has no complications when it comes to pricing plans.
There are two plans, Free and Pro. The premium version cost $29 for a single site and $59 for unlimited sites.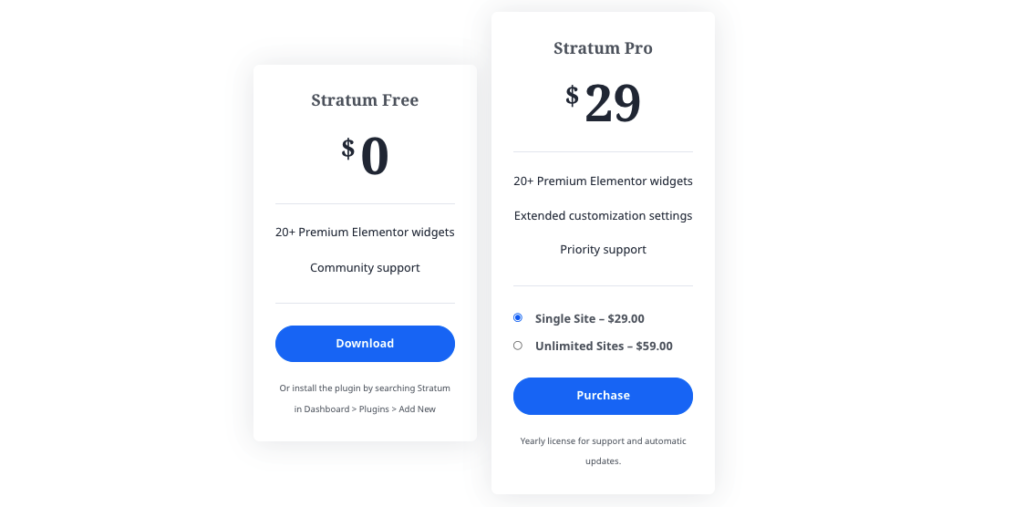 As you can see, there are no differences in the number of widgets in the free and premium versions of Stratum. You will get the same 20+ widgets on both, but the premium version comes in with extended customization.
We used the premium version during our hands-on Stratum Addon review and we think it's absolutely worth $29 since it's so affordable! Also, the $59 plan for unlimited websites is a steal!
Questions You Might Have about Stratum Addon
Since Stratum Addons is not the most talked-about Elementor addon, it's normal for you to have questions about the plugin. We tried to answer some of the common queries you might have about it.
Is Stratum Addon free?
Yes, Stratum Addon is free to use. All 20+ of its widgets are completely free.
What would I get in Stratum Addon pro?
While the premium version of Stratum Addon does not add any additional widgets, it does offer advanced customizations required to design web pages efficiently.
Will Stratum Addon slow down my website?
No, Stratum Addon will not slow down your website. It is faster than 99% of the plugins, increasing the page loading time by 0.1 seconds on average.
Do I need Elementor to use Stratum Addons?
Yes, Stratum is an Elementor addon. So you must have Elementor installed to use Stratum.
Your Site Should Never Look Boring Again!
Stratum Addon has a small yet beautiful collection of Elementor widgets. Rather than building widgets for everything, they focused on features that you will really need on your site.
We liked the designs, scope for customization, and pricing. If you think that these widgets are all you need for your website, Stratum Addon can be an excellent choice for you.
So what are your thoughts on this plugin and what do you think of our Stratum Addon review? Let us know in the comments section.
https://wphive.com/reviews/stratum-addon-review/
Faisal Sarker
Faisal is a tech blogger who excels at WordPress Content Writing. Apart from sharing useful info pieces that help people around the world, he also likes to travel and read books of all genres in his leisure time.

Subscribe To Our Newsletter